...celebrating every swee​t pea their birth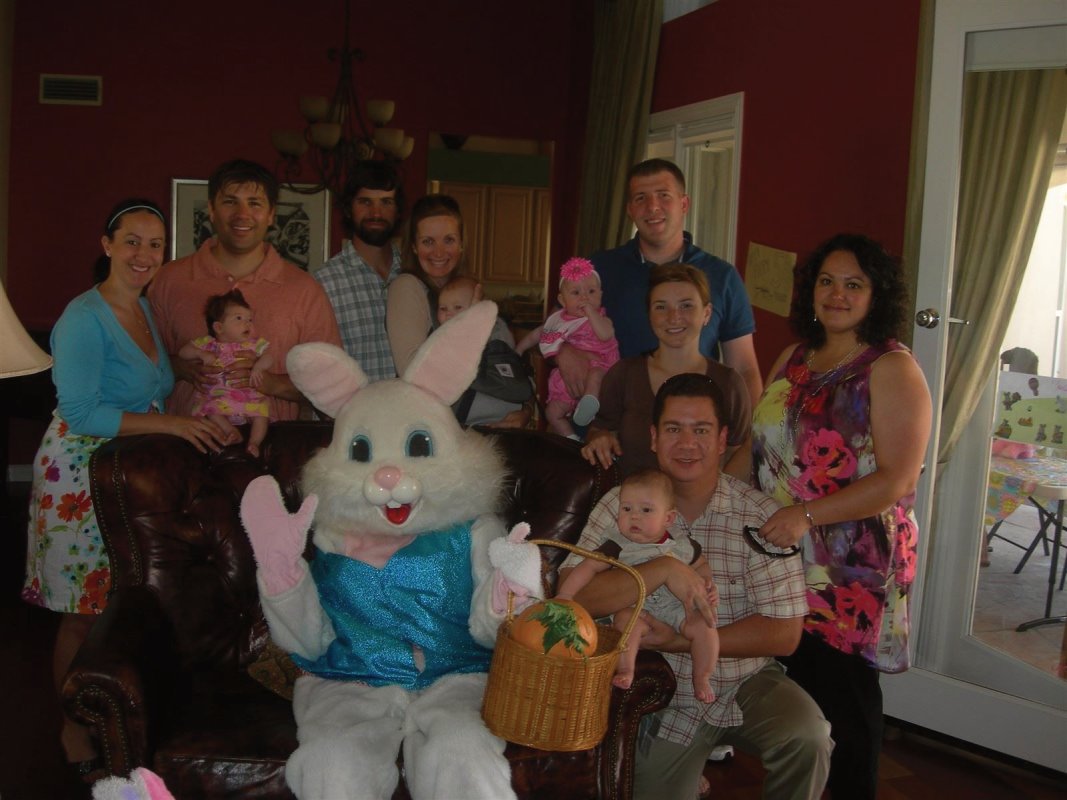 Our Fall 2010 Series - Easter Reunion:
One completely natural birth
One vacuum delivery
One cesarean
One pitocin augmentation (no epidural!)

Four Informed Families
Four Happy, Healthy, Blue-Ribbon Breastfed Babies!

So you have chosen to have a natural birth…
...and the comments start: 

- Why would you want to do that? 
- Get the drugs because that's what they are there for. 
- You don't need to be a hero.
- Are you bringing a piece of bark and some leather to chew on with you?
- You say that now, but you will change your mind.  
These are some of the comments that my husband and I heard when we started telling people that we were taking natural birth classes with our first-born child.  I am sure the list could be much longer, and I would love to hear what you have heard regarding your choice to have a natural birth.  
It can be a very lonely feeling that maybe you are the only one out there making this choice.  I guess it could also make parents second-guess themselves.  Bruss and I are lucky in that once we make a decision based on facts we stay true to our decision and the goal we set.  
For some reason, when we announce that we are natural birth parents it raises defenses in other people.  I have yet to understand why our belief in ourselves and our belief in the ability of mom's body to do what it was made to do, is a threat to other people.  The important thing to remember is that the comments you are hearing are not about you.  Any criticism, comment or disbelief is a reflection on your counterparts' beliefs about birth, and their own misconceptions or disappointments.  
An important thing consider when you have started down the path of natural birth, and maybe some of the other choices that follow, is to surround yourself with other people who understand your choice and are following a similar path for themselves.  That old saying "there is strength in numbers" is a very comforting thought when you are feeling like the oddity amongst your family and friends.  
One of the reasons The Bradley Method® classes are designed to be taught in a small group of 2 – 8 couples is to allow parents to meet other like-minded individuals.  Once you meet your classmates, you can be assured that you are not the only one out there striving to have a natural birth for your baby.  It's also important to note that the Bradley Method® education covers all aspects of pregnancy and birth including exercise, diet and relaxation, all of which prepare Moms to labor as effectively as possible without pain medication.  
You will also hear other reasons why people have chosen to have a natural birth.  We all come from different walks of life, and everyone comes with different reasons as to why they want to have a natural birth.  It is reassuring to know that despite different educational backgrounds or career paths, we all agree that a natural birth is the best for our children.  Once you hear a variety of reasons, you can start to build up a good list of answers to the questions and good retorts to the statements you will be hearing from disbelieving friends, family and yes, sometimes even strangers.  
Whatever your birth story is, it is just the beginning of your child's life story.  There are going to be other choices you will be faced with.  Where will you give birth?  Are you going to breastfeed? Are you going to practice attachment parenting?  If you have a boy, will you choose to keep his genitals intact? Will you be co-sleeping with your child?  Will you be following an alternative vaccine schedule, or will you choose not to vaccinate?  
Thankfully, breastfeeding is starting to be more prevalent and it is not so much of an oddball decision these days.  Unfortunately, the other options are still considered on the fringe of common beliefs.  You can expect that affirmative decisions in any of the other areas will bring on questions and comments that seek to invalidate your choice, or sometimes blatantly imply that you must be a bad parent if you are going to follow through with them.  
If you and your classmates stay close, it can be the start of a great support group for you.  If you are not taking a Bradley class or for some reason you don't click with your classmates, see the list below for some other resources for natural living groups in the Phoenix area.  And if you are outside of the Phoenix area, an Internet search for support groups in your area should yield a starting point for finding other people who are striving to live along the same lifestyle you are creating for your family.  
Fellow Bradley instructor Rachel Davis shared that in addition to formal groups, there are many ad hoc support groups of like-minded mamas who meet at breastfeeding or other playgroups, so asking families which other groups they attend can also be helpful.  She suggests looking for MeetUp groups with babies born in the same month or other specific interests.  We also found similar minded families by reaching out to people at story times or activities our children have become involved in.  
The moral of the story is that if you are going to get out of the house, be willing to ask questions and make new friends.  And if for some reason you go to a group and it is not a good fit, know it's okay if you never go back again.  
I will close by encouraging you to continue to educate yourself and your coach to have the best birth possible.  You are not alone; in fact, you are part of the tidal wave that is building with the hope that we can change the face of maternity care in the United States.  When you feel comfortable, tell people why you chose to have a natural birth and what you hope to provide for your child by giving them one of their first gifts:  a birth in which you and your coach make educated, well-informed decisions to give your child the best start possible.  
Even if you don't have a "textbook" natural birth, you can rest assured that you will do well by taking childbirth classes and/or reading to learn more about natural birth and the related choices.  You and your coach will make informed decisions and have a better outcome than if you were to walk into your birthplace with no preparation at all.  

Thoughts on responding to the comments:
You can choose not to comment and let it go.  To start seeing a change in the general perception about natural birth, I definitely encourage you to find some words to stand up for your own belief without insulting the other side.  
If you have a strong personality, here is a direct way to answer the "why" or the "brave" comments someone makes about your desire to have natural birth: "People who get epidurals are the brave ones.  Have you seen that LONG needle?  Besides, there is no drug whether it's over the counter or prescription, that has been proven safe for an unborn child."  
If you are more of a peacemaker, this is another one that has worked well for me: "Bruss and I researched our options and we have decided that this is the best path for our family."  
I heard this suggestion from a mom at a support group who found herself in the same conversation with the same person more than once: "Do you really think that I would make a decision to willfully harm my child?  Please respect me enough to know that I have researched this and we have decided to pursue this path.  If you don't agree with me, then we can agree not to discuss this again."  
Between these options there are a lot of ways to comment or answer if you feel like you want to stand up for your choice.  I have to admit that the strength of my answer would depend on my mood and whether or not the person I was speaking with was family, friend or a stranger.  

Support Resources – Phoenix Area
AZ Birth Network – Monthly Birth Circle Meetings across the Phoenix Metro area
http://www.azbirthnetwork.com/  
La Leche League – Woman to woman breastfeeding support and education
www.lllofaz.org - Local
www.llli.org - Worldwide
First Time Out – Many moms are nervous about breastfeeding in public.  This group provides an environment that makes it easier to feed your child in the healthiest way possible and with good company. http://www.facebook.com/pages/First-Time-Out/127264313969066?sk=wall  
NOCIRC – Educational material about the structures, functions, development, and care of normal penile anatomy and offers information about circumcision and the care of the circumcised as well as the intact penis. www.nocirc.org  
Gentle Moms – A group of mothers who aspire to treat our children, bodies and planet with respect
http://www.meetup.com/Gentle-Moms/  
Attached families - Meet other parents who are supporters of the 7 Baby B's: Birth Bonding, Breastfeeding, Babywearing, Bedding close to baby, Belief in the language of your baby's cry, Beware of Baby Trainers and Balance! 
http://www.meetup.com/attachedfamilies/  
Phoenix Mommies – Mission is to provide a safe, secure, FREE place for mothers to find support and encouragement from other mothers and to empower them to be better women, parents and community leaders. http://www.phoenixmommies.com/mommies/aboutus.php  
Disclaimer:
The material included on this site is for informational purposes only.
It is not intended nor implied to be a substitute for professional medical advice. The reader should always consult her or his healthcare provider to determine the appropriateness of the information for their own situation. This blog contains information about our classes available in Chandler, AZ and Payson, AZ and is not the official website of The Bradley Method®. The views contained on this blog do not necessarily reflect those of The Bradley Method® or the American Academy of Husband-Coached Childbirth®.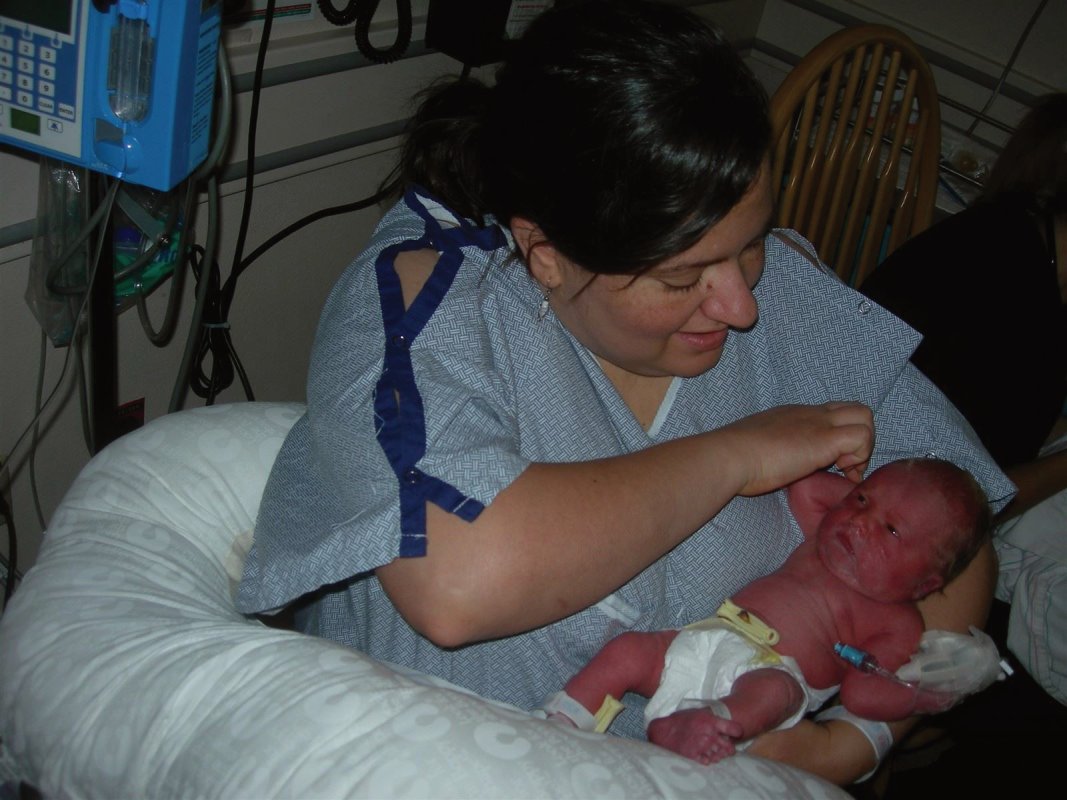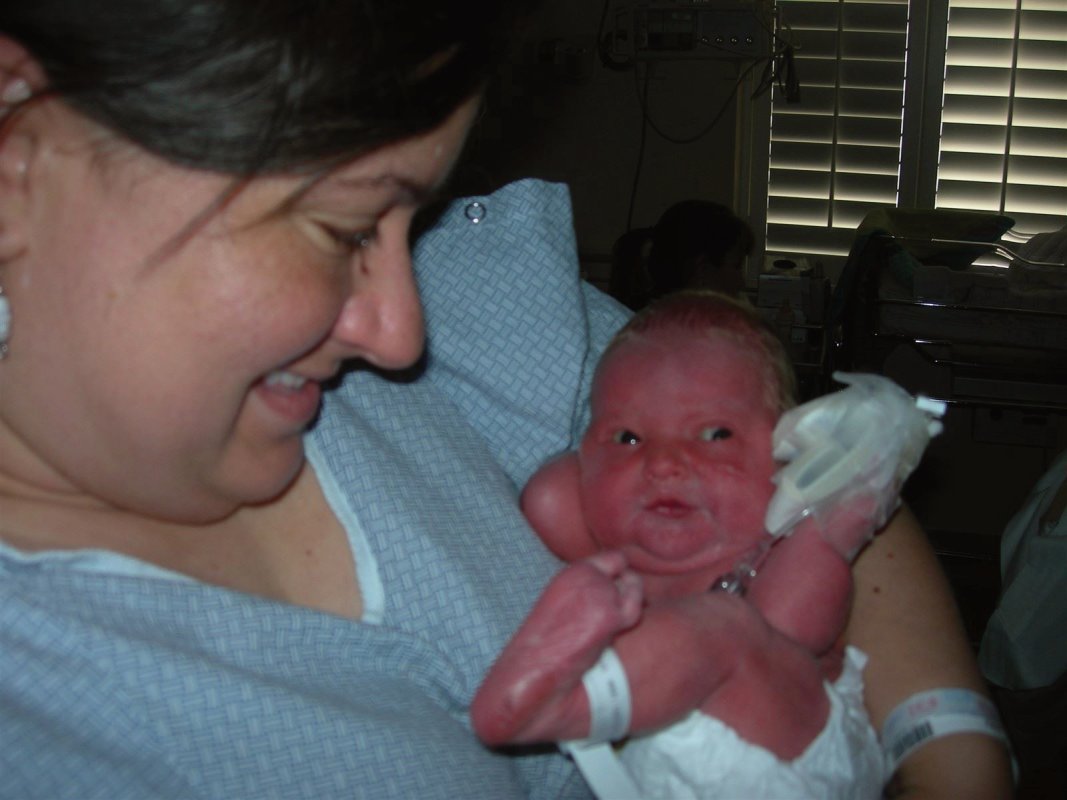 Today is Mother's Day in Mexico.  Since our roles as a mother can stand another day of recognition, I figure why not – let's have another day of good wishes.  I will start off by wishing all the moms a Feliz Día de las Madres! 
We had an incredible birth story over the weekend, and probably one of the most intriguing ones we will have as instructors of The Bradley Method®.  With the mom's permission, I am going to share their birth story today.  Their baby was born at 35 weeks and both mom and baby are doing well.  The dad "caught" their daughter as mom was getting out of the hotel bathtub!
One of the topics we cover over the course of the series is Emergency Childbirth.  We do this for the "just in case" instance when a couple has an unintentional unassisted birth.  Let me be clear that The Bradley Method® does not endorse unassisted deliveries, meaning that a conscious decision is made to not have a trained professional present at the birth of a child.  However, the American Academy of Husband-Coached Childbirth® acknowledges that sometimes parents don't recognize the signs of labor (especially first-time parents) and babies will come when they are ready.  Our curriculum addresses this circumstance in recognition that it is better to give some basic information about how to handle this situation rather than leaving a mom and her coach unprepared for the outside chance that they find themselves having to deliver their child outside of their planned birth setting.
In one of life's little twists, I had just been loaned the text "Emergency Childbirth: A Manual" by Gregory J. White, M.D. on Friday.  It is recommended reading for all Bradley instructors and I started reading it over the weekend.  The Bradley Method® designed their Emergency Childbirth class section from Emergency Childbirth, a joint publication of the U.S. Department of Defense, Office of Civil Defense, the U.S. Department of Health, Education and Welfare and the American Medical Association.  Little did I expect to hear yesterday morning that the class information was put to good use by one of our students!
When I first shared the story with mom's classmates, the other moms were incredulous.  How could she not know she was in labor?  Was her labor short?  Was labor going to be so easy that their babies are just going to appear without a big fanfare?
Well, this is the story as best as I can put it together for now.  I still haven't gotten to hear the story from Mom and Dad together – when we do, I will film it and add it to our Birth Story video archive.  Here is Baby Caroline's Mother's Day birth story:
Mom and Dad had been planning and practicing for a homebirth with a midwife.  They decided to take Bradley Method® classes so that Dad would know how to coach mom through labor while the midwife attended to mom's and baby's needs as the labor progressed.  Their hope was that the Mom's mother would also be in town as an assistant coach.  Either way, Dad was ready to be Mom's go-to guy.
Mom was woken up on Friday morning by a strong sensation in her abdomen.  In Arizona, per statute R9-16-108 (see Reference 1), a midwife cannot attend a birth unless mom is between 36 and 42 weeks of gestation.  Since Mom was only at 35 weeks gestation and their midwife was heading to Florida to see her grandchildren, she decided not to pay attention to the tightening.  She also had a conversation with her sister who is studying to be a midwife and failed to mention the tightening to her.  Looking back, Mom reflected that she didn't want to be told to go to the emergency room, so she decided to move on with her day.
Saturday found the couple down in Tucson spending time with Dad's family and enjoying the Mother's Day holiday weekend.  Mom was baking bread with her sister-in-law and SIL noticed that Mom was pausing every once in a while.  Mom told her SIL she was having some contractions but she was only 35 weeks, so it couldn't possibly be labor, right?  SIL concurred that it was probably just her uterus getting ready for labor. 
After celebrating Mother's Day with Dad's family on Sunday, Mom and Dad were getting ready to head up to Phoenix for Dad to attend a conference.  Mom finally had a contraction that took her breath away, and she told Dad, "Let's use this one to practice our relaxation."  Dad agreed and started with a back rub, moved to the front where mom curtly told him "Don't touch my uterus!"  He continued with a back rub and then worked his way forward again and Mom had to tell him not to touch again because it was too uncomfortable.  (Students:  what phase of labor is she in?)
Mom admits upon looking back now that she was just in denial.  They made the drive from Tucson to Phoenix and got to the hotel.  Mom felt a gush of water and thought that she had wet her pants.  She was hot and sweaty and she threw up once they were in their hotel room.  (Students:  what phase of labor is she in now?)  She was very uncomfortable and decided to lie down.  She told Dad that she must have a really bad case of food poisoning and that the best thing to do was lie on her side and be still and relax through the terrible discomfort she was experiencing.  Dad did his best to comfort mom at this time and stayed by her as she was in bed.
All of a sudden, Mom declares that she has to have a bowel movement.  She sat on the toilet and was pushing, but nothing was coming out of her anus.  She checked and couldn't believe that she couldn't pass this painful stool.  Mom and Dad agreed that a bath would help Mom relax her muscles and then maybe she could relieve herself.  So Dad drew the bathwater and Mom got in.  Dad reported that Mom felt instantly relief in the water, so that made them feel better.
Well, the next thing they know, the bath water turns red.  Now the couple is truly concerned and they call 911.  Dad reports that the 911 dispatcher "didn't buy" the constipation story and told Dad to have Mom get out of the water and see if he could see the baby's head. 
Mom lifted herself out of the water, and Dad reports that in the very next instant, Baby Caroline made her appearance.  Dad caught their daughter and it was official – not only was he a Bradley Dad, he became a Bradley Dad who caught the baby!
Mom relayed that the next few minutes were very peaceful.  Baby Caroline did not cry, yet she was breathing on her own and very alert.  She says that they admired their daughter and held her and enjoyed their incredible accomplishment – their new baby and her incredible birth story.  When they got to the hospital, Baby Caroline was declared to be a 10 on the Apgar scale and she weighed in at 5 pounds, 5 ounces. 
What did Mom and Dad do well as per the instructions we cover in class? 
- They stayed calm, and Dad reassured Mom that everything was okay (although Dad says if we hear the 911 tape it will sound like he "lost his mind"). 
- They kept their hands away from the birth canal. 
- They verified that their daughter was breathing well after she was born and put her face down on Mom's abdomen to stay warm. 
- When the baby was crowning, they did not pull on her, they just let her be born naturally. 
- They did not pull on the cord and let the placenta (afterbirth) come naturally. 
They ended up going to the hospital in an ambulance and have had many unwanted interventions due to their "unsterile" birth.  I am happy to say that after two very trying days at the hospital, the family finally seems to be getting the support they need and hope to be released with their very healthy baby girl tomorrow. 
I want to thank the family for allowing me to share their incredible birth story with you.  I hope that you can read this and recognize that childbirth without drugs is possible, and that if you don't pay attention too soon, you can manage most of your labor without too much trouble.  Mom slept both Friday and Saturday nights because she ignored her labor!  She looks great, has good energy and her body is busy making food for their baby thanks to the rest she got during their labor.
As I mentioned earlier, The Bradley Method® does not endorse unassisted deliveries.  An experienced childbirth couple probably would have recognized the signs of late first stage and/or transition and gotten to their chosen birthplace with ample time to deliver with a trained assistant.  In this couple's case, they were too far from home to make it there and their midwife was not available, so their birth plan would have changed to a hospital birth at the last minute.  I am so happy that "all's well that ends well" and that Baby Caroline will have a very unique birth story to share for the rest of her life!
References:
 (1) http://www.azsos.gov/public_services/title_09/9-16.htm#Article_1
Disclaimer:
The material included on this site is for informational purposes only.
It is not intended nor implied to be a substitute for professional medical advice. The reader should always consult her or his healthcare provider to determine the appropriateness of the information for their own situation. This blog contains information about our classes available in Chandler, AZ and Payson, AZ and is not the official website of The Bradley Method®. The views contained on this blog do not necessarily reflect those of The Bradley Method® or the American Academy of Husband-Coached Childbirth®.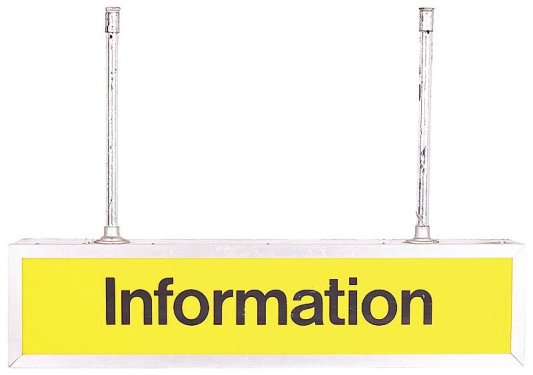 Information Desk: 
What is a good Bradley Method® outcome?
One of the reasons we chose to be Bradley Method® students, and then later decided to become affiliated with the organization is that The Bradley Method® puts the responsibility squarely on the parents for the outcome they have with their birth.  They also emphasize the ultimate goal of Healthy Mom, Healthy Baby.
Natural childbirth tends to be characterized as anti-establishment, anti-hospital and anti-doctor.  Depending on the instructor and the delivery mechanism, it can be all of those things.  It is easy to blame the establishment, the hospital or your doctor when things do not go the way you planned or the way you wanted.
When I hear "bad" hospital stories from moms who wanted to have natural births, I wonder if they prepared for the birth the way we learned to prepare for a birth.  I wonder if they hired labor support professionals to ensure that they had the labor they wanted.  I know that sometimes despite having done both of these they still have bad outcomes.  In that case I wonder if they knew it was okay to change care providers or their birthplace to get a better chance at the birth they wanted.
I had touched on my hand analogy to explain The Bradley Method® in an earlier post – here it is again.  The palm of the hand is Relaxation – the key to the Bradley Method.  Then there are five fingers – Exercise, Nutrition, Communication, Consumerism and Education.
This holistic approach is what makes the Bradley Method® so successful at preparing the Mom and Coach to have a spontaneous vaginal birth with little or no intervention.  We make every effort not to bias our students as to what kind birthplace is chosen or who their care provider is – we train the team to work together to prepare for their athletic event and to think about which questions they could be asking all along the way.
The team is taught one relaxation technique every week – at the conclusion of the class they have twelve different relaxation techniques that cover the physical, mental and emotional aspects of relaxation that a mom needs to achieve in order for her labor to progress without interruption.  We also train coaches to look for signs that one of these needs isn't being met.  With this training, they can evaluate what kind of relaxation they could try to help mom get into the deeply relaxed state she needs to be in to cope with the strong sensations of labor.
The team is taught the
importance of exercise
to help mom have the stamina and the strength necessary to withstand and succeed at labor.  The key of what birth is at its core is in the word "labor" – a mom is going to have to work to have her baby.  The team is encouraged to have mom do some form of safe cardiovascular exercise on a daily basis for mom to have the stamina she needs for the length of her birth.  Whether she labors a few hours (an intense, short birth) or several hours (a prolonged multi-hour or multi-day event), every type of labor has a better outcome with mom who has the stamina to handle her particular kind of labor. 
The Bradley Method® also teaches pregnancy-specific exercises to target the three B's of birthing: the back, belly and bottom.  These exercises are safe to start during pregnancy even if mom does not have a regular exercise program in place.  They strengthen and add flexibility to the areas that will be worked during the process of labor and that mom will need to have strength and control over for the pushing phase of labor.
Nutrition is a key component to a healthy pregnancy and a good outcome for mom and baby.  The Bradley Method® teaches the
Brewer Pregnancy Diet
, based on the work of Dr. Tom Brewer who did years of study and research to decrease the incidence of pre-eclampsia and toxemia of late pregnancy.  The couple is encouraged to have mom strive for 80g – 100 g of daily protein, consumed through a well-balanced diet that includes dairy, eggs, protein sources, leafy green vegetables, other fruits and vegetables, grains, a daily vitamin C source and fats and oils.  The variety of foods in their closest "whole food" form provides all the protein mom needs as building blocks for her and the growing baby, as well as all the essential vitamins and nutrients needed for a healthy mom and baby through pregnancy and post-partum if the mom continues with the new habit she has formed.
Communication is an important part of class every week as well.  We do communication exercises to strengthen the bond between Mom and Coach.  We encourage the team to phrase things in a positive way so they are constantly building up and encouraging their partner.  We also work on non-verbal communication since most moms will reach a point in the labor when they can't talk any more and the Coach needs to be able to read his partner's non-verbal cues so he can keep coaching her and meeting her needs so she is as comfortable and supported as possible through the most trying aspects of labor.
Consumerism is taught so that couples can make choices based on true "informed consent".  Informed consent in the realm of The Bradley Method® means that a couple has heard about different options available to them in class, has read about their options outside of class to come to their own conclusions about what they do or do not want during their pregnancy and birth, and that they have had conversations with their care provider to discuss their choices and ensure that their care provider will honor their decisions for their pregnancy and birth.
We also teach our students a series of questions that they can ask if they have to make a decision without access to the Internet and extra reading materials, or if time is of the essence.  Again, many of the decisions that a couple is faced with in these situations are options that they may have opted against in the event of a normal, uncomplicated birth.  Our hope is that the students did their homework and read up on them when they were opting against them, and have a basis to form a decision when deciding what kind of intervention is best when the labor indicates that interventions may be necessary for a Healthy Mom, Healthy Baby outcome.
Education is another key that makes The Bradley Method® so successful.  Our syllabus teaches a couple what is normal and what they can expect in a normal, uncomplicated pregnancy and labor.  We teach our couples what the warning indicators are and what the true medical emergencies are in pregnancy and labor.  We teach our couples how to have good outcomes if they end up with a cesarean or if they have an unplanned labor setting and end up giving birth outside of their chosen birthplace.  We teach breastfeeding and postpartum planning.
The theme running through all of these aspects of our classes is that it is up to the parent to have the birth oucome they want.  If all they plan to do is show up for class, at least they can get the information and one opportunity to prepare for their labor every week.  It would be less likely for the couple that doesn't do work outside of class to have their ideal birth.
If a couple takes all the instruction to heart, and does their daily exercise, faithfully tracks and meets the nutrition goals, practices relaxation and runs through a labor rehearsal every day, completes the study guides and they do their own research on the information offered in class to come up with their own conclusions and have good discussions with their care providers, then they are more likely to have the birth they want. 
My mantra is Practice Makes Prepared.  It is not a guarantee, however all the preparation makes for a healthy, low-risk mom who can withstand the trial of labor because she is physically ready, emotionally ready and she has the utmost confidence that her coach is just as ready as she is to do the work that is ahead of them when they face their labor together as a prepared team.
Has every one of our students had a textbook Bradley birth?  According to my count, only two from the eight that have had their babies already had completely intervention free births.  Whatever their outcome, they drew on the information from class to labor as long as possible without intervention.  Sometimes situations do present themselves when parents need to choose which of the options out there they want to use to speed labor, ease labor or avert a cesarean.  However, I can confidently say that most of them were very happy with their birth stories and felt like they made good decisions about the interventions in their births.
So, given that a Mom and Coach team has prepared for their birth in the way that best suits them, a good Bradley Method® outcome is one in which the parents accept the responsibility that their birth is their choice.  They feel good about the decisions that they made through the course of their pregnancy and labor, knowing that they made those decisions based on their personal needs and the ultimate goal of Healthy Mom, Healthy Baby.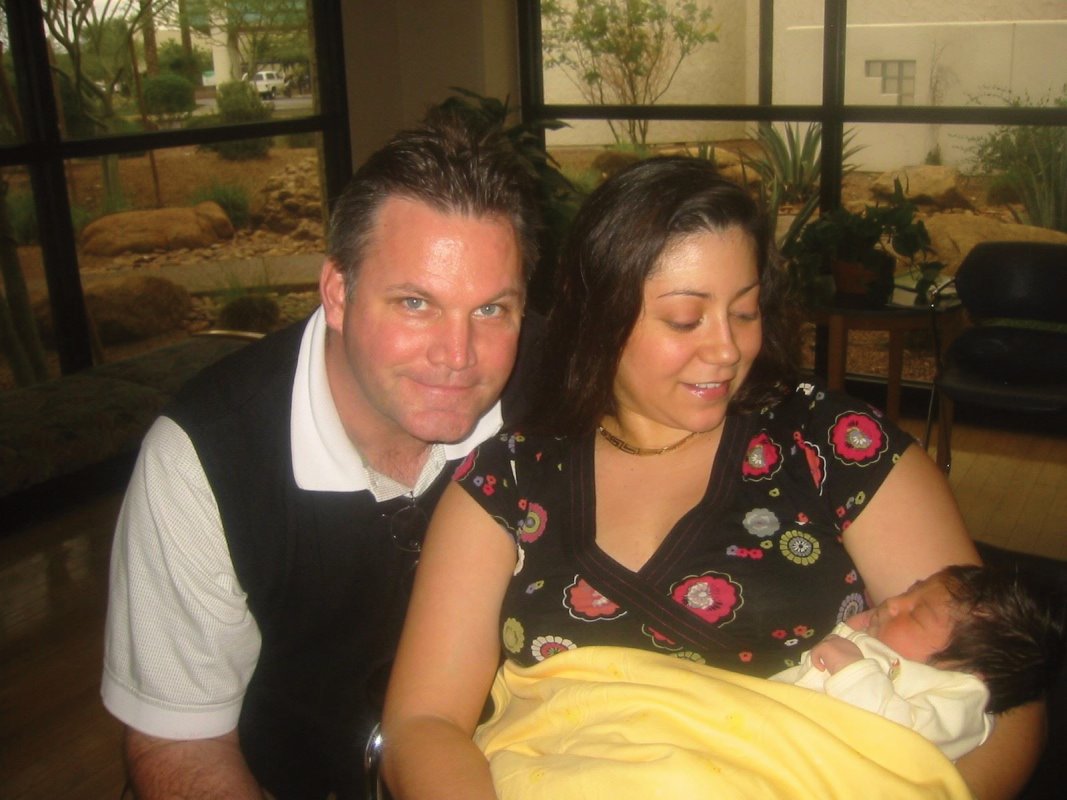 Disclaimer: 
The material included on this site and blog is for informational purposes only.  It is not intended nor implied to be a substitute for professional medical advice. The reader should always consult her or his healthcare provider to determine the appropriateness of the information for their own situation. This site and blog contain information relevant to our classes available in Chandler, AZ and Payson, AZ and is not the official website of The Bradley Method®. The views contained in this site and blog do not necessarily reflect those of The Bradley Method® or the American Academy of Husband-Coached Childbirth®.
Although each one of our births was amazing in a different way, our second birth was the closest to a textbook "Bradley" birth.  I refer to our child as "Baby" because we didn't find out the sex during our pregnancy. 
For our current students, you will read that we weren't the best students at doing our practice together - thank goodness we had hired a doula!  She made the difference again, although looking back, she did it in such a way that Bruss was the hero of the birth.  Here it is for you to read: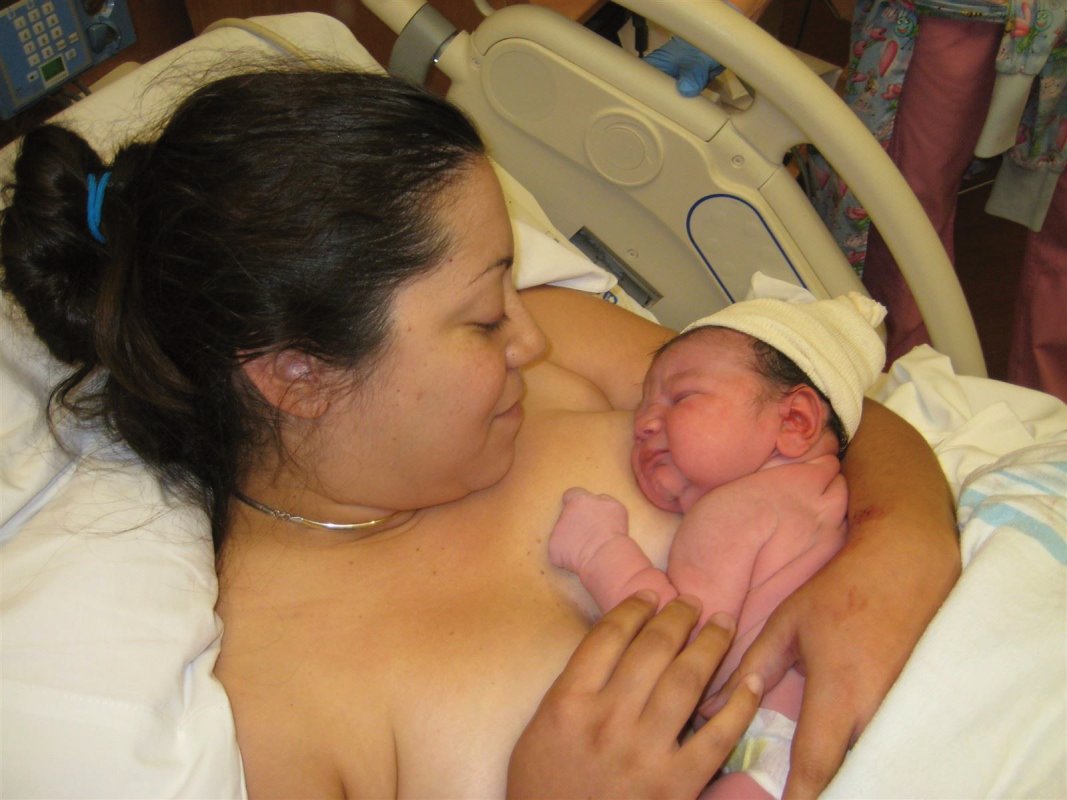 Since almost three years had elapsed since our last birth, Daddy Bruss and I decided it would be a good idea to re-take the Bradley Method® Class, and hopefully, finish the 12-week series.  We had to take the classes with a new teacher since our first teacher didn't have a class schedule that fit our due date.  It was a great opportunity to get a different spin on the same material.  
I also think we paid more attention the second time around since we knew the information was critical if we wanted to have a completely unmedicated and intervention-free birth this time.  Although our practice as a team didn't improve a great deal, I did my solo homework much more diligently.  Based on our last birth, I did more walking, more squats, more Kegels and perineal massage in hopes of having a better labor this time.  
You would think that as second time parents, we would know what labor was and when it started.  So, this baby decided to play games and test us out.  We went to the hospital two times in the week before our due date, and both times they sent us home because we were only in pre-labor.  
The third time we went, my water had really broken.  This was on September 28, 2007, around 3:00 in the afternoon.  We said good-bye to Ysabella and Grandma and left for the hospital around 4:00 p.m. My labor didn't stop once we got to the hospital - yeah!  I attribute this to being calmer the second time around and thus, the"fight or flight" instinct that stopped us the first time around didn't have a chance to throw a monkey wrench in the process this time.  
Our first triage nurse was convinced that she had to give me pitocin even though it wasn't on our birth plan.  We just smiled at her and said, "Order what you need to," knowing it was shift change and I would just take it up with the next nurse if I had to.  
The next triage nurse was cool with our natural labor birth plan, got us checked into our labor and delivery room and sent Doc to deal with us.  We were fortunate to have the same doc from our OB group that had delivered Ysabella, and he and I had a little discussion.  We talked to him around 7:00 PM, and he was willing to give me the same 14 hours that he had given me with Ysabella.  He also gave me fair warning that I was going to work hard, "as if you were going to run a marathon".  
Ironic - that is exactly what the Bradley Method® uses as an analogy in preparing for labor and delivery.  Birth is an athletic event, and if you are going to perform as a top athlete, you condition your body with proper exercise, nutrition and mental attitude to win the event.  I assured Doc that I was ready to "run the marathon" and would appreciate the opportunity to do so.  Away he went and labor kept progressing.  
Labor progressed according to the chart we studied in Bradley class.  (If you have a Student Workbook, it's the chart on pages 38-39 that Bruss likes to refer to in class.)  First stage, late first stage, transition, and second stage.  We walked, we used several squatting positions successfully, and I slept between contractions this time.  As a side note, this is only possible with great coaching - mom has to trust that the Coach is watching the clock and that she will be woken up before the contraction starts.  Good job, Daddy Bruss!   Our doula Madelon was with us again, and she helped us through the tough spots with her low,  gentle voice and her steady, loving hands.  
Before we knew it, I was at the, "Oh my gosh, you people better figure it out because I AM GOING TO PUSH THIS BABY OUT WITH OR WITHOUT YOUR COOPERATION, THANK YOU VERY MUCH!!!"  
They called our new doctor (the OB practice call schedule had a shift change in the morning), who was cool with my birth plan.  Although she had not seen a successful Bradley Method® birth yet, she was willing to assist us and give us the support we needed.  She got in there with the olive oil and did a perineal massage to gently open and soften the vaginal tissues so that they would stretch around the baby without tearing.  
Baby came out after a few pushes - I think it was four good ones and the head came out, then another push and the shoulders, and then one more good push and the rest of baby came out.  Bruss Reynaldo was born at 8:49 am on September 29, 2007 - his due date.  It was such a thrill - we had done it by letting my body follow nature's course, and guess what??  Baby Bruss was 11 pounds, 1 ounce - and I barely tore at all!!!  Doc gave me a couple of "cosmetic" stitches (seriously, who's looking??).  
The mood in the room was giddy, excited, awesome.  No one could believe how big Baby Bruss was, or that he had come out naturally.  He was not the biggest baby that day, but he was the biggest natural delivery.  And just like they testify in the book, Husband-Coached Childbirth: The Bradley Method® of Natural Childbirth, by Dr. Robert Bradley:  an hour later I was walking around the labor and delivery wing, stretching my legs and chasing down the Bruss' in the nursery.  
It was the most amazing event - 18 hours of letting nature take it's course with an unbelievable reward at the end of our "marathon".  After experiencing this, I fully understand why people choose to push their body to the limit in endurance contests - finishing the "run" is one of the most satisfying and fulfilling affirmations of the human experience.  
Disclaimer: 
The material included on this site is for informational purposes only.  It is not intended nor implied to be a substitute for professional medical advice. The reader should always consult her or his healthcare provider to determine the appropriateness of the information for their own situation. This blog contains information relevant to our classes available in Chandler, AZ and Payson, AZ and is not the official website of The Bradley Method®. The views contained in this blog do not necessarily reflect those of The Bradley Method® or the American Academy of Husband-Coached Childbirth®.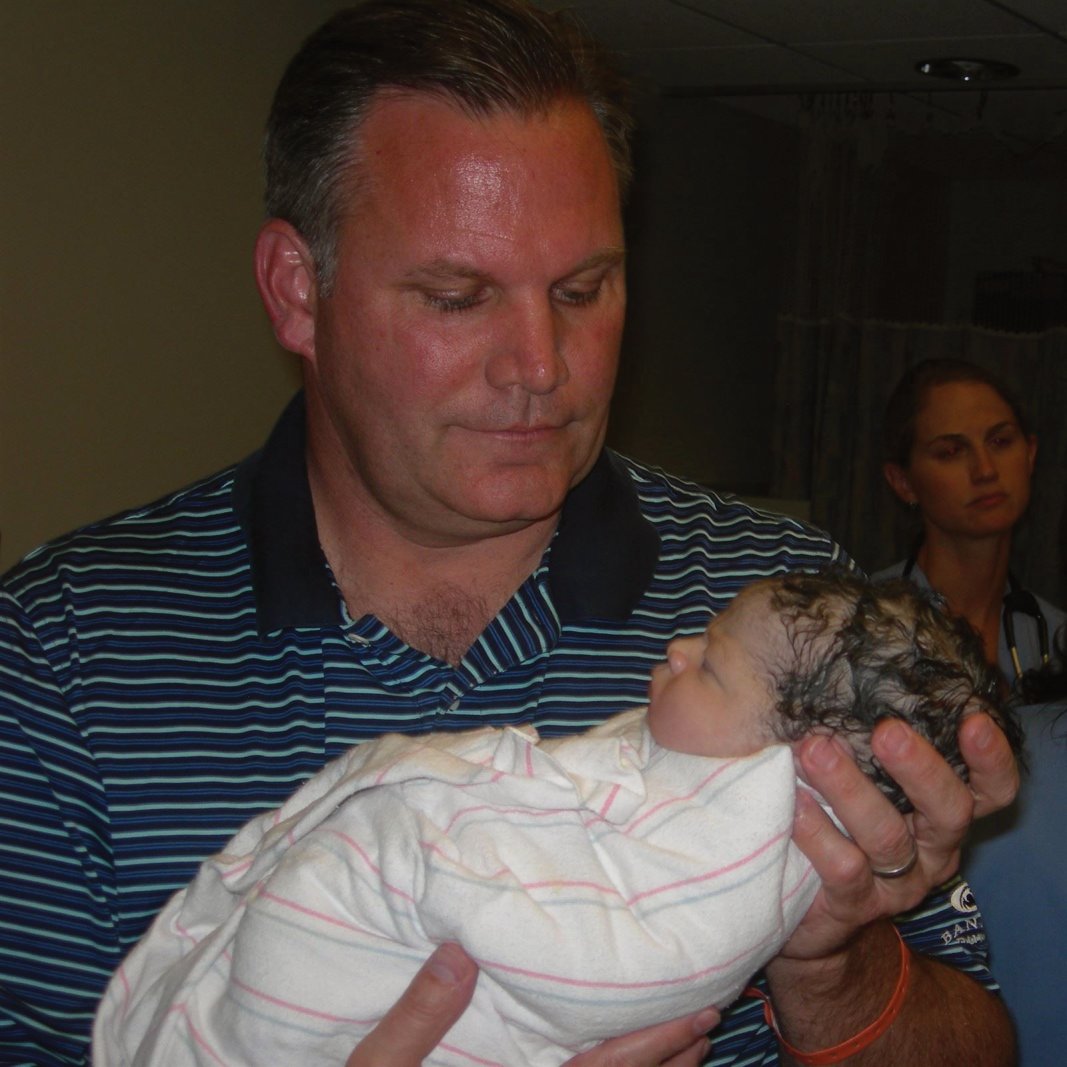 The very active role of Dads (Mom's coach) in pregnancy and labor separates the Bradley method from most other childbirth education.
Krystyna and I have had three wonderful Bradley inspired births.  Our active partnership in the 40+ weeks of pregnancy AND dozens of hours of
laboring for each one of our children has deepened our relationship and
well prepared us for deliveries that closely met our pre-labor birth
plans.  Indeed it is the active partnership, planning and communication
that sets a pregnant couple up for the highest probability of positive
outcome for their coming birth and beyond.
In our classes we work with coaches to focus and further the following
attributes to best support their partners in pregnancy and delivery.  A coach needs to be:
Committed
Enthusiastic
Strong
Understanding
Committed-
The act of commitment is binding yourself intellectually and emotionally to a course of action.  As a coach what are your goals for the pregnancy,
birth and beyond?  Choosing pregnancy/birth goals with your partner is
the first step.  Commit yourself to doing that first.  There should also
be regular review of your goals to ensure that they continue to meet
your needs as you both progress through the pregnancy.  Once you and
your partner are on the same page with the pregnancy goals then there is
a further level of commitment to achieving those outcomes.  Truly there
should be nothing more important in your lives than a healthy
pregnancy/birth for Mom and baby.  From experience I can tell you that
the time will go by VERY quickly.  I recommend that you sweep aside all
other obstacles to focus as much energy as you can on your partner, her
pregnancy and the birth itself.
Enthusiastic-
The energy and attitude that you bring to your job as coach for your
pregnant partner directly impacts the outcome of the pregnancy and
birth.  Of course that doesn't mean that your enthusiasm will guarantee a
great outcome but certainly  your lack of involvement and enthusiasm
will dramatically lower the chances for a great outcome.  Coaches focus on being eager to take part and support in whatever way you can, whenever you can for your partner.  This is a wonderful time.  Be excited for whatever challenges you may face through the pregnancy and birth.  Enjoy the process for this time will pass in a blink of the eye.
Strong-
Coaches, your partners are in the process of bringing a new life into this
world.  It is a amazing process and gift.  From the inception of the
pregnancy through the birth there will be numerous times that your
partner will need your strength.  Especially for first time Moms, she is
venturing into the unknown and she will have doubts/concerns/fears
about many things, not the least of which is whether she will actually
be able to give birth.  Realize that she will have these concerns/fears.  From experience I can tell you that with each pregnancy/birth there
will come the time when she will need you to be strong for her when she
cannot.  Be ready for that time and be prepared to be there for her when
she needs it most.
Understanding-
During the pregnancy your partner is undergoing tremendous change and is devoting huge energy to the baby and its growth.  Your partner and the
baby need every amount of understanding you can muster during the
physical and emotional roller-coaster of pregnancy and birth.  Learn as
much as you can about the birth process.  Every birth is unique so study
not only the 'standard' birth process but also find out what can and
will vary.  Prepare yourself for as many likely outcomes as possible and
be prepared to support your partner regardless of what happens.
Krystyna and I like to say that we have had four honeymoons.  The first after our wedding and then three on the birthdays of our children.  There is nothing that compares with working with your partner to bring a new life into the world.  Realize that even though you are not the one giving
birth that your active involvement in the pregnancy and birth directly
impacts that quality of the outcome.
Best Wishes,
Bruss Bowman
Disclaimer:
The material included on this site is for informational purposes only.
It is not intended nor implied to be a substitute for professional medical advice. The reader should always consult her or his healthcare provider to determine the appropriateness of the information for their own situation. This blog contains information about our classes available in Chandler, AZ and Payson, AZ and is not the official website of The Bradley Method®. The views contained on this blog do not necessarily reflect those of The Bradley Method® or the American Academy of Husband-Coached Childbirth®.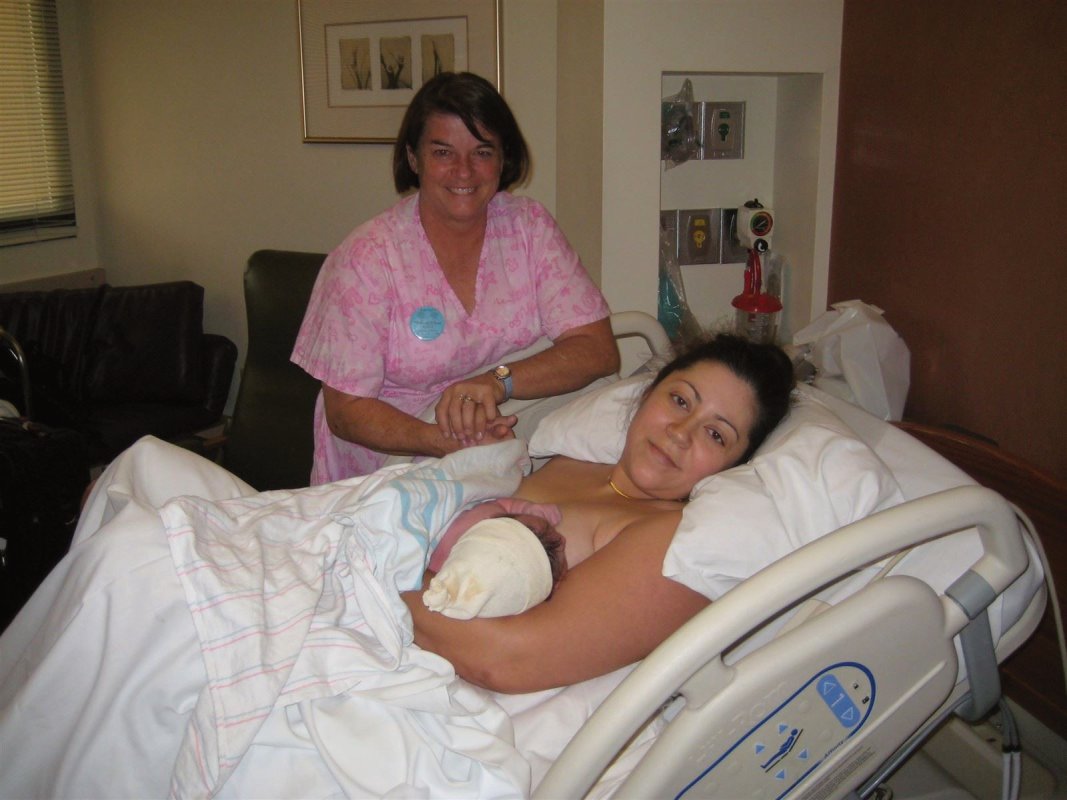 I am going to share about doulas today.  I apologize for the late posting.  It has been a marathon week already - and it's only Tuesday :)
Last night our class focus was on nutrition and how important it is for both mom and baby to be well-nourished.  Since today's post is going to be about one of the questions that our students had after class was over, I am going to direct you to Dr. Brewer's website for more information on nutrition in pregnancy:
If you have any specific nutrition questions, concerns or questions, please feel free to write me and suggest a specific nutrition topic you would like to read more about.
There were two questions that I found interesting that came up after class.
If we have great nutrition throughout the rest of the pregnancy and have a healthy mom and healthy baby going into the hospital, why do we need a doctor?  Wouldn't we be fine with a midwife?
  2. Since we are taking these classes and our husbands are learning to
      coach us, should we have, or do we need, a doula, too?
The first question is going to require a little research so that I can fulfill my role as a Bradley Method® teacher and provide information for you to use as a starting point for more research, rather than offer my strong opinion on the matter.
I am going to answer the second question as today's blog post, by sharing some of the birth stories our students have shared with us over the last year.
First of all, what is a doula?  A doula is person that is knowledgeable about birth through their own experience and/or observation and participation in other births, they have experience with a variety of pain management techniques, and they have at least a basic knowledge of the interventions and augmentations that can be used in labor.  They specialize in supporting a couple through their birth experience.  From our own experience, I would say a good doula knows that her place is to support the couple, and do everything in her ability to make sure their birth plan is followed, all while playing in the wings and staying off center stage.
As in all professions, doulas vary in their abilities.  It is a good idea to interview several since they are going to be sharing a very intimate moment in the life of your family.  Find one that has an experience level you are comfortable with in regards to the variety of births they have attended and their comfort with medical jargon, and one that has a similar, if not the same, philosophy about birth as Mom and Coach.  You also need to know if they will speak to your care provider on your behalf during labor, or if they want you to be the only contact person with your care team.
Our two students that had completely natural, intervention-free, uncomplicated births within the last year had a support team that helped Mom and Coach in the hospital.  Interestingly, both Coaches said that they could not have been the coaches they were for their wives without that support.  For both of these coaches, their mother-in-law (MIL) served as a doula: the coaches had a loving support person with them that was aware of their desires for a natural birth, and they had a vested interest in having the couple work together as a team.
The first family had a coach-by-accident situation, where MIL drove them to the hospital, and she never went home.  She was interested in making sure her daughter was okay, and when it became apparent that Coach was not going to leave her side, she was ready and willing to step in to find staff when needed, get ice, get water, give Coach a break as needed so that Mom was never alone.  When we went to see new family in the hospital, one of the first things Coach shared with us as we were admiring their beautiful child was that he couldn't have done it without his MIL.  And she was equally effusive about her son-in-law.  She couldn't believe how much he knew about birth, how supportive he was of her daughter, how tender and calm he had been through the whole process.
The second family had an intentional Assistant Coach scenario.  They took us at our word: in the very first class of a series, we tell our students that they are welcome to bring any assistant coaches or doulas to class with them free of charge in order to ensure that they are going to have the birth experience they want for their baby.  This family brought in four different family members who were interested in being at the birth, all at varying degrees of participation, but wanting to participate nonetheless.  All the family members got to sit in for one or two classes and participate in the evening's labor rehearsal. 
This family's plan was to move from their home to the MIL's house when it looked like labor was progressing past early first stage so that they were halfway to the hospital.  The plan was to get into more active labor at MIL's house, and then make the last transfer to the hospital when contractions were four minutes apart or less, and they had this pattern established for an hour. 
Well, everything went according to plan and according to Coach, they, "had a perfect Bradley birth, no problems at all.  Our birth story will be kinda boring…"  When we heard their birth story in the hospital, Coach conveyed the same feelings as the previous Coach, he couldn't have done it without the extra pair of hands and the emotional support provided by his mother-in-law.
My last birth story to relate you can also see and hear for yourself.  Cody and Olivia were sure that they wanted to have the birth experience just the two of them.  Although they did have a vaginal epidural-free birth, they ended up with some interventions and felt that they could have benefited from an assistant coach.  After the fact, they agree that the one thing they will definitely do differently the next time is to hire a doula that can support Cody and among other things, give Cody a bathroom break when he needs one!  You can see their perspective here:
We chose to have doulas at all three of our births.  With our first pregnancy, Bruss was traveling so much and missed almost half of the classes we attended.  We had started late in our pregnancy, so we only attended nine classes out of the
twelve week series
.  When he was absent, my aunt came with me so that she could be my labor support if Bruss was stuck out of town when labor started and/or our baby was born.  We figured our best chance of having the birth we wanted was to hire someone who was experienced and knowledgeable about the Bradley Method® to be our extra pair of hands.  Our prayers were answered and we were able to find another Bradley Method® teacher who also did doula work.  We looked at her fee as an "insurance policy" that we were going to have the natural birth we wanted.
We had such a great experience with our doula – she was everything we expected and more: she lent a calming presence to us as first-time parents; she would listen to the medical information relayed by the staff, ask us what we heard, and then clarify or fill in the gaps to enlarge our understanding of the situation.  And she did it all while letting Bruss play the leading role in our birth.
We had such a wonderful experience, that we invited her to be part of our second birth.  Even though we did take a complete Bradley class with that pregnancy, and Bruss was able to attend 11 of the 12 classes, we still wanted the "natural birth insurance policy" in the hospital setting.  Once again, she provided the objective eye we wanted and the support we needed as labor intensified and we had our perfect Bradley birth.
With our
third labor
, we found ourselves grateful to have the assistance of one doula and one very dear friend throughout the course of a 46-hour labor.  So it goes to show that even experienced natural birth couples need a helping hand, in our case two sets of helping hands.
The choice to have a doula is a personal one, and each couple needs to weigh the expected benefits versus the fee for service.  Whether you are having a hospital birth or a home birth, your care team is primarily concerned about the mom and the baby, and they usually wait to get involved until labor is in the late stages, whereas a doula gets involved whenever the couple feels the need to call them to come to the labor.  In both settings, the Coach would benefit from having someone who could "coach The Coach".
I hope that our student's stories and our own will offer some perspectives on how a doula can benefit a laboring couple.  In any decision, weigh your particular needs and concerns before you make any decisions.  As always I invite you to leave a comment and let me know how a doula helped you in your labor.  If you have any questions or concerns, feel free to share those, too.
Disclaimer:
The material included on this site is for informational purposes only.
It is not intended nor implied to be a substitute for professional medical advice. The reader should always consult her or his healthcare provider to determine the appropriateness of the information for their own situation. This blog contains information about our classes available in Chandler, AZ and Payson, AZ and is not the official website of The Bradley Method®. The views contained on this blog do not necessarily reflect those of The Bradley Method® or the American Academy of Husband-Coached Childbirth®.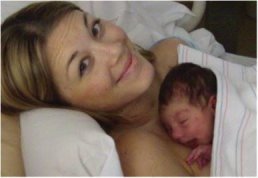 Since our new students did not present us with any questions last night, I thought I would talk a little more about what we try to achieve as instructors and why we are advocates of The Bradley Method®.  I am going to give you our personal insight on the stated goals of The Bradley Method® classes:
Natural childbirth – As in a vaginal, unmedicated, intervention free birth.  Dr. Bradley knew that as intelligent human beings, we had to be able to do as well or better than our mammalian counterparts in nature, and by applying his observations of perspiring mammals giving birth, he came up with the core principles of "how" to give birth using The Bradley Method® that we teach in class.  Dr. Bradley's proven, evidence-based principles are helping families achieve an 86% vaginal, unmedicated birth rate.
Active participation of the husband as coach – Dr. Bradley discovered something surprising in his clinical trials, taking place at a time when husbands had been relegated to pacing in the waiting rooms: women were calmer in the loving presence of their husbands!  Having a father present happened quite by accident during one birth, and he observed how calm the mother was in the presence of her husband, and how she became more agitated when he left the room.  He wondered, "Could a loving husband be human nature's anesthetic?"  So he started inviting more husbands in to the labor rooms with the same result, and hence the term "Husband-Coached" was coined.  He saw the value in training a couple to give birth naturally, and he relegated himself to the role of "life-guard", stepping in only when needed, and lending his expertise as an obstetrician at the moment of birth. 
In this day and age, some Bradley instructors have adopted the word "Coach" when we talk about the loving support person in classes.  Expecting couples are not always married these days, and not all couples having babies are husband-wife pairs anymore.  There are also cases where the husbands are not comfortable with childbirth, so moms will opt to bring another loving support person with them to be their Coach during childbirth.
Excellent nutrition, the foundation of a healthy pregnancy – "You are what you eat" rings even truer when a woman is pregnant.  Not only is she feeding her body, she is also providing the building blocks for an entirely new, independent human being.  The Bradley Method® teaches the pregnancy nutrition program developed by Dr. Tom Brewer, which specifically addresses the needs of the pregnant body and the growing baby.  His well-balanced, high-protein eating plan ensures that a mother's food intake is full of naturally occurring vitamins and minerals that the body needs for proper function, and protein – the building block of human cells.  To have Healthy Mom, Healthy Baby outcomes, you have to build Healthy Moms and Healthy Babies to begin with.
Avoidance of drugs during pregnancy, birth and breastfeeding unless absolutely necessary – As stated by the American Academy of Pediatrics, Committee on Drugs, "No drug or chemical – whether prescription, over-the-counter or food additive – can be regarded as having been proven to be entirely free of potential harm to the fetus." (Pediatrics, Vol. 51 No.2) 
Regarding the development of the blood-brain barrier: "The cerebral capillaries are much more permeable at birth than in adulthood, and the blood-brain barrier develops during the early years of life." (Review of Medical Physiology, 16 edition, 1993)
Given these two findings by credible medical sources, Bruss and I took it to heart that we were ultimately responsible to ensure our children were chemical-free to the best of our knowledge.  We made changes in beauty and health care products to eliminate metals and unregulated ingredients.  We consciously evaluated our food choices and learned to eat more whole foods instead of foods full of additives and preservatives.  We educated ourselves in the process of labor so we could embrace it and work with it free of anesthesia, and to the best of our ability, free of other drugs as well.
Training: "early bird" classes, followed by weekly classes starting in the 5 or 6 month, continuing until birth – It is never to early to learn about the process of childbirth, relaxation is a great "life" tool, and the nutrition and exercise component of the classes make for a healthier overall pregnancy.  The more time coaches have to prepare an athlete, the better the athletic performance. 
In the mother-coach-birth dynamic, this holds true as well.  The more the mother can trust that her coach is knowledgeable and ready to coach her, the more relaxed she can be during the labor and birth process.  The better nutrition she practices, the better prepared she and her baby are for the course of labor, no matter how long or short it may be.  The better physical condition she is in, the more capable and ready she is to work with her body and get into a variety of helpful positions that aid in baby's progress during labor.
Relaxation and natural breathing – Relaxation is the key to The Bradley Method®. Abdominal breathing is conducive to relaxation because it works with the body's natural rhythm, and we strive to teach couples to break the Fear-Tension-Pain cycle.
With the release of tension, labor won't necessarily be "pain-free", however, it will be less painful than if a mother holds her breath and adds more tension on top of the contracting muscles. 
A mother that is able to let the tension out of her body can let the uterine contractions work efficiently to bring about the birth of her child. Mothers and coaches learn to work with nature's process and take one contraction at a time, embracing them with the knowledge that each contraction brings them closer to the birth of their baby.  We also teach normal, abdominal breathing.  It's what we do when we sleep, and what most women do when they are relax instead of holding their tummy in for various and sundry reasons.
"Tuning in" to your body – In a state of relaxation, a mother is able to "tune-in" to her baby's needs – I think of it as finding the "frequency" for the universal baby channel.  Dr. Bradley observed that a culture had lost the memory of childbirth.  Personally, we found that our instincts do not change.  When we were completely relaxed, we could draw the "tools" out of our "birth tool-box" as we needed them in labor.  What kind of things would relax me?  What kind of comfort measures did I need?  Which position did I need to be in to accommodate our baby's changing position in my body?  In a state of complete relaxation and the help of a doula, the answers came to both of us and we were able to do what we needed to do to make our labors progress without anesthesia.
Immediate and continuous contact with your new baby –
Babies want their mothers.  I had a moment of clarity when I heard this statement at
Birth Circle
, "Every minute apart from the mother is 100% longer than the baby has ever been apart from the mother before."  More research is showing that human mothers and babies imprint on each other just as we know it happens in other animals: separate a baby from it's mother and she will literally kick it out of the nest.  When mother and baby have a natural, unmedicated birth without complications, there is no reasonable explanation for the separation of a mother from her child.
Breastfeeding beginning at birth – Breastfeeding is another "natural process" that is in reality, a learned behavior.  Many hospitals have lactation consultants on staff now, and they are there to coach mothers and babies on their first steps to a successful breastfeeding relationship.  We dedicate a portion of every series to lessons about breastfeeding. The Womanly Art of Breastfeeding, by La Leche League International is one of our suggested texts; and we encourage every couple to attend at least two La Leche League meetings throughout the 12-week class series.  When it comes to breastfeeding, there is no such thing as too much education.  Every nursing relationship is different according to circumstance, and we encourage our students to have the contact information to a variety of breastfeeding resources – you just never know who or what is going to click with your learning style or particular needs.
Consumerism and positive communications – Birth is just the beginning of a lifelong commitment to the safety and well-being of your child.  It is important to learn questions to ask of people who want to "do something" or "try something" on your child – just because they are unborn doesn't mean that they aren't going to be affected by decisions you are making or the "something" that well-meaning friends, family or care providers suggest. 
We take time every class to talk about positive communication – communication that leads to a mutual understanding and a positive interaction.  This is important when we convey our wishes to our care providers and our birthplace.  We found it was important to know how to communicate with each other during labor: early on I could talk, later I didn't want to be touched, let alone talked to sometimes.  Bruss needed to learn how to read my cues and help me anyway. 
As we discovered, these little people we bring into the world do much better when we are a united front, and they try to "divide and conquer" even when they lack the words to state their purpose.  Our marriage has been enriched by the communication exercises we practiced in class, and as we like to say, we have had four honeymoons throughout the course of our marriage.  Each birth has made me fall even more in love with the person I was completely in love with on the day we got married.  For us it has been true that we "grow in love" every time, more love for each other and more love in our hearts for our children – love is infinite!
Parents taking responsibility for the safety of the birthplace, procedures, attendants and emergency back-up – As parents, we our the first line advocates for our children.  It is up to us to give them a voice when they can't speak for or defend themselves.  If something does not "feel" right, then be proactive and do more research, ask more questions – it's okay!  Chances are that if you offend someone, they probably are not the best fit for your circumstances or needs. 
Educate yourself on the procedures done during pregnancy, labor and after the baby is born:  where did they come from?  Why are they necessary?  Are they really necessary?  What do you want done now?  What can wait?  I phrase these as questions because there is no right or wrong answer – each family needs to decide together what is best for their child.
No matter where you are going to give birth or what kind of care provider you have, ask about their back-up plan.  Not all providers are on-call 24/7.  If they aren't, how do you feel about their on-call partners?  If you are having a homebirth, who does your midwife call in if/when she needs a break or a second opinion?  Where does she transfer to in the event of an emergency situation?
All these are questions to answer before the emotion and intensity labor and delivery.  Know all your options ahead of time so that you can ask for adjustments or changes when you have time to make reasonable, well-thought decisions.  You will never regret asking for help or information – you will generally regret the lack of information that leads to an uninformed choice.
Parents prepared for unexpected situations such as emergency childbirth and cesarean section – Not too many childbirth methods cover these topics.  It is assumed that all will go well, and generally, it does.  As a general rule, a woman has to be in good health to achieve pregnancy in the first place.  However, in the event that you leave too late for your birthplace, or you don't call your midwife in time, we teach moms and coaches what they can do and what needs to be left up to the professionals.
In a time when statistically 1 out of 3 women will have a birth via cesarean section, I feel it is not just good practice, but our personal responsibility to inform our students of the after-effects of a cesarean birth, as well as how they can have the best postpartum experience under the circumstances.  We do everything we can in class to teach our moms how to stay healthy and low-risk, and how to manage their labor with their loving coach so that the chances of a cesarean remain low.  However, some students will choose to have an induction or an intervention, and once you start on this path the stage is set for what Bruss calls the "Schlitterbahn" effect, otherwise known as the "slippery-slope" where one intervention leads to the next…and the next…etc.  We want to let couples know about all their choices so they are well-equipped to handle any twists and turns that may happen in the course of their labor.
I hope offers a little more information on The Bradley Method® and why we find it such a valuable and worthwhile way to spend our Monday nights!  We were so honored to have three more couples choose our classes to help them prepare for the births of their precious sweet peas!
A little history on The Bradley Method®, in case you are interested:
The Bradley Method® was created by Dr. Robert Bradley who saw a need to bring birth back to it's natural state as God designed in nature.  Having grown up on a farm in the Midwest and witnessing a variety of perspiring mammals give birth peacefully and unassisted, he was surprised to discover that human mothers seemed to have forgotten that birth was a "natural" event in the circle of life.  During his time as an obstetric resident, he was appalled by the practice of the "knock 'em out, drag 'em out" births: laboring women were heavily drugged in twilight sleep or with an epidural, tied to beds and immobile, giving birth via forceps or vacuum delivery because they were unable to push out their children with their own strength.  Their babies were being born limp and apparently lifeless, literally having to be spanked to "wake" them up and take their first breath.
He asked himself these questions:  "Why do all other animals peacefully and joyfully give birth unassisted?  Why can't the human animal do this?  What makes the difference?"  In his quest to discover the answers to these questions, he took a cue from the births he had seen growing up and applied those principles to his human patients, training them to give birth and prepare themselves for an athletic event at the end of a pregnancy: the unmedicated birth of their child.
As an aside, I have to say my personal experience as a person of color leads me to comment on Dr. Bradley's apparent cultural ignorance.  He assumes in his book, Husband-Coached Childbirth, that all women were suffering from the effects of a medically-managed, drug-riddled birth. He completely ignores the fact that there were other cultures in which midwifery care was common due to racial prejudice (not being allowed in hospitals), cultural practice, rural setting or economic circumstance that made a hospital birth out of the question. 
Both of my parents were born during the time frame when Dr. Bradley was working and crafting his method as outlined in the book.  Being of Latin-American descent, our culture was still homebirthing during this time, and both of my parents had unmedicated, midwife assisted births at home in Puerto Rico and Texas, respectively.
In the era of racial "equality" and with the rise of medical insurance, more people have access to hospital birth.  Now hospital birth is considered the "normal" way to give birth across more cultures her in the United States.  In that vein I am grateful for Dr. Bradley's work, because without his method, my husband and I would have been left out on our own to figure out the natural birth "thing".  It wasn't until my grandmother, who had eight homebirths, scoffed at the idea that I was being taught to give birth that I truly realized that birth IS a natural process and I had nothing to be afraid of.  If she could do it, then so could I.
Disclaimer:
The material included on this site is for informational purposes only.
It is not intended nor implied to be a substitute for professional medical advice. The reader should always consult her or his healthcare provider to determine the appropriateness of the information for their own situation. This blog contains information about our classes available in Chandler, AZ and Payson, AZ and is not the official website of The Bradley Method®. The views contained on this blog do not necessarily reflect those of The Bradley Method® or the American Academy of Husband-Coached Childbirth®.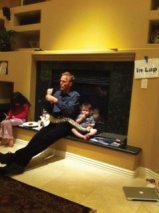 Dr. Kevin Ross, DC has been our chiropractor since I went to see him for help with Bryan's breech presentation.  He is trained in the Webster Protocol, which as he explained to our class last night, it's NOT a turning technique.  It's an adjustment that addresses the imbalance in the pelvis.  Once the pelvis is aligned, then the baby can safely turn head down.  They may be unborn, yet they are smart enough to avoid tension!!  We were very blessed that his "magic hands" worked to align my pelvis and Bryan turned head-down 11 days before he was born.
We invite him to come speak to our classes for a couple of reasons.  Being a Bradley Dad himself, he is a champion of natural birth.  He and his wife took Bradley Method® classes in preparation for the births of their two older children, and they had three homebirths.  He is also passionate about chiropractic care during pregnancy and childhood. 
He is a favorite of La Leche League leaders and lactation consultants.  They consider him a great resource and he is recommended to moms who are having breastfeeding challenges.  One of the fringe benefits of infant chiropractic care with Bryan was having our nursing relationship stabilize within two weeks after his birth, instead of the 4-6 weeks it took with our older two children who didn't receive chiropractic care as infants.
Since last night was our postpartum care class, we asked Dr. Ross to come speak to our class about what they should expect as "normal" for their infants and we also asked him to participate in our labor rehearsal.
He started his presentation by using his spine model and his baby doll to show our students about how a baby progresses through the birth canal.  He re-iterated what we strive to teach in our classes:  given a normal, uncomplicated birth, a mom's body and the baby know how the baby needs to get out, and they can do it without any outside manipulation or maneuvering as the baby exists the birth canal.  He really emphasized to the families that they could trust mom's body to do what it is designed to do.
He also used the spine and baby to demonstrate why it is that some babies seem to have a "favorite side" when they nurse.  As he likes to say, mom's breasts are a matched set: they look the same, feel the same, and for all intents and purposes are the same size.  There is no reason other than a misalignment from the birth experience that would cause a baby to choose one side over another.  He explained that if a baby has tension in their spine, it is uncomfortable for them to turn to one side, therefore it lends to the appearance that baby favors one breast over the other one.
Dr. Ross made use of the spine model to demonstrate why lying in a supine position on the bed (on your back) is so painful during labor.  He reminded the students that studies have shown it's the best way to slow down a labor, which then leads to a host of interventions.  He suggested that if our students want their labor to progress as it was designed to do, mom should stay off her back.  Thanks, Dr. Ross!
The first thing he showed us for labor rehearsal was how to deal with "back labor".  Back labor is generally caused by a baby who has the bony part of the head against mom's spine, called "sunny-side up" in the vernacular and "occiput posterior" in medical terms.  In two of the graduate birth stories we heard, babies in a posterior position had slowed their labors down.  Dr Ross has a very specific way to address posterior presentation without physically manipulating the baby. 
He also shared a way to help open the inlet of pelvis during early and active labor, and then open the outlet of the pelvis during late first stage labor.  We practiced this in side-lying position, as well as in a labor scenario where couples would be walking between contractions and then either squatting or standing against the wall during a contraction.
Having Dr. Ross visit was informative on so many levels.  Unfortunately, although I had my video camera and my still camera ready, I was so caught up listening that I didn't take pictures or video to share today!  Next time…the picture at the top is thanks to Bruss' quick shot with his phone camera.
For more about the Webster Protocol, please visit Dr. Ross' webpage:
http://rechargeyourlife.com/drross_chiropage/webster_turning.html
Disclaimer:
The material included on this site is for informational purposes only.
It is not intended nor implied to be a substitute for professional medical advice. The reader should always consult her or his healthcare provider to determine the appropriateness of the information for their own situation. This blog contains information about our classes available in Chandler, AZ and Payson, AZ and is not the official website of The Bradley Method®. The views contained on this blog do not necessarily reflect those of The Bradley Method® or the American Academy of Husband-Coached Childbirth®.
Thanks for your patience through all our technical difficulties.  Part 2 of the Birth Story is up!
Olivia, Cody and Baby CJ share their Birth Story  
This family was the first family to deliver from our Fall series, and they wanted to come share their story during our Coach Class.  Olivia felt that their labor would not have been what it was without Cody's great coaching, and their Birth Story is shared in two parts via YouTube. 
Please click on the accompanying links to hear about their birth, their feelings about taking The Bradley Method® classes, sleeping during labor, coaching, and their view on the somewhat controversial baby-led vs. scheduled baby care.  
Olivia uses the word "lucky" in regards to their experience several times in the video, and you'll see it in the answers below as well.  I see it as not just luck, but a reflection of how prepared they were:  Practice makes Prepared.  They showed up to class every week, paid attention to mom's exercise and nutrition, and practiced their relaxation outside of class time.  All those things added to the "luck" that was with them throughout their labor and delivery.  
I transcribed the Question and Answer portion of their presentation.  I also added some notes that be of interest to reader's who haven't taken Bradley Method® classes.  Feel free to read all the questions, or jump to the ones that apply to you and/or interest you.  
Question:  Which hospital were you at?
Answer:  Banner Gateway – we really liked Banner Gateway.  Our Labor and Delivery room was huge – it was awesome.  Our recovery room was really comfortable.  The nurses are awesome.  There are great nurses there – everyone was really good.  
Cody:  One thing we forgot to mention [during our Birth Story] was having to get the student [nurses] out.  There were a couple of times they tried to bring students in.
Olivia:  And Cody was like, "No, sorry, get out."  Which at that point, I didn't care if the whole Mormon Tabernacle Choir was in there.  You really do lose modesty; you don't care.  You're so uncomfortable; it feels like everybody is down "there" anyway.  
Question:  This week is "Coach's Week".  Is there anything you want to tell the coaches that you learned from Bradley classes, what you learned through the process of labor, any recommendations?
Cody:  I know it's a lot of pressure, but you are kind of, like, the only one there.  And I think you need to take that responsibility on for your wife to feel comfortable.  She is not going to feel comfortable knowing that there is any responsibility on her.  I think you need to take ownership of your birth plan, anything that happens; if it doesn't go the way you want it to, that's your job to make sure it goes the way you two have discussed.  And I would also suggest having some help there…that's what stressed me out the most…having to go between the baby in the nursery and mom.  It would have been nice to have someone there with us, or at least in the waiting room, where you could say, "Hey, come here" so no one would be left alone.
Olivia:  Even a doula; we thought about a doula and considered it, and we were, like, we'll try it just us.  And I think that next time, we probably will [have a doula].  It would be nice for Cody to be able to go and just leave me in the room.
Cody:  I would also say have an arsenal of what works that relaxes your wife, and go through those and be familiar with them.  If the first time you do them is when you're in labor it's not really going to work.  And with us, as with other couples that I heard, what worked for them the most before labor didn't work for them in labor, so have an arsenal of things that you can use.  And also I think the most useful thing for me was knowing the signs for the stages of labor, how it progresses and helping her recognize them.  That kind of gave her confidence, that, "This is good!"
     I would also suggest taking a lot of time off of work.  I loved having just the three of us at home.  It made the whole "getting used to" having another person in the family more enjoyable.  It was a celebration of CJ being home.  I took three weeks off of work – it was really nice.  
Question:  Did you put together a "Coach Book" for yourself with some of the materials [from class]?
Cody:  I actually had little cards of the stages.  I printed up a pocket-sized version of those and reviewed them.  We actually wrote down what we would do in certain situations.  We wrote down, "We'll be at home until we have these contractions."
Olivia:  You know, that [student workbook] is really great. Review it as much as you can before – have it with you in your head, because you won't forget.  You (gestured at the coaches) especially won't forget.  You'll get nervous, but you'll remember.
Cody:  She did go through and mark the things we'd need to know in the moment with tabs.  We had it with us, but there was never time to look at it.
Olivia:  He did get to review it before we went to the hospital, and he was really on top of it.  He did all the homework every week…luckily, he knew what he needed to know.  
Question (from a coach):  That's my thing is, I am worried that once I am in the moment, am I just going to blank out?
Olivia:  You won't - you will be amazed.  It's exciting – it's super-exciting and you will be super-excited and you'll remember.  You really do – you'll be surprised how much you remember.  It's actually funny to say this, but it's such a natural thing – it just happens.  There were a couple of times where I was scared and that's why it was really lucky that we know that was part of it: being scared, being a little unsure of yourself is all a part of it.  So knowing that actually made it a little more doable.  And it is doable.  People would tell me before, women that had babies naturally: it is painful, and it's the hardest thing you'll ever do, but – you can do it. I am excited to try again with the next one knowing what I know now.  It makes me feel even more confident.  
Question:  How much did he weigh?
Olivia: 8.5 pounds
Cody: All the protein she ate.
Olivia:  Good stuff!  The [Brewer] diet is awesome – it's a really great thing.  In the beginning [of the class series] I was opposed to writing down everything I was eating and annoyed with it.  Now I actually pulled out my nutrition sheet the other day and I was like, "I'm going to start doing the [Brewer] diet again!"  I felt really great eating all that protein and he's been really healthy.
     My note: The Brewer Diet is taught by all Bradley Method® instructors.  It was developed by Dr. Tom Brewer to help pregnant women achieve optimal nutrition during pregnancy, eating a well-balanced diet from all the food groups and achieving a daily protein intake between 80-100 grams of protein. By following his dietary suggestions, research suggest that the baby's birth and overall health outcomes are improved; while minimizing the mom's possibility of developing pre-eclampsia or toxemia of late pregnancy. 
Statement (from a mom-to-be):  I don't know what to expect.
Olivia: No matter who you are, it's going to be different.  I would like to tell you what to expect, but it will be different for you.  It will be so worth it.  And if you have to use the drugs, don't worry about it.  There were times I was so consumed with having the baby naturally that it stressed me out.  Well, what if I needed the drugs?  Just letting go of that helped.   
     My note:  The Bradley Method® classes teach couples how to ask questions regarding interventions, including drugs used during labor and delivery.  Especially if they are in a non-emergency situation, we teach that you can ask questions.  At a minimum, couples can ask "why" is an intervention indicated, that they know "what" the intervention entails, what some alternatives might be, and then evaluate whether the benefits of the procedure or drug being offered outweigh the risks to mom and baby.In addition, we talk about being prepared to make choices.  We discuss possible deviations in the course of a natural labor, and invite our couples to talk about what their choices might be as they formulate their birth plan so that they are mentally prepared for dealing with those options ahead of their actual labor. 
Closing advice from Olivia:
Regarding the end of labor:  You do get an energy surge – you think that you don't have anything left, and then you find that you do.  And after the baby is born, there is another adrenalin rush – I didn't go to sleep until 11:30 that night (CJ was born at 7:30 am). 
Regarding breastfeeding:  Breastfeeding is challenging.  If that's what you are planning on doing, it's good to take some classes.  And it's nice to talk to other women who are doing it.  That was probably more difficult even than the delivery, was getting used to the breastfeeding.
Disclaimer:
The material included on this site is for informational purposes only.
It is not intended nor implied to be a substitute for professional medical advice. The reader should always consult her or his healthcare provider to determine the appropriateness of the information for their own situation. This blog contains information about our classes available in Chandler, AZ and Payson, AZ and is not the official website of The Bradley Method®. The views contained on this blog do not necessarily reflect those of The Bradley Method® or the American Academy of Husband-Coached Childbirth®.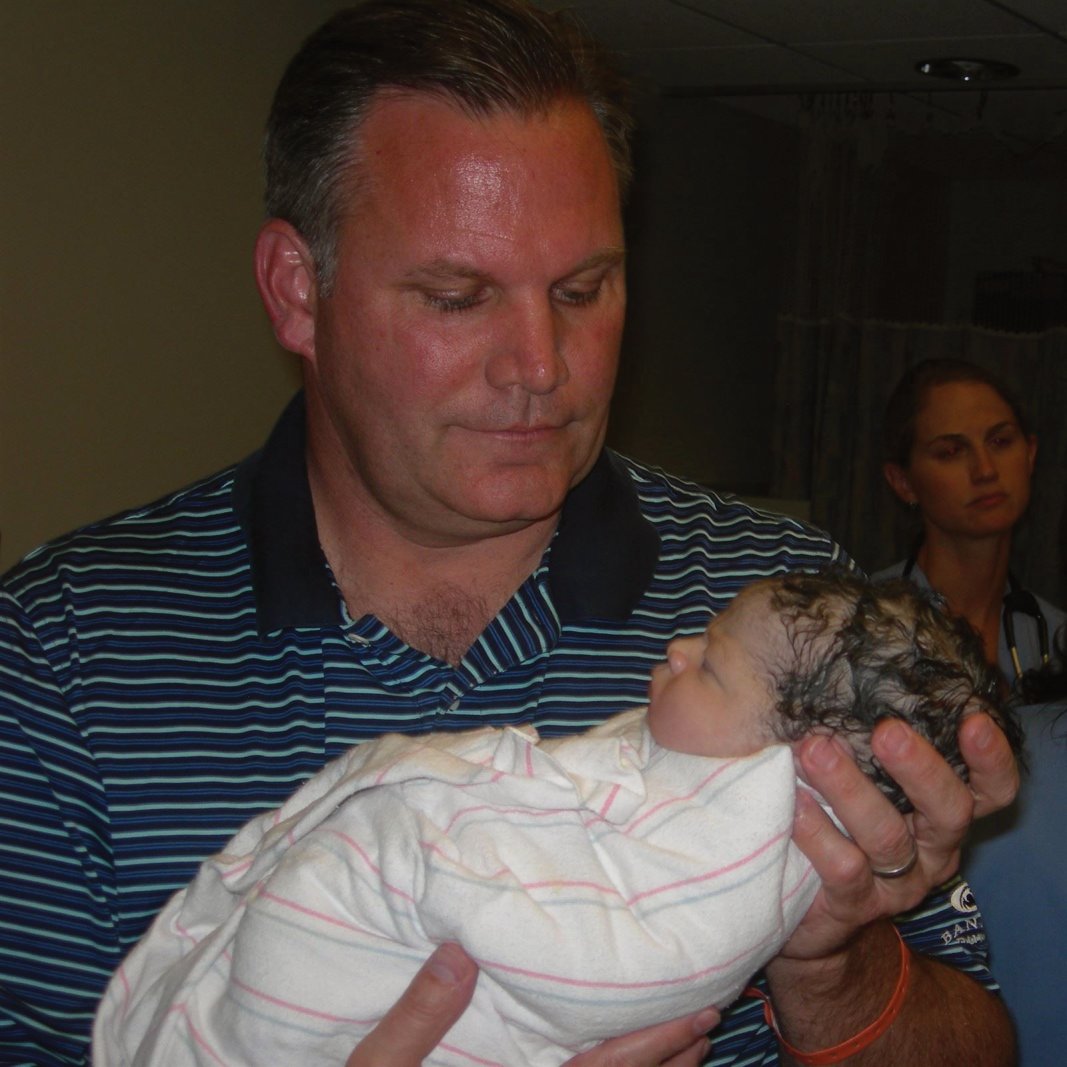 Our class last night was themed around second stage labor.  Simply stated, the whole point of labor is BIRTH.  You want to have and hold your baby!
     We spent some time sharing about general preparedness for labor.  Did our couples have any concerns?  Was there anything that still needed doing before baby arrives?  Are there any things that they still want to learn before they face their labor? Do you think we asked these questions to being nosy – not necessarily…
     The progress of normal, uncomplicated labor hinges on three factors:  the mother's physical, mental and emotional state.  Our goal was to start to open the door for our couples to think about what kinds of things might hamper or hinder their labor.  After all, although it is entirely euphoric, who really wants to work longer than they absolutely have to?  After waiting nine months in anticipation for our child, why wait any longer?
     In our classes, we teach "normal", as in a labor that progresses without situations where medically necessary interventions are indicated.  We practice for a normal, uncomplicated labor.  We want to make sure mom progresses as efficiently as her and baby's bodies are meant to be working together. Since each labor is unique to the mother/child pair, we are talking very generally.  The length of labor, the positions that will feel good during the pushing phase can all vary per mom/per pregnancy.
So having said that, here are some key questions to ask.
What are things to remember that will help you during labor?
     MOMS:  The work you will be doing is productive – after all the discomfort and effort is done, you WILL be holding your baby!  We also work a lot on real-time practice to remind mom that she can handle just about anything for 60 seconds, and that her body will give her a rest between the surges.  The more deeply a mom can relax, the better her body will work through the course of her labor.            
     COACHES:  We ask coaches to know what kind of things does mom find relaxing.  Is it a type of music, a poem, a picture? Is it something else entirely? How does she like to be touched?  Does she have any "hands-off" zones?  Where or how does she feel the most secure and how can you replicate that at your birth place?
     COUPLES:  We also encourage our couples to think about all their birth options and plan their birth.  Once they complete that task, we encourage them to know their birth plan inside and out carry extra copies with them.  Ideally, they work with their care team in preparing it so that the main care provider can sign off on the choices mom and dad have indicated on the plan.  Parents are more likely to have their birth plan followed if the medical team knows the doctor is fully invested in the couples' choices.
     We try to equip parents with the tools they need to be communication experts.  Once they are at their birth place, knowing what you want so you can invite every person who walks in the room to help you achieve your goals is more likely to get your care team to support you.  For hospital births: without the nurses "buy-in" you may find yourself working against your assigned team-mates.  Remember that every one is there with mom's and baby's best interest in mind, and although you may not agree on the path to get there, if you ask nicely, they will at least give it a good try before shutting down your choices.  If everything goes well, maybe you will find you helped create another advocate for natural birth.
What are things that will help you be a better coach?
     The answer here is simple and difficult when the focus is on mom:  take care of yourself.  Make sure you are following the same guidelines we set for our moms:  Eat, drink and rest as necessary.  Additionally, coaches need to wear comfortable shoes and clothing.  Bruss always recommends that coaches bring two pairs of shoes since you are on your feet – coaching is not a spectator sport!!  Show up clean and bring your toiletry bag so you can stay clean.  Labor and birth can be wonderful goopy, gooey affairs, but you probably won't feel good about yourself if you have to smell goopy and gooey without any chance of cleaning up occasionally. 
     The other thing we ask coaches to think about is their back-up team.  We ask them to make sure you have the resources you need to help jog your memory, or invest in a doula, and again, ideally, they have both the notes and the doula to help mom birth baby.  A doula can be a your Bradley teacher, a paid assistant that helps "Coach the coach", or the couple may invite family members to be dad's extra set of hands.
What do you want to remember to do during your labor?
     EVERYTHING they learned in class.  Just kidding.
     The idea we emphasize over and over again is Healthy Mom, Healthy Baby.  If all a couple's decisions hinge around ensuring that outcome, you would be can hard-pressed to consider any decision a bad decision.  (Sometimes we have bad judgment when we're tired or under the influence, so rest and coherency are must-have during labor.)
     Again, we know from our experience as students that it is impossible to remember everything we talk about in class. 
My mom's wish list would read like this:
     1.  Believe in yourself, your baby and your body – you and baby will find a rhythm and barring any medical complications, you can birth your baby without any interventions.
     2.  Get lots of rest – all the things that you think are important pale in comparison to your need for sleep.  A well-rested mind and body can be the difference between a natural labor and one laced with varying degrees of intervention.
     3.  If you have ANY "emotional baggage" deal with it.  It can range from not wanting to poop during delivery, to not being sure if you trust your birth place, to not being sure you are ready to be a mom, and anything and everything else in between.  If you are having any doubts, even if they seem trite to you, or if you think they sound silly; talk to someone you trust.  If you don't deal with them or get answers, your body can potentially slow down or change the course of your labor.  Ask yourself, "Is not dealing with it more painful than the anticipated pain or recovery from a medical intervention that becomes necessary?" 
If I were going to make a wish list for things I would want a Coach to attend to before they got to the hospital, these would be it:
    1.  Memorize your 6-point Coach's checklist for every contraction – be able to do it in your sleep!  As listed in The Bradley Method® Student Workbook, page 37, your role during a contraction is:
     -       Check her position
     -       Check her relaxation
     -       Rub her back
     -       Guide her breathing
     -       Time contractions
     -       Talk to her
     2.  From all the questions we teach you, come up with your own "informed consent" question list – some favorites are, "What do you expect to gain from doing what you propose?  What are some other possible options to what you are proposing?  Could what you are seeing, could it be normal?  How much time do we have to make a decision?"
     3.  Believe in your heart of hearts that you are the "something" she needs and don't be afraid to put yourself out there for her.  You loved her enough to want to spend your time with her, you loved her enough to make a baby, now show her that you mean it.  It will be hard watching the person you love the most in the world become extremely uncomfortable  - that's why it's called "labor".  She has to work for many reasons, such as: to make the hormones to bond with the baby and make milk, to listen to her body and your baby to find the best way out, it's a path of self-discovery – all these things and more that don't come easily.  We can also assure you that this work you do together is some of the most meaningful time you will spend together in your relationship – give it all you have, and then dig deeper down and find more ways to support her.
     As a couple, you will never regret taking the time to plan, prepare and strive for the birth you want for your child.  Additionally, you will always have the sense of accomplishment that, no matter what your birth outcome is, you faced it together.  The birth-day of your child is also the day your family was born.  The birth of a family – it can be a very special day for that fact alone.
Disclaimer:
The material included on this site is for informational purposes only.
It is not intended nor implied to be a substitute for professional medical advice. The reader should always consult her or his healthcare provider to determine the appropriateness of the information for their own situation. This blog contains information about our classes available in Chandler, AZ and Payson, AZ and is not the official website of The Bradley Method®. The views contained on this blog do not necessarily reflect those of The Bradley Method® or the American Academy of Husband-Coached Childbirth®.
/