Shopping Cart
Your Cart is Empty
There was an error with PayPal
Click here to try again
Thank you for your business!
You should be receiving an order confirmation from Paypal shortly.
Exit Shopping Cart
...celebrating every swee​t pea their birth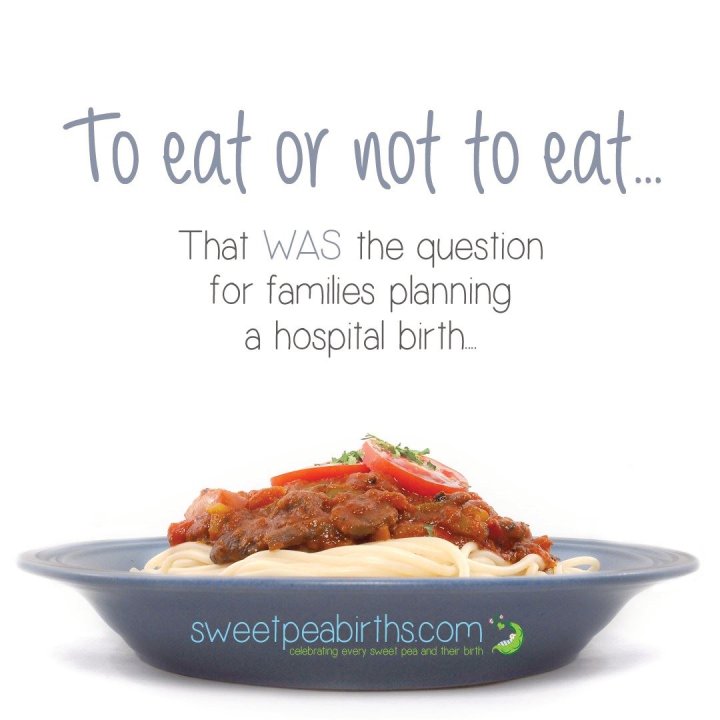 To eat or not to eat…That
was
the question for families planning a hospital birth.  When you are laboring at home or a birth center, you have the freedom to eat as your appetite dictates.  If you choose to have a hospital birth, you are at the mercy of your doctor's orders and the nurse's interpretation of the hospital protocol.  
We love it when science catches up to Dr. Bradley.  Anecdotally, we could tell students that it was safer to eat before/during labor since anesthesia has changed from the days of "knock'em out, drag 'em out" birth, as Dr. Bradley called it.  Women used to be under general anesthesia, which is administered differently than today's spinal or epidural blocks.  
We are so excited to update this post (and our class info!) with a 
press release
from the American Society of Anesthesiologists (ASA):
"Most healthy women can skip the fasting and, in fact, would benefit from eating a light meal during labor, suggests research being presented at the ANESTHESIOLOGY® 2015 annual meeting. Improvements in anesthesia care have made pain control during labor safer, reducing risks related to eating, researchers note."
ASA Press Release, "Most healthy women would benefit from light meal during labor", October 24, 2015
For other reading,  HERE is some research I had found before this 2015 press release to make the case for eating and drinking in labor (in case you want to do more poking around the subject).
Now...how long will it take for hospital protocols to change and reflect these recommendations from ASA? As we found out the hard way, sometimes the doctor approves something but if it is not in writing and signed off on the birth plan, it probably isn't going to happen in the hospital setting. The nurse will follow the hospital protocol or they may invent their own interpretation if none exists to cover their liability.  If you are going to have a hospital birth, I have a strong opinion about getting your wish list signed so that the nursing staff has "permission" to "break the rules" if they feel that something you are requesting is out of the ordinary.  Maybe you could ask for a copy of the ASA press release to be included in your chart that goes to the hospital.
Dr. Bradley always advocated that a healthy mom should eat if she is hungry and drink if she is thirsty.  As he said, "Birthing is like playing a full game of football without any substitutions."  He recognized that labor is an athletic event, and that a well-nourished athlete would perform better than a hungry one.
"The research suggests that the energy and caloric demands of laboring women are similar to those of marathon runners, Harty said. Without adequate nutrition, women's bodies will begin to use fat as an energy source, increasing acidity of the blood in the mother and infant, potentially reducing uterine contractions and leading to longer labor and lower health scores in newborns. Additionally, the studies suggest that fasting can cause emotional stress, potentially moving blood away from the uterus and placenta, lengthening labor and contributing to distress of the fetus."  
A Note About Hospitals and Nourishment
If you are having a hospital birth, you need to find out how your care provider feels about nourishment during labor, even with this announcement by the ASA. If your care provider is on board with mom eating and drinking as her body directs, great!  Get it into your birth plan, aka "wish list", that you have permission to eat and drink.  If they restrict intake, you need to think about your options.  You may question whether or not your care provider is truly supportive of your plans for a natural birth.  
You should also ask what the hospital policy is on food and drink during labor when you do your hospital tour.  It helps to know what kind of potential situations you may be facing so you can avoid stress-inducing encounters during labor.
The potential conflict between a laboring mother's needs for nourishment and her care provider or hospital protocol comes from the days when general anesthesia was standard for hospital births.  There was a very real danger of a mom "aspirating", meaning that food or drink the mom had consumed before labor would be regurgitated and accidently enter the trachea and lungs, creating a life-threatening condition to mother and baby.  [See reference 1]
"Researchers said aspiration today is almost nonexistent, especially in healthy patients. In the United States, there was only one case of aspiration associated with labor and delivery between 2005 and 2013, involving a complicated case of a woman who was obese and had pre-eclampsia (a precursor to eclampsia, or high blood pressure that can lead to seizures), according to the American Society of Anesthesiology's Closed Claims Project database. Researchers also noted that no cases of death due to aspiration were reported in the United Kingdom between 2000 and 2005, compared to 1.5 cases per 1,000 during the 1940s. They say this is likely due to advances in anesthesia care, including increased use of epidurals and spinal blocks in place of providing anesthesia through a mask over the nose and mouth. Before these improvements, women were more likely to need a tube placed in the windpipe for breathing, which potentially increased the risk of aspiration." 
Although very few women have births under general anesthesia nowadays, the practice of restricting food and drink still persists.  You may hear it called "NPO", which stands for the Latin, "non per os", meaning nothing by mouth.  With the press release from the ASA, we can keep our fingers crossed that hospitals will start to change their practice protocols.
In the past, it was likely that you would only be allowed ice chips if you opted for an epidural.  The chance of needing general anesthesia was within the realm of possibility since some moms and babies "crash" after the epidural dose is dispensed.  As with all labor interventions, you don't know how you will react until it's administered.  Although it's a small percentage of women that have life-threatening complications, the prospect of the drugs dropping your heart rate, blood pressure or respiration to dangerously low levels exists once they are in your bloodstream.  In the instance of a "crash", you would need general anesthesia to perform an emergency cesarean to save your or your baby's life, thus your nourishment options become limited to ice.
Eating and Drinking During Labor
Have your refrigerator stocked with your favorite healthful foods and/or meals as you near your estimated due date.  Labor is a funny thing – you never know what your body is going to like.  If you think you are in labor, you can go through Dr. Bradley's list of things to do to see if you are in pre-labor (contractions slow down or stop) or actual labor (contractions continue at same pace or get closer and harder despite the change in position or activity).  To "test" for labor, he suggests that a woman should eat, drink, go for a walk, shower and nap – in that order.  
When you start with the "eat" part of the list, it will be more satisfying to eat something you really enjoy.  If you are not in labor, at least you ate something you like and you can move on with your day with a tummy-full of your particular "comfort food".  If you are in labor, then you have eaten something that is fueling your body for the labor.  It will put you in a good frame of mind if you ate something that is a favorite and you create a positive emotional state.
The best drink during labor is water.  Water is a key to staying hydrated and avoiding the slippery slope of interventions.  A hydrated body has the energy for the work of labor.  Ample water also allows for effective hormone distribution throughout the body: the chemicals and hormones being made to stimulate and progress labor are able to circulate freely.  If you have a longer labor, consider an electrolyte replacement: trace minerals added to the water you are drinking, Emergen-C makes a powder, or coconut milk is a "natural" version of sports drinks.
Dehydration causes a spike in temperature and blood pressure, while at the same time depleting your energy by as much as 30%.  Can you see that simple dehydration can also be interpreted as the mom being "in distress"?  Your care team will not want to take a chance of making the wrong call, so they are likely to intervene or suggest drastic measures to "save" mom and baby.
Whether you are laboring at home, a hospital or birth center, small-portioned, protein rich snacks are nice to have on hand.  As your labor progresses, a laboring woman's appetite will naturally decrease as the body shuts down other functions such as digestion to allow for full focus on the progression of labor and birth.  
Here are some foods that we and other students have found useful for quick energy boosts when mom doesn't have the desire to eat a full meal.  These snacks are also handy for the coach to get the energy boost he needs to be a great support person for mom.  We don't want hungry, cranky coaches during labor!!
"A light meal could include fruit, light soups, toast, light sandwiches (no large slices of meat), juice and water. Most women lose their appetites during very active labor, but can continue to drink fluids such as water and clear juices, researchers said."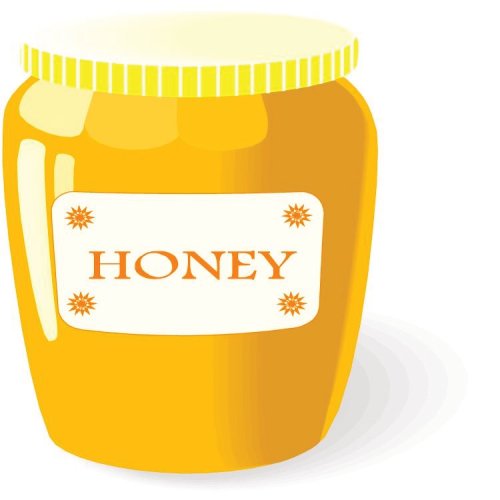 - Honey sticks.  According to honey.com, "Honey is also a rich source of carbohydrates, providing 17 grams per tablespoon, which makes it ideal for your working muscles since carbohydrates are the primary fuel the body uses for energy. Carbohydrates are necessary in the diet to help maintain muscle glycogen, also known as stored carbohydrates, which are the most important fuel source for athletes to help them keep going." [2]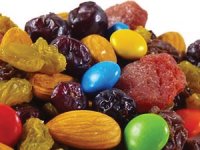 - Trail mix.  You get the nice variety of nuts, dried fruits and if you want, candy, in one bag.  I found myself picking out my favorite nuts and fruits and snacking on them – literally one or two at a time – as we got into the active phase of first stage labor.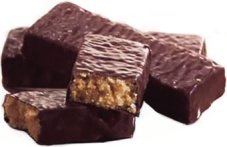 - Protein bars or chews.  Look for bars that are low in carbs and added sugars –the key is to provide an energy boost without an energy crash afterwards. We have had students that use the "PowerBar" brand Energy Bites, as well as Gel Blasts that are bite size energy foods.
- Handful of nuts.  If you have a favorite nut (besides your coach-lol), bring some with you.  You can eat 1 or 10, whatever you are in the mood for.  I like nuts because you get the energy boost in whatever quantity you are in the mood to chew and swallow.  Trader Joe's sells packages nuts in handy single serve packets.  I usually eat 2 or 3 pieces, and Bruss would finish off the bag for his energy boost.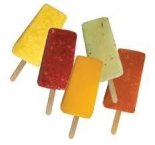 - Popsicles.  While working hard in labor, a popsicle can be refreshing.  To prevent an energy crash, look for a brand that uses natural fruit as a sweetener instead of added sugars.  Added bonus: you can also push it against the top of your palate to stimulate oxytocin production.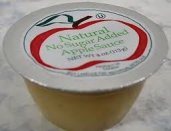 - Applesauce cups.  Provide potassium along with a little protein.  The nice thing about applesauce is that while some people prefer them cold, they don't need to be refrigerated.  Again, look for naturally rather than artificially sweetened sauces.
- Banana.  Another source of potassium that is portable and easy to eat.  To prevent a sugar burst, pair this with a cheese stick to balance out the carbs.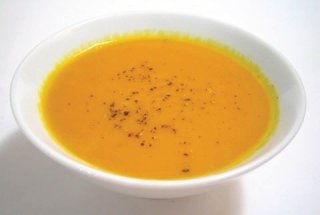 - Soup or clear broth.  Campbell's came out with the "Soup at Hand Cups" that are single serve, portable and microwaveable.  They were a God-send during our third birth.  The nurse didn't want me to eat "just in case", but she was okay with me drinking – hence, I could drink my meal and stay nourished through our 34 hours at the hospital.
- Single serve smoothies or juice drinks.  I am thinking along the lines of Stonyfield Farm Smoothies or Drinkable Yogurts for a liquid protein boost, or the Odwalla line of Protein Beverages.  It's a little sip of something sweet with carbs that still offers a protein source for energy.
As you noticed from the list, some of these foods need refrigeration or a heating source.  These are considerations if you are having a hospital birth.  It stands to reason that if you will not have access to a refrigerator or microwave, the items that won't stay cool with an ice pack or the foods that need to be heated need to left out of the cooler.
The bottom line: eat to appetite and drink to thirst for the best labor possible!  I hope this list gives some ideas with which you can fill your refrigerator or cooler.  What did you eat during your labor?
Disclaimer:
The material included on this site is for informational purposes only.
It is not intended nor implied to be a substitute for professional medical advice. The reader should always consult her or his healthcare provider to determine the appropriateness of the information for their own situation. This blog contains information about our classes available in Chandler, AZ and Payson, AZ and is not the official website of The Bradley Method®. The views contained on this blog do not necessarily reflect those of The Bradley Method® or the American Academy of Husband-Coached Childbirth®.
References:
[1] http://en.wikipedia.org/wiki/Pulmonary_aspiration
[2] http://www.honey.com/nhb/benefits/natural-energy/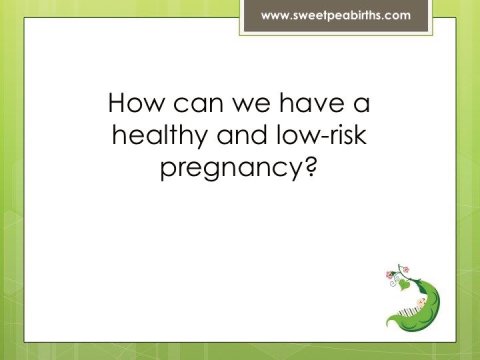 Today's VLOG is all about the things that you *can* control in the very unplannable process of pregnancy, labor, birth and the childbearing year.
LINKS
What can you control?
1. Pay attention to your nutrition
This is just as important for the father as it is for the mother.  A better diet creates higher quality sperm, and a well-nourished mother can feed her growing embryo-fetus-baby as it develops from zygote stage through pregnancy.  A breastfeeding mother is also growing her infant's brain - mindful nutrition is just as important after the Birth-Day.
HERE is the pregnancy nutrition program that we teach in The Bradley Method
®
.
2. Engage in an exercise program
Your ability to give birth does not hinge on whether or not you are an exercise fanatic before you conceive.  A mother who wants to prepare her belly, back and bottom to give birth can follow a pregnancy-specific exercise program. Even doing a few minutes a day of this low-impact, low-stress program can be a game-changer for mamas and their overall strength as they go into their labor.  
What can you influence?
1. Your experience
You have the responsibility to choose the right care provider and the right birth setting for you.  If you have a nagging feeling that persists, or if you see/hear/feel red flags at your prenatal appointments that your provider is not right for you, GO WITH IT.  Believe in yourself and your instinct.  Ask people you respect and who felt supported in their births who they chose and why...and then, maybe take a risk! Go on some interviews to see if maybe you want to make a switch.
2. Relaxation and Pain Coping
We do not know what kind of labor card you are going to draw.  What we do know is that all labors and births can benefit from mindfulness.  Whether you have a natural birth, a cesarean birth, or anything in between, there is a surrender.  There is a point when you will have to dig deep and say YES to the journey that you are on. 
There are many ways to prepare for your journey - HERE is an info sheet that explores the variety of classes available to birthing families.
What is part of the journey?
The rest of your story is entirely up to your baby, your body, and The Fates.  A story is about to unfold - and what a story it will be.  However you birth, that day is one day in the rest of your lives as a family.  Be open to the experience, look for the joys, and also watch for the surprises.  
It is in the unexpected and the trials that growth and transformation happen...a transformation that is necessary as we experience a rite of passage.  Before children, you are you.  After they are in your lives, you are now Mother, Father, or which ever name you choose for yourself.
I wish you a childbearing year that surprises you, grows you, and leads you to discover more about yourself than you knew when you started.
Disclaimer: 
The material included on this site is for informational purposes only.
It is not intended nor implied to be a substitute for professional medical advice. The reader should always consult her or his healthcare provider to determine the appropriateness of the information for their own situation.  Krystyna and Bruss Bowman and Bowman House, LLC accept no liability for the content of this site, or for the consequences of any actions taken on the basis of the information provided.  This blog contains information about our classes available in Chandler, AZ and Payson, AZ and is not the official website of The Bradley Method®. The views contained on this blog do not necessarily reflect those of The Bradley Method® or the American Academy of Husband-Coached Childbirth®.
We are thrilled and honored to share a very special birth story today.  Our guest blogger, Cassandra is a newly minted mother of two - congratulations!!  Today she shares the story of Baby P's arrival. It is the complete opposite of last week's marathon labor birth story. She and Baby P definitely had a different path!
Baby P is baby #2 for our family; you can read my son's home birth story from 2012
here on the blog
.
I have been 
blogging about certain aspects of my second pregnancy
on
Sweet Pea Families
over the course of the last few months; fears, affirmations, newborn essentials, and most recently
musings over my labor
, what it would be like and who would be there. I had grand visions of a coming together of many women in the late afternoon or evening, laboring peacefully in the birth tub with plenty of laughter and wearing the cute new bra and panty set I purchased to look nice for the photographer that would be there. My daughter would definitely be born in the water since coincidentally her brother, even though we were in the tub, was born over the water. But, as it turns out (again!) babies decide things for themselves and we, as mothers are simply a vessel for whatever their life holds for them.
My son was born at 43 weeks 3 days from my LMP. Dates were ambiguous due to irregular cycles and lack of ultrasounds, but with no vernix, long fingernails and an aging placenta at birth he was definitely a longer cooked baby. Going that far past my "due" date was definitely an emotional time: not knowing what to expect as a first time mom, worrying, comments from family/friends/strangers, etc. etc.
Baby #2 was surprisingly conceived after my first cycle at 25 months postpartum. I got a positive pregnancy test on cycle day 30 and a twelve week and then twenty week ultrasound both matched up with my LMP due date. So, this time was different, we knew! It was always in my mind that maybe I just cooked babies a little slower than most but as the pregnancy progressed I didn't really think there was any way I was going to go past my due date. I was so cramp-y this time, so much more pressure down low, so much more active, I had a completely different lifestyle chasing an almost 3 year old every day than during my first pregnancy.  But alas, my due date came and went and then a whole other week passed. At 41 weeks I was having doubts about the baby coming out any time soon and really just couldn't believe I had gone so far again. 
At 41 weeks 1 day, a Monday, I was feeling good and talked with my midwife about just waiting it out another week and seeing what the weekend held. At 41 weeks 2 days, Tuesday, I was totally done being pregnant. My son and I had a great, exhausting day that day. We played at home, went grocery shopping, had a coffee and muffin date and met with a friend at the park to play in the sunshine for 3 whole hours. We came home and made dinner and he stayed up past his bedtime while my midwife came over for our weekly appointment. We chatted about the risks of the pregnancy progressing past 42 weeks, how we (my husband and I) each felt, what natural induction methods she likes to use and ultimately I decided I really just wanted a membrane sweep right then.
I had one with my son that resulted in losing my mucus plug and then starting labor two days later and I was ready. It was the night of a super new moon and I finally felt at ease to try and do something (at this point we weren't employing any kind of help labor start tactics). If my baby and body weren't ready I trusted that nothing would happen anyways and we would continue waiting.
We were done with the sweep around 7PM with caution from my midwife that there could be spotting and cramps during the night, all totally normal and to try some nipple stimulation if I wanted. My son went to bed and my husband and I settled in on the couch for some Netflix while I hooked up to my breast pump for exactly ten minutes. We went to bed shortly after as we were both really tired from a long day and I fell asleep pretty quickly. I felt cramps on and off through the night in a very sleepy haze, my son slept horribly and was crying most of the night but thankfully my husband was comforting him and I spent most of the night able to drift in and out.
I woke up at 6:40AM and had what felt like bad period cramps, sharp, painful cramps super low in my pelvis that went away very quickly. I wondered if I should still be having cramps 12 hours after the sweep (?) and hoped they would go away soon. I got up to go to the bathroom and brush my teeth and had lots of bowel movements. This used to happen to me every time I had period cramps so I wasn't surprised; and afterwards laid back down to try and sleep some more until my son woke up. 
He was up a little bit after 7AM and I was still having the cramps so I text my husband around 7:15 and asked if he could come home for a little bit to be with our son until these cramps went away. I was fine in bed but T was asking for breakfast, etc. and I just felt icky and wanted to stay resting. He didn't respond so T and I read books in bed and then looked at photos on my phone. Around 7:45 I was still having them so I called my husband (he hadn't seen the texts) and asked him if he would just come home from work for a little bit. T and I stayed in bed cuddling, goofing off, laughing and watching videos of him on my phone. 
Around 8:30AM my husband finally walks in just as I was about to call him again, he had brought breakfast and I was so happy because I was starving! I used the opportunity to finally get up and go to the bathroom again and the cramps were still coming, fairly frequently and kind of radiating down and out into my pelvis. Definitely still cramps though, did not feel anything like a "contraction". We decided to call the midwife as she emphasized calling her as soon as I suspected anything since my son was born fairly quickly after active labor began. 
I dialed her at 8:37AM and left a message. She instructed on her voicemail that if she didn't call back in 15 minutes to call our other midwife. Right afterwards I text our photographer, she has a son that she needed to make arrangements for so I wanted to give her as big of a heads up as possible if there was any chance I was going to be in labor today. "Hi it's Cassandra, I might be in labor today!" I told her about the sweep the night before and that I was just having cramps so I wasn't sure and I had called my midwife but was just waiting to hear back and that I would keep her updated. After that I came out of the bathroom and tried to lean into our hallway wall during one of the cramps to see if that alleviated the pressure, it didn't so I headed back to the bathroom. I was starting to think this was a membrane sweep gone horribly wrong and I had brought these insane cramps on myself and now who knew what was going to happen!  
I felt much better on the toilet. I would push down into the sides of the toilet seat during the cramps and kept having to pee or poo so it was better anyways. 15 minutes passed so I called our second midwife at 8:51AM. We talked for 8 minutes about what was happening (cramps, mucus tinged with blood, bowel movements) and I had two of the cramps while I was on the phone with her. She said she couldn't tell I was having them and it sounded like early labor stuff and to try and lie down and rest between them, eat something and to let her know when they seemed to undergo a change. So I got off the toilet and lay down in bed and asked my husband to bring me some pancakes. I was still so hungry and so happy to be eating, I had two bites and then another cramp came and I immediately needed him to take the food away from me. I also did not want to be lying down. There was NO way I could rest; so back to the toilet I went.
I listened to my husband and son playing a Frozen matching card game in the other room and was still trying to understand what might be happening to me. The cramps got stronger and I asked for a chair from the kitchen to put backwards in front of the toilet so I could drape my arms over the back and press into it during the cramps. At 9:17AM I had a cramp that left me shaking and immediately breaking out into sweat all over. This was intense! I text my midwife "Ok getting hot and sweaty and shaky. Can't rest" and she responded she was on her way. There was also a lot of blood after that and I finally knew this was definitely labor. 
Midwife called at 9:21 while she was driving and I couldn't even really talk to her. I text my photographer at 9:24 and said "Ok def in labor. Midwife coming over now, 15 mins away." She wrote back that she would be over in about 15 or 20 minutes too! This was when I told my husband to start filling up our tub – it had been inflated and ready to go for weeks and he just needed to fit the cover on it and then add water.
I had wanted to alert my friends from
my blessingway
when I was in labor and now that midwives and photographer were out of the way I could finally let them know. I sent out a text to everyone in the group at 9:27AM that said "Baby's coming, send love – need it already <3" I remember trying to make sure that I included everyone and that I was trying to count the names and count the girls in attendance and it was hard for me to concentrate, but I did get everyone! The responses were just starting to come in when my midwife walked in about 9:30AM. 
Just before then I was starting to get worried about continuing to do this on my own as my husband was tending to the tub and playing with our son so I was really happy to see her. She asked if I was pushing and I was kind of caught off guard, pushing!? No way, what? I was definitely not pushing! Then another wave came and AH! There was a head! I was pushing!? I half yelled out that I was pushing and she asked if I could feel the baby's head. I said no but then I barely reached up and the head was right there. She told me I needed to get off the toilet, which was seriously the last thing I wanted to do. She helped me down onto the birth stool where I tried to sit and then hold myself up against her but it was really unstable and I needed to get down. This entire time I could feel baby's head right there. When I got off the stool I felt her head kind of suck back up a little and wasn't sure where I was going or what I was doing but I heard hands and knees and I just kind of fell onto the floor in that position, head facing the corner, butt facing the doorway. This all happened in a couple of minutes and soon our photographer,
Kirsten,
walked in. She was greeted in the bathroom doorway to my bum and then a little bit of baby's head starting to come out.
On the next push I moaned out so loud and low, it didn't even really sound like me, I think this was the first noise I made the entire time. I was proud of myself that it was loud and low and not high pitched screaming (like I was with T). I knew I had to keep it that way and gosh the burning, ah! I literally just gave way to the burning, told myself it was happening and just feel it, don't fight it and then her head was out! I said I wanted the rest of her out, just get her out! but I knew that wasn't what I really wanted. Tearing so badly again was one of my biggest fears around labor and I knew this was the moment. My midwife told me to pant and I tried but couldn't really so I started just breathing shortly and blowing raspberries, I could do that and it calmed me down and gave me something to focus on while I just stayed in hands and knees with her head out. I heard my husband say something like oh my gosh eyes! A little nose and mouth, awww! I kept up my breathing/blowing and then all of a sudden her body was out!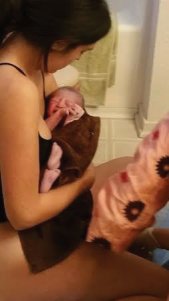 She handed her to me and I sat back on the bathroom floor and held her, it was 9:51AM. Not even an hour and a half from when my husband walked in the door with breakfast and our baby was here, so mind blowing.
I felt fantastic. I had so many emotions rush me all at once and I felt energized and ecstatic and it will definitely be engrained in my mind as one of the best moments of my life. I got up and walked to the other room to lie down in bed and seriously just could not believe how great I felt. T was right there in the doorway watching the entire time and once I got settled in bed  he climbed right up to touch and kiss his new baby sister.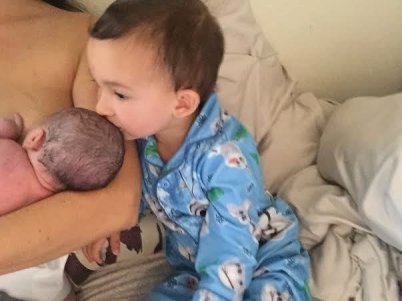 Needless to say the tub was not filled up enough for me to get in it once I had to get off the toilet and the pictures are not going to be anything like I had imagined. I did not get to diffuse my Serenity blend or light my beeswax candles or stare at the affirmation wall I had created in the bedroom, but I wouldn't change anything about it. So intense, but so quick and so perfect. It was a beautiful sunny day and after everything was cleaned up we all hung out in bed as a family of four watching movies, reading books and playing games and I couldn't have even imagined the amount of bliss I felt.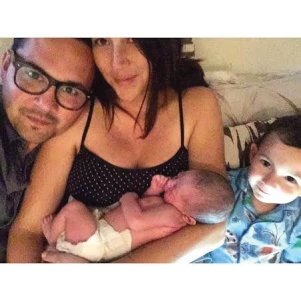 I needed no stitches, which literally made me want to jump up and down and cry out with joy and I have felt pretty great every single day since.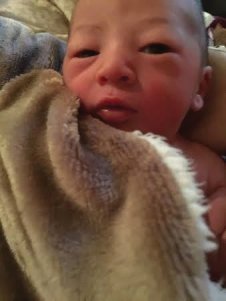 I learned so much from baby P's birth, there was not a single sensation that felt the same as my last labor and birth. Again, mind blowing. It was a great reminder to throw out any and all expectations I may have surrounding this little girl and being her mama, as we truly are never in control.
Congratulations, Cassandra, Eric, and new big brother T !!
Please leave us a comment - it will be moderated and posted. 
Disclaimer: 
The material included on this site is for informational purposes only.
It is not intended nor implied to be a substitute for professional medical advice. The reader should always consult her or his healthcare provider to determine the appropriateness of the information for their own situation.  Krystyna and Bruss Bowman and Bowman House, LLC accept no liability for the content of this site, or for the consequences of any actions taken on the basis of the information provided.  This blog contains information about our classes available in Chandler, AZ and Payson, AZ and is not the official website of The Bradley Method®. The views contained on this blog do not necessarily reflect those of The Bradley Method® or the American Academy of Husband-Coached Childbirth®.
Originally published February 2011 ~ Updated July 25, 2014
The class topic last night was first stage labor.  This stage is characterized by a progressive intensification of the sensations in labor.  A mom will experience her contractions, or her "surges", getting increasingly stronger and longer with less time between them, as she gets closer to the pushing phase of her labor.
Why do a "labor rehearsal" when labor is so unpredictable?? Mostly to train you and your partner into some "muscle memory".  By practicing different positions and reminding yourself when/why they are effective, that body of knowledge is more readily accessed when you are in labor.  Even if you forget your "playbook", you have some tools that you can use without referring back to a print-out of labor positions. (Although, 
HERE
is one that I share with students.  I used it to prepare for our births and often use it as a reference in our classes.)
We had our couples do an active labor rehearsal.  As a reminder to them, and as a practice tool for anyone reading this who is striving for a natural labor, here are our tips on having a good labor rehearsal.
1. Have a good guide at your fingertips.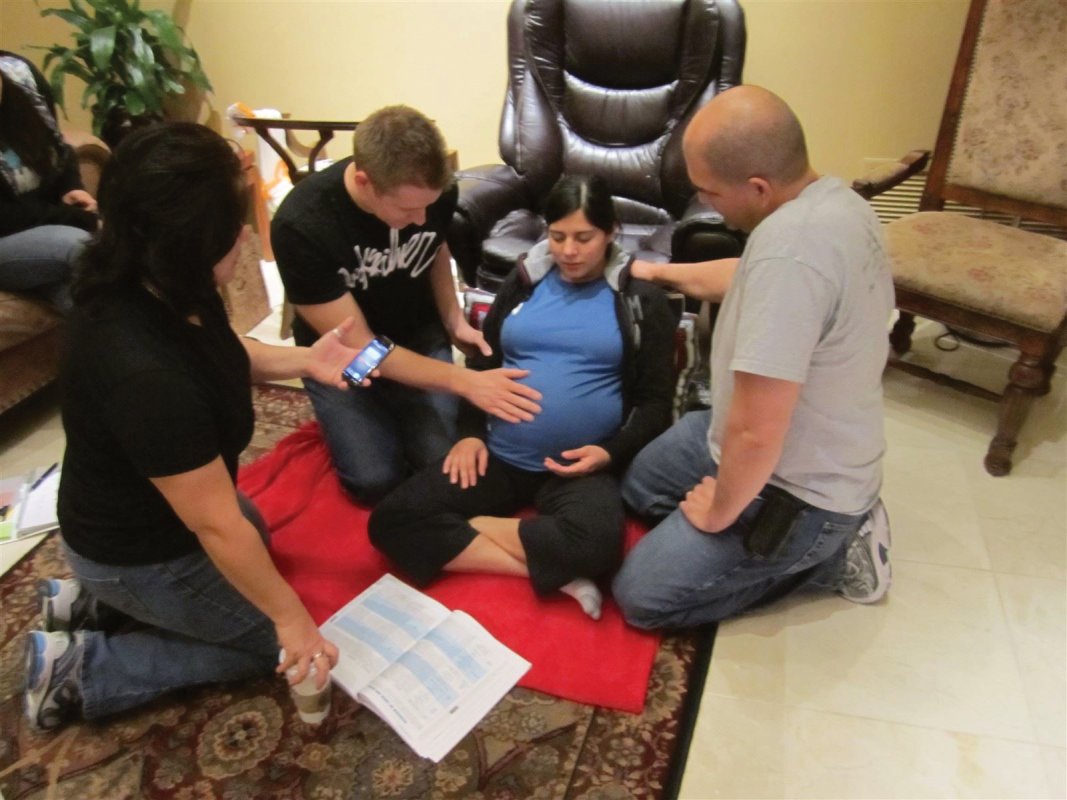 We have the advantage of a student workbook with illustrations to follow.  There are also resources out on the Internet with ideas for different positions to open the inlet of the pelvis to make room for baby.  The key is to try all the different positions.  Try to practice at least two simulated contractions every day, and you will find that you will have put your body in the different positions before you start labor. 
This is important for the following reasons: You will know if you can do them – if it hurts, maybe it's time to do more stretching, or find other positions that have similar benefits without being uncomfortable.  You can also start making a list of the ones that feel really good, keeping in mind that this list may change as you are progressing through labor.
2.  Once you are in a position, don't change it or move around during a contraction.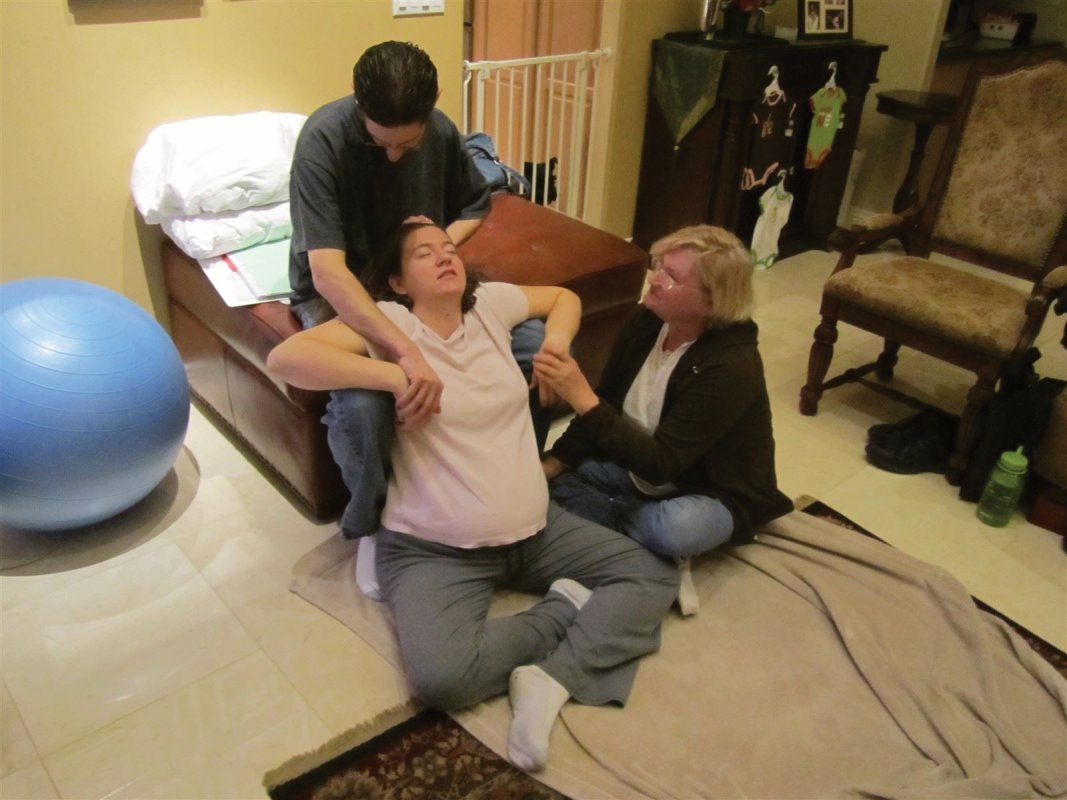 Again, the key is to simulate labor.  Once mom starts having stronger surges, she will be physically unwilling or unable to move while she is having a contraction.  So train your muscle memory the right way from the beginning. 
That's not to say that you will stick to one position during the course of your labor.  It's likely that there are several positions that you will try, and you may eventually gravitate to a few that seem to be the most effective.
3.  If mom has to go to the bathroom, someone needs to go with her.
In actual labor, a coach or one of the assistant coaches must always stay with mom.  She is in a vulnerable time, PLEASE stay by her side.  If mom is not comfortable having you in the bathroom, getting over the emotional hurdle will be better dealt with outside of labor.  It sounds weird, maybe?  It is possible that emotional barriers can keep labor from progressing.  Who would want bathroom issues to extend the amount of time you are having contractions?  Another thought: why delay meeting your baby?
This is what we personally experienced: if you leave mom alone, she may fall – this could drastically alter the course of your labor.  Additionally, there is no guaranteed labor pattern – just because you have been having surges 5 minutes apart and you think she has five minutes before her next contraction doesn't mean she should "go" alone.  If she starts having contractions on the commode, she isn't going to be able to move.  It is possible, since the bladder is emptied, that the contractions will feel stronger after she has voided since it has made room for baby to descend, and she will want your help handling the stronger sensations.  From our own personal experience, I know we hit "transition" in the bathroom in 2 of our 3 labors.  It was a good thing to have someone with me to help me manage the mental gearshift and the sensations.
4.  Coaches need to practice multi-tasking with every simulated contraction.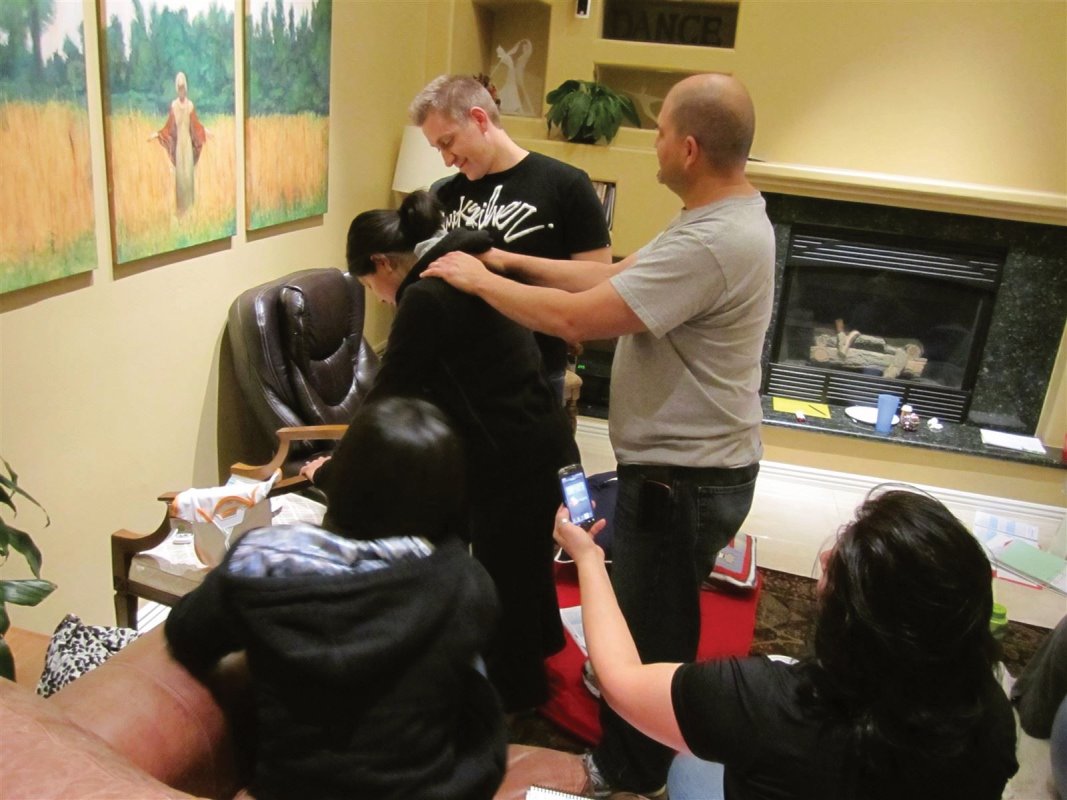 Coaches, you have a good job during labor.  You are the person that can make all the difference in mom's confidence in herself and her ability to birth.  Prepare by working out your "athlete" at home and learning how to be the best coach for your team well before labor starts. 
Regarding such things as touch, music and environment: do you know her likes? Dislikes?  Do you know which relaxation techniques work for her?  Can you massage, talk, and time her contractions simultaneously? 
If you answered no to any of these questions, then we encourage you to start finding the answers!  And practice until you are doing several things at once without having to think too much about what you need to be doing to keep your partner completely relaxed through her labor.
5.  Watch mom's key tension indicators.
The three main areas where mom will hold tension are her face (especially the jaw and brow areas), her hands and her feet.  Can you do the checkpoints in #4 and observe her for relaxation, too?  Most coaches need lots of help learning to do all these things at the same time.  You can find an assistant coach who is there to help support coach as he strives to do all these things.  Or, the assistant can help the coach to get mom as relaxed as possible so her body can get down to the business of having the baby.  The more efficient her labor, the sooner you will all be holding your baby in your arms.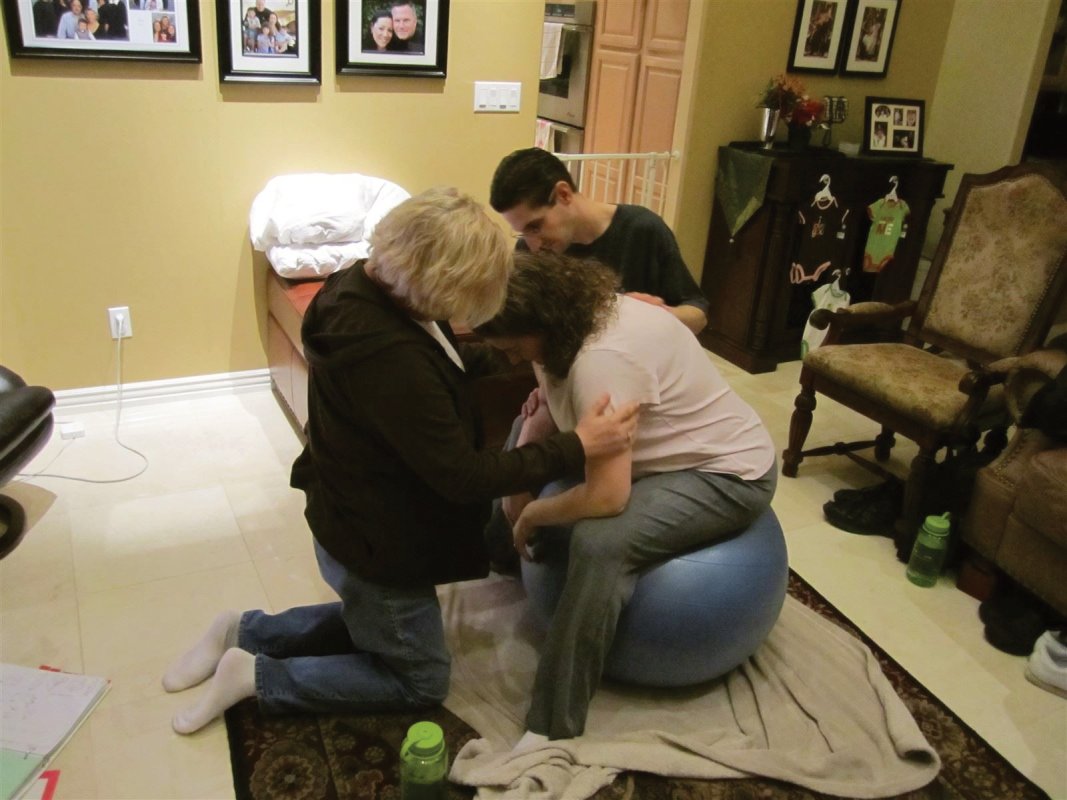 A key thought is PRACTICE MAKES PREPARED.  As in all things where we seek to succeed, good practice leads to better results versus going in without any prior mental or physical preparation.  As labor has mental, physical and emotional aspects, we really encourage our students to allocate time every day to train their muscles and minds for the challenge of labor.
Some other tidbits from class:
TRANSITION
No first stage labor rehearsal in class is complete without a discussion about "transition", the time between the active stage and the pushing stage of labor.  Although it might be an emotional time, transition is a good thing – it means your labor is almost over. 
Question directed at Bruss: Which one of your labors had the worst transition?
Answer:  There was not really a worst. You need to look for signs and prepare yourself ahead of time, prepare yourself now. Since transition occurs at the end of labor and you are caught up with the whole process of labor, know what to look for.  There will be distinct signs and they are different for everybody.  In our case, Krystyna got really abrupt.  Up to that point, she would communicate with "this feels"…or, "please try"… transition was marked with, "I told you not to do that!"
I also reminded our class of a birth story they had heard where the couple's only sign was a physical sign: mom started burping out of the blue, and it lasted a little while.  When she calmly announced, "I think I have to push", it turns out she really and truly was ready without having the self-doubt or the pendulum swing of emotions.  (For the whole story, go to http://www.youtube.com/watch?v=fDI61YWV5G0 )
HOSPITAL CARE
We were lucky enough to have two nurses join our class last night.  They were attending as assistant coaches-in-training for one of our moms.  I took advantage of the situation to ask the nurses who makes the best patient.  My goal was to illustrate the point that you are the labor you bring with you, especially in a hospital situation.  We encourage our students to write a birth plan to use as a communication tool, and to use positive communication (important at all birth venues).  The idea is that you are all on the same team and you wouldn't be there if you didn't feel some element of safety in the hospital.  As long as labor is progressing without complications, a couple is reasonable in their requests, and the care provider has signed off on the birth plan, it should not be difficult to have the hospital staff support your choice to have a natural labor.
Question:  Who makes the best patients, or who are the patients that are the easiest to work with?
Answer:  They are willing to work with patients who want to work with them.  They also appreciate patients who respect their medical training.  When it comes to requests, i.e. birth plans; patients who are nice get their way!
PRACTICE MAKES PREPARED
I want to encourage you to make the effort to practice what you want to happen on your baby's birth-day.  We encourage our couples to do ten minutes in the morning before they get started on their day, and right before bed at night.  What better way to help mom feel safe, secure and stress-free?  She can go about her day knowing that she and baby are important enough to merit the time.  At night, she will sleep better after a good relaxation session.
We can attest to the fact that yes, it is hard to find the time.  In reality, you don't find time – you have to make the time available.  It is worth it – even if you end up with interventions, the fact that you gave it your best effort makes for a labor that you can look back on with an element of pride.  The natural labor and birth you want is a reality – and the more you practice, the more likely you are to achieve the birth story you want for your family. 
There is another element to a successful labor beside preparation – and that is a well-rested team – and that is a post for another day.  Happy Practicing!!
Disclaimer:
The material included on this site is for informational purposes only.
It is not intended nor implied to be a substitute for professional medical advice. The reader should always consult her or his healthcare provider to determine the appropriateness of the information for their own situation. This blog contains information about our classes available in Chandler, AZ and Payson, AZ and is not the official website of The Bradley Method®. The views contained on this blog do not necessarily reflect those of The Bradley Method® or the American Academy of Husband-Coached Childbirth®.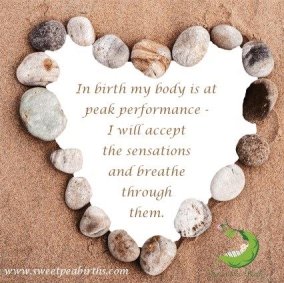 Dr. Bradley's natural birth principles are centered around supporting the laboring mother without interrupting her labor.  He describes the six needs of a laboring mother in his book, Husband-Coached Childbirth (you can find a brief synopsis
HERE
).  
I always enjoy reading other authors who promote the same philosophy from their unique experience and perspective.  One of the books that was part of our re-certification a couple of years ago (that I now get to share with students through our lending library) is Gentle Birth, Gentle Mothering, written by Sarah J. Buckley, MD.
Today's mantra was inspired by some of her writing on undisturbed birth from that book.  If you can't find it in your book store or local library, you can enjoy most of the book via
Google books
.
Here is the excerpt that struck a chord with me today:
"Undisturbed birth does not imply that birth will be pain-free.  The stress hormones released in birth are equivalent to those of an endurance athlete, which reflects the magnitude of this event, and explains some of the sensations of birth.  And like a marathon runner, a woman's task in birth is not so much to avoid the pain - which usually makes it worse, but to realize that birth is a peak bodily performance for which our bodies are superbly designed.  Undisturbed birth gives us the space to find our own rhythm in an atmosphere of support and trust, which will also help to optimize our birth hormones, aiding us further in transmuting pain."



~Page 98, ©2009
These words were especially poignant today since we had a class reunion with our Winter 2013-14 class last evening.  We always learn something new from all the birth stories that are shared.  Some moms reported pain, others called it intense, others did not mention it at all - what ever it was for them, it was their birth and they will remember the details for a long time.  
Help the mama in your life embrace her birth peak performance while holding the space for her to have the amazing experience of an undisturbed birth.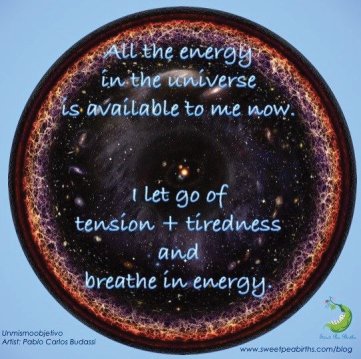 Whether you have a long labor, a short labor, or something in between, there will come a time when you have to draw within yourself to gather the energy you need to see your birth through.  This was definitely my favorite affirmation - mantra really - as we hit the point in labor when there was barely time to let go of all the tension before another contraction started again.
I envisioned the energy around me as a vortex, and as I inhaled I swirled energy into me and as I exhaled I sent all my tiredness and tension away.  It was really a neat vision as I entered the "
the zone
".
What is an affirmation or a mantra that helped you during your labor and birth?
Please leave a comment - it will be moderated and posted.
Disclaimer: 
The material included on this site is for informational purposes only.
It is not intended nor implied to be a substitute for professional medical advice. The reader should always consult her or his healthcare provider to determine the appropriateness of the information for their own situation.  Krystyna and Bruss Bowman and Bowman House, LLC accept no liability for the content of this site, or for the consequences of any actions taken on the basis of the information provided.  This blog contains information about our classes available in Chandler, AZ and Payson, AZ and is not the official website of The Bradley Method®. The views contained on this blog do not necessarily reflect those of The Bradley Method® or the American Academy of Husband-Coached Childbirth®.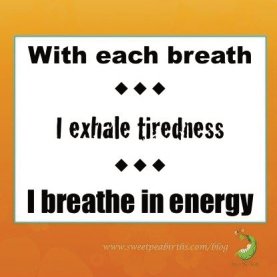 Here is an affirmation to remember and use in many labor situation: whether you have a sprint where your brain is running to catch up to your body, or a marathon where energy conservation is key, or anything in between.  There comes a point in most labors where the mother needs to focus on gathering energy so she can get past the tiredness and have energy to finish the labor and push in the second stage of labor.
In my mind, energy was vortex-shaped and I needed to center that vortex on our birth.  However it plays out in your mind, envision any tiredness in your body being exhaled out.  As you inhale, breathe in the energy around you - maybe it will help to imagine it as a bright yellow or white light filling your body and squeezing out all the tiredness.
This is how I start this affirmation:
Inhale "With each breath"
Exhale "I exhale tiredness"
Inhale "I breathe in energy"
then
Exhale " I exhale tiredness" and push your breath out to the bottom of your belly
Inhale "I breathe in energy" and fill your abdomen and lungs with light and breath
and repeat until you are in a deep relaxation and/or it stops working.  You can start over with this one, or maybe it's time to try a new affirmation to center your intentions.  The whole goal of these affirmations is to build positive energy as you work through labor to have the birth you need for a Healthy Mom, Healthy Baby outcome.
Since it works in reverse of how we think of breathing (inhale-exhale) every time I start this centering process, I start with the first phrase to get on rhythm with the exhale-inhale pattern of the affirmation.
What are phrases that help you find energy when you need it?
Disclaimer:
The material included on this site is for informational purposes only.
It is not intended nor implied to be a substitute for professional medical advice. The reader should always consult her or his healthcare provider to determine the appropriateness of the information for their own situation.  Krystyna and Bruss Bowman and Bowman House, LLC accept no liability for the content of this site, or for the consequences of any actions taken on the basis of the information provided.  This blog contains information about our classes available in Chandler, AZ and Payson, AZ and is not the official website of The Bradley Method®. The views contained on this blog do not necessarily reflect those of The Bradley Method® or the American Academy of Husband-Coached Childbirth®.
We are reviewing the stages of labor as we are entering the last classes of our series.  One of the big outward signs that labor is progressing is the mother's loss of modesty.
A dad, asked, "What does that mean, losing modesty?"  So here is a visual as well as a description of what your partner may be doing as she loses modesty.

This is what I look like on a regular, non-labor day.  I usually have my arms covered, my clothes is loose, I almost always wear pants.  Occasionally, I wear pedal pushers.  For the most part, the only part showing is my face, neck and arms in the heat, or just face and hands in the winter months.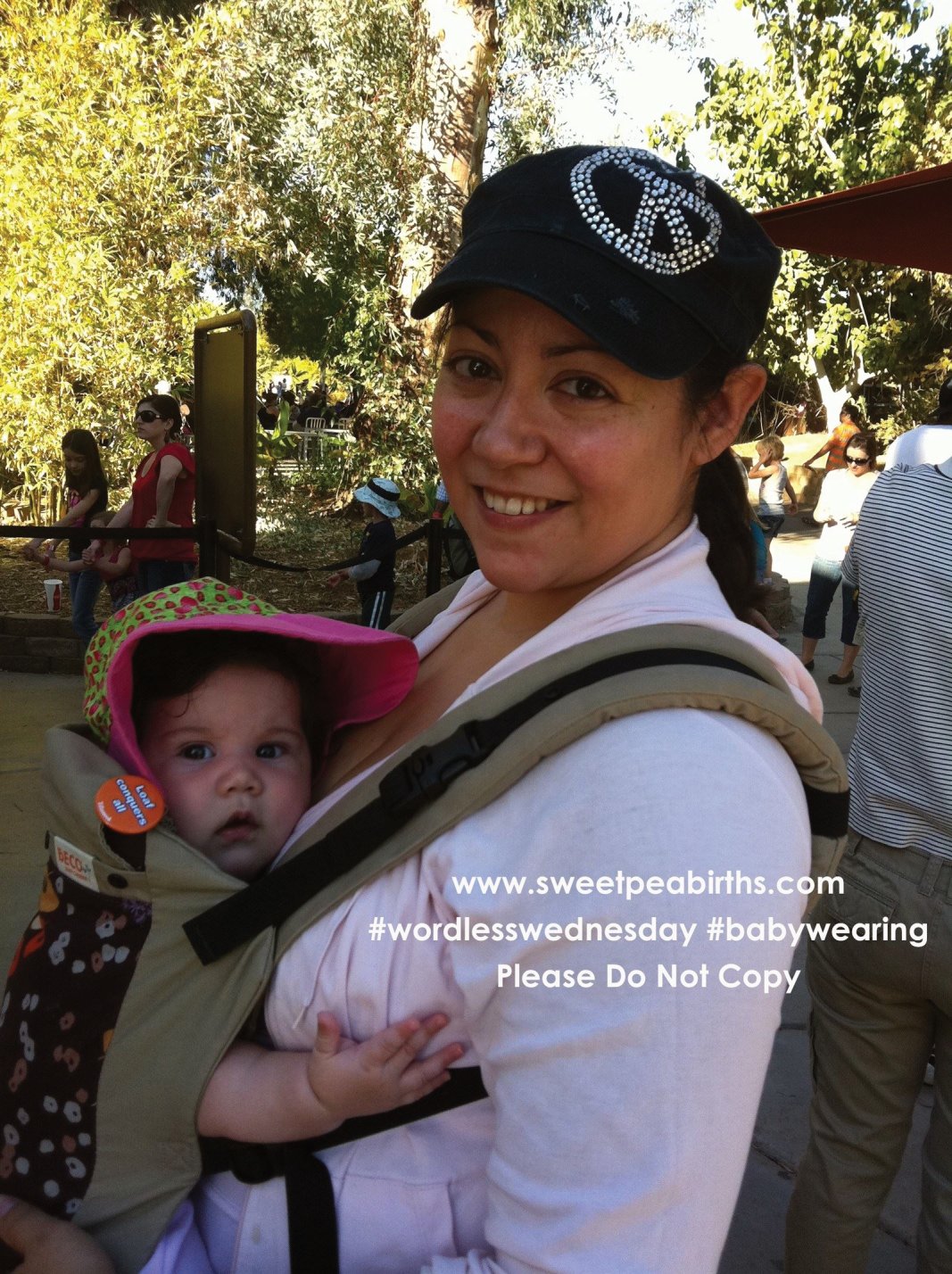 So this is Coach Bruss and I in labor.  I chose to wear my own clothes instead of the hospital gown in order to have more of a home feel in the hospital setting.  This is modesty: Fully dressed for labor in my nightgown, covered up with my robe.  Still smiling for the camera...clearly not in the hard, late active first stage of labor.  Based on the way we look in this picture, I am calling this Active Labor: Mom may still have some appetite, only needs to focus during the contractions, still talkative between contractions.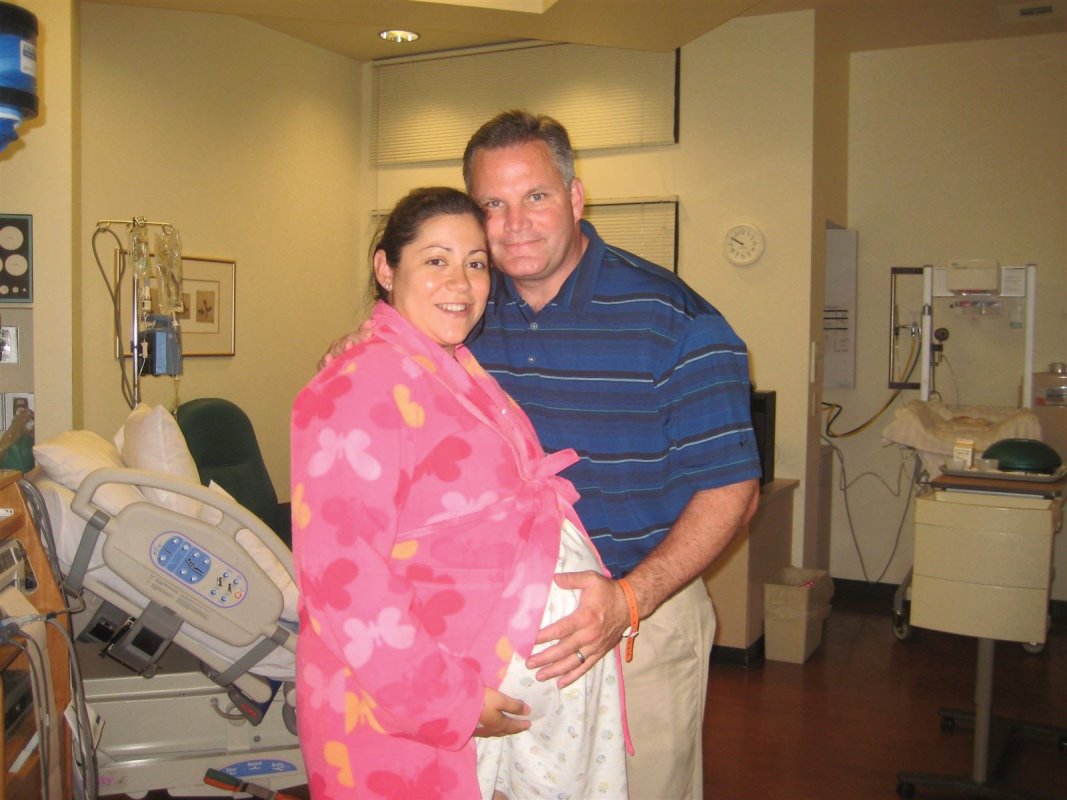 Here we are in hard labor.  Underneath the robe, I am in my birthday suit.  The photographer was able to put my robe on me since we knew we wanted pictures to use in class.  Since I am still tolerant of clothing, I am going to call this Late First Stage: Mother is no longer talking or interacting even during rest time.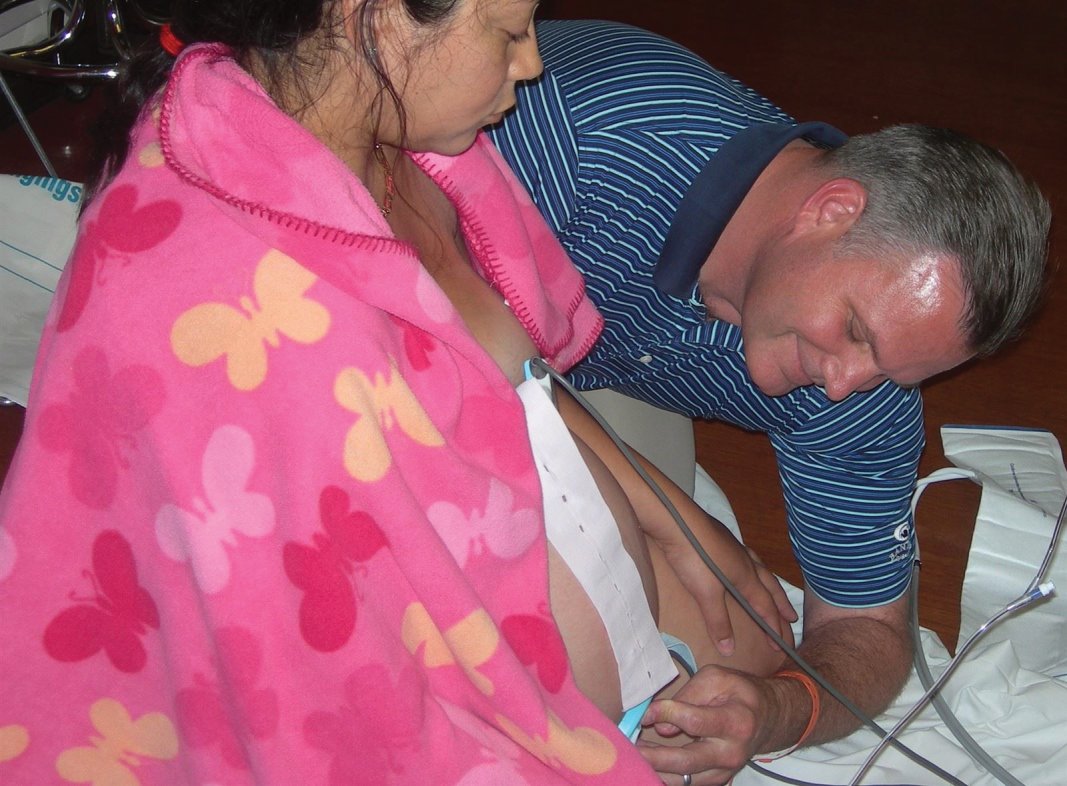 There is a missing picture in the series, because I am not putting naked labor pictures of myself out on the internet.  Imagine here that your partner is no longer covered.  Modesty for her may not be naked - it may be just wearing a tank top, not caring who sees her in her states of undress, or anything out of ordinary for her typical mode of dress for the day.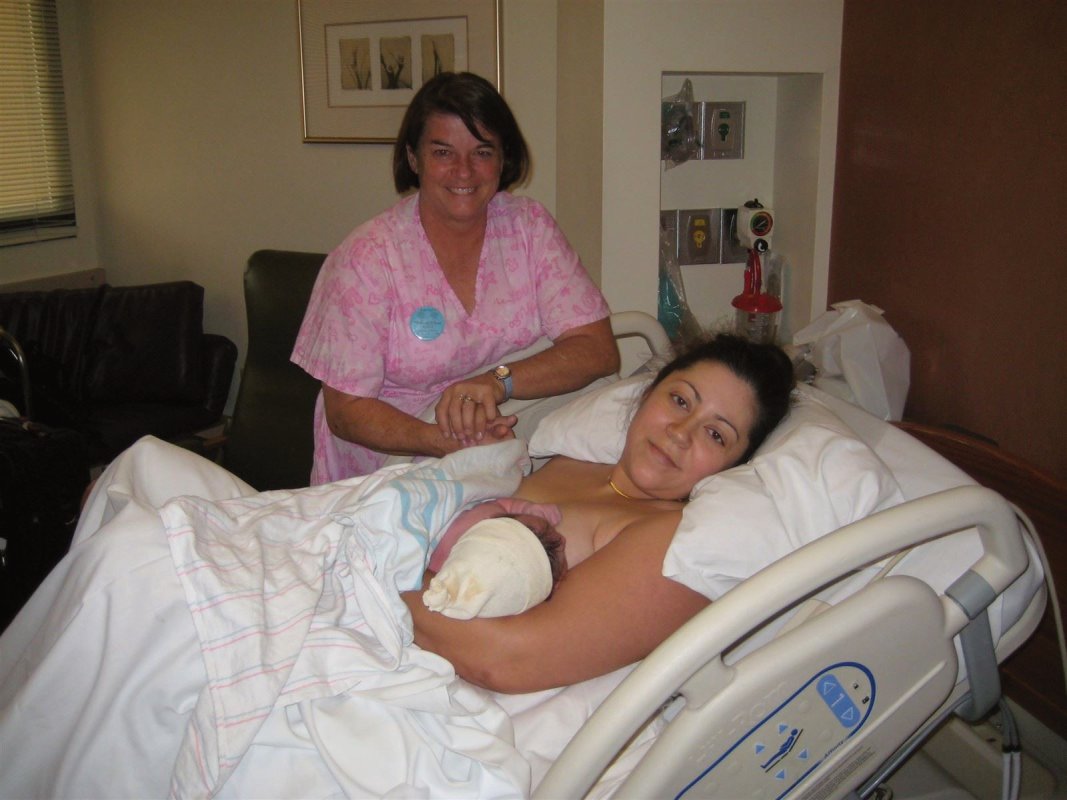 Hopefully this gives new mamas and coaches an idea of what we mean by "losing modesty".  

One of the memorable stories we have about labor relates to losing modesty.  Our labor was progressing, and I wanted to take a walk.  We used a hospital gown to cover up since my gown had gotten wet, and I guess my backside was exposed a little.  As we went by the nurses station, I was told off by a nurse that I was making them uncomfortable (!!).  I looked at her and said whoever is complaining about my backside isn't as interested as I am in having this baby, and my a** was going to flap in the wind as long as it took to have our baby!!

So losing modesty can also be verbal as well as physical - in my non-labor mode I make every effort to be as gentle and respectful as possible!!

How does this relate to your experience of losing modesty?  Any info or tips you want to add for new parents??
The material included on this site is for informational purposes only.
It is not intended nor implied to be a substitute for professional medical advice. The reader should always consult her or his healthcare provider to determine the appropriateness of the information for their own situation.  Krystyna and Bruss Bowman and Bowman House, LLC accept no liability for the content of this site, or for the consequences of any actions taken on the basis of the information provided.  This blog contains information about our classes available in Chandler, AZ and Payson, AZ and is not the official website of The Bradley Method®. The views contained on this blog do not necessarily reflect those of The Bradley Method® or the American Academy of Husband-Coached Childbirth®.
   

Here are some of the ways we recommend our students manage their labor without analgesics or anesthetics.  Even when they are used in labor, we are so happy that our couples use them as tools to manage a long labor and their children are born nursing vigorously and with high APGAR scores.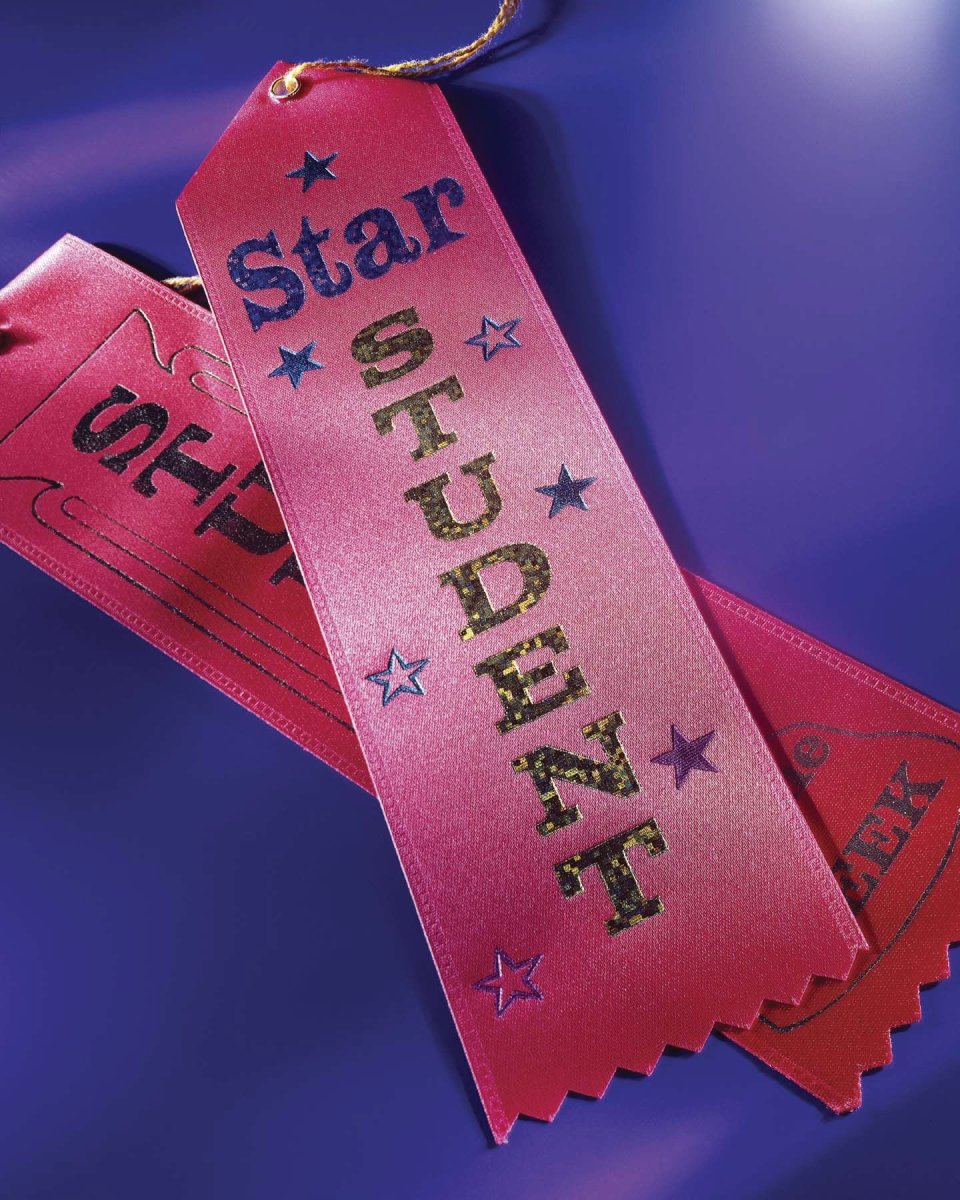 Mom and Coach are informed.
Through the course of The Bradley Method® class series, parents are taught about what to expect as "normal" in labor, what the variations on normal might be, the different options and interventions in labor, and how to recognize a complication that warrants a change in the plan for a Healthy Mom, Healthy Baby outcome.    
We also teach positive communication, something intended to strengthen the parental bond, as well as serve for positive interactions in the birth space with care providers and support personnel.  Our goal is that parents have the tools they need to evaluate labor, communicate their needs to care providers, and ask the questions they need to make informed decisions about the choices they may have to make in labor.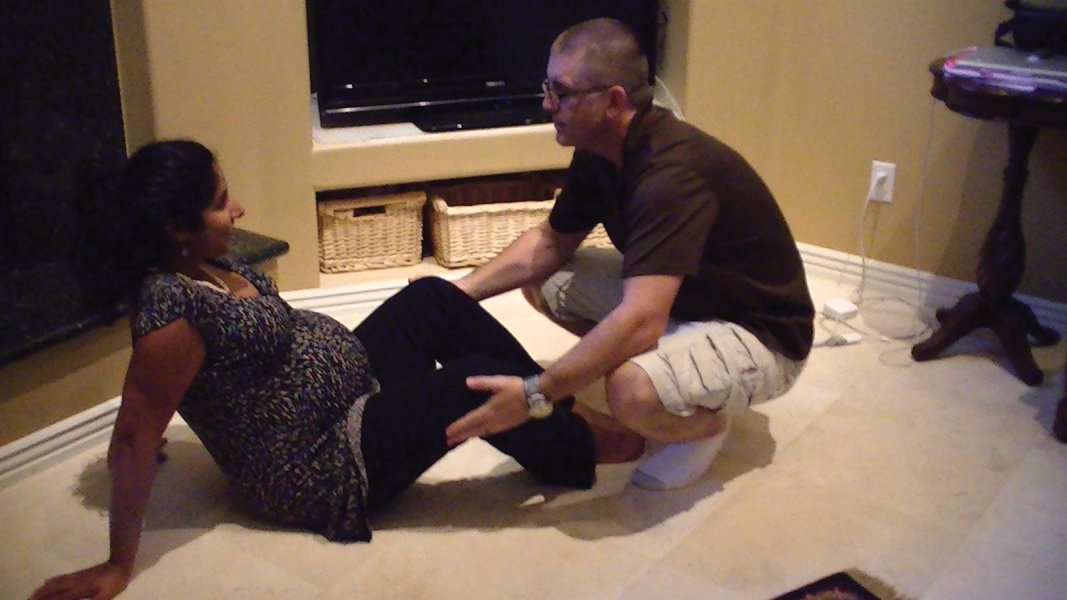 Mom and Coach are athletes.
An athlete with an eye on crossing the finish line does four things:  They train, they rest, they nourish and they hydrate.  Dr. Bradley called his patients "obstetrical athletes".    
His nurse, Rhonda Hartman, designed a training program just for moms to prepare them for labor.  We are still teaching our couples this training program, starting with week one of class and continuing until the time of birth.  We also "train" relaxation.  Each couple is encouraged to take the weekly technique and practice at least 15 minutes per day so that there is muscle memory for relaxation when it is needed in labor.   
We continually harp on the importance of sleep in the weeks leading up to labor and once labor starts.  We learned this lesson the hard way, and as excited as we know our students are going to get as they anticipate the birth of their child, we want them to try to rest.  Getting to the magic number of "10 cm" is only the first part of labor – once they reach 10 cm, they also need energy for the second stage of labor to welcome their child into this world.   
We also echo Dr. Bradley's advice to eat if you're hungry, drink if you're thirsty.  He makes the analogy that going through labor without eating or drinking is like playing a full game of football without any substitutions.  The body is working and burning energy to birth your baby, it makes sense to follow mom's physical cues.  As long as mom is okay and baby is okay, we have found that mom's appetite will naturally decrease as labor intensifies; and as with an actual marathon, that the need to hydrate is as important in early labor as it is when mom is close to crossing the finish line.   
Bradley Method® natural childbirth classes offered in Arizona: Chandler, Tempe, Ahwatukee, Gilbert, Mesa, Scottsdale, Payson
Water is your friend.
As stated above, a hydrated mother makes for an optimal obstetrical athlete.  She is hydrated for energy and optimal hormone distribution throughout labor.   
 Water is also a excellent relaxation tool.  It works magic in labor: the warmth and the sensation move tension away from the body and adding a layer of relaxation as it works to soothe the mother's body.  I have heard it called, "The Midwives Epidural".    
Many hospital moms now have access to the birth tubs that are used very effectively at birth centers or at home births.  If  using a birthing tub or home bathtub is not an option, then the shower can also be an effective tool.  The sensation of water will still massage and soothe the body.  With a shower hose attachment, the water can also be directed at the body where it is the most soothing for the laboring mother.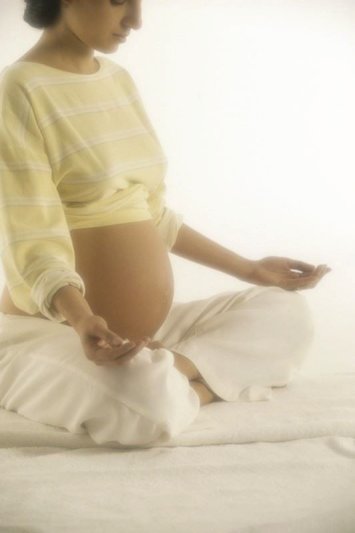 Use abdominal breathing.
Abdominal breathing is taught in many settings to deepen relaxation – yoga, hypnosis, meditation, stress relief, and in The Bradley Method® of natural childbirth classes!  Abdominal breathing is also known as diaphragmatic breathing.  Basically, you are allowing your belly to rise and fall as you breath instead of your chest.  If you watch children breathe, or if you remember what it was like to breathe before someone told you that you needed to suck in your stomach, you will know what it means to breath with your abdomen.   
Abdominal breath is an important foundation for relaxation.  It slows down our mind and it allows or bodies to release tension.  We teach abdominal breathing in class 2 so we can build on it through the rest of the series.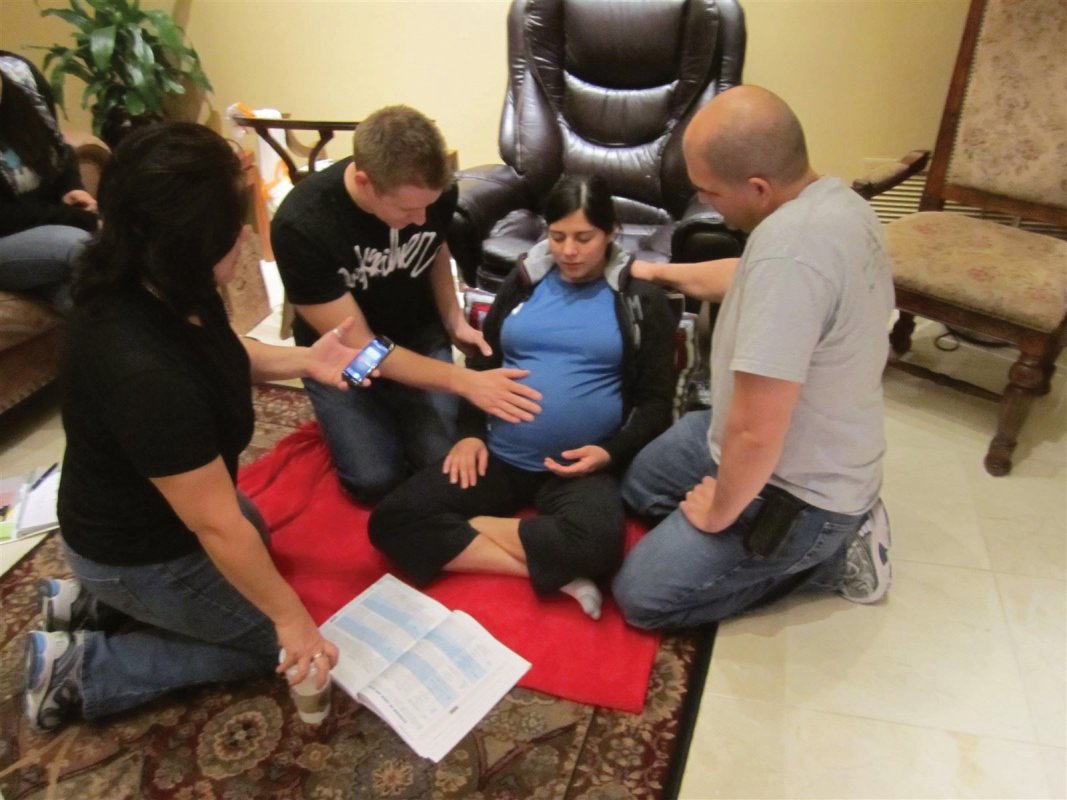 Coach is a relaxation expert.
Coach needs to know what relaxes their partner.  Does mom respond to physical touch?  What kind of touch?  Does she like a strong counter-pressure or gentle effleurage?  Does she like a relaxation script, a prayer or a story read to her?  Does she feel safe in her birth space?     
By the end of The Bradley Method® class series, we have covered these, and many more questions, to help the Coach be a relaxation expert on their partner.  We also teach 11 different relaxation techniques for coaches to put into their "toolbox" to use as needed as labor progresses.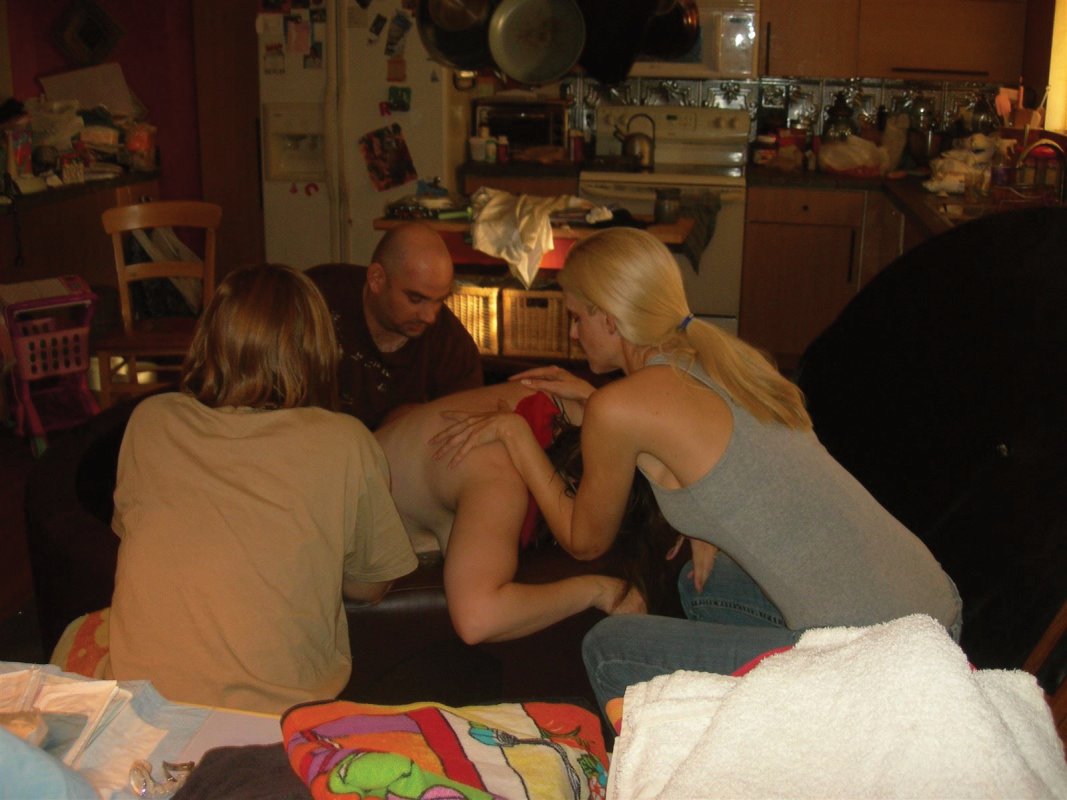 Have a trusted assistant coach.
Champion sports teams have a stellar assistant coaching staff.  The head coach doesn't try to do it all – he delegates and finds the best person to train his team so that he can keep his eye on the big picture and continue leading and motivating his team.   
We have noticed that couples with an assistant coach generally end up with births that are closer to the birth wishes they made in preparation for their labor.  The extra set of hands, the extra energy in labor make a difference.  The couples that hire doulas also have an experienced birth professional to help them manage the map of labor.  A good birth doula doesn't take over the birth, she will help the couple to recognize the signs of progress and make suggestions for coach to support the mom.   
Even if you feel like you want to be just Mom and Coach, you can benefit from an assistant coach coming in for a period in labor.  When we labored with Angelika, a dear friend of ours came in and labored with me when Bruss needed rest.  I had been laying down the first day, resting and napping since we know we have long labors.  Bruss had been checking in on me, taking care of our older children while we waited for family to arrive to tend to them, and he took care of feeding all of us.  He REALLY needed to sleep after dinner that night.  Andrea came, labored with me as long as she could, and when it was time for her to get back to her own family, Bruss was rested and ready to be head coach again.  I am forever grateful for her time that night – it allowed for Bruss to rest and restore for the long work we still had ahead of us.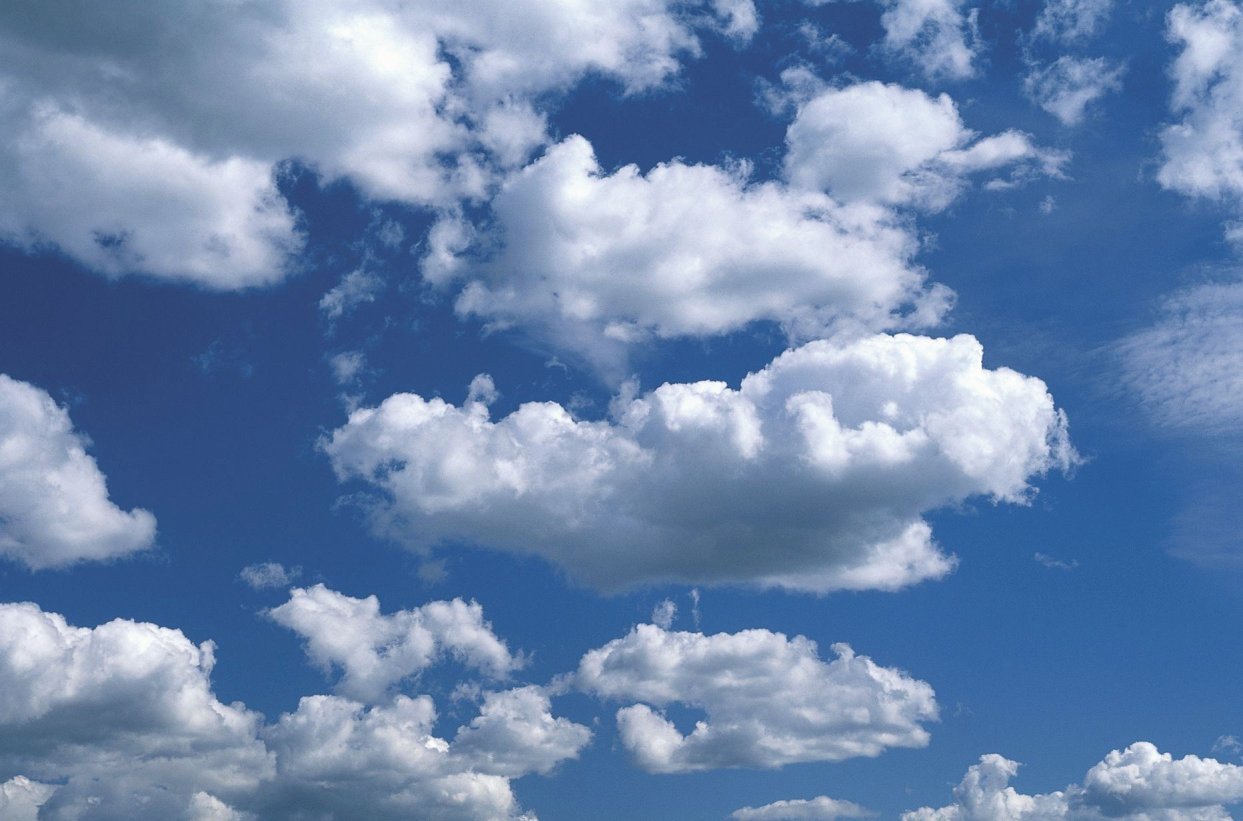 Break the Fear-Tension-Pain cycle.
We break the Fear by teaching couples what to expect in a normal labor, along with the many variations on "normal".  We also break the Fear by discussing the complications and sharing strategies and options for them to consider if they are among the small percentage of people that face complications in labor.   
We break the Tension by teaching Mom and Coach to be relaxation experts.  We break the Tension by teaching couples to communicate together, and how to communicate with their care team for effective and positive interactions.   
We break the Pain by reminding mothers that labor is an athletic event.  It isn't always easy, however it is doable.  We invite couples from the previous class come share their stories with our current class.  I have seen the "light bulbs" click for both Moms and Coach when the other "first-timers" share their stories.  It makes it more realistic to hear that other newbies had Healthy Mom, Healthy Baby outcomes by using the information they learned in class.  It reassures them that the intensity is brief compared to the joy of holding their children.  The new parents confirm that the work is worth the effort, and that staying the course and/or making Healthy Mom, Healthy Baby choices are rewarded with a happy family outcome.    
We also encourage couples to find affirmations, prayers, scripts and/or music to draw energy from in labor.  Labor is an exercise in intensity that ebbs and flows.  Having something to focus on besides the intensity that is growing helps to focus mom on the work that she is doing.  They can also restore and encourage her when she wants to give into the pain.    
By having knowledge, training and tools, couples are well on their way to a Healthy Mom, Healthy Baby outcome.   
What was a natural labor coping technique that worked for you during your labor?   
Disclaimer:  
The material included on this site is for informational purposes only.
It is not intended nor implied to be a substitute for professional medical advice. The reader should always consult her or his healthcare provider to determine the appropriateness of the information for their own situation.  Krystyna and Bruss Bowman and Bowman House, LLC accept no liability for the content of this site, or for the consequences of any actions taken on the basis of the information provided.  This blog contains information about our classes available in Chandler, AZ and Payson, AZ and is not the official website of The Bradley Method®. The views contained on this blog do not necessarily reflect those of The Bradley Method® or the American Academy of Husband-Coached Childbirth®.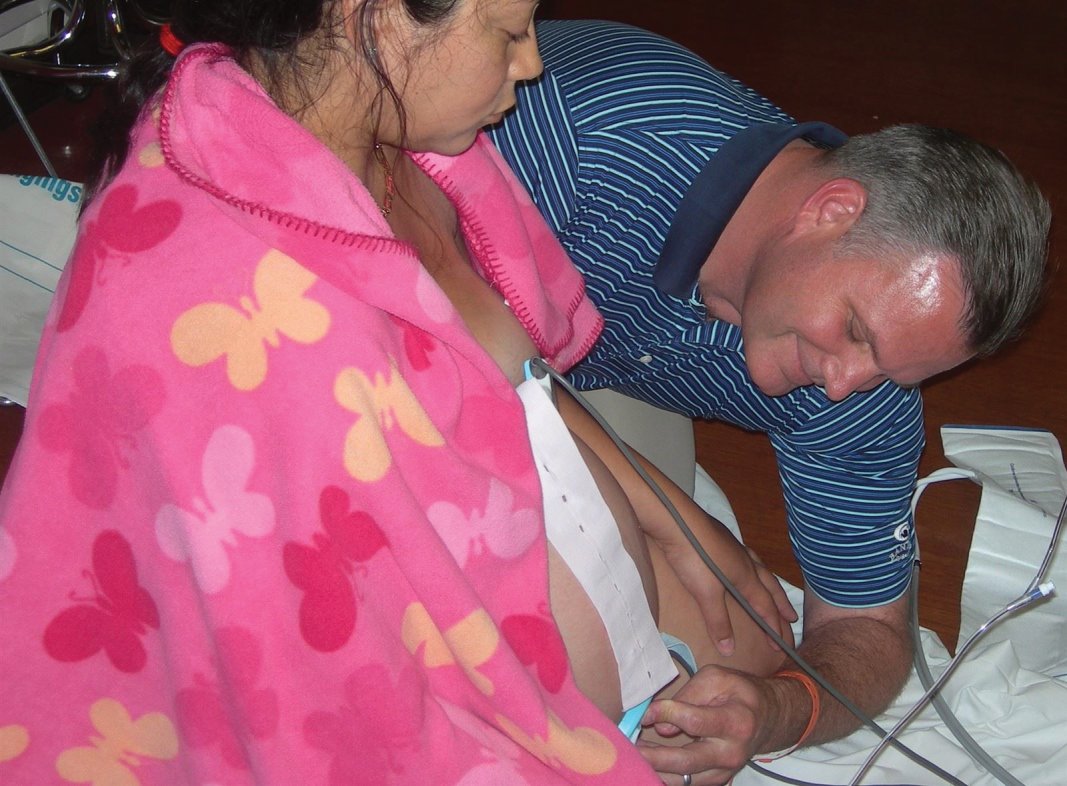 We have had a couple of students have had textbook "NAPS" in the last two classes…and since we still have several couples waiting for their babies, I thought this might be a reminder and an inspiration to them for their labors.  NAP – no, they didn't take epic naps in labor (although I am a big advocate for sleeping in labor)…what it means is that they were very patient in their labors.   
One of the cornerstones of The Bradley Method® is a Healthy Mom, Healthy Baby outcome.  All of the discussion below only applies if Mom and Baby are not showing any signs of distress through labor.  Mom is maintaining a healthy temperature, heart rate and blood pressure, and Baby is also showing that it is doing well as per the monitoring that is being done.  If Mom or Baby are starting to demonstrate that their health is compromised, then parents are encouraged to make the best choices for their particular situation.   
The words "Failure To Progress" are the sound of doom to some of us (I say "us" because I heard this three times!).  They very often mean that interventions are going to start being suggested.  How a couple acts upon those suggestions is very individual.  Marjie Hathaway coined the phrase "Natural Alignment Plateau", or "NAP" as an answer to the dreaded "diagnosis": "FTP", or "Failure To Progress".    
Failure To Progress is based on the Friedman's Curve*.  It looks like this: 
 As human beings, it is in our nature to see this neat, explainable graph and say, "It's a rule!" This can have dire implications whilst in labor if you really want a natural birth.  There are no averages in the midst of a labor – each labor on is unique and individual.  
Mathematically, it's unfair for all labors to be expected to fit the average.  That brings in another concept we teach in The Bradley Method® classes: consumerism and informed consent.  If there is time: ask questions, ask for time, and then communicate and evaluate what you have heard with your partner before you decide on a course of action.   
It is important to remember that the graph is AN AVERAGE representation of labor.  It indicates that a mom should dilate 1 cm per hour, and push an average of 3 hours – for an average length of labor that is between 12-14 hours long.    
Math class reminder:  The average number is the number you get when you add all of the data in a set of information, and then divide that total number by the number of units that provided the data.  Applied to laboring mothers: That means that there will be some people that have labors much shorter than 14 hours, and other people that have labors much longer than 14 hours, more will be around that number…and then a few will be right on with the average.  
When a mom does not progress in dilation from one vaginal exam to the next, or between several vaginal exams, she may be diagnosed with "Failure To Progress", and along come the string of possible interventions.  They can include any or all of the following, along with other interventions: an Amniotomy (intentional rupture of the bag of waters), augmentation of labor with Pitocin, an Epidural to take of the edge of Pitocin-induced contractions, a Cesarean.  
A cesarean may also be suggested if the care team suspects that the baby may not fit through mom's pelvis.  Diagnosed as "CPD", this is the subject for another post altogether.  For now, check the link I listed below* for more information.
Instead of accepting the words, "Failure To Progress", Marjie decided to suggest a new phrase to her students: "Natural Alignment Plateau".  NAP instead of FTP.  Natural Alignment Plateau is a different way of approaching that point in labor when dilation does not change.  What we teach in class and hope that our students will remember when they face this crossroads is, "Labor is much more than dilation."   
Labor can be slow to start, dilation can stop and/or contractions can slow down for many reasons.  Here are some to consider: 
 Did you change locations where Mom is laboring? 
 Is Baby posterior? (Click here for ideas to move baby)
 Is Baby trying to figure out how to line up in the birth canal? 
 Is there an emotional component that hasn't been dealt with? 
 Is Mom tired and does she need a nap? 
 Is Mom making more hormones for labor? 
 Is Mom's pelvis still stretching (and using the extra hormones) for baby to fit?
 Is the Baby's head still molding for the passage through the birth canal?
 Is Mom making more colostrum for baby? 
 Has Mom surrendered to the birth? 
 Has Baby accepted the birth process?  
If your labor has been slow to start after a spontaneous rupture of membranes, or if you are seemingly "stuck" at a measurement of dilation, it might be time to evaluate what could be going on and change tactics: 
 Try a new labor position. 
 Go for a walk to clear your heads. 
 Take a nap to conserve your energy (It's hard for a care provider to argue with a dad or doula who is protective of a sleeping mom.)  
 "Talk" to your baby and encourage them that you are ready to meet him/her. 







If Mom and Baby are doing well, you can ask for time.  There is not a medical reason for an intervention if Mom and Baby are doing well in labor and your care team confirms that Mom and Baby are okay.  Here are two examples for you to consider and think about if you face a point in labor when there is no measurable progress.   




We had a mom from our Winter class go from 6 cm dilated (usually considered Active First Stage – not yet in Late First Stage) to holding her baby in 21 minutes.  Yes – you read that correctly.  She went from what most care professionals would consider mid-range in labor to holding her baby in 21 minutes…that meant she pushed within that time, too, folks.  Hers was an emotional component.  She was waiting for her mom to arrive.  Once her mom arrived at the hospital and stepped into the room where she and her husband were laboring, her baby and her body got busy.  They dilated a total of 4 cm from 6 cm to "complete" at 10 cm, then pushed, and they were holding their baby in 21 minutes.   




Our other story is from our Spring Class.  Mom had a slow start to labor.  She had started seeing some clear fluid on Sunday, noticed some more on Monday, and went to the hospital on Tuesday.  They tested her fluid and it was amniotic fluid.  Although they were in triage and barely 1 cm dilated, the couple was strongly encouraged to be admitted.  Now they are into the hospital and the expectations of "Friedman's Curve."  




This couple did a great job of asking, "Is Mom okay? Is Baby Okay?" After getting their "Yes" answers, then they followed up with, "That's great!  Then let's wait a couple more hours and see where we are."  And sure enough, the next time the staff and their care provider checked in, they were a little further along in labor.  Once things got going, this mom went from being 4 cm dilated to 8 cm dilated in one hour!  Within two hours of that point, they were holding their baby.   




The great news about hitting the NAP is that once the Mom's body and Baby "get organized", labor seems to progress very quickly.  Again, remember what I said at the beginning – things go well when a Healthy Mom and a Healthy Baby are given the time they need.  If Mom or Baby start to indicate that "healthy" is losing out, then a family needs to make the best choice for their situation.   




What has been your experience – have you had a NAP in your labor?  What choices did you make?   




For a full explanation of Friedman's Curve click

here

 or enter this URL into your browser: http://allaboutbirth.net/pdfs/Failure-to-progress.pdf    




Disclaimer:  

 The material included on this site is for informational purposes only.
It is not intended nor implied to be a substitute for professional medical advice. The reader should always consult her or his healthcare provider to determine the appropriateness of the information for their own situation.  Krystyna and Bruss Bowman and Bowman House, LLC accept no liability for the content of this site, or for the consequences of any actions taken on the basis of the information provided.  This blog contains information about our classes available in Chandler, AZ and Payson, AZ and is not the official website of The Bradley Method®. The views contained on this blog do not necessarily reflect those of The Bradley Method® or the American Academy of Husband-Coached Childbirth®. 

0

/