...celebrating every swee​t pea their birth
Here is PART II of our VLOGS with guest doula, Michelle Ludwig from Modern Mama Doula Services.
Last week, she showed us her
TOP 5 picks for postpartum
.  Today she is going to share her DIY tutorial for you to make soothing postpartum "padsicles" right at home during pregnancy so that they are ready for you when you are home holding your sweet pea!
What you need:
-Witch Hazel ~ we both really like the Humphrey's brand – available in regular or organic)
-Maxi-pads ~ if you can find them, get some chemical-free and bleach-free; usually available online
-Cookie Sheet
-Freezer Storage Bags
How to:
1) Open up all the pads and leave them on the wrapper so that they don't stick to each other later
2) Lay them all out on your cookie sheet
3) Spray the witch hazel on to the pads until they are wet BUT not dripping
4) Put the whole cookie tray into the freezer for about two hours
5) Once the witch hazel has frozen, take them back out of the freezer and fold them back up for storage.  Place them in a freezer storage bag and back into the freezer while you wait for your Sweet Pea to make their appearance.
6) Use them during the postpartum period on top of the large postpartum pads you will receive in your birth kit or from the hospital.
They will be a little chilly at first, but after the initial freeze they will feel great on your bottom.
I did ask Michelle what her experience was with other "add-ons". Some info out on the internet suggests using lavender essential oil or aloe vera gel along with the witch hazel on the pads when you are preparing them.
As Michelle so wisely answered, less is more. Witch hazel is an extremely effective healing agent, and it would be a bummer to find out that you are allergic to lavender or aloe vera when you are trying to heal from birth, learning to breastfeed and figuring out your mothering.
The witch hazel and pads are part of Michelle's especially prepared Bump Boxes.  Along with the items for padsicles, you will also receive some hand crafted postpartum essentials that she makes herself.  You can order Michelle's specially made with love package from her
HERE
Would you like to interview Michelle as a doula? Please read her meet the doula feature
HERE
Contact Michelle:
Disclaimer: 
The material included in this video is for informational purposes only. It is not intended nor implied to be a substitute for professional medical advice. The viewer should always consult her or his healthcare provider to determine the appropriateness of the information for their own situation.  Krystyna and Bruss Bowman and Bowman House, LLC accept no liability for the content of this site, or for the consequences of any actions taken on the basis of the information provided.  This blog and video contain information about our classes available in Chandler, AZ and Payson, AZ and is not the official website of The Bradley Method®. The views contained in this video and on our blog do not necessarily reflect those of The Bradley Method® or the American Academy of Husband-Coached Childbirth®.
Birthing From Within and Bradley Method® natural childbirth classes offered in Arizona: convenient to Chandler, Tempe, Ahwatukee, Gilbert, Mesa, Scottsdale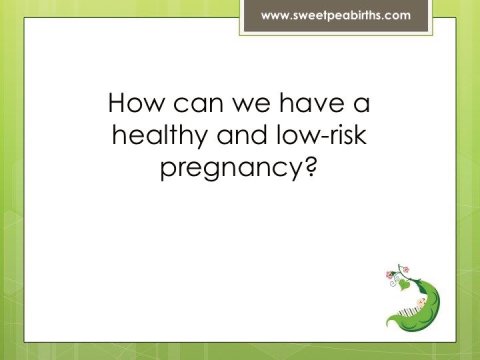 Today's VLOG is all about the things that you *can* control in the very unplannable process of pregnancy, labor, birth and the childbearing year.
LINKS
What can you control?
1. Pay attention to your nutrition
This is just as important for the father as it is for the mother.  A better diet creates higher quality sperm, and a well-nourished mother can feed her growing embryo-fetus-baby as it develops from zygote stage through pregnancy.  A breastfeeding mother is also growing her infant's brain - mindful nutrition is just as important after the Birth-Day.
HERE is the pregnancy nutrition program that we teach in The Bradley Method
®
.
2. Engage in an exercise program
Your ability to give birth does not hinge on whether or not you are an exercise fanatic before you conceive.  A mother who wants to prepare her belly, back and bottom to give birth can follow a pregnancy-specific exercise program. Even doing a few minutes a day of this low-impact, low-stress program can be a game-changer for mamas and their overall strength as they go into their labor.  
What can you influence?
1. Your experience
You have the responsibility to choose the right care provider and the right birth setting for you.  If you have a nagging feeling that persists, or if you see/hear/feel red flags at your prenatal appointments that your provider is not right for you, GO WITH IT.  Believe in yourself and your instinct.  Ask people you respect and who felt supported in their births who they chose and why...and then, maybe take a risk! Go on some interviews to see if maybe you want to make a switch.
2. Relaxation and Pain Coping
We do not know what kind of labor card you are going to draw.  What we do know is that all labors and births can benefit from mindfulness.  Whether you have a natural birth, a cesarean birth, or anything in between, there is a surrender.  There is a point when you will have to dig deep and say YES to the journey that you are on. 
There are many ways to prepare for your journey - HERE is an info sheet that explores the variety of classes available to birthing families.
What is part of the journey?
The rest of your story is entirely up to your baby, your body, and The Fates.  A story is about to unfold - and what a story it will be.  However you birth, that day is one day in the rest of your lives as a family.  Be open to the experience, look for the joys, and also watch for the surprises.  
It is in the unexpected and the trials that growth and transformation happen...a transformation that is necessary as we experience a rite of passage.  Before children, you are you.  After they are in your lives, you are now Mother, Father, or which ever name you choose for yourself.
I wish you a childbearing year that surprises you, grows you, and leads you to discover more about yourself than you knew when you started.
Disclaimer: 
The material included on this site is for informational purposes only.
It is not intended nor implied to be a substitute for professional medical advice. The reader should always consult her or his healthcare provider to determine the appropriateness of the information for their own situation.  Krystyna and Bruss Bowman and Bowman House, LLC accept no liability for the content of this site, or for the consequences of any actions taken on the basis of the information provided.  This blog contains information about our classes available in Chandler, AZ and Payson, AZ and is not the official website of The Bradley Method®. The views contained on this blog do not necessarily reflect those of The Bradley Method® or the American Academy of Husband-Coached Childbirth®.
We are thrilled and honored to share a very special birth story today.  Our guest blogger, Cassandra is a newly minted mother of two - congratulations!!  Today she shares the story of Baby P's arrival. It is the complete opposite of last week's marathon labor birth story. She and Baby P definitely had a different path!
Baby P is baby #2 for our family; you can read my son's home birth story from 2012
here on the blog
.
I have been 
blogging about certain aspects of my second pregnancy
on
Sweet Pea Families
over the course of the last few months; fears, affirmations, newborn essentials, and most recently
musings over my labor
, what it would be like and who would be there. I had grand visions of a coming together of many women in the late afternoon or evening, laboring peacefully in the birth tub with plenty of laughter and wearing the cute new bra and panty set I purchased to look nice for the photographer that would be there. My daughter would definitely be born in the water since coincidentally her brother, even though we were in the tub, was born over the water. But, as it turns out (again!) babies decide things for themselves and we, as mothers are simply a vessel for whatever their life holds for them.
My son was born at 43 weeks 3 days from my LMP. Dates were ambiguous due to irregular cycles and lack of ultrasounds, but with no vernix, long fingernails and an aging placenta at birth he was definitely a longer cooked baby. Going that far past my "due" date was definitely an emotional time: not knowing what to expect as a first time mom, worrying, comments from family/friends/strangers, etc. etc.
Baby #2 was surprisingly conceived after my first cycle at 25 months postpartum. I got a positive pregnancy test on cycle day 30 and a twelve week and then twenty week ultrasound both matched up with my LMP due date. So, this time was different, we knew! It was always in my mind that maybe I just cooked babies a little slower than most but as the pregnancy progressed I didn't really think there was any way I was going to go past my due date. I was so cramp-y this time, so much more pressure down low, so much more active, I had a completely different lifestyle chasing an almost 3 year old every day than during my first pregnancy.  But alas, my due date came and went and then a whole other week passed. At 41 weeks I was having doubts about the baby coming out any time soon and really just couldn't believe I had gone so far again. 
At 41 weeks 1 day, a Monday, I was feeling good and talked with my midwife about just waiting it out another week and seeing what the weekend held. At 41 weeks 2 days, Tuesday, I was totally done being pregnant. My son and I had a great, exhausting day that day. We played at home, went grocery shopping, had a coffee and muffin date and met with a friend at the park to play in the sunshine for 3 whole hours. We came home and made dinner and he stayed up past his bedtime while my midwife came over for our weekly appointment. We chatted about the risks of the pregnancy progressing past 42 weeks, how we (my husband and I) each felt, what natural induction methods she likes to use and ultimately I decided I really just wanted a membrane sweep right then.
I had one with my son that resulted in losing my mucus plug and then starting labor two days later and I was ready. It was the night of a super new moon and I finally felt at ease to try and do something (at this point we weren't employing any kind of help labor start tactics). If my baby and body weren't ready I trusted that nothing would happen anyways and we would continue waiting.
We were done with the sweep around 7PM with caution from my midwife that there could be spotting and cramps during the night, all totally normal and to try some nipple stimulation if I wanted. My son went to bed and my husband and I settled in on the couch for some Netflix while I hooked up to my breast pump for exactly ten minutes. We went to bed shortly after as we were both really tired from a long day and I fell asleep pretty quickly. I felt cramps on and off through the night in a very sleepy haze, my son slept horribly and was crying most of the night but thankfully my husband was comforting him and I spent most of the night able to drift in and out.
I woke up at 6:40AM and had what felt like bad period cramps, sharp, painful cramps super low in my pelvis that went away very quickly. I wondered if I should still be having cramps 12 hours after the sweep (?) and hoped they would go away soon. I got up to go to the bathroom and brush my teeth and had lots of bowel movements. This used to happen to me every time I had period cramps so I wasn't surprised; and afterwards laid back down to try and sleep some more until my son woke up. 
He was up a little bit after 7AM and I was still having the cramps so I text my husband around 7:15 and asked if he could come home for a little bit to be with our son until these cramps went away. I was fine in bed but T was asking for breakfast, etc. and I just felt icky and wanted to stay resting. He didn't respond so T and I read books in bed and then looked at photos on my phone. Around 7:45 I was still having them so I called my husband (he hadn't seen the texts) and asked him if he would just come home from work for a little bit. T and I stayed in bed cuddling, goofing off, laughing and watching videos of him on my phone. 
Around 8:30AM my husband finally walks in just as I was about to call him again, he had brought breakfast and I was so happy because I was starving! I used the opportunity to finally get up and go to the bathroom again and the cramps were still coming, fairly frequently and kind of radiating down and out into my pelvis. Definitely still cramps though, did not feel anything like a "contraction". We decided to call the midwife as she emphasized calling her as soon as I suspected anything since my son was born fairly quickly after active labor began. 
I dialed her at 8:37AM and left a message. She instructed on her voicemail that if she didn't call back in 15 minutes to call our other midwife. Right afterwards I text our photographer, she has a son that she needed to make arrangements for so I wanted to give her as big of a heads up as possible if there was any chance I was going to be in labor today. "Hi it's Cassandra, I might be in labor today!" I told her about the sweep the night before and that I was just having cramps so I wasn't sure and I had called my midwife but was just waiting to hear back and that I would keep her updated. After that I came out of the bathroom and tried to lean into our hallway wall during one of the cramps to see if that alleviated the pressure, it didn't so I headed back to the bathroom. I was starting to think this was a membrane sweep gone horribly wrong and I had brought these insane cramps on myself and now who knew what was going to happen!  
I felt much better on the toilet. I would push down into the sides of the toilet seat during the cramps and kept having to pee or poo so it was better anyways. 15 minutes passed so I called our second midwife at 8:51AM. We talked for 8 minutes about what was happening (cramps, mucus tinged with blood, bowel movements) and I had two of the cramps while I was on the phone with her. She said she couldn't tell I was having them and it sounded like early labor stuff and to try and lie down and rest between them, eat something and to let her know when they seemed to undergo a change. So I got off the toilet and lay down in bed and asked my husband to bring me some pancakes. I was still so hungry and so happy to be eating, I had two bites and then another cramp came and I immediately needed him to take the food away from me. I also did not want to be lying down. There was NO way I could rest; so back to the toilet I went.
I listened to my husband and son playing a Frozen matching card game in the other room and was still trying to understand what might be happening to me. The cramps got stronger and I asked for a chair from the kitchen to put backwards in front of the toilet so I could drape my arms over the back and press into it during the cramps. At 9:17AM I had a cramp that left me shaking and immediately breaking out into sweat all over. This was intense! I text my midwife "Ok getting hot and sweaty and shaky. Can't rest" and she responded she was on her way. There was also a lot of blood after that and I finally knew this was definitely labor. 
Midwife called at 9:21 while she was driving and I couldn't even really talk to her. I text my photographer at 9:24 and said "Ok def in labor. Midwife coming over now, 15 mins away." She wrote back that she would be over in about 15 or 20 minutes too! This was when I told my husband to start filling up our tub – it had been inflated and ready to go for weeks and he just needed to fit the cover on it and then add water.
I had wanted to alert my friends from
my blessingway
when I was in labor and now that midwives and photographer were out of the way I could finally let them know. I sent out a text to everyone in the group at 9:27AM that said "Baby's coming, send love – need it already <3" I remember trying to make sure that I included everyone and that I was trying to count the names and count the girls in attendance and it was hard for me to concentrate, but I did get everyone! The responses were just starting to come in when my midwife walked in about 9:30AM. 
Just before then I was starting to get worried about continuing to do this on my own as my husband was tending to the tub and playing with our son so I was really happy to see her. She asked if I was pushing and I was kind of caught off guard, pushing!? No way, what? I was definitely not pushing! Then another wave came and AH! There was a head! I was pushing!? I half yelled out that I was pushing and she asked if I could feel the baby's head. I said no but then I barely reached up and the head was right there. She told me I needed to get off the toilet, which was seriously the last thing I wanted to do. She helped me down onto the birth stool where I tried to sit and then hold myself up against her but it was really unstable and I needed to get down. This entire time I could feel baby's head right there. When I got off the stool I felt her head kind of suck back up a little and wasn't sure where I was going or what I was doing but I heard hands and knees and I just kind of fell onto the floor in that position, head facing the corner, butt facing the doorway. This all happened in a couple of minutes and soon our photographer,
Kirsten,
walked in. She was greeted in the bathroom doorway to my bum and then a little bit of baby's head starting to come out.
On the next push I moaned out so loud and low, it didn't even really sound like me, I think this was the first noise I made the entire time. I was proud of myself that it was loud and low and not high pitched screaming (like I was with T). I knew I had to keep it that way and gosh the burning, ah! I literally just gave way to the burning, told myself it was happening and just feel it, don't fight it and then her head was out! I said I wanted the rest of her out, just get her out! but I knew that wasn't what I really wanted. Tearing so badly again was one of my biggest fears around labor and I knew this was the moment. My midwife told me to pant and I tried but couldn't really so I started just breathing shortly and blowing raspberries, I could do that and it calmed me down and gave me something to focus on while I just stayed in hands and knees with her head out. I heard my husband say something like oh my gosh eyes! A little nose and mouth, awww! I kept up my breathing/blowing and then all of a sudden her body was out!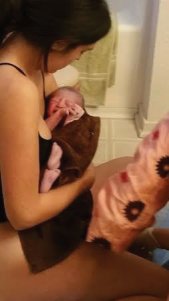 She handed her to me and I sat back on the bathroom floor and held her, it was 9:51AM. Not even an hour and a half from when my husband walked in the door with breakfast and our baby was here, so mind blowing.
I felt fantastic. I had so many emotions rush me all at once and I felt energized and ecstatic and it will definitely be engrained in my mind as one of the best moments of my life. I got up and walked to the other room to lie down in bed and seriously just could not believe how great I felt. T was right there in the doorway watching the entire time and once I got settled in bed  he climbed right up to touch and kiss his new baby sister.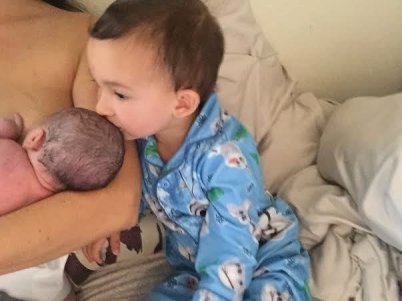 Needless to say the tub was not filled up enough for me to get in it once I had to get off the toilet and the pictures are not going to be anything like I had imagined. I did not get to diffuse my Serenity blend or light my beeswax candles or stare at the affirmation wall I had created in the bedroom, but I wouldn't change anything about it. So intense, but so quick and so perfect. It was a beautiful sunny day and after everything was cleaned up we all hung out in bed as a family of four watching movies, reading books and playing games and I couldn't have even imagined the amount of bliss I felt.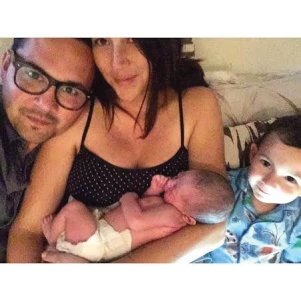 I needed no stitches, which literally made me want to jump up and down and cry out with joy and I have felt pretty great every single day since.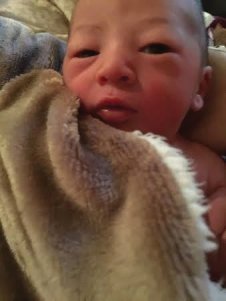 I learned so much from baby P's birth, there was not a single sensation that felt the same as my last labor and birth. Again, mind blowing. It was a great reminder to throw out any and all expectations I may have surrounding this little girl and being her mama, as we truly are never in control.
Congratulations, Cassandra, Eric, and new big brother T !!
Please leave us a comment - it will be moderated and posted. 
Disclaimer: 
The material included on this site is for informational purposes only.
It is not intended nor implied to be a substitute for professional medical advice. The reader should always consult her or his healthcare provider to determine the appropriateness of the information for their own situation.  Krystyna and Bruss Bowman and Bowman House, LLC accept no liability for the content of this site, or for the consequences of any actions taken on the basis of the information provided.  This blog contains information about our classes available in Chandler, AZ and Payson, AZ and is not the official website of The Bradley Method®. The views contained on this blog do not necessarily reflect those of The Bradley Method® or the American Academy of Husband-Coached Childbirth®.
Here are some of the ways we recommend our students manage their labor without analgesics or anesthetics.  Even when they are used in labor, we are so happy that our couples use them as tools to manage a long labor and their children are born nursing vigorously and with high APGAR scores.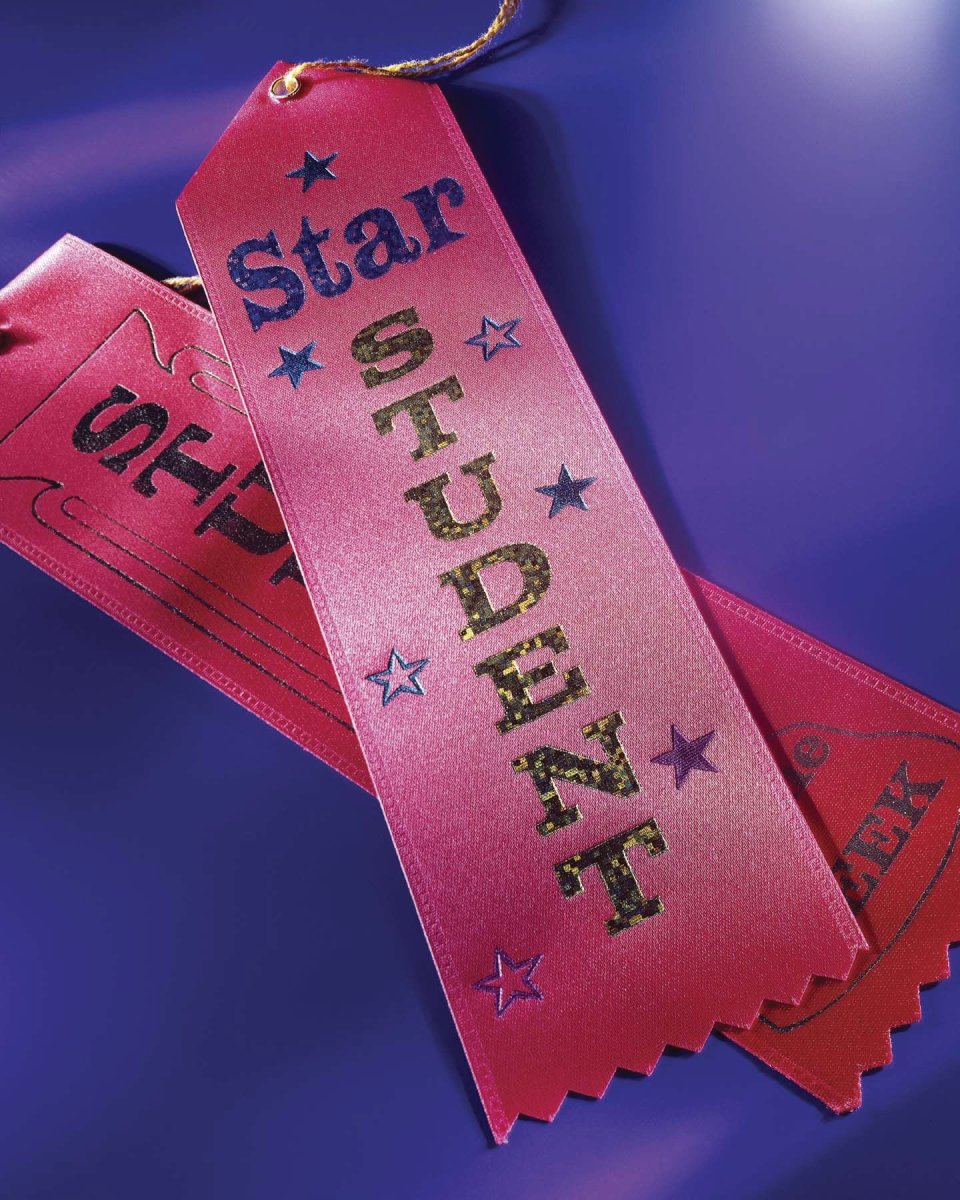 Mom and Coach are informed.
Through the course of The Bradley Method® class series, parents are taught about what to expect as "normal" in labor, what the variations on normal might be, the different options and interventions in labor, and how to recognize a complication that warrants a change in the plan for a Healthy Mom, Healthy Baby outcome.    
We also teach positive communication, something intended to strengthen the parental bond, as well as serve for positive interactions in the birth space with care providers and support personnel.  Our goal is that parents have the tools they need to evaluate labor, communicate their needs to care providers, and ask the questions they need to make informed decisions about the choices they may have to make in labor.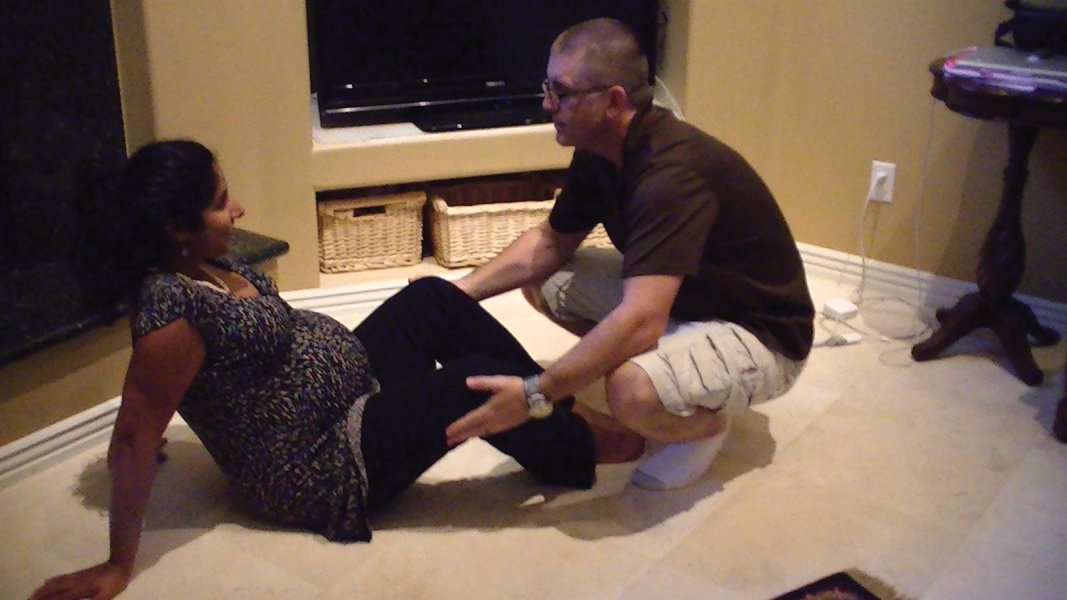 Mom and Coach are athletes.
An athlete with an eye on crossing the finish line does four things:  They train, they rest, they nourish and they hydrate.  Dr. Bradley called his patients "obstetrical athletes".    
His nurse, Rhonda Hartman, designed a training program just for moms to prepare them for labor.  We are still teaching our couples this training program, starting with week one of class and continuing until the time of birth.  We also "train" relaxation.  Each couple is encouraged to take the weekly technique and practice at least 15 minutes per day so that there is muscle memory for relaxation when it is needed in labor.   
We continually harp on the importance of sleep in the weeks leading up to labor and once labor starts.  We learned this lesson the hard way, and as excited as we know our students are going to get as they anticipate the birth of their child, we want them to try to rest.  Getting to the magic number of "10 cm" is only the first part of labor – once they reach 10 cm, they also need energy for the second stage of labor to welcome their child into this world.   
We also echo Dr. Bradley's advice to eat if you're hungry, drink if you're thirsty.  He makes the analogy that going through labor without eating or drinking is like playing a full game of football without any substitutions.  The body is working and burning energy to birth your baby, it makes sense to follow mom's physical cues.  As long as mom is okay and baby is okay, we have found that mom's appetite will naturally decrease as labor intensifies; and as with an actual marathon, that the need to hydrate is as important in early labor as it is when mom is close to crossing the finish line.   
Bradley Method® natural childbirth classes offered in Arizona: Chandler, Tempe, Ahwatukee, Gilbert, Mesa, Scottsdale, Payson
Water is your friend.
As stated above, a hydrated mother makes for an optimal obstetrical athlete.  She is hydrated for energy and optimal hormone distribution throughout labor.   
 Water is also a excellent relaxation tool.  It works magic in labor: the warmth and the sensation move tension away from the body and adding a layer of relaxation as it works to soothe the mother's body.  I have heard it called, "The Midwives Epidural".    
Many hospital moms now have access to the birth tubs that are used very effectively at birth centers or at home births.  If  using a birthing tub or home bathtub is not an option, then the shower can also be an effective tool.  The sensation of water will still massage and soothe the body.  With a shower hose attachment, the water can also be directed at the body where it is the most soothing for the laboring mother.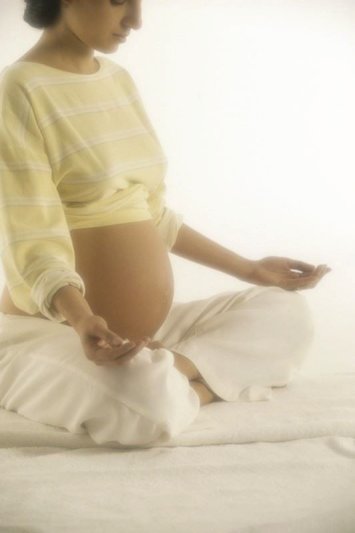 Use abdominal breathing.
Abdominal breathing is taught in many settings to deepen relaxation – yoga, hypnosis, meditation, stress relief, and in The Bradley Method® of natural childbirth classes!  Abdominal breathing is also known as diaphragmatic breathing.  Basically, you are allowing your belly to rise and fall as you breath instead of your chest.  If you watch children breathe, or if you remember what it was like to breathe before someone told you that you needed to suck in your stomach, you will know what it means to breath with your abdomen.   
Abdominal breath is an important foundation for relaxation.  It slows down our mind and it allows or bodies to release tension.  We teach abdominal breathing in class 2 so we can build on it through the rest of the series.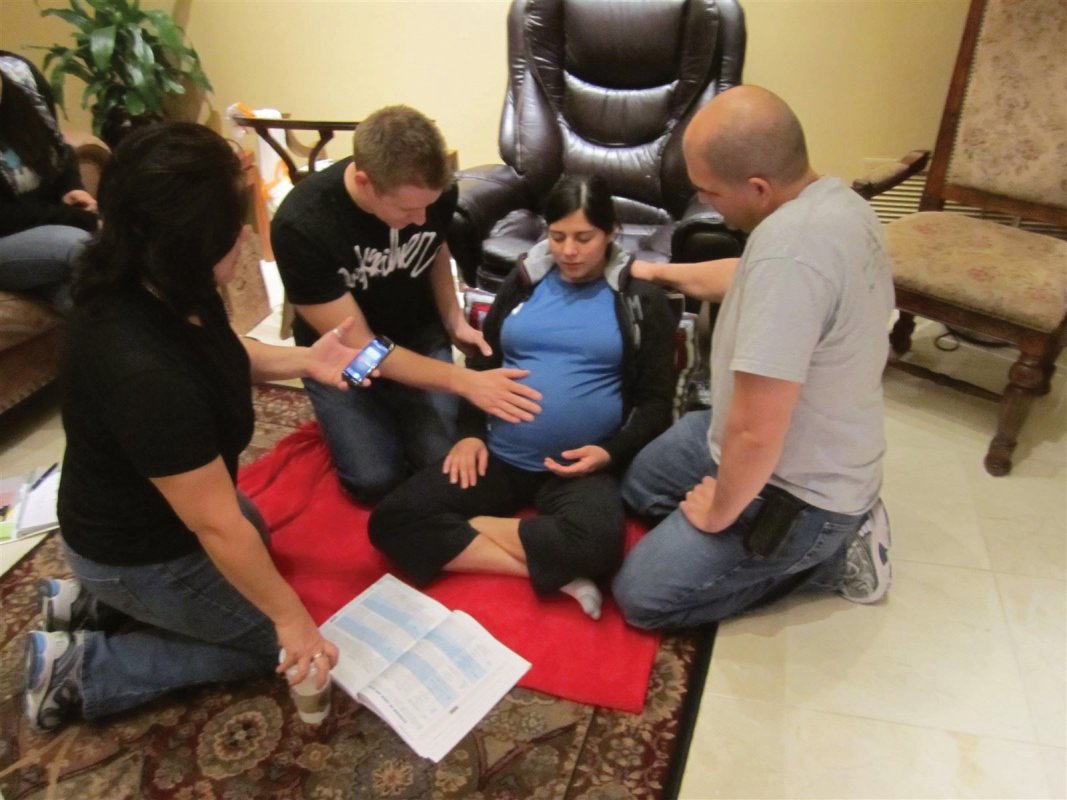 Coach is a relaxation expert.
Coach needs to know what relaxes their partner.  Does mom respond to physical touch?  What kind of touch?  Does she like a strong counter-pressure or gentle effleurage?  Does she like a relaxation script, a prayer or a story read to her?  Does she feel safe in her birth space?     
By the end of The Bradley Method® class series, we have covered these, and many more questions, to help the Coach be a relaxation expert on their partner.  We also teach 11 different relaxation techniques for coaches to put into their "toolbox" to use as needed as labor progresses.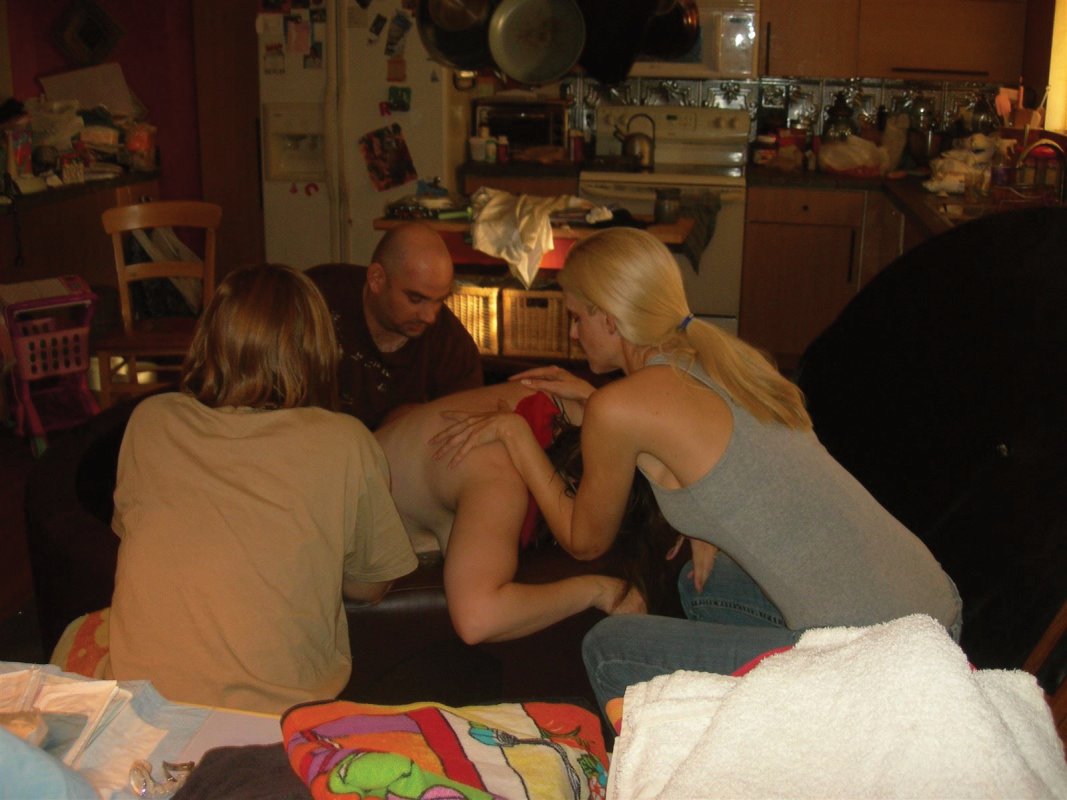 Have a trusted assistant coach.
Champion sports teams have a stellar assistant coaching staff.  The head coach doesn't try to do it all – he delegates and finds the best person to train his team so that he can keep his eye on the big picture and continue leading and motivating his team.   
We have noticed that couples with an assistant coach generally end up with births that are closer to the birth wishes they made in preparation for their labor.  The extra set of hands, the extra energy in labor make a difference.  The couples that hire doulas also have an experienced birth professional to help them manage the map of labor.  A good birth doula doesn't take over the birth, she will help the couple to recognize the signs of progress and make suggestions for coach to support the mom.   
Even if you feel like you want to be just Mom and Coach, you can benefit from an assistant coach coming in for a period in labor.  When we labored with Angelika, a dear friend of ours came in and labored with me when Bruss needed rest.  I had been laying down the first day, resting and napping since we know we have long labors.  Bruss had been checking in on me, taking care of our older children while we waited for family to arrive to tend to them, and he took care of feeding all of us.  He REALLY needed to sleep after dinner that night.  Andrea came, labored with me as long as she could, and when it was time for her to get back to her own family, Bruss was rested and ready to be head coach again.  I am forever grateful for her time that night – it allowed for Bruss to rest and restore for the long work we still had ahead of us.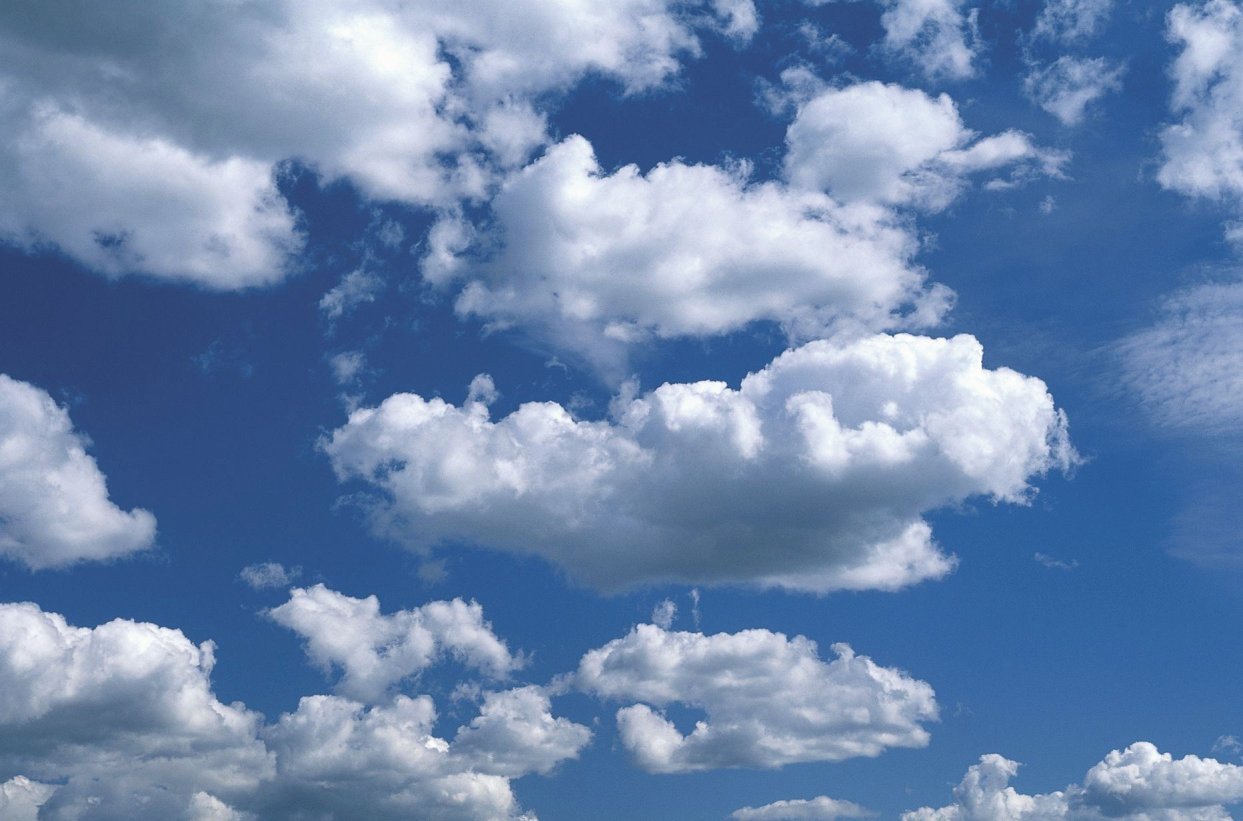 Break the Fear-Tension-Pain cycle.
We break the Fear by teaching couples what to expect in a normal labor, along with the many variations on "normal".  We also break the Fear by discussing the complications and sharing strategies and options for them to consider if they are among the small percentage of people that face complications in labor.   
We break the Tension by teaching Mom and Coach to be relaxation experts.  We break the Tension by teaching couples to communicate together, and how to communicate with their care team for effective and positive interactions.   
We break the Pain by reminding mothers that labor is an athletic event.  It isn't always easy, however it is doable.  We invite couples from the previous class come share their stories with our current class.  I have seen the "light bulbs" click for both Moms and Coach when the other "first-timers" share their stories.  It makes it more realistic to hear that other newbies had Healthy Mom, Healthy Baby outcomes by using the information they learned in class.  It reassures them that the intensity is brief compared to the joy of holding their children.  The new parents confirm that the work is worth the effort, and that staying the course and/or making Healthy Mom, Healthy Baby choices are rewarded with a happy family outcome.    
We also encourage couples to find affirmations, prayers, scripts and/or music to draw energy from in labor.  Labor is an exercise in intensity that ebbs and flows.  Having something to focus on besides the intensity that is growing helps to focus mom on the work that she is doing.  They can also restore and encourage her when she wants to give into the pain.    
By having knowledge, training and tools, couples are well on their way to a Healthy Mom, Healthy Baby outcome.   
What was a natural labor coping technique that worked for you during your labor?   
Disclaimer:  
The material included on this site is for informational purposes only.
It is not intended nor implied to be a substitute for professional medical advice. The reader should always consult her or his healthcare provider to determine the appropriateness of the information for their own situation.  Krystyna and Bruss Bowman and Bowman House, LLC accept no liability for the content of this site, or for the consequences of any actions taken on the basis of the information provided.  This blog contains information about our classes available in Chandler, AZ and Payson, AZ and is not the official website of The Bradley Method®. The views contained on this blog do not necessarily reflect those of The Bradley Method® or the American Academy of Husband-Coached Childbirth®.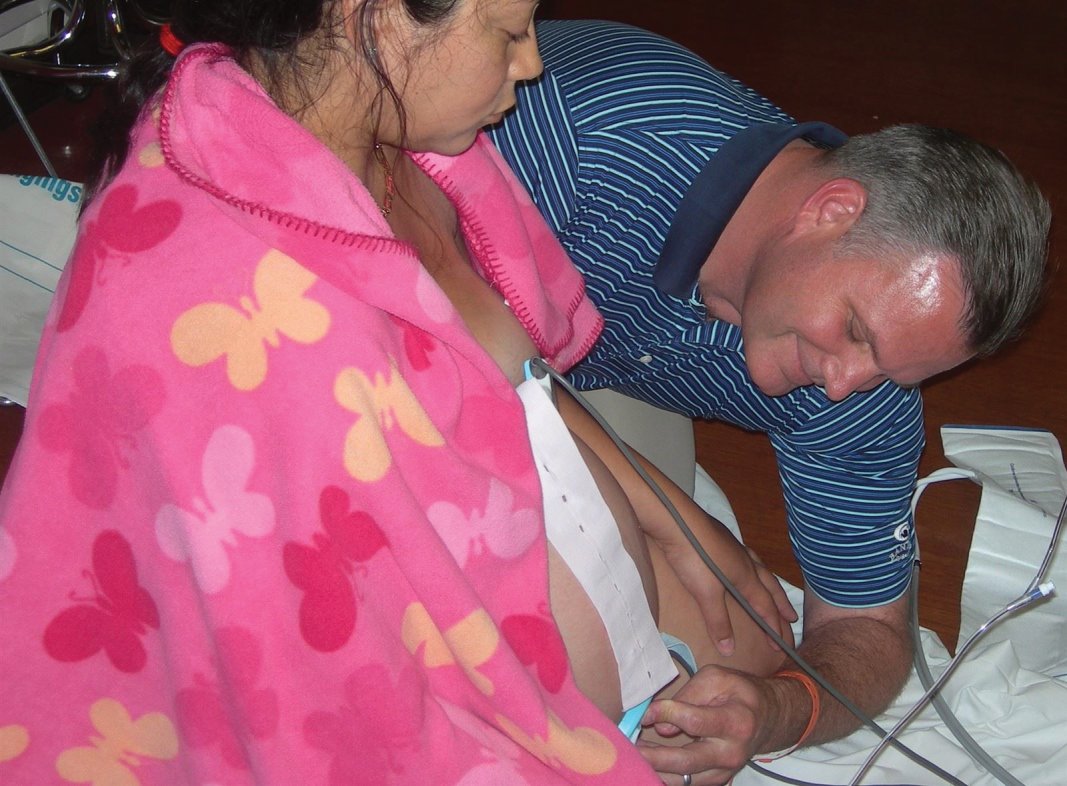 We have had a couple of students have had textbook "NAPS" in the last two classes…and since we still have several couples waiting for their babies, I thought this might be a reminder and an inspiration to them for their labors.  NAP – no, they didn't take epic naps in labor (although I am a big advocate for sleeping in labor)…what it means is that they were very patient in their labors.   
One of the cornerstones of The Bradley Method® is a Healthy Mom, Healthy Baby outcome.  All of the discussion below only applies if Mom and Baby are not showing any signs of distress through labor.  Mom is maintaining a healthy temperature, heart rate and blood pressure, and Baby is also showing that it is doing well as per the monitoring that is being done.  If Mom or Baby are starting to demonstrate that their health is compromised, then parents are encouraged to make the best choices for their particular situation.   
The words "Failure To Progress" are the sound of doom to some of us (I say "us" because I heard this three times!).  They very often mean that interventions are going to start being suggested.  How a couple acts upon those suggestions is very individual.  Marjie Hathaway coined the phrase "Natural Alignment Plateau", or "NAP" as an answer to the dreaded "diagnosis": "FTP", or "Failure To Progress".    
Failure To Progress is based on the Friedman's Curve*.  It looks like this: 
 As human beings, it is in our nature to see this neat, explainable graph and say, "It's a rule!" This can have dire implications whilst in labor if you really want a natural birth.  There are no averages in the midst of a labor – each labor on is unique and individual.  
Mathematically, it's unfair for all labors to be expected to fit the average.  That brings in another concept we teach in The Bradley Method® classes: consumerism and informed consent.  If there is time: ask questions, ask for time, and then communicate and evaluate what you have heard with your partner before you decide on a course of action.   
It is important to remember that the graph is AN AVERAGE representation of labor.  It indicates that a mom should dilate 1 cm per hour, and push an average of 3 hours – for an average length of labor that is between 12-14 hours long.    
Math class reminder:  The average number is the number you get when you add all of the data in a set of information, and then divide that total number by the number of units that provided the data.  Applied to laboring mothers: That means that there will be some people that have labors much shorter than 14 hours, and other people that have labors much longer than 14 hours, more will be around that number…and then a few will be right on with the average.  
When a mom does not progress in dilation from one vaginal exam to the next, or between several vaginal exams, she may be diagnosed with "Failure To Progress", and along come the string of possible interventions.  They can include any or all of the following, along with other interventions: an Amniotomy (intentional rupture of the bag of waters), augmentation of labor with Pitocin, an Epidural to take of the edge of Pitocin-induced contractions, a Cesarean.  
A cesarean may also be suggested if the care team suspects that the baby may not fit through mom's pelvis.  Diagnosed as "CPD", this is the subject for another post altogether.  For now, check the link I listed below* for more information.
Instead of accepting the words, "Failure To Progress", Marjie decided to suggest a new phrase to her students: "Natural Alignment Plateau".  NAP instead of FTP.  Natural Alignment Plateau is a different way of approaching that point in labor when dilation does not change.  What we teach in class and hope that our students will remember when they face this crossroads is, "Labor is much more than dilation."   
Labor can be slow to start, dilation can stop and/or contractions can slow down for many reasons.  Here are some to consider: 
 Did you change locations where Mom is laboring? 
 Is Baby posterior? (Click here for ideas to move baby)
 Is Baby trying to figure out how to line up in the birth canal? 
 Is there an emotional component that hasn't been dealt with? 
 Is Mom tired and does she need a nap? 
 Is Mom making more hormones for labor? 
 Is Mom's pelvis still stretching (and using the extra hormones) for baby to fit?
 Is the Baby's head still molding for the passage through the birth canal?
 Is Mom making more colostrum for baby? 
 Has Mom surrendered to the birth? 
 Has Baby accepted the birth process?  
If your labor has been slow to start after a spontaneous rupture of membranes, or if you are seemingly "stuck" at a measurement of dilation, it might be time to evaluate what could be going on and change tactics: 
 Try a new labor position. 
 Go for a walk to clear your heads. 
 Take a nap to conserve your energy (It's hard for a care provider to argue with a dad or doula who is protective of a sleeping mom.)  
 "Talk" to your baby and encourage them that you are ready to meet him/her. 

If Mom and Baby are doing well, you can ask for time.  There is not a medical reason for an intervention if Mom and Baby are doing well in labor and your care team confirms that Mom and Baby are okay.  Here are two examples for you to consider and think about if you face a point in labor when there is no measurable progress.   
We had a mom from our Winter class go from 6 cm dilated (usually considered Active First Stage – not yet in Late First Stage) to holding her baby in 21 minutes.  Yes – you read that correctly.  She went from what most care professionals would consider mid-range in labor to holding her baby in 21 minutes…that meant she pushed within that time, too, folks.  Hers was an emotional component.  She was waiting for her mom to arrive.  Once her mom arrived at the hospital and stepped into the room where she and her husband were laboring, her baby and her body got busy.  They dilated a total of 4 cm from 6 cm to "complete" at 10 cm, then pushed, and they were holding their baby in 21 minutes.   
Our other story is from our Spring Class.  Mom had a slow start to labor.  She had started seeing some clear fluid on Sunday, noticed some more on Monday, and went to the hospital on Tuesday.  They tested her fluid and it was amniotic fluid.  Although they were in triage and barely 1 cm dilated, the couple was strongly encouraged to be admitted.  Now they are into the hospital and the expectations of "Friedman's Curve."  
This couple did a great job of asking, "Is Mom okay? Is Baby Okay?" After getting their "Yes" answers, then they followed up with, "That's great!  Then let's wait a couple more hours and see where we are."  And sure enough, the next time the staff and their care provider checked in, they were a little further along in labor.  Once things got going, this mom went from being 4 cm dilated to 8 cm dilated in one hour!  Within two hours of that point, they were holding their baby.   
The great news about hitting the NAP is that once the Mom's body and Baby "get organized", labor seems to progress very quickly.  Again, remember what I said at the beginning – things go well when a Healthy Mom and a Healthy Baby are given the time they need.  If Mom or Baby start to indicate that "healthy" is losing out, then a family needs to make the best choice for their situation.   
What has been your experience – have you had a NAP in your labor?  What choices did you make?   
For a full explanation of Friedman's Curve click
here
 or enter this URL into your browser: http://allaboutbirth.net/pdfs/Failure-to-progress.pdf    
Disclaimer:  
 The material included on this site is for informational purposes only.
It is not intended nor implied to be a substitute for professional medical advice. The reader should always consult her or his healthcare provider to determine the appropriateness of the information for their own situation.  Krystyna and Bruss Bowman and Bowman House, LLC accept no liability for the content of this site, or for the consequences of any actions taken on the basis of the information provided.  This blog contains information about our classes available in Chandler, AZ and Payson, AZ and is not the official website of The Bradley Method®. The views contained on this blog do not necessarily reflect those of The Bradley Method® or the American Academy of Husband-Coached Childbirth®.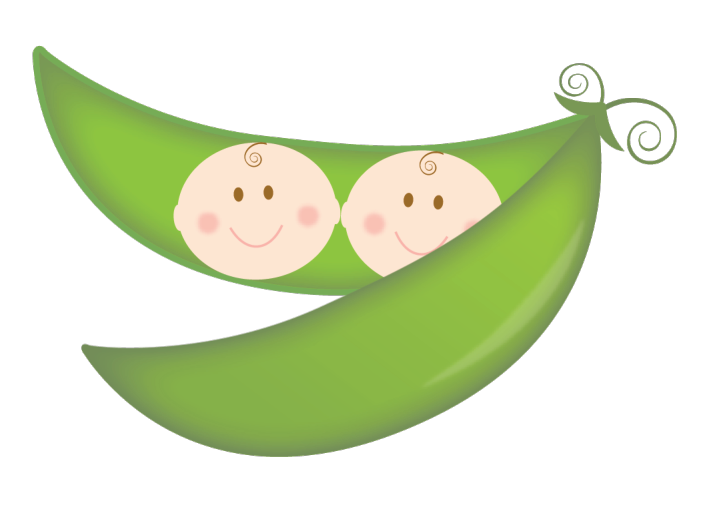 I am grateful to Jennifer and Devin Hanson for giving me permission to add their birth story to our Birth Story Archive.  Their generosity is premiering our first twin story.  They have an inspiring story that is a testament to faith and belief in your body, your coach and your birth team.
Jennifer was also kind enough to share some thoughts about Bradley Method® classes, care providers and life as a momma of twins.  Read our "virtual interview" below the links to her birth story.
The story of the Hanson twins begins with a momma of twins who wanted a natural birth and was ready to do whatever it took to avoid an induction.  Although their due date was October 10, 2011, since she was carrying twins, she was told they would be considered term on September 20, 2011.  I have great respect for her midwives at Valley Women for Women who allowed her to go "past due"...twice.
What would you do if you were 40 weeks plus four days pregnant?  You may have seen this already…if not, try this if you can…I know I would have a hard time accomplishing this not pregnant!
Momma went into labor naturally two days after their labor dance, and here are links to her birth story. 
Link to Part 1 The story of their twin sons' birth starts with the account of her labor at home and then at the hospital…
"After many months of preparing and learning (using mainly the Bradley Method®), we were able to achieve the natural, unmediated childbirth that we had hoped for. We had a beautiful, peaceful labor and a delivery that can only be described as "dramatic" but one which God's hand of protection was completely involved in every step of the way. We also have to thank our incredible team of nurse-midwifes who took such wonderful care of us during the pregnancy and allowed us to let the twins come when they were ready (which happened to be 6 days past their estimated due date) and encouraged us to still go for a natural birth, even though Isaac was breech until around 38 weeks (when he turned on his own). Truly, I can not say enough positive things about midwife care - personal, encouraging, sensitive, relaxed and fun. I've honestly missed those ladies since we've had the twins - something I would never say about any other health care provider I've ever had. "
Link to Part 2 Their birth story continues with the account of her natural delivery despite a trying second stage:
"While my labor was calm and peaceful, with me being completely in-tune with my body and in-control of what was happening to me, the delivery was chaotic and stressful, with me being so distracted that I couldn't even tell when contractions were happening. I felt out-of-control to the point of panic at times. It was not at all what I had envisioned when I pictured the delivery of my sons, however I believe it would have been far worse had our midwife Belinda not stepped in to fight for us amidst the chaos of doctors and hospital politics. (I should mention here that the OB practice we went with offered something called "collaborative care" with twins. We were to be cared for and delivered by midwives, but a doctor would be available should an emergency arise.)"
SPB: What did you take away from The Bradley Method® classes that helped you in your birth?
JH: I think what I took away from the Bradley® classes was confidence that what I believed (that my body was designed to birth children) could line up with reality, even in a hospital birth. And that I had the right to advocate for the kind of birth I felt was best for me, my husband and our twins.
SPB: What did your husband-coach feel was the most important lesson he learned?
JH: Devin read a number of chapters in Ina May's Guide to Childbirth, which he felt was very helpful. The Bradley® classes reiterated what he had learned from the book. However, I felt going to the classes together helped me feel more confident in him as a coach and helped bring up some good conversations about "How will we handle ______ during the labor/birth/recovery."
SPB: Based on your experience, what advice would you give to pregnant women who are looking for a care provider?
JH: I would encourage women to find a midwife or a care provider that has CNMs working for them. We were so encouraged and supported by our midwives. They helped to build our confidence and helped us navigate the "politics" we dealt with because we were expecting twins and wanted a 100% natural birth. Now that the medical bills are rolling in from the hospital, I would also recommend hiring a midwife out-of-pocket and birthing at home or at a birthing center, it is very likely to be cheaper (and less stressful than the hospital!!) This is what we plan to do next time around.
SPB: How is life with the twins?
JH: Life with twins is... a lot of work, but also a lot of fun. Weston and Isaac are adorable and I love being their mom. We get lots of attention when we go out, which took some getting used to. But now I've learned to be gracious, patient and polite to all their admirers and can enjoy it when people stop us. What's funny is that when I'm out with just one of the twins I get zero attention and now that feels weird. They are such sweet babies. In fact, as I'm typing this I can hear Weston waking up and laughing/cooing to himself - he is a big time morning person and it brightens my day so much to start the morning with his cooing and smiling. Isaac kinda hates waking up, but once he's awake he showers me with morning smiles too.
Many thanks to the Hanson family for making their inspiring story available to breech mommas, twin mommas and natural birth mommas across the world wide web and for allowing is to link to it.  We wish the Hansons all the best as they continue their journey together as a family.  Weston and Isaac, you are very blessed young men.
To read more of Jennifer's writing, you can visit her blog:
Do you have a birth story you would like to share? 
Please contact me at
[email protected]
if you would like to share your recollections for our Birth Story Archive.
Disclaimer: 

The material included on this site is for informational purposes only.
It is not intended nor implied to be a substitute for professional medical advice. The reader should always consult her or his healthcare provider to determine the appropriateness of the information for their own situation. This blog contains information about our classes available in Chandler, AZ and Payson, AZ and is not the official website of The Bradley Method®. The views contained on this blog do not necessarily reflect those of The Bradley Method® or the American Academy of Husband-Coached Childbirth®.
We are now enrolling for our Spring Series
March 5, 2012 to May 21, 2012
For more information or to register, please call us at 602-684-6567 or email us at
[email protected]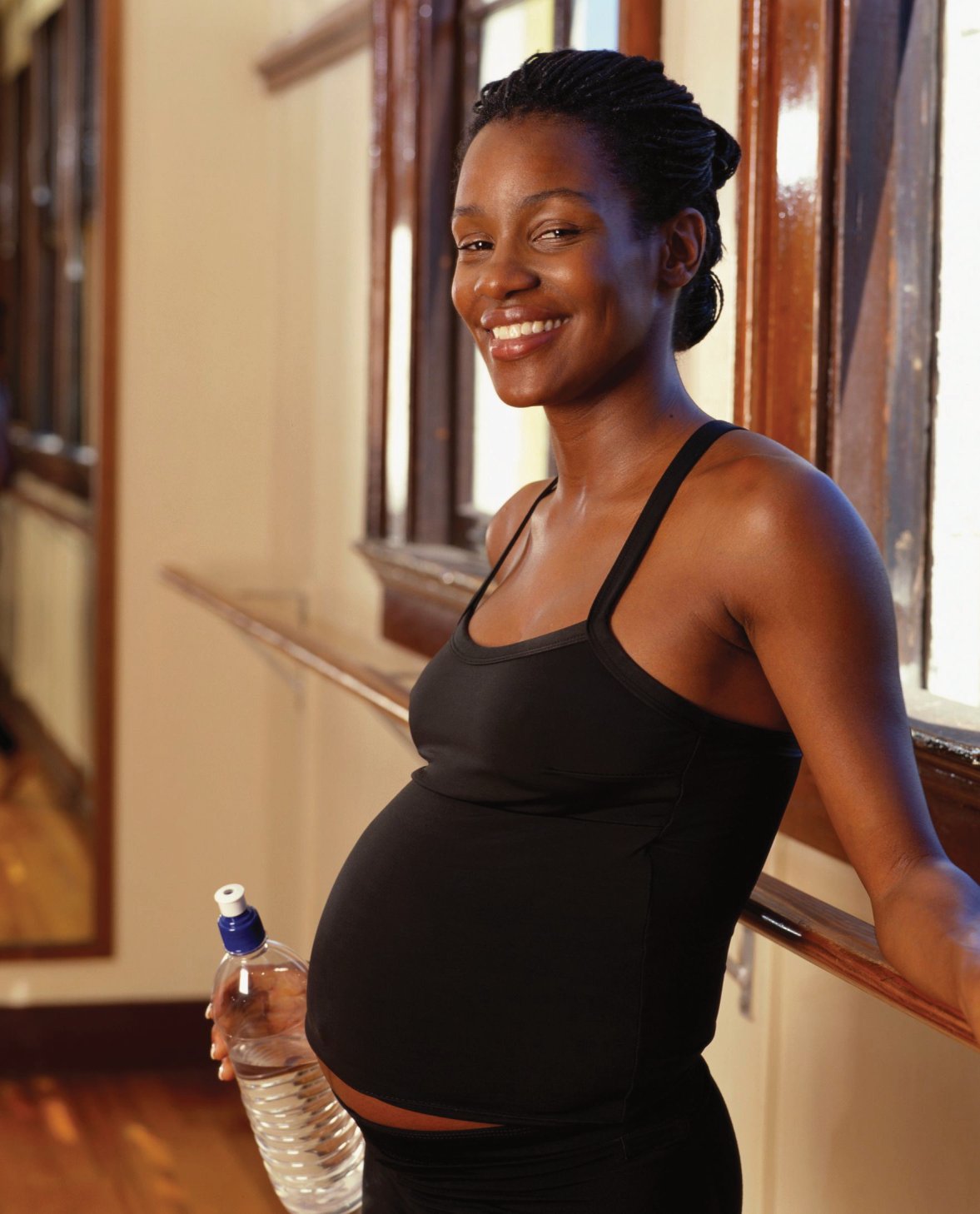 I made the mistake of serving sweet gooey treats for snack in class tonight.  It got really quiet after we did our labor rehearsal – oops.
So what are ways of increasing your energy during pregnancy, or additionally, your labor, if you are feeling low energy?   
Abdominal Breathing 
 We talk about it often in class – deep abdominal breathing is one of the best ways to increase oxygen in your body while still maintaining a deep level of relaxation.   
 Chest breathing wastes a tremendous amount of energy.  
 "Chest breathing is inefficient because the greatest amount of blood flow occurs in the lower lobes of the lungs, areas that have limited air expansion in chest breathers. Rapid, shallow, chest breathing results in less oxygen transfer to the blood and subsequent poor delivery of nutrients to the tissues."  
  - From http://www.amsa.org/healingthehealer/breathing.cfm  
 Abdominal breathing can also eliminate the vicious circle of the fear-tension-pain cycle.  By relaxing, you can stop the chest breathing that causes tension that causes pain; the pain causes fear; fear causes more chest breathing that winds up until mom and/or baby are showing signs of distress that leads to more intervention.   
Trace Minerals 
 Birth is an athletic event, whether you have a sprint, marathon or something in between.  The more vigorous your labor is, the more important it is to restore your body's supply of minerals. Exercise and stress, both of which may be present during labor, can drain the body of electrolytes and trace minerals, elements needed to maintain proper fluid balance and recharge energy levels.   
 In addition, energy is passed through the body via electrical charges.  In order to work well, properly functioning electrical cellular communication is essential.  Minerals act as catalysts for the biological processes in the body, including muscle response, the transmission of messages through the nervous system, and the utilization of nutrients in food.  All of these are essential if you want the most efficient labor possible.   
 Strive to find a trace mineral supplement with a flavor you can tolerate.  At the very least look for an electrolyte drink that will help replenish the minerals you need and might be using up through the course of late pregnancy and delivery.   
Take a Nap 
 Whether you are tired during the day when you are pregnant, or feeling exhaustion set in during labor, a nap is a great solution to help mom and dad face their labor with renewed energy and confidence.  A twenty-minute nap is a very effective tool for increasing alertness.  If you can get a 30-60 minute nap it helps with decision-making skills.  Both of those would be beneficial in labor.   
 I wonder what students picture as the length of nap when we encourage them to sleep during their labor. I think most of them must imagine a 2-3 hour nap, think it is impossible and cross it off the list since so few of them have been able to nap in their labor.  We know from experience that sleeping can be incredibly restorative during labor.  If Coach can convince Mom that just twenty minutes will do her well, remind Mom she doesn't have to hunker down for a long time.  Mom will not miss out on anything by sleeping just twenty minutes; in fact, you can drastically change your outcome by being rested.   
 So turn off the lights, wrap her in a comforting blanket and stroke or talk her to sleep with your soothing voice.  If Mom responds to music, find some relaxation tunes to play for her.  Maybe use an eye mask to block out light – it seems to be easier to fall asleep when it is dark.  
Go for a Walk 
 We encourage all our students to be walking at least twenty minutes per day from the first day of class until the day they have their baby.  Regular physical exercise not only increases stamina, it also helps energize the body.  During the day or during a low-energy point in labor, a walk might be in order.   
 A change in pace or scenery can help restore energy.  I am not talking about constant walking to speed labor, especially if you start with contractions that are more than ten minutes apart.  If your contractions start that far apart, a good meal and rest are in order to conserve energy.   
 My first question to a tired couple is, "Can you get mom to sleep?"  If that doesn't work, it is possible that a walk around the building or around the block doing abdominal breathing will oxygenate and wake up your body when you need to restore energy.   
Eat protein-rich snacks 
 Click
here
to read my list of good choices for labor snacks.  They are high in protein and complex carbs.  I try to avoid processed sugars or starches that rapidly convert to sugar – no need to repeat the effects of a quick sugar up and down that we saw in class tonight!   
Drink water 
 If you are thirsty, you are already dehydrated and it's time to get mom some plain water to get her fluid level back up.  In labor, the body is working in ways that you cannot measure.  Water is crucial to get the hormones that stimulate and regulate labor circulating effectively throughout the body.   
 Early signs of dehydration include thirst, loss of appetite, dry mouth and head rushes.  If Mom has a desire to eat, she needs to be eating to store energy for the point in labor when she is no longer hungry.  If this suppressed due to dehydration, she will miss out on her opportunity to store energy.  Head rushes can lead to an untimely fall, which could potentially change the course of your labor depending on the severity of the fall.   
 Continued dehydration can lead to increased heart rate, increased temperature, fatigue and headaches…which could also be construed as the mother going into distress.  You can absolutely head off a false distress warning in labor by making sure Mom is drinking eight ounces of water per hour, or chewing on ice if that is what she prefers.  If Mom is hydrated and this happens, then you know it's time to pay attention and alert your care provider.   
 A side note on hydration: if Coach is good about getting Mom the necessary water, Coach also needs to be good about getting her to the bathroom.  A full bladder can lead to unnecessary pain in labor if the baby's head is pushing against a full bladder.  It might also impede the progress of labor if the baby's head is blocked from entering the vaginal canal by a full bladder.   
Figure out what works for you. 
 Conserving energy is extremely important because you don't know how long you will be in labor.  There isn't much we can control about labor if you follow the course for a natural birth.  You can influence how rested you feel.  It would be unfortunate to end up with medication, an episiotomy or a cesarean if the only factor for that choice is being too tired to make it through with the energy you needed to meet your baby.   
What are the energy saving or energy restoring methods that you use?  
 Would you like to read more about today's suggestions?   
 For information on the minerals you need and how your body uses them: 
 Start a Walking Program While you are pregnant, focus on walking for energy and stamina.  After your baby is born you can consider the suggestions on walking for weight loss. 
Disclaimer:  
The material included on this site is for informational purposes only.
It is not intended nor implied to be a substitute for professional medical advice. The reader should always consult her or his healthcare provider to determine the appropriateness of the information for their own situation. This blog contains information about our classes available in Chandler, AZ and Payson, AZ and is not the official website of The Bradley Method®. The views contained on this blog do not necessarily reflect those of The Bradley Method® or the American Academy of Husband-Coached Childbirth®.   
March 5, 2012 to 
May 21, 2012   

For more information or to register, 
please call us at 
602-684-6567 
or email us at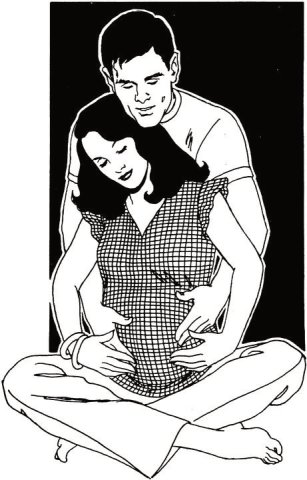 Coach's Corner

Bruss reveals his secret to being a great coach today...this is my first insight into his process, too.  He has been an amazing coach at all of our births - now I know how he does what he does for our baby and me!~Krystyna
We are regularly contacted by our Bradley® students as they go into labor.  For first time parents there is almost an universal excitement.  It is great to talk to the Dads and hear the excitement in their voices...the nervous, anxious energy as they start the wonderful experience of child-birth with their partner.
When I talk to the Dads as Mom's labor starts I like to give them a little pep-talk as follows:
OK.  You've been working very hard to prepare for this moment.  You have chosen a great medical team.  You've studied about labor and delivery, you've done the pregnancy and relaxation exercises, you've focused on a great diet.  You are ready.  Your job as labor coach is to pay very close attention to Mom.
Keep mental track of all the following:
- Energy level, mood, complexion color, pain level, ability to relax, ability to concentrate, hunger, thirst, fever, headache.
- Notice how Mom is doing in all these areas and note any changes.
Regarding the contractions:
- How close are the contractions?
- How intense are they?  
- Can Mom talk through them?  Or are they intense enough that she has to focus all her energy on them and can't talk or focus on anything else?
- Is there a pattern?
- Is the pattern changing?
Do the contractions (pattern, intensity...cadence) change with:
- change in position?
- walking?
- laying down?
- sitting down?
- shower?
- other?
Note all of these attributes and be aware of changes.
What stage of labor do you think you're in?  (Note: ask this question of yourself a lot)
Remember what you and your medical team decided ahead of time about when you would head to the hospital or when you would call in the midwives for a home birth.  Pay close attention to those thresholds.
Now while paying attention to all the little details about Mom's physical condition and how the contractions are progressing you have to focus on everything that you can do to support Mom as she labors.
- Keep Mom hydrated
- Make sure she has food (if she wants) for energy.
- In early first stage labor make sure Mom rests as much as possible so she has energy for later in labor.
- Help her relax through her contractions with your practiced methods.
- Don't ever leave her alone.
- Help her or be by her side whenever she's up and around.
- Take care of all the external things so that Mom can focus on the labor.
If you have any questions, concerns or intuition that something is not right contact your medical team immediately.
Enjoy the process.  The birthday of your child is one of the best days of your life.
What coaching tip can you share with our student dads?
Disclaimer: 
The material included on this site is for informational purposes only.
It is not intended nor implied to be a substitute for professional medical advice. The reader should always consult her or his healthcare provider to determine the appropriateness of the information for their own situation. This blog contains information about our classes available in Chandler, AZ and Payson, AZ and is not the official website of The Bradley Method®. The views contained on this blog do not necessarily reflect those of The Bradley Method® or the American Academy of Husband-Coached Childbirth®.  
We are now enrolling for our
Spring Series

March 5, 2012 to
May 21, 2012  

For more information or to register,

please call us at

602-684-6567

or email us at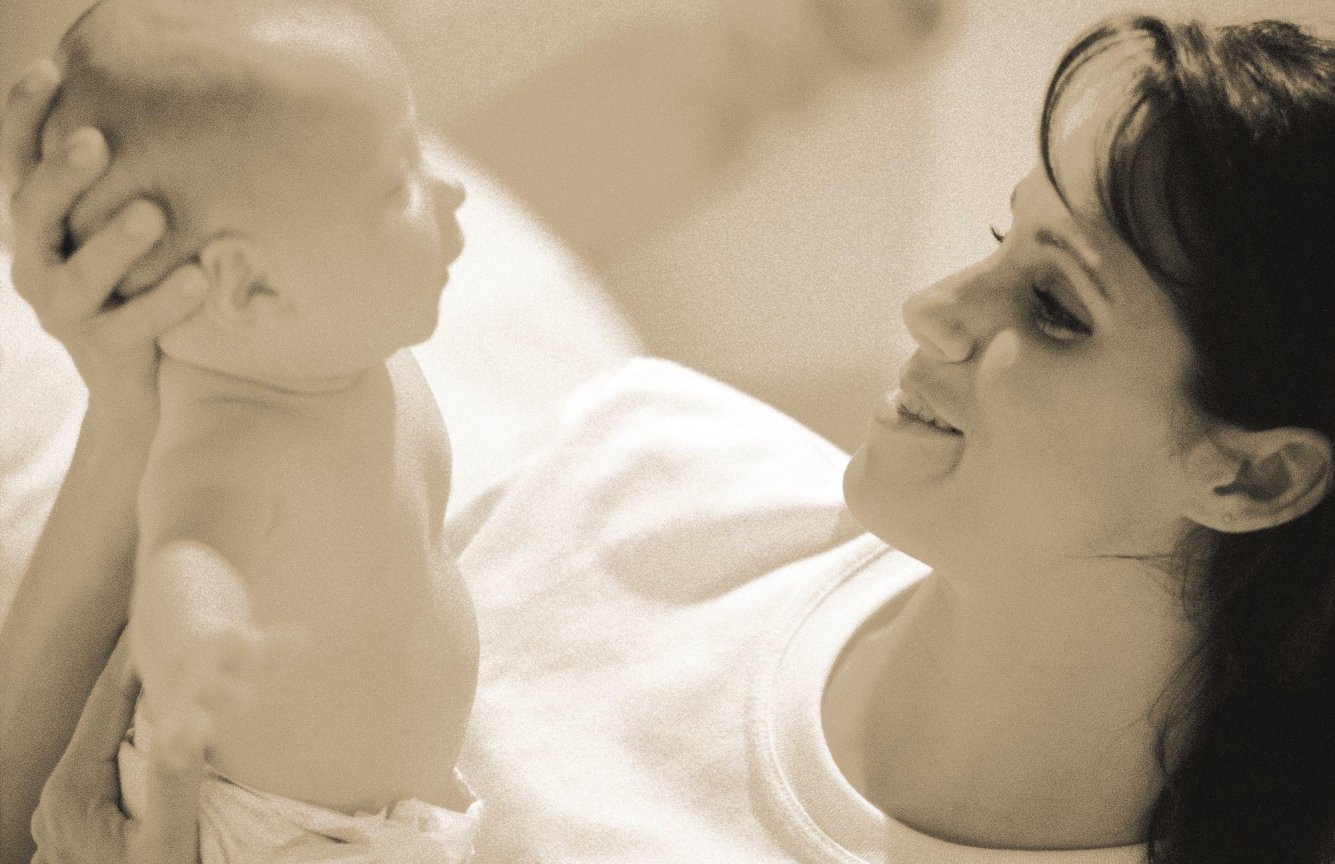 Baby arrives - now what?  We all spend time planning and preparing the nursery and for the birth-day - and we may forget that there life after the big day, and that your new normal is going to include caring for a newborn child.
What can you do to prepare for the best postpartum possible?  The mom who can rest and feels capable in feeding and caring for her baby is less likely to experience postpartum depression.  Avoiding birth trauma, mental anguish and physical distress are factors that lead to a more positive postpartum experience. 
Today's post will talk about the things you can do during labor, birth and breastfeeding to set yourself up for a positive mental and physical experience.  On
Friday
I will share some practical tips for making the transition to life after baby a little smoother.
1.  Have a birth experience that you are happy with.
     The start to a healthy postpartum period is to have a birth experience you feel good about.  Positive mental health is always a plus!  Begin by choosing a care provider and a birth setting that support the birth you and your coach want for your baby.  If you cannot physically, mentally and/or emotionally relax in your birthplace, you will end up with more interventions and a less than optimal birth experience.     
     You may also need to be flexible.  In each of our three hospital births, we prepared for natural, intervention-free births.  Each birth, we reached times when we had to deviate from our birth plan.  Although our births weren't "perfect", we felt proud of our births because we made choices together, and we felt confident about the decisions we made along the path of labor.  The teamwork we learned and the information we gained as students of The Bradley Method® helped us to achieve what we wanted: epidural-free births for our children.
2.  Do your best to avoid pain medication during labor.
     Did you know that a laboring woman produces 40 times the endorphins found in a non-laboring person, and that these endorphins help you cope with the sensations of labor?  The surge of endorphins makes the sensations of labor manageable with the support of a loving coach.  They also help you fall in love and bond with your baby (and your Coach) when the work of labor is over.  It is a bona-fide love fest!     
     Further, did you know that those endorphins are not produced when pain medication inhibits the pain-response cycle?  This can cause a harder recovery if or when the epidural wears off: the discomfort would seem much more intense without the endorphins to help you enjoy your accomplishment.
      Avoiding pain medication also ensures that the natural processes remain as intact as possible: you and your baby work together during and after labor.  Your pain-medication free baby is a more responsive baby.  You can tune-in to your baby and your body and use this knowledge for adjusting labor positions.  Effective use of labor positions might speed up your labor.  At the very least, you can ensure that you are doing what your baby needs you to do so that they arrive safely into the world. 
     The biofeedback mechanism built into immediate nursing can also help you avoid the Pitocin (a labor augmentation drug) that is standard procedure after labor to shrink the uterus.  A pain-medication free baby will nurse readily, helping your body to expel the placenta by continuing to stimulate the production of oxytocin to contract and shrink the uterus.  We were always able to negotiate to "wait and see" if the Pitocin bolus needed to be administered after the baby was born.  Since all of our babies nursed readily, it was never necessary – one more area in which we were able to safely say "no thanks".
     Speaking of Pitocin…this is purely anecdotal:  we had two labors augmented by Pitocin when we "failed to progress", and two labors without it.  The postpartum emotional rollercoaster was much more pronounced when Pitocin was used during labor – more tears, depression and moments of anger.  We had much calmer and happier postpartum periods when Pitocin didn't mix into our birth story. 
3.  Prepare ahead of time to avoid an episiotomy or tearing.
     All pregnant moms reach the point when it hits you – this baby is coming out, one way or another.  Even with our fourth baby, I had this "oh my…" moment.  The good news is that babies know where they need to get out – and the majority of them don't grow larger than the vessel they grow in can handle.
     Good nutrition with plenty of Vitamin C and healthy fats and oils will help your muscles to stay healthy and flexible.  Your perineum is a muscle – and it follows that a healthy and flexible perineum can stretch around the head that has to pass through it. 
     You can also practice perineal massage – ask your care provider what they suggest.  Some encourage you to practice stretching the perineum as you approach your estimated due date, some will have you do nothing since they massage your perineum as the baby is crowning to ease the passage of the head.  Some care providers will want you to practice and they will do a perineal massage during the pushing phase.  The point is that between good nutrition and perineal massage, you can avoid tearing or an episiotomy altogether.
4.  Breathe your baby out.
     Another way to avoid tearing or an episiotomy is to tune-in during the pushing phase of labor.  Wait until you have an undeniable urge to push to start pushing.  If you are asked to push and you could take it or leave it, you are not ready to push.  You are only wasting your energy and possibly stressing out your baby and your body.  Believe me when I say you will know – the only thing you will want to focus on is getting the baby out of your body!
     Your contractions tend to space out in frequency again during the pushing phase.  Use this time to recover your energy by practicing relaxation and doing your deep abdominal breathing. 
~ When it is time to push, push only to the point of comfort.  Ease your baby out and the skin stretches comfortably; if you push too hard or too fast, you can tear from the extra stress on the skin. 
~ Do not hold your breath any prescribed amount.  Hold it only as long as your body wants to – the last thing you want to do is deprive your baby of oxygen when they are already constricted by the tight squeeze.
5.  There is pain after labor is over and you are holding your baby.
The three major sources of pain are contractions (!), the perineal area, and breasts.  Side note: If you have a fever after labor, it's time to call your doctor.  Do not ignore any redness or swelling or pain that is accompanied by a fever.  Dizziness and fainting are also indicators of something more serious.  This is not the time to "tough it out".  If you end up in the hospital it will compromise your ability to take care of your baby and breastfeed.

CONTRACTIONS
     This was the most surprising to me.  I wasn't told that you keep experiencing uncomfortable contractions every time you nurse, and well after labor is over.  The discomfort during nursing lasted anywhere from 3 to 7 days in my experience.  Since your body makes oxytocin every time you nurse, you will feel the contractions until your uterus has shrunk down to its approximate pre-pregnancy size.  They are the most uncomfortable in the two days after labor; they get less and less noticeable with time.  You can use a heating pad to dissipate the pain during and after nursing.  My placenta pills helped ease the discomfort my last postpartum period – they made a big difference.
PERINEAL AREA
     If you have an episiotomy, it may feel like the pain is worse than labor because it is hurting, "ouchy" pain that persists, versus the productive pain that helps you meet your baby and then stops.  Between the trauma of the cut and the stitching for repair, the skin swells and the receptor nerves are screaming at you.  It is likely you will want to take something to ease the pain. 
     A tear that needs to be repaired with stitches may also be uncomfortable.  There is a direct relationship between the number of stitches you need and the amount of pain you feel.
     I never saw the sense in having a pain-med free birth only to introduce drugs when the baby was nursing.  There are things you can do to cope with the pain and keep from introducing drugs to the baby through your breast milk.
~ Use cold compress on your perineum to numb the pain: you can make one by cutting open a newborn diaper and stuffing it with ice, or you can buy perineal compresses.
~ Use healing herbs in the peri-bottle: Did you know that even without a tear, wiping after you use the toilet is a no?  A peri-bottle is used to rinse the vaginal area after eliminating when you have a vaginal birth.  We learned about the herbs from our midwives.  Considering that hospital births tend to be more traumatic on the perineum, it's hard to believe that our homebirth was the first time we used them.  Again, BIG difference in recovery time – I felt better within 24 hours!
~ Do a sitz bath: You can sit on an inflatable donut pillow in the bathtub, or you can use a basin designed to sit in your toilet.  Salty, warm water helps to heal the perineal area and the warmth will feel good, too.
BREASTS
     There is a learning curve in each breastfeeding relationship.  The biggest one is probably going to happen with your first breastfed baby.  Your nipples have to be "broken in" with the first baby – it takes a little time.  And although there is discomfort as your breasts swell (engorge) when your milk comes in, nursing should not hurt.  Many breastfeeding stories include pain, and although pain is common, it is not normal.  If you are having pain when your baby latches on, when baby is nursing, or both, get help!  La Leche League leaders, a certified breastfeeding counselor, or an IBCLC certified lactation consultant can help you identify the issue(s) and teach you how to nurse comfortably. 

     The first three weeks after birth are critical in establishing your milk supply, and effectively, the rest of your breastfeeding relationship.  If you get off to a good start, you and your baby can have a nursing relationship until you have a mutual weaning.  If you have a less favorable start, you will affect your milk supply, which then dictates the length of the breastfeeding relationship and possibly include the use of formula.
     You get what you pay for when it comes to help – LLL is knowledgeable, albeit free, peer-to-peer help.  A certified breastfeeding counselor has taken at least one professional class to receive their certification.  An IBCLC lactation consultant has the most professional training and experience from which to draw. 
     Spend the money you need spend in order to have the breastfeeding relationship you want. Some things, such as latching, are easily remedied with the help of a LLL leader.  Other things require professional help.  Among all the things on which you can spend money during the postpartum period, getting help in order to give your baby the best food possible falls high on many priority lists.
Preparing yourself before your baby arrives with knowledge, good nutrition, and exercise for strength and stamina will help you have fewer interventions during labor and hopefully avoid birth trauma.  A positive birth experience, being well rested and feeling competent in feeding baby is part of the equation for a happy new mother.  Check in again on
Friday
to read helpful tips about transitioning from pregnancy to new family.
Disclaimer: 

The material included on this site is for informational purposes only.
It is not intended nor implied to be a substitute for professional medical advice. The reader should always consult her or his healthcare provider to determine the appropriateness of the information for their own situation. This blog contains information about our classes available in Chandler, AZ and Payson, AZ and is not the official website of The Bradley Method®. The views contained on this blog do not necessarily reflect those of The Bradley Method® or the American Academy of Husband-Coached Childbirth®.  
We are still enrolling for our Winter Series

December 5, 2011 to

February 20, 2012  

For more information or to register, please

call us at

602-684-6567

My mom arrived from Chicago to relieve my aunt at around 4:00 pm on Friday afternoon.  She came in to see how I was doing.  She asked, "How are things going?" which of course started the tears again.  Being a woman of great faith, she said a beautiful prayer over us, then gave me a kiss and left the room to go take care of the kiddos.  I pulled myself together and decided I wanted to go see our children.  I missed them and one of the benefits of a homebirth is having those you love near to you.  We took a quick cruise around the house and saw the kiddos, and we decided it was cool enough to try walking outside again – maybe just one more time – to see what would happen.  
This walk confirmed our suspicions.  This baby wanted me on my side.  Nothing upright was working to progress the labor.  I lost it again – why was this happening to us?  Why couldn't just once, my body work like a "normal" woman in labor??  
Up to this point, we had had student midwives checking vital signs on mom and baby.  I asked if we could have Wendi check me the next time just to be sure that we were both doing as well as they thought we were doing.  I wasn't concerned about infection despite the fact that the membranes had ruptured going on 18 hours.  I had been good about taking Vitamin C every couple of hours, we hadn't had one vaginal exam or external vaginal probing that was introducing germs "upstream" as we say in class.  My concern was simply that although I felt strong and the baby sounded good, we had been going at this since 5:00 am on Thursday morning and I wanted peace of mind that we could continue at whatever pace the baby needed.  
Bruss and I also talked about having the midwives go or stay, and we were not sure what to ask of them.  We conveyed this to Wendi when we talked to her.  I felt so bad having them stick around for "nothing".  At the same time, I was wondering when we would call them back when our labor finally picked up.  Having spent so much time with us at our prenatal visits, they knew our birth history and knew that this had been our labor pattern in our previous births.  They assured us that they were comfortable, and happy to continue waiting patiently for baby to make her appearance.  
In the meantime, this birth also confirmed our choice to have a homebirth.  We had been in labor for 36+ hours now.  If we had been in the hospital, we would have been subjected to multiple vaginal exams by now.  If we had gone home and then returned after our water broke, we would have had a very hard time leaving again without signing a multitude of forms when it was clear that labor was not progressing.  I had declined the GBS test since we made an educated decision to take supplements that supported a healthy vaginal track, and I was confident that Dr. Ross' KST check confirming that I was GBS negative was accurate.  Under medical care from an OB, I would have had to have the GBS test and had I tested positive, I would have been pumped with penicillin and IV fluids every four hours.  By now my hand would be swollen at the hep lock site, and my feet and face would be puffy and uncomfortable.  
At home, we were allowed to have the gentle birth we wanted for our child.  We listened to my body and followed the cues, however unbelieving that "this" was our labor.  We were able to sleep and eat to keep our energy up.  Our baby was monitored with a Doptone monitor every hour for a few seconds, which let us go back to the position we needed to be in for her more quickly.  Our midwives were supportive and encouraging that we were doing well and to keep going like we were going.  
Bruss kept in touch with Andrea and Dr. Ross via text throughout the day and night – they were our doulas by text!!  As they made suggestions he would try them if we hadn't tried them already, as they gave us words of encouragement he would convey them.  
I would say I finally "accepted" the birth around 8:00 pm.  Bruss had given me wonderful assurances that this was the labor our baby and I needed every time I had started to cry.  He assured me that he was ready to labor just he and I – it had also become clear that having all the people around was starting to stress me out.   Despite the fact that a doula would be there to support us, he wasn't willing to call in another person to add to the group of people in the house already.  
We decided to watch a movie and both proceeded to fall asleep.  The midwives continued to come in and monitor us through our sleep.  I was still getting up every 45 minutes to use the restroom.  One thing we did REALLY well is stay hydrated.  We found that we still had the contractions when we stood up and moved from the bed to the toilet.  As I accepted that this was our labor, I remember reading birth stories about women who slept through labor until they woke up in time to push.  I figured that we might as well give it a try – who knew – maybe this could be our birth story since short and sweet was definitely out!!  
It was my perception that the contractions were every half hour.  I could sense that I was moaning in my sleep, yet they didn't feel so strong that they woke me up until it was time to use the restroom.  The midwives told me later that they had watched and felt my belly when I was sleeping, and I was having contractions about five minutes apart in my sleep.  
Somewhere between 10 and 11 pm, I could no longer sleep through contractions.  We decided to use the shower again.  We put a birth ball in there and let the water wash over me.  You know what happened – the contractions spread out again.  Since our baby was CLEARLY happier with labor when I was lying on my side, we set up a layer of towels in the shower and made a towel pillow.  I lay on my side, and sure enough, they contractions started getting hard again.  Although they were uncomfortable, I was happy to bear with them since I knew these were the type of contractions that were going to get us to the point of meeting our baby.  
Before we knew it, the shower stopped working as a relaxation tool, too.  I had a strong need to void, but I couldn't do it anymore.  We decided to move back to the toilet to see if I could void in the toilet.  It didn't take me two seconds before I declared that this baby was coming out *now*.  The birth stool that had been taunting me for 24 hours was finally going to be put into use!  
We got on the birth stool. I asked our midwife Wendi if this was really it.  She asked me to try pushing and if I didn't feel any pinching, to go for it and work with my body.  The next contraction came and I could push without pinching – so we did.  This is the one time when we could have used an extra pair of hands.  Since we didn't have them, Bruss got behind me and supported me in a dangle position off of the stool so I could bear down and also use more gravity behind the push.  Trying to be mindful that we were capturing this on video for possible use with future students and for our children to see, I made every effort not to yell out too strongly.  
We asked one of the student midwives to go wake up our children and my mom since it was clearly time to push.  Squatting didn't feel as good as it had with our other children.  After a few pushes in the squatting position, I felt like it would be best to move to my hands and knees, so there we went.  Bruss ended up on the floor with me, and as a contraction came, I would lean all my weight on him and bear down.  This is the first time I have been clearly conscious of the baby moving through my vaginal canal – it was amazing.  I could feel her crowning, and I remember that Night Owl looked at my bottom and said, "I see the baby!"  I told him to talk to her and tell her to come out, which he did!  A couple more pushes and I could feel that we had delivered her head.  Before I knew it, I was holding our lovely little Angélica in our arms and overjoyed with the wonder of the work we had done together.  
We pushed a total of 20 minutes – the most amazing 20 minutes of our birth.  My mom and Night Owl got to watch the majority of the pushing phase.  Puma came in just as Wendi was passing Angélika ("Otter") up to my arms.  Our photographer who we have known for six years got to capture the birth of our new family.  Our midwives were there supporting and loving on the whole process, one of whom was able to capture the birth on film.  It was a room full of love and joy.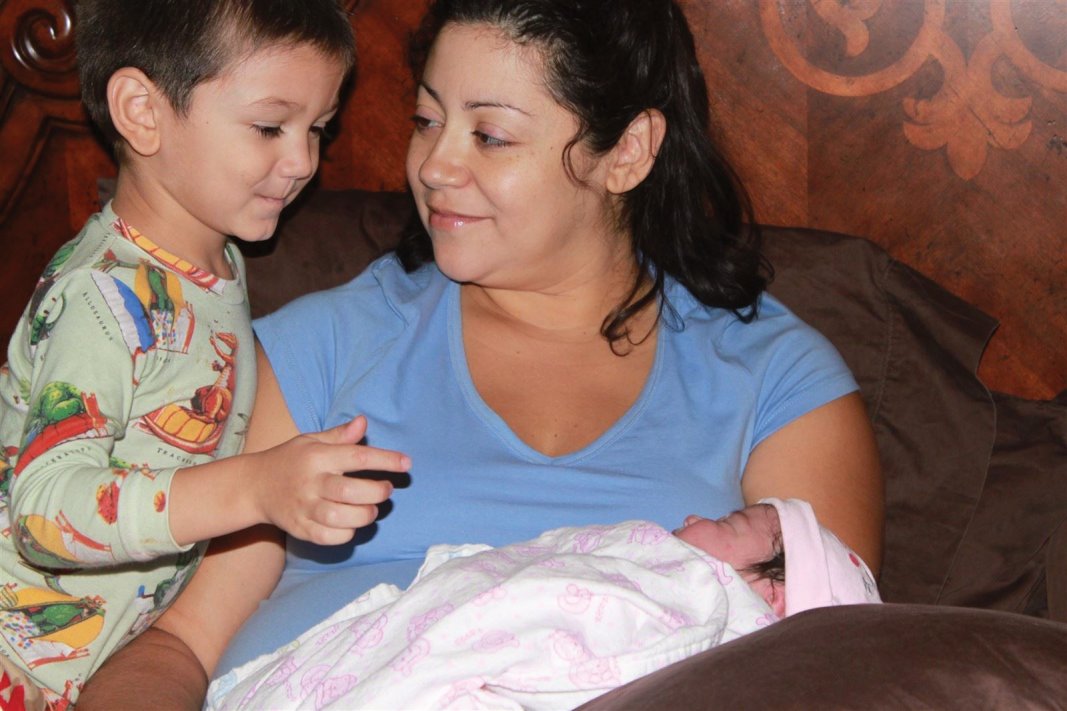 We marveled at this new creation that was now part of the Bowman family.  We looked at her face, her belly, her fingers and toes.  We checked to make sure that we were indeed holding the newest little sister…and we were!  The senior student cleared out Otter's stomach and nose with a little tube syringe.  She had taken in some fluid and was having a hard time getting her breathing started.  Within a few minutes of skin-to-skin contact with mom and some massage stimulation, her breathing assumed a normal pattern.  She got her full measure of blood – her cord stopped pulsing, we delivered the placenta, and then we cut the cord and got in bed.  It was probably an hour from the time we delivered to the time we all got settled in bed for the first time.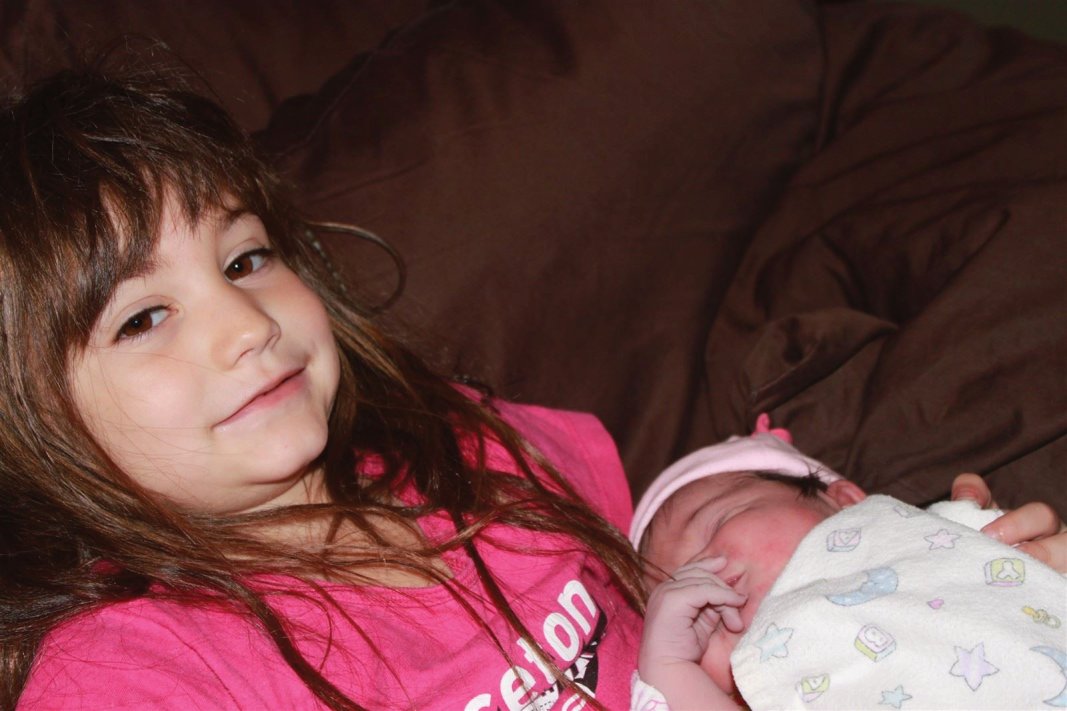 The whole process was amazing.  It was beautiful to allow Otter the birth she needed.  The old mantra of "Trust Birth" was proven true once again.  Why had our labor started and stalled for two days?  Our little miss had the cord wrapped around her belly twice.  Although Wendi assured us it was not constricting anything vital, it is not something she has seen very often in her 11 years as a licensed midwife.  Our baby and my body knew that Otter needed to ease her way out so that her wrapped cord stretched as needed and supported her through the passage from her safe home inside my womb to her new home outside with us.  As a good friend said to me the day after, hindsight is always 20/20!!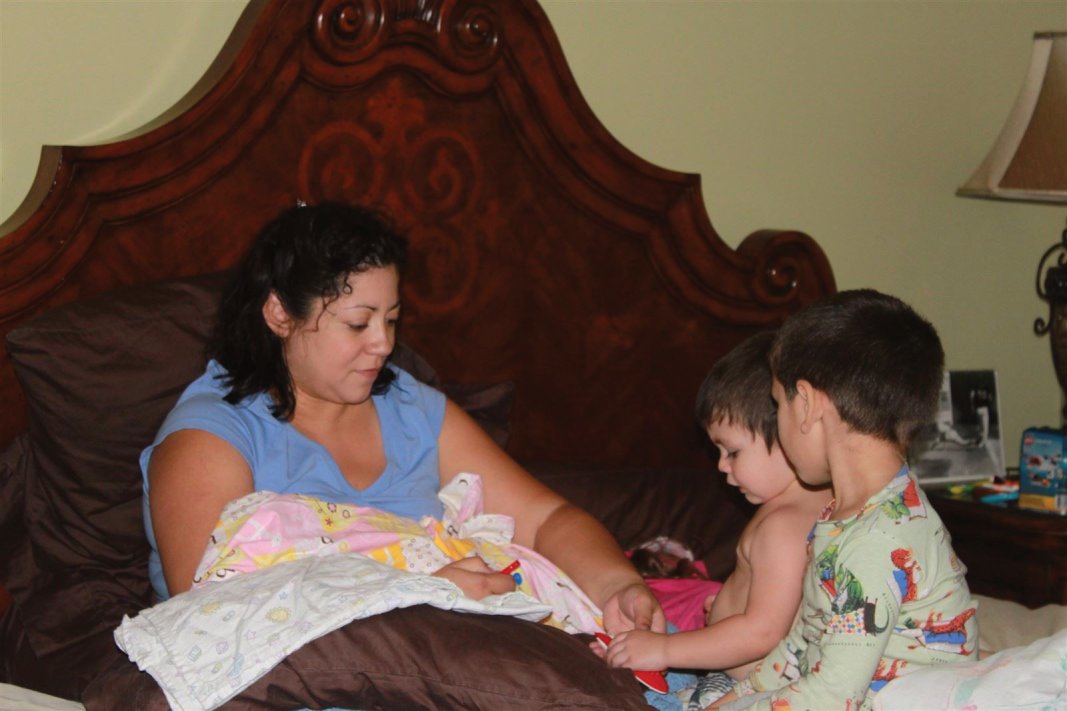 At our first postpartum visit Saturday afternoon, Wendi asked us if we had any favorite parts in our birth.  My first answer was holding the baby!!  We also liked the lack of time-driven pressure – we got what we wanted: the birth our baby needed.  It was amazing to have our children be part of the birth process.  They had gotten to come in and check on me, encourage me with kisses, and I hadn't had to leave them to go to the hospital for three days.  Night Owl got to watch his sister's birth – and now we get to hear his version of events.  His godfather came to visit this weekend.  He asked NIght Owl to tell him about the birth, and this was his answer, "My mommy screamed and the baby popped out!"  Clearly, I wasn't as low-key as I had hoped, yet it hadn't scared him and he is delighted to tell people about his experience.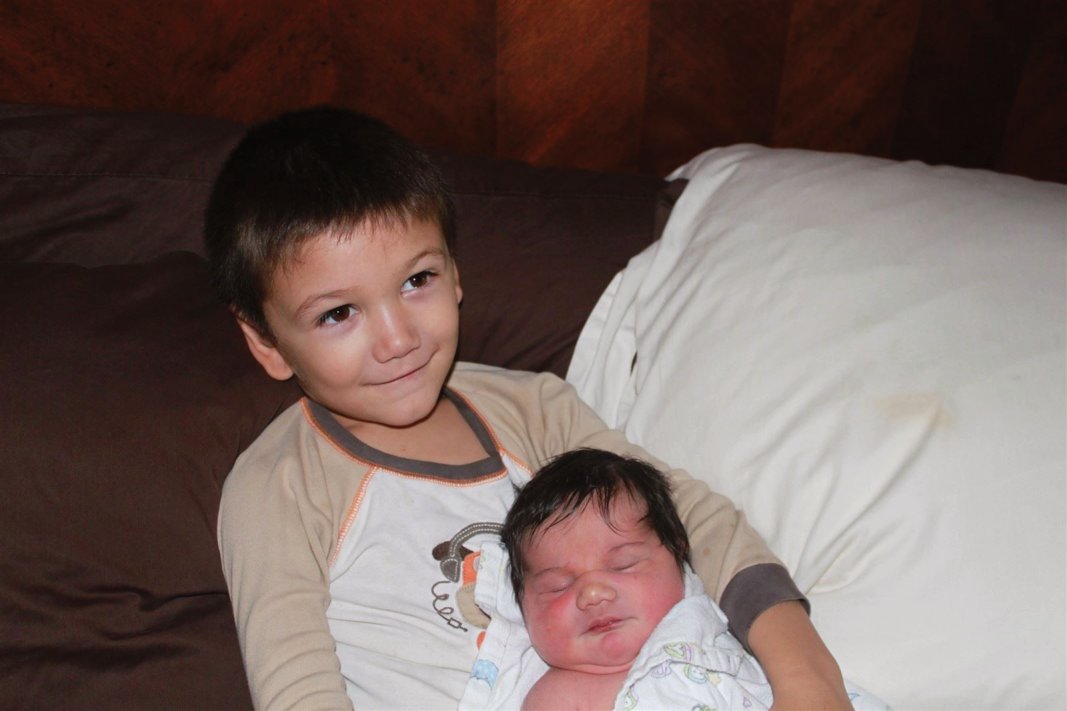 So we are now *officially* home birth advocates.  We are incredulous that it took us four births to get here.  It has been a great way to close the chapter on our childbearing years.  We are forever grateful to the women at Freedom and the Seed who so lovingly tend to the families in their care.
Disclaimer:
The material included on this site is for informational purposes only.
It is not intended nor implied to be a substitute for professional medical advice. The reader should always consult her or his healthcare provider to determine the appropriateness of the information for their own situation. This blog contains information about our classes available in Chandler, AZ and Payson, AZ and is not the official website of The Bradley Method®. The views contained on this blog do not necessarily reflect those of The Bradley Method® or the American Academy of Husband-Coached Childbirth®.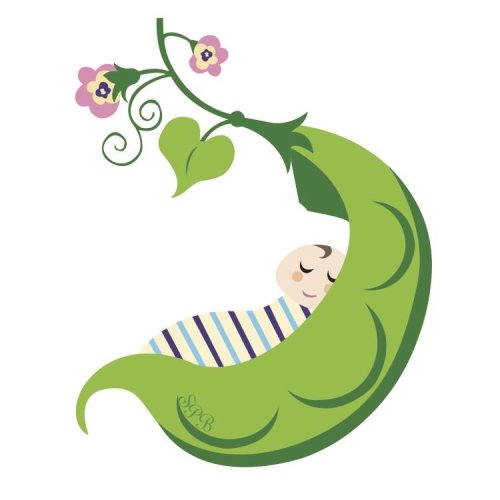 /