Shopping Cart
Your Cart is Empty
There was an error with PayPal
Click here to try again
Thank you for your business!
You should be receiving an order confirmation from Paypal shortly.
Exit Shopping Cart
...celebrating every swee​t pea their birth
Today's post is from Bruss' perspective.  He led class on Monday and told a story he had never shared in a class setting before...here it is along with an introduction that shares the line of thinking that went along with the story...
An important part of The Bradley Method® (some say the most important) is relaxation.

The superficial view I had of relaxation going into our first Bradley class and subsequent birth was that of *physical* relaxation. Krystyna and I were/are regular Yoga practitioners and my mental picture of relaxation was the final Yoga posture where one lays prone on the floor after a hard workout where the only option is total physical relaxation. In my own mind I thought that getting Krystyna to the physical state of relaxation was the goal/benefit to her in pregnancy and labor.

The Bradley Method® instructs various methods of physical relaxation to the couples and encourages them to explore others that are meaningful to them. Among the methods are message, stroking, hot showers etc.

Combined with physical relaxation, The Bradley Method® teaches the importance of emotional and mental relaxation. Initially I considered these relaxation themes of less importance than physical relaxation. My thought process was if I can help get Krystyna to relax *physically* than the other relaxation components would take care of themselves. 

I have come to find out through our Birth experiences as well as the dozens of students that we have help teach/mentor that my initial approach to relaxation in pregnancy and birth was exactly backwards.

Physical relaxation is the *end* result and dependent on emotional and mental relaxation, Mom needs to be in a good emotional state, accepting of the baby and ready (as possible) to take on her labor, ready to be a Mother, has effectively dealt with any family dynamic issues *prior* to going into labor or any other *emotional* issues that may impact Mom's readiness for labor and beyond. 

As a strong compliment to emotional relaxation, Mom's ability to focus her mental energies effectively in pregnancy and labor can dramatically effect the outcomes for better or worse. I think of mental relaxation is the ability of Mom to affect her state of mind positively to overcome any externalities such as physical discomfort, emotional and environmental challenges.

What I have found through experience is that if Mom is not relaxed emotionally and is not able to focus her mental energies positively then *physical* relaxation is all but impossible. Conversely, by concentrating on emotional relaxation and positive mental focus then physical relaxation seemingly just happened and labor was able to progress more effectively.

.....

So what does all that mean?

For me as a husband and labor coach, what this means is that I have to (1) understand the importance/impact of emotional and mental relaxation to pregnancy and labor and (2) be ready, willing and able to effectively work/communicate with Krystyna on these components of relaxation during pregnancy, labor and beyond.

......

I'll end the post with a story from our first labor.

In our first labor Krystyna's water broke and labor contractions started soon thereafter. We went to the hospital after 6-8 hours and labored there for another dozen plus hours. While we were out walking the halls attempting to get labor to progress, Krystyna visibly became chilled and shaky. I reached up to her forehead and, sure enough, she was warm and very likely running a low grade fever. Krystyna told me, adamantly, 'do not tell the nurses/doctor that I have a fever or they're going to give us a C-section'.

OK, here I am as first time father, birth coach, with little or no experience, what to do?

Here's what went through my mind at the time.

1. Fever is sign of infection and potentially very dangerous to Krystyna and baby (we didn't know boy or girl yet)

2. Krystyna is *very* mentally strong and her mind is completely set on an intervention *free* labor and delivery.

3. Krystyna is *very* emotionally invested in this labor being natural and intervention free.

4. My last thought before coming up with a plan was I need to be careful how I handle this. Krystyna is very tired after 20+ hours of labor and on edge. If I don't handle this correctly there's a chance that she will just give up and then we're highly likely to be getting a C-section.

So here's what I did.

I told her that she was doing such a great job and was laboring really, really well. I also reminded her that she worked so hard in preparing for the birth with nutrition and education and I was *proud* of everything that she had done for our child. She was/is the absolutely the best and that I love her.

Next I looked at her and told her that she/we had done all these things to have the best outcome possible and the end goal of all this work was ultimately for her and the baby to be healthy and happy.

Then and only then did I tell her that the fever was dangerous. It was dangerous to her and the baby. And that we were not going to *hide* the fever from the birth team because that would go against our primary goal of having her and the baby be healthy.

Then I said that I was there for her and that we were going to do this *together* regardless of what labor interventions we might be faced with even if that meant we were looking at a C-section.

After that conversation we walked back to the room and told the nurse that we likely had a fever and started to discuss the options. The option we chose was to start a penicillin drip to take care of any infection. Several hours later (and 2 more interventions) Krystyna delivered Ysabella vaginally. Mom and Ysabella were healthy and Krystyna and I were *very* happy.

So my role as a coach in this birth was to help Krystyna deal with the emotional and mental challenges in being faced with medical interventions in labor despite her *very* strong emotional and mental investment in a natural, *intervention* free birth. In my opinion the emotional and mental aspects of this birth were the primary challenges that we had to get past *together* so that Krystyna could relax physically, let go and deliver Ysabella into this world. 

In the moment and in retrospect it was one of our very best days as husband/wife and new *parents*.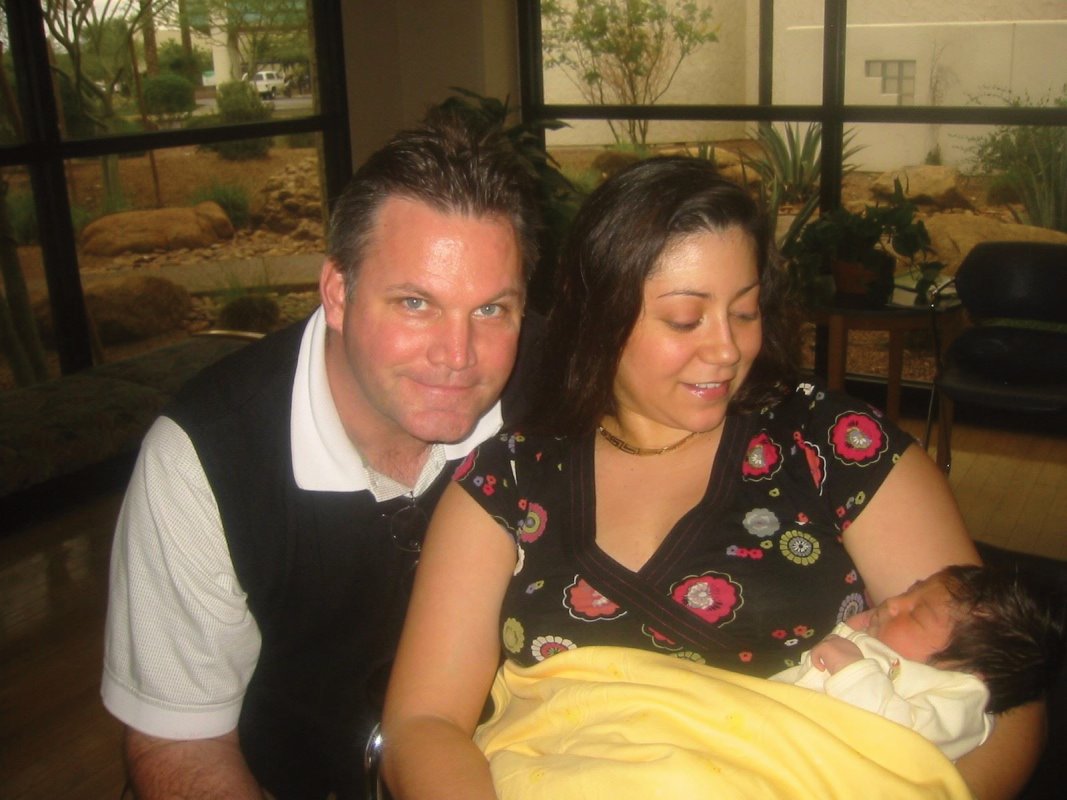 Disclaimer:  
The material included on this site is for informational purposes only.
It is not intended nor implied to be a substitute for professional medical advice. The reader should always consult her or his healthcare provider to determine the appropriateness of the information for their own situation.  Krystyna and Bruss Bowman and Bowman House, LLC accept no liability for the content of this site, or for the consequences of any actions taken on the basis of the information provided.  This blog contains information about our classes available in Chandler, AZ and Payson, AZ and is not the official website of The Bradley Method®. The views contained on this blog do not necessarily reflect those of The Bradley Method® or the American Academy of Husband-Coached Childbirth®.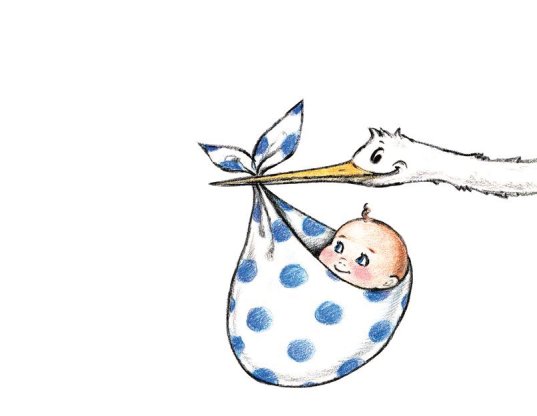 Spring is around the corner…and it's time for a new set of families to join us on the journey towards their birth.  I get so nervous before our first class that I don't even eat dinner…and when class is over I realize that we have been blessed with another great group of folks and that I am really hungry!
As we enter our third year of teaching, a few things have become clear to me about what we do.  The overarching message of The Bradley Method® is not just natural birth – it's about the Healthy Mom, Healthy Baby outcome.  We have seen many families choose different paths to this outcome, and at the end of the day, 98% of them are happy with their births.  They felt empowered by their knowledge, their rights as consumers to ask questions through the birth process, and the couples made decisions together so that Mom and Baby are well and healthy after labor.
To that point, it is really important that our students understand that we are here to convey information.  We are not medical professionals, nor do we want to dispense opinions.  We are people that are passionate about birth and willing to share our knowledge about the birth process with other couples striving to have a natural birth.  We will help them recognize what is healthy and low-risk, we will share strategies to communicate with each other and their birth team, we ask them to do their own reading and decide what they want, and we will encourage them to use their knowledge to make Healthy Mom, Healthy Baby choices.
There are three things we have learned that are controllable in the great range of variables that accompany pregnancy, labor and birth. They are nutrition, exercise and sleep.  Interestingly, these three things also carry through to postpartum health; more on that in a future post.
Until you are holding your baby in your arms, no one knows how long your pregnancy will last, how long your labor will be or how long you will be pushing before you meet your baby.  What you can do is make good choices to make sure you and your baby are at your best to have a healthy, low-risk pregnancy and so that you are ready when the trial of labor begins.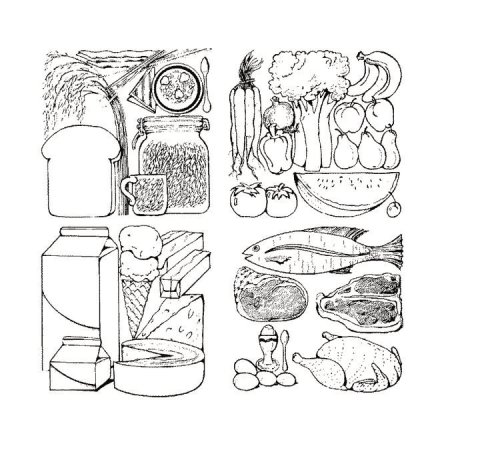 Nutrition is the cornerstone of a healthy pregnancy.  As Bradley® instructors, we teach our couples to eat according to the
eating plan
created by Dr. Tom Brewer.  He proved through his patients and with clinical trials that there is no magic pill for a healthy pregnancy – no drug company can sell you this.  What you can do is eat a protein-rich, whole food, well-balanced diet and see tremendous results for mom and baby.  Food is literally the building block of the body…and during pregnancy, your baby is knitted together with the building blocks you provide.  Whether your labor ends up being an intense sprint, a prolonged marathon, or something in between, you can build a body and a baby that can endure and surpass your expectations in labor.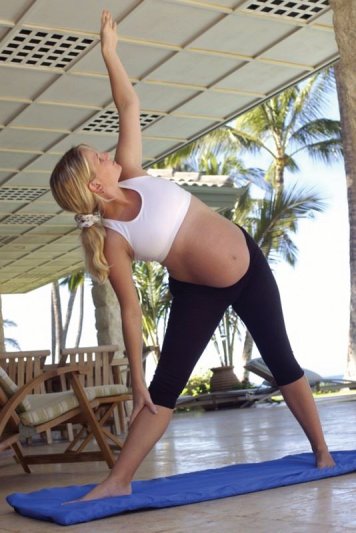 The second component of a healthy pregnancy is exercise.  Moms need stamina so that they can keep their energy up for the duration of their labor.  Options for stamina-building exercise are things like walking, swimming, pre-natal yoga; anything that you were doing before your were pregnant and is approved by your doctor can also be on the list of safe exercises.  We also teach
specific exercises
that work on toning the pregnancy muscles so that the back, belly and bottom are strong and ready to support the positions used during labor, and the effort of labor itself.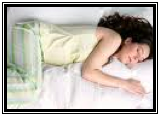 Our students that come back and share their birth stories with other classes have confirmed another point we teach in class: sleep is a great way to avoid unnecessary pain in labor.  True sleep is the tipping factor in the outcomes we have heard.  We learned this lesson the hard way with our first-born. 
We were so excited to be in labor and I was so determined to be all-powerful and strong that I wouldn't give into any "weakness".  As Bruss and our doula took turns taking naps, I scoffed at them.  It turned out to be the wrong decision.  After being awake for 24+ hours, and laboring with Pitocin and no epidural, I was exhausted by the time it came to push.  That led us to choose an episiotomy, a surgical incision to enlarge the vaginal opening.  Ouch.  It was a long, painful recovery – almost nine months before everything felt normal and painless again.
We decided to sleep in labor after that experience.  I have slept at the beginning when contractions have barely started, between contraction in active labor, and with our last baby, we even slept through most of the active phase of labor. 
True. restorative sleep is a decision to let your body get the rest it needs.  An unmedicated mother can give into her need to sleep – no unmedicated mother has been know to sleep through the birth of her baby.  At some point, the contractions are to the point where you need to pay attention; and you will when the time comes.
Just like us, the students that were too excited and did not convince themselves to sleep seem to end up with more interventions.  Many of them end up with an epidural in the last few hours of labor.  When used judiciously, this helps them achieve the relaxation they need to finish dilating and get to the pushing phase.  The babies are exposed to the anesthetics for such a short time that they come out healthy and able to breastfeed.  Thankfully, many of them have avoided episiotomies.
The ones who are able to sleep during a portion of their labor have the energy to manage the late stages of labor without an epidural and seem to have fewer interventions.  The good news is that the repeat moms who didn't sleep the first time manage to sleep in subsequent labors.  When they are nourished, strong and rested, they have much different second labors and are able to achieve the natural outcome they wanted and prepared for.
It is with great joy and anticipation that we embark on another twelve-week journey with our new class.  We are looking forward to getting to know them, watching the friendships develop, and waiting for the new families born the days their babies are lovingly and intentionally welcomed earth-side.
Disclaimer: 

The material included on this site is for informational purposes only.
It is not intended nor implied to be a substitute for professional medical advice. The reader should always consult her or his healthcare provider to determine the appropriateness of the information for their own situation.  Krystyna Robles-Bowman, Bruss Bowman and Bowman House, LLC accept no liability for the content of this site, or for the consequences of any actions taken on the basis of the information provided.  This blog contains information about our classes available in Chandler, AZ and Payson, AZ and is not the official website of The Bradley Method®. The views contained on this blog do not necessarily reflect those of The Bradley Method® or the American Academy of Husband-Coached Childbirth®.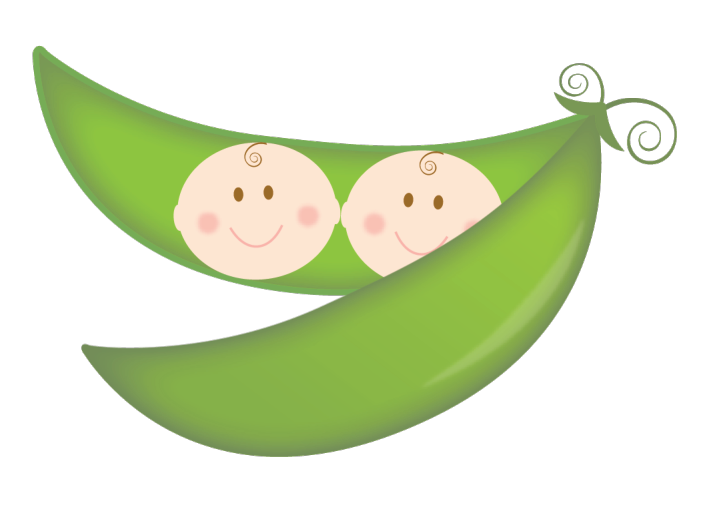 I am grateful to Jennifer and Devin Hanson for giving me permission to add their birth story to our Birth Story Archive.  Their generosity is premiering our first twin story.  They have an inspiring story that is a testament to faith and belief in your body, your coach and your birth team.
Jennifer was also kind enough to share some thoughts about Bradley Method® classes, care providers and life as a momma of twins.  Read our "virtual interview" below the links to her birth story.
The story of the Hanson twins begins with a momma of twins who wanted a natural birth and was ready to do whatever it took to avoid an induction.  Although their due date was October 10, 2011, since she was carrying twins, she was told they would be considered term on September 20, 2011.  I have great respect for her midwives at Valley Women for Women who allowed her to go "past due"...twice.
What would you do if you were 40 weeks plus four days pregnant?  You may have seen this already…if not, try this if you can…I know I would have a hard time accomplishing this not pregnant!
Momma went into labor naturally two days after their labor dance, and here are links to her birth story. 
Link to Part 1 The story of their twin sons' birth starts with the account of her labor at home and then at the hospital…
"After many months of preparing and learning (using mainly the Bradley Method®), we were able to achieve the natural, unmediated childbirth that we had hoped for. We had a beautiful, peaceful labor and a delivery that can only be described as "dramatic" but one which God's hand of protection was completely involved in every step of the way. We also have to thank our incredible team of nurse-midwifes who took such wonderful care of us during the pregnancy and allowed us to let the twins come when they were ready (which happened to be 6 days past their estimated due date) and encouraged us to still go for a natural birth, even though Isaac was breech until around 38 weeks (when he turned on his own). Truly, I can not say enough positive things about midwife care - personal, encouraging, sensitive, relaxed and fun. I've honestly missed those ladies since we've had the twins - something I would never say about any other health care provider I've ever had. "
Link to Part 2 Their birth story continues with the account of her natural delivery despite a trying second stage:
"While my labor was calm and peaceful, with me being completely in-tune with my body and in-control of what was happening to me, the delivery was chaotic and stressful, with me being so distracted that I couldn't even tell when contractions were happening. I felt out-of-control to the point of panic at times. It was not at all what I had envisioned when I pictured the delivery of my sons, however I believe it would have been far worse had our midwife Belinda not stepped in to fight for us amidst the chaos of doctors and hospital politics. (I should mention here that the OB practice we went with offered something called "collaborative care" with twins. We were to be cared for and delivered by midwives, but a doctor would be available should an emergency arise.)"
SPB: What did you take away from The Bradley Method® classes that helped you in your birth?
JH: I think what I took away from the Bradley® classes was confidence that what I believed (that my body was designed to birth children) could line up with reality, even in a hospital birth. And that I had the right to advocate for the kind of birth I felt was best for me, my husband and our twins.
SPB: What did your husband-coach feel was the most important lesson he learned?
JH: Devin read a number of chapters in Ina May's Guide to Childbirth, which he felt was very helpful. The Bradley® classes reiterated what he had learned from the book. However, I felt going to the classes together helped me feel more confident in him as a coach and helped bring up some good conversations about "How will we handle ______ during the labor/birth/recovery."
SPB: Based on your experience, what advice would you give to pregnant women who are looking for a care provider?
JH: I would encourage women to find a midwife or a care provider that has CNMs working for them. We were so encouraged and supported by our midwives. They helped to build our confidence and helped us navigate the "politics" we dealt with because we were expecting twins and wanted a 100% natural birth. Now that the medical bills are rolling in from the hospital, I would also recommend hiring a midwife out-of-pocket and birthing at home or at a birthing center, it is very likely to be cheaper (and less stressful than the hospital!!) This is what we plan to do next time around.
SPB: How is life with the twins?
JH: Life with twins is... a lot of work, but also a lot of fun. Weston and Isaac are adorable and I love being their mom. We get lots of attention when we go out, which took some getting used to. But now I've learned to be gracious, patient and polite to all their admirers and can enjoy it when people stop us. What's funny is that when I'm out with just one of the twins I get zero attention and now that feels weird. They are such sweet babies. In fact, as I'm typing this I can hear Weston waking up and laughing/cooing to himself - he is a big time morning person and it brightens my day so much to start the morning with his cooing and smiling. Isaac kinda hates waking up, but once he's awake he showers me with morning smiles too.
Many thanks to the Hanson family for making their inspiring story available to breech mommas, twin mommas and natural birth mommas across the world wide web and for allowing is to link to it.  We wish the Hansons all the best as they continue their journey together as a family.  Weston and Isaac, you are very blessed young men.
To read more of Jennifer's writing, you can visit her blog:
Do you have a birth story you would like to share? 
Please contact me at
[email protected]
if you would like to share your recollections for our Birth Story Archive.
Disclaimer: 

The material included on this site is for informational purposes only.
It is not intended nor implied to be a substitute for professional medical advice. The reader should always consult her or his healthcare provider to determine the appropriateness of the information for their own situation. This blog contains information about our classes available in Chandler, AZ and Payson, AZ and is not the official website of The Bradley Method®. The views contained on this blog do not necessarily reflect those of The Bradley Method® or the American Academy of Husband-Coached Childbirth®.
We are now enrolling for our Spring Series
March 5, 2012 to May 21, 2012
For more information or to register, please call us at 602-684-6567 or email us at
[email protected]
Our students are coming down the home stretch in their pregnancies!!  We invited some alumni from our last class to come share their birth story tonight so that our students could hear from the parents fresh from the birth experience. 
Their story brought up an interesting point that was echoed by some of our current students.  What do you do when uninvited guests show up at your birth?  How do you keep them from coming in the first place?
This is a touchy subject – how do you tell your loving family or your devoted friend that this is not the time when you want to see them?  What do you do when a well-meaning person arrives at your birthplace and all you want to do is have them leave?
Things to consider:
  - Will you be okay if they see you using the bathroom?
  - Will you feel okay if they see you naked?
  - How will they react if you are impatient or rude to them?
  - How will they react when they see you uncomfortable and/or in pain? 

     Will they be okay with it?
  - Do they support your choices for a natural birth and your birth wishes?
If you answered no to any of these questions, then think twice about having the person/people you are considering to be present at your birth.  Mom and Coach need to clarify their list of people who are a yes and then communicate their wishes to their family and friends.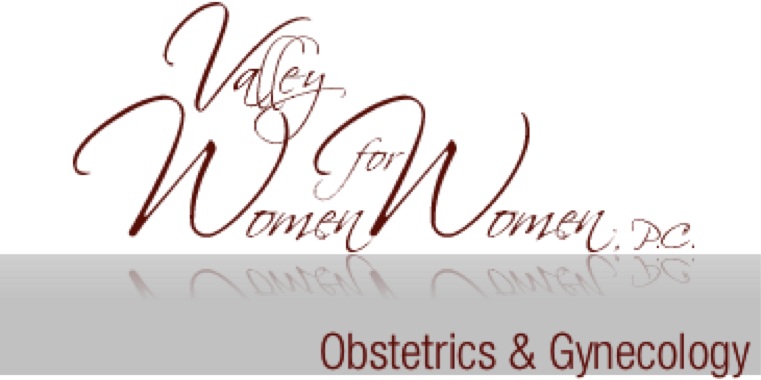 Belinda Hodder, CNM, who is at Valley Women For Women, has a great suggestion about breaking the news to everyone.  She suggests having your birth plan ready in time for your baby shower.  Bring several copies to the event and have "Sharing the Birth Plan" be one of the activities.  This way the announcement of your wishes is public and clear.  If you are asking people to wait to see you until a certain point, you have the opportunity to tell everyone together.  Hopefully no one will feel like they are being singled out since they are not the only ones being told not to come until you are ready for them.
Mothers and Mothers-In-Law are an interesting set of people in relation to labor.  I have seen a midwife's site that explicitly states if a mother wants either of those people at her birth, she will refer them to a midwife that is comfortable with that scenario.  She does not take clients who want soon-to-be grandmothers present since her experience is that they negatively impact labor.  On the other hand, we have had several students whose mothers were present at their birth.  It all turned out okay – they all had their babies with their mother in the birth setting, and many of them said that they couldn't have done it without them taking on the role of assistant coach.
If you like the idea of a mother-figure being with you and yet you think you don't want your mother attending the birth, you can hire a doula who has the personality traits plus the know-how you want in an assistant coach.  Interview several doulas until you find the right balance of personality and experience that fits your comfort zone.
If your family members are not going to be asked or welcomed in your birth place and you are going to have a doula or other assistant coach there, stating the facts without emotion is the best suggestion I can offer.  Instead of saying, "You stress me out" or "I don't think you can handle it" or "You have not been there for me why would I want you there now" or any variety of other reasons why you would carry negative emotion towards someone, stick to the facts.  "We have asked/chosen this person to attend our birth because they have the training to be an assistant coach." 

Training can mean that they have completed or are working through a certification process; maybe they are reading your birth books with you (see the bottom of
this page
for our suggested reading list); or maybe they have attended your Bradley Method® classes with you.  Any or all of these things will prepare a person to be the assistant coach you need them to be as long as they are willing to support your birth choices and are committed to helping you have a Healthy Mom, Healthy Baby outcome.
A person's presence in the birth space can very much affect the progress of labor – someone with negative energy can hinder labor; someone with positive energy can help it progress.  If the people you are asking to refrain from attending your labor press you for answers, stick to the facts.  Be a team together, insist that, "We made this choice" and avoid pointing fingers, "Mom (or Coach) doesn't want you there because…"
If people do show up at your birth space even when you believe you have made your wishes clear, designate someone to be the messenger, or write them a note that someone else can deliver.  You can phrase it kindly – "Hi, (Person).  Thank you so much for expressing your support.  We are focused on bringing baby earthside and regret not being able to come out to see you.  We could really use your help after baby comes.  Would you be kind enough to come back and see us after baby arrives?  If anything comes up, we will let you know if we need you sooner."
You may also find that the amount of people you have in the birth space is too much or too few.  If you find that all the people you said yes to is stressing you out, you have permission to ask them to clear out so you can focus on your birth.  If you initially decided you were going to go it alone and you find that you really could use an extra pair of hands, or you need a fresh energy after a trial of labor, bring a list of assistant coaches you can call in to support you.
It is your body, your baby and your birth.  The people in your birth space can potentially hinder or help your labor's progress.  Set yourself up for success and clarify your "guest list" before labor starts.  Although it's a tiny detail in the grand scheme of preparations you are making, you will be glad you did.
What influenced your decision to invite or exclude people from your birth?
Disclaimer:
The material included on this site is for informational purposes only.
It is not intended nor implied to be a substitute for professional medical advice. The reader should always consult her or his healthcare provider to determine the appropriateness of the information for their own situation. This blog contains information about our classes available in Chandler, AZ and Payson, AZ and is not the official website of The Bradley Method®. The views contained on this blog do not necessarily reflect those of The Bradley Method® or the American Academy of Husband-Coached Childbirth®.
We are now enrolling for our Spring Series
March 5, 2012 to May 21, 2012
For more information or to register, please call us at 602-684-6567 or email us at
[email protected]
My mom arrived from Chicago to relieve my aunt at around 4:00 pm on Friday afternoon.  She came in to see how I was doing.  She asked, "How are things going?" which of course started the tears again.  Being a woman of great faith, she said a beautiful prayer over us, then gave me a kiss and left the room to go take care of the kiddos.  I pulled myself together and decided I wanted to go see our children.  I missed them and one of the benefits of a homebirth is having those you love near to you.  We took a quick cruise around the house and saw the kiddos, and we decided it was cool enough to try walking outside again – maybe just one more time – to see what would happen.  
This walk confirmed our suspicions.  This baby wanted me on my side.  Nothing upright was working to progress the labor.  I lost it again – why was this happening to us?  Why couldn't just once, my body work like a "normal" woman in labor??  
Up to this point, we had had student midwives checking vital signs on mom and baby.  I asked if we could have Wendi check me the next time just to be sure that we were both doing as well as they thought we were doing.  I wasn't concerned about infection despite the fact that the membranes had ruptured going on 18 hours.  I had been good about taking Vitamin C every couple of hours, we hadn't had one vaginal exam or external vaginal probing that was introducing germs "upstream" as we say in class.  My concern was simply that although I felt strong and the baby sounded good, we had been going at this since 5:00 am on Thursday morning and I wanted peace of mind that we could continue at whatever pace the baby needed.  
Bruss and I also talked about having the midwives go or stay, and we were not sure what to ask of them.  We conveyed this to Wendi when we talked to her.  I felt so bad having them stick around for "nothing".  At the same time, I was wondering when we would call them back when our labor finally picked up.  Having spent so much time with us at our prenatal visits, they knew our birth history and knew that this had been our labor pattern in our previous births.  They assured us that they were comfortable, and happy to continue waiting patiently for baby to make her appearance.  
In the meantime, this birth also confirmed our choice to have a homebirth.  We had been in labor for 36+ hours now.  If we had been in the hospital, we would have been subjected to multiple vaginal exams by now.  If we had gone home and then returned after our water broke, we would have had a very hard time leaving again without signing a multitude of forms when it was clear that labor was not progressing.  I had declined the GBS test since we made an educated decision to take supplements that supported a healthy vaginal track, and I was confident that Dr. Ross' KST check confirming that I was GBS negative was accurate.  Under medical care from an OB, I would have had to have the GBS test and had I tested positive, I would have been pumped with penicillin and IV fluids every four hours.  By now my hand would be swollen at the hep lock site, and my feet and face would be puffy and uncomfortable.  
At home, we were allowed to have the gentle birth we wanted for our child.  We listened to my body and followed the cues, however unbelieving that "this" was our labor.  We were able to sleep and eat to keep our energy up.  Our baby was monitored with a Doptone monitor every hour for a few seconds, which let us go back to the position we needed to be in for her more quickly.  Our midwives were supportive and encouraging that we were doing well and to keep going like we were going.  
Bruss kept in touch with Andrea and Dr. Ross via text throughout the day and night – they were our doulas by text!!  As they made suggestions he would try them if we hadn't tried them already, as they gave us words of encouragement he would convey them.  
I would say I finally "accepted" the birth around 8:00 pm.  Bruss had given me wonderful assurances that this was the labor our baby and I needed every time I had started to cry.  He assured me that he was ready to labor just he and I – it had also become clear that having all the people around was starting to stress me out.   Despite the fact that a doula would be there to support us, he wasn't willing to call in another person to add to the group of people in the house already.  
We decided to watch a movie and both proceeded to fall asleep.  The midwives continued to come in and monitor us through our sleep.  I was still getting up every 45 minutes to use the restroom.  One thing we did REALLY well is stay hydrated.  We found that we still had the contractions when we stood up and moved from the bed to the toilet.  As I accepted that this was our labor, I remember reading birth stories about women who slept through labor until they woke up in time to push.  I figured that we might as well give it a try – who knew – maybe this could be our birth story since short and sweet was definitely out!!  
It was my perception that the contractions were every half hour.  I could sense that I was moaning in my sleep, yet they didn't feel so strong that they woke me up until it was time to use the restroom.  The midwives told me later that they had watched and felt my belly when I was sleeping, and I was having contractions about five minutes apart in my sleep.  
Somewhere between 10 and 11 pm, I could no longer sleep through contractions.  We decided to use the shower again.  We put a birth ball in there and let the water wash over me.  You know what happened – the contractions spread out again.  Since our baby was CLEARLY happier with labor when I was lying on my side, we set up a layer of towels in the shower and made a towel pillow.  I lay on my side, and sure enough, they contractions started getting hard again.  Although they were uncomfortable, I was happy to bear with them since I knew these were the type of contractions that were going to get us to the point of meeting our baby.  
Before we knew it, the shower stopped working as a relaxation tool, too.  I had a strong need to void, but I couldn't do it anymore.  We decided to move back to the toilet to see if I could void in the toilet.  It didn't take me two seconds before I declared that this baby was coming out *now*.  The birth stool that had been taunting me for 24 hours was finally going to be put into use!  
We got on the birth stool. I asked our midwife Wendi if this was really it.  She asked me to try pushing and if I didn't feel any pinching, to go for it and work with my body.  The next contraction came and I could push without pinching – so we did.  This is the one time when we could have used an extra pair of hands.  Since we didn't have them, Bruss got behind me and supported me in a dangle position off of the stool so I could bear down and also use more gravity behind the push.  Trying to be mindful that we were capturing this on video for possible use with future students and for our children to see, I made every effort not to yell out too strongly.  
We asked one of the student midwives to go wake up our children and my mom since it was clearly time to push.  Squatting didn't feel as good as it had with our other children.  After a few pushes in the squatting position, I felt like it would be best to move to my hands and knees, so there we went.  Bruss ended up on the floor with me, and as a contraction came, I would lean all my weight on him and bear down.  This is the first time I have been clearly conscious of the baby moving through my vaginal canal – it was amazing.  I could feel her crowning, and I remember that Night Owl looked at my bottom and said, "I see the baby!"  I told him to talk to her and tell her to come out, which he did!  A couple more pushes and I could feel that we had delivered her head.  Before I knew it, I was holding our lovely little Angélica in our arms and overjoyed with the wonder of the work we had done together.  
We pushed a total of 20 minutes – the most amazing 20 minutes of our birth.  My mom and Night Owl got to watch the majority of the pushing phase.  Puma came in just as Wendi was passing Angélika ("Otter") up to my arms.  Our photographer who we have known for six years got to capture the birth of our new family.  Our midwives were there supporting and loving on the whole process, one of whom was able to capture the birth on film.  It was a room full of love and joy.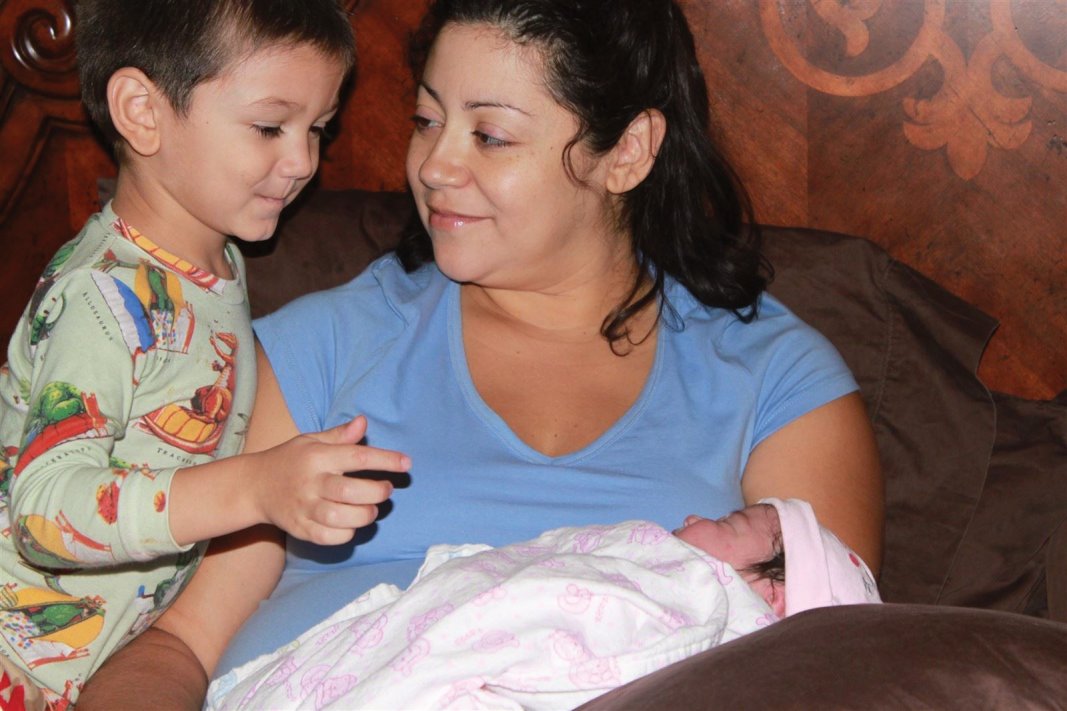 We marveled at this new creation that was now part of the Bowman family.  We looked at her face, her belly, her fingers and toes.  We checked to make sure that we were indeed holding the newest little sister…and we were!  The senior student cleared out Otter's stomach and nose with a little tube syringe.  She had taken in some fluid and was having a hard time getting her breathing started.  Within a few minutes of skin-to-skin contact with mom and some massage stimulation, her breathing assumed a normal pattern.  She got her full measure of blood – her cord stopped pulsing, we delivered the placenta, and then we cut the cord and got in bed.  It was probably an hour from the time we delivered to the time we all got settled in bed for the first time.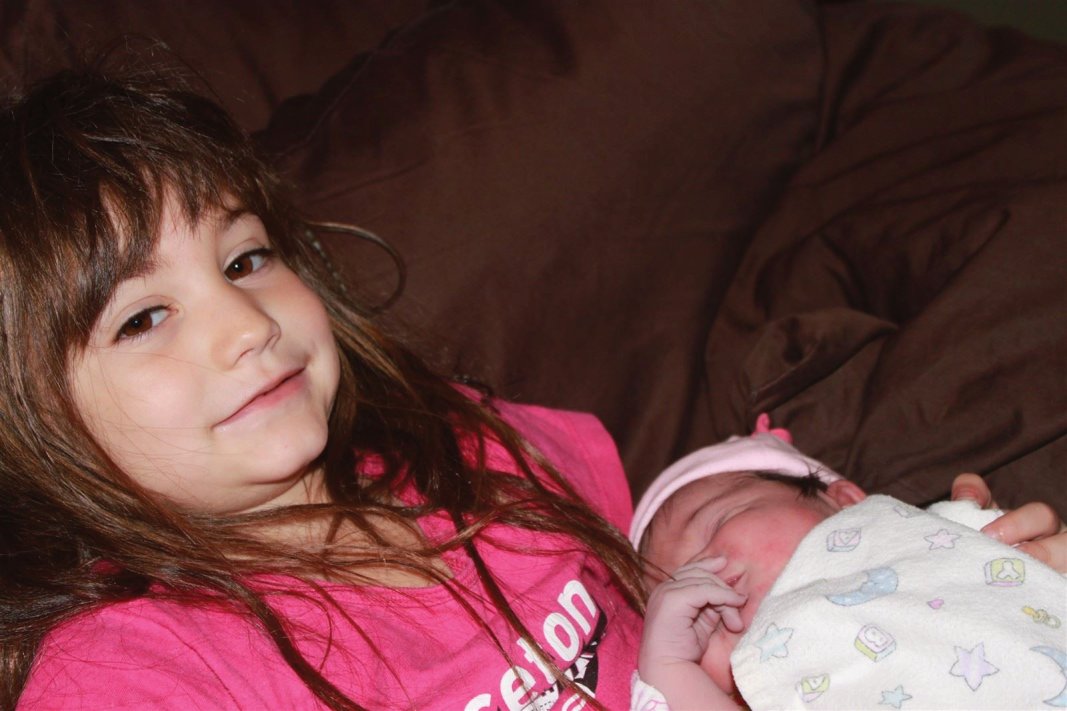 The whole process was amazing.  It was beautiful to allow Otter the birth she needed.  The old mantra of "Trust Birth" was proven true once again.  Why had our labor started and stalled for two days?  Our little miss had the cord wrapped around her belly twice.  Although Wendi assured us it was not constricting anything vital, it is not something she has seen very often in her 11 years as a licensed midwife.  Our baby and my body knew that Otter needed to ease her way out so that her wrapped cord stretched as needed and supported her through the passage from her safe home inside my womb to her new home outside with us.  As a good friend said to me the day after, hindsight is always 20/20!!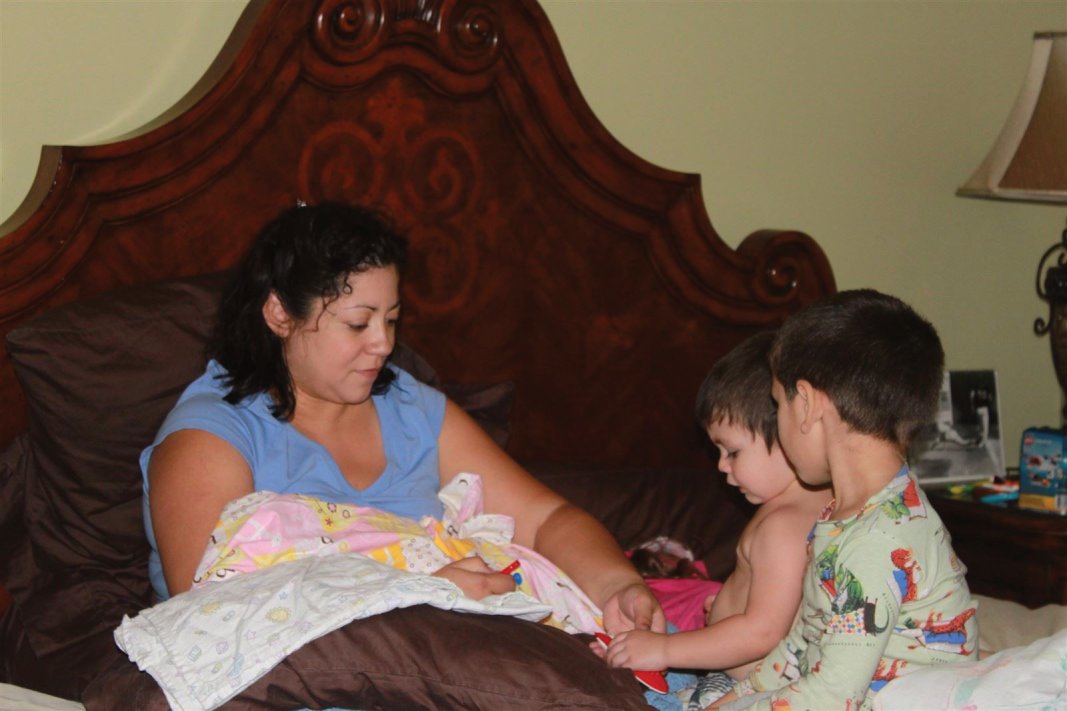 At our first postpartum visit Saturday afternoon, Wendi asked us if we had any favorite parts in our birth.  My first answer was holding the baby!!  We also liked the lack of time-driven pressure – we got what we wanted: the birth our baby needed.  It was amazing to have our children be part of the birth process.  They had gotten to come in and check on me, encourage me with kisses, and I hadn't had to leave them to go to the hospital for three days.  Night Owl got to watch his sister's birth – and now we get to hear his version of events.  His godfather came to visit this weekend.  He asked NIght Owl to tell him about the birth, and this was his answer, "My mommy screamed and the baby popped out!"  Clearly, I wasn't as low-key as I had hoped, yet it hadn't scared him and he is delighted to tell people about his experience.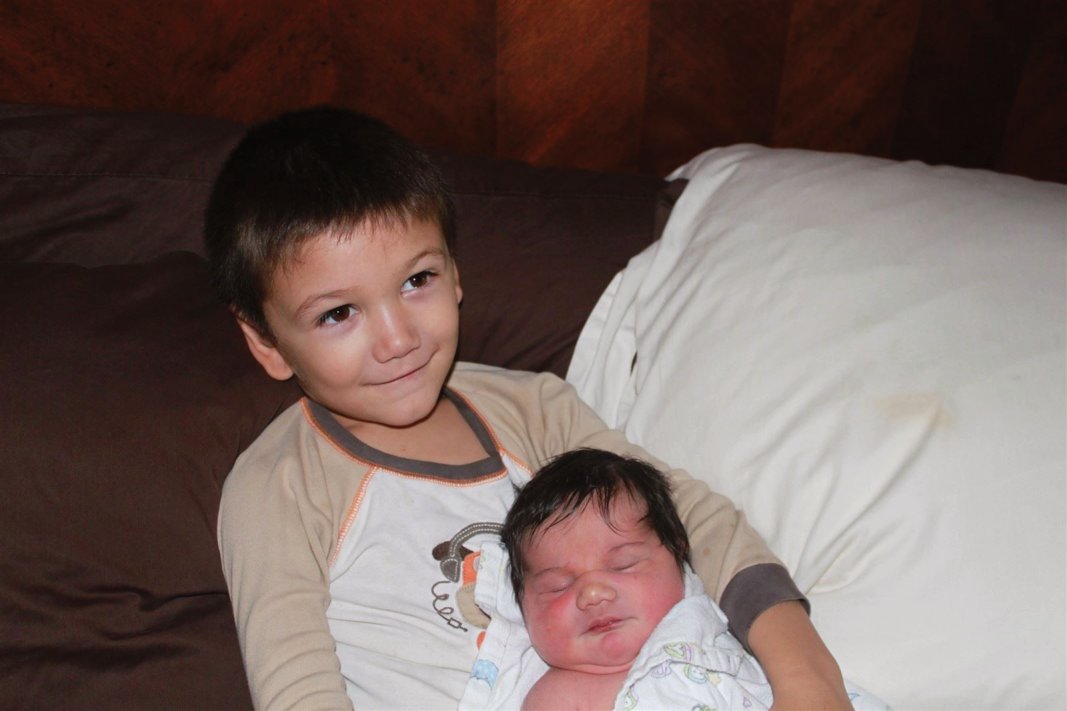 So we are now *officially* home birth advocates.  We are incredulous that it took us four births to get here.  It has been a great way to close the chapter on our childbearing years.  We are forever grateful to the women at Freedom and the Seed who so lovingly tend to the families in their care.
Disclaimer:
The material included on this site is for informational purposes only.
It is not intended nor implied to be a substitute for professional medical advice. The reader should always consult her or his healthcare provider to determine the appropriateness of the information for their own situation. This blog contains information about our classes available in Chandler, AZ and Payson, AZ and is not the official website of The Bradley Method®. The views contained on this blog do not necessarily reflect those of The Bradley Method® or the American Academy of Husband-Coached Childbirth®.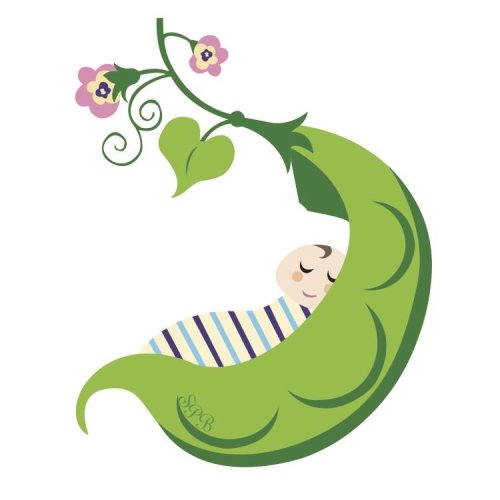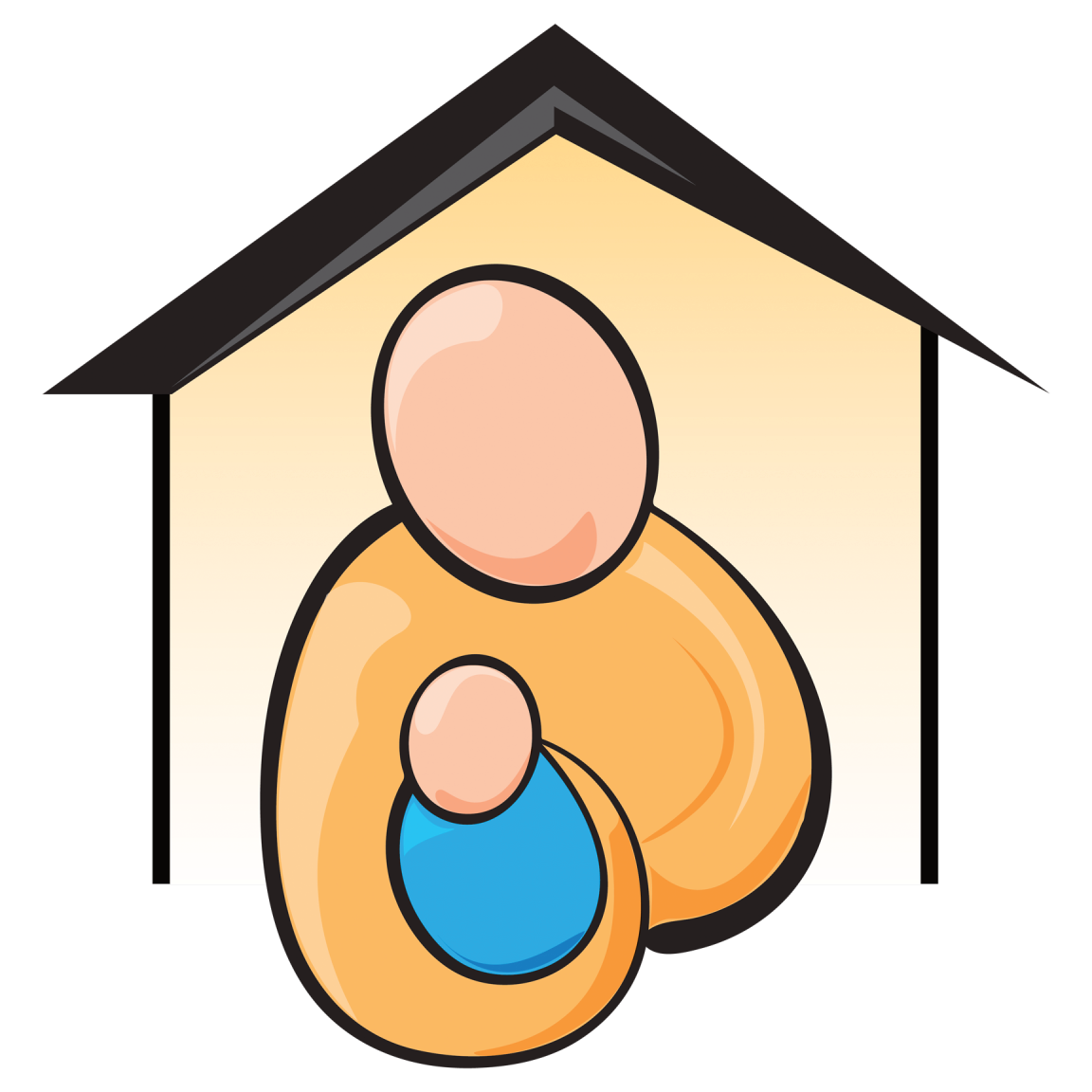 Our labor started around 5:00 am on Thursday morning (9/29/11).  I was running around trying to get Brussito's birthday breakfast table together, when I had a contraction that made me stop in my tracks and grab onto the edge of the bed.  The contractions kept coming throughout the morning.  Since my water had not broken yet, which is how our other three labors had started, Bruss and I decided it was best if I went back to bed to get some sleep.  We called our chiropractor, Dr. Ross, to see if he would come by for a home visit and help us evaluate what was going on.
Dr. Ross got to our home around 11:00 am.  I told him, "I'm having contractions, the dogs are acting like I'm in labor, the kids are feeling/acting funky – all signs are pointing towards that direction, but my water hasn't broken yet…what is going on?  Do we start making the calls to family, doula, photographer, midwives, or do we hold off?"
So Dr. Ross did a KST check on me, and adjusted a few places, and decided that since everything he adjusted for was centered around the cervix, that yes, I was probably in labor.  He told us that it wasn't likely to be today.  Maybe late night today or early morning hours Friday.  He told us to call him if we needed any more adjustments or KST checks.
He left me with the parting thought that having my bag of waters intact was actually a good thing.  (Yes, even Bradley® teachers need to be reminded of the basics!)  He reminded me that the intact waters would protect the baby and the extra pressure would help dilate my cervix without any additional work on my part.  I realized that for once, I might get to experience this benefit and hoped that meant we might really have a shorter labor this time.
At this point we called my Aunt Gloria who was on-call to come take care of our children, and our photographer who also has kiddos so that she could make arrangements for her family and start getting things ready to come over and document our birth.  We told them there was no rush since our labors are slow to start and my water had not broken yet. 
We also contacted our friend Andrea, who was on-call to doula for us if Bruss felt like he/we needed support through our birth.  When we first found out we were pregnant and started talking about labor, Bruss was thinking that he did not want a doula this time.  Since Andrea is "technically" our former teacher turned friend, he didn't feel like he would have a doula there, just help from a good friend.
So we went it alone for most of the day.  I tried to rest and relax as much as possible, and remember the Bradley® mantra, "Don't pay attention too soon," which means that parents should go about their day, eating, drinking and resting instead of timing contractions and getting worked up about their labor.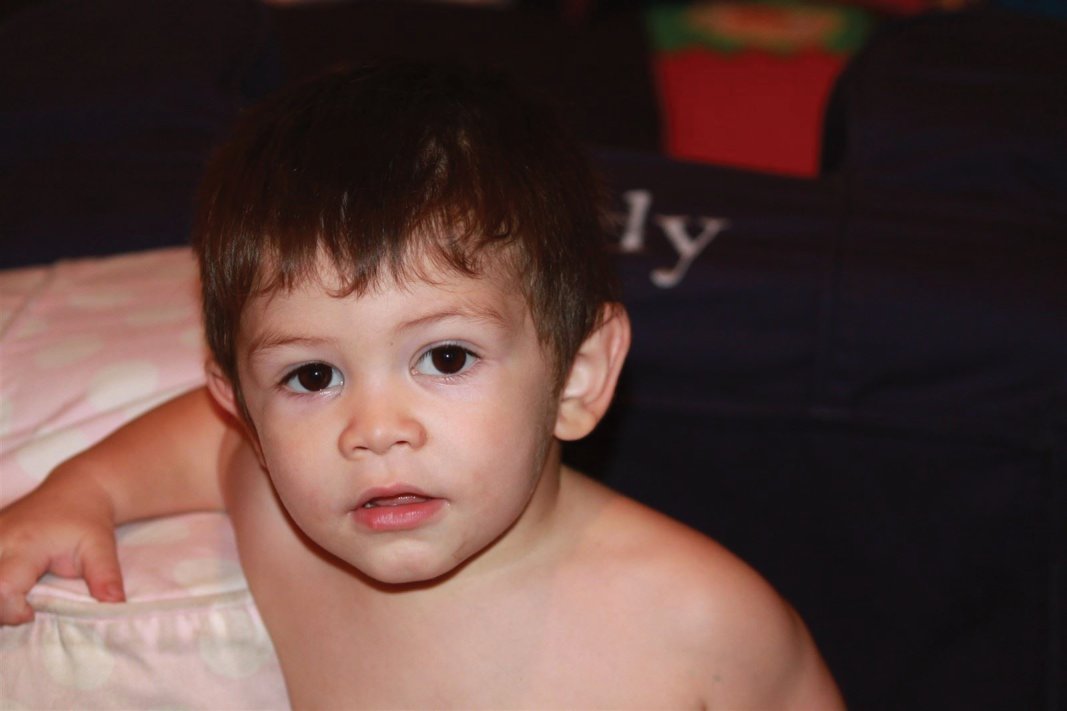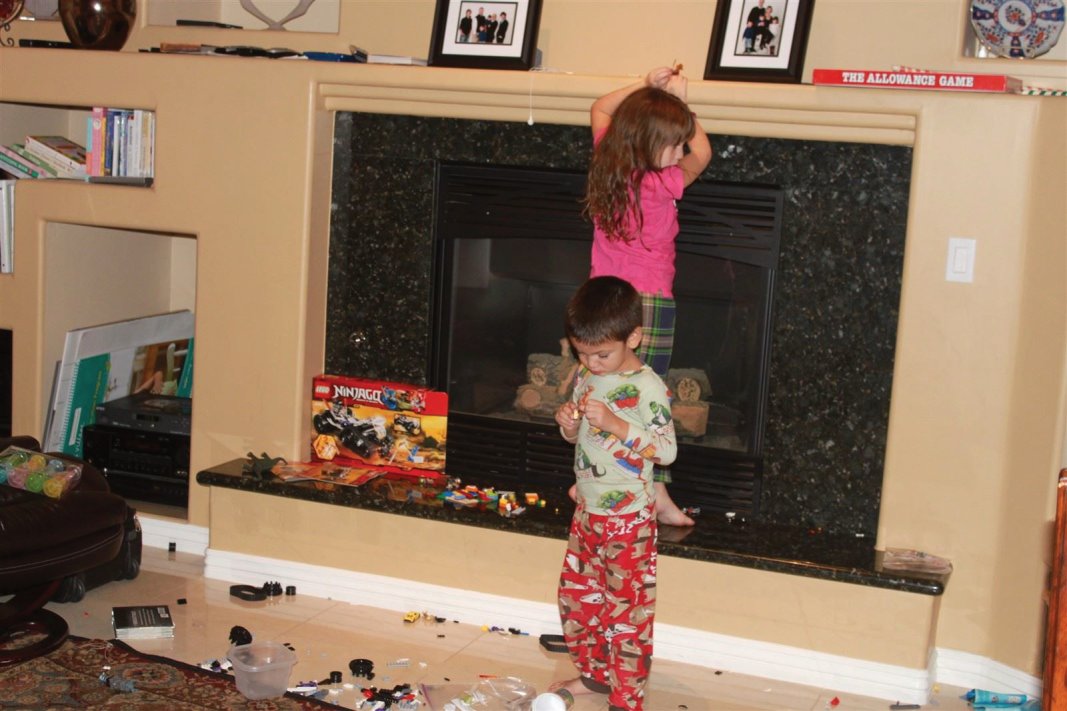 It was hard to let go and relax since my mind was on our three older kiddos.  I kept wondering, what are they doing?  Why is Bryan crying?  How is the house holding up?  Luckily, since it was Brussito's birthday, there were lots of new things to entertain them and overall, they did fine without our full attention.  Bruss split his time between me in our bedroom and our kiddos on the other side of the house.  I was in our room, trying to sleep and just accept that if this was labor, I needed to let go and relax instead of running around the house trying to get it in perfect order in anticipation of people starting to arrive.
The benefit of not having my water break yet was that I got to make food in early labor, something we encourage our Bradley® students to do when we teach class.  Why food?  So that they have goodies to take with them to their birthplace for the staff; or in our case, to have food at home for our midwife and her students.  I had all the fixings together to make our favorite crock-pot lasagna, and I actually got to prepare it!  The goal was to have enough for dinner and for the midwives to snack on when they came to our home – and this is one thing that went as planned!
After having a light lunch and making the lasagna, I went back to bed.  I did not feel like things were progressing as I had hoped, but then again, we know our labors are slow to start and quick to finish, so I figured we were fine and it was still possible we would be meeting our newest family member by Friday morning.
When my aunt finally arrived at 5:00 pm, Bruss and I decided to go for a turn around the neighborhood to see if we could get our labor going. Walking has been shown to speed labor as well as Pitocin, and it also helps avoid unnecessary pain by naturally opening the inlet of the pelvis to ease baby down.  We found that we our contractions got more regular as we walked – yeah!  This is what we wanted!!
We stopped back at home after our first walk to refill water and use the restroom.  I thought that maybe I had a high leak in the membranes, since I was getting a tiny little trickle of fluid – literally like a teardrop – with some of the contractions.  I couldn't tell if it was a high leak or just sweat…another "not knowing" emotional hill for me get over.  After our second walk, we actually noticed that contractions seemed to slow down, so we figured it was a good time to take a break and have dinner.  Bruss had not gotten any rest during the day between taking care of me and the kiddos, se we made the call to Andrea to come relieve him while he took a nap.  We also called the midwives to let them know that we were in early labor.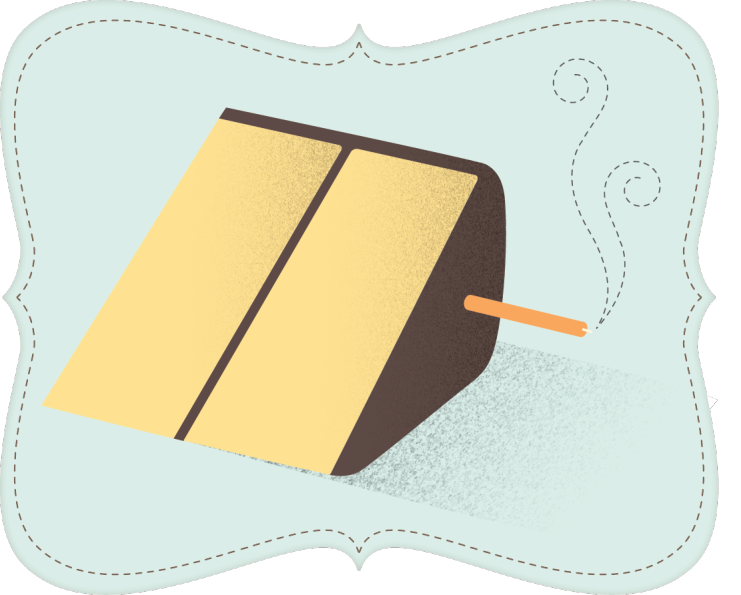 In the meantime, my aunt had made Brussito's birthday cake, and we all gathered around to sing Happy Birthday and eat cake.  The senior student at the midwifery practice returned our call and suggested that we go to bed and rest.  Andrea had arrived and suggested we take a walk before going to bed just to see if we might get labor going since I had rested most of the day.  Wanting to meet our baby, I went for the walk!!
So Andrea and I went on our walk with Brenda, our photographer.  Again, the first time around things seemed to progress; by the second time, things slowed down significantly.  Andrea commented that it looked like it was going to be another slow to start Bowman labor and that yes, indeed, it was time to go to bed and conserve energy.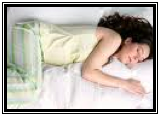 We got back to our house, and I went to bed frustrated.  Interestingly enough, I noticed that I had contractions when I was in side-lying position.  I was blown away – never before had we used the side-lying in our labors.  This was a new experience for me!
Although Dr. Bradley® recommends the side-lying or "sleep" position for active labor so that a mom can completely relax through the intense uterine activity, this had never appealed to me.  I am a mover – with our other labors, I had always been walking or squatting or stair climbing between contractions to progress, and then when a surge hit, we would stop, chant and relax through the contraction.
They were not so intense that I couldn't sleep, so Bruss came to bed with me so that he would be available if I needed him, my aunt got the kiddos to bed, Andrea went home, Brenda found a place to camp out, and the Bowman house settled down to sleep and wait.
At midnight, I got up to go to the restroom and, water works!  My water broke and we squished our way to the restroom.  There was no mistaking this gush – my water had officially broken.  And unlike our other labors, contractions started coming on right away, so we called our midwives to come over and evaluate mom and baby and see about our labor.
Andrea came over again and we started walking around "the track" in our backyard.  Bruss would call out the time as I had a contraction so I could know how long we had been having one, and Andrea would remind me to breathe through the contractions.  It started to feel good to squat and lean forward when we were having them.  They seemed to come on every three to five minutes.  And then some of them were back to back – and then they stopped again.
Our midwife Wendi Cleckner was the first one to arrive around 1:30 am.  When we went in for a potty break, she was already set up in the bedroom and she checked the baby with her Doptones monitor.  Lo and behold, she found that our baby's heart was nice and low, a little above the pubic bone.  This was another point of excitement for me.  With our hospital births, we always started with the heart tones being found a little below my belly button – this was good!  With her heart so low, I guessed she (the baby) was already down and applying pressure to open my cervix.
We went out for another walk around the track.  Again, the more we walked, the more labor slowed down.   Grr!!  Around 4:00 am, we decided it was time to go back to bed, and that Andrea would go home to see her family and get her girls off to school.  Brenda decided to stay since her trip home meant going to Glendale and back.  The midwives found places to camp out around our home and we…went back to bed.  I was starting to get discouraged.  It was clear that this baby was not arriving in the wee hours of this morning.
We slept a little longer.  Our next wake-up was around 7:00 am.  Despite having been asleep, I was having more contractions again.  Bruss had a quick breakfast, and I drank a mango smoothie.  We went back to our regular routine of walking – we just couldn't figure our why it had not gotten our labor jump started yet, and figured it was worth another try.  Since it was daylight, we walked around the perimeter of the backyard instead of just the loop around our pool. 
So we walked and talked.  We tried to figure out if there was anything physical, mental or emotional that we needed to deal with for our labor to progress.  We commented on the benefits of having a homebirth:  No IV's, no fetal monitoring that tied us to the bed for 20 minutes every hour, no vaginal exams, no nurses starting to fret that we were "failing to progress", no one talking to us about making decisions to augment our labor.  The only pressure was self-generated: I felt bad that all these people were sitting around waiting for our labor to do "something" so that they could do their job.
Friday progressed like Thursday: we would walk, get some contractions and then notice that labor slowed or stopped.  By 10:00 am, Bruss wanted to stay inside since it was getting hot, so we would sit on the birth ball in our bathroom and rock back and forth to imitate the hip action that walking produced, staying upright and trying to work with gravity to encourage labor to progress.  As labor stalled, we would lie down for another nap.  By 2:00 pm, I was emotionally spent.  The first set of tears came.  I was disappointed in my body.  We had been so hopeful that eliminating the hospital transfer would make for a smooth, progressive labor, and one that was shorter than 24 hours.  It was clearly not our lot to have a "butter birth" as they are known in the birth community.
So we went back to bed – again.  Again, we noticed that when we were in bed, the contractions became regular.  Bruss and I talked and agreed that clearly this baby was going to be another teaching moment for us, so that we could be better Bradley® teachers to our students.  We accepted that walking was not the key to her labor; this baby clearly preferred me to labor on my side.
We also noticed that the contractions would be most intense when we changed position.  When we got up to go the bathroom every 30 – 45 minutes, we would have a more intense contraction right by the bed.  When we got to the bathroom, I would have a couple of good contractions on the toilet.  Then they would stop, Bruss and I would clean up, and we would go back to side-lying position on our bed again.  And so we repeated this new cycle.
To be continued...check in on Friday for Part 2 and read about when we finally got to meet our baby!
Disclaimer:
The material included on this site is for informational purposes only.
It is not intended nor implied to be a substitute for professional medical advice. The reader should always consult her or his healthcare provider to determine the appropriateness of the information for their own situation. This blog contains information about our classes available in Chandler, AZ and Payson, AZ and is not the official website of The Bradley Method®. The views contained on this blog do not necessarily reflect those of The Bradley Method® or the American Academy of Husband-Coached Childbirth®.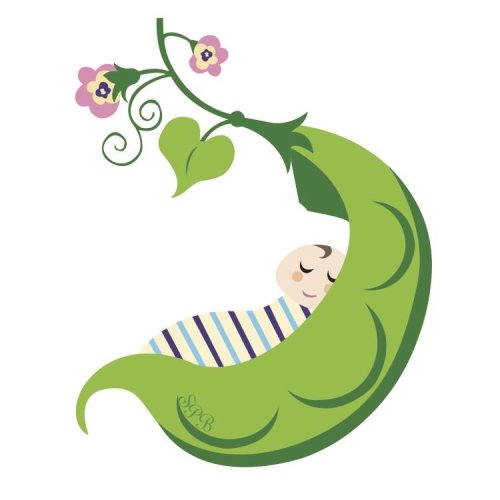 Now enrolling for our

Winter Series
December 5, 2011 through
February 20, 2012
Limited enrollment
Call us at
602-684-6567
or email us at
On his second birthday our son, Jacob, learned that he would be a big brother!  As we prepared for the arrival of our second child we explored many picture books about birth and new babies.  I used the Internet and library to find books that are helpful for younger children and gathered my favorites into our lending library.  Here's my list of favorites!
Looking back on the time we spent preparing our son for the birth of his sibling, there is one book that stands out.  I put together the "Baby Jacob Book," which featured photos and information from my pregnancy with my son, photos and information from his birth, and photos of Mommy and Daddy doing typical baby things with him in his first year.  We thought about the things he would notice during pregnancy (such as my growing belly), moments he would witness at the birth (such as Daddy supporting Mommy through a contraction), and everyday activities we would do with the new baby (breastfeeding, babywearing, bathing, etc.). 
We gathered photos of Mommy and Daddy doing these things and used a photo website to create a book, with simple captions.  This was not a baby book, but rather more of a storybook.  He loved it during pregnancy and still loves it.  During times when our daughter is in need of a lot of attention, we pull out the book and show that our son received the same special treatment from us when he was a baby.  It has been such a wonderful tool for him, and it has had the fun benefit of reminding us of those special times we shared with Jacob. 
A word of advice: use discretion when you put your book together because your enthusiastic child is likely to show it off to visitors.
These four books are all focused on, or written for, the baby in utero.  They are great to read to any sibling-to-be and there is no discussion about what actually happens during the birth.  They would also make lovely gifts for expectant parents who would enjoy reading aloud and bonding with their baby in the womb.  (Around the end of the second trimester, babies begin to hear sounds and will start to recognize their parents' voices and other familiar rhythms such as frequently-read books.)
These are our two favorite books on homebirth, plus an additional book that just came out.
This is a booklet that features an older sibling participating in a homebirth.  To be honest, I found the illustrations to be a little jarring and a little more graphic (full vaginal picture for birth) compared to the previous book, so scope out the sample pages on the website before you buy it.  I think this is the only book that showed a mom breastfeeding without concealment.  We eagerly added it to our collection so we could provide our son with an additional example of a homebirth.
This is a new book that I haven't read yet, but it looks sweet and I wanted to pass it along!
We really liked these three books that featured births away from home. 
These are the books we found to be most enjoyable and beneficial for preparing our son to be a big brother.  They all focus on the time after the baby's birth and cover a variety of the new baby's needs (eat, diaper changes, sleeping, playing) in order to prepare a sibling for what to expect. 
Disclaimer: 
The material included on this site is for informational purposes only.  It is not intended nor implied to be a substitute for professional medical advice. The reader should always consult her or his healthcare provider to determine the appropriateness of the information for their own situation. This blog contains information about our classes available in Chandler, AZ and Payson, AZ and is not the official website of The Bradley Method®. The views contained on this blog do not necessarily reflect those of The Bradley Method® or the American Academy of Husband-Coached Childbirth®.
We had the pleasure of hosting a class reunion at the beginning of August for the families that we taught in the Spring of 2011.
Here is first installment of one of the birth stories we heard that day.  Chelsey and Bryce share their experience in today's video segments.
Below you will find an explanation from Chelsey about what they liked about the classes and the class information that they found useful during their labor and delivery.
We were so happy to meet their healthy young man, Brody!  They made the best of their scheduled induction and ended up with the goal we emphasize throughout the class series: Healthy Mom, Healthy Baby.
Our Bradley Method® Class Experience
~ By Chelsey Bloomfield
The Bradley® classes really laid the foundation for a positive birth experience for us!
We started out not knowing the slightest thing about the whole birthing process... In fact I tried to avoid thinking about what would inevitably come so that I wouldn't be scared or freaked out by it. We were looking into getting a doula because I was terrified of the whole doctor and medical aspect of it, and I was scared that I would get pushed into doing something that I REALLY didn't want. I started looking into which birthing classes I wanted to take because I am a very education oriented person and we figured that it would help put some of my fears to rest. When we were comparing prices we realized we could only afford one thing, a doula vs childbirth classes... and when we signed up for the Bradley Method® classes I knew we had made the right choice for us!
The Bradley Method® outlines from the very beginning how to prepare your body for natural childbirth. I loved that the nutrition and exercises were a central aspect of the classes. Other classes merely focus on teaching you breathing techniques or ways to relax during labor, rather than preparing your body and mind for the entire process ahead of you.
I also loved the background information on what is happening to your body throughout pregnancy and the different stages of labor!!! By understanding what to expect, and how the entire process worked; that information really put my mind at ease.  I felt calm and prepared when I was in the hospital because I knew how the natural process worked and everything my body was going through.
During Labor we really used all of the relaxation techniques.  I specifically found massage, deep breathing, and mental relaxation the most helpful.
The abdominal breathing was the most useful because it gave me something else to focus on instead of the pain or pressure, and it really put me in this state of total relaxation that is quintessential for natural labor.
Also during labor, we relied heavily on the things we covered in Class 8 when we discussed variations and complications.  Since we ended up being induced and having other complications due to my high blood pressure, it was nice to have the tools and understanding to make the right decisions for us, so that we could end up with a healthy mom and a healthy baby.
In the end it all turned out well! The Bradley Method® gave us all the tools we needed to be able to communicate and work together as a team to bring our baby into the world.
My notes on Chelsey & Bryce's Birth Story
I want to thank Chelsey & Bryce for agreeing to share their birth story out on the internet.  I was especially touched by her praise of her husband when she talked about how she couldn't have done it without him.  That is the true testament to their teamwork and we are overjoyed when we see a couple bond over such a moving life experience.
A comment about inductions...and I will state, as per the disclaimer below:  I am not a medical professional, this is NOT medical advice.  What follows below is simply my anecdotal observation about inductions after teaching several couples.
As I have written in a previous post, there are many factors that go into determining your estimated
due date
.  So far, three of our couples have been induced.  Of those three, one ended up in a cesarean birth, while the other two did have a vaginal birth.  In listening to their birth stories, I am starting to think that inductions only progress to a vaginal birth when the body is already SO close to starting labor, that the medical intervention serves to "push" mom into a process that was almost ready to start. 
In reading other internet sources on the subject, it seems that other natural childbirth bloggers and/or websites have come to the same conclusion.  As we teach our students: research, research, research and ask questions when your care provider suggests that you interfere with the natural process.  There are no guarantees that what they are asking you to do will work, so if you do decide to go forward with an intervention or procedure, make sure you do so with true
informed consent
.  Your care provider is not a "mean" or "evil" person - they want a healthy baby for you, too.  It is understandable that their practice history or medical malpractice insurance may skew their approach, however, give them the benefit of the doubt and work together to have the outcome everyone wants: Healthy Mom, Healthy Baby.
Onto another part of their story, this couple did a couple of things that were key to their mostly-natural labor...First of all, Chelsey slept!  Never underestimate the power of sleep in aiding you to physically, mentally and emotionally navigate your labor.  The first thing she did after they induced her was get a good night's sleep - they didn't pay attention too soon.  Yeah!!

The second thing they did well:  they handled the "failure to progress diagnosis" brilliantly.  As you will hear in part two of the video, Chelsey's cervix held steady at a "4" for most of the time after their induction although her contractions kept increasing in intensity.  Once she passed the "5" mark (cervix is half-way to the point of being open enough to push), she progressed from a "7" to a "10" in less than two hours, and they were happily holding their baby in their arms 25 hours and 44 minutes after their induction started.
I was very impressed with this couple's ability to communicate with each other.  Their knowledge and confidence in the natural process allowed them to progress to their epidural-free birth because they were successful in getting their birth team behind their choices and supportive of minimal interventions and vaginal exams.  They also invited Chelsey's mom to be their assistant coach, and she was able to reassure them that based on her own birth experiences, Chelsey's body was working and that they would be meeting their baby sooner than later despite the staff's concern that Chelsey was not progressing.
Great job, team!!

Disclaimer: 
The material included on this site is for informational purposes only.  It is not intended nor implied to be a substitute for professional medical advice. The reader should always consult her or his healthcare provider to determine the appropriateness of the information for their own situation. This blog contains information about our classes available in Chandler, AZ and Payson, AZ and is not the official website of The Bradley Method®. The views contained on this blog do not necessarily reflect those of The Bradley Method® or the American Academy of Husband-Coached Childbirth®.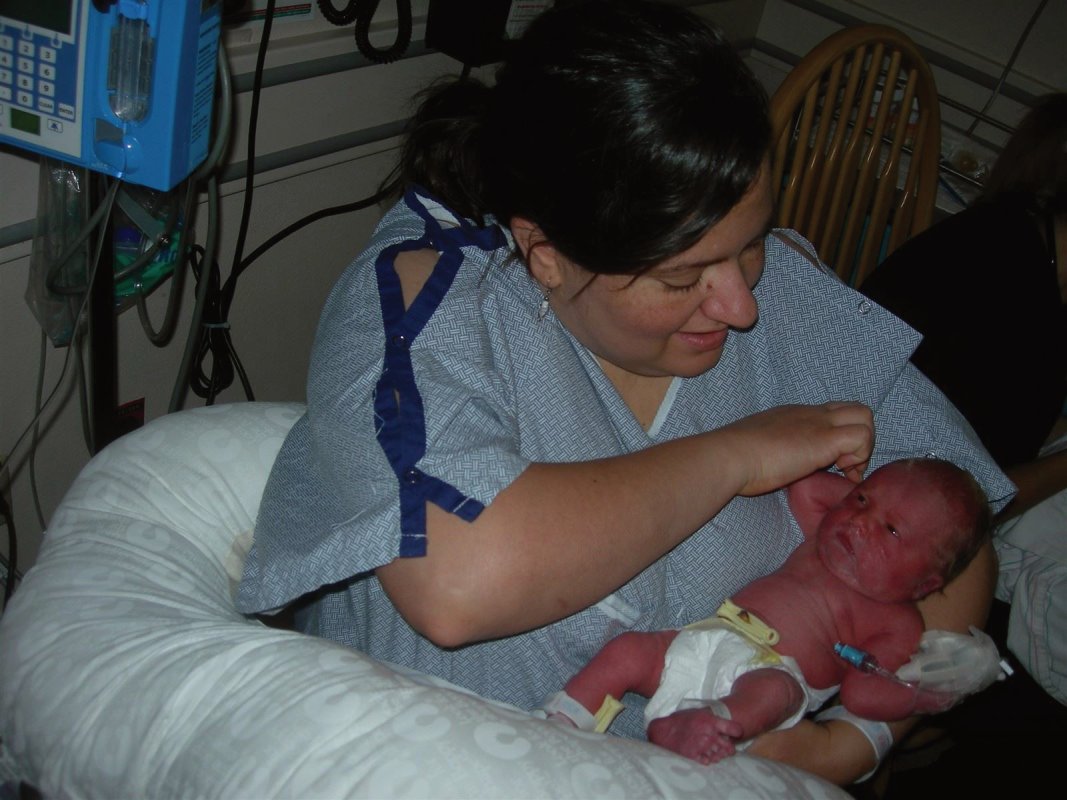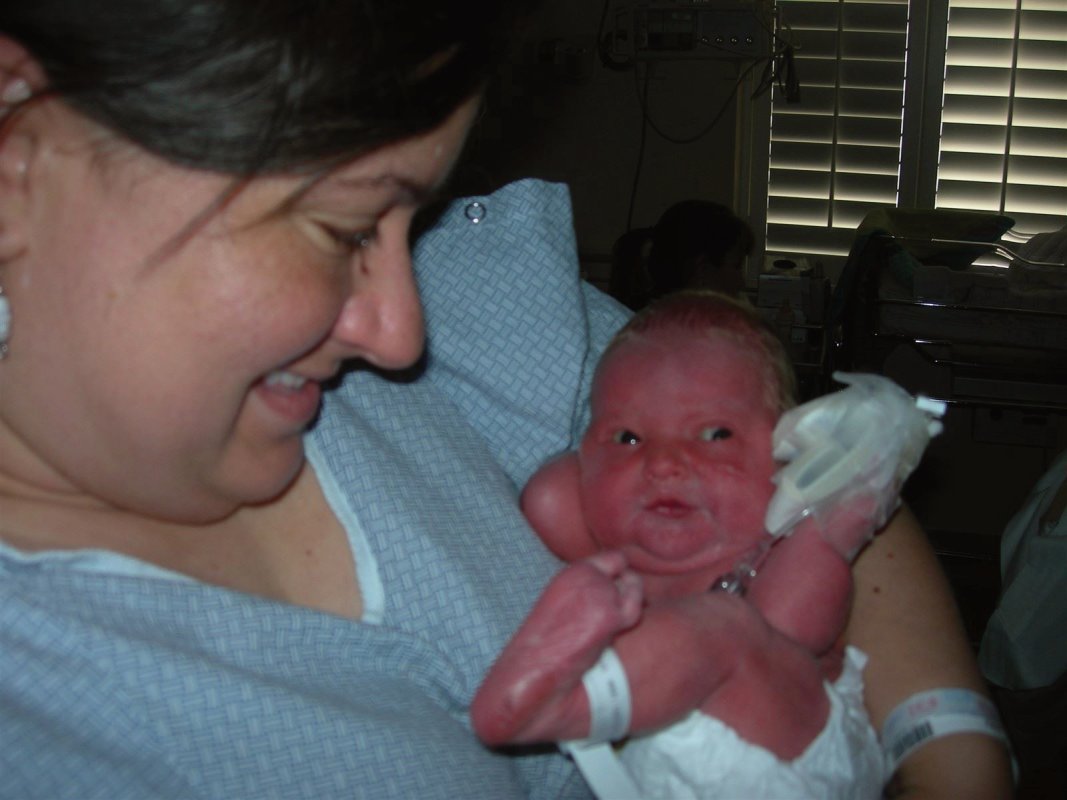 Today is Mother's Day in Mexico.  Since our roles as a mother can stand another day of recognition, I figure why not – let's have another day of good wishes.  I will start off by wishing all the moms a Feliz Día de las Madres! 
We had an incredible birth story over the weekend, and probably one of the most intriguing ones we will have as instructors of The Bradley Method®.  With the mom's permission, I am going to share their birth story today.  Their baby was born at 35 weeks and both mom and baby are doing well.  The dad "caught" their daughter as mom was getting out of the hotel bathtub!
One of the topics we cover over the course of the series is Emergency Childbirth.  We do this for the "just in case" instance when a couple has an unintentional unassisted birth.  Let me be clear that The Bradley Method® does not endorse unassisted deliveries, meaning that a conscious decision is made to not have a trained professional present at the birth of a child.  However, the American Academy of Husband-Coached Childbirth® acknowledges that sometimes parents don't recognize the signs of labor (especially first-time parents) and babies will come when they are ready.  Our curriculum addresses this circumstance in recognition that it is better to give some basic information about how to handle this situation rather than leaving a mom and her coach unprepared for the outside chance that they find themselves having to deliver their child outside of their planned birth setting.
In one of life's little twists, I had just been loaned the text "Emergency Childbirth: A Manual" by Gregory J. White, M.D. on Friday.  It is recommended reading for all Bradley instructors and I started reading it over the weekend.  The Bradley Method® designed their Emergency Childbirth class section from Emergency Childbirth, a joint publication of the U.S. Department of Defense, Office of Civil Defense, the U.S. Department of Health, Education and Welfare and the American Medical Association.  Little did I expect to hear yesterday morning that the class information was put to good use by one of our students!
When I first shared the story with mom's classmates, the other moms were incredulous.  How could she not know she was in labor?  Was her labor short?  Was labor going to be so easy that their babies are just going to appear without a big fanfare?
Well, this is the story as best as I can put it together for now.  I still haven't gotten to hear the story from Mom and Dad together – when we do, I will film it and add it to our Birth Story video archive.  Here is Baby Caroline's Mother's Day birth story:
Mom and Dad had been planning and practicing for a homebirth with a midwife.  They decided to take Bradley Method® classes so that Dad would know how to coach mom through labor while the midwife attended to mom's and baby's needs as the labor progressed.  Their hope was that the Mom's mother would also be in town as an assistant coach.  Either way, Dad was ready to be Mom's go-to guy.
Mom was woken up on Friday morning by a strong sensation in her abdomen.  In Arizona, per statute R9-16-108 (see Reference 1), a midwife cannot attend a birth unless mom is between 36 and 42 weeks of gestation.  Since Mom was only at 35 weeks gestation and their midwife was heading to Florida to see her grandchildren, she decided not to pay attention to the tightening.  She also had a conversation with her sister who is studying to be a midwife and failed to mention the tightening to her.  Looking back, Mom reflected that she didn't want to be told to go to the emergency room, so she decided to move on with her day.
Saturday found the couple down in Tucson spending time with Dad's family and enjoying the Mother's Day holiday weekend.  Mom was baking bread with her sister-in-law and SIL noticed that Mom was pausing every once in a while.  Mom told her SIL she was having some contractions but she was only 35 weeks, so it couldn't possibly be labor, right?  SIL concurred that it was probably just her uterus getting ready for labor. 
After celebrating Mother's Day with Dad's family on Sunday, Mom and Dad were getting ready to head up to Phoenix for Dad to attend a conference.  Mom finally had a contraction that took her breath away, and she told Dad, "Let's use this one to practice our relaxation."  Dad agreed and started with a back rub, moved to the front where mom curtly told him "Don't touch my uterus!"  He continued with a back rub and then worked his way forward again and Mom had to tell him not to touch again because it was too uncomfortable.  (Students:  what phase of labor is she in?)
Mom admits upon looking back now that she was just in denial.  They made the drive from Tucson to Phoenix and got to the hotel.  Mom felt a gush of water and thought that she had wet her pants.  She was hot and sweaty and she threw up once they were in their hotel room.  (Students:  what phase of labor is she in now?)  She was very uncomfortable and decided to lie down.  She told Dad that she must have a really bad case of food poisoning and that the best thing to do was lie on her side and be still and relax through the terrible discomfort she was experiencing.  Dad did his best to comfort mom at this time and stayed by her as she was in bed.
All of a sudden, Mom declares that she has to have a bowel movement.  She sat on the toilet and was pushing, but nothing was coming out of her anus.  She checked and couldn't believe that she couldn't pass this painful stool.  Mom and Dad agreed that a bath would help Mom relax her muscles and then maybe she could relieve herself.  So Dad drew the bathwater and Mom got in.  Dad reported that Mom felt instantly relief in the water, so that made them feel better.
Well, the next thing they know, the bath water turns red.  Now the couple is truly concerned and they call 911.  Dad reports that the 911 dispatcher "didn't buy" the constipation story and told Dad to have Mom get out of the water and see if he could see the baby's head. 
Mom lifted herself out of the water, and Dad reports that in the very next instant, Baby Caroline made her appearance.  Dad caught their daughter and it was official – not only was he a Bradley Dad, he became a Bradley Dad who caught the baby!
Mom relayed that the next few minutes were very peaceful.  Baby Caroline did not cry, yet she was breathing on her own and very alert.  She says that they admired their daughter and held her and enjoyed their incredible accomplishment – their new baby and her incredible birth story.  When they got to the hospital, Baby Caroline was declared to be a 10 on the Apgar scale and she weighed in at 5 pounds, 5 ounces. 
What did Mom and Dad do well as per the instructions we cover in class? 
- They stayed calm, and Dad reassured Mom that everything was okay (although Dad says if we hear the 911 tape it will sound like he "lost his mind"). 
- They kept their hands away from the birth canal. 
- They verified that their daughter was breathing well after she was born and put her face down on Mom's abdomen to stay warm. 
- When the baby was crowning, they did not pull on her, they just let her be born naturally. 
- They did not pull on the cord and let the placenta (afterbirth) come naturally. 
They ended up going to the hospital in an ambulance and have had many unwanted interventions due to their "unsterile" birth.  I am happy to say that after two very trying days at the hospital, the family finally seems to be getting the support they need and hope to be released with their very healthy baby girl tomorrow. 
I want to thank the family for allowing me to share their incredible birth story with you.  I hope that you can read this and recognize that childbirth without drugs is possible, and that if you don't pay attention too soon, you can manage most of your labor without too much trouble.  Mom slept both Friday and Saturday nights because she ignored her labor!  She looks great, has good energy and her body is busy making food for their baby thanks to the rest she got during their labor.
As I mentioned earlier, The Bradley Method® does not endorse unassisted deliveries.  An experienced childbirth couple probably would have recognized the signs of late first stage and/or transition and gotten to their chosen birthplace with ample time to deliver with a trained assistant.  In this couple's case, they were too far from home to make it there and their midwife was not available, so their birth plan would have changed to a hospital birth at the last minute.  I am so happy that "all's well that ends well" and that Baby Caroline will have a very unique birth story to share for the rest of her life!
References:
 (1) http://www.azsos.gov/public_services/title_09/9-16.htm#Article_1
Disclaimer:
The material included on this site is for informational purposes only.
It is not intended nor implied to be a substitute for professional medical advice. The reader should always consult her or his healthcare provider to determine the appropriateness of the information for their own situation. This blog contains information about our classes available in Chandler, AZ and Payson, AZ and is not the official website of The Bradley Method®. The views contained on this blog do not necessarily reflect those of The Bradley Method® or the American Academy of Husband-Coached Childbirth®.
Although each one of our births was amazing in a different way, our second birth was the closest to a textbook "Bradley" birth.  I refer to our child as "Baby" because we didn't find out the sex during our pregnancy. 
For our current students, you will read that we weren't the best students at doing our practice together - thank goodness we had hired a doula!  She made the difference again, although looking back, she did it in such a way that Bruss was the hero of the birth.  Here it is for you to read: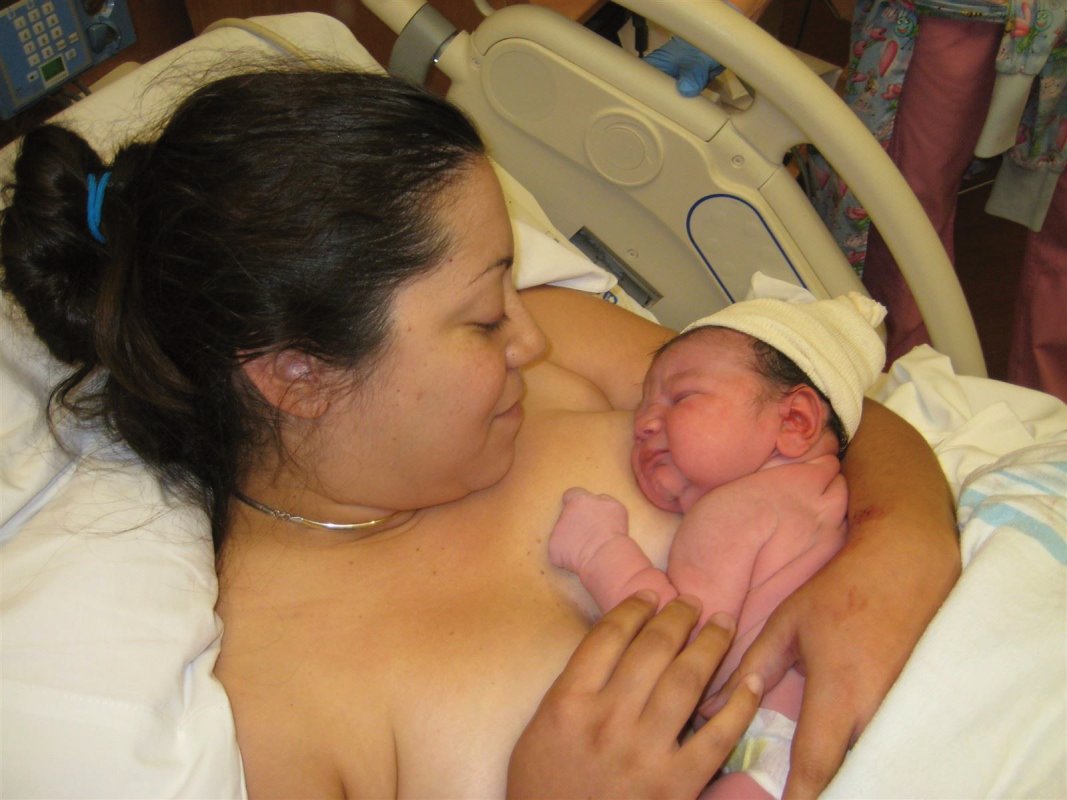 Since almost three years had elapsed since our last birth, Daddy Bruss and I decided it would be a good idea to re-take the Bradley Method® Class, and hopefully, finish the 12-week series.  We had to take the classes with a new teacher since our first teacher didn't have a class schedule that fit our due date.  It was a great opportunity to get a different spin on the same material.  




I also think we paid more attention the second time around since we knew the information was critical if we wanted to have a completely unmedicated and intervention-free birth this time.  Although our practice as a team didn't improve a great deal, I did my solo homework much more diligently.  Based on our last birth, I did more walking, more squats, more Kegels and perineal massage in hopes of having a better labor this time.  




You would think that as second time parents, we would know what labor was and when it started.  So, this baby decided to play games and test us out.  We went to the hospital two times in the week before our due date, and both times they sent us home because we were only in pre-labor.  




The third time we went, my water had really broken.  This was on September 28, 2007, around 3:00 in the afternoon.  We said good-bye to Ysabella and Grandma and left for the hospital around 4:00 p.m. My labor didn't stop once we got to the hospital - yeah!  I attribute this to being calmer the second time around and thus, the"fight or flight" instinct that stopped us the first time around didn't have a chance to throw a monkey wrench in the process this time.  




Our first triage nurse was convinced that she had to give me pitocin even though it wasn't on our birth plan.  We just smiled at her and said, "Order what you need to," knowing it was shift change and I would just take it up with the next nurse if I had to.  




The next triage nurse was cool with our natural labor birth plan, got us checked into our labor and delivery room and sent Doc to deal with us.  We were fortunate to have the same doc from our OB group that had delivered Ysabella, and he and I had a little discussion.  We talked to him around 7:00 PM, and he was willing to give me the same 14 hours that he had given me with Ysabella.  He also gave me fair warning that I was going to work hard, "as if you were going to run a marathon".  




Ironic - that is exactly what the Bradley Method® uses as an analogy in preparing for labor and delivery.  Birth is an athletic event, and if you are going to perform as a top athlete, you condition your body with proper exercise, nutrition and mental attitude to win the event.  I assured Doc that I was ready to "run the marathon" and would appreciate the opportunity to do so.  Away he went and labor kept progressing.  




Labor progressed according to the chart we studied in Bradley class.  (If you have a Student Workbook, it's the chart on pages 38-39 that Bruss likes to refer to in class.)  First stage, late first stage, transition, and second stage.  We walked, we used several squatting positions successfully, and I slept between contractions this time.  As a side note, this is only possible with great coaching - mom has to trust that the Coach is watching the clock and that she will be woken up before the contraction starts.  Good job, Daddy Bruss!   Our doula Madelon was with us again, and she helped us through the tough spots with her low,  gentle voice and her steady, loving hands.  




Before we knew it, I was at the, "Oh my gosh, you people better figure it out because I AM GOING TO PUSH THIS BABY OUT WITH OR WITHOUT YOUR COOPERATION, THANK YOU VERY MUCH!!!"  




They called our new doctor (the OB practice call schedule had a shift change in the morning), who was cool with my birth plan.  Although she had not seen a successful Bradley Method® birth yet, she was willing to assist us and give us the support we needed.  She got in there with the olive oil and did a perineal massage to gently open and soften the vaginal tissues so that they would stretch around the baby without tearing.  




Baby came out after a few pushes - I think it was four good ones and the head came out, then another push and the shoulders, and then one more good push and the rest of baby came out.  Bruss Reynaldo was born at 8:49 am on September 29, 2007 - his due date.  It was such a thrill - we had done it by letting my body follow nature's course, and guess what??  Baby Bruss was 11 pounds, 1 ounce - and I barely tore at all!!!  Doc gave me a couple of "cosmetic" stitches (seriously, who's looking??).  




The mood in the room was giddy, excited, awesome.  No one could believe how big Baby Bruss was, or that he had come out naturally.  He was not the biggest baby that day, but he was the biggest natural delivery.  And just like they testify in the book, Husband-Coached Childbirth: The Bradley Method® of Natural Childbirth, by Dr. Robert Bradley:  an hour later I was walking around the labor and delivery wing, stretching my legs and chasing down the Bruss' in the nursery.  




It was the most amazing event - 18 hours of letting nature take it's course with an unbelievable reward at the end of our "marathon".  After experiencing this, I fully understand why people choose to push their body to the limit in endurance contests - finishing the "run" is one of the most satisfying and fulfilling affirmations of the human experience.  







Disclaimer: 

The material included on this site is for informational purposes only.  It is not intended nor implied to be a substitute for professional medical advice. The reader should always consult her or his healthcare provider to determine the appropriateness of the information for their own situation. This blog contains information relevant to our classes available in Chandler, AZ and Payson, AZ and is not the official website of The Bradley Method®. The views contained in this blog do not necessarily reflect those of The Bradley Method® or the American Academy of Husband-Coached Childbirth®.


0

/