...celebrating every swee​t pea their birth
We had the pleasure of hosting a class reunion at the beginning of August for the families that we taught in the Spring of 2011.
Here is first installment of one of the birth stories we heard that day.  Chelsey and Bryce share their experience in today's video segments.
Below you will find an explanation from Chelsey about what they liked about the classes and the class information that they found useful during their labor and delivery.
We were so happy to meet their healthy young man, Brody!  They made the best of their scheduled induction and ended up with the goal we emphasize throughout the class series: Healthy Mom, Healthy Baby.
Our Bradley Method® Class Experience
~ By Chelsey Bloomfield
The Bradley® classes really laid the foundation for a positive birth experience for us!
We started out not knowing the slightest thing about the whole birthing process... In fact I tried to avoid thinking about what would inevitably come so that I wouldn't be scared or freaked out by it. We were looking into getting a doula because I was terrified of the whole doctor and medical aspect of it, and I was scared that I would get pushed into doing something that I REALLY didn't want. I started looking into which birthing classes I wanted to take because I am a very education oriented person and we figured that it would help put some of my fears to rest. When we were comparing prices we realized we could only afford one thing, a doula vs childbirth classes... and when we signed up for the Bradley Method® classes I knew we had made the right choice for us!
The Bradley Method® outlines from the very beginning how to prepare your body for natural childbirth. I loved that the nutrition and exercises were a central aspect of the classes. Other classes merely focus on teaching you breathing techniques or ways to relax during labor, rather than preparing your body and mind for the entire process ahead of you.
I also loved the background information on what is happening to your body throughout pregnancy and the different stages of labor!!! By understanding what to expect, and how the entire process worked; that information really put my mind at ease.  I felt calm and prepared when I was in the hospital because I knew how the natural process worked and everything my body was going through.
During Labor we really used all of the relaxation techniques.  I specifically found massage, deep breathing, and mental relaxation the most helpful.
The abdominal breathing was the most useful because it gave me something else to focus on instead of the pain or pressure, and it really put me in this state of total relaxation that is quintessential for natural labor.
Also during labor, we relied heavily on the things we covered in Class 8 when we discussed variations and complications.  Since we ended up being induced and having other complications due to my high blood pressure, it was nice to have the tools and understanding to make the right decisions for us, so that we could end up with a healthy mom and a healthy baby.
In the end it all turned out well! The Bradley Method® gave us all the tools we needed to be able to communicate and work together as a team to bring our baby into the world.
My notes on Chelsey & Bryce's Birth Story
I want to thank Chelsey & Bryce for agreeing to share their birth story out on the internet.  I was especially touched by her praise of her husband when she talked about how she couldn't have done it without him.  That is the true testament to their teamwork and we are overjoyed when we see a couple bond over such a moving life experience.
A comment about inductions...and I will state, as per the disclaimer below:  I am not a medical professional, this is NOT medical advice.  What follows below is simply my anecdotal observation about inductions after teaching several couples.
As I have written in a previous post, there are many factors that go into determining your estimated
due date
.  So far, three of our couples have been induced.  Of those three, one ended up in a cesarean birth, while the other two did have a vaginal birth.  In listening to their birth stories, I am starting to think that inductions only progress to a vaginal birth when the body is already SO close to starting labor, that the medical intervention serves to "push" mom into a process that was almost ready to start. 
In reading other internet sources on the subject, it seems that other natural childbirth bloggers and/or websites have come to the same conclusion.  As we teach our students: research, research, research and ask questions when your care provider suggests that you interfere with the natural process.  There are no guarantees that what they are asking you to do will work, so if you do decide to go forward with an intervention or procedure, make sure you do so with true
informed consent
.  Your care provider is not a "mean" or "evil" person - they want a healthy baby for you, too.  It is understandable that their practice history or medical malpractice insurance may skew their approach, however, give them the benefit of the doubt and work together to have the outcome everyone wants: Healthy Mom, Healthy Baby.
Onto another part of their story, this couple did a couple of things that were key to their mostly-natural labor...First of all, Chelsey slept!  Never underestimate the power of sleep in aiding you to physically, mentally and emotionally navigate your labor.  The first thing she did after they induced her was get a good night's sleep - they didn't pay attention too soon.  Yeah!!

The second thing they did well:  they handled the "failure to progress diagnosis" brilliantly.  As you will hear in part two of the video, Chelsey's cervix held steady at a "4" for most of the time after their induction although her contractions kept increasing in intensity.  Once she passed the "5" mark (cervix is half-way to the point of being open enough to push), she progressed from a "7" to a "10" in less than two hours, and they were happily holding their baby in their arms 25 hours and 44 minutes after their induction started.
I was very impressed with this couple's ability to communicate with each other.  Their knowledge and confidence in the natural process allowed them to progress to their epidural-free birth because they were successful in getting their birth team behind their choices and supportive of minimal interventions and vaginal exams.  They also invited Chelsey's mom to be their assistant coach, and she was able to reassure them that based on her own birth experiences, Chelsey's body was working and that they would be meeting their baby sooner than later despite the staff's concern that Chelsey was not progressing.
Great job, team!!

Disclaimer: 
The material included on this site is for informational purposes only.  It is not intended nor implied to be a substitute for professional medical advice. The reader should always consult her or his healthcare provider to determine the appropriateness of the information for their own situation. This blog contains information about our classes available in Chandler, AZ and Payson, AZ and is not the official website of The Bradley Method®. The views contained on this blog do not necessarily reflect those of The Bradley Method® or the American Academy of Husband-Coached Childbirth®.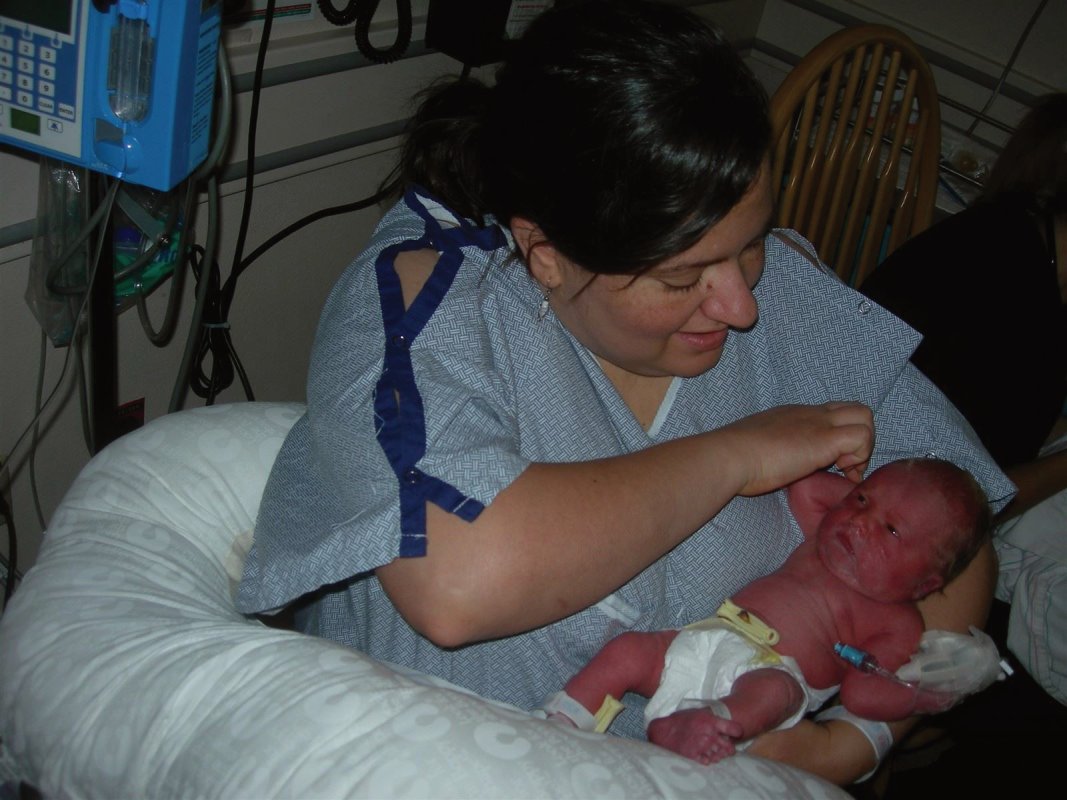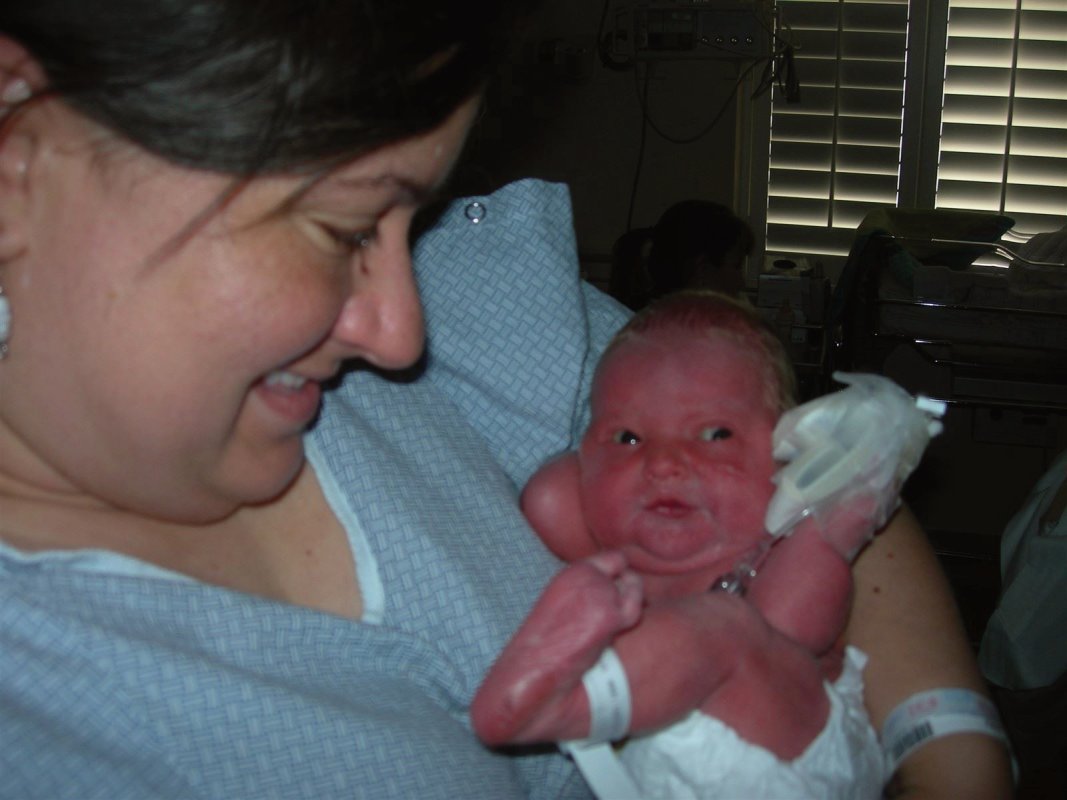 Today is Mother's Day in Mexico.  Since our roles as a mother can stand another day of recognition, I figure why not – let's have another day of good wishes.  I will start off by wishing all the moms a Feliz Día de las Madres! 
We had an incredible birth story over the weekend, and probably one of the most intriguing ones we will have as instructors of The Bradley Method®.  With the mom's permission, I am going to share their birth story today.  Their baby was born at 35 weeks and both mom and baby are doing well.  The dad "caught" their daughter as mom was getting out of the hotel bathtub!
One of the topics we cover over the course of the series is Emergency Childbirth.  We do this for the "just in case" instance when a couple has an unintentional unassisted birth.  Let me be clear that The Bradley Method® does not endorse unassisted deliveries, meaning that a conscious decision is made to not have a trained professional present at the birth of a child.  However, the American Academy of Husband-Coached Childbirth® acknowledges that sometimes parents don't recognize the signs of labor (especially first-time parents) and babies will come when they are ready.  Our curriculum addresses this circumstance in recognition that it is better to give some basic information about how to handle this situation rather than leaving a mom and her coach unprepared for the outside chance that they find themselves having to deliver their child outside of their planned birth setting.
In one of life's little twists, I had just been loaned the text "Emergency Childbirth: A Manual" by Gregory J. White, M.D. on Friday.  It is recommended reading for all Bradley instructors and I started reading it over the weekend.  The Bradley Method® designed their Emergency Childbirth class section from Emergency Childbirth, a joint publication of the U.S. Department of Defense, Office of Civil Defense, the U.S. Department of Health, Education and Welfare and the American Medical Association.  Little did I expect to hear yesterday morning that the class information was put to good use by one of our students!
When I first shared the story with mom's classmates, the other moms were incredulous.  How could she not know she was in labor?  Was her labor short?  Was labor going to be so easy that their babies are just going to appear without a big fanfare?
Well, this is the story as best as I can put it together for now.  I still haven't gotten to hear the story from Mom and Dad together – when we do, I will film it and add it to our Birth Story video archive.  Here is Baby Caroline's Mother's Day birth story:
Mom and Dad had been planning and practicing for a homebirth with a midwife.  They decided to take Bradley Method® classes so that Dad would know how to coach mom through labor while the midwife attended to mom's and baby's needs as the labor progressed.  Their hope was that the Mom's mother would also be in town as an assistant coach.  Either way, Dad was ready to be Mom's go-to guy.
Mom was woken up on Friday morning by a strong sensation in her abdomen.  In Arizona, per statute R9-16-108 (see Reference 1), a midwife cannot attend a birth unless mom is between 36 and 42 weeks of gestation.  Since Mom was only at 35 weeks gestation and their midwife was heading to Florida to see her grandchildren, she decided not to pay attention to the tightening.  She also had a conversation with her sister who is studying to be a midwife and failed to mention the tightening to her.  Looking back, Mom reflected that she didn't want to be told to go to the emergency room, so she decided to move on with her day.
Saturday found the couple down in Tucson spending time with Dad's family and enjoying the Mother's Day holiday weekend.  Mom was baking bread with her sister-in-law and SIL noticed that Mom was pausing every once in a while.  Mom told her SIL she was having some contractions but she was only 35 weeks, so it couldn't possibly be labor, right?  SIL concurred that it was probably just her uterus getting ready for labor. 
After celebrating Mother's Day with Dad's family on Sunday, Mom and Dad were getting ready to head up to Phoenix for Dad to attend a conference.  Mom finally had a contraction that took her breath away, and she told Dad, "Let's use this one to practice our relaxation."  Dad agreed and started with a back rub, moved to the front where mom curtly told him "Don't touch my uterus!"  He continued with a back rub and then worked his way forward again and Mom had to tell him not to touch again because it was too uncomfortable.  (Students:  what phase of labor is she in?)
Mom admits upon looking back now that she was just in denial.  They made the drive from Tucson to Phoenix and got to the hotel.  Mom felt a gush of water and thought that she had wet her pants.  She was hot and sweaty and she threw up once they were in their hotel room.  (Students:  what phase of labor is she in now?)  She was very uncomfortable and decided to lie down.  She told Dad that she must have a really bad case of food poisoning and that the best thing to do was lie on her side and be still and relax through the terrible discomfort she was experiencing.  Dad did his best to comfort mom at this time and stayed by her as she was in bed.
All of a sudden, Mom declares that she has to have a bowel movement.  She sat on the toilet and was pushing, but nothing was coming out of her anus.  She checked and couldn't believe that she couldn't pass this painful stool.  Mom and Dad agreed that a bath would help Mom relax her muscles and then maybe she could relieve herself.  So Dad drew the bathwater and Mom got in.  Dad reported that Mom felt instantly relief in the water, so that made them feel better.
Well, the next thing they know, the bath water turns red.  Now the couple is truly concerned and they call 911.  Dad reports that the 911 dispatcher "didn't buy" the constipation story and told Dad to have Mom get out of the water and see if he could see the baby's head. 
Mom lifted herself out of the water, and Dad reports that in the very next instant, Baby Caroline made her appearance.  Dad caught their daughter and it was official – not only was he a Bradley Dad, he became a Bradley Dad who caught the baby!
Mom relayed that the next few minutes were very peaceful.  Baby Caroline did not cry, yet she was breathing on her own and very alert.  She says that they admired their daughter and held her and enjoyed their incredible accomplishment – their new baby and her incredible birth story.  When they got to the hospital, Baby Caroline was declared to be a 10 on the Apgar scale and she weighed in at 5 pounds, 5 ounces. 
What did Mom and Dad do well as per the instructions we cover in class? 
- They stayed calm, and Dad reassured Mom that everything was okay (although Dad says if we hear the 911 tape it will sound like he "lost his mind"). 
- They kept their hands away from the birth canal. 
- They verified that their daughter was breathing well after she was born and put her face down on Mom's abdomen to stay warm. 
- When the baby was crowning, they did not pull on her, they just let her be born naturally. 
- They did not pull on the cord and let the placenta (afterbirth) come naturally. 
They ended up going to the hospital in an ambulance and have had many unwanted interventions due to their "unsterile" birth.  I am happy to say that after two very trying days at the hospital, the family finally seems to be getting the support they need and hope to be released with their very healthy baby girl tomorrow. 
I want to thank the family for allowing me to share their incredible birth story with you.  I hope that you can read this and recognize that childbirth without drugs is possible, and that if you don't pay attention too soon, you can manage most of your labor without too much trouble.  Mom slept both Friday and Saturday nights because she ignored her labor!  She looks great, has good energy and her body is busy making food for their baby thanks to the rest she got during their labor.
As I mentioned earlier, The Bradley Method® does not endorse unassisted deliveries.  An experienced childbirth couple probably would have recognized the signs of late first stage and/or transition and gotten to their chosen birthplace with ample time to deliver with a trained assistant.  In this couple's case, they were too far from home to make it there and their midwife was not available, so their birth plan would have changed to a hospital birth at the last minute.  I am so happy that "all's well that ends well" and that Baby Caroline will have a very unique birth story to share for the rest of her life!
References:
 (1) http://www.azsos.gov/public_services/title_09/9-16.htm#Article_1
Disclaimer:
The material included on this site is for informational purposes only.
It is not intended nor implied to be a substitute for professional medical advice. The reader should always consult her or his healthcare provider to determine the appropriateness of the information for their own situation. This blog contains information about our classes available in Chandler, AZ and Payson, AZ and is not the official website of The Bradley Method®. The views contained on this blog do not necessarily reflect those of The Bradley Method® or the American Academy of Husband-Coached Childbirth®.
Although each one of our births was amazing in a different way, our second birth was the closest to a textbook "Bradley" birth.  I refer to our child as "Baby" because we didn't find out the sex during our pregnancy. 
For our current students, you will read that we weren't the best students at doing our practice together - thank goodness we had hired a doula!  She made the difference again, although looking back, she did it in such a way that Bruss was the hero of the birth.  Here it is for you to read: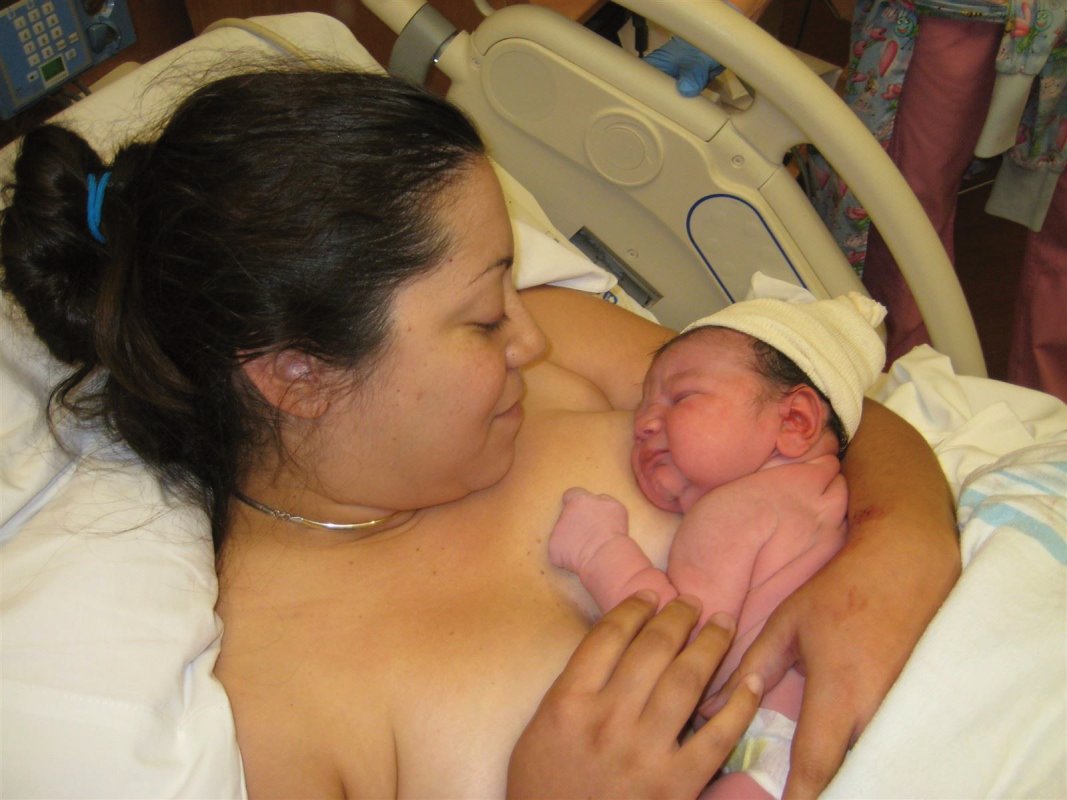 Since almost three years had elapsed since our last birth, Daddy Bruss and I decided it would be a good idea to re-take the Bradley Method® Class, and hopefully, finish the 12-week series.  We had to take the classes with a new teacher since our first teacher didn't have a class schedule that fit our due date.  It was a great opportunity to get a different spin on the same material.  
I also think we paid more attention the second time around since we knew the information was critical if we wanted to have a completely unmedicated and intervention-free birth this time.  Although our practice as a team didn't improve a great deal, I did my solo homework much more diligently.  Based on our last birth, I did more walking, more squats, more Kegels and perineal massage in hopes of having a better labor this time.  
You would think that as second time parents, we would know what labor was and when it started.  So, this baby decided to play games and test us out.  We went to the hospital two times in the week before our due date, and both times they sent us home because we were only in pre-labor.  
The third time we went, my water had really broken.  This was on September 28, 2007, around 3:00 in the afternoon.  We said good-bye to Ysabella and Grandma and left for the hospital around 4:00 p.m. My labor didn't stop once we got to the hospital - yeah!  I attribute this to being calmer the second time around and thus, the"fight or flight" instinct that stopped us the first time around didn't have a chance to throw a monkey wrench in the process this time.  
Our first triage nurse was convinced that she had to give me pitocin even though it wasn't on our birth plan.  We just smiled at her and said, "Order what you need to," knowing it was shift change and I would just take it up with the next nurse if I had to.  
The next triage nurse was cool with our natural labor birth plan, got us checked into our labor and delivery room and sent Doc to deal with us.  We were fortunate to have the same doc from our OB group that had delivered Ysabella, and he and I had a little discussion.  We talked to him around 7:00 PM, and he was willing to give me the same 14 hours that he had given me with Ysabella.  He also gave me fair warning that I was going to work hard, "as if you were going to run a marathon".  
Ironic - that is exactly what the Bradley Method® uses as an analogy in preparing for labor and delivery.  Birth is an athletic event, and if you are going to perform as a top athlete, you condition your body with proper exercise, nutrition and mental attitude to win the event.  I assured Doc that I was ready to "run the marathon" and would appreciate the opportunity to do so.  Away he went and labor kept progressing.  
Labor progressed according to the chart we studied in Bradley class.  (If you have a Student Workbook, it's the chart on pages 38-39 that Bruss likes to refer to in class.)  First stage, late first stage, transition, and second stage.  We walked, we used several squatting positions successfully, and I slept between contractions this time.  As a side note, this is only possible with great coaching - mom has to trust that the Coach is watching the clock and that she will be woken up before the contraction starts.  Good job, Daddy Bruss!   Our doula Madelon was with us again, and she helped us through the tough spots with her low,  gentle voice and her steady, loving hands.  
Before we knew it, I was at the, "Oh my gosh, you people better figure it out because I AM GOING TO PUSH THIS BABY OUT WITH OR WITHOUT YOUR COOPERATION, THANK YOU VERY MUCH!!!"  
They called our new doctor (the OB practice call schedule had a shift change in the morning), who was cool with my birth plan.  Although she had not seen a successful Bradley Method® birth yet, she was willing to assist us and give us the support we needed.  She got in there with the olive oil and did a perineal massage to gently open and soften the vaginal tissues so that they would stretch around the baby without tearing.  
Baby came out after a few pushes - I think it was four good ones and the head came out, then another push and the shoulders, and then one more good push and the rest of baby came out.  Bruss Reynaldo was born at 8:49 am on September 29, 2007 - his due date.  It was such a thrill - we had done it by letting my body follow nature's course, and guess what??  Baby Bruss was 11 pounds, 1 ounce - and I barely tore at all!!!  Doc gave me a couple of "cosmetic" stitches (seriously, who's looking??).  
The mood in the room was giddy, excited, awesome.  No one could believe how big Baby Bruss was, or that he had come out naturally.  He was not the biggest baby that day, but he was the biggest natural delivery.  And just like they testify in the book, Husband-Coached Childbirth: The Bradley Method® of Natural Childbirth, by Dr. Robert Bradley:  an hour later I was walking around the labor and delivery wing, stretching my legs and chasing down the Bruss' in the nursery.  
It was the most amazing event - 18 hours of letting nature take it's course with an unbelievable reward at the end of our "marathon".  After experiencing this, I fully understand why people choose to push their body to the limit in endurance contests - finishing the "run" is one of the most satisfying and fulfilling affirmations of the human experience.  
Disclaimer: 
The material included on this site is for informational purposes only.  It is not intended nor implied to be a substitute for professional medical advice. The reader should always consult her or his healthcare provider to determine the appropriateness of the information for their own situation. This blog contains information relevant to our classes available in Chandler, AZ and Payson, AZ and is not the official website of The Bradley Method®. The views contained in this blog do not necessarily reflect those of The Bradley Method® or the American Academy of Husband-Coached Childbirth®.

Thanks for your patience through all our technical difficulties.  Part 2 of the Birth Story is up!
Olivia, Cody and Baby CJ share their Birth Story  
This family was the first family to deliver from our Fall series, and they wanted to come share their story during our Coach Class.  Olivia felt that their labor would not have been what it was without Cody's great coaching, and their Birth Story is shared in two parts via YouTube. 
Please click on the accompanying links to hear about their birth, their feelings about taking The Bradley Method® classes, sleeping during labor, coaching, and their view on the somewhat controversial baby-led vs. scheduled baby care.  
Olivia uses the word "lucky" in regards to their experience several times in the video, and you'll see it in the answers below as well.  I see it as not just luck, but a reflection of how prepared they were:  Practice makes Prepared.  They showed up to class every week, paid attention to mom's exercise and nutrition, and practiced their relaxation outside of class time.  All those things added to the "luck" that was with them throughout their labor and delivery.  
I transcribed the Question and Answer portion of their presentation.  I also added some notes that be of interest to reader's who haven't taken Bradley Method® classes.  Feel free to read all the questions, or jump to the ones that apply to you and/or interest you.  
Question:  Which hospital were you at?
Answer:  Banner Gateway – we really liked Banner Gateway.  Our Labor and Delivery room was huge – it was awesome.  Our recovery room was really comfortable.  The nurses are awesome.  There are great nurses there – everyone was really good.  
Cody:  One thing we forgot to mention [during our Birth Story] was having to get the student [nurses] out.  There were a couple of times they tried to bring students in.
Olivia:  And Cody was like, "No, sorry, get out."  Which at that point, I didn't care if the whole Mormon Tabernacle Choir was in there.  You really do lose modesty; you don't care.  You're so uncomfortable; it feels like everybody is down "there" anyway.  
Question:  This week is "Coach's Week".  Is there anything you want to tell the coaches that you learned from Bradley classes, what you learned through the process of labor, any recommendations?
Cody:  I know it's a lot of pressure, but you are kind of, like, the only one there.  And I think you need to take that responsibility on for your wife to feel comfortable.  She is not going to feel comfortable knowing that there is any responsibility on her.  I think you need to take ownership of your birth plan, anything that happens; if it doesn't go the way you want it to, that's your job to make sure it goes the way you two have discussed.  And I would also suggest having some help there…that's what stressed me out the most…having to go between the baby in the nursery and mom.  It would have been nice to have someone there with us, or at least in the waiting room, where you could say, "Hey, come here" so no one would be left alone.
Olivia:  Even a doula; we thought about a doula and considered it, and we were, like, we'll try it just us.  And I think that next time, we probably will [have a doula].  It would be nice for Cody to be able to go and just leave me in the room.
Cody:  I would also say have an arsenal of what works that relaxes your wife, and go through those and be familiar with them.  If the first time you do them is when you're in labor it's not really going to work.  And with us, as with other couples that I heard, what worked for them the most before labor didn't work for them in labor, so have an arsenal of things that you can use.  And also I think the most useful thing for me was knowing the signs for the stages of labor, how it progresses and helping her recognize them.  That kind of gave her confidence, that, "This is good!"
     I would also suggest taking a lot of time off of work.  I loved having just the three of us at home.  It made the whole "getting used to" having another person in the family more enjoyable.  It was a celebration of CJ being home.  I took three weeks off of work – it was really nice.  
Question:  Did you put together a "Coach Book" for yourself with some of the materials [from class]?
Cody:  I actually had little cards of the stages.  I printed up a pocket-sized version of those and reviewed them.  We actually wrote down what we would do in certain situations.  We wrote down, "We'll be at home until we have these contractions."
Olivia:  You know, that [student workbook] is really great. Review it as much as you can before – have it with you in your head, because you won't forget.  You (gestured at the coaches) especially won't forget.  You'll get nervous, but you'll remember.
Cody:  She did go through and mark the things we'd need to know in the moment with tabs.  We had it with us, but there was never time to look at it.
Olivia:  He did get to review it before we went to the hospital, and he was really on top of it.  He did all the homework every week…luckily, he knew what he needed to know.  
Question (from a coach):  That's my thing is, I am worried that once I am in the moment, am I just going to blank out?
Olivia:  You won't - you will be amazed.  It's exciting – it's super-exciting and you will be super-excited and you'll remember.  You really do – you'll be surprised how much you remember.  It's actually funny to say this, but it's such a natural thing – it just happens.  There were a couple of times where I was scared and that's why it was really lucky that we know that was part of it: being scared, being a little unsure of yourself is all a part of it.  So knowing that actually made it a little more doable.  And it is doable.  People would tell me before, women that had babies naturally: it is painful, and it's the hardest thing you'll ever do, but – you can do it. I am excited to try again with the next one knowing what I know now.  It makes me feel even more confident.  
Question:  How much did he weigh?
Olivia: 8.5 pounds
Cody: All the protein she ate.
Olivia:  Good stuff!  The [Brewer] diet is awesome – it's a really great thing.  In the beginning [of the class series] I was opposed to writing down everything I was eating and annoyed with it.  Now I actually pulled out my nutrition sheet the other day and I was like, "I'm going to start doing the [Brewer] diet again!"  I felt really great eating all that protein and he's been really healthy.
     My note: The Brewer Diet is taught by all Bradley Method® instructors.  It was developed by Dr. Tom Brewer to help pregnant women achieve optimal nutrition during pregnancy, eating a well-balanced diet from all the food groups and achieving a daily protein intake between 80-100 grams of protein. By following his dietary suggestions, research suggest that the baby's birth and overall health outcomes are improved; while minimizing the mom's possibility of developing pre-eclampsia or toxemia of late pregnancy. 
Statement (from a mom-to-be):  I don't know what to expect.
Olivia: No matter who you are, it's going to be different.  I would like to tell you what to expect, but it will be different for you.  It will be so worth it.  And if you have to use the drugs, don't worry about it.  There were times I was so consumed with having the baby naturally that it stressed me out.  Well, what if I needed the drugs?  Just letting go of that helped.   
     My note:  The Bradley Method® classes teach couples how to ask questions regarding interventions, including drugs used during labor and delivery.  Especially if they are in a non-emergency situation, we teach that you can ask questions.  At a minimum, couples can ask "why" is an intervention indicated, that they know "what" the intervention entails, what some alternatives might be, and then evaluate whether the benefits of the procedure or drug being offered outweigh the risks to mom and baby.In addition, we talk about being prepared to make choices.  We discuss possible deviations in the course of a natural labor, and invite our couples to talk about what their choices might be as they formulate their birth plan so that they are mentally prepared for dealing with those options ahead of their actual labor. 
Closing advice from Olivia:
Regarding the end of labor:  You do get an energy surge – you think that you don't have anything left, and then you find that you do.  And after the baby is born, there is another adrenalin rush – I didn't go to sleep until 11:30 that night (CJ was born at 7:30 am). 
Regarding breastfeeding:  Breastfeeding is challenging.  If that's what you are planning on doing, it's good to take some classes.  And it's nice to talk to other women who are doing it.  That was probably more difficult even than the delivery, was getting used to the breastfeeding.
Disclaimer:
The material included on this site is for informational purposes only.
It is not intended nor implied to be a substitute for professional medical advice. The reader should always consult her or his healthcare provider to determine the appropriateness of the information for their own situation. This blog contains information about our classes available in Chandler, AZ and Payson, AZ and is not the official website of The Bradley Method®. The views contained on this blog do not necessarily reflect those of The Bradley Method® or the American Academy of Husband-Coached Childbirth®.
We had graduates Angie and Cody and Baby Tinsley visit our class last night.  Angie and Cody were star students, meaning that they did everything possible to stay healthy and low-risk to increase their chances for a natural birth.  
Angie was faithful in eating a well-balanced diet and eating a minimum of 75 grams of protein on a daily basis.  This kind of diet provides mom and baby plentiful nourishment and a full compliment of vitamins and minerals.  In baby, it builds strong, vital organs and body to handle the stress of labor.  For mom, it's the best opportunity for healthy uterine tissues as it stretches to accommodate baby, as well as the energy reserves for labor.  
Angie also exercised on a daily basis.  Before she started classes, she was running every day.  After she learned some different ways to condition her body without taking the risk of undue pressure on her body, she opted for aqua aerobics for her stamina building and did her pregnancy exercises daily to strengthen the muscles she would use in labor and delivery.  
Thirdly, they were relaxation experts.  Cody would do relaxation practice every night when he got home from work.  He claimed it was the best way to get Angie to sleep after her busy days!  
Angie went into labor on Saturday morning at 2:00 am.  Tinsley was delivered via cesarean surgery on Monday afternoon.  Their total labor from start to the cesarean was 63 hours.  Although they did everything right to prepare, sometimes there are labors that end in a cesarean.  After input from their certified nurse-midwife, the parents decided to have a cesarean instead of more labor, with the prevailing thought that the most important outcome is Healthy Mom, Healthy Baby.
For the full story, check the blog on Friday.  You will get to watch a video as they share their experiences with our class.  For today, here are the questions and answers between the family and our students last night.  
Question:  Were you allowed in the operating room?
Cody: They actually let me stand there and watch her come out.  They put a doughnut around mom's skin so you can't really see inside.  You see the midwife up here [by mom's ribcage] and the doctor down here [by the abdominal area], and the midwife is just shoving her elbow into her stomach.
Angie: I wondered why I was in so much pain; why my ribs were in so much pain afterwards.  And he told me the midwife had her elbows on you, shoving her out.
Cody:  And how [Tinsley] shot out is just like what you see on the videos with a natural birth.  
Question: Going into the c-section, what were additional options or choices you had?
Cody:  [The midwife] told us we could wait, which we thought about it, and with how long it had been so far, we didn't want it to get stressful on the baby.
Angie:  Like I said, when [the midwife] basically said that, and I hate to say this because I feel like I gave into what she wanted, but when she said, " I feel like in the long run you are going to end up with a c-section, I feel like the shoulders are hitting, she's too big, she's not going to fit through", and thinking now, I shouldn't have [agreed].  I feel like I should have waited a little longer, you know? I guess, my thinking was I didn't want to get the baby stressed, there could have been more complications because they were stressing to get her out.  But at that point there weren't any signs of stress.  
(My note:  It is possible that Angie's great nutrition factored into Tinsley handling 60 hours of labor without showing any signs of fetal distress.  She was strong and well-nourished, making the long labor a possibility for this family.)  
Question:  Once you said you were going to have a c-section and you were on that track, what other kinds of choice did you have to make? Cody:  We had said, if possible to put [Tinsley] to the breast, but it wasn't possible at that time.  Also we wanted to know if I could cut the umbilical cord, and they said no.  Me being there – I was standing by [Angie's] head the whole time and they said I could stay with her – that, we got.  
Question:  Was the placenta removed as well?
Cody:  That was another [choice we had to make], the uterus being pulled out of her abdominal cavity [as part of the surgery].  We told them we didn't want them to, because sometimes they do that.  So they pulled the placenta out all at the same time.  Right as soon as the baby came out, they took her to mom's head so she could see her, and then me and [the nurse] went over to [the incubator] to wipe off baby's vernix.  Then, right after that, while [Mom] was getting sewn up, we went to the nursery to give Tinsley her bath.  
Question:  Did you have double-stitching for repair?
Cody:  We did not have a birth plan for a c-section. 
Angie: It was like "that" long. (Angie gestures to show a 2" space)
Cody:  That was not allowed, basically.  We thought that everything was going to go perfectly, have the baby in 24 hours and be out.  But there was one thing we did put on there, double-stitching [the uterus], because we felt that could give us the best chance for a vaginal birth next time, if that's what we wanted.  
Question:  Did you have a doula?  Where was she during surgery?
Cody: We did, but [the hospital] only allowed on person in [the operating room].  Our doula was out in the waiting room with the grandmas.  
Question:  Looking back now, is there anything you would have done differently?
Cody:  More walking. It caused her a lot of back pain, so we didn't do it as much.  But we should have walked more.
(My note: In class we talk about how walking can open the inlet of the pelvis, and this can help shorten the length of labor.  Additionally, back pain while upright might indicate a posterior, or "sunny side up" baby:  the bony back of the baby's head is against the spine causing a lot of discomfort.  There are several things that can be done to help turn the baby into an occiput anterior position, the optimal position for labor and delivery.)
Angie:  After that first contraction at 2:00 am on Saturday woke me up – literally I rolled out of bed and landed on all fours to handle that.  None of the Braxton-Hicks contractions had ever made me do that.  I should have recognized that and I should have slept that day.  Instead, I went on a two-hour walk with my mom in the next neighborhood, watching people put up their Christmas lights.  Then I showered and my mom and I went to IKEA to wander around for a couple of hours.  I should have realized sooner that I was in labor.  I think I didn't because I have a high pain tolerance. It wasn't until we were on the way home from IKEA and the clock in the car was in my face that I realized the contractions had a consistent pattern – about 12 minutes apart.  I should have slept on Saturday instead of doing everything I did.
     All through labor the pain was manageable – nothing made me stop in my tracks and take my breath away.  I think that it might have been everything we learned in Bradley® class – the relaxation, using abdominal breathing, working together, counting the contractions.  It did make it hard to recognize true labor, though, because I never felt like I was in pain.  
Question:  What did the epidural feel like?
Angie:  It was the weirdest feeling ever.  I felt like a whale – like dead weight when I have to be moved, like I weighed 300 pounds.  I could only move my hands.  I hated every minute of it.  For the surgery, they doubled the dose. 
Cody: The after effect was a lot of shaking, uncontrollably.  
Question:  When did they remove the catheter?
Angie: Not until the epidural wore off.  The surgery was around 5:00 pm, and they took the catheter out sometime in the middle of the night.  
Question:  How was your recovery?
Angie:  I am not going to lie to you – it was awful.  Because I was in labor so long, and the added stress of the cesarean surgery, I had a lot of fluid built up.  About a week after the surgery, they had to re-open a corner of the incision to drain the fluid. The first time they did it, I felt like my bag of waters broke again – there was that much fluid.  I had to go to the doctor three times a week for a while to the dressing changed, and then twice a week.  
Question:  How did the breastfeeding go?
Angie:  If it weren't for Cody, we wouldn't have made it.  He was there to help us and support us – literally. I was so engorged – there is the analogy of latching onto a balloon.  On top of that, I was so out if it – it took me three weeks to get out of what I called "the zone".  Cody did everything to support our breastfeeding.  He would stand behind me in the rocking chair, and hold my breast – "sandwich" it like they showed us, and then hold Tinsley so that she would latch, and then he would hold the baby while she nursed. I can encourage you to stick with it, ask for help, call your Bradley® instructor – there are a lot of resources out there.  We eventually figured it out.  Cody came home from work one day and I was breastfeeding without him there – it had finally clicked!   
A big thanks to Angie, Cody and Baby Tinsley for coming to share their birth story with our students.  We appreciate their allowing us to use their experience as a "teachable moment" for our current class.
Disclaimer:  The material included on this site is for informational purposes only.  It is not intended nor implied to be a substitute for professional medical advice. The reader should always consult her or his healthcare provider to determine the appropriateness of the information for their own situation. This blog contains information about our classes
available in Chandler, AZ and Payson, AZ and is not the official website of The Bradley Method®. The views contained on this blog do not necessarily reflect those of The Bradley Method® or the American
Academy of Husband-Coached Childbirth®.
We had graduates from our fall class, Elana, Dean and Baby Eli, tell us their birth story at last night's class.  This family had an outcome that was very close to the plan they wrote using information they learned in class, research on the internet, and feedback from their care provider.
They emphasized that although you write a plan, it is also important to be flexible and make decisions that result in having a healthy mom and a healthy baby.  Here are the questions that the class asked after hearing their birth story:
1.  In response to hearing that Mom had to wait to push until the doctor arrived from her office hours:
A coach asked:  I thought your doctor would be at the hospital when you are in labor?
Answer:  It depends on your doctor's practice protocol.  In a large practice with several doctors, there is probably a doctor on call at the hospital every day – they take turns doing 24 hour shifts at the hospital.  In a single-practitioner office, they may have a doctor they partner with so that they can have time off and do "on-call" for each other.  This particular doctor works 3 miles away from the hospital where she has privileges, and she had been in contact with the nurses' station throughout the day to check in on Mom's progress.  If you have a concern about who will attend your birth, clarify what your doctor's protocol is and figure out if their protocol matches your expectations.
2.  Upon hearing that our graduates asked almost every care person that attended to mom if they had read the family's birth plan, a student asked:  So you walk into the hospital with a piece of paper - what do you do with it?  Who do you give it to?
Answer:  You bring your birth plan with you to the hospital.  Bring several copies just in case a nurse or care provider hasn't read it in your file before they visit you in your labor and delivery room.  If you arrive at a point in your labor that you are admitted, you give one to the triage nurse upon admission.  Keep the others with you so that you can post one in your room, and pass them out if necessary.
     A birth plan informs your care team about your wishes for a normal, uncomplicated labor.  It can also outline your wishes in the case of an emergency situation.  It also serves as a point of reference for any decisions you are faced with in your labor.  Before you were in the heat of the moment, how did you feel about the options and choices that you are faced with during labor and delivery?  This helps remind you and your care providers what your wishes are regarding your care.
     In the event that you have to deviate from your birth plan, you and your partner have probably already discussed how you feel about different options in the process of preparing your birth plan.  You are both probably in a better position to make an informed decision regarding Mom's care.
     This couple had also outlined their wishes for baby's care after he was born – they did express that the only person who probably didn't read the birth plan was the baby nurse.  In the wave of emotion that they were caught up in after the birth, they forgot to ask if she had read the birth plan. Although she didn't follow their exact wishes, they felt like baby had the best care possible given the lack of communication.
3.  After hearing Mom's side of the story, a pregnant student asked:  So what does it feel like?  Is it what you expected?
Graduate's Answer:  If you have ever had cramps in the abdominal area, or (sorry if this sounds gross) you have had a big bowel movement, it's just magnified.  They are sensations you have already had, just "bigger".  It will feel like the biggest poop in your life, but it will be such a relief, it will feel so good when you are holding your baby.  If it tells you anything, I would do it again!
Disclaimer:  The material included on this site is for informational purposes only.  It is not intended nor implied to be a substitute for professional medical advice. The reader should always consult her or his healthcare provider to determine the appropriateness of the information for their own situation. This blog contains information about our classes
available in Chandler, AZ and Payson, AZ and is not the official website of The Bradley Method®. The views contained on this blog do not necessarily reflect those of The Bradley Method® or the American
Academy of Husband-Coached Childbirth®.
/