Shopping Cart
Your Cart is Empty
There was an error with PayPal
Click here to try again
Thank you for your business!
You should be receiving an order confirmation from Paypal shortly.
Exit Shopping Cart
...celebrating every swee​t pea their birth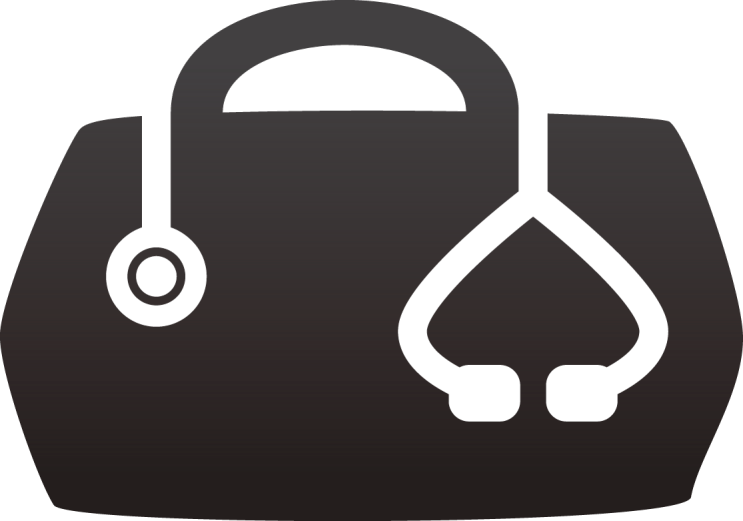 "Care providers" was the topic of birth circle last night.  It's curious because just this week I got a call from a midwife that I respect along the same topic.
One of the tenants of The Bradley Method® is consumerism.  We advocate that parents are responsible for the decisions they make, therefore their choice of care providers is one that should not be taken lightly.  This decision may be one of the greatest factors that determine the kind of birth they will have for their child.  We encourage them to find a provider that supports the choices and options they want available for their birth.  Here in the Phoenix area, there are many options for the hospital, birth center or home settings: obstetrician, certified nurse midwife and licensed professional midwife. 
We ask that they consider hiring someone they can have open communication with – that there is a mutual respect.  The student has to respect their provider's training and knowledge.  We hope that the care provider will respect the student's interest in making the best choices possible and advocating for mom and baby with information they have learned for themselves.  Above all, a student has to trust that their provider has their and their baby's best interest in mind.  You have to believe that they want a Healthy Mom and Healthy Baby outcome just like you, or they wouldn't be making the recommendations they are for your care, or insisting on having certain protocols in place for your care.
If you don't believe your provider will support you in your decision to have a natural birth, and/or you feel that they do not have your best interest in mind, think about doing your research and find someone who you can trust and that you do feel has the same beliefs about birth and your choices that you do.  You will be glad you made the switch when you have the birth with a provider who helped you have the Healthy Mom, Healthy Baby birth you prepared for.
This sentiment is reflected among many advocates of natural birth, not just the Bradley Method®.  There was a Hypnobabies® instructor, a few independent childbirth educators and doulas in attendance at last night's meeting.  Many of them gave examples of former clients who had been well-served by making the decision to change providers even as late as the last weeks of their pregnancy. 
So how do you find this care provider that has your best interest in mind and supports your choice for a natural birth?  First, ask your current care provider how they feel about the choices you want in your birth.  As much as possible, make them open-ended questions.  It's easy to say "yes" when they want your business, or maybe they haven't thought through what a "yes" answer means.  Later in your pregnancy what you thought was a "yes" may turn into a "maybe" or a "no" for a host of reasons, and if you don't trust them when they tell you why the answer has changed, you may or may not have the birth you wanted.
For example:
"Will you support my desire for a natural birth?"
vs.
"What has been your experience with couples who want a natural birth?"
Can you see how the first question is a "yes" or "no" answer, while the second one might get you closer to their true feelings about natural birth?
Second, you can ask around.  Do you know someone who had the type of birth you want?  Ask them who their care provider was and see if they are 1.) taking new patients, 2.) a match with your insurance carrier if you have insurance coverage and you want to stay in-network, and 3.) a good fit with your personality, which leads me to…
Thirdly, be willing to interview a few providers before making a final decision.  There are plenty of books and websites out there that have lists of questions, so I am not going to repeat their good work.  I will direct you to the book Natural Childbirth the Bradley Way by Susan McCutcheon for one of my favorite lists.  Some providers will grant you time with them for no charge, where others will charge you for their time.  One mom at birth circle relayed her experience of having to pay 3 different doctors a $125 office visit fee when she was looking for a doctor that would support her choice to try for a VBAC.  Although it was pricey, she said it was money well spent.  It gave her the opportunity to have the VBAC she wanted with a doctor who supported her choices while she kept an eye on the healthy mom, healthy baby aspect throughout the birth.
If you are leaning towards or firmly set on a natural birth, it would a good idea to find out your care provider or the practices cesarean rate.  If it's higher than the
World Health Organization's recommended 10 - 15%
, you have more questions to ask.  Along those lines, if you are in a practice with multiple providers, you would be wise to ask how many of them support natural birth.  If their call schedule rotates and you don't know who you will "draw", you need to consider what that means for your birth choices.
Another consideration if dad wants to be actively involved in supporting mom through her birth is to have them interact with your provider.  Rachel Davis brought this point up in
her doula post
.  If a potential care provider respects dad and treats him as part of the birth team, then you will probably have a good experience in the labor space.  If the provider keeps directing the conversation towards mom and excludes the dad, then this might be an indicator for the way he will be treated in the labor space.
Lastly, don't be afraid to change providers if you feel any hesitation or reluctance on either side of the relationship.  It is harder for us to "break up" with them since we have an ingrained loyalty to our care providers.  We hold them in high esteem and we would never want to hurt their feelings.  Remember that you are one of many patients they are going to see that day, so they may not take the "break up" as hard as you think they are.  If they do, have an open dialogue with them and see if you still feel the same after talking it out.
We tell our students that care providers see the good, the bad and the ugly about birth.  If they are saying no to something, or asking you to consider, or take action it is because a personal experience, or an experience in their practice has influenced the way they approach labor and delivery.  They are the professionals and they know birth! 
If and when your care provider is saying no to something you want, or they are making suggestions during your pregnancy or labor, they have a good reason.  Listen to them and thoughtfully consider it if there is time.  If there isn't time because mom and/or baby is in trouble, you want to be able to rest easy in the knowledge that you hired someone you trust will do the best for you so that both mom and baby are healthy after delivery.
Example: if you have had no interventions and mom and baby look like they need a position change to help baby out, you need to trust their suggestions.  If mom and baby have done well with no interventions and suddenly things take a turn that leads the care provider to recommend a cesarean, you have to trust that, too. 
To build on an earlier statement, they are as interested in a Healthy Mom, Healthy Baby outcome as you are.  When you consider what it costs them to practice in the pregnancy, labor and delivery field of medicine, I'd like to think it's unlikely a person would take on that liability if their heart weren't committed to what they are doing. 
To close, I will go back to the Bradley Method® analogy of birth as an athletic event.  Mom and Coach prepare so they work together as a team.  Hire the Team Manager that you trust implicitly.  You will face decisions in the course of your pregnancy, labor and delivery.  We wish you a Team Manager that is the person who you trust has the expertise you want for a Healthy Mom, Healthy Baby outcome, whatever that may mean for your particular situation. 
What are your thoughts on choosing a care provider?
Disclaimer:
The material included on this site is for informational purposes only. It is not intended nor implied to be a substitute for professional medical advice. The reader should always consult her or his healthcare provider to determine the appropriateness of the information for their own situation. This blog contains information about our classes available in Chandler, AZ and Payson, AZ and is not the official website of The Bradley Method®. The views contained on this blog do not necessarily reflect those of The Bradley Method® or the American Academy of Husband-Coached Childbirth®.
We are now enrolling for our
Spring Series
March 5, 2012 to

May 21, 2012
For more information

or to register,

please call us at

602-684-6567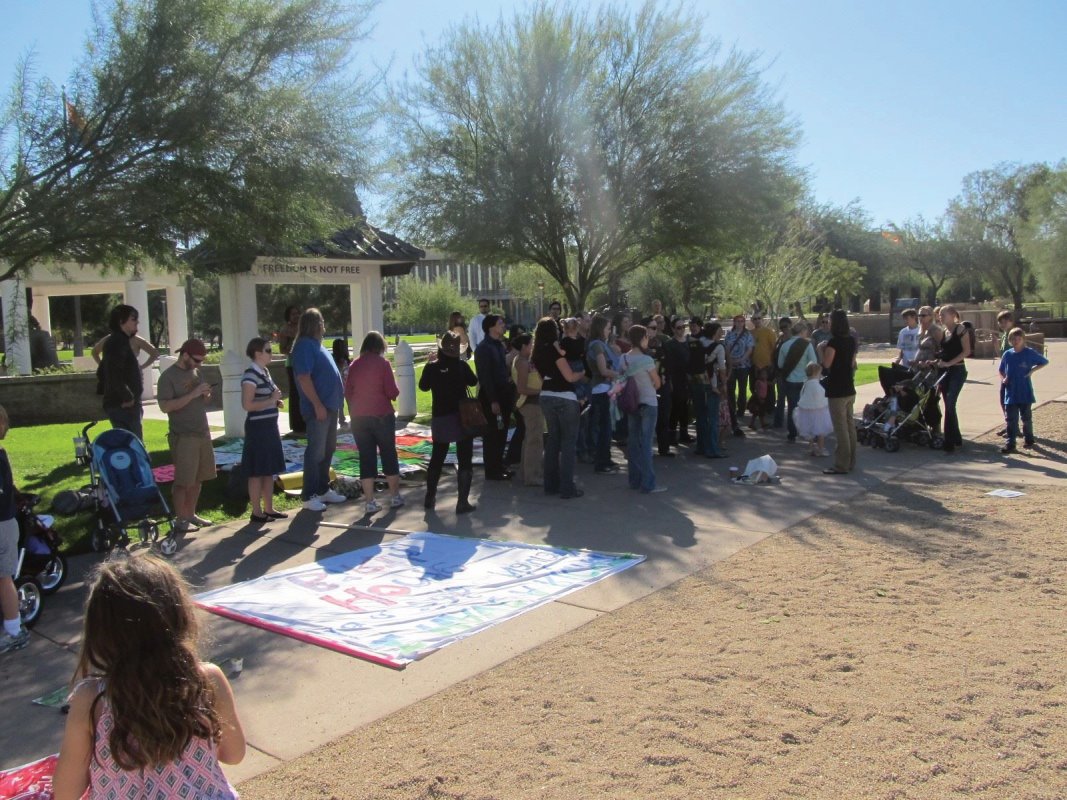 Rights for Homebirth Event
Supporters gather at Wesley Bolin Memorial Park in Phoenix, AZ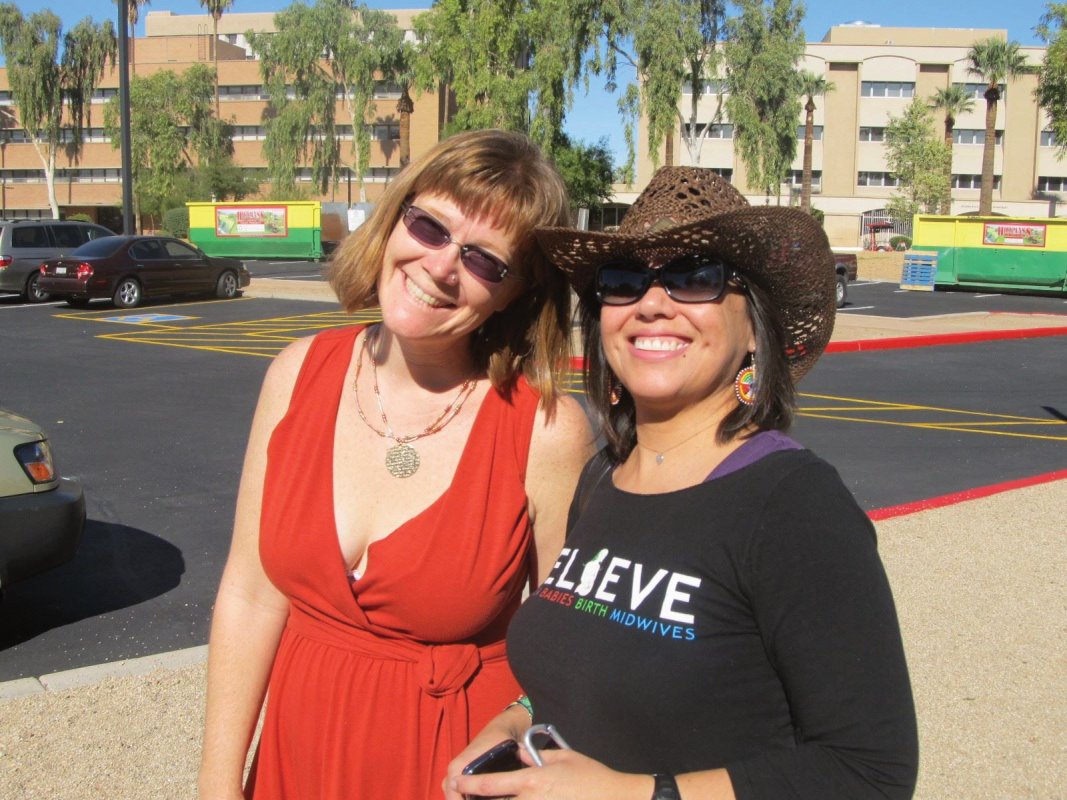 Our Midwives!
Wendi Cleckner and Marinah Farrell from Freedom and the Seed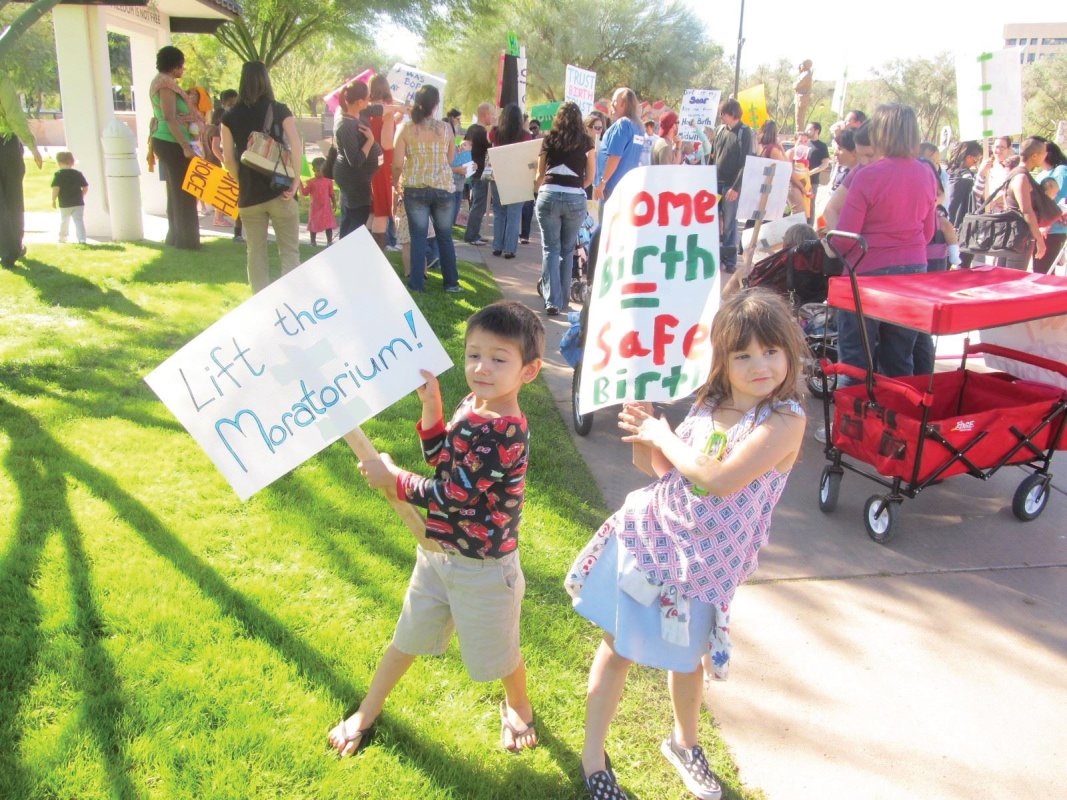 Mini-supporters
Brussito and Ysabella holding signs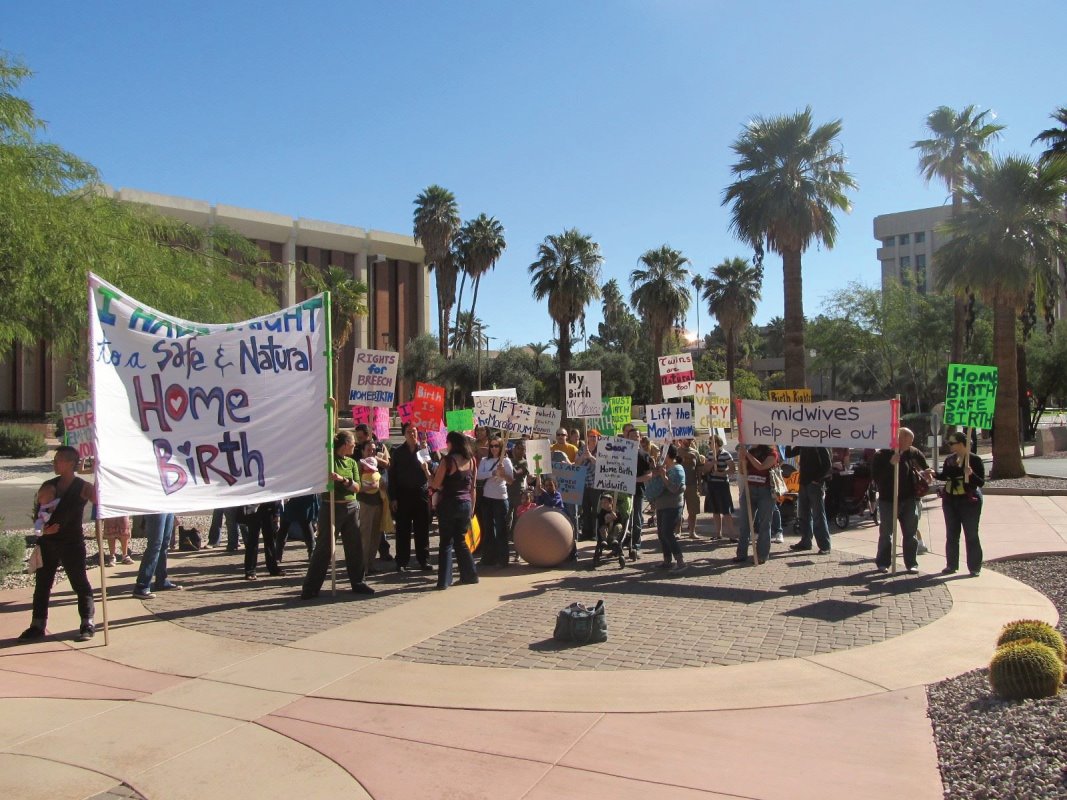 Dept of Health
Supporters gathered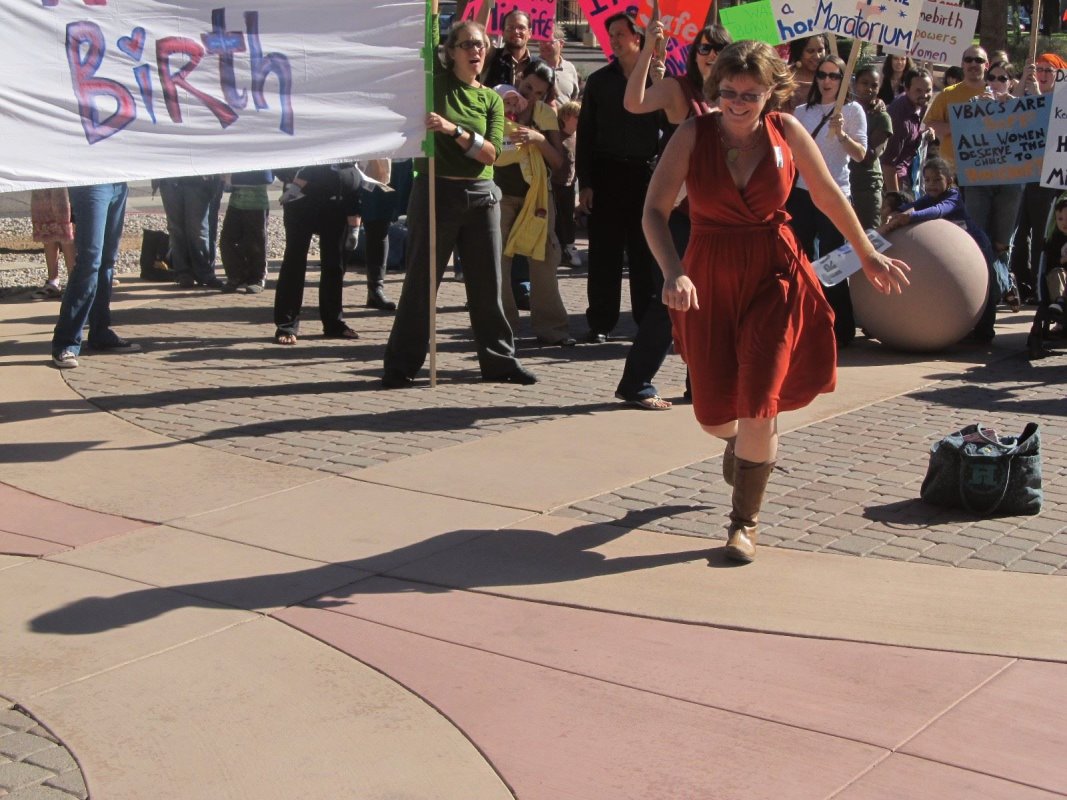 Rallying the crowd
Wendi comes out and tells us to *roar*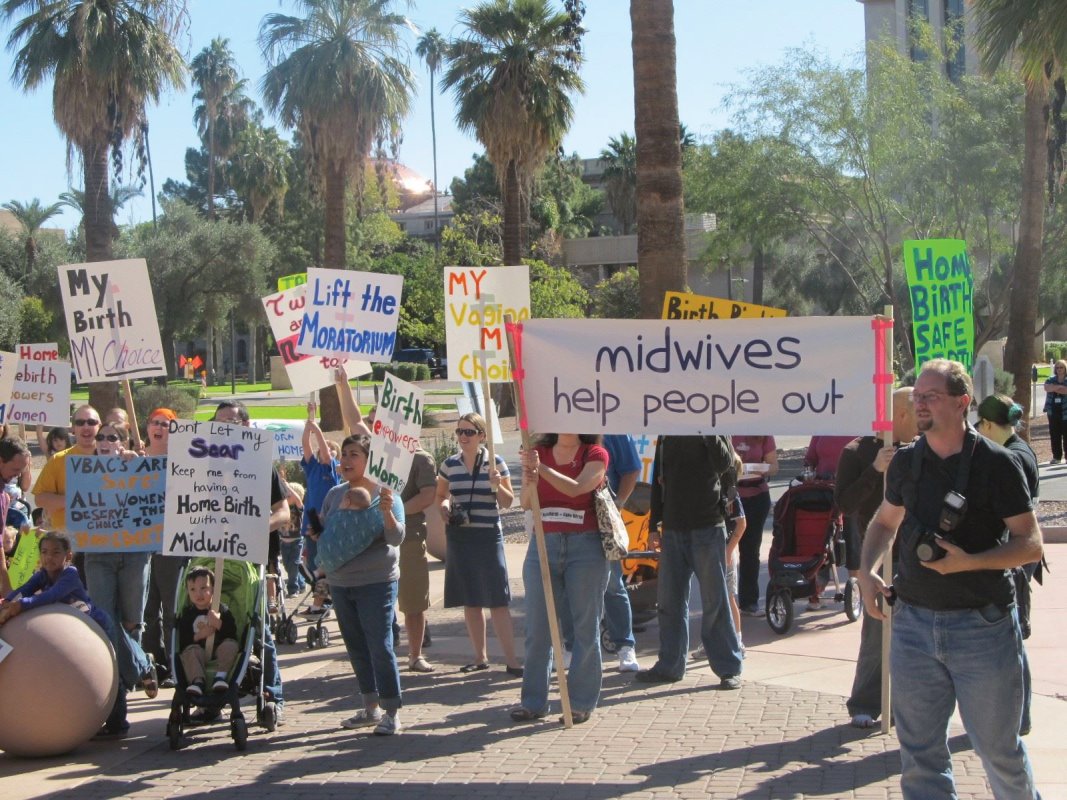 Midwifes help people too
Supporters rally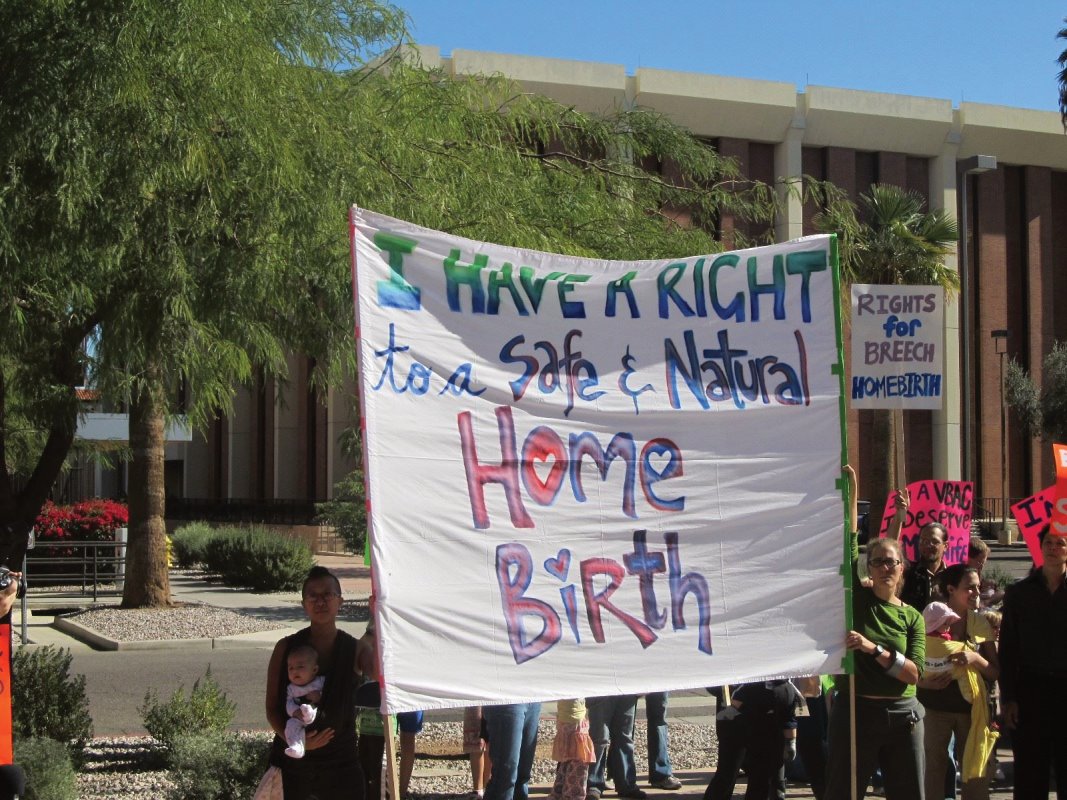 The Rally's Message
All Mothers should have access to a home birth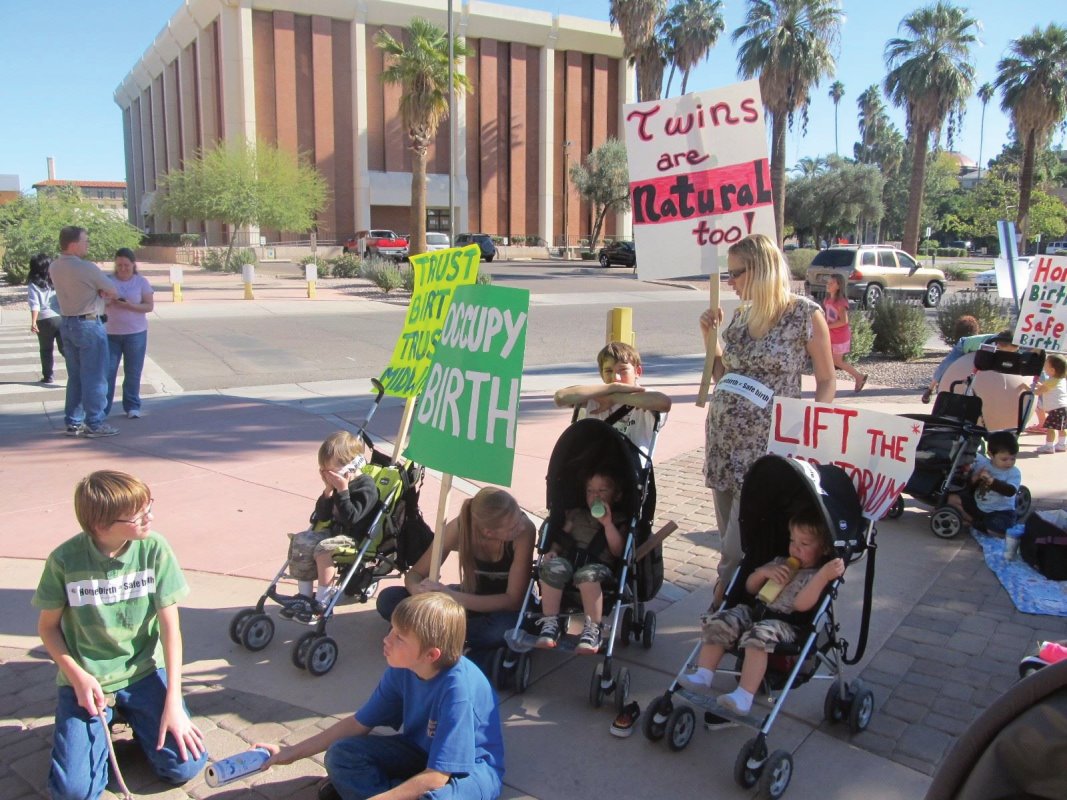 Twins and their family
Twins are Natural Too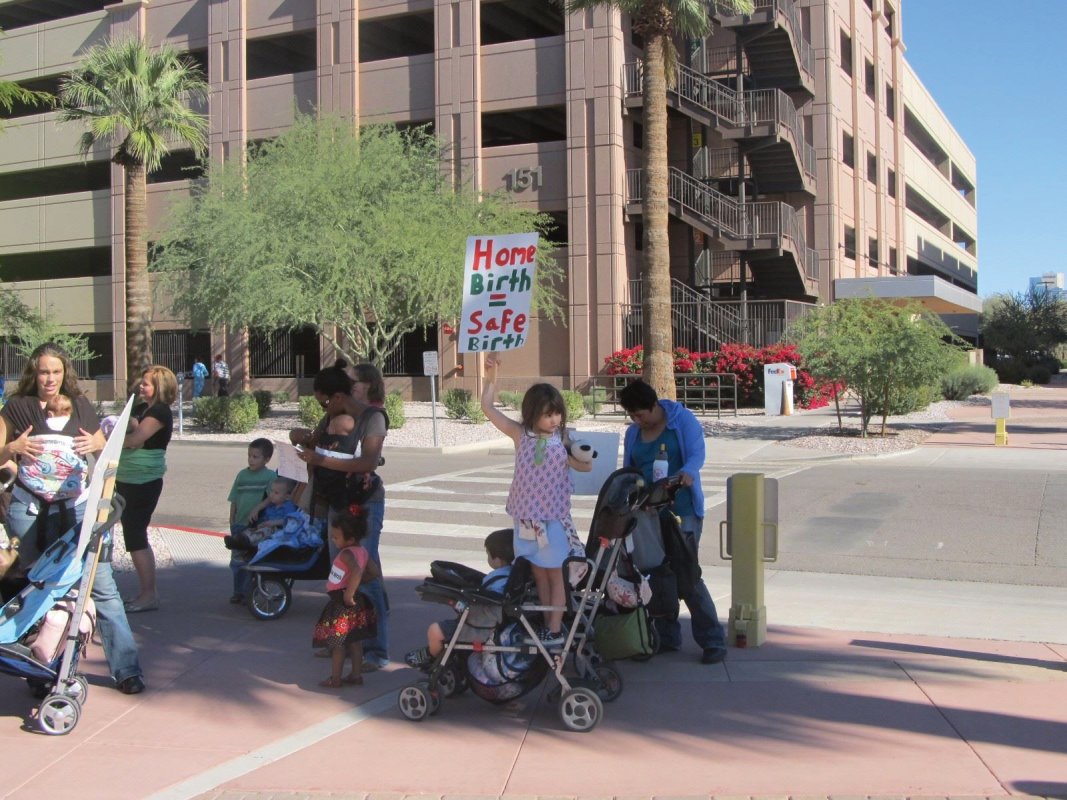 Breech Babies
Bryan was a breech baby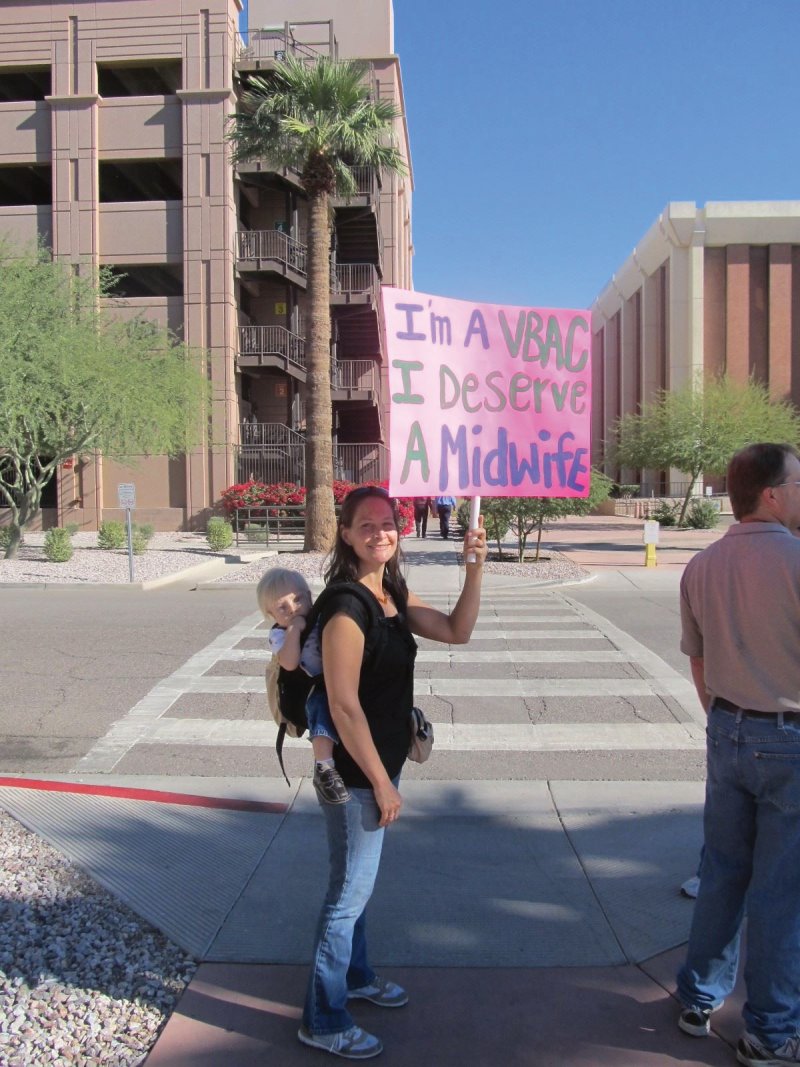 VBACs
Momma and her son advocating for her right to a homebirth
The kiddos and I attended our first rally as a family.  It is hard to convey to them what we were going to do before we arrived.  All they knew was that they needed to go potty in case we didn't find a restroom, bring snacks, and wear their walking shoes.  After the fact, they have a frame of reference for the words, "march" and "rally".  I am so glad that they are seeing the literal "birth" of a movement, the gathering of the momentum, and I am hopeful that we will all see the rules and regulations updated as a result of the effort. 
I found myself getting teary-eyed as we walked.  I am so thankful that we live in a country where we have the right to peaceful free assembly.  There was no police presence as our group gathered at Wesley Bolin Memorial Park, marched down to the Health Department, or when we were outside the Health Department chanting and rallying for the delegation that represents the grass-roots movement to revise the rules and regulations that govern the scope of practice for midwives that attend homebirths in Arizona.
My favorite chant that we did not capture on video was, "Peace on earth begins with birth".  If all children were welcomed gently, lovingly and peacefully – oh, what a wonderful world!
The Rights for Homebirth movement grew out of support for a midwife in the northern Arizona who was at a homebirth with a mom who had a cesarean with a previous birth.  Both women made the mutual and informed choice to proceed with a homebirth although both knew that this was illegal in Arizona.  As the birth progressed, both mom and midwife agreed that they needed to transfer to the hospital.  This clearly demonstrates that the system works…midwives know their scope of practice, and they also know when a birth is progressing in such a way that the skills of an obstetrician are indicated.  So they went to the hospital…and the midwife was reported for attending an "illegal" birth.  I cringe that births are criminalized!
The rules and regulations currently governing licensed midwives in the state of Arizona are out of compliance with the current standard of care in regards to pregnancy, labor, birth and postpartum care. The goal is for midwives licensed in the state of Arizona to be allowed to provide adequate, complete and safe care to all women choosing to birth at home.  As of right now, they cannot assist a mom carrying twins, a baby in a breech presentation, or a mom who has had a previous cesarean birth without jeopardizing their licence.  The rules governing the use of medications also need to be updated to reflect the standard of care that has evolved in the 20 years since they were last revised.
The birth community in Arizona knows that a vaginal-birth-after-cesarean (VBAC) is not allowed under the current rules and regulations.  Twin births and babies in breech positions are also off the table of you are a mom seeking a homebirth with a licensed midwife in AZ.  In birth circles, these births are called "unassisted" in order to protect the midwives who will help these moms under the radar so that they can have a safe birth at home.  Unfortunately, some of them are literally unassisted because a family feels so strongly about avoiding the hospital experience the next time they are pregnant.  We find ourselves in a place in the land of freedom where we are not truly free when it comes to our choices in pregnancy and childbirth.
We chose to attend yesterday's rally because it's time to raise the awareness outside of the Birth Circles and the International Cesarean Awareness Network (ICAN) meetings.  It's important for this movement to go beyond "preaching to the choir" and bring awareness to the mainstream that homebirth is safe, and of the choices that we don't have in Arizona under the current rules and regulations.  Every mother should have the right to make an informed choice.  We are adults; and if two consenting parties (mother and midwife) make a choice for a homebirth despite the risks involved, then that is our right.
This issue is near and dear to me since we did not want a cesarean birth when Bryan was breech.  If he had not turned, we were going to have to drive to Tennessee in order to be attended by one of the best midwifery practices in the United States.  They are allowed to deliver breech babies in TN, and these midwives still have the knowledge and confidence to deliver breech babies.  This knowledge is all but lost to obstetricians since they are no longer being taught to deliver breech babies – now they are planned cesareans.  Since breech births are underground in AZ, I had no way of finding a local, breech-skilled midwife willing to work underground at 36 weeks…there wouldn't have been time since he was born at 38 weeks.
I have posted three videos from the rally and the march.  If you want more information on the grassroots effort or want to get involved, please visit Rights For Homebirth
online
or at their
facebook
page.
Video 1:  Allyson Fernstrom addresses the gathering before the march and rally.
She mentions the things Rights for Homebirth seeks to change: Homebirths for VBAC, twin and breech babies; midwives being able to deliver a higher standard of care at home without breaking their rules and regulations
Video 2:  The Rally
Supporters making themselves heard while the delegation meets with Will Humble, Director of the Arizona Department of Health Services
Video 3: Allyson, Sarah Macklin and Connie Canada address the group after the delegations meeting with Will Humble, Director of the Arizona Department of Health Services and reports the results: 
Although they didn't get a sign-off that can go straight to the governor for approval, they felt the meeting went well. The Director was supportive and is trying to provide guidance to the group since he understands that things need to change.  He assigned Rights for Homebirth a legislative liaison that will help guide the group through the legislative process: find a sponsor (or sponsors) for a bill, outline the type of language that needs to be in the bill, help get it to the floor for a vote.
Excerpts from Rightsforhomebirth.com
"WE ARE DEMANDING THE ARIZONA DEPARTMENT OF HEALTH OF SERVICES OPEN AND MODERNIZE THE RULES AND REGULATIONS THAT GOVERN MIDWIVES AND BRING THE SCOPE OF PRACTICE UP TO THE NATIONAL STANDARD."
"The time has come for all to stand up and be heard on the issues facing all birthing women now and in the future in the state of Arizona.  The current Rules and Regulations governing out of hospital birth with licensed midwives in the State of Arizona are antiquated and severely limit the type of care that can be provided.  We need everyone to stand up for this cause as it affects the future of all our children.  You, your daughter, your daughter in law, your granddaughter, your sisters and sister in law all are and will be affected by the lack of choice currently available in the State of Arizona.
3 out of every 10 birthing women in the state of Arizona currently will have a cesarean section.  Currently this removes the option for these women to ever birth with the care provider of their choice.  Many women will seek the care of a midwife and desire a home birth after cesarean only to be told that they cannot birth as they choose.  It is time for this to change.  Women and families have an inherent right to choose their care provider and location of birth.
The current standard of care for pregnancy, labor and birth is set by many different obstetrics and gynecology organizations and updated continually; however the rules and regulations regarding the scope of practice for licensed midwives has not been updated since 6/18/2002 to update the responsibilities of a Licensed Midwife and 3/14/1994 for all other rules including but not limited to the scope of practice.  It is time for these rules to be brought up to current standards, so that adequate and appropriate care can be provided to all birthing women, regardless of where they choose to birth and with whom they choose as their care provider."
Disclaimer: 
The material included on this site is for informational purposes only.
It is not intended nor implied to be a substitute for professional medical advice. The reader should always consult her or his healthcare provider to determine the appropriateness of the information for their own situation. This blog contains information about our classes available in Chandler, AZ and Payson, AZ and is not the official website of The Bradley Method®. The views contained on this blog do not necessarily reflect those of The Bradley Method® or the American Academy of Husband-Coached Childbirth®.  
December 5, 2011 to

February 20, 2012  

For more information

or to register, please

call us at

602-684-6567 or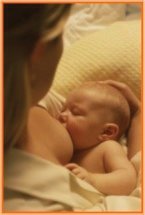 We are officially on our babymoon.  Thank you to today's writer, Tina Lebedies, AAHCC for allowing us a little more time to enjoy our sweet baby girl who is growing and changing already!!  Tina is an Affiliated Bradley Method® Instructor who teaches her classes in the Queen Creek and San Tan Valley area of Metro Phoenix.
I want to share this story with you because I believe it is a common problem, and with awareness and proper education it can be overcome with little to no medical or non-natural interventions.
My second child, Erik, was born at home on Christmas Eve. He was a big healthy boy weighing in at 9 lbs, 4 oz. and was 21 in. long. After joining the world he nursed like a champ for at least a solid hour. He was the best Christmas present I had ever received!
Everything was going well until his 1 week birthday. My husband was changing his diaper and yelled for me to come and look. He had bloody, mucousy stool in his diaper. We of course panicked and I called our midwife/naturopathic doctor immediately. Thankfully, she was able to come over within the hour. She was initially thinking it was uric salt crystals (which is common and will go away on its own) but as soon as she saw the diaper her hunch was that Erik was allergic to dairy.
She instructed us to keep our 1 week pediatrician visit and go from there. The pediatrician cancelled his appointments for the day so we were sent to urgent care. So off to urgent care we went! After an unpleasant exam, the urgent care provider diagnosed that the blood was most likely from an anal fissure; and they said that a dairy allergy was possible, but not likely. We were told that if he had any more bloody stools to go to the ER. Well, sure enough, a week or so goes by and he has 2 bloody diapers in one night. So off we went to the ER. They did the same unpleasant exams and came up with the same answers as urgent care and we were instructed to follow up with the pediatrician. The pediatrician saw no reason why he should disagree with the two previous diagnoses but thinks we should see a pediatric GI specialist, just to be safe.
Erik was now 6-8 weeks old and we are finally seeing the specialist. They immediately tell us that he is allergic to dairy and will need to switch to a prescription formula and that he needs to be on Zantac. I quickly told them that I don't do formula and that was not an option for us. I asked them, "How do I need to change my diet? What do I need to do? I will do whatever it takes." We passed on the Zantac, and of course the formula too.
I was now eating dairy-free and desperately hoping that my sweet little guy would stop screaming constantly and would never have a bloody diaper again. Well, a week went by and Erik was still screaming but the diapers were good. Our very intuitive midwife, who diagnosed this allergy from the start, gave me a lesson on eating dairy-free. Dairy-free I was not! Dairy and it's byproducts can be added to everything! I quickly learned how to read labels and to cook with substitutions. Did you know that some seasonings have dairy in them? Some breading on fish or chicken does, and some do not. Some bread does, and some does not. I had to be constantly on my toes. If I accidently messed up I would pay for it the next day by having a screaming, inconsolable baby. I also learned that it was just cow dairy that Erik was allergic too. That meant that I could have eggs and all egg products like mayonnaise and such.
Erik did get better but he still cried and screamed way more than he should. After trying many different homeopathic remedies we decided to go for the Zantac. We were told that it would help heal the lining of his digestive tract as the dairy had made it raw. (Being born during the holidays didn't give this poor kiddo a chance! We ate so many rich, creamy dairy foods.) After a few hours of his first dose he was a new baby. I hated to give him medicine at such a young age but I felt that it was the best option at this point. I continued to eat dairy-free and to exclusively breastfeed.
At one of the specialist follow-up visits the doctor explained that as he grew and gained weight, his dose of Zantac would not work anymore. I simply just needed to call the office and ask for a stronger dose. The doctor was very pleased with my exclusively breastfed baby. He was growing like a weed and was doing great!
Well, sure enough, one day the Zantac stopped working so I called the office to request a new dose of medicine. A nurse called me back and said that my milk had gone bad and that I would have to switch to formula immediately! I knew my milk had not gone bad; and I wanted to scream that at her, but I remained calm. After a very frustrating phone call Erik had his new dose and life was back to our "normal".
I bring this part of the story up, to point out that if there is an allergy or a complication with breastfeeding that we are quickly told to begin formula. This frustrates me to no end. The benefits of breastfeeding are huge and vastly outweigh formula. Thankfully, I was educated on breastfeeding and knew better, but not everyone does. I hope sharing my story will help others to stay strong, to ask questions, and to keep breastfeeding.
Many people ask me how I survived eating dairy-free. Yes, it was challenging; but for my baby I was willing to do anything. My willpower was much stronger for him than it would have been for me. Erik is now 21 months and has completely outgrown his dairy allergy. We are still going strong with the breastfeeding. He was on the Zantac for only a few months while his system healed and matured.  I was dairy-free for just under 1 year.
How did I know when he outgrew his allergy? The only way that can be determined is by trial and error and that is not always so fun. The naturopath suggested that we try dairy at every milestone. At six and nine months I ate a small amount of dairy and we had a very fussy baby the next day. Just before his 1 birthday I tried it again and the following day nothing happened. I couldn't believe it! I added more and more dairy in my diet and he was completely fine! He continued to be happy and I sure was, too.
At his last visit with the specialist we were told that we could wean him off the Zantac. He had no signs of needing it but I was so scared. I got up my courage and began the weaning process. He handled it with no problem and was completely off of it after 2 weeks. He is healthy and can eat more than his 4 yr old brother most days. He loves cheese, yogurt, and milk. You would never guess that he had such a rough little start.
Did you discover your baby had a food allergy (or allergies) when you were breastfeeding?  How did you manage it (them)?
About the author:

Tina Lebedies, AAHCC is an Affiliated Bradley Method® Instructor who teaches her classes in the Queen Creek and San Tan Valley area of Metro Phoenix. To contact Tina directly for more information on managing a dairy allergy in your nursling, or about her upcoming Bradley Method® class series that start on 11/29/11 and 02/04/12, you can call her at 480-272-7086; or visit her website at
www.welcomingbirthnaturally.com
The material included on this site is for informational purposes only.  It is not intended nor implied to be a substitute for professional medical advice. The reader should always consult her or his healthcare provider to determine the appropriateness of the information for their own situation. This blog contains information about our classes available in Chandler, AZ and Payson, AZ and is not the official website of The Bradley Method®. The views contained on this blog do not necessarily reflect those of The Bradley Method® or the American Academy of Husband-Coached Childbirth®.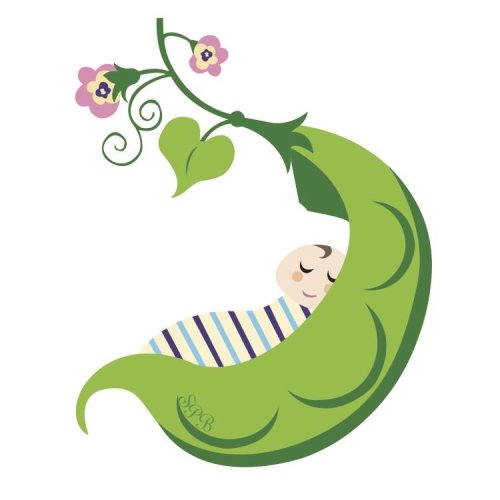 Now Enrolling for our Winter Series
December 5, 2011 through February 20, 2012
Limited enrollment - one space left

For more information or to register, please

call us at
602-684-6567
or email us at
My mom arrived from Chicago to relieve my aunt at around 4:00 pm on Friday afternoon.  She came in to see how I was doing.  She asked, "How are things going?" which of course started the tears again.  Being a woman of great faith, she said a beautiful prayer over us, then gave me a kiss and left the room to go take care of the kiddos.  I pulled myself together and decided I wanted to go see our children.  I missed them and one of the benefits of a homebirth is having those you love near to you.  We took a quick cruise around the house and saw the kiddos, and we decided it was cool enough to try walking outside again – maybe just one more time – to see what would happen.  
This walk confirmed our suspicions.  This baby wanted me on my side.  Nothing upright was working to progress the labor.  I lost it again – why was this happening to us?  Why couldn't just once, my body work like a "normal" woman in labor??  
Up to this point, we had had student midwives checking vital signs on mom and baby.  I asked if we could have Wendi check me the next time just to be sure that we were both doing as well as they thought we were doing.  I wasn't concerned about infection despite the fact that the membranes had ruptured going on 18 hours.  I had been good about taking Vitamin C every couple of hours, we hadn't had one vaginal exam or external vaginal probing that was introducing germs "upstream" as we say in class.  My concern was simply that although I felt strong and the baby sounded good, we had been going at this since 5:00 am on Thursday morning and I wanted peace of mind that we could continue at whatever pace the baby needed.  
Bruss and I also talked about having the midwives go or stay, and we were not sure what to ask of them.  We conveyed this to Wendi when we talked to her.  I felt so bad having them stick around for "nothing".  At the same time, I was wondering when we would call them back when our labor finally picked up.  Having spent so much time with us at our prenatal visits, they knew our birth history and knew that this had been our labor pattern in our previous births.  They assured us that they were comfortable, and happy to continue waiting patiently for baby to make her appearance.  
In the meantime, this birth also confirmed our choice to have a homebirth.  We had been in labor for 36+ hours now.  If we had been in the hospital, we would have been subjected to multiple vaginal exams by now.  If we had gone home and then returned after our water broke, we would have had a very hard time leaving again without signing a multitude of forms when it was clear that labor was not progressing.  I had declined the GBS test since we made an educated decision to take supplements that supported a healthy vaginal track, and I was confident that Dr. Ross' KST check confirming that I was GBS negative was accurate.  Under medical care from an OB, I would have had to have the GBS test and had I tested positive, I would have been pumped with penicillin and IV fluids every four hours.  By now my hand would be swollen at the hep lock site, and my feet and face would be puffy and uncomfortable.  
At home, we were allowed to have the gentle birth we wanted for our child.  We listened to my body and followed the cues, however unbelieving that "this" was our labor.  We were able to sleep and eat to keep our energy up.  Our baby was monitored with a Doptone monitor every hour for a few seconds, which let us go back to the position we needed to be in for her more quickly.  Our midwives were supportive and encouraging that we were doing well and to keep going like we were going.  
Bruss kept in touch with Andrea and Dr. Ross via text throughout the day and night – they were our doulas by text!!  As they made suggestions he would try them if we hadn't tried them already, as they gave us words of encouragement he would convey them.  
I would say I finally "accepted" the birth around 8:00 pm.  Bruss had given me wonderful assurances that this was the labor our baby and I needed every time I had started to cry.  He assured me that he was ready to labor just he and I – it had also become clear that having all the people around was starting to stress me out.   Despite the fact that a doula would be there to support us, he wasn't willing to call in another person to add to the group of people in the house already.  
We decided to watch a movie and both proceeded to fall asleep.  The midwives continued to come in and monitor us through our sleep.  I was still getting up every 45 minutes to use the restroom.  One thing we did REALLY well is stay hydrated.  We found that we still had the contractions when we stood up and moved from the bed to the toilet.  As I accepted that this was our labor, I remember reading birth stories about women who slept through labor until they woke up in time to push.  I figured that we might as well give it a try – who knew – maybe this could be our birth story since short and sweet was definitely out!!  
It was my perception that the contractions were every half hour.  I could sense that I was moaning in my sleep, yet they didn't feel so strong that they woke me up until it was time to use the restroom.  The midwives told me later that they had watched and felt my belly when I was sleeping, and I was having contractions about five minutes apart in my sleep.  
Somewhere between 10 and 11 pm, I could no longer sleep through contractions.  We decided to use the shower again.  We put a birth ball in there and let the water wash over me.  You know what happened – the contractions spread out again.  Since our baby was CLEARLY happier with labor when I was lying on my side, we set up a layer of towels in the shower and made a towel pillow.  I lay on my side, and sure enough, they contractions started getting hard again.  Although they were uncomfortable, I was happy to bear with them since I knew these were the type of contractions that were going to get us to the point of meeting our baby.  
Before we knew it, the shower stopped working as a relaxation tool, too.  I had a strong need to void, but I couldn't do it anymore.  We decided to move back to the toilet to see if I could void in the toilet.  It didn't take me two seconds before I declared that this baby was coming out *now*.  The birth stool that had been taunting me for 24 hours was finally going to be put into use!  
We got on the birth stool. I asked our midwife Wendi if this was really it.  She asked me to try pushing and if I didn't feel any pinching, to go for it and work with my body.  The next contraction came and I could push without pinching – so we did.  This is the one time when we could have used an extra pair of hands.  Since we didn't have them, Bruss got behind me and supported me in a dangle position off of the stool so I could bear down and also use more gravity behind the push.  Trying to be mindful that we were capturing this on video for possible use with future students and for our children to see, I made every effort not to yell out too strongly.  
We asked one of the student midwives to go wake up our children and my mom since it was clearly time to push.  Squatting didn't feel as good as it had with our other children.  After a few pushes in the squatting position, I felt like it would be best to move to my hands and knees, so there we went.  Bruss ended up on the floor with me, and as a contraction came, I would lean all my weight on him and bear down.  This is the first time I have been clearly conscious of the baby moving through my vaginal canal – it was amazing.  I could feel her crowning, and I remember that Night Owl looked at my bottom and said, "I see the baby!"  I told him to talk to her and tell her to come out, which he did!  A couple more pushes and I could feel that we had delivered her head.  Before I knew it, I was holding our lovely little Angélica in our arms and overjoyed with the wonder of the work we had done together.  
We pushed a total of 20 minutes – the most amazing 20 minutes of our birth.  My mom and Night Owl got to watch the majority of the pushing phase.  Puma came in just as Wendi was passing Angélika ("Otter") up to my arms.  Our photographer who we have known for six years got to capture the birth of our new family.  Our midwives were there supporting and loving on the whole process, one of whom was able to capture the birth on film.  It was a room full of love and joy.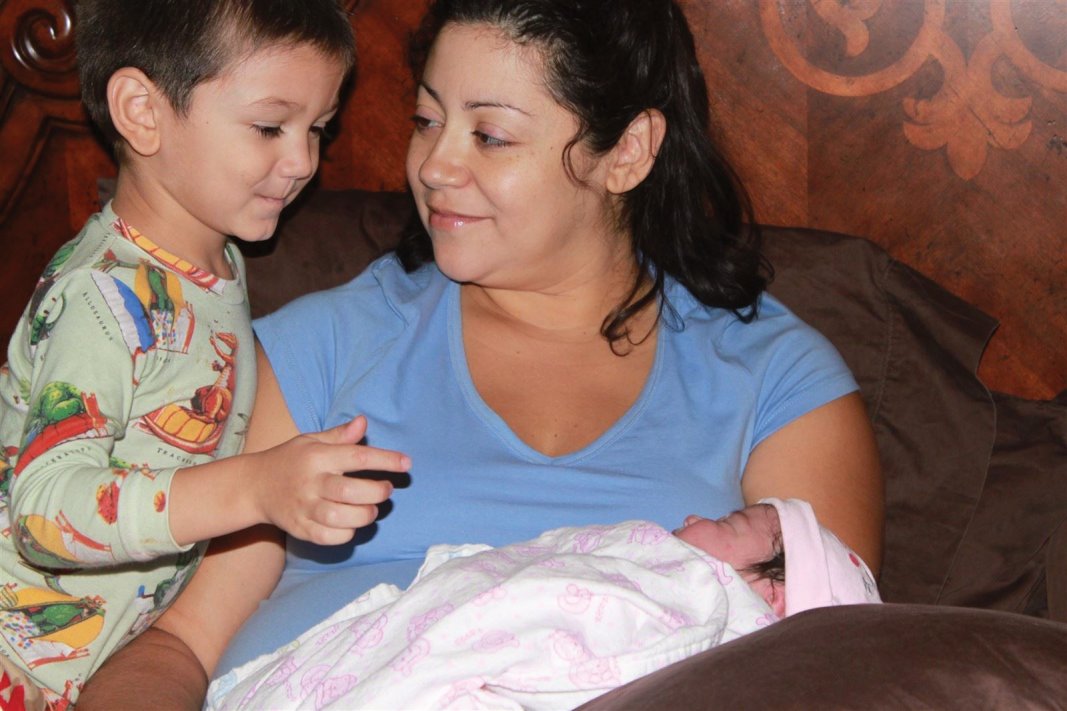 We marveled at this new creation that was now part of the Bowman family.  We looked at her face, her belly, her fingers and toes.  We checked to make sure that we were indeed holding the newest little sister…and we were!  The senior student cleared out Otter's stomach and nose with a little tube syringe.  She had taken in some fluid and was having a hard time getting her breathing started.  Within a few minutes of skin-to-skin contact with mom and some massage stimulation, her breathing assumed a normal pattern.  She got her full measure of blood – her cord stopped pulsing, we delivered the placenta, and then we cut the cord and got in bed.  It was probably an hour from the time we delivered to the time we all got settled in bed for the first time.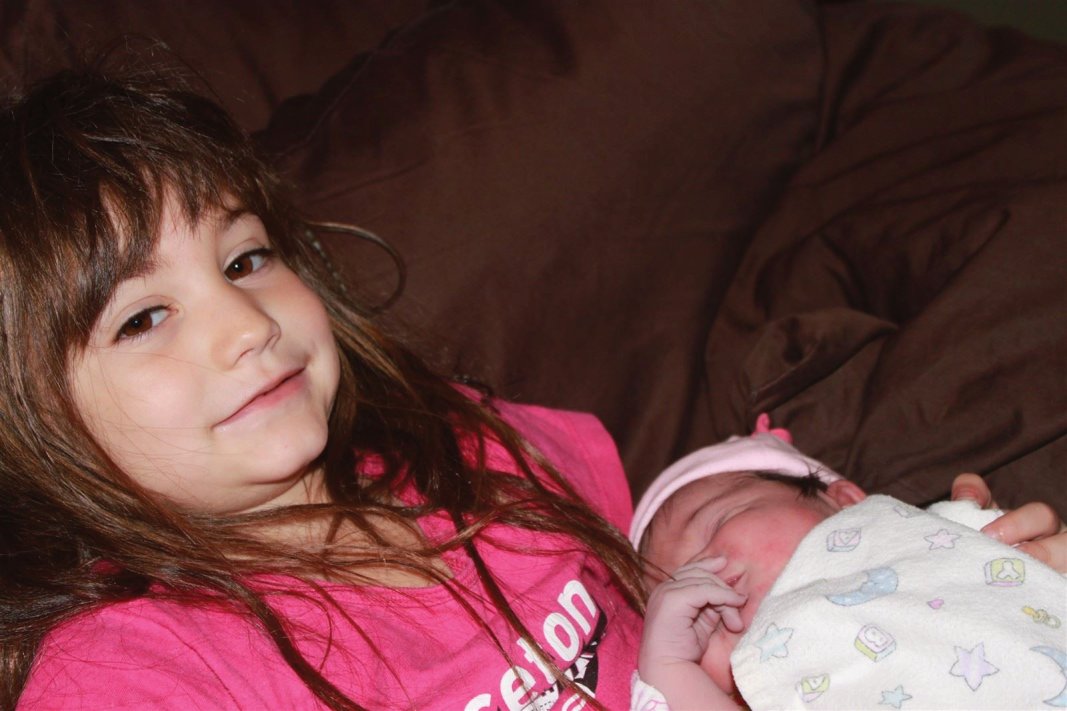 The whole process was amazing.  It was beautiful to allow Otter the birth she needed.  The old mantra of "Trust Birth" was proven true once again.  Why had our labor started and stalled for two days?  Our little miss had the cord wrapped around her belly twice.  Although Wendi assured us it was not constricting anything vital, it is not something she has seen very often in her 11 years as a licensed midwife.  Our baby and my body knew that Otter needed to ease her way out so that her wrapped cord stretched as needed and supported her through the passage from her safe home inside my womb to her new home outside with us.  As a good friend said to me the day after, hindsight is always 20/20!!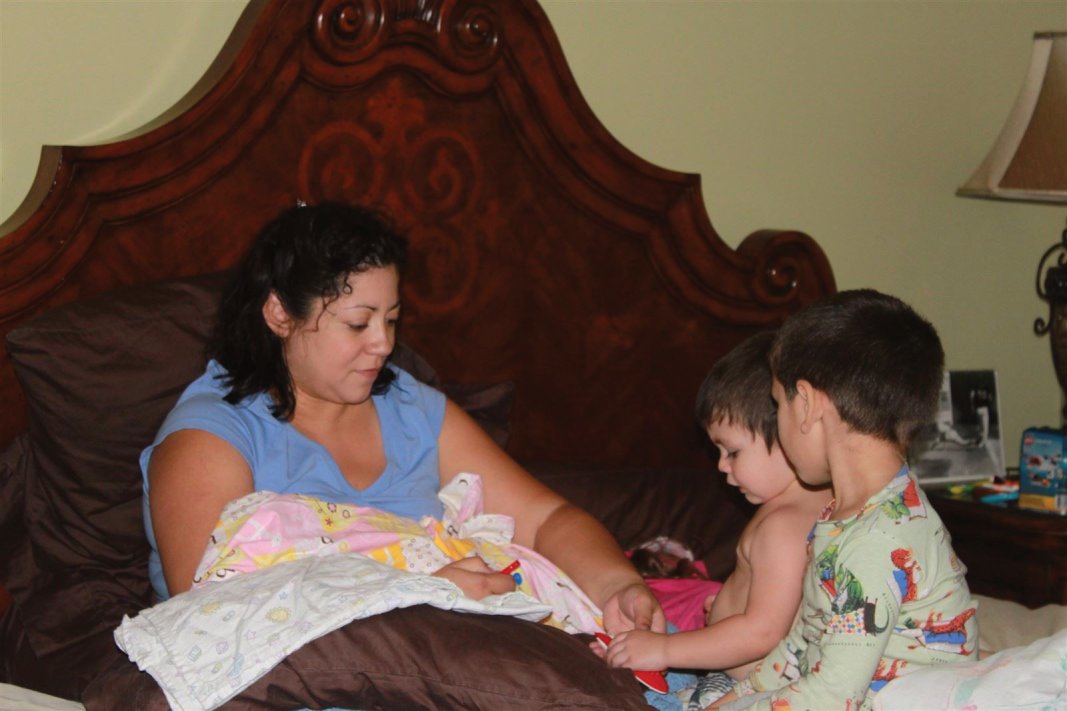 At our first postpartum visit Saturday afternoon, Wendi asked us if we had any favorite parts in our birth.  My first answer was holding the baby!!  We also liked the lack of time-driven pressure – we got what we wanted: the birth our baby needed.  It was amazing to have our children be part of the birth process.  They had gotten to come in and check on me, encourage me with kisses, and I hadn't had to leave them to go to the hospital for three days.  Night Owl got to watch his sister's birth – and now we get to hear his version of events.  His godfather came to visit this weekend.  He asked NIght Owl to tell him about the birth, and this was his answer, "My mommy screamed and the baby popped out!"  Clearly, I wasn't as low-key as I had hoped, yet it hadn't scared him and he is delighted to tell people about his experience.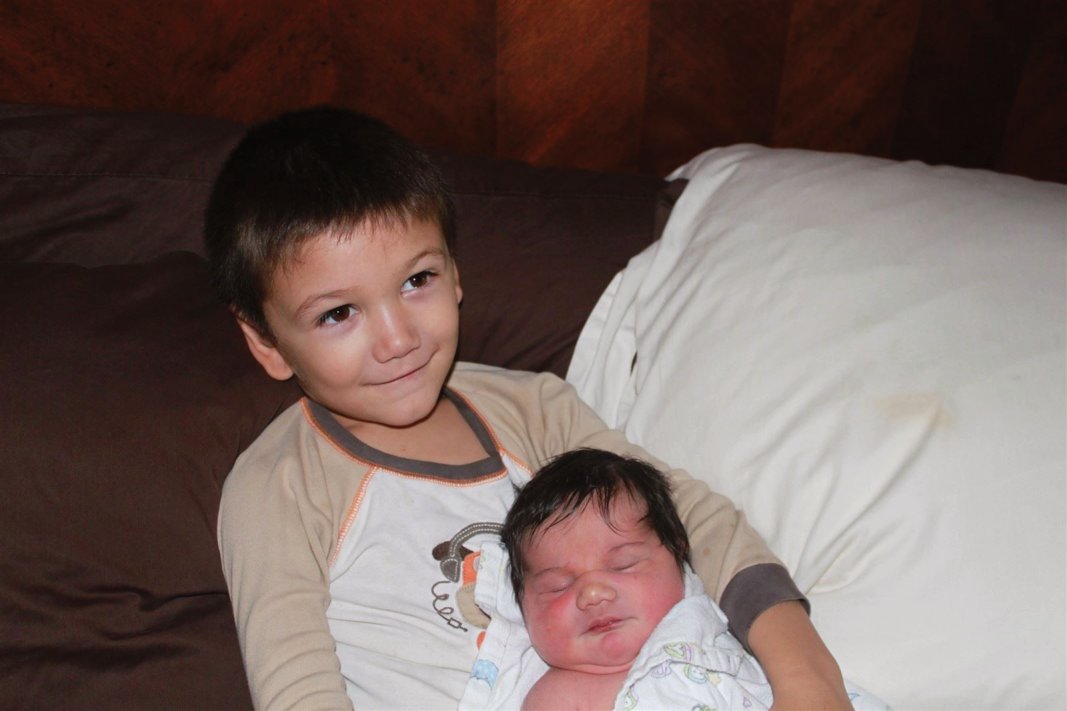 So we are now *officially* home birth advocates.  We are incredulous that it took us four births to get here.  It has been a great way to close the chapter on our childbearing years.  We are forever grateful to the women at Freedom and the Seed who so lovingly tend to the families in their care.
Disclaimer:
The material included on this site is for informational purposes only.
It is not intended nor implied to be a substitute for professional medical advice. The reader should always consult her or his healthcare provider to determine the appropriateness of the information for their own situation. This blog contains information about our classes available in Chandler, AZ and Payson, AZ and is not the official website of The Bradley Method®. The views contained on this blog do not necessarily reflect those of The Bradley Method® or the American Academy of Husband-Coached Childbirth®.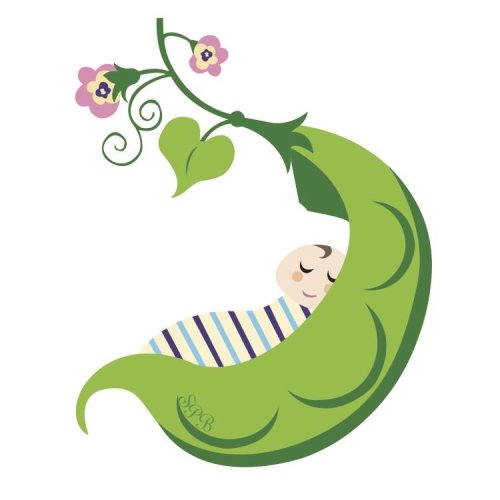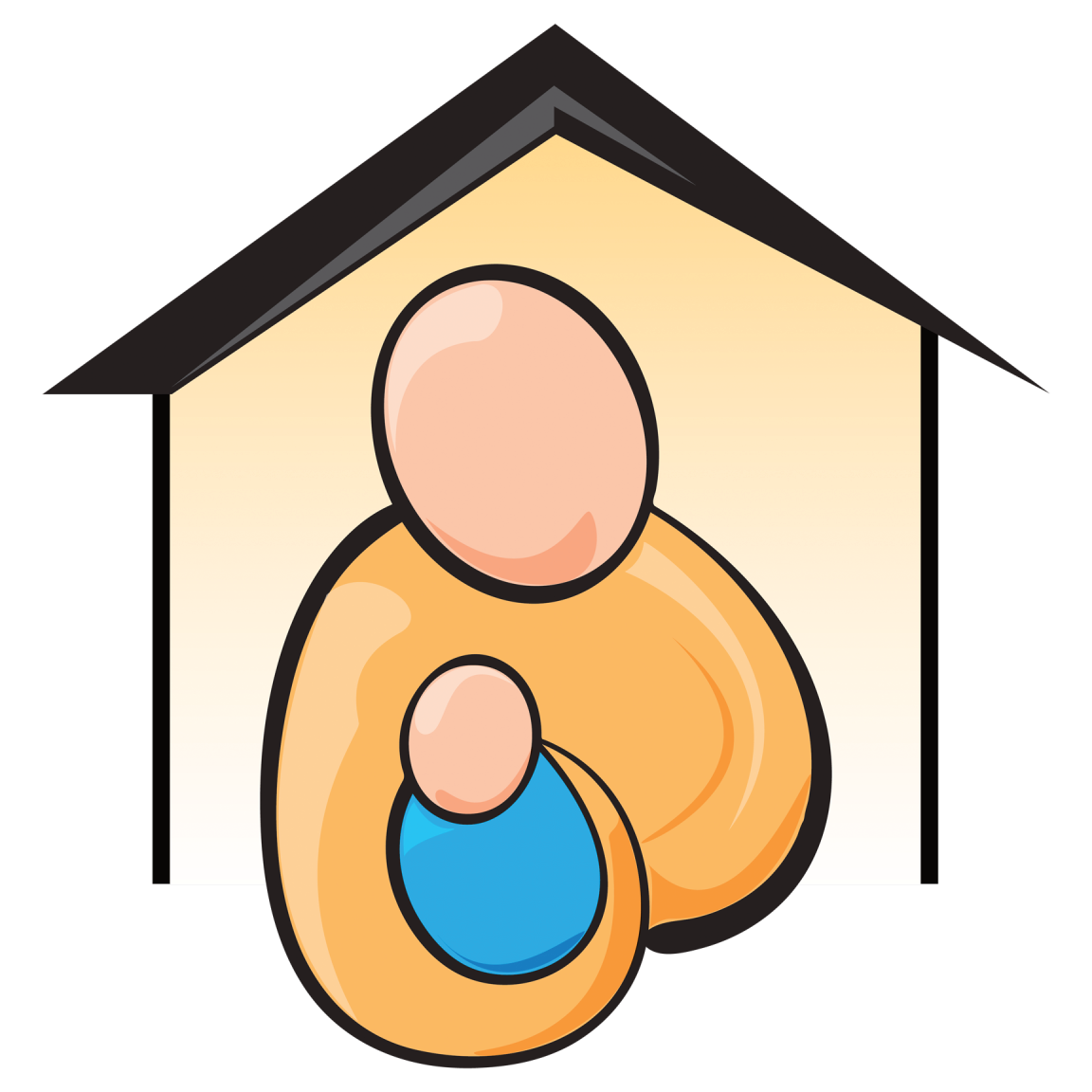 Our labor started around 5:00 am on Thursday morning (9/29/11).  I was running around trying to get Brussito's birthday breakfast table together, when I had a contraction that made me stop in my tracks and grab onto the edge of the bed.  The contractions kept coming throughout the morning.  Since my water had not broken yet, which is how our other three labors had started, Bruss and I decided it was best if I went back to bed to get some sleep.  We called our chiropractor, Dr. Ross, to see if he would come by for a home visit and help us evaluate what was going on.
Dr. Ross got to our home around 11:00 am.  I told him, "I'm having contractions, the dogs are acting like I'm in labor, the kids are feeling/acting funky – all signs are pointing towards that direction, but my water hasn't broken yet…what is going on?  Do we start making the calls to family, doula, photographer, midwives, or do we hold off?"
So Dr. Ross did a KST check on me, and adjusted a few places, and decided that since everything he adjusted for was centered around the cervix, that yes, I was probably in labor.  He told us that it wasn't likely to be today.  Maybe late night today or early morning hours Friday.  He told us to call him if we needed any more adjustments or KST checks.
He left me with the parting thought that having my bag of waters intact was actually a good thing.  (Yes, even Bradley® teachers need to be reminded of the basics!)  He reminded me that the intact waters would protect the baby and the extra pressure would help dilate my cervix without any additional work on my part.  I realized that for once, I might get to experience this benefit and hoped that meant we might really have a shorter labor this time.
At this point we called my Aunt Gloria who was on-call to come take care of our children, and our photographer who also has kiddos so that she could make arrangements for her family and start getting things ready to come over and document our birth.  We told them there was no rush since our labors are slow to start and my water had not broken yet. 
We also contacted our friend Andrea, who was on-call to doula for us if Bruss felt like he/we needed support through our birth.  When we first found out we were pregnant and started talking about labor, Bruss was thinking that he did not want a doula this time.  Since Andrea is "technically" our former teacher turned friend, he didn't feel like he would have a doula there, just help from a good friend.
So we went it alone for most of the day.  I tried to rest and relax as much as possible, and remember the Bradley® mantra, "Don't pay attention too soon," which means that parents should go about their day, eating, drinking and resting instead of timing contractions and getting worked up about their labor.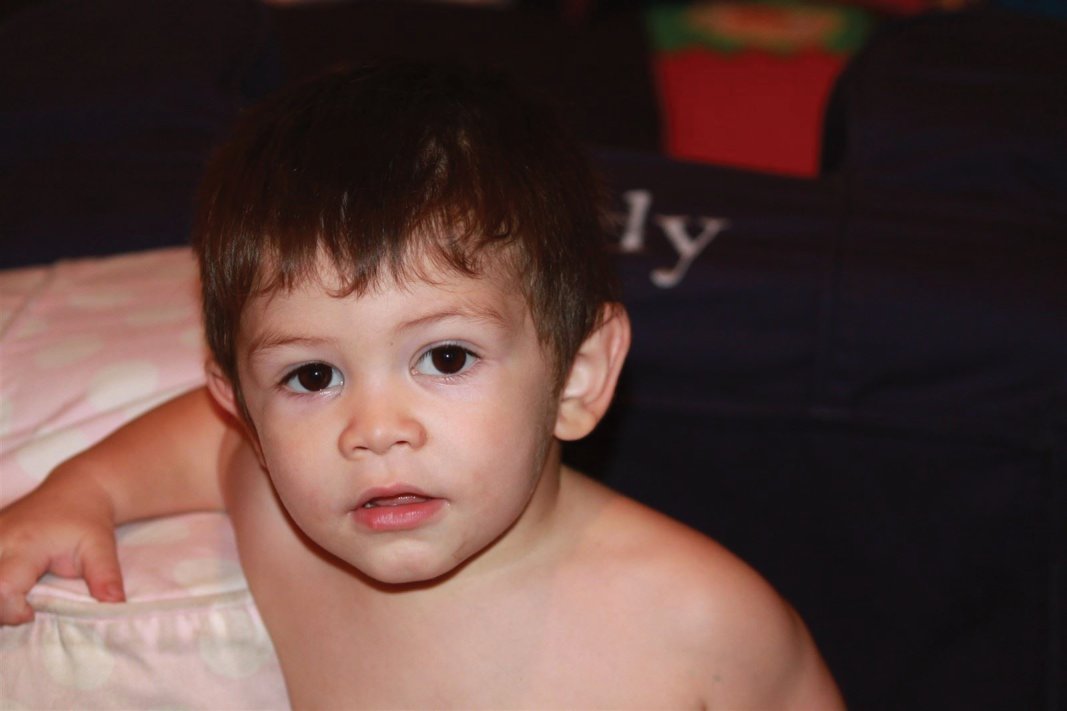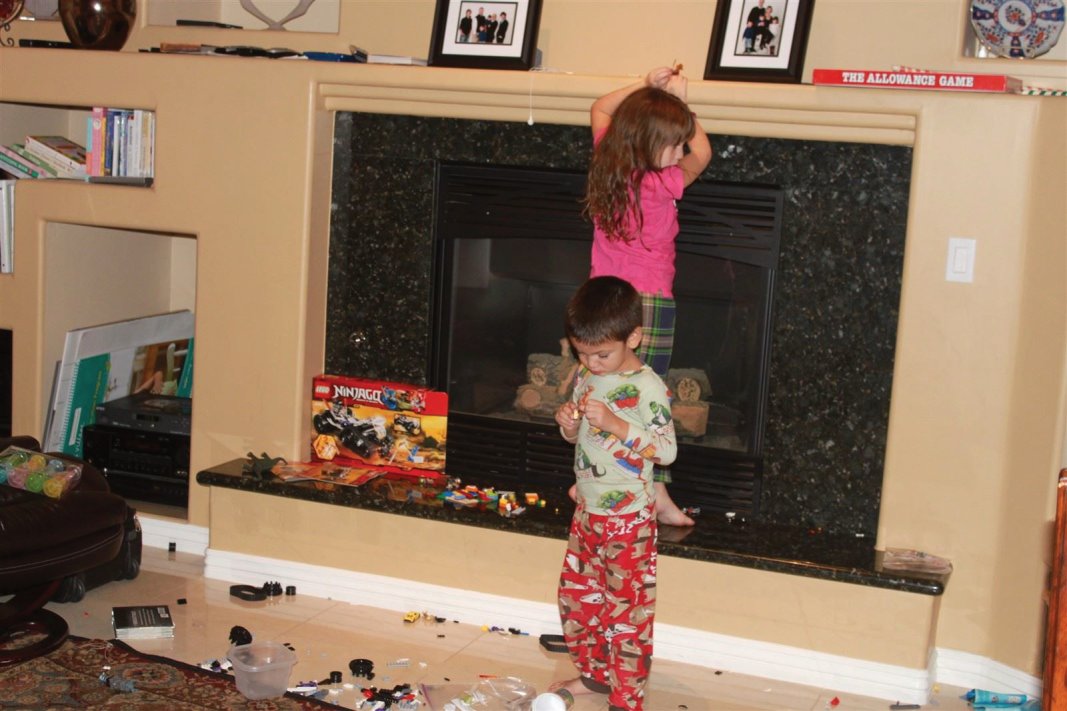 It was hard to let go and relax since my mind was on our three older kiddos.  I kept wondering, what are they doing?  Why is Bryan crying?  How is the house holding up?  Luckily, since it was Brussito's birthday, there were lots of new things to entertain them and overall, they did fine without our full attention.  Bruss split his time between me in our bedroom and our kiddos on the other side of the house.  I was in our room, trying to sleep and just accept that if this was labor, I needed to let go and relax instead of running around the house trying to get it in perfect order in anticipation of people starting to arrive.
The benefit of not having my water break yet was that I got to make food in early labor, something we encourage our Bradley® students to do when we teach class.  Why food?  So that they have goodies to take with them to their birthplace for the staff; or in our case, to have food at home for our midwife and her students.  I had all the fixings together to make our favorite crock-pot lasagna, and I actually got to prepare it!  The goal was to have enough for dinner and for the midwives to snack on when they came to our home – and this is one thing that went as planned!
After having a light lunch and making the lasagna, I went back to bed.  I did not feel like things were progressing as I had hoped, but then again, we know our labors are slow to start and quick to finish, so I figured we were fine and it was still possible we would be meeting our newest family member by Friday morning.
When my aunt finally arrived at 5:00 pm, Bruss and I decided to go for a turn around the neighborhood to see if we could get our labor going. Walking has been shown to speed labor as well as Pitocin, and it also helps avoid unnecessary pain by naturally opening the inlet of the pelvis to ease baby down.  We found that we our contractions got more regular as we walked – yeah!  This is what we wanted!!
We stopped back at home after our first walk to refill water and use the restroom.  I thought that maybe I had a high leak in the membranes, since I was getting a tiny little trickle of fluid – literally like a teardrop – with some of the contractions.  I couldn't tell if it was a high leak or just sweat…another "not knowing" emotional hill for me get over.  After our second walk, we actually noticed that contractions seemed to slow down, so we figured it was a good time to take a break and have dinner.  Bruss had not gotten any rest during the day between taking care of me and the kiddos, se we made the call to Andrea to come relieve him while he took a nap.  We also called the midwives to let them know that we were in early labor.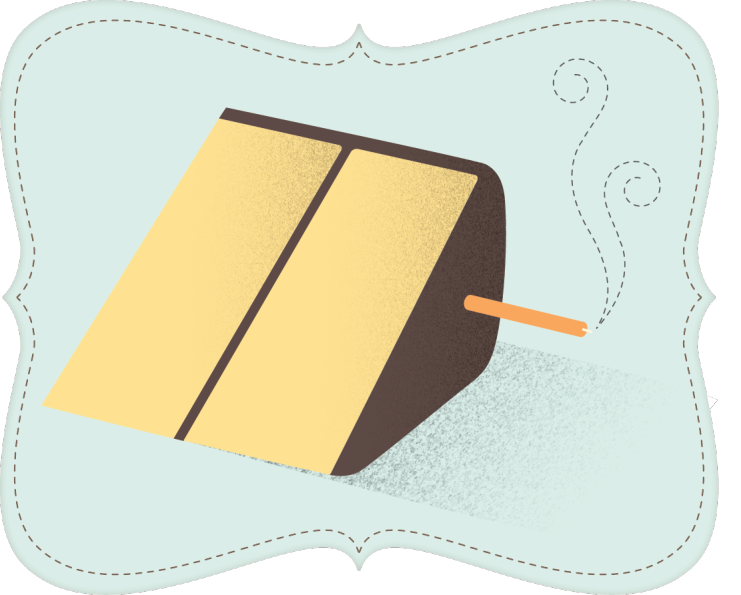 In the meantime, my aunt had made Brussito's birthday cake, and we all gathered around to sing Happy Birthday and eat cake.  The senior student at the midwifery practice returned our call and suggested that we go to bed and rest.  Andrea had arrived and suggested we take a walk before going to bed just to see if we might get labor going since I had rested most of the day.  Wanting to meet our baby, I went for the walk!!
So Andrea and I went on our walk with Brenda, our photographer.  Again, the first time around things seemed to progress; by the second time, things slowed down significantly.  Andrea commented that it looked like it was going to be another slow to start Bowman labor and that yes, indeed, it was time to go to bed and conserve energy.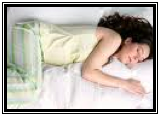 We got back to our house, and I went to bed frustrated.  Interestingly enough, I noticed that I had contractions when I was in side-lying position.  I was blown away – never before had we used the side-lying in our labors.  This was a new experience for me!
Although Dr. Bradley® recommends the side-lying or "sleep" position for active labor so that a mom can completely relax through the intense uterine activity, this had never appealed to me.  I am a mover – with our other labors, I had always been walking or squatting or stair climbing between contractions to progress, and then when a surge hit, we would stop, chant and relax through the contraction.
They were not so intense that I couldn't sleep, so Bruss came to bed with me so that he would be available if I needed him, my aunt got the kiddos to bed, Andrea went home, Brenda found a place to camp out, and the Bowman house settled down to sleep and wait.
At midnight, I got up to go to the restroom and, water works!  My water broke and we squished our way to the restroom.  There was no mistaking this gush – my water had officially broken.  And unlike our other labors, contractions started coming on right away, so we called our midwives to come over and evaluate mom and baby and see about our labor.
Andrea came over again and we started walking around "the track" in our backyard.  Bruss would call out the time as I had a contraction so I could know how long we had been having one, and Andrea would remind me to breathe through the contractions.  It started to feel good to squat and lean forward when we were having them.  They seemed to come on every three to five minutes.  And then some of them were back to back – and then they stopped again.
Our midwife Wendi Cleckner was the first one to arrive around 1:30 am.  When we went in for a potty break, she was already set up in the bedroom and she checked the baby with her Doptones monitor.  Lo and behold, she found that our baby's heart was nice and low, a little above the pubic bone.  This was another point of excitement for me.  With our hospital births, we always started with the heart tones being found a little below my belly button – this was good!  With her heart so low, I guessed she (the baby) was already down and applying pressure to open my cervix.
We went out for another walk around the track.  Again, the more we walked, the more labor slowed down.   Grr!!  Around 4:00 am, we decided it was time to go back to bed, and that Andrea would go home to see her family and get her girls off to school.  Brenda decided to stay since her trip home meant going to Glendale and back.  The midwives found places to camp out around our home and we…went back to bed.  I was starting to get discouraged.  It was clear that this baby was not arriving in the wee hours of this morning.
We slept a little longer.  Our next wake-up was around 7:00 am.  Despite having been asleep, I was having more contractions again.  Bruss had a quick breakfast, and I drank a mango smoothie.  We went back to our regular routine of walking – we just couldn't figure our why it had not gotten our labor jump started yet, and figured it was worth another try.  Since it was daylight, we walked around the perimeter of the backyard instead of just the loop around our pool. 
So we walked and talked.  We tried to figure out if there was anything physical, mental or emotional that we needed to deal with for our labor to progress.  We commented on the benefits of having a homebirth:  No IV's, no fetal monitoring that tied us to the bed for 20 minutes every hour, no vaginal exams, no nurses starting to fret that we were "failing to progress", no one talking to us about making decisions to augment our labor.  The only pressure was self-generated: I felt bad that all these people were sitting around waiting for our labor to do "something" so that they could do their job.
Friday progressed like Thursday: we would walk, get some contractions and then notice that labor slowed or stopped.  By 10:00 am, Bruss wanted to stay inside since it was getting hot, so we would sit on the birth ball in our bathroom and rock back and forth to imitate the hip action that walking produced, staying upright and trying to work with gravity to encourage labor to progress.  As labor stalled, we would lie down for another nap.  By 2:00 pm, I was emotionally spent.  The first set of tears came.  I was disappointed in my body.  We had been so hopeful that eliminating the hospital transfer would make for a smooth, progressive labor, and one that was shorter than 24 hours.  It was clearly not our lot to have a "butter birth" as they are known in the birth community.
So we went back to bed – again.  Again, we noticed that when we were in bed, the contractions became regular.  Bruss and I talked and agreed that clearly this baby was going to be another teaching moment for us, so that we could be better Bradley® teachers to our students.  We accepted that walking was not the key to her labor; this baby clearly preferred me to labor on my side.
We also noticed that the contractions would be most intense when we changed position.  When we got up to go the bathroom every 30 – 45 minutes, we would have a more intense contraction right by the bed.  When we got to the bathroom, I would have a couple of good contractions on the toilet.  Then they would stop, Bruss and I would clean up, and we would go back to side-lying position on our bed again.  And so we repeated this new cycle.
To be continued...check in on Friday for Part 2 and read about when we finally got to meet our baby!
Disclaimer:
The material included on this site is for informational purposes only.
It is not intended nor implied to be a substitute for professional medical advice. The reader should always consult her or his healthcare provider to determine the appropriateness of the information for their own situation. This blog contains information about our classes available in Chandler, AZ and Payson, AZ and is not the official website of The Bradley Method®. The views contained on this blog do not necessarily reflect those of The Bradley Method® or the American Academy of Husband-Coached Childbirth®.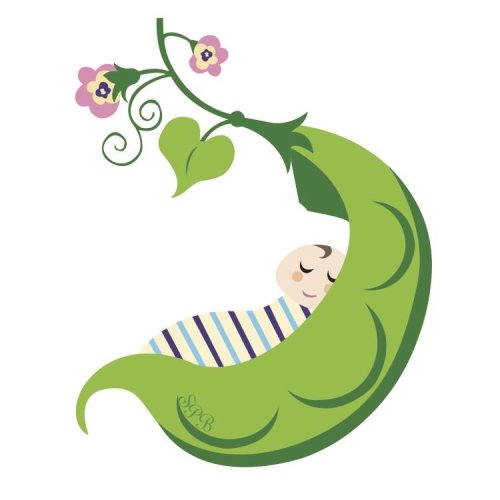 Now enrolling for our

Winter Series
December 5, 2011 through
February 20, 2012
Limited enrollment
Call us at
602-684-6567
or email us at

We are officially on our babymoon - we welcomed our daughter
Angélica on Saturday morning.  More about her birth story will follow soon!  In the meantime, I want to thank my fellow Bradley Method® Instructor, Rachel Davis, AAHCC for providing today's blog post.
Rachel Davis, AAHCC is the mother of two joyful children, a son born naturally in the hospital and a daughter born in the water at home.  She is also a Bradley Method® instructor and birth doula in downtown Phoenix.  To contact Rachel, please visit www.birthandearth.com.
When we were expecting our first child my husband and I felt that the baby was "ours," a sweet being converting us from Rachel and Mark to Mommy and Daddy.  We had a lovely little boy named Jacob and he was the light of our life.  When we were pregnant with our second child, the focus was more on the conversion of our son from Jacob to "big brother."  We carefully prepared him for the arrival of his sister (born 33 months apart), using the following tips.  My hope is that they may also be helpful for your children!
Pregnancy
Consider your child's developmental age and how they might grasp the concepts of the length of pregnancy and the possibility of loss.  We had already had a miscarriage and didn't plan to announce our pregnancy until the end of the first trimester, but I chose to casually tell Jacob right away because it brought me comfort.  We explained that the baby would come, "in the summer when it is really hot outside."
We used
picture books
to help explain the changes in Mommy and how the baby is growing.  At his tender age, our son didn't inquire how the baby came to be in Mommy's belly but we had an explanation ready if the question came up.  My little guy was very understanding of my morning sickness and pregnancy discomforts and even acted as a little nurse for me.
Care Provider
My husband and son attended almost all of my prenatal appointments and Jacob became close with our midwives.  Sometimes he enjoyed trying to help with the fetoscope and blood pressure cuff, while other times he would play with the train set in the office.  He would talk about the midwives at home and was very comfortable with them.
We decided what role we wanted our son to play in the birth of his sibling and discussed our preferences with our care provider.  In our case, we wanted our son to be present during the homebirth and we made the decision to hire a separate doula solely for the purpose of assisting Jacob whether he wanted to be with Mommy or be in another room.  Some families prefer to have the children waiting away from the birthplace so there are no distractions.  Do what is right for your family, but realize that the parents and care providers will probably not be in a position to care for the child during the labor and birth.
Baby Preparations
Some people like to involve their children in the selection of the baby's name.  For example, Krystyna and Bruss' daughter helped to select the name of her baby sister.  In another example, our nephew pulled his sister's name out of a hat when his parents couldn't agree.  Some children like to give the baby a nickname during pregnancy, such as "Grape" or "Peanut."
I involved Jacob in all of our physical baby preparations such as washing clothes and diapers, installing the car seat, gathering the infant toys, etc.  As we worked I explained where everything was going to be kept, what was off-limits to him, and shared memories of using each item with him when he was a baby.
We also discussed age-appropriate ways in which our son would participate in baby care activities.  We picked out a doll for him so he would have someone to diaper, wear in a sling, and even nurse (yes, he "breastfeeds" his doll!).  He practiced holding his baby cousins and we pointed out other kids who were big brothers and big sisters.
Birth Day
During your pregnancy, discuss the details of birth that you feel are important to share with your child.  If they will not be present for the birth then they may be comforted by knowing what Mommy and Daddy will be doing.  If they will be present for the birth then it would definitely benefit them to know what to expect.  Reading or telling birth stories (especially featuring siblings) and sharing birth videos are helpful tools.  Why not tell your child's birth story and show their birth video?  Being a Bradley® instructor, I had plenty of birth videos on hand and my son enthusiastically requested to watch one every day of the last trimester.  As a matter of fact, our 2.5-year-old son was so well-educated that he once told a stranger, "The baby is in Mommy's uterus and when it is born it will come out of the vagina!" 
Whether they will be present with you or not, it may be helpful to give your child a tour of your intended birthplace.  (Use discretion, you know whether your child will find fear or comfort in seeing the hospital or birth center where you'll be.)  Explain at an age-appropriate level what will be happening.  If you are planning a homebirth then explain what rooms you are planning to labor in, where the tub will be (if you are renting one), and other info of interest to them.  We had a blessingway in our home and my husband and son participated in the blessing and watched as our tub received special words of intention, as that was where we planned to (and did) have the baby.
If your child will be present for the birth, make plans ahead of time so you and your birth team know what the little one's role will be.  Would you like the child to cut the cord, or even catch the baby?  Perhaps your child will be in the tub with you, take photos, or rub Mommy's back during a contraction?  Our son was very intrigued by the placenta and was an enthusiastic observer for the placenta print process.
Of course, be flexible and know that plans may change based on the child's (or your) needs in the moment, and that is okay.  For myself, I found peace of mind in creating a back-up plan for our son.  We intended for him to be at the birth but if it didn't work out then he was going to go to a relative's house.  One family we know had a list of people to watch their two children during labor and birth and at 3:00am they called three people on the list, went to voice mail three times, and finally the fourth person picked up the phone and came over to provide childcare.  Have a back-up plan!
Regardless of whether your child will be present with you or not, I love the suggestion of packing a labor bag for the older sibling.  (Thanks to fellow Bradley® teacher, Wendy Diaz, for the idea!)  We had a bag packed with inexpensive toys, activities, and healthy snacks all individually wrapped and intended to be distributed at intervals throughout the birth.  Kids always enjoy opening a package and this can keep them occupied for a good amount of time.
After Birth
Consider having gifts for your children to exchange with one another.  Some children enjoy picking out a present for their new baby sibling.  In our case, I bought a special gift for Jacob (Duplo blocks) and hid it until the day after the baby's birth.  As we snuggled together as a family of four, I pulled out the gift and explained that the baby, Leila, had brought this special present for Jacob.  It was a small token but it helped things get off to a good start.  While on the topic of gifts, another common suggestion is to have a few little things stashed away for times when guests come to meet the new baby and bring a present for the baby but not for the sibling.  We had Jacob open many of Leila's gifts and he now enthusiastically picks out her outfits every morning.
Be prepared for a change in your family's routine, and clear your schedule to accommodate the needs of a newborn.  You may need to take a break from XYZ activity that your older child was involved with.  Your children need a well-rested mother more than they need to go places.  It isn't worth the stress on your family to try and operate at the same level you were on before the baby, and in time you will be in a new routine.  While you are at it, make plans with friends and family to take your older child on special outings after the baby's arrival.  This is a great opportunity for Coach to step up and take on some additional childcare responsibilities while Mommy is on a babymoon.  You'll appreciate the opportunity to snuggle with your newborn and nap, and your older child will be thrilled to have the spotlight on them for a little while.
Consider the language you use when talking about your children.  Talk about, "our new baby," or, "Jacob's little sister," rather than exclusionary terms such as , "Mommy's baby."  When people compliment your new baby, proudly point out what a great big brother/sister the baby has.  Brag about your older child while they are within earshot.  On the flip side, know when it is time to change the subject and talk about something else that isn't baby-related. 
Lastly, don't expect everything will be perfect.  Despite your best intentions and efforts, your older child may experience jealousy or negative feelings about the baby.  Find healthy avenues for expressing these feelings (discussion, art work, or even hitting a pillow to get the frustration out).  Don't overestimate your child's developmental capabilities and behavior; your newborn's safety comes first.  In our case, we are teaching our son to ask Mommy or Daddy for permission before he hugs or kisses his baby sister because he doesn't quite understand how gentle he needs to be.  He is also never left alone unsupervised with the baby. 
Do you have any favorite tips for preparing children for the birth of a sibling?
Additional Resources
Friday's blog post
will feature a list of picture books that may be of interest to children.
Preparing Your Family for a New Baby
American Academy of Pediatrics website with advice broken into different age categories.
Children at Birth by Marjie and Jay Hathaway
Book written by the couple who wrote The Bradley Method® curriculum.  Specifically intended for as a guide for preparing children who will be attending the birth.  This book is out of print but I was able to check it out through the Inter-Library Loan program.
About the author:

Rachel Davis is the mother of two joyful children, a son born naturally in the hospital and a daughter born in the water at home.  She is also a Bradley Method® instructor and birth doula in downtown Phoenix.  To contact Rachel, please visit www.birthandearth.com.
Rachel's next Bradley Method® series will be offered on Tuesday evenings from January 10, 2012 through April 3, 2012.
Disclaimer:
The material included on this site is for informational purposes only.
It is not intended nor implied to be a substitute for professional medical advice. The reader should always consult her or his healthcare provider to determine the appropriateness of the information for their own situation. This blog contains information about our classes available in Chandler, AZ and Payson, AZ and is not the official website of The Bradley Method®. The views contained on this blog do not necessarily reflect those of The Bradley Method® or the American Academy of Husband-Coached Childbirth®.
Now enrolling for our

Winter Series
December 5, 2011 to
February 20, 2012
Mondays @ 6:30 pm
Call 602-684-6567 or
email us at
As part of our Bradley Method® class, we encourage all of our students to take a tour of their birthplace.  In the event that a couple is planning a birth center or home birth, we encourage them to tour the hospital that their care provider would transport to "just-in-case". 
There are many reasons why taking a hospital tour are important: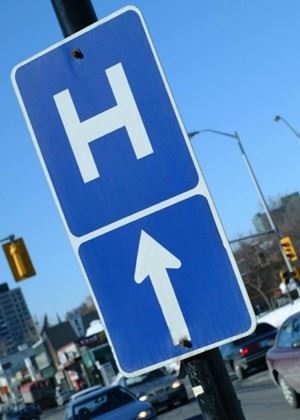 1.  You know how to get there and can plan alternate routes in the event of traffic.
If your care provider offers you a choice of hospitals, then this could be a deciding factor in which facility you choose.  It is also important to plan a couple of alternate routes to your birthplace in the event of road closures or traffic jams.
2.  You get to a chance to familiarize yourself with your birth setting.
It is good to know information such as: where you can drop off mom, where you can park, where registration is, where triage and the labor & delivery rooms are, where can you receive visitors, where can you find food and beverages, what happens if you arrive "after hours" and you need to use a different entrance.
3.  You can prepare for the hospital or birth center experience.
Once you have answers to the items in #2, you can better plan for your trip.  If you hare having a planned hospital or birth center experience, once you know what's available, you can write a better packing list.  If you are planning a home birth, you can have an idea of what to expect in the event of a transport.
4.  You can fill out pre-registration forms and save time on baby's "birth-day".
Anything you can do to save time and have Coach stay with Mom is a benefit to your birth experience.
5.  You get to hear "the rules" from one of the staff members.
This is your opportunity to ask all the questions you have about your birth setting.  The more medical the setting, the more "rules" you can expect them to have in place.  If there is anything that causes you concern, be sure and discuss it with your care provider.
6.  Knowing "the rules" can help you write a better birth plan.
If you and your care provider have agreed on one thing, and your birthplace is telling you something different, you will probably want reconcile the difference(s) before you go into labor.  We have found that having our care provider sign off on our
birth plan
increased the likelihood that the things we wanted were respected during our labor.
I want to share two of our student's insights as this topic came up throughout the class.  One of our first time moms's shared an "a-ha" moment they had on their hospital tour.  Their impression of their chosen hospital is that it is very natural-birth friendly.  Their tour guide told them the hospital welcomes doulas, that laboring moms are free to move about, enjoy the labor garden, try different positions…their first impression was that they can do whatever they need to have a positive birth experience. 
This mom was stunned to hear that if a couple decides to have an epidural, all those options are thrown out.  As someone who has been around natural birth for a while and since I have seen moms on epidurals, I forget that this is a news flash to most first-time moms.  Once a woman decides to have an epidural, she is now officially on the "medical track" and the bed in her room is the only option she has.  Why?? You cannot target a medicine to only one part of the body.  Because you are being administered an analgesic, it doesn't just suppress pain.  It also has the potential to affect your and/or your baby's heart rate, blood pressure and your breathing among other things – it all depends on the reaction(s) to the "cocktail" you are administered. 
Given the fact that the drugs can have an adverse effect on the mother and/or the baby, once you have been administered the epidural you and baby must be continuously monitored so you will have two monitors (one for mom, one for baby) strapped to your abdomen and connected to the machine.  The tube delivering the medication is inserted in your back, and it's taped all the way up to your shoulder.  You will have a continuous IV drip, so there is a needle and a tube to the IV.  You will have a blood pressure cuff.  They put a pulse oximeter on one of your fingers.  As you can imagine, you are not allowed to get off the bed – there is no way to maneuver or try different standing or moving positions with so many tubes and wires.  Since you can't get to the bathroom, you are catheterized.  In the event that you had been eating and drinking freely before the epidural, you will probably be restricted to ice chips for the duration of your labor.  Hence, all the "butterflies and flowers" you have written down on your birth wish list are exchanged for the hard and fast rules that accompany the medical delivery of your baby.
The second insight that was shared came from one of our moms that has already had two hospital births.  She suggested that taking the hospital tour is a good way to gauge how comfortable you really are in a hospital setting.  I think her point was that if you have any issues with being in the hospital, they have the potential to be amplified when you are dealing with the "what ifs" or the unknowns of your birth experience.
Take the time to evaluate: Do you have any triggers that might send you into a negative spiral when you get to the hospital?  Negative past experiences, bad memories, maybe the smell.  Does anything send you over the edge when you go to a hospital?
If you discover that the idea of being in a hospital is challenging, then you need to think about your options.  Can you do some mental preparation; maybe write some affirmations that will help you better manage your hospital experience?  Are you practicing your relaxation diligently so that you will be able to relax in spite of your setting?  Are you and your Coach willing to look at other alternatives, maybe consider a birth center or a home birth?  If you choose an alternate birthplace, how will you cope in the event of a transport?

Bruss has a saying, "You will be the birth experience you bring with you" to your birthplace.  So far, we have had three positive hospital experiences because we prepared our birth plan with our care provider, we were comfortable with the hospitals we went to, and we communicated our desires well as a team to the staff during our labor and delivery.
Which questions did you ask and find helpful when you toured your birthplace?
Disclaimer: 
The material included on this site is for informational purposes only.  It is not intended nor implied to be a substitute for professional medical advice. The reader should always consult her or his healthcare provider to determine the appropriateness of the information for their own situation. This blog contains information about our classes available in Chandler, AZ and Payson, AZ and is not the official website of The Bradley Method®. The views contained on this blog do not necessarily reflect those of The Bradley Method® or the American Academy of Husband-Coached Childbirth®.
Oh my gosh – our baby is really almost here!!  The reality hit home when one of our midwives and one of her students visited our home Wednesday morning.
Some reasons for the home visit:
~It's a test run to make sure they can find the home and can plan for alternate routes if necessary.

~It gets them familiar with the "lay of the land" so that they know their way around the home during the birth.

~It gives them an opportunity to check in with the family in their own space.

~They encourage the family to invite whomever else they have invited to the birth to meet them and have the family get a sense of the "crowd".

~It gave us the chance to talk a little more about our birth plan and any concerns we have about our birth. 
It was a little rushed since we had another appointment afterwards, and I could have kicked myself that I forgot to take pictures…ah, well.
I realized through the course of the visit that I have yet to accept that this baby is going to be born here.  That we really and truly will not have to go to the hospital this time still seems so surreal!!
It was so nice to have our former Bradley® teacher and friend Andrea here with us during the visit.  She has attended several homebirths and is very familiar with the process.  I am going to lean on her confidence since she was there at our last birth, and I know she knows that we know how to birth.  I just have to get there myself and believe that we can do this.
Here are some of the things we talked about:
What our vision is for our birth?
Peaceful and uninterrupted by a transfer
Where do we picture ourselves laboring and birthing?
As long as the weather breaks (we are still over 100° F in AZ), I envision spending a lot of time outside enjoying our beautiful courtyard and in the backyard watching the kiddos play.  Otherwise we will take comfort in the sanctuary of our bedroom.
Do we think we are going to use the tub? 
I want to just because I have never been able to use it before.  Since my bag of waters has ruptured before contractions started with our first three births, our previous doctor and the hospitals would not sign off on submersion for fear of infection.  Henci Goer addresses this in her book, The Thinking Woman's Guide to a Better Birth and she offers study-based evidence that these are unrealistic concerns.
What are our expectations from our care providers?
Open lines of communication.  Bruss emphasized that he is looking forward to not having to go to the hospital and seeing our labor stall.  By the same token, he wanted reassurance from our midwife that if they do see any signs of concern, that they will let us know in plenty of time to make a Healthy Mom, Healthy Baby decision.
They wanted to know where they could set up their supplies, and where we would be laying out our supplies.
They also checked in to make sure that we had plans for our children:  who would be keeping an eye on them so we could focus on the birth, and how were they feeling about the homebirth.  I can honestly say that when we were under traditional OB care, we were never asked about how our children were being prepared for the upcoming birth.  Even though most children are not going to attend a hospital birth, they are still important people in the family that need to be considered in the planning and welcoming of the newest family member.
Who will be at our birth?
So far, we have Andrea as an Assistant Coach to help Coach Bruss, and our photographer to capture this momentous occasion with her artistic eye.  We are still going back and forth on a videographer. I would love to have a well-filmed video to submit to the American Academy of Husband-Coached Childbirth™ so that other students could benefit from a birth filmed in the 21 century!  There is no question that it would be neat to capture the kiddos reactions on film and watch it on baby's birthday; and maybe someday have the courage to show to our own students.
It became apparent why they encourage families to invite anyone who is going to be at the birth to the home visit.  The midwife, her student and our friend Andrea were here with Bruss and I…not present were my aunt who is helping with the kiddos and the photographer.  With just the five of us, I am already feeling like there are too many people and we still haven't counted the potential videographer and the possibility that some of my other aunts will come over to help with the kiddos, too.  If the baby comes on a Monday, our cleaning ladies will be here…if she comes on a Friday, the landscape crew will be around…noise and people and distractions that we hadn't thought about!!
Here is the info they shared with us:
Many people are surprised at how "hands-off" the midwives are at a homebirth.  If they see that a couple is working well together, they try to be unobtrusive and do their monitoring discreetly.  They will step in and be more active as needed, but for the most part they want to allow the families to work together and allow labor to progress without interruption.  Their responsibility is to make sure mom and baby are well through the process, and of course they get involved as the time to push arrives and during the postpartum period to make sure mom and baby continue to do well.
My favorite part of the visit was having the kiddos join us on the bed when we did our prenatal exam.  It was so neat to have them around me as we checked on the baby.  They got to hear her heartbeat and ask questions.  They were touching my belly and giving me kisses.  They sang a song for the baby.  If this is an indication of our family birth, it's going to be awesome.
One of our midwives speaks Spanish, so she was talking to the kiddos about the baby and asking them question in Spanish during the exam.  I would love it if the first language our baby hears is Spanish welcoming her into the world!!
Disclaimer:
The material included on this site is for informational purposes only.  It is not intended nor implied to be a substitute for professional medical advice. The reader should always consult her or his healthcare provider to determine the appropriateness of the information for their own situation. This blog contains information about our classes available in Chandler, AZ and Payson, AZ and is not the official website of The Bradley Method®. The views contained on this blog do not necessarily reflect those of The Bradley Method® or the American Academy of Husband-Coached Childbirth®.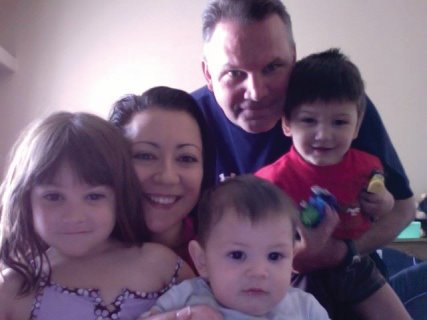 Argh!  I feel like a working-out-of the home person again!!  Since yesterday was a holiday and we didn't do schoolwork, I am working like today is Monday and I have one more day to write…the joke is on me!
We are actively working on preparing our kiddos (ages 6, 4 and 2) for our homebirth since we are at 35 weeks now.  Here are some of the things we are doing:
1.  We are watching birth videos with them at night so that they have an idea what it might look like, sound like and how we are going to work together to have the baby.  One of my favorites is "Children At Birth" by Hathaway Productions and distributed by the American Academy of Husband-Coached Childbirth®.  This shows five different births attended by siblings, all with different levels of involvement by the siblings.
2.  We are talking about what "working" looks like. We ask them to show us what they look like when they work hard.  We ask them questions like, "What kind of faces do think Mommy might make if she is working hard?"   As it turns out, our social studies and Bible study lessons the last week have been focusing on how the Holy Trinity works together, and it's making a great tie-in to how our family is going to get to work together to welcome our baby.
3.  We are talking about how the birth will progress from start to finish.  We have shared with them the different stages of labor and what we may or may not be doing, and if they feel like they want to help, how they can help us. 
4.  We talk about how there is probably going to be some fluid and maybe some blood that comes along with the baby, and they have gotten to see that on the videos.  One of the very important things for me to emphasize with them is that if at any point they don't like what they are seeing or if it's not something they want to see in person, that they can come and go as they want.  We tell them they are welcome anytime and they can leave anytime.
5.  We are doing relaxation practice so they can see how Bruss talks to me and touches me.  We allow them the opportunity to be involved or not.  Pretty soon we will need to step it up to a labor rehearsal so that they can understand how long a minute is when Mommy is having a contraction.  I think it will seem longer to them than it will to me!
6.  We are going to make a list of things that will be likely to happen when we go into labor on butcher paper and hanging it in our schoolroom for us to review and revise as we have different thoughts.  On the list are things like: who is going to come over to watch them, what they can do while Mommy and Daddy are in labor, that the midwife will come as labor progresses, etc.  We made one of these lists when we were expecting our second child, and looking back NOTHING happened as per the list except that we left without a baby and came back with a little brother from the hospital.  I don't know what will happen according to our new list.  I think the point is to give the kiddos some sense of what to expect to ease anxiety and the unknown, and to that end, it is worth the exercise.
7.  We have told them how we labored in the past and how I might get to a point when I don't want to talk and I don't want to be touched as we get to what is called "transition".  We follow with the statement that this will probably mean that the pushing work is near and that we will want to get to this point so we can meet our baby very soon!
What I have found fascinating about this process is that the kids want to know if the births they are seeing is their birth, which then leads to us showing them their birth story pictures.  I am learning that our children are very interested in how what they are hearing applies to them, which is important to remember as I teach them not just about childbirth, but life itself. 
In the last two days we have seen an interesting behavior shift in our home.  I wonder if they will feel reassured that their place in our family is secure if we make an effort to consistently tell them how they fit into the picture stories we are telling them.  It would be a relief to see our generally sweet children show up again.  
We have our home visit with the midwives tomorrow.  This is our first time ever doing this.  I will write about that on Friday since I know we are among the growing number of people choosing homebirth.  This is all new to us and we are excited to be able to experience this and share it with you.
As a reminder, our fellow teacher, Rachel Davis, AAHCC is going to write an in-depth look at sibling preparation while I am on "maternity leave".  I am looking forward to having her share her great information with you! 
What do you think – how did you prepare your children for the arrival of their next sibling?  For those of you that had a homebirth, did you have any pleasant surprises in your children's involvement or reactions? 
Disclaimer:
The material included on this site is for informational purposes only.  It is not intended nor implied to be a substitute for professional medical advice. The reader should always consult her or his healthcare provider to determine the appropriateness of the information for their own situation. This blog contains information about our classes available in Chandler, AZ and Payson, AZ and is not the official website of The Bradley Method®. The views contained on this blog do not necessarily reflect those of The Bradley Method® or the American Academy of Husband-Coached Childbirth®.

Why a home birth?

 


We are planning a home birth for our fourth child early this fall.  

 


Personally, I have always been a big proponent of hospital births.  With our first three children I was always adamant that my preference was to deliver in a hospital setting.  The overriding reason was the safety net.  If something goes wrong I wanted for Krystyna and our babies to be as close to a medical team and an operating room as possible.

 


What changed?

 


Education:

 


We took Bradley Method® classes for our first two births and then soon after the third birth Krystyna became a certified Bradley Method® instructor.  Together we have helped educate numerous couples in the process of pregnancy, labor and staying healthy throughout pregnancy and beyond.

 


The key here for me is that the Bradley® education combined with our experiences have proven time and again that birth is a normal, natural process.  Like all things in life there are things that you can control and some things that are beyond your control.  We've learned, and now we teach, others to maximize those things that are in your control to give the highest probability for a great outcome.

 


What's in your control?  

 


Great diet, exercise throughout pregnancy, rest, low stress environment, ability to relax, knowledge about pregnancy and the birth process, making sure you're ready to be parents and are accepting of the baby's arrival *before* going into labor and accepting of things beyond your control.

 


What's not in your control?

There are a lot of things not in your control, some benign but some that would affect a potential home birth such as pre-term labor, high blood pressure, poorly placed placenta etc.

 


Three Positive Birth Experiences:

 


We have had three natural delivery, hospital births without pain medication.  The babies were all on the big side.  Our second birth was the largest at 11 lbs 1oz.  Interestingly, this birth was our easiest so far!




Hospital Experiences:

 


Our experience with the medical teams for our first three births was almost all positive.   I don't think that's due to luck.  I've always been of the opinion that you have a strong influence on your environment good and bad.  We sought out great OBs that supported our desire for natural birth.  Additionally, we were very fortunate to attract some really great nurses for our deliveries.  

 


I've always been a firm believer that you bring your birth experience with you.

 


That being said, being in a hospital is not the most comfortable, relaxing environment for most people and that was certainly true of us.  In every birth so far our labor progressed nicely at home and then either stopped or slowed when we relocated to the hospital.  

 


Transport, paperwork, triage, blood draw, bright lights, noise, internal checks, unfamiliar surroundings and people, transfer to LDR room, new nurses, more checks, shift changes....on and on....

 


We've found that being secure, relaxed and comfortable are *key* aspects of Mom progressing through a natural birth.  Hospitals are not really the best environment for this.




Very Positive Experience with Midwives:

 


 


In all honestly the interview with our Midwife was the single event that tipped the scales for me to favor a home birth for our fourth.

 


She was professional, highly educated and experienced and had a higher level of personal interaction than with traditional OBs (even though our OB is/was great).

 


There were two big factors in the interview that helped make the decision.

 


(1) Once you go into labor the Midwife and her team (Midwives-in-training) are there with you until you deliver.  This is much different that the hospital setting where you get the nurses on staff for @ 98% of your labor and the Dr. shows up to catch.  Interesting note:  In our third birth we delivered at the same time as five other Moms and right at shift change...talk about a zoo!  The Dr. and team almost didn't make it to the birth.

 


(2) The discussion around what to do in case of emergency.  We discussed this at length.  The net of the discussion is that Midwives are highly trained and are more attentive/attuned to the Mom (they've worked with Mom throughout the pregnancy) than nurses in a hospital setting who are likely meeting the Mom for the first time and also have numerous other patients to care for.   So, Midwives will be able to tell if and when something is not right very early on and are highly likely to transport early in the event that something is not quite right.   We live one mile from the hospital and our local fire department so a transport would literally be 10min from the time of the call and we would be go directly to the ER...this may be quicker than an internal transfer if the staff was busy and took more time to diagnose the emergency situation.




So these are the reasons that I've become comfortable with our having a home birth.  There is one more that contributed to the fact that we are actually having a homebirth ourselves – I have gotten "over myself".  Krystyna has been gravitating towards a homebirth after our first hospital experience.  After our initial interview with our midwife, I realized there was no reason left why we ourselves couldn't have a homebirth.

 


Check back in about ten weeks and we'll let you know how it goes!

 


 


Disclaimer:

The material included on this site is for informational purposes only.

It is not intended nor implied to be a substitute for professional medical advice. The reader should always consult her or his healthcare provider to determine the appropriateness of the information for their own situation. This blog contains information about our classes available in Chandler, AZ and Payson, AZ and is not the official website of The Bradley Method®. The views contained on this blog do not necessarily reflect those of The Bradley Method® or the American Academy of Husband-Coached Childbirth®.




 


0

/