Shopping Cart
Your Cart is Empty
There was an error with PayPal
Click here to try again
Thank you for your business!
You should be receiving an order confirmation from Paypal shortly.
Exit Shopping Cart
...celebrating every swee​t pea their birth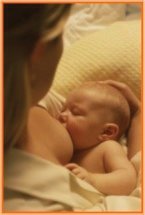 We are officially on our babymoon.  Thank you to today's writer, Tina Lebedies, AAHCC for allowing us a little more time to enjoy our sweet baby girl who is growing and changing already!!  Tina is an Affiliated Bradley Method® Instructor who teaches her classes in the Queen Creek and San Tan Valley area of Metro Phoenix.
I want to share this story with you because I believe it is a common problem, and with awareness and proper education it can be overcome with little to no medical or non-natural interventions.
My second child, Erik, was born at home on Christmas Eve. He was a big healthy boy weighing in at 9 lbs, 4 oz. and was 21 in. long. After joining the world he nursed like a champ for at least a solid hour. He was the best Christmas present I had ever received!
Everything was going well until his 1 week birthday. My husband was changing his diaper and yelled for me to come and look. He had bloody, mucousy stool in his diaper. We of course panicked and I called our midwife/naturopathic doctor immediately. Thankfully, she was able to come over within the hour. She was initially thinking it was uric salt crystals (which is common and will go away on its own) but as soon as she saw the diaper her hunch was that Erik was allergic to dairy.
She instructed us to keep our 1 week pediatrician visit and go from there. The pediatrician cancelled his appointments for the day so we were sent to urgent care. So off to urgent care we went! After an unpleasant exam, the urgent care provider diagnosed that the blood was most likely from an anal fissure; and they said that a dairy allergy was possible, but not likely. We were told that if he had any more bloody stools to go to the ER. Well, sure enough, a week or so goes by and he has 2 bloody diapers in one night. So off we went to the ER. They did the same unpleasant exams and came up with the same answers as urgent care and we were instructed to follow up with the pediatrician. The pediatrician saw no reason why he should disagree with the two previous diagnoses but thinks we should see a pediatric GI specialist, just to be safe.
Erik was now 6-8 weeks old and we are finally seeing the specialist. They immediately tell us that he is allergic to dairy and will need to switch to a prescription formula and that he needs to be on Zantac. I quickly told them that I don't do formula and that was not an option for us. I asked them, "How do I need to change my diet? What do I need to do? I will do whatever it takes." We passed on the Zantac, and of course the formula too.
I was now eating dairy-free and desperately hoping that my sweet little guy would stop screaming constantly and would never have a bloody diaper again. Well, a week went by and Erik was still screaming but the diapers were good. Our very intuitive midwife, who diagnosed this allergy from the start, gave me a lesson on eating dairy-free. Dairy-free I was not! Dairy and it's byproducts can be added to everything! I quickly learned how to read labels and to cook with substitutions. Did you know that some seasonings have dairy in them? Some breading on fish or chicken does, and some do not. Some bread does, and some does not. I had to be constantly on my toes. If I accidently messed up I would pay for it the next day by having a screaming, inconsolable baby. I also learned that it was just cow dairy that Erik was allergic too. That meant that I could have eggs and all egg products like mayonnaise and such.
Erik did get better but he still cried and screamed way more than he should. After trying many different homeopathic remedies we decided to go for the Zantac. We were told that it would help heal the lining of his digestive tract as the dairy had made it raw. (Being born during the holidays didn't give this poor kiddo a chance! We ate so many rich, creamy dairy foods.) After a few hours of his first dose he was a new baby. I hated to give him medicine at such a young age but I felt that it was the best option at this point. I continued to eat dairy-free and to exclusively breastfeed.
At one of the specialist follow-up visits the doctor explained that as he grew and gained weight, his dose of Zantac would not work anymore. I simply just needed to call the office and ask for a stronger dose. The doctor was very pleased with my exclusively breastfed baby. He was growing like a weed and was doing great!
Well, sure enough, one day the Zantac stopped working so I called the office to request a new dose of medicine. A nurse called me back and said that my milk had gone bad and that I would have to switch to formula immediately! I knew my milk had not gone bad; and I wanted to scream that at her, but I remained calm. After a very frustrating phone call Erik had his new dose and life was back to our "normal".
I bring this part of the story up, to point out that if there is an allergy or a complication with breastfeeding that we are quickly told to begin formula. This frustrates me to no end. The benefits of breastfeeding are huge and vastly outweigh formula. Thankfully, I was educated on breastfeeding and knew better, but not everyone does. I hope sharing my story will help others to stay strong, to ask questions, and to keep breastfeeding.
Many people ask me how I survived eating dairy-free. Yes, it was challenging; but for my baby I was willing to do anything. My willpower was much stronger for him than it would have been for me. Erik is now 21 months and has completely outgrown his dairy allergy. We are still going strong with the breastfeeding. He was on the Zantac for only a few months while his system healed and matured.  I was dairy-free for just under 1 year.
How did I know when he outgrew his allergy? The only way that can be determined is by trial and error and that is not always so fun. The naturopath suggested that we try dairy at every milestone. At six and nine months I ate a small amount of dairy and we had a very fussy baby the next day. Just before his 1 birthday I tried it again and the following day nothing happened. I couldn't believe it! I added more and more dairy in my diet and he was completely fine! He continued to be happy and I sure was, too.
At his last visit with the specialist we were told that we could wean him off the Zantac. He had no signs of needing it but I was so scared. I got up my courage and began the weaning process. He handled it with no problem and was completely off of it after 2 weeks. He is healthy and can eat more than his 4 yr old brother most days. He loves cheese, yogurt, and milk. You would never guess that he had such a rough little start.
Did you discover your baby had a food allergy (or allergies) when you were breastfeeding?  How did you manage it (them)?
About the author:

Tina Lebedies, AAHCC is an Affiliated Bradley Method® Instructor who teaches her classes in the Queen Creek and San Tan Valley area of Metro Phoenix. To contact Tina directly for more information on managing a dairy allergy in your nursling, or about her upcoming Bradley Method® class series that start on 11/29/11 and 02/04/12, you can call her at 480-272-7086; or visit her website at
www.welcomingbirthnaturally.com
The material included on this site is for informational purposes only.  It is not intended nor implied to be a substitute for professional medical advice. The reader should always consult her or his healthcare provider to determine the appropriateness of the information for their own situation. This blog contains information about our classes available in Chandler, AZ and Payson, AZ and is not the official website of The Bradley Method®. The views contained on this blog do not necessarily reflect those of The Bradley Method® or the American Academy of Husband-Coached Childbirth®.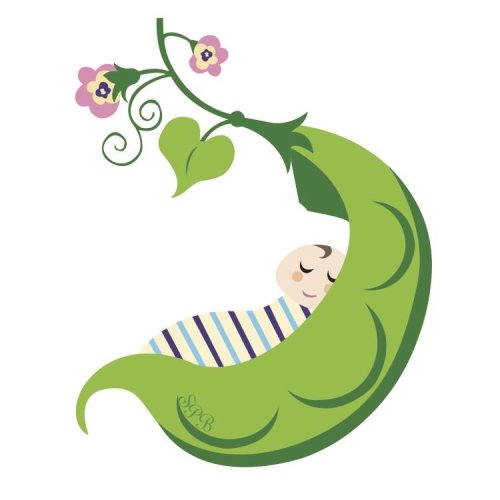 Now Enrolling for our Winter Series
December 5, 2011 through February 20, 2012
Limited enrollment - one space left

For more information or to register, please

call us at
602-684-6567
or email us at
My mom arrived from Chicago to relieve my aunt at around 4:00 pm on Friday afternoon.  She came in to see how I was doing.  She asked, "How are things going?" which of course started the tears again.  Being a woman of great faith, she said a beautiful prayer over us, then gave me a kiss and left the room to go take care of the kiddos.  I pulled myself together and decided I wanted to go see our children.  I missed them and one of the benefits of a homebirth is having those you love near to you.  We took a quick cruise around the house and saw the kiddos, and we decided it was cool enough to try walking outside again – maybe just one more time – to see what would happen.  
This walk confirmed our suspicions.  This baby wanted me on my side.  Nothing upright was working to progress the labor.  I lost it again – why was this happening to us?  Why couldn't just once, my body work like a "normal" woman in labor??  
Up to this point, we had had student midwives checking vital signs on mom and baby.  I asked if we could have Wendi check me the next time just to be sure that we were both doing as well as they thought we were doing.  I wasn't concerned about infection despite the fact that the membranes had ruptured going on 18 hours.  I had been good about taking Vitamin C every couple of hours, we hadn't had one vaginal exam or external vaginal probing that was introducing germs "upstream" as we say in class.  My concern was simply that although I felt strong and the baby sounded good, we had been going at this since 5:00 am on Thursday morning and I wanted peace of mind that we could continue at whatever pace the baby needed.  
Bruss and I also talked about having the midwives go or stay, and we were not sure what to ask of them.  We conveyed this to Wendi when we talked to her.  I felt so bad having them stick around for "nothing".  At the same time, I was wondering when we would call them back when our labor finally picked up.  Having spent so much time with us at our prenatal visits, they knew our birth history and knew that this had been our labor pattern in our previous births.  They assured us that they were comfortable, and happy to continue waiting patiently for baby to make her appearance.  
In the meantime, this birth also confirmed our choice to have a homebirth.  We had been in labor for 36+ hours now.  If we had been in the hospital, we would have been subjected to multiple vaginal exams by now.  If we had gone home and then returned after our water broke, we would have had a very hard time leaving again without signing a multitude of forms when it was clear that labor was not progressing.  I had declined the GBS test since we made an educated decision to take supplements that supported a healthy vaginal track, and I was confident that Dr. Ross' KST check confirming that I was GBS negative was accurate.  Under medical care from an OB, I would have had to have the GBS test and had I tested positive, I would have been pumped with penicillin and IV fluids every four hours.  By now my hand would be swollen at the hep lock site, and my feet and face would be puffy and uncomfortable.  
At home, we were allowed to have the gentle birth we wanted for our child.  We listened to my body and followed the cues, however unbelieving that "this" was our labor.  We were able to sleep and eat to keep our energy up.  Our baby was monitored with a Doptone monitor every hour for a few seconds, which let us go back to the position we needed to be in for her more quickly.  Our midwives were supportive and encouraging that we were doing well and to keep going like we were going.  
Bruss kept in touch with Andrea and Dr. Ross via text throughout the day and night – they were our doulas by text!!  As they made suggestions he would try them if we hadn't tried them already, as they gave us words of encouragement he would convey them.  
I would say I finally "accepted" the birth around 8:00 pm.  Bruss had given me wonderful assurances that this was the labor our baby and I needed every time I had started to cry.  He assured me that he was ready to labor just he and I – it had also become clear that having all the people around was starting to stress me out.   Despite the fact that a doula would be there to support us, he wasn't willing to call in another person to add to the group of people in the house already.  
We decided to watch a movie and both proceeded to fall asleep.  The midwives continued to come in and monitor us through our sleep.  I was still getting up every 45 minutes to use the restroom.  One thing we did REALLY well is stay hydrated.  We found that we still had the contractions when we stood up and moved from the bed to the toilet.  As I accepted that this was our labor, I remember reading birth stories about women who slept through labor until they woke up in time to push.  I figured that we might as well give it a try – who knew – maybe this could be our birth story since short and sweet was definitely out!!  
It was my perception that the contractions were every half hour.  I could sense that I was moaning in my sleep, yet they didn't feel so strong that they woke me up until it was time to use the restroom.  The midwives told me later that they had watched and felt my belly when I was sleeping, and I was having contractions about five minutes apart in my sleep.  
Somewhere between 10 and 11 pm, I could no longer sleep through contractions.  We decided to use the shower again.  We put a birth ball in there and let the water wash over me.  You know what happened – the contractions spread out again.  Since our baby was CLEARLY happier with labor when I was lying on my side, we set up a layer of towels in the shower and made a towel pillow.  I lay on my side, and sure enough, they contractions started getting hard again.  Although they were uncomfortable, I was happy to bear with them since I knew these were the type of contractions that were going to get us to the point of meeting our baby.  
Before we knew it, the shower stopped working as a relaxation tool, too.  I had a strong need to void, but I couldn't do it anymore.  We decided to move back to the toilet to see if I could void in the toilet.  It didn't take me two seconds before I declared that this baby was coming out *now*.  The birth stool that had been taunting me for 24 hours was finally going to be put into use!  
We got on the birth stool. I asked our midwife Wendi if this was really it.  She asked me to try pushing and if I didn't feel any pinching, to go for it and work with my body.  The next contraction came and I could push without pinching – so we did.  This is the one time when we could have used an extra pair of hands.  Since we didn't have them, Bruss got behind me and supported me in a dangle position off of the stool so I could bear down and also use more gravity behind the push.  Trying to be mindful that we were capturing this on video for possible use with future students and for our children to see, I made every effort not to yell out too strongly.  
We asked one of the student midwives to go wake up our children and my mom since it was clearly time to push.  Squatting didn't feel as good as it had with our other children.  After a few pushes in the squatting position, I felt like it would be best to move to my hands and knees, so there we went.  Bruss ended up on the floor with me, and as a contraction came, I would lean all my weight on him and bear down.  This is the first time I have been clearly conscious of the baby moving through my vaginal canal – it was amazing.  I could feel her crowning, and I remember that Night Owl looked at my bottom and said, "I see the baby!"  I told him to talk to her and tell her to come out, which he did!  A couple more pushes and I could feel that we had delivered her head.  Before I knew it, I was holding our lovely little Angélica in our arms and overjoyed with the wonder of the work we had done together.  
We pushed a total of 20 minutes – the most amazing 20 minutes of our birth.  My mom and Night Owl got to watch the majority of the pushing phase.  Puma came in just as Wendi was passing Angélika ("Otter") up to my arms.  Our photographer who we have known for six years got to capture the birth of our new family.  Our midwives were there supporting and loving on the whole process, one of whom was able to capture the birth on film.  It was a room full of love and joy.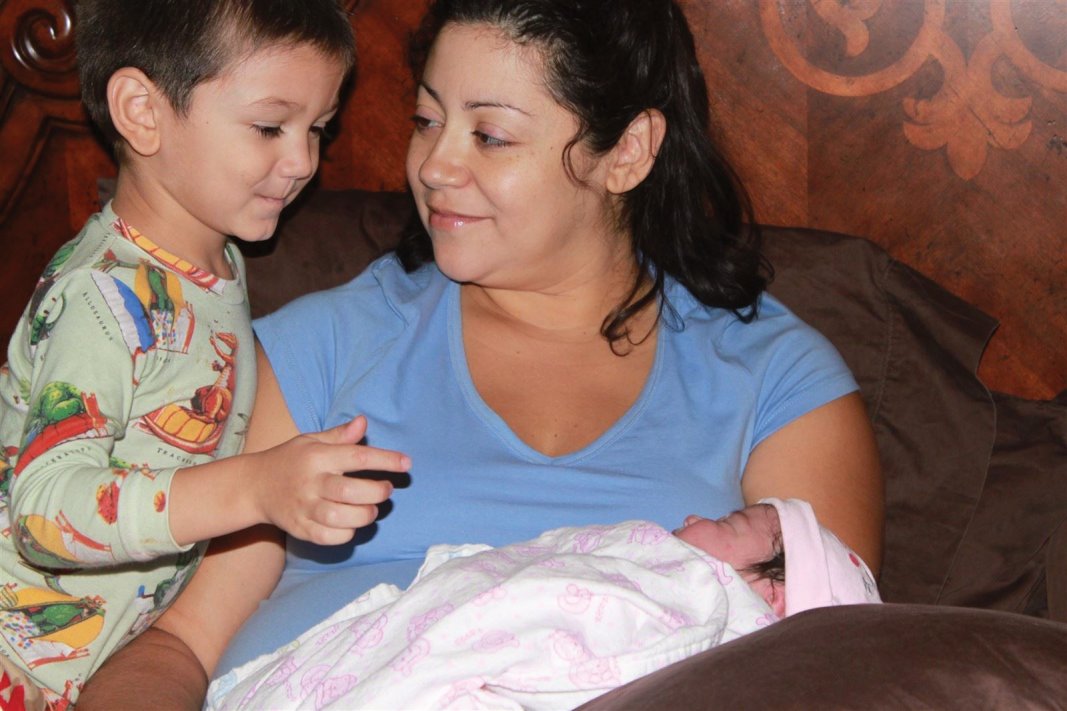 We marveled at this new creation that was now part of the Bowman family.  We looked at her face, her belly, her fingers and toes.  We checked to make sure that we were indeed holding the newest little sister…and we were!  The senior student cleared out Otter's stomach and nose with a little tube syringe.  She had taken in some fluid and was having a hard time getting her breathing started.  Within a few minutes of skin-to-skin contact with mom and some massage stimulation, her breathing assumed a normal pattern.  She got her full measure of blood – her cord stopped pulsing, we delivered the placenta, and then we cut the cord and got in bed.  It was probably an hour from the time we delivered to the time we all got settled in bed for the first time.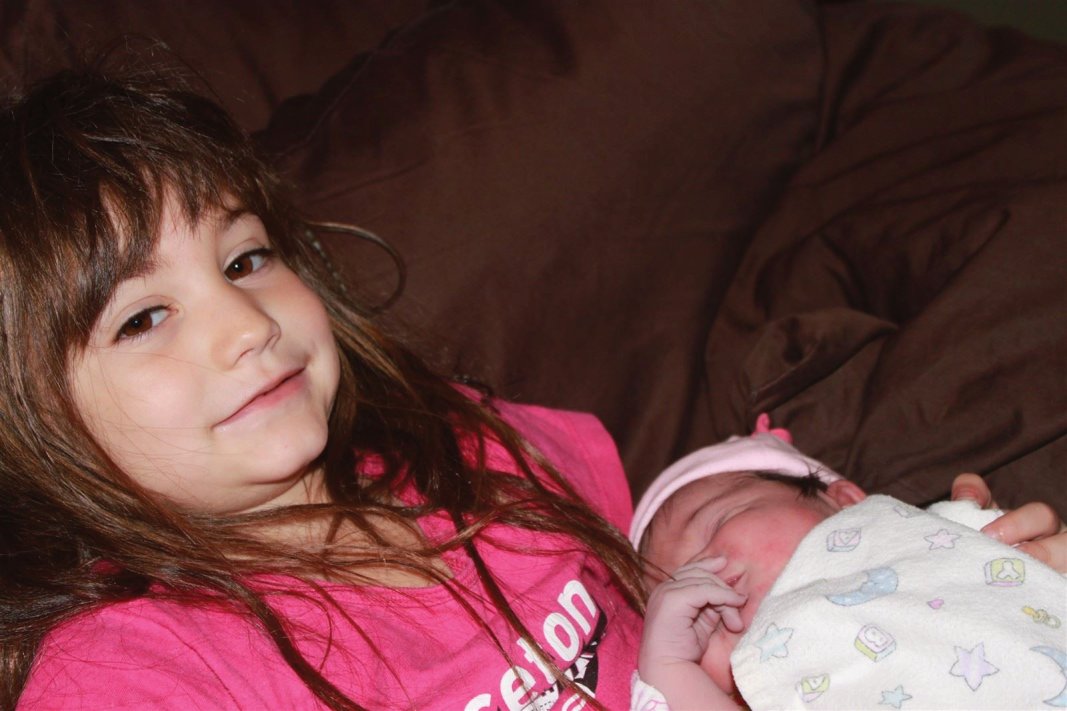 The whole process was amazing.  It was beautiful to allow Otter the birth she needed.  The old mantra of "Trust Birth" was proven true once again.  Why had our labor started and stalled for two days?  Our little miss had the cord wrapped around her belly twice.  Although Wendi assured us it was not constricting anything vital, it is not something she has seen very often in her 11 years as a licensed midwife.  Our baby and my body knew that Otter needed to ease her way out so that her wrapped cord stretched as needed and supported her through the passage from her safe home inside my womb to her new home outside with us.  As a good friend said to me the day after, hindsight is always 20/20!!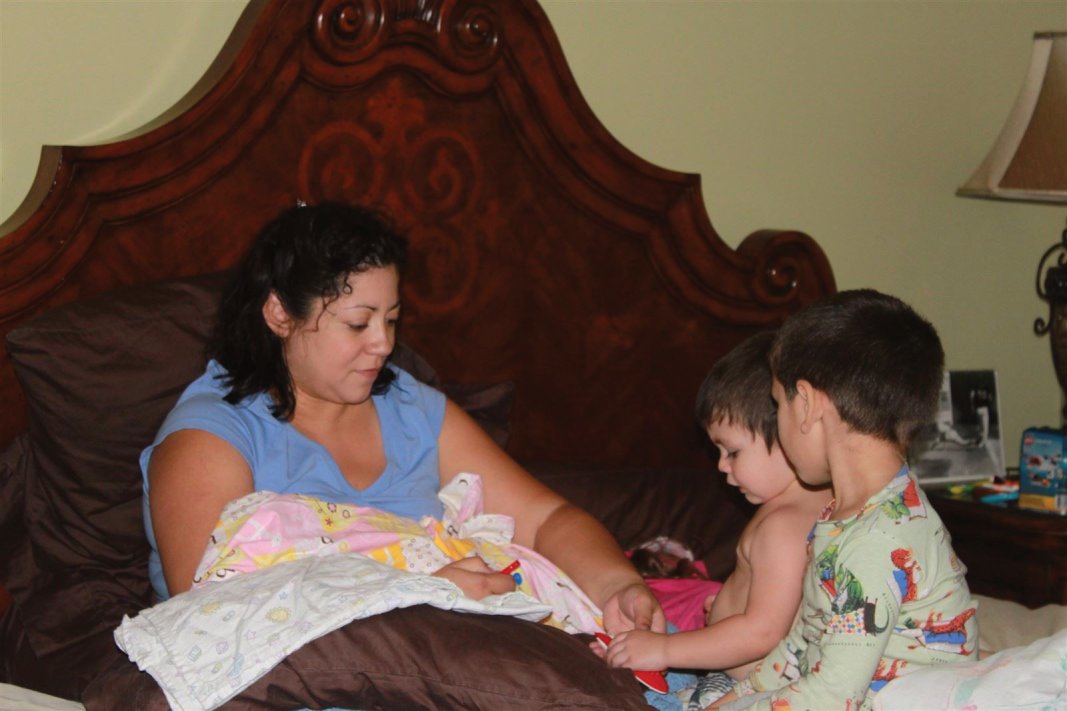 At our first postpartum visit Saturday afternoon, Wendi asked us if we had any favorite parts in our birth.  My first answer was holding the baby!!  We also liked the lack of time-driven pressure – we got what we wanted: the birth our baby needed.  It was amazing to have our children be part of the birth process.  They had gotten to come in and check on me, encourage me with kisses, and I hadn't had to leave them to go to the hospital for three days.  Night Owl got to watch his sister's birth – and now we get to hear his version of events.  His godfather came to visit this weekend.  He asked NIght Owl to tell him about the birth, and this was his answer, "My mommy screamed and the baby popped out!"  Clearly, I wasn't as low-key as I had hoped, yet it hadn't scared him and he is delighted to tell people about his experience.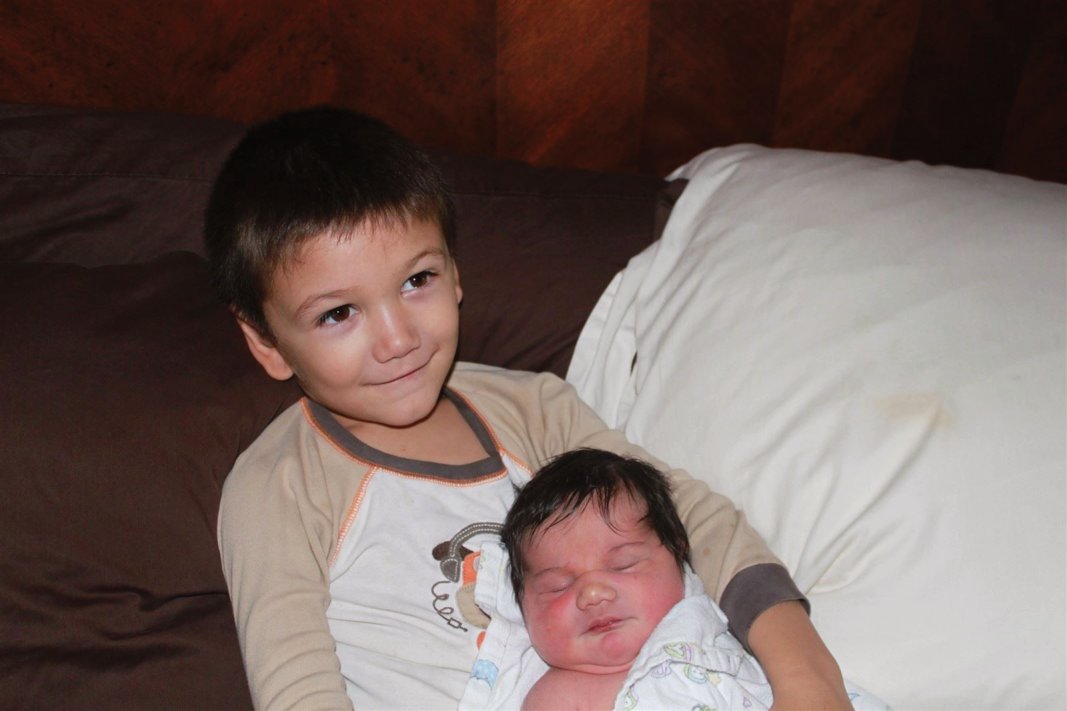 So we are now *officially* home birth advocates.  We are incredulous that it took us four births to get here.  It has been a great way to close the chapter on our childbearing years.  We are forever grateful to the women at Freedom and the Seed who so lovingly tend to the families in their care.
Disclaimer:
The material included on this site is for informational purposes only.
It is not intended nor implied to be a substitute for professional medical advice. The reader should always consult her or his healthcare provider to determine the appropriateness of the information for their own situation. This blog contains information about our classes available in Chandler, AZ and Payson, AZ and is not the official website of The Bradley Method®. The views contained on this blog do not necessarily reflect those of The Bradley Method® or the American Academy of Husband-Coached Childbirth®.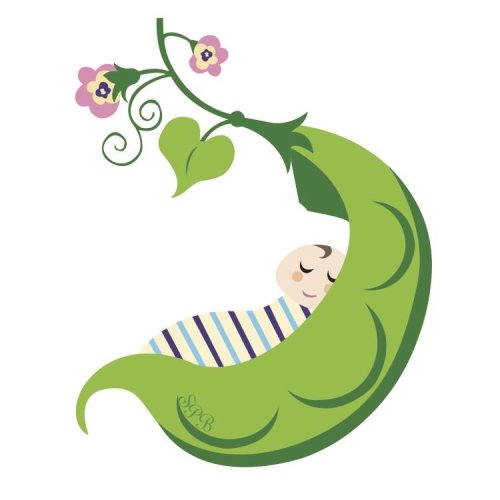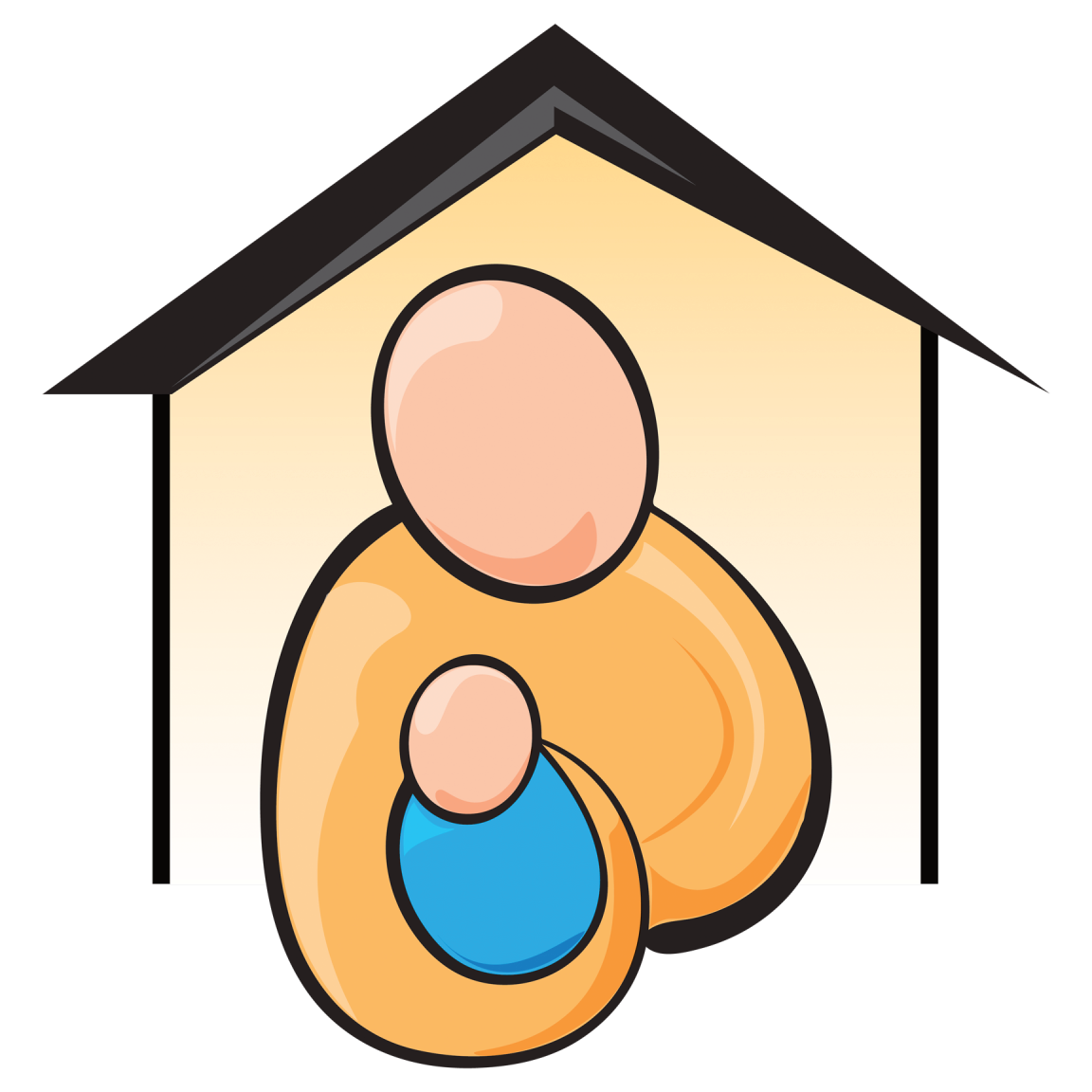 Our labor started around 5:00 am on Thursday morning (9/29/11).  I was running around trying to get Brussito's birthday breakfast table together, when I had a contraction that made me stop in my tracks and grab onto the edge of the bed.  The contractions kept coming throughout the morning.  Since my water had not broken yet, which is how our other three labors had started, Bruss and I decided it was best if I went back to bed to get some sleep.  We called our chiropractor, Dr. Ross, to see if he would come by for a home visit and help us evaluate what was going on.
Dr. Ross got to our home around 11:00 am.  I told him, "I'm having contractions, the dogs are acting like I'm in labor, the kids are feeling/acting funky – all signs are pointing towards that direction, but my water hasn't broken yet…what is going on?  Do we start making the calls to family, doula, photographer, midwives, or do we hold off?"
So Dr. Ross did a KST check on me, and adjusted a few places, and decided that since everything he adjusted for was centered around the cervix, that yes, I was probably in labor.  He told us that it wasn't likely to be today.  Maybe late night today or early morning hours Friday.  He told us to call him if we needed any more adjustments or KST checks.
He left me with the parting thought that having my bag of waters intact was actually a good thing.  (Yes, even Bradley® teachers need to be reminded of the basics!)  He reminded me that the intact waters would protect the baby and the extra pressure would help dilate my cervix without any additional work on my part.  I realized that for once, I might get to experience this benefit and hoped that meant we might really have a shorter labor this time.
At this point we called my Aunt Gloria who was on-call to come take care of our children, and our photographer who also has kiddos so that she could make arrangements for her family and start getting things ready to come over and document our birth.  We told them there was no rush since our labors are slow to start and my water had not broken yet. 
We also contacted our friend Andrea, who was on-call to doula for us if Bruss felt like he/we needed support through our birth.  When we first found out we were pregnant and started talking about labor, Bruss was thinking that he did not want a doula this time.  Since Andrea is "technically" our former teacher turned friend, he didn't feel like he would have a doula there, just help from a good friend.
So we went it alone for most of the day.  I tried to rest and relax as much as possible, and remember the Bradley® mantra, "Don't pay attention too soon," which means that parents should go about their day, eating, drinking and resting instead of timing contractions and getting worked up about their labor.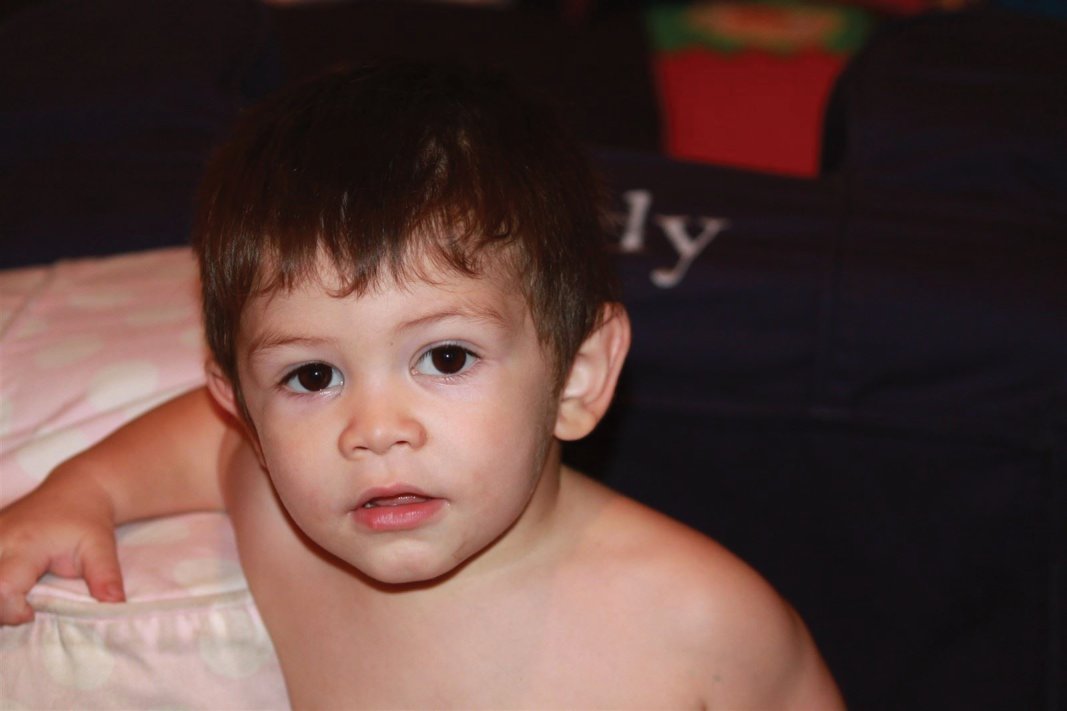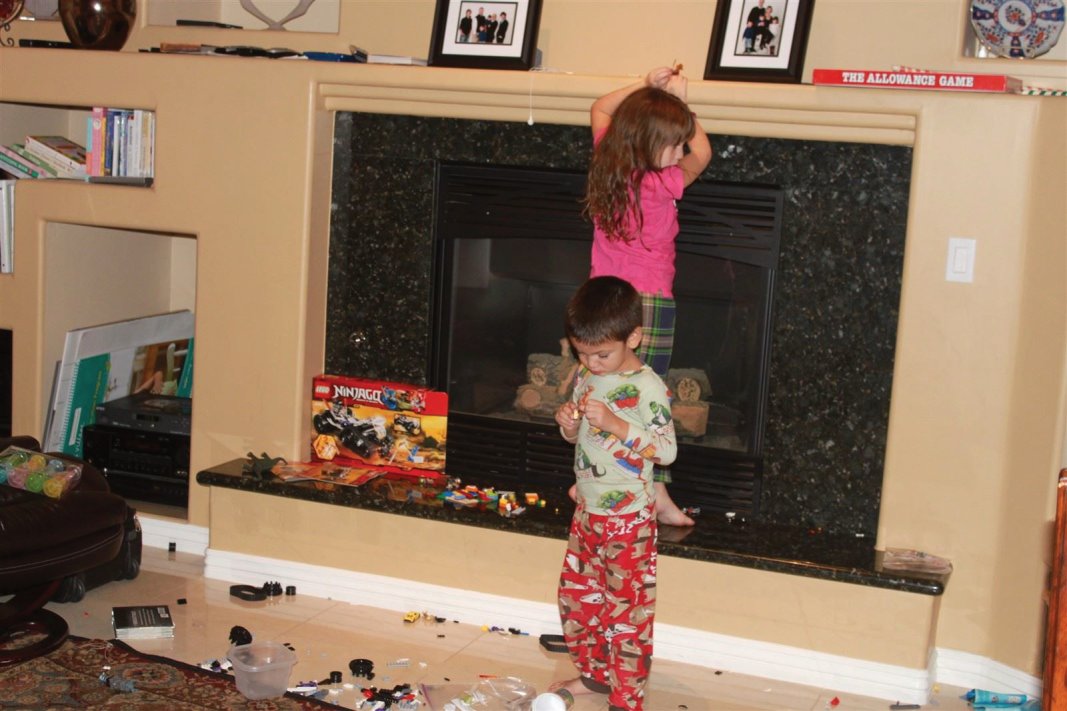 It was hard to let go and relax since my mind was on our three older kiddos.  I kept wondering, what are they doing?  Why is Bryan crying?  How is the house holding up?  Luckily, since it was Brussito's birthday, there were lots of new things to entertain them and overall, they did fine without our full attention.  Bruss split his time between me in our bedroom and our kiddos on the other side of the house.  I was in our room, trying to sleep and just accept that if this was labor, I needed to let go and relax instead of running around the house trying to get it in perfect order in anticipation of people starting to arrive.
The benefit of not having my water break yet was that I got to make food in early labor, something we encourage our Bradley® students to do when we teach class.  Why food?  So that they have goodies to take with them to their birthplace for the staff; or in our case, to have food at home for our midwife and her students.  I had all the fixings together to make our favorite crock-pot lasagna, and I actually got to prepare it!  The goal was to have enough for dinner and for the midwives to snack on when they came to our home – and this is one thing that went as planned!
After having a light lunch and making the lasagna, I went back to bed.  I did not feel like things were progressing as I had hoped, but then again, we know our labors are slow to start and quick to finish, so I figured we were fine and it was still possible we would be meeting our newest family member by Friday morning.
When my aunt finally arrived at 5:00 pm, Bruss and I decided to go for a turn around the neighborhood to see if we could get our labor going. Walking has been shown to speed labor as well as Pitocin, and it also helps avoid unnecessary pain by naturally opening the inlet of the pelvis to ease baby down.  We found that we our contractions got more regular as we walked – yeah!  This is what we wanted!!
We stopped back at home after our first walk to refill water and use the restroom.  I thought that maybe I had a high leak in the membranes, since I was getting a tiny little trickle of fluid – literally like a teardrop – with some of the contractions.  I couldn't tell if it was a high leak or just sweat…another "not knowing" emotional hill for me get over.  After our second walk, we actually noticed that contractions seemed to slow down, so we figured it was a good time to take a break and have dinner.  Bruss had not gotten any rest during the day between taking care of me and the kiddos, se we made the call to Andrea to come relieve him while he took a nap.  We also called the midwives to let them know that we were in early labor.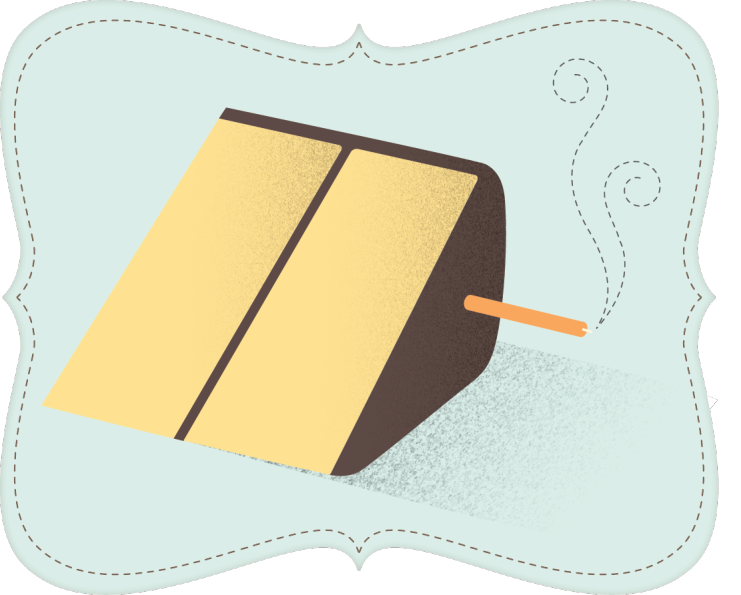 In the meantime, my aunt had made Brussito's birthday cake, and we all gathered around to sing Happy Birthday and eat cake.  The senior student at the midwifery practice returned our call and suggested that we go to bed and rest.  Andrea had arrived and suggested we take a walk before going to bed just to see if we might get labor going since I had rested most of the day.  Wanting to meet our baby, I went for the walk!!
So Andrea and I went on our walk with Brenda, our photographer.  Again, the first time around things seemed to progress; by the second time, things slowed down significantly.  Andrea commented that it looked like it was going to be another slow to start Bowman labor and that yes, indeed, it was time to go to bed and conserve energy.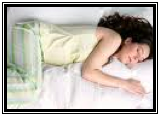 We got back to our house, and I went to bed frustrated.  Interestingly enough, I noticed that I had contractions when I was in side-lying position.  I was blown away – never before had we used the side-lying in our labors.  This was a new experience for me!
Although Dr. Bradley® recommends the side-lying or "sleep" position for active labor so that a mom can completely relax through the intense uterine activity, this had never appealed to me.  I am a mover – with our other labors, I had always been walking or squatting or stair climbing between contractions to progress, and then when a surge hit, we would stop, chant and relax through the contraction.
They were not so intense that I couldn't sleep, so Bruss came to bed with me so that he would be available if I needed him, my aunt got the kiddos to bed, Andrea went home, Brenda found a place to camp out, and the Bowman house settled down to sleep and wait.
At midnight, I got up to go to the restroom and, water works!  My water broke and we squished our way to the restroom.  There was no mistaking this gush – my water had officially broken.  And unlike our other labors, contractions started coming on right away, so we called our midwives to come over and evaluate mom and baby and see about our labor.
Andrea came over again and we started walking around "the track" in our backyard.  Bruss would call out the time as I had a contraction so I could know how long we had been having one, and Andrea would remind me to breathe through the contractions.  It started to feel good to squat and lean forward when we were having them.  They seemed to come on every three to five minutes.  And then some of them were back to back – and then they stopped again.
Our midwife Wendi Cleckner was the first one to arrive around 1:30 am.  When we went in for a potty break, she was already set up in the bedroom and she checked the baby with her Doptones monitor.  Lo and behold, she found that our baby's heart was nice and low, a little above the pubic bone.  This was another point of excitement for me.  With our hospital births, we always started with the heart tones being found a little below my belly button – this was good!  With her heart so low, I guessed she (the baby) was already down and applying pressure to open my cervix.
We went out for another walk around the track.  Again, the more we walked, the more labor slowed down.   Grr!!  Around 4:00 am, we decided it was time to go back to bed, and that Andrea would go home to see her family and get her girls off to school.  Brenda decided to stay since her trip home meant going to Glendale and back.  The midwives found places to camp out around our home and we…went back to bed.  I was starting to get discouraged.  It was clear that this baby was not arriving in the wee hours of this morning.
We slept a little longer.  Our next wake-up was around 7:00 am.  Despite having been asleep, I was having more contractions again.  Bruss had a quick breakfast, and I drank a mango smoothie.  We went back to our regular routine of walking – we just couldn't figure our why it had not gotten our labor jump started yet, and figured it was worth another try.  Since it was daylight, we walked around the perimeter of the backyard instead of just the loop around our pool. 
So we walked and talked.  We tried to figure out if there was anything physical, mental or emotional that we needed to deal with for our labor to progress.  We commented on the benefits of having a homebirth:  No IV's, no fetal monitoring that tied us to the bed for 20 minutes every hour, no vaginal exams, no nurses starting to fret that we were "failing to progress", no one talking to us about making decisions to augment our labor.  The only pressure was self-generated: I felt bad that all these people were sitting around waiting for our labor to do "something" so that they could do their job.
Friday progressed like Thursday: we would walk, get some contractions and then notice that labor slowed or stopped.  By 10:00 am, Bruss wanted to stay inside since it was getting hot, so we would sit on the birth ball in our bathroom and rock back and forth to imitate the hip action that walking produced, staying upright and trying to work with gravity to encourage labor to progress.  As labor stalled, we would lie down for another nap.  By 2:00 pm, I was emotionally spent.  The first set of tears came.  I was disappointed in my body.  We had been so hopeful that eliminating the hospital transfer would make for a smooth, progressive labor, and one that was shorter than 24 hours.  It was clearly not our lot to have a "butter birth" as they are known in the birth community.
So we went back to bed – again.  Again, we noticed that when we were in bed, the contractions became regular.  Bruss and I talked and agreed that clearly this baby was going to be another teaching moment for us, so that we could be better Bradley® teachers to our students.  We accepted that walking was not the key to her labor; this baby clearly preferred me to labor on my side.
We also noticed that the contractions would be most intense when we changed position.  When we got up to go the bathroom every 30 – 45 minutes, we would have a more intense contraction right by the bed.  When we got to the bathroom, I would have a couple of good contractions on the toilet.  Then they would stop, Bruss and I would clean up, and we would go back to side-lying position on our bed again.  And so we repeated this new cycle.
To be continued...check in on Friday for Part 2 and read about when we finally got to meet our baby!
Disclaimer:
The material included on this site is for informational purposes only.
It is not intended nor implied to be a substitute for professional medical advice. The reader should always consult her or his healthcare provider to determine the appropriateness of the information for their own situation. This blog contains information about our classes available in Chandler, AZ and Payson, AZ and is not the official website of The Bradley Method®. The views contained on this blog do not necessarily reflect those of The Bradley Method® or the American Academy of Husband-Coached Childbirth®.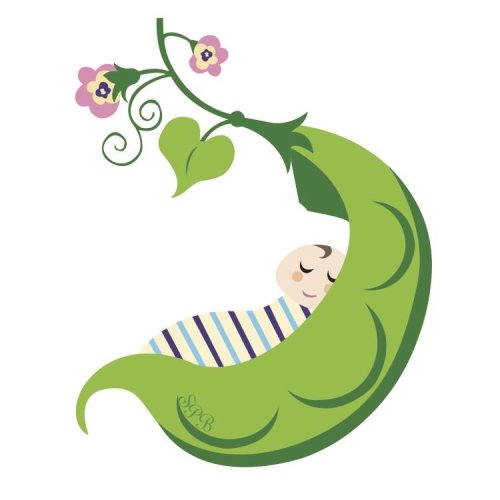 Now enrolling for our

Winter Series
December 5, 2011 through
February 20, 2012
Limited enrollment
Call us at
602-684-6567
or email us at
As part of our Bradley Method® class, we encourage all of our students to take a tour of their birthplace.  In the event that a couple is planning a birth center or home birth, we encourage them to tour the hospital that their care provider would transport to "just-in-case". 
There are many reasons why taking a hospital tour are important: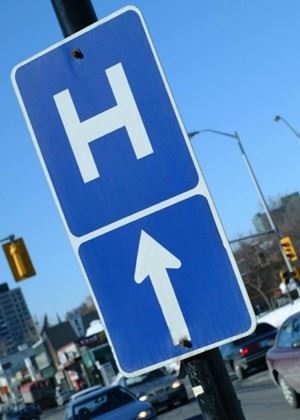 1.  You know how to get there and can plan alternate routes in the event of traffic.
If your care provider offers you a choice of hospitals, then this could be a deciding factor in which facility you choose.  It is also important to plan a couple of alternate routes to your birthplace in the event of road closures or traffic jams.
2.  You get to a chance to familiarize yourself with your birth setting.
It is good to know information such as: where you can drop off mom, where you can park, where registration is, where triage and the labor & delivery rooms are, where can you receive visitors, where can you find food and beverages, what happens if you arrive "after hours" and you need to use a different entrance.
3.  You can prepare for the hospital or birth center experience.
Once you have answers to the items in #2, you can better plan for your trip.  If you hare having a planned hospital or birth center experience, once you know what's available, you can write a better packing list.  If you are planning a home birth, you can have an idea of what to expect in the event of a transport.
4.  You can fill out pre-registration forms and save time on baby's "birth-day".
Anything you can do to save time and have Coach stay with Mom is a benefit to your birth experience.
5.  You get to hear "the rules" from one of the staff members.
This is your opportunity to ask all the questions you have about your birth setting.  The more medical the setting, the more "rules" you can expect them to have in place.  If there is anything that causes you concern, be sure and discuss it with your care provider.
6.  Knowing "the rules" can help you write a better birth plan.
If you and your care provider have agreed on one thing, and your birthplace is telling you something different, you will probably want reconcile the difference(s) before you go into labor.  We have found that having our care provider sign off on our
birth plan
increased the likelihood that the things we wanted were respected during our labor.
I want to share two of our student's insights as this topic came up throughout the class.  One of our first time moms's shared an "a-ha" moment they had on their hospital tour.  Their impression of their chosen hospital is that it is very natural-birth friendly.  Their tour guide told them the hospital welcomes doulas, that laboring moms are free to move about, enjoy the labor garden, try different positions…their first impression was that they can do whatever they need to have a positive birth experience. 
This mom was stunned to hear that if a couple decides to have an epidural, all those options are thrown out.  As someone who has been around natural birth for a while and since I have seen moms on epidurals, I forget that this is a news flash to most first-time moms.  Once a woman decides to have an epidural, she is now officially on the "medical track" and the bed in her room is the only option she has.  Why?? You cannot target a medicine to only one part of the body.  Because you are being administered an analgesic, it doesn't just suppress pain.  It also has the potential to affect your and/or your baby's heart rate, blood pressure and your breathing among other things – it all depends on the reaction(s) to the "cocktail" you are administered. 
Given the fact that the drugs can have an adverse effect on the mother and/or the baby, once you have been administered the epidural you and baby must be continuously monitored so you will have two monitors (one for mom, one for baby) strapped to your abdomen and connected to the machine.  The tube delivering the medication is inserted in your back, and it's taped all the way up to your shoulder.  You will have a continuous IV drip, so there is a needle and a tube to the IV.  You will have a blood pressure cuff.  They put a pulse oximeter on one of your fingers.  As you can imagine, you are not allowed to get off the bed – there is no way to maneuver or try different standing or moving positions with so many tubes and wires.  Since you can't get to the bathroom, you are catheterized.  In the event that you had been eating and drinking freely before the epidural, you will probably be restricted to ice chips for the duration of your labor.  Hence, all the "butterflies and flowers" you have written down on your birth wish list are exchanged for the hard and fast rules that accompany the medical delivery of your baby.
The second insight that was shared came from one of our moms that has already had two hospital births.  She suggested that taking the hospital tour is a good way to gauge how comfortable you really are in a hospital setting.  I think her point was that if you have any issues with being in the hospital, they have the potential to be amplified when you are dealing with the "what ifs" or the unknowns of your birth experience.
Take the time to evaluate: Do you have any triggers that might send you into a negative spiral when you get to the hospital?  Negative past experiences, bad memories, maybe the smell.  Does anything send you over the edge when you go to a hospital?
If you discover that the idea of being in a hospital is challenging, then you need to think about your options.  Can you do some mental preparation; maybe write some affirmations that will help you better manage your hospital experience?  Are you practicing your relaxation diligently so that you will be able to relax in spite of your setting?  Are you and your Coach willing to look at other alternatives, maybe consider a birth center or a home birth?  If you choose an alternate birthplace, how will you cope in the event of a transport?

Bruss has a saying, "You will be the birth experience you bring with you" to your birthplace.  So far, we have had three positive hospital experiences because we prepared our birth plan with our care provider, we were comfortable with the hospitals we went to, and we communicated our desires well as a team to the staff during our labor and delivery.
Which questions did you ask and find helpful when you toured your birthplace?
Disclaimer: 
The material included on this site is for informational purposes only.  It is not intended nor implied to be a substitute for professional medical advice. The reader should always consult her or his healthcare provider to determine the appropriateness of the information for their own situation. This blog contains information about our classes available in Chandler, AZ and Payson, AZ and is not the official website of The Bradley Method®. The views contained on this blog do not necessarily reflect those of The Bradley Method® or the American Academy of Husband-Coached Childbirth®.
Oh my gosh – our baby is really almost here!!  The reality hit home when one of our midwives and one of her students visited our home Wednesday morning.
Some reasons for the home visit:
~It's a test run to make sure they can find the home and can plan for alternate routes if necessary.

~It gets them familiar with the "lay of the land" so that they know their way around the home during the birth.

~It gives them an opportunity to check in with the family in their own space.

~They encourage the family to invite whomever else they have invited to the birth to meet them and have the family get a sense of the "crowd".

~It gave us the chance to talk a little more about our birth plan and any concerns we have about our birth. 
It was a little rushed since we had another appointment afterwards, and I could have kicked myself that I forgot to take pictures…ah, well.
I realized through the course of the visit that I have yet to accept that this baby is going to be born here.  That we really and truly will not have to go to the hospital this time still seems so surreal!!
It was so nice to have our former Bradley® teacher and friend Andrea here with us during the visit.  She has attended several homebirths and is very familiar with the process.  I am going to lean on her confidence since she was there at our last birth, and I know she knows that we know how to birth.  I just have to get there myself and believe that we can do this.
Here are some of the things we talked about:
What our vision is for our birth?
Peaceful and uninterrupted by a transfer
Where do we picture ourselves laboring and birthing?
As long as the weather breaks (we are still over 100° F in AZ), I envision spending a lot of time outside enjoying our beautiful courtyard and in the backyard watching the kiddos play.  Otherwise we will take comfort in the sanctuary of our bedroom.
Do we think we are going to use the tub? 
I want to just because I have never been able to use it before.  Since my bag of waters has ruptured before contractions started with our first three births, our previous doctor and the hospitals would not sign off on submersion for fear of infection.  Henci Goer addresses this in her book, The Thinking Woman's Guide to a Better Birth and she offers study-based evidence that these are unrealistic concerns.
What are our expectations from our care providers?
Open lines of communication.  Bruss emphasized that he is looking forward to not having to go to the hospital and seeing our labor stall.  By the same token, he wanted reassurance from our midwife that if they do see any signs of concern, that they will let us know in plenty of time to make a Healthy Mom, Healthy Baby decision.
They wanted to know where they could set up their supplies, and where we would be laying out our supplies.
They also checked in to make sure that we had plans for our children:  who would be keeping an eye on them so we could focus on the birth, and how were they feeling about the homebirth.  I can honestly say that when we were under traditional OB care, we were never asked about how our children were being prepared for the upcoming birth.  Even though most children are not going to attend a hospital birth, they are still important people in the family that need to be considered in the planning and welcoming of the newest family member.
Who will be at our birth?
So far, we have Andrea as an Assistant Coach to help Coach Bruss, and our photographer to capture this momentous occasion with her artistic eye.  We are still going back and forth on a videographer. I would love to have a well-filmed video to submit to the American Academy of Husband-Coached Childbirth™ so that other students could benefit from a birth filmed in the 21 century!  There is no question that it would be neat to capture the kiddos reactions on film and watch it on baby's birthday; and maybe someday have the courage to show to our own students.
It became apparent why they encourage families to invite anyone who is going to be at the birth to the home visit.  The midwife, her student and our friend Andrea were here with Bruss and I…not present were my aunt who is helping with the kiddos and the photographer.  With just the five of us, I am already feeling like there are too many people and we still haven't counted the potential videographer and the possibility that some of my other aunts will come over to help with the kiddos, too.  If the baby comes on a Monday, our cleaning ladies will be here…if she comes on a Friday, the landscape crew will be around…noise and people and distractions that we hadn't thought about!!
Here is the info they shared with us:
Many people are surprised at how "hands-off" the midwives are at a homebirth.  If they see that a couple is working well together, they try to be unobtrusive and do their monitoring discreetly.  They will step in and be more active as needed, but for the most part they want to allow the families to work together and allow labor to progress without interruption.  Their responsibility is to make sure mom and baby are well through the process, and of course they get involved as the time to push arrives and during the postpartum period to make sure mom and baby continue to do well.
My favorite part of the visit was having the kiddos join us on the bed when we did our prenatal exam.  It was so neat to have them around me as we checked on the baby.  They got to hear her heartbeat and ask questions.  They were touching my belly and giving me kisses.  They sang a song for the baby.  If this is an indication of our family birth, it's going to be awesome.
One of our midwives speaks Spanish, so she was talking to the kiddos about the baby and asking them question in Spanish during the exam.  I would love it if the first language our baby hears is Spanish welcoming her into the world!!
Disclaimer:
The material included on this site is for informational purposes only.  It is not intended nor implied to be a substitute for professional medical advice. The reader should always consult her or his healthcare provider to determine the appropriateness of the information for their own situation. This blog contains information about our classes available in Chandler, AZ and Payson, AZ and is not the official website of The Bradley Method®. The views contained on this blog do not necessarily reflect those of The Bradley Method® or the American Academy of Husband-Coached Childbirth®.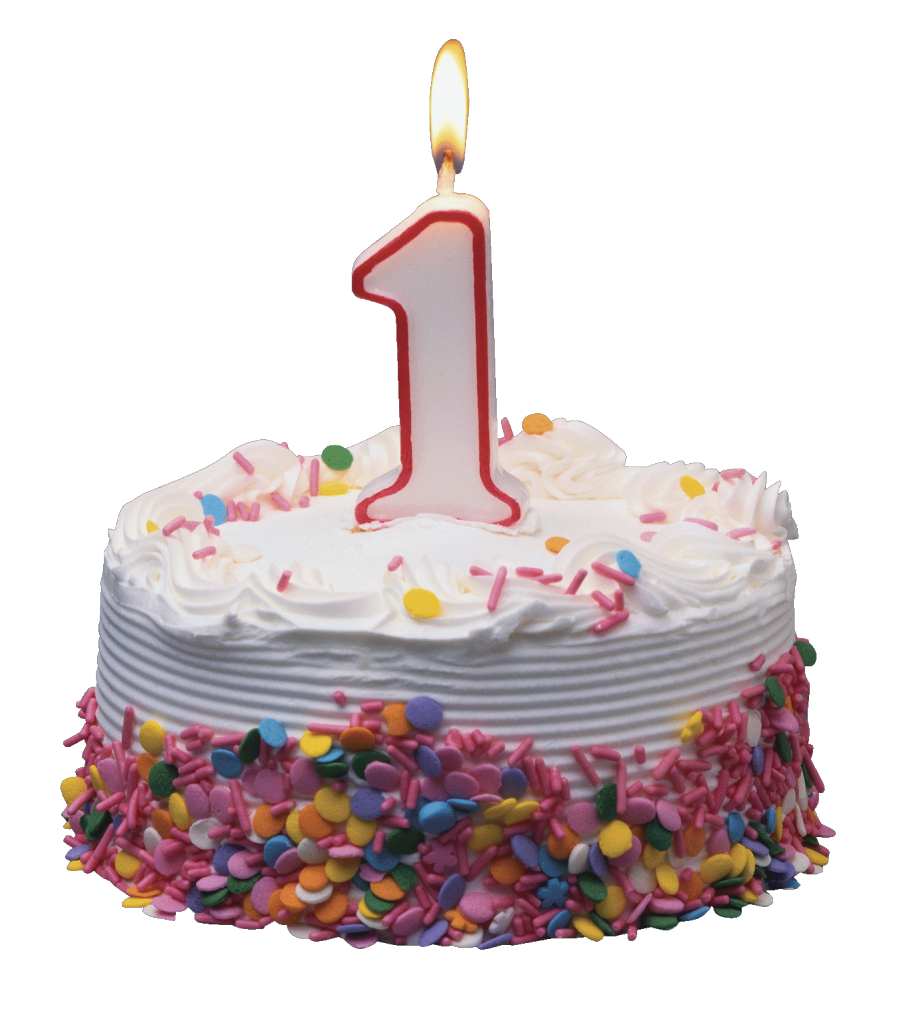 We just had the privilege of attending our first "First Birthday Party" for one of the babies that was born to students from our first Bradley Method® class series.  She was also the first baby born in our career as Bradley Method® instructors - it was so fun to be part of the festivities!
While we were there, one of the other moms from their class mentioned that they were already trying for baby number two.  Which prompted Bruss to suggest that I write a post about things to consider when you are adding to your family.  I would add that this list is probably applicable whether you are thinking about or planning for your first child or additional children.  Thank you to my fellow Bradley® instructors Victoria Calleja, Lisa Pearson and Rachel Davis for helping me round out my list for today!
Money, money, money.
The first and most crucial question is can you afford to have a child, or an additional child, right now given your current financial situation?  I'm not talking about are you and your partner living your dream life yet, or close to what you imagine is perfect.  Sometimes people do that and wait so long that they are unable to have the family they want, even with the myriad of fertility treatments that are available.  I am talking about, can you comfortably support a growing family without having to add an extra job or extra shifts to your current work situation?  A baby is not a short term commitment - they belong to you for a lifetime, and yours will be the exclusive bank account that bankrolls their expenses for at least the first 18-22 years of their life.  Here are some of the costs associated with starting or growing, a family...
Medical Costs of Pregnancy Care:
Most care providers work under a "universal" plan, which means that you pay one fee that includes all your pre-natal care after the pregnancy confirmation visit until the time your baby is delivered.  If your care provider is a traditional OB/GYN, your insurance company will probably cover the fee, no questions asked.  You will probably pay a co-pay for a percentage of that total cost.  The percentage of that cost you will bear depends on the type of insurance coverage you or your partner has.  
If you choose a home birth or birth center birth, you may be paying more out of pocket, although the cost of care is less.  Expenses in this case include midwifery care and/or the care providers at the birth center and delivery. 
Our midwives
also include four postpartum visits in their fee.  Again, depending on which insurance carrier you have and their contract with you or your employer, the cost of non-traditional care may or may not be covered.  In addition, there are co-pays if you opt for or are "supposed to have" blood tests, pregnancy screenings and genetic screening or genetic testing.  You may have costs involved for any ultrasounds - "it depends on your insurance plan".  
A couple of other "medical" costs to factor in are the cost of pre-natal supplements and doula care.  Pre-natals vary in cost depending on whether you buy name brand, generic or prescription supplements.  There are also a variety of herbal supplements and teas that you may want to consider for use through pregnancy and labor.
We encourage students to budget for a doula based on our great experience with doula care.  Continuous doula care has been shown to have the following potential benefits according to research studies:  reduced stress and anxiety in mother/partner, shorter labor with fewer complications, reduced need for interventions (epidural, vacuum extraction, forceps), reduced C-section rate, increased positive feelings about your birth experience, decreased incidence of postpartum depression, better success with breastfeeding the newborn and a stronger relationship with her partner.  Our experience has been that is well worth the investment, especially if you are planning a hospital birth.
Non-Medical Pregnancy Costs:
How about non-medical costs you might incur before your baby arrives?  You will have to invest in maternity clothes at some point - you can always save money by shopping re-sale stores or doing an exchange with a friend who isn't pregnant at the moment.
Keeping in mind that mom is growing a whole new person - it is worth evaluating your grocery habits.  Nutritious and whole food for mom, organic when possible, are the best way you can lower the risk of complications with pregnancy and labor and have a healthy outcome for mom and baby.  Nutrition is the one thing we can completely control and have a positive impact on our pregnancy and our child's physical profile for the rest of their lives. (
read more
)
When it comes to getting ready for baby, there is a lot of "gear".  Thankfully, these costs are usually defrayed by the wonderful tradition of showering the new family with gifts before the blessed occasion.  At a minimum you will want to consider a good, safe car seat, a pack-n-play, a stroller, a diaper bag, baby layette (0-6 mo clothing, receiving blankets, burp cloths), some kind of baby carrier, a pediatric first-aid kit, a baby-safe bathtub.  Have you thought about doing disposable or cloth diapers?  If you know what you are going to do before your baby shower, you can include the necessary supplies on your registry.  
Here's a short list of add-ons: a baby monitor, nursing supplies (nursing covers, breast pads and breast cream), a nursing pillow, a nursing stool, breast pump, milk storage bags, bottles, bottle warmer, wipe warmer, pacifiers, baby clothes hamper, swaddle blankets, organizers, activity centers, activity chairs, a swing, nursery decor, a crib, a crib mattress, baby bedding, crib mobile, changing station, an armoire or dresser chest of drawers, a rocker/glider and a high chair.  
Depending on the depth of the circle of your family and friends, you may or may not complete your registry.  Bear the costs of completing your registry in mind as you budget for baby.  What do you think you really need, versus the things that you want but are not really necessary?  Are you willing to shop yard sales, resale or consignment to save money?
Another consideration is the expense of child-proofing your home.  At a minimum there are outlet covers to buy.  Depending on your space, you may need baby gates, bumper pads, rubber edge guards for hard corners.  Do you want to install toilet clamps to keep little hands out of the toilet?  The good news about child-proofing is that it can be done in stages.  You could add all the items to your registry and hope for the best with the knowledge that you can always budget for and build on child-proofing later as baby gets older and more mobile.
I almost forgot! Budget in tuition for an informative and comprehensive childbirth class!  The
Bradley Method®
covers many different topics about pregnancy, labor, childbirth and breastfeeding.  We strive to prepare moms and their coaches for the healthiest possible pregnancy and the foundation they need to make informed choices about their labor, birth and parenting.
Along with childbirth preparation classes, there are also other classes and services that are available to help you have an easier, more comfortable pregnancy: chiropractic care, prenatal massage, yoga classes, prenatal exercise programs or water aerobics classes.  Some you will need or want a professional for, others you can do through self-study to save money - just check in with your care provider before taking advantage of these classes or services.
Lastly, have you considered documenting your pregnancy?  Pregnancy photographers vary in price range.  I have also had students use high-quality cameras and have very nice pictures turn out - how much you spend depends on what exactly you want to capture and the quality of the prints you want.  There is also belly-casting, when someone makes a plaster-of-Paris cast of your pregnant torso.  You can read up and do this on your own, or you can pay an experienced belly caster with an artistic eye to create a piece of art you can proudly display on a wall.
Here is a list of costs to consider after your baby is born:
Placenta Encapsulation
- Benefits as per PBi (see link below): pills contains your own natural hormones, it is perfectly made for you, it balances your system, replenishes depleted iron, gives you more energy, lessens postnatal bleeding, has been shown to increase milk production, helps you have a happier postpartum period, hastens return of uterus to pre-pregnancy state, shown to be helpful during menopause.
Cord-blood Banking
From the National Cord Blood Banking site: "Cord blood offers a number of advantages to donors and transplant recipients. It is easy to collect, often more likely to provide a suitable match and is stored frozen, ready to use."  There are fee-for-service companies, as well as companies that store blood on a donation basis at no charge to you.  The trade-off there is that you have no guarantee that your baby's blood will be available should the need arise. (see links below)
Lactation Consultant
- A lactation consultant is a professional who can answer your questions about breastfeeding and help you overcome breastfeeding challenges. Prices vary based on their training, experience, and certification levels.  If you are serious about sticking with breastfeeding, hiring one to help you overcome any hurdles is a must.  On a budget?  Attend free La Leche League meetings.  You will receive reputable peer-to-peer help from trained La Leche League Leaders.  They are a group of volunteers who hold monthly meetings and also have a 24-hour helpline.  Know that if they feel something is out of their realm, they will refer you back to a professional lactation consultant.
Continued great nutrition for mom
- Especially if mom is going to be breastfeeding her/your newborn baby.  The better the mom's diet, the better nutrition she will supply for the baby that is going to double in size the first year alone, and continue to develop it's mental capabilities throughout the first year.  Mom will also want to continue with prenatal pills or some kind of vitamin and/or herbal program...all it takes is money!  Which brings me to... 
Take-home Pay
- If you are both working, do you need both your incomes to keep paying your bills?  If one parent wants to stay home to raise the child, do you have a good plan to make that possible?  Have you tried to live within your new, pared-down budget before you conceive?  How realistic did you and your partner find this budget?  If you can't make it work on a double-income or single-income, and you still feel like now is the "right time" to have a baby, is one of you willing to add the extra job or extra shift while the other one essentially becomes a single parent?  I have great respect for couples who make this decision and make it work - they are my heroes.  Every baby is a blessing and I take my hat off to parents who take this responsibility seriously.
Childcare
- if both parents continue to work, there has to be a provision for childcare in your budget.  You can plan on spending a minimum of $200/week in most areas here in Arizona.  It is best to find a reputable provider with whom you feel 1000% comfortable.  You will be leaving the care and nurturing of your most precious gift in their hands for the extent of time you drop them off, commute to work, complete your work day, and commute back to pick them up.
Clothing
- Your baby will be outgrowing their layette before you know it - some parents find themselves buying 18 mo. or 24 mo. clothing before Baby reaches their first birthday.  How about mom - will mom need a post-pregnancy size of "bottoms" clothing?  Then their are
nursing bras
and nursing "tops" if mom plans to breastfeed.  Again, you can save money by participating in a clothing swap group, or buying consignment or resale.
Medical Care
- If you are going to a traditional pediatrician, there is usually a "universal" coverage for the first year of visits and vaccines.  If you want to look for "green" care, there are  pediatric naturopaths.  We also start chiropractic care in infancy.  You can ask an alternative care provider if they offer "family plans" that would make regular visits affordable if they don't take insurance coverage.
Entertainment
- Museums, zoo, and field trips usually cost money.  Some establishments offer a Free Day every month, or maybe it's a "free" period of time during the day.  Looking for more "free"?  Libraries and hospitals are also a great source for free educational programs.  I also found a great resource here in the Phoenix area that helps me find free or low-cost activities to enrich our children's world!  Check out Active Moms Magazine (see link below) - they have both a print and digital version that is published on a monthly basis.  They provide listings for family-friendly things to do on every day of the month.
Transportation
- Will you be needing a larger car?  If yes, how will you pay for it?  Can you pay cash or will you have to finance it and add another bill to your list of monthly outlays?
As your children grow, they will continue to factor into your family budget for things like:
Extended Travel, College fund, Furniture for their big-kid rooms, Groceries for growing children (teenage boys!!), Utilities for kiddos that are bathing and using household electricity everyday, Schooling expenses, Hobby, Sport and Team expenses...maybe you will eventually want a larger home or yard for your children to be able to spread out...
Since this post is already full of food-for-thought, I will wait for Friday to discuss considerations such as Child Spacing, Nursing Relationship, and Sibling Preparation as you add to your loving family.  Until then, break out your calculators and let me know how your baby prep is adding up!
Disclaimer:
The material included on this site is for informational purposes only.  It is not intended nor implied to be a substitute for professional medical advice. The reader should always consult her or his healthcare provider to determine the appropriateness of the information for their own situation. This blog contains information about our classes available in Chandler, AZ and Payson, AZ and is not the official website of The Bradley Method®. The views contained on this blog do not necessarily reflect those of The Bradley Method® or the American Academy of Husband-Coached Childbirth®.
References and Resources:
Doula Care
Placenta Encapsulation
Cord-blood Banking
Lactation Consultant
Active Moms Magazine
Cost Calculator for Raising a Child

We made the decision to have a home birth for several reasons (
read more
).  The experience of midwifery care is completely new to us.  Here are some of the things we have enjoyed so far from our time at
Freedom and The Seed
in Tempe, Arizona:
A much more personal experience.
We were very fortunate to have an obstetrician we really liked: she took the time we needed to answer questions, to discuss our options for a natural birth and she took a little time to chit chat about life in general.  We never felt like we were a "number" in her day. 

However, we have been pleasantly surprised at the service we are receiving at our midwives' office.  We do not have to sign in, wait to talk to a  receptionist to get a buzzer, sit in the waiting room and watch tv, see a nurse who takes the basic info and vitals, and then sit an examination room waiting for an indeterminate amount of time...usually anywhere from five minutes to over a half-hour if the office was running behind schedule.
When we walk into the midwives' office, we are usually greeted by one of the midwifery students, offered a glass of water, and then shown into the visit room within five minutes.  It's just enough time for me to use the restroom, do my own urine testing, and get my own weight which I then report to the midwife during our visit.  
Informed consent.
There is the general feeling of mutual respect between adults, one set of people choosing care, the other set of people providing care.  They trust that I can look at my test stick and report any abnormalities in my urine sample, and that I can take my own weight.  There is no pressure to have any procedure done, or to have any test taken in our midwives office.  
In the medical model of pregnancy, we got the "one size fits all" feeling.  Since there were some patients who were at risk for certain complications of pregnancy, then we all had to be screened and tested to make sure we were healthy: we were "sick" until we were proven healthy.  When we were patients in the medical model, we felt like we could not say no to tests, for example, things such as the diabetes screening, or to an ultrasound to determine fetal size at 36 weeks.  
Under the care we are receiving now, there is a general belief that we are healthy.  We are offered an information sheet on each test or procedure.  There is a nice list of things that we have been happy to say no to, trusting that our midwives will let us know if we look like we are at risk for complications.   If we are, we take a screen.  If not, then we move on.  
In fairness to the medical model, I will have to ask our midwives on the next visit which tests are standard for them.  I don't know if they do a full physical examination and blood panel as standard practice once a pregnancy has been confirmed since we were still under OB care at the beginning of this pregnancy.  I imagine they have to do something to "prove" that we are healthy and low-risk since under Arizona law, licensed midwives can only provide care for healthy, low-risk moms.  I will have to get back to you on this one.
Overall, the feeling is less rushed.
Although the amount of time we spend in the office is the same, we don't have the feeling of our midwife having to rush off to her next waiting patient.  I have never asked how much time they schedule per patient, however it hardly ever seems like we are piled up on top of each other.  As we enter, we greet someone who is leaving.  As we are leaving, there is usually someone else walking in.
Measuring the uterus.
This is our fourth pregnancy.  This is the first time I have been shown where to feel for the top of my uterus.  I feel a little d-u-m-b.  Did I not think to ask before?  Why didn't any of the several doctors in the practice we saw at the ob office offer to show us?  Now even Ysabella, our six-year old, knows how to feel my belly to find the harder edge of the uterus at the top of my abdomen.
Listening to the baby.
The midwives have two different types of fetoscopes, which are specially designed stethoscopes that are used to monitor the baby without using ultrasound beams.  We have found that our children move away from the Doppler monitor, which uses ultrasound beams to measure the baby's heart rate.  They just don't like it!!  Their is a fair amount of debate about how ultrasound beams affect a fetus.
"Ultrasonic fetal scanning, from a medical standpoint, generally is considered safe if properly used when information is needed about a pregnancy. Still, ultrasound is a form of energy, and even at low levels, laboratory studies have shown it can produce physical effects in tissue, such as jarring vibrations and a rise in temperature. Although there is no evidence that these physical effects can harm a fetus, the
FDA
says the fact that these effects exist means that prenatal ultrasounds can't be considered completely innocuous. "
(from http://www.stopgettingsick.com/template.cfm-7350)
I am thrilled that our midwives make an effort to listen for a heartbeat with a fetoscope first before breaking out the Doppler monitor.  We are hoping that by the next visit we will not need to use the Doppler monitor and eliminate the exposure to the ultrasound beam.
We have family visits.
There is a great lending library to peruse while we wait for our appointment, there is a bookshelf full of children's toys and books, breastfeeding is welcomed, and our children are invited to participate as much as they want to at the visits.  So far, the boys have been happy to play in the waiting room.  Ysabella enjoys sitting in with me (or us if Bruss attends a visit) and helping me answer the midwife's questions about how the pregnancy is going.  She likes to help find the baby she is looking forward to meeting soon.  It is a great way to help her prepare for the birth, which she knows she is free to participate in as much as she wants to, or not.
Childbirth is natural.
One of the biggest differences I feel as the patient is the fact that when I go to my midwifery appointment, I know that we all believe that childbirth is a natural process and that interference is not the status quo.  Midwives know how to identify situations that may become emergent, and they also have ways to help a mom progress in her labor without the use of drugs or medical interventions.  However, the prevailing philosophy is that birth can proceed without complications, and that they are their to monitor and ensure that families have Healthy Mom, Healthy Baby outcomes.
It is a big difference from going to the doctor's office knowing that I was one of the few patients they had who gave birth without the use of an epidural and categorically refused tests and procedures because we did not feel they were necessary, nor would they further my care as a patient.  It is a breath of fresh air to feel like I am welcomed and "normal", rather than to have the feeling that everyone was rolling their eyes behind my back when I walked past them.  I really did not mean to be troublesome; in reality we had done our research and in our heart of hearts we believe that birth is normal, not a medical condition that needs to be treated.
These are some of the things that we have noticed when we compare our care at a traditional obstetrical setting to the midwifery care we are using this pregnancy.  I want to re-iterate that there is no "right" or "wrong" type of care.  As I regularly say in my role as a Bradley Method® instructor, it is up to the parents to research all their options and decide which choice works best for their family.
If you used the traditional obstetrical doctor or certified nurse midwife setting and liked it, what did you like about it that would influence your decision to continue under that model of care?
If you have used a traditional obstetrical doctor setting and changed to licensed midwifery care, have you noticed any differences in the approach to your pregnancy care?
Disclaimer:
The material included on this site is for informational purposes only.
It is not intended nor implied to be a substitute for professional medical advice. The reader should always consult her or his healthcare provider to determine the appropriateness of the information for their own situation. This blog contains information about our classes available in Chandler, AZ and Payson, AZ and is not the official website of The Bradley Method®. The views contained on this blog do not necessarily reflect those of The Bradley Method® or the American Academy of Husband-Coached Childbirth®.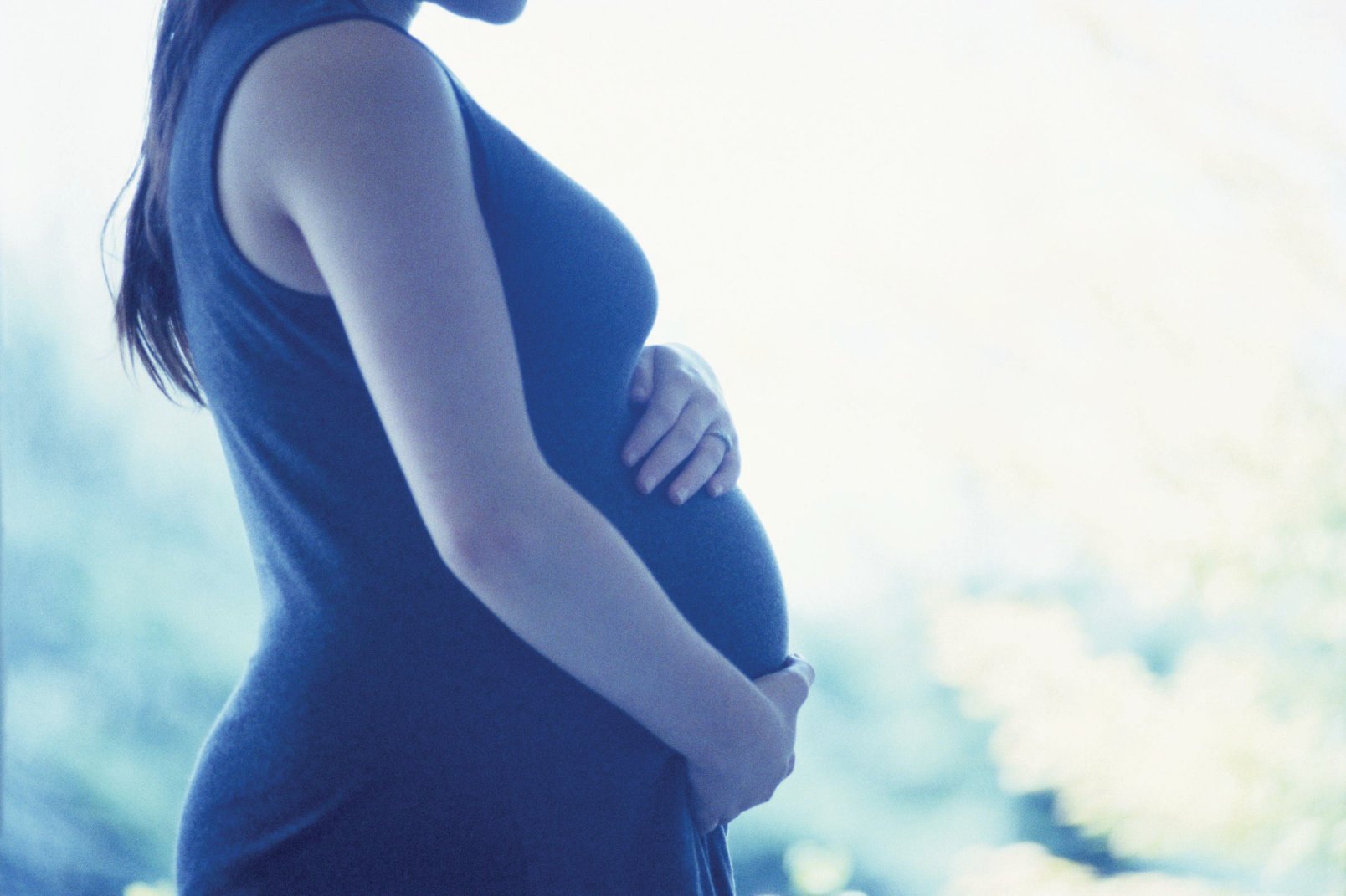 So your due date came…and went…what do you do now? 
One of Dr. Bradley's sayings was, "It's Not Nice To Fool Mother Nature".  There is a whole chapter of his book, Husband-Coached Childbirth, devoted to that topic, in which he talks about the concerns he has with trying to rush the process.
Did you know your due date was, at best, an estimate?  Did you know that only 4% of babies arrive on their actual due date?  There is no hard and fast rule for when your baby is going to make his or her entrance.
There is not a calendar or a PDA in your uterus with an alarm that will ring telling them that it's "go time."
The current way of estimating your due date is based on a model that is 181 years old.  A doctor named Franz Carl Naegele who was an ordinary professor and director of the Lying-in Hospital in Heidelberg, Germany devised this method of estimating due dates.  He published it in a "Textbook for Obstetrics", intended for use by midwives, in 1830. 
During the infancy, if you will, of obstetric medicine, one person published that a woman's due date was going to be approximately 280 days, or 40 weeks, after the date her last menstrual period.  This was not based on empirical evidence, but rather on a common belief of the time.
There is a more recent Harvard study published in June 1990 edition of the medical journal Obstetrics & Gynecology that we give to our students on the first evening of class.  It is a retrospective evaluation of pregnancies between April 1, 1983 and March 31, 1984.
The conclusion of that study was that the median estimated due date for primiparas (first-time mothers) should be 8 days later than Naegele's rule, and that multiparas should have an estimated due date that was 3 days later than Naegele's rule.  Per their study, if you are 41 weeks as a first-time mother, your baby might just be arriving to the point when he or she is ready to be born.
We ask our students to do a couple of things on the first night of class.
First of all, The Student Workbook asks them recalculate their due date.
We ask them to think about considering that new date of 41 weeks and 1 day as their "due date".  We then encourage them to start saying they have an "estimated due date" or a "due season" to take some of the pressure off of themselves and their bodies.  The reality is that your baby is going to come when your body and your baby decide to start labor, and not a moment sooner.
While no one who is or has been pregnant wants to tack on an extra eight days when they are feeling big, uncomfortable, hot and ready to be done with pregnancy, you just never know when your baby is going to arrive.  Giving yourself eight extra worry-free, stress-free days might be the best thing for you if you happen to be one of the moms who will go past her 280-day due date.
WHY DUE DATES ARE AT BEST, AN ESTIMATE
It is assumed that most women ovulate on day 14 of their menstrual cycle.  If you ask anyone who has had a difficult time conceiving, they will tell you that this is not always true.  Some women ovulate as early as day 11, and some as late as day 21.  This makes for as much as a two-week difference when estimating a due date.
There is a second variable: when was the egg fertilized?  Did you know sperm could live in a woman's body for seven days?  We found this out the "baby way" with our third child.  Just when we thought we had stopped trying to avoid another summer pregnancy, surprise – I was pregnant!  I joked that Bruss had bionic sperm until I discovered this little fact.  Oops.
So back to the point: Once the egg is released, it lives 12-24 hours, but sperm could live for seven days.  When do they meet?  Only your baby and your body know, and they are not telling.
Here is the third variable:  Once the egg is fertilized, it could take anywhere from 6-12 days after you ovulated to implant.  Until it finds a home in the uterus, cell division is on hold.  (If you think about how IUD's work, they make the uterus inhospitable for implantation, therefore it makes it highly unlikely you can establish a pregnancy with a fertilized egg.)  So, if your fertilized egg does take twelve days to implant, now you have more time to add on to your estimated due date.
There is the also fact that all babies are not created at equal rates of development.  There are certain milestones in gestation that doctors expect to find, however, not every baby is going to develop at the exact same rate.  Nature's bell curve deems that some babies will be ready early, the majority of babies will be ready around their estimated due dates, and then some of the babies will be ready after their due dates.  Once upon a time, a pregnancy was considered to be"normal" if a baby was born between 37-42 weeks of gestation.

With so much variation in the actual process, it is so hard for me to watch moms go past their due date and wonder if their baby's are going to make it without having to be induced.  As with all things pregnancy, there is no perfect rule.

There are times when a care provider will start to be concerned because either mom or baby starts to show signs that they are not physically handling the prolonged pregnancy.  If and when we are faced with this possibility, it falls on us as parents to make an informed decision about how to go forward when faced with that situation.
There is also a condition called "postmature".  It could be as simple as an error in estimating a due date, in which you could negotiate for time if mom and baby are doing well.  True postmaturity means that a baby is seriously ill: the placenta or mother are not supplying the baby with needed nutrients, the baby's skin is loose, the baby starts losing weight, the subcutaneous fat layer is gone and the baby looks like an old, dying person.  You can see that there is a cause for real concern in this situation.  It is very rare, however, no care provider wants to be the one who waited too long and then has to be the one to deliver a stillborn child.  And no parent in their right mind would intentionally harm their baby...hence the ever-so-important questions arise and it is so vital that we weigh all our options carefully.
WHAT YOU MIGHT CONSIDER
If you find yourself going past your due date, there are several options you might consider.  We encourage you and your coach to have these conversations with each other and your care team before you are faced with making an emotional decision.  Talk about these options well in advance of your estimated due date when you are calm, under no pressure to make a decision, and you still have time to research different options and induction methods should they become part of your care plan.
If your care provider is a midwife:
- If you are with a Licensed Midwife, you need to find out what the state law says about what her practice parameters are.  Here in Arizona, midwives can only deliver babies born between 36-42 weeks of gestation.
If you are baby is born early or later than that, you need to think about a "Plan B" option now before it becomes a critical decision.
- If you are under the care of a Certified Nurse Midwife practicing under the umbrella of a doctor's office, you need to discuss whether or not her practice will allow her to care for you past 42 weeks gestation, or how your state's laws applies to their care situation.
If your care provider is a doctor or doctor group:
- Stay healthy and low-risk so more options are available to you.
- You could show the Harvard study to your care provider and see if they will agree to give you an extra two weeks past the 41-1 date, based on the fact that your due date might have been estimated incorrectly.
- You could find and change your care to a care provider who is willing to give you more time than your current provider.  Bradley teachers are a great resource, as are any relatives or friends who have been in your situation.
- You could negotiate to do fetal movement counts, non-stress tests or biophysical profiles on a schedule you and your care provider agree to, and agree to consider interventions if you or your baby starts to show signs of stress.
WORKING WITH YOUR BODY
- You could try drug-free, non-consumption methods such as nipple stimulation, thumb sucking, or other acupressure massage points that stimulate the production of oxytocin, the same hormone your body produces to cause contractions. (Discuss with your care provider.)
- Sexual intercourse could help – semen contains the natural prostaglandins that medicine tries to mimic with the prostaglandin inserts used to ripen the cervix.  (Discuss with your care provider.)
- You could do some focused meditation and connect with your baby, encouraging him or her that you are ready for them and that you are waiting to meet them.
- You could continue with staying well nourished and getting plenty of rest so that when the day does arrive, you are rested and ready instead of tired and stressed.
INDUCTIONS AND INTERVENTIONS
There are many different ways to try to "speed things along" that are stimuli by application or consumption.  I am not going to comment on them because I do not want to bias you or be interpreted as giving you medical advice.  I will refer you to Husband-Coached Childbirth by Dr. Bradley or Thinking Woman's Guide to a Better Birth by Henci Goer for you to do your own research.
It's up to you and your coach to draw your own conclusions about which of these you would consider and in what order you would place them on your list of things to do.  I list them in alphabetical order:
- Acupunture
- Amniotomy (artificial rupturing of the membranes)
- Castor Oil
- Enema
- Herbs
- Mechanical Dilators
- Oxytocin
- Prostaglandin E2 inserts
- Stripping/sweeping of the membranes
- TENS machine
BEST WISHES
I hope and pray that if you are reading this, you are doing so to gather information instead of reading it as one of your last resorts looking for answers.  There is no right or wrong answer, just the one that works best for your peace of mind and for the best outcome anyone could want: Healthy Mom, Healthy Baby.
If you are looking at this because you are facing tough decisions, do not hesitate to drop me a line (
[email protected]
) and ask us to pray for you.  I am a believer in the power of prayer, and we will add our prayers to yours and ask that God's will be done for you and your baby.
Disclaimer:
The material included on this site is for informational purposes only.
It is not intended nor implied to be a substitute for professional medical advice. The reader should always consult her or his healthcare provider to determine the appropriateness of the information for their own situation. This blog contains information about our classes available in Chandler, AZ and Payson, AZ and is not the official website of The Bradley Method®. The views contained on this blog do not necessarily reflect those of The Bradley Method® or the American Academy of Husband-Coached Childbirth®.
References:
Husband-Coached Childbirth, Dr. Robert Bradley, 2008, pgs 16-42
Thinking Woman's Guide to a Better Birth, Henci Goer, 1999, pgs 49-74
Obstetrics & Gynecology, Vol. 75, No. 6, June 1990, pgs 929-932
The Bradley Method® Teacher's Manual, 2010, page 120
http://www.americanpregnancy.org/gettingpregnant/understandingovulation.html
http://www.transitiontoparenthood.com/ttp/parented/pregnancy/duedate.htm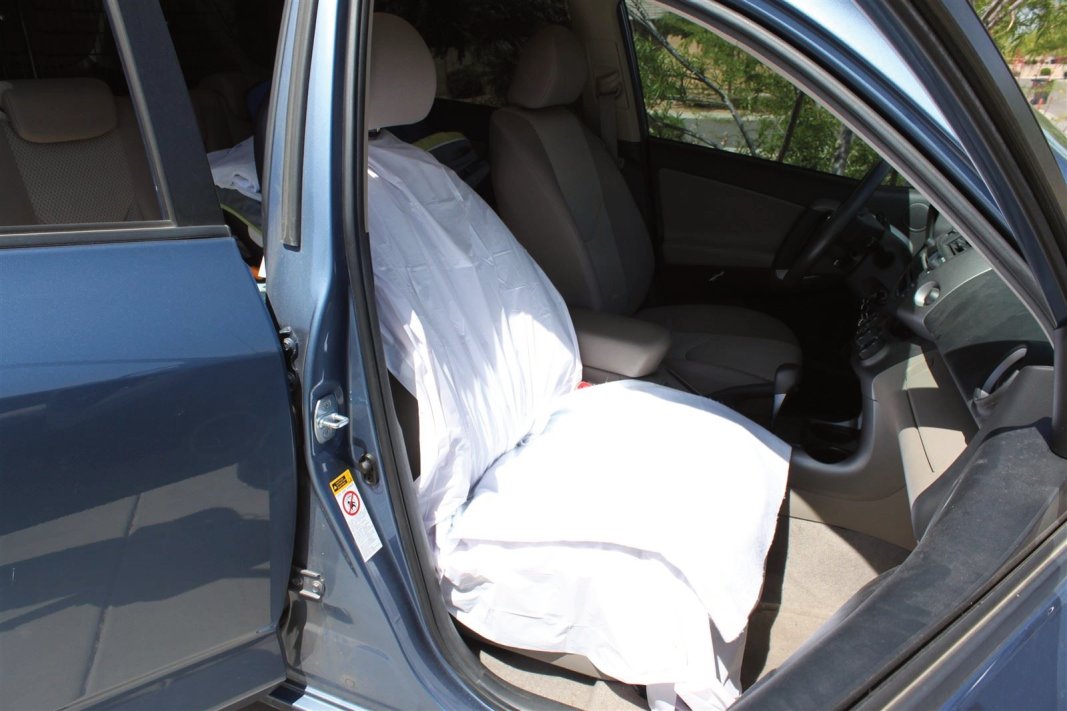 How do we make a smooth transition to our birthplace?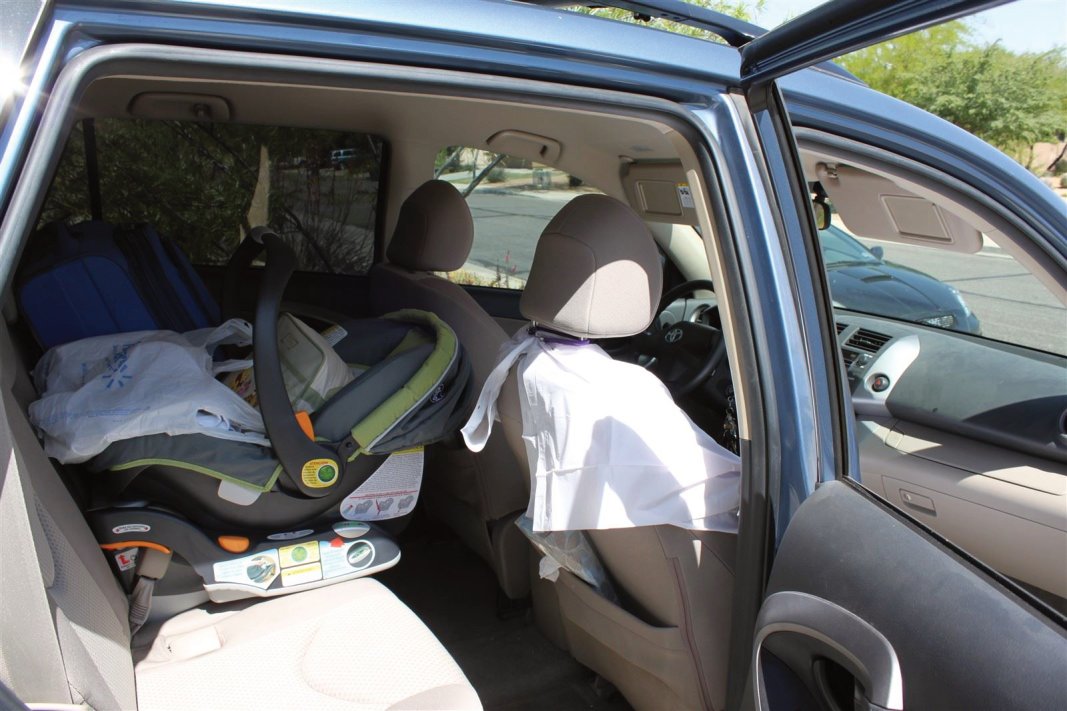 To piggyback on
Tuesday's post
, I thought I would share some ideas on how to make the transfer to the birthplace as smooth as possible.  A common occurrence when changing from your home to your birthplace is a surge of adrenaline from excitement, fear or apprehension.  In early or active first stage labor this surge can slow or stop labor.
Although it's virtually impossible to keep adrenaline out of the equation completely when making a transfer, especially for first time parents, here are some things you can do to ensure that the transfer is as smooth as possible.  The goal is to minimize the effect of adrenaline on the progression of labor.  Some of these suggestions are time savers and others are relaxation techniques.
1.  Have you birthplace gear packed a couple of weeks before your estimated due date.  The major things you will need in the birthplace (labor/relaxation tools, clothing, toiletries, baby layette) should be ready at least two weeks before your EDD since birth usually occurs between 38 – 42 weeks gestation.  If your baby happens to be ready early, your bag will be ready to go in the car and you can focus all your energies on your labor.
Keep a list next to your bag of the last minute things you want to bring, and keep those things close to your bag when you are not using them.  I am thinking of things like the camera, phone or other electrical device chargers, keys, wallets or purses.
2.  Have the car ready to make the transfer at least two weeks before your EDD.  Keep things like towels, waterproof pads, bottled water, pillows, a couple of blankets and hand sanitizer in a box somewhere in your car.  We would put a plastic bag between the pillow and the pillowcase just in case – labor can be a goopy, drippy affair.  The idea is that you have what you need to put between mom and the car seat while you drive to your birthplace while in labor.  The other situation we would prepare for is an unplanned delivery – we wanted everything we needed to deliver safely just in case we didn't make it to our birthplace.  Forgive the casualness, however if you know our birth stories – LOL.
3.  Have as much paperwork done ahead of time as possible.  Check with your birthplace or your care provider to see what kind of paper work they require before admission for the birth.  Most venues will let you complete this work ahead of time.  If there are any procedures you are thinking of declining, ask for that paperwork as well.  It is a good idea to take a look at that paperwork – sometimes they will outline the benefits and the risks and this may help you make a choice.  The advantage to doing this is that you can bring it with you and give it to your care provider at admission so that it is in your chart and with your birth plan.  It will be one less set of questions to deal with when you could instead be turning all your attention to your labor.
4.  Carry extra copies of your birth plan with you at all times.  We all imagine that we will go into labor at home, and for most of us, we do.  However, in the case that you are out and about, or if you face an unexpected situation, then it is a better to have a birth plan handy so that no matter under which circumstances you get to the hospital, as long as mom and baby are doing well, you will have a good opportunity to have the birth for which you have been practicing and preparing.
I also suggest that you have extra copies of your birth plan in your packed bag.  I suggest keeping them in an outside pocket so that they are easily accessible.  Make sure that one is put in your chart upon admission to your birthplace.  Offer them to everyone who enters the labor room.  Remember to use positive communication techniques when asking your care providers for their help in meeting your birth plan.
4.  To make sure you are not going to your birthplace too early, run through Dr. Bradley's list of things to do to confirm you are in actual labor versus pre-labor.  He suggests that mom's eat, drink, walk, shower and nap.  The idea is that if changes in activity or position don't hinder the progression of labor, then the mother's body is progressing towards the birth of her child.  If mom does all of these things and her contractions keep progressing in frequency, duration and intensity, then it is likely that you are in actual labor.
5.  Check a mom's physical and emotional signposts against an overview of labor chart, such as the one found in The Bradley Method® Student Workbook on pages 38-39.  A laboring mom and her coach would use this chart as a guideline along with the parameters set by their care provider.  It is a good idea to highlight the signposts that you are looking for that will indicate that it is time for a transfer to the birthplace.  When the mom is clearly progressing and close to those signposts, then it is time to make the final preparations to head to your birthplace.
6.  Take a warm bath or shower.  Warm water is one of nature's relaxation tools.  If mom's water is intact, she can take a bath.  You will need to do your reading and research ahead of time if you want to use a bath as a relaxation tool after the bag of waters has ruptured.  The information on the subject varies.  Most care providers agree that moms with a broken bag of waters can take a shower without a risk of infection. 
7.  If there is time, have mom do a good relaxation exercise before she gets in the car.  At this point, I would suggest that a coach uses a good mental imagery exercise, or read mom the birth story she has written for a peaceful birth, or to read some affirmations while doing some good abdominal breathing.  The idea is to reassure mom that although she is leaving her current space, her labor and her baby should continue progressing toward the birth.
8.  Have an assistant coach drive the car so that coach can focus on keeping mom relaxed.  If your car seat is already installed, then coach can sit in the back seat and talk to mom or give her a massage, or whatever it takes to keep her in a state of relaxation.  If the car seat is not installed, then mom and coach can travel together in the back seat.  The point is that if the coach isn't driving, he or she can focus all their attention on mom while someone else ensures that the team arrives safely at the birthplace.
Closing thoughts:
If you are having a home birth, keep in mind that most midwives will let you know before you are in an emergent situation that it's time to start talking about and deciding if it's time to go to a hospital for a different type of care.  In a non-emergent situation, many options on this list are still available to you.  It would be up to you to decide if you want to take care of hospital paperwork ahead of time "just-in-case", or if you feel better trusting that the birth will go as planned and this would be a step in the wrong direction.
Whether you are planning a hospital, birth center or home birth, I must emphasize that once it is clear that mom is in actual labor rather than pre-labor, it is imperative that mom has the coach or an assistant coach by her side at all times.  It would be very unfortunate if mom had an incident happen that would put you on the path to your birthplace sooner than you wanted to go (or in a home birth, make the hospital an unintentional reality). 
In our case, I fell down very hard in the shower because I was by myself.  Oops.  And this was with our third birth!  So even when we should know better, we get a little confident and make mistakes.  We ended up going to the hospital much sooner than we wanted to.  Because my bag of waters was already ruptured, we were encouraged to stay or else spend the rest of our morning signing paperwork to leave against medical advice.  We never imagined that we were going to be in labor there for two days, or believe me, we would have signed the paperwork to go home once we confirmed that the baby was okay.
As a reminder from Tuesday's post, I also want to reiterate that even if you take all these steps and your labor slows or stops when you get to your birthplace follow Berman's Law.  Be okay with going home if mom is less than 5 cm dilated and she is not showing any physical or emotional signs of late first stage labor.
I trust this list will give you some good ideas on making the transfer to your birthplace a good one so that labor continues to progress despite the change in venue.  As with most things related to pregnancy and labor, some things will work for you and others won't.  Take a look at the list and decide what works best for you in your situation. 
Disclaimer:
The material included on this site is for informational purposes only.
It is not intended nor implied to be a substitute for professional medical advice. The reader should always consult her or his healthcare provider to determine the appropriateness of the information for their own situation. This blog contains information about our classes available in Chandler, AZ and Payson, AZ and is not the official website of The Bradley Method®. The views contained on this blog do not necessarily reflect those of The Bradley Method® or the American Academy of Husband-Coached Childbirth®.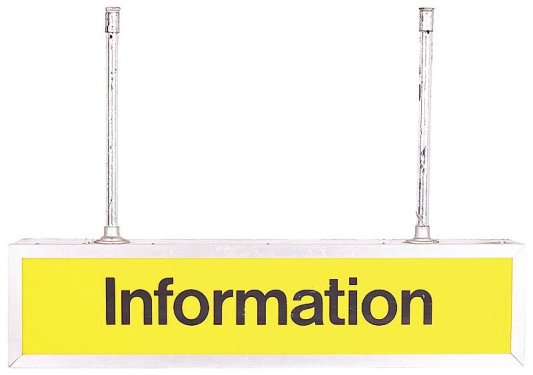 I attended the East Valley Birth Circle last night and the topic was comfort measures and birth plans.  There was some information and discussion related to birth plans that I was intrigued by since some were new ideas to me, and one offered a different perspective into something we talk to our students about.      
     The group pretty much agreed on the basics:  Keep it concise and to the point, keep it positive, and fit your requests one page.  Replace phrases like "I refuse" and "I don't want" with phases like "I prefer" and "I request that".  Beyond that, there was some good discussion and here is the information that I want to pass along.  
Hospital Plan, Doula Plan
      One of the participants who has worked as a doula said that when she would meet with clients, she would help them evaluate their birth plan to pare it down to the most concise information that the care team needed to know to do their job.  For example, let's look at these wishes:
Mom allowed juice and light snacks
Intermittent fetal monitoring to allow freedom of movement for walking, squatting, showers
Use of a heparin lock instead of continuous IV
Use of birthing ball/other labor aids
Personalize the environment with low lighting, music, pillows and blankets from home, socks from home
Use self-directed pain relief such as Massage, Yoga practice, Relaxation techniques
 




     Here are the things the hospital staff needs to know to do their job as long as mom and baby are doing well and labor progresses without complications:

-Mom allowed juice and light snacks – in most hospitals, they will restrict food intake unless otherwise directed by the doctor

-Intermittent fetal monitoring – the standard procedure is to have mom monitored continuously since epidurals are still the status quo in hospital births

-Heparin lock instead of continuous IV – again, this is a compromise in a hospital setting.  If you are not having an epidural, the doctors usually want a "just-in-case" entry point should there be an emergency.  The staff needs to know when you come in to set you up with a heparin lock instead of an IV line.  




     Her suggestion would be to move these things to the doula list:

-Use of birthing ball/other labor aids

-Personalizing the environment with low lighting, music, pillows and blankets from home, socks from home

-Using self-directed pain relief

-Freedom of movement means we want to try walking, squatting, showers  




      The editing made the list a lot shorter (3 lines instead of six) and easier for the hospital staff to determine what this family needs from them during labor.  However, the family's desires and plan for a natural labor will still be met since they have a pain management plan designed by mom and coach. The doula and dad have a good working list to help mom manage her drug-free labor, and the hospital staff knows what they can do to help this family.  Everyone is happy!




Family Plan

     This suggestion was brought up by one of the certified nurse midwives (CNM) in attendance.  She says she doesn't care to see all the items listed in the above plan.  She feels since her clients have already signed up for midwifery care, that is part of the package.  What she does like to see written her patients plan are directions that specifically address how they want their birth to proceed:  Who do they want there?  When are they going to go to the hospital?  How are they going to notify people?

 


     Her feeling was that the biggest hindrance in labor is the emotional aspect.  (BTW - I couldn't agree more!)  She relayed anecdotes of mothers whose cell phones were ringing every five minutes with people wanting to know how things were going, or a mom who had people there that were making her uncomfortable, i.e., her mom, a sister, a mother-in-law, who were not comfortable with seeing the laboring mom uncomfortable or they didn't believe in the natural process and started to push the family to make choices that they didn't want to make or deal with.

 


     When having her patients think about and prepare the plan well ahead of the birth, she suggests that they share this information at the baby shower.  This way it is shared at a "happy time" and not during the labor.  Labor is for "laboring" when all mom needs to be focusing on is tuning in to her baby and her body, not the distractions around her that are keeping her labor from progressing.

 


To Sign or Not To Sign

     One very experienced mother (7 births) who is also a doula and a childbirth educator commented that she tells her clients if they feel the need to have their birth plan signed by their care provider, she has found that there is an underlying trust issue and that they should think about finding a care provider that they trust completely.  For narrative purposes, let's call her Tracy.

 


     RED FLAG! RED FLAG!  That was my first reaction.  What???  As a person who has had three hospital births, I wanted my birth plan signed by my doctor to ensure that the hospital staff knew that my doctor and I had discussed our options and we were all on the same page.

 


     The more I listened to her perspective, the more I began to understand where she was coming from.  There were other people who were pro-signing who added to the discussion, and Tracy kept going back to the illustration that if you are in such a large practice that you need to have your care provider sign to ensure the other care providers respect your wishes, could that mean that you might be going into labor with some fears?  From this perspective, I could see where Tracy was coming from.  Fear is another one of the speed bumps in a normal, progressive labor.  If switching to a practice where there are fewer care providers and all of them are on board with natural labor and birth, then yes, that would eliminate one of the pressures that a mom might have going in to her labor.

 


     Here is how we dealt with that situation with our mega-practice.  There are 14 care providers, and of those, nine are doctors who attend hospital deliveries.  We put our birth plan in our file early so that every one knows that we do not do in-office vaginal exams.  At the monthly doctor meeting that occurs before our due date, our primary OB care provider takes our file and our birth history with her and tells them our case history, and asks that whoever is on call when we go to the hospital respect our wishes.  She reassures them that we are there to take advantage of their medical knowledge if we need it, but until then, they can leave us alone.  So far, it has worked with good results.  Since this is not the case for all practices or doctors, nor is it the standard if you are a first-time mom, then Tracy's recommendations make more sense.

 


     In the pro-signing camp, it was generally agreed that having a signed document from your care provider is an asset when working with the hospital staff, especially if there are requests such as the three things we pulled out from the wish list in the example above.  I suggest to our students that of there is anything out of the ordinary as far as the hospital staff is concerned, have your care provider sign off on it so that the staff knows they "have permission" to break their protocol.  Nurses like to do their job, and they like to do it well.   Understandably, they do not want to "get in trouble" or do anything that would endanger their patients.  If these requests are new to them, then you are more likely to have your wishes respected if your doctor gives them permission to break with their normal routine.

 


     I really enjoyed last night's session, and I hope that this information on birth plans helps you clarify your format when you start to prepare yours.  As far as what to put in it, there is so much information out there, and there are many variations in what "standards" of care are according to the practice or the hospital.  Here are some questions to ask of your care provider and of the hospital or birth center when you go on your tour:

1.  What can I expect to happen when I get to the hospital or birth center?

2.  What is your normal routine with a low-risk patient?

3.  Is there anything that you absolutely don't allow?

4.  What are some things that you have seen on birth plans in the past that are a cause for concern?

5.  What are some things that you have seen that work well?

 


     If you get any red flags with any of these questions, or you don't feel like there is room for them to hear your wishes, then it may be time to consider a change in care provider or birth place.

 


     The CNM in attendance last night offered an observation that I found interesting: doctors in the U.S. have a tough job (she is from the UK).  They are highly skilled surgeons making life-and-death decisions in one minute, and the next one, they turn around and all they have to do is catch a normal, low-risk baby.  She said it is tough to turn the switch on and off in an instant.  Having heard this, I say even more emphatically: it is our responsibility as parents to know what our care provider and birthplace are comfortable with.  It is not realistic to expect them to change just because you have done your research and want to do something that is outside of their comfort zone. 

 


     To use another great analogy from last night, someone offered the metaphor of finding a mate.  You will be happier with your outcome if you find the care provider and birth place with whom you "feel the love" instead of continuing to "date" someone who is nice, but just doesn't feel right to you.  They may be the right person for someone else you know, but until you "feel the love" you will continue to be disappointed in your interactions. 

 


     The birth of your child is a special and momentous event.  Prepare for it, plan for it, and surround yourself with the team that will joyfully welcome your child with you.

 


 


Disclaimer:  The material included in this blog and/or website is for informational purposes only.  It is not intended nor implied to be a substitute for professional medical advice. The reader should always consult her or his healthcare provider to determine the appropriateness of the information for their own situation. This blog and/or website contains information about our classes available in Chandler, AZ and Payson, AZ and is not the official website of The Bradley Method®. The views contained in this blog and/orwebsite do not necessarily reflect those of The Bradley Method® or the American Academy of Husband-Coached Childbirth®.

 


0

/