...celebrating every swee​t pea their birth
We are thrilled and honored to share a very special birth story today.  Our guest blogger, Cassandra is a newly minted mother of two - congratulations!!  Today she shares the story of Baby P's arrival. It is the complete opposite of last week's marathon labor birth story. She and Baby P definitely had a different path!
Baby P is baby #2 for our family; you can read my son's home birth story from 2012
here on the blog
.
I have been 
blogging about certain aspects of my second pregnancy
on
Sweet Pea Families
over the course of the last few months; fears, affirmations, newborn essentials, and most recently
musings over my labor
, what it would be like and who would be there. I had grand visions of a coming together of many women in the late afternoon or evening, laboring peacefully in the birth tub with plenty of laughter and wearing the cute new bra and panty set I purchased to look nice for the photographer that would be there. My daughter would definitely be born in the water since coincidentally her brother, even though we were in the tub, was born over the water. But, as it turns out (again!) babies decide things for themselves and we, as mothers are simply a vessel for whatever their life holds for them.
My son was born at 43 weeks 3 days from my LMP. Dates were ambiguous due to irregular cycles and lack of ultrasounds, but with no vernix, long fingernails and an aging placenta at birth he was definitely a longer cooked baby. Going that far past my "due" date was definitely an emotional time: not knowing what to expect as a first time mom, worrying, comments from family/friends/strangers, etc. etc.
Baby #2 was surprisingly conceived after my first cycle at 25 months postpartum. I got a positive pregnancy test on cycle day 30 and a twelve week and then twenty week ultrasound both matched up with my LMP due date. So, this time was different, we knew! It was always in my mind that maybe I just cooked babies a little slower than most but as the pregnancy progressed I didn't really think there was any way I was going to go past my due date. I was so cramp-y this time, so much more pressure down low, so much more active, I had a completely different lifestyle chasing an almost 3 year old every day than during my first pregnancy.  But alas, my due date came and went and then a whole other week passed. At 41 weeks I was having doubts about the baby coming out any time soon and really just couldn't believe I had gone so far again. 
At 41 weeks 1 day, a Monday, I was feeling good and talked with my midwife about just waiting it out another week and seeing what the weekend held. At 41 weeks 2 days, Tuesday, I was totally done being pregnant. My son and I had a great, exhausting day that day. We played at home, went grocery shopping, had a coffee and muffin date and met with a friend at the park to play in the sunshine for 3 whole hours. We came home and made dinner and he stayed up past his bedtime while my midwife came over for our weekly appointment. We chatted about the risks of the pregnancy progressing past 42 weeks, how we (my husband and I) each felt, what natural induction methods she likes to use and ultimately I decided I really just wanted a membrane sweep right then.
I had one with my son that resulted in losing my mucus plug and then starting labor two days later and I was ready. It was the night of a super new moon and I finally felt at ease to try and do something (at this point we weren't employing any kind of help labor start tactics). If my baby and body weren't ready I trusted that nothing would happen anyways and we would continue waiting.
We were done with the sweep around 7PM with caution from my midwife that there could be spotting and cramps during the night, all totally normal and to try some nipple stimulation if I wanted. My son went to bed and my husband and I settled in on the couch for some Netflix while I hooked up to my breast pump for exactly ten minutes. We went to bed shortly after as we were both really tired from a long day and I fell asleep pretty quickly. I felt cramps on and off through the night in a very sleepy haze, my son slept horribly and was crying most of the night but thankfully my husband was comforting him and I spent most of the night able to drift in and out.
I woke up at 6:40AM and had what felt like bad period cramps, sharp, painful cramps super low in my pelvis that went away very quickly. I wondered if I should still be having cramps 12 hours after the sweep (?) and hoped they would go away soon. I got up to go to the bathroom and brush my teeth and had lots of bowel movements. This used to happen to me every time I had period cramps so I wasn't surprised; and afterwards laid back down to try and sleep some more until my son woke up. 
He was up a little bit after 7AM and I was still having the cramps so I text my husband around 7:15 and asked if he could come home for a little bit to be with our son until these cramps went away. I was fine in bed but T was asking for breakfast, etc. and I just felt icky and wanted to stay resting. He didn't respond so T and I read books in bed and then looked at photos on my phone. Around 7:45 I was still having them so I called my husband (he hadn't seen the texts) and asked him if he would just come home from work for a little bit. T and I stayed in bed cuddling, goofing off, laughing and watching videos of him on my phone. 
Around 8:30AM my husband finally walks in just as I was about to call him again, he had brought breakfast and I was so happy because I was starving! I used the opportunity to finally get up and go to the bathroom again and the cramps were still coming, fairly frequently and kind of radiating down and out into my pelvis. Definitely still cramps though, did not feel anything like a "contraction". We decided to call the midwife as she emphasized calling her as soon as I suspected anything since my son was born fairly quickly after active labor began. 
I dialed her at 8:37AM and left a message. She instructed on her voicemail that if she didn't call back in 15 minutes to call our other midwife. Right afterwards I text our photographer, she has a son that she needed to make arrangements for so I wanted to give her as big of a heads up as possible if there was any chance I was going to be in labor today. "Hi it's Cassandra, I might be in labor today!" I told her about the sweep the night before and that I was just having cramps so I wasn't sure and I had called my midwife but was just waiting to hear back and that I would keep her updated. After that I came out of the bathroom and tried to lean into our hallway wall during one of the cramps to see if that alleviated the pressure, it didn't so I headed back to the bathroom. I was starting to think this was a membrane sweep gone horribly wrong and I had brought these insane cramps on myself and now who knew what was going to happen!  
I felt much better on the toilet. I would push down into the sides of the toilet seat during the cramps and kept having to pee or poo so it was better anyways. 15 minutes passed so I called our second midwife at 8:51AM. We talked for 8 minutes about what was happening (cramps, mucus tinged with blood, bowel movements) and I had two of the cramps while I was on the phone with her. She said she couldn't tell I was having them and it sounded like early labor stuff and to try and lie down and rest between them, eat something and to let her know when they seemed to undergo a change. So I got off the toilet and lay down in bed and asked my husband to bring me some pancakes. I was still so hungry and so happy to be eating, I had two bites and then another cramp came and I immediately needed him to take the food away from me. I also did not want to be lying down. There was NO way I could rest; so back to the toilet I went.
I listened to my husband and son playing a Frozen matching card game in the other room and was still trying to understand what might be happening to me. The cramps got stronger and I asked for a chair from the kitchen to put backwards in front of the toilet so I could drape my arms over the back and press into it during the cramps. At 9:17AM I had a cramp that left me shaking and immediately breaking out into sweat all over. This was intense! I text my midwife "Ok getting hot and sweaty and shaky. Can't rest" and she responded she was on her way. There was also a lot of blood after that and I finally knew this was definitely labor. 
Midwife called at 9:21 while she was driving and I couldn't even really talk to her. I text my photographer at 9:24 and said "Ok def in labor. Midwife coming over now, 15 mins away." She wrote back that she would be over in about 15 or 20 minutes too! This was when I told my husband to start filling up our tub – it had been inflated and ready to go for weeks and he just needed to fit the cover on it and then add water.
I had wanted to alert my friends from
my blessingway
when I was in labor and now that midwives and photographer were out of the way I could finally let them know. I sent out a text to everyone in the group at 9:27AM that said "Baby's coming, send love – need it already <3" I remember trying to make sure that I included everyone and that I was trying to count the names and count the girls in attendance and it was hard for me to concentrate, but I did get everyone! The responses were just starting to come in when my midwife walked in about 9:30AM. 
Just before then I was starting to get worried about continuing to do this on my own as my husband was tending to the tub and playing with our son so I was really happy to see her. She asked if I was pushing and I was kind of caught off guard, pushing!? No way, what? I was definitely not pushing! Then another wave came and AH! There was a head! I was pushing!? I half yelled out that I was pushing and she asked if I could feel the baby's head. I said no but then I barely reached up and the head was right there. She told me I needed to get off the toilet, which was seriously the last thing I wanted to do. She helped me down onto the birth stool where I tried to sit and then hold myself up against her but it was really unstable and I needed to get down. This entire time I could feel baby's head right there. When I got off the stool I felt her head kind of suck back up a little and wasn't sure where I was going or what I was doing but I heard hands and knees and I just kind of fell onto the floor in that position, head facing the corner, butt facing the doorway. This all happened in a couple of minutes and soon our photographer,
Kirsten,
walked in. She was greeted in the bathroom doorway to my bum and then a little bit of baby's head starting to come out.
On the next push I moaned out so loud and low, it didn't even really sound like me, I think this was the first noise I made the entire time. I was proud of myself that it was loud and low and not high pitched screaming (like I was with T). I knew I had to keep it that way and gosh the burning, ah! I literally just gave way to the burning, told myself it was happening and just feel it, don't fight it and then her head was out! I said I wanted the rest of her out, just get her out! but I knew that wasn't what I really wanted. Tearing so badly again was one of my biggest fears around labor and I knew this was the moment. My midwife told me to pant and I tried but couldn't really so I started just breathing shortly and blowing raspberries, I could do that and it calmed me down and gave me something to focus on while I just stayed in hands and knees with her head out. I heard my husband say something like oh my gosh eyes! A little nose and mouth, awww! I kept up my breathing/blowing and then all of a sudden her body was out!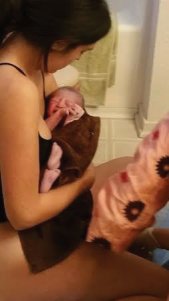 She handed her to me and I sat back on the bathroom floor and held her, it was 9:51AM. Not even an hour and a half from when my husband walked in the door with breakfast and our baby was here, so mind blowing.
I felt fantastic. I had so many emotions rush me all at once and I felt energized and ecstatic and it will definitely be engrained in my mind as one of the best moments of my life. I got up and walked to the other room to lie down in bed and seriously just could not believe how great I felt. T was right there in the doorway watching the entire time and once I got settled in bed  he climbed right up to touch and kiss his new baby sister.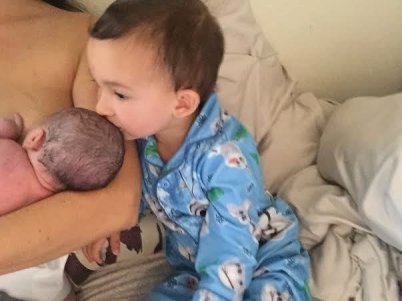 Needless to say the tub was not filled up enough for me to get in it once I had to get off the toilet and the pictures are not going to be anything like I had imagined. I did not get to diffuse my Serenity blend or light my beeswax candles or stare at the affirmation wall I had created in the bedroom, but I wouldn't change anything about it. So intense, but so quick and so perfect. It was a beautiful sunny day and after everything was cleaned up we all hung out in bed as a family of four watching movies, reading books and playing games and I couldn't have even imagined the amount of bliss I felt.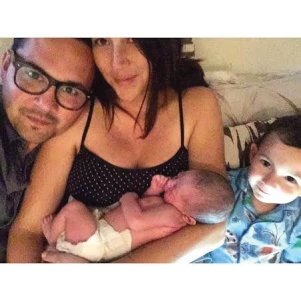 I needed no stitches, which literally made me want to jump up and down and cry out with joy and I have felt pretty great every single day since.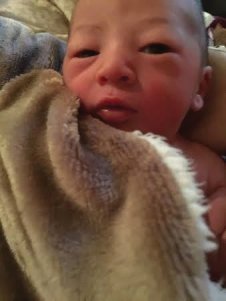 I learned so much from baby P's birth, there was not a single sensation that felt the same as my last labor and birth. Again, mind blowing. It was a great reminder to throw out any and all expectations I may have surrounding this little girl and being her mama, as we truly are never in control.
Congratulations, Cassandra, Eric, and new big brother T !!
Please leave us a comment - it will be moderated and posted. 
Disclaimer: 
The material included on this site is for informational purposes only.
It is not intended nor implied to be a substitute for professional medical advice. The reader should always consult her or his healthcare provider to determine the appropriateness of the information for their own situation.  Krystyna and Bruss Bowman and Bowman House, LLC accept no liability for the content of this site, or for the consequences of any actions taken on the basis of the information provided.  This blog contains information about our classes available in Chandler, AZ and Payson, AZ and is not the official website of The Bradley Method®. The views contained on this blog do not necessarily reflect those of The Bradley Method® or the American Academy of Husband-Coached Childbirth®.
Here is a neat business I would like to introduce you to – baby concierge is an emerging industry that is of particular interest to our students and readers.  Stephanie Antoinette is the Founder & M.O.M. (Master of Multitasking) at J'aime la vie by Victoria Antoinette Mommy & Bébé Concierge.  She is like a wedding planner, except for all things mom and bébé!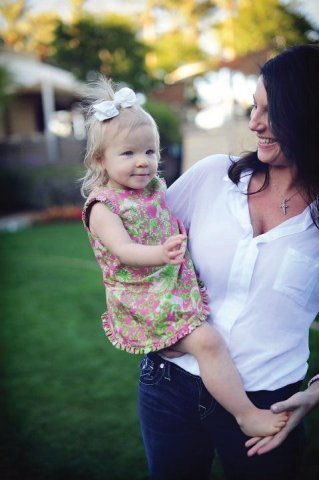 BIO:  I am the mother of two beautiful girls and have a baby on the way! My husband Andrew is an incredible father, he is my best friend and number one fan!  As a mother I know that preparing for the birth of a child is one of the most important and overwhelming events in life! I worked 60+ hours a week in the corporate world with my first two children, and barely had time to eat, sleep and kiss my kids at night. Let me help you get your time back... enjoy the birthday party for your child instead of worrying how you will pull it all off. 
SPB: How did you find your way into the baby concierge service?
JLV:  There were a couple of different things that brought this business concept to fruition. One being that Arizona is a very transient state; I actually came from Minnesota myself about 6 years ago. So when I was pregnant with my last baby (3 years ago) I really had no idea where to go for furniture, nannies, photographers, doulas, etc. There was a lot of wasted money and time on my end going through the trial an error of this. The second part was that I was working mom who really just didn't have the time to research all of this, do all the interviews, and plan things like baby showers, birthday parties, etc. I really felt that there should be a local "baby planner" just as their are wedding planners! This is a major and ongoing event in our lives! So I left that corporate position and created a premiere one-stop shop for all mommy and baby needs! 
SPB: How does the service work, and what kinds of services do you provide? 
JLV: 
I provide package and A La Carte options so that I can fit various budgets and needs! I help moms with finding the right nannies, doulas, photographers, and more. I also do custom baby registry and birth plans, along with nursery stocking and organization! Then I do the
custom party planning
, which is anything from baby showers, gender reveals, religious ceremonies, birthday parties (any age), graduation parties and so much more! 
SPB: Can you tell me a little about your favorite packages and their special features? 
JLV:  All of my packages are great and you can customize it to fit any needs. One of the most popular is Vous attendez un bébé!- $150
(So you are having a baby!)   This is where we will create a tummy timeline, create a custom
baby registry
and create your birth plan. So many new and veteran moms are not sure what to expect, what to do when, how this baby will change their lives. I help take the worry out of this process so it doesn't become a source of stress for the family. 
SPB: How will a mom know which package is right for their family?
JLV:  I offer a free over the phone consult where we generally decide where to start, and we can always add on as we go! 
SPB: How did you find the vendors that you work with?
JLV:  Years of trial and error at my own expense and time! I also belong to some great organizations where I am surrounded with the Phoenix Valley's top vendors! I have done the research for you!
SPB: What are the benefits of using a baby concierge?
JLV:  If you are a new mom, I really guide you on anything from the right products, how to maximize your budget, and the get the right resources you need! For veteran moms like myself this is also a benefit: I work with you on how to transition the new baby with your family, I can get you the right childcare you need, and with each child products are constantly changing... you want to know what is best now!
For all moms my event planning services are a HUGE plus!  Planning parties is my true passion; those who are close to me know I am a list maker! Organization, party flow, good food and fresh flowers are key to any successful event! My personal tastes for decor flow anywhere from modern, to shabby chic, to over-the-top! Planning events is so much more fun then decorating your home because you can adjust it to your mood, theme and guests! I think outside the box, and work with any budget to create unique events!  
As mothers we often spend our time putting together these events for important milestones in our children's lives, yet we barely have the time to stop and enjoy it with them! I make this possible…that it in itself is priceless.
SPB: When would someone want to hire you as a baby concierge? 
JLV:  As soon as they begin to feel like they need help!  I have 13 years experience as a mother myself, I know what it is like to be pregnant, worried, uncomfortable and stressed! I have been through 2 births and about to experience my third, birth can be the most incredible and terrifying experience all at once! I know what it is like to have minimal sleep and still need to work a full time job! I know how personal it is to find the right people to help you take care of your children, and how much it means to execute the perfect party for your kids! I also have the corporate experience to execute all of this properly.  I am the best of both worlds for moms! 
SPB: Are there any other thoughts you want to share with our readers?

JLV:  Let me take the worry out of preparing for baby. For a quote on custom event planning or any of my services, please contact me!
Here are the different ways to connect with Stephanie Antoinette:
Phone- 480-717-2795
Please leave us a comment - it will be moderated and posted. 
*I think* that the amount of traffic you so generously generate has led to a lot of spam posting.  In an effort to keep the spam to a minimum, I am taking the time to moderate comments now.
Disclaimer: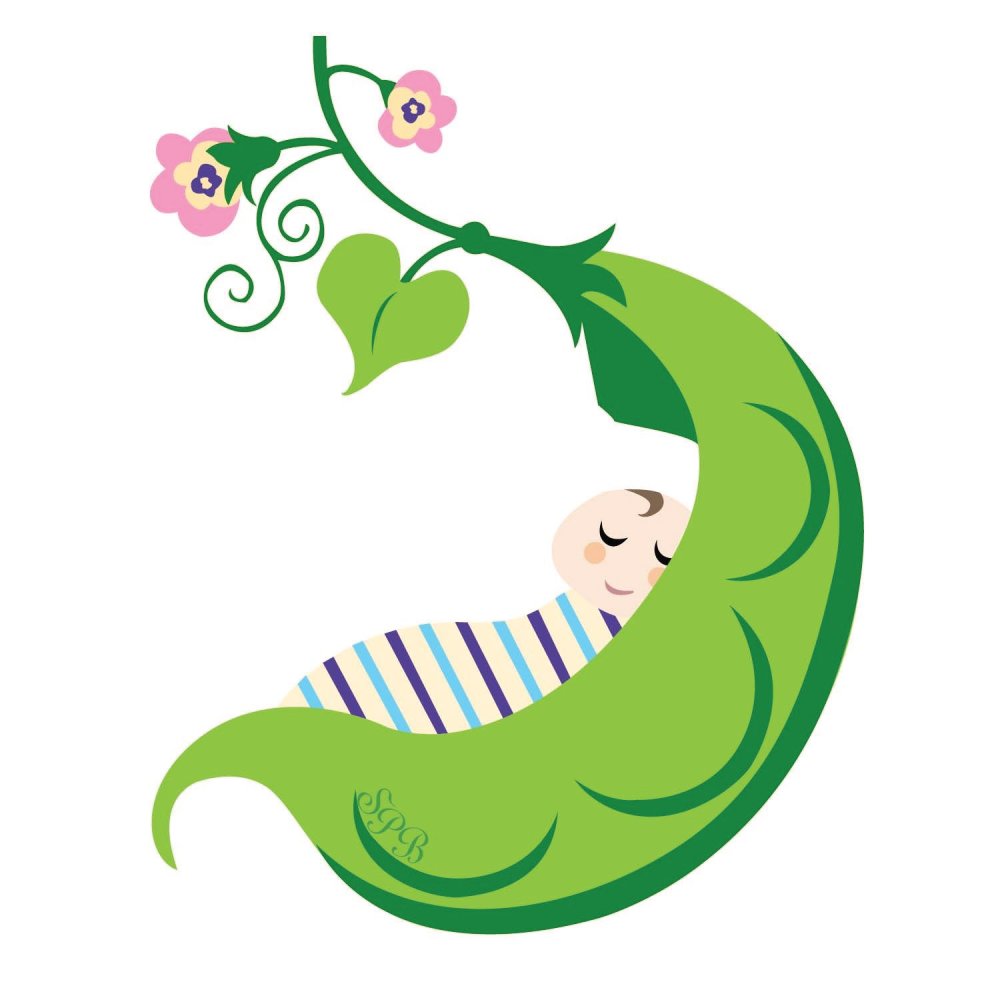 The material included on this site is for informational purposes only.
It is not intended nor implied to be a substitute for professional medical advice. The reader should always consult her or his healthcare provider to determine the appropriateness of the information for their own situation.  Krystyna and Bruss Bowman and Bowman House, LLC accept no liability for the content of this site, or for the consequences of any actions taken on the basis of the information provided.  This blog contains information about our classes available in Chandler, AZ and Payson, AZ and is not the official website of The Bradley Method®. The views contained on this blog do not necessarily reflect those of The Bradley Method® or the American Academy of Husband-Coached Childbirth®.
Another set of babies is about to turn one this month!!  Time marches on…and as my mother-in-law so sweetly reminded me yesterday, it only seems to go faster as we get older.

Here are five ideas to help memorialize the occasion outside of the "smash cake" photos that are so popular now: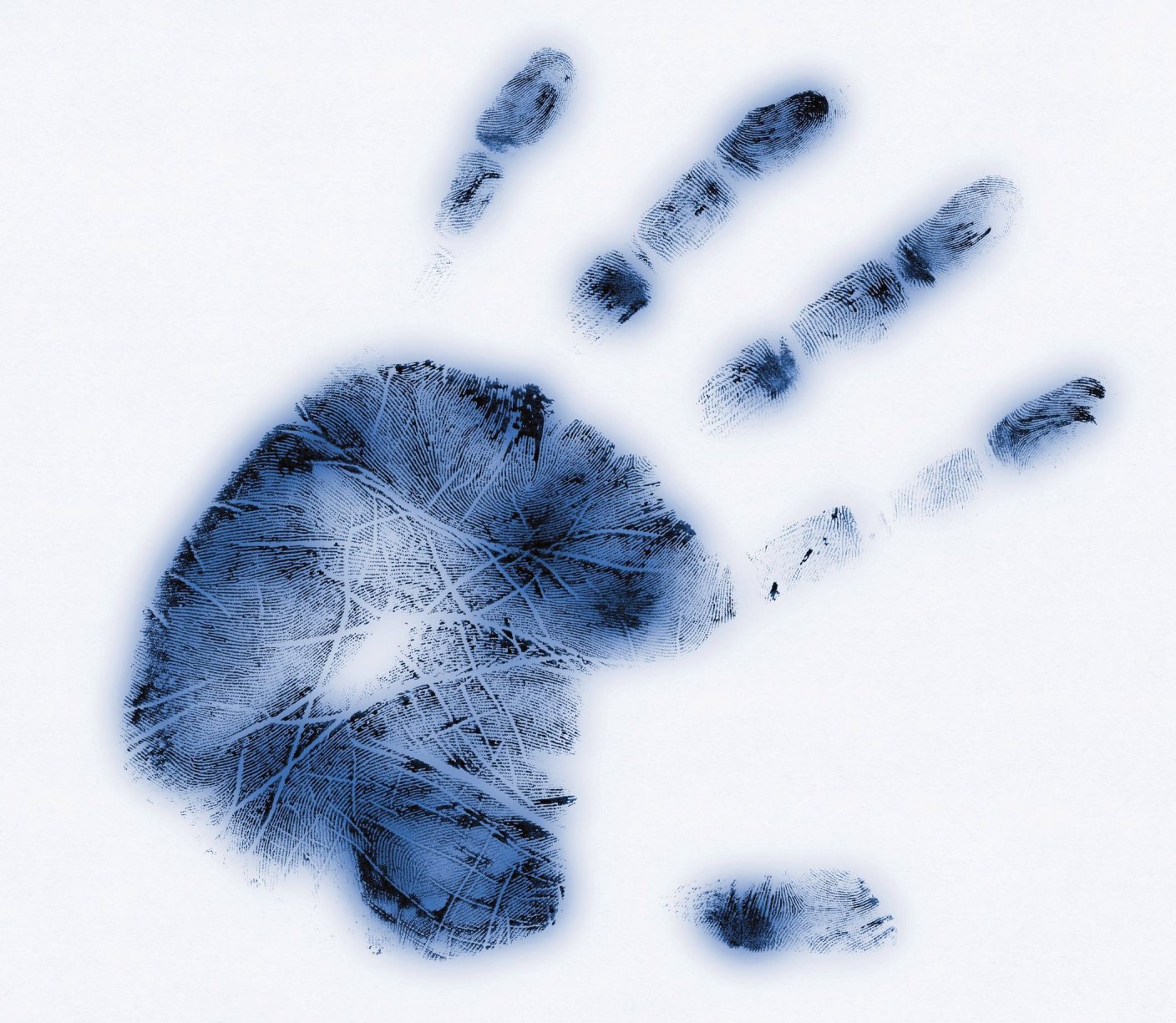 1. Make a print
Use a non-toxic ink or paint to make a handprint or footprint on acid-free paper.  Remember to date it, and also write some favorites on the page: color, song, food, toy, etc.  It's okay if you forget to do it right on their birthday – there will be a lot going on that day!  The goal is to get a print sometime within a few weeks of their Big Day.
The digital age has ushered in a host of high-quality, affordable-cost professional options.  Many professional photographers have packages where session fee includes a disk of high-resolution images with a photo release.  An added benefit: they can come to you for a nominal fee!  We have found that we have a lot more success with the photo sessions that are in our home – the kiddos are comfortable and in a much better mood.  Children only turn one once.  It is such a treasure to look back at their one-year pictures.  See the end of this post for some photographers we like in the Phoenix area.  Even if you don't hire a professional photographer, see our list of picture ideas listed below.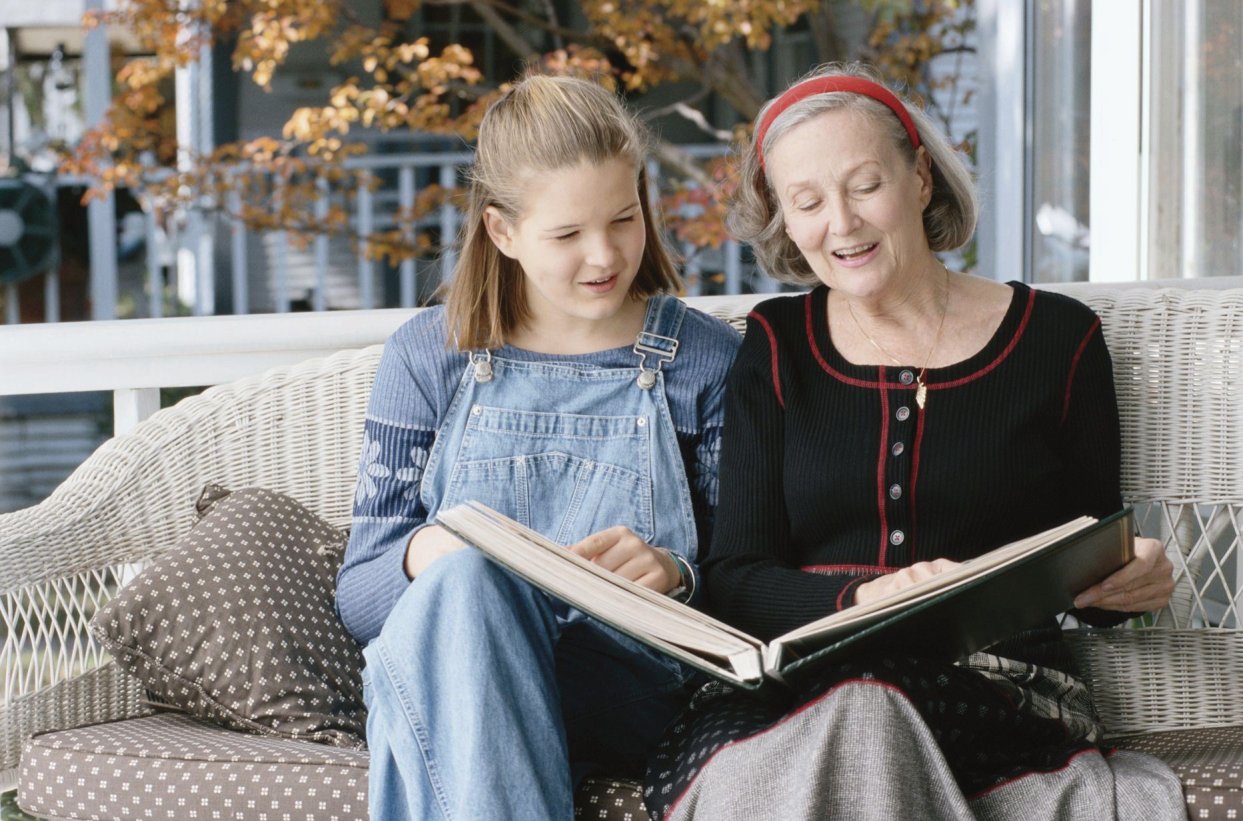 3. Create a birthday book
Photobook technology has evolved alongside of digital photography.  Choose a reputable company and create a book that celebrates your child's year.  You may not have it ready in time for their birthday party if you want to include those pictures, or some of their One-Year session images.  Imagine…if you keep it up, by the time they leave home, they will have a photo library of each year of their life in pictures and stories. 
Is there a signature dish you want to serve at the birthday party?  Or maybe you are planning a special menu?  Record these on recipe cards and start recipe box you can keep adding to, to be given to your child as a "first-home" gift down the road.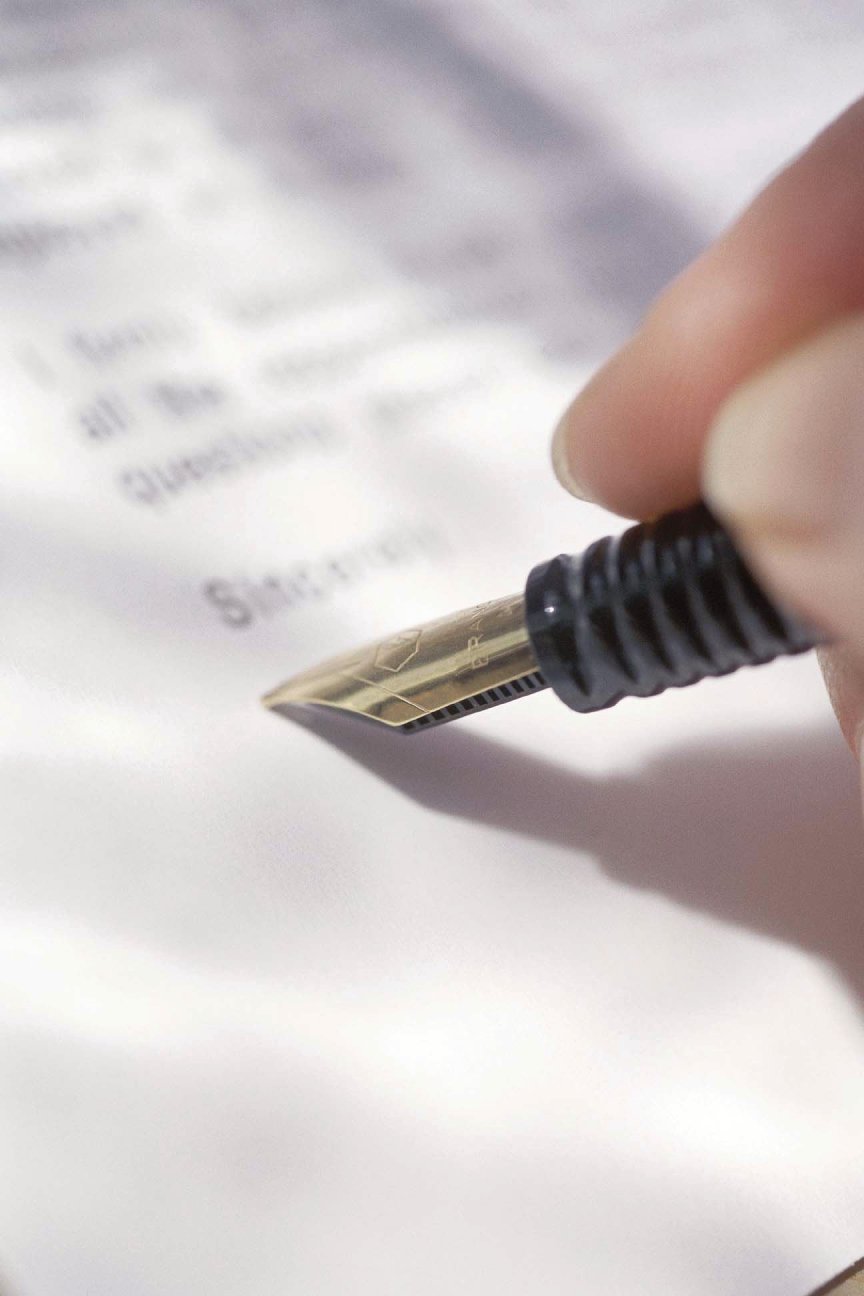 5. Write a letter
Take some time to write a letter to your child on the eve of their birthday.  What do you still remember about their Birth-Day?  What have you enjoyed about being their parent?  What are some of your favorite memories from the past year?  What have you learned from them?
I will leave you with this closing thought:
Breathe.
You want everything to be perfect for their Big Day, and Party Day if it does not coincide with their birthday.
Guess what?
Your baby is not going to remember "the day".  They will be imprinted, as they always are, with the love you share with them *every day*.
Release the stress and celebrate your baby.  Whatever happens is going to happen.  Even if your planning is not executed to perfection, your baby is still turning one.  Your child is still sweet and adorable.  Your guests are there to celebrate your child, not the picture of perfection you are obsessing about.  (*guilty* Can you tell I speak from experience?) 
Set your plans into motion, call in for help, and then relax and enjoy your child's first birthday – that day is never going to happen again and there are no "do-overs".  Make the most of it!  Your baby loves to see your smile.
What are some birthday traditions in your family?
Please leave us a comment - it will be moderated and posted. 

*I think* that the amount of traffic our readers so generously generate has led to a lot of spam posting.  In an effort to keep the spam to a minimum, I am taking the time to moderate comments now.
Professional Photographers around Phoenix, Arizona
The photographers on this list are photographer we have used and/or are personally known by us. 

WEST VALLEY
Brian Claybrook - BC Flix

Phone: (602) 909-4096  
Andrea Crawley Photography

Phone: (623) 329-7549

EAST VALLEY

Erin Rudd Photography

Phone: (602) 909-4096
Maria Sauerbrei Photography

Phone: (480) 577-9968
Paula Scott - P.S. Photography

Phone: (928) 951-0175
PHOTO IDEAS we have used:

Favorite baby blanket
Favorite bow or hat that will be saved as a keepsake

Special birthday outfit that will be saved as a keepsake and handed down
Holding a sign that says the birthday year, "I turn 1 today", "Today I am 1", "1st Birthday"
Use a number "1" piñata as a prop (then re-use at their party!)
Walking hand in hand with parent(s)
To show growth over time:
*Next to a photo taken on their Birth-Day

*Next to their "coming home" outfit

*With a toy/favorite item that can be used for
  future birthdays

*Next to a piece of furniture that you plan on
  keeping in the family

*Next to a tree on your property
HERE
is a link to some more keepsake ideas:
http://www.bhg.com/party/birthday/themes/first-birthday-traditions/?page=2
Disclaimer: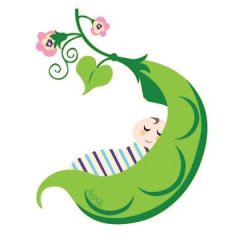 The material included on this site is for informational purposes only.
It is not intended nor implied to be a substitute for professional medical advice. The reader should always consult her or his healthcare provider to determine the appropriateness of the information for their own situation.
Krystyna and Bruss Bowman and Bowman House, LLC accept no liability for the content of this site, or for the consequences of any actions taken on the basis of the information provided.
This blog contains information about our classes available in Chandler, AZ and Payson, AZ and is not the official website of The Bradley Method®. The views contained on this blog do not necessarily reflect those of The Bradley Method® or the American Academy of Husband-Coached Childbirth®.
Christmas is just one of the many holidays we celebrate throughout the year.  In part, the commercialism surrounding this particular event also makes December one of the most overblown months of the year.
Some families have the additional tug-of-war of trying to be all things to all people.  One set of in-laws wants to host, the other set of in-laws wants to host and thus a fine balancing act begins.
In order to preserve the wonder of any holiday, be it Christmas or otherwise, I take a word of advice from Buddy the Elf, "Treat every day like Christmas."  If you celebrate this holiday - how excited were your toddler/elementary school-age children on Christmas day?  How patient were you with them?  How forgiving were you of slight transgressions on the part of other friends or family members?  The joy and the love that dominate the day are infectious, and I think that Buddy completely captures that spirit.
Holiday traditions are the roots we sow for our family.  I had to talk myself off of the ledge when I was disappointed that we weren't finding the material things our children wanted.  I had to take a deep breath and remind myself that my immediate family had gathered from across the US to spend Angelika's first Christmas with us.  Our kiddos are so excited to have a set of grandparents, aunt and uncles here that they are barely playing with the toys they already have, let alone the ones I couldn't find for them.  After present opening, they were so excited about the day in general that nothing was going to dampen their mood.
I propose that you and I consider these things instead of getting caught up in the hype and hoopla of the weeks and days preceding Christmas, or any holiday for that matter:
- What special memory do you want to make during the holiday you are celebrating?
- Are there any pictures you want to take to capture the spirit?
- Can you find a yearly place to take a picture of your kiddos as your family grows so that you can measure their growth: a tree, a doorframe, a landmark?
- Is there a special food that you make that you can start involving your children in preparing so that they learn your recipes over time?
- Do you print photos to send as cards or write letters?  Save one each year in a photo book so that you can look back and see what the highlights were each year, and you can take the time to do a little journaling about the actual holiday on a index card that can be taped to the card or inserted into the album.
- Is there an activity that your children want to do that you can find time for?  When my family is here we get the fixings to make S'mores and enjoy a night out around the chimenea roasting marshmellows and making gooey treats.
- Is there an activity that appeals to you that you always wished you could do?  Having your own family allows you the special opportunity to make your own memories and start your own traditions – now is the time to be the change you want to see in the world (Gandhi).  Talk to your partner and decide what you want to do and make it be part of your family story.
- Do you want to capture your kiddos' antics on video?  This is ever easier in the age of the smartphone.  As moments in life unfurl, they can be captured on digital image, so keep your camera fingers ready to roll.  Capture movements, voices and their little language idiosyncrasies.  Their voices change and their shyness may increase as your children get older, so immortalize their antics now while they will still let you record them. 
- Can you take your family to a nursing home to visit during lunch or dinner time?  So many of the residents are alone over the holidays.  They are energized by the sight of young families, especially babies.  I remember going to dance with my class when I was younger - they were the happiest audience I ever danced for.  In the spirit of giving, you can have your children make hand-made cards to share with the residents.  Do your children have the itch to perform - prepare a show!  Call first and speak to the director or activities coordinator - you can arrange a time and day with them and most folks will be thrilled for the chance to have a little joy shared in their "home".

- I hear many moms talk about going to serve at food kitchen, including my own mother.  I don't know what kept us from following through on her wish.  My in-laws have served food to the needy for years and although they are exhausted at the end of the day, their hearts are full and they have truly exemplified the spirit of giving that the season was supposed to represent before the sale-mania took over.  Find a food pantry or soup kitchen that you can serve next year - even if it's not on Christmas day, your children and you will be blessed by your day(s) of service.

Another tradition from my childhood that I would like to incorporate now that our children are old enough to "ooh and ahh" with us is driving out to see the holiday lights.  It was so difficult to wrap gifts because the kiddos were bouncing off the walls with excitement.  Next year we want to try loading up the car with hot chocolate, gluten-free cookies, warm blankets and bouncy children before wrapping time.  (I should add "toothbrushes and toothpaste" for my dentist...that would be stretching it, though!)  I hope that they will love the time in the car looking out at the "fairy lights" as Brussito calls them, and we can continue on with the tradition I had with my family.

Parenting is a journey of exploration and learning.  Our children are sponges and they will adopt our attitudes about the way we live in the world.  If you want them to do something outside of the material hustle and bustle, then lead the way by example.  If you try something and no one likes it, chuck it – at least your children will learn it's not scary to try new things, and that it's okay to move on from experiments that don't work out. 
When you do find things that you like, then you are building special times for you and your family.  I can still remember the smell of making tamales although I haven't eaten pork tamales for eleven years.  I remember the excitement and anticipation of Christmas Eve at my grandmother's house.
The positive aspect is that when your idea works well, then a new family tradition is born.  You start building positive memories in your child's memory bank that will bring them to your table after they are grown.  Then the circle of life continues when they start making their own family traditions, which as enlightened parents you may choose to willingly embrace.
Take the time to make your own family memories now, for the early years go by ever so quickly.  We can vouch for that personally as we hold our newborn and ponder the fact that our first-born is turning seven next month.  Although we can still remember the day we brought Ysabella home from the hospital, she is clearly growing up and there is no stopping Father Time.
What is a holiday tradition in your home?
Disclaimer: 
The material included on this site is for informational purposes only.
It is not intended nor implied to be a substitute for professional medical advice. The reader should always consult her or his healthcare provider to determine the appropriateness of the information for their own situation. This blog contains information about our classes available in Chandler, AZ and Payson, AZ and is not the official website of The Bradley Method®. The views contained on this blog do not necessarily reflect those of The Bradley Method® or the American Academy of Husband-Coached Childbirth®.
for our

Spring Series
March 5, 2012 to

May 21, 2012
For more information

or to register,

please call us at

602-684-6567

As your dedicated Bradley Method® instructor and roving reporter, I decided to take advantage of the opportunity and share the connections I made with you.  I was happy to see some familiar faces since I went by myself, and it was also nice to meet some new folks with amazing products and services that are a great fit for our students past and present.
I hope you enjoy reading about these dedicated professionals and find their services and products helpful.  Enjoy!!
"The day she gives birth is one of the most transformative days in a woman's life. I always count it as such a sacred honor to bear witness to and stand by a mother on this singular day. I am a wife and the mother to six amazing children and know first hand what a wonderful (and sometimes hard) experience having a baby and parenthood can be. I have had a variety of birth experiences including a hospital birth, a birth center birth, and four homebirths, with the last one being a waterbirth. As a doula I have experience with births in hospitals and at home, with unmedicated as well as medicated births, with cesareans and VBACs (vaginal birth after cesarean), waterbirths and teen moms as well."
Cell: 480-251-0913
Cell: 480-628-6730
Brenda is the owner and talented photographer at A Bunch of Smiles Photography.  She runs a customer service oriented boutique studio that specializes in Living Art Maternity and Celebrating Life Baby sessions.
Brenda strives to provide a service that captures the essence of you and your family.  The typical studio experience consists of waiting in a lobby for upwards to half-an-hour and then squeezing into a tiny, hot studio room; and by then, nobody is in the mood for pictures!  When you go to Brenda's studio (or have her visit your home), you are in for a very pleasant and personalized experience.  She limits the number of sessions per day to 2 or 3 so there is no waiting, and she has enough energy and creativity to give you better portraits than you would ever imagine.
The extra time and energy she puts into your portraiture may cost more than the "mass-market" photographers, however, as a customer for going on seven years now, I can assure you that the results are amazing and they will be cherished by you and your family for years to come.
602-527-6595
I had the great fortune of meeting Katie Hess, Organic Alchemist at Lotus Wei Flower Essences.  As I sit and write tonight's post, I am enjoying the scent of her "Infinite Love" blend that she said is best for pregnancy.  I am looking forward to using her essences as I meditate to prepare for our homebirth to process my "first homebirth" concerns – everything is unknown again!!  She also recommended that we use her "Inner Peace" blend while we are in labor.  If these peaceful vibes I am getting from the Infinite Love mist are any indicator, we are going to have a great labor and delivery!
As a natural childbirth educator and a mom of a child who is very sensitive to chemicals, I was so happy to find that her products are free of artificial fragrances, phthalates and petrochemicals.  Her products are the kind that I can use in our home and feel safe recommending to our expecting and alumni students.
From her website:
I spent over 10 years doing one-on-one consultations--client came regularly for custom formulas of flower essences. I worked with each individual for six months to several years. During that time I witnessed countless transformations in people, and was continually surprised at how quickly it would happen. I watched my client's faces, emotions, attitudes, and life situations change radically within only one month of taking flower essences, only to further evolve as they continued taking the essences over time. 
I realized that I would not be able to make the kind of impact that I wanted to, if I was limited to the number of people that I could individually and personally see myself. So I decided to create a line of elixirs that would be easy to understand and that consist of combinations of several flower essences that I feel people most needed today.
Each of the six formulas contain balanced formulas of flower essences collected by us from diverse environments including forests, deserts, wetlands, and tropical flowers.  Our essential oils come from all over the world, sourced from organic, wild-crafted and ethically-harvested sources. Whenever possible we use certified organic essential oils. 
602-670-0753
I also got to visit with Lisa Reinhardt, from Wei of Chocolate, a sister company to Lotus Wei.  Guess what, pregnant mommas?  She is going to email me some studies that show that eating a piece of chocolate five days a week will lower your incidence of pre-eclampsia!  What better way to enjoy your last trimester than with a chocolate a day??
I can't wait to read the studies for myself and share what I learn.  In the meantime, I will tell you that I have not ever liked dark chocolate.  The taste she shared with me was heavenly!!  Her chocolates are high quality, vegan, organic dark chocolate that are blended with ingredients designed to elevate your experience - and bring balance to mind and life.  They are also gluten-free, soy-free, fair trade and infused with flower essences.  I am definitely going to get some for a daily dose until baby arrives.  I think they will help get me in the right frame of mind for our homebirth!!
602-577-2338
I wish I had known about Jennifer Thomas (right) and Lindsay Treinen (left) when we were looking for a nanny.  It may have saved us a lot of hassle and a couple of years of trying to find the nanny that was the right fit for our demanding family!!
Their company offers a free in-home consultation to assess your needs and make a recommendation as to the profile you may want to consider for a nanny.  Should you decide to register for their service, they help you find a nanny. Both of these ladies worked as long-term nannies and understand the benefits of consistency and trust with their employer.  Their goal is to help you find a nanny that you will have long-term relationship with and make the whole experience as rewarding as possible. 
All their nannies have a minimum of 2 years of experience.  They can run a certified background check; they investigate driving records, and require all nanny candidates to provide a minimum of 6 references.  They also allow registered families to see the application and references – as Jennifer said, "It's all open-book."  They also offer competitive pricing for their placement services.  They make sure their fees are below other services in the Valley, and they also assured me that if another service offers a lower fee, they will meet or beat that fee.
602-507-9844
It's always fun to meet another pregnant mom at these events!  Camea Kramer was there with her husband, Steve – they are expecting baby #2 about a week after we are due - congratulations!  Camea and Steve are the owners and franchisors of Baby Sensory, a company that offers classes that are designed to encourage learning and development between moms and babies.  Their goal is to build a mom's confidence and bonding between mother and child as they interact with each other and take the ideas from the lessons and apply them at home.
The Baby Sensory program consists of over 40 themed lesson plans and 20 special theme lesson plans. Every week you will share new sensory experiences with your baby.  Classes are specifically designed for babies from Birth-13 months. Our classes are run weekly in terms of 10 weeks. You can join anytime.
480-789-0045
/