...celebrating every swee​t pea their birth
For today's video, I asked her to highlight her Top 5 picks for breastfeeding, and we ended up with a bonus in there.  It's a quick video (under 5 minutes)...also did a little picture gallery. 
Enjoy!
Lanolin Lanolin is the smelly pale-yellow natural oil found on sheep's wool. As a waste product in wool processing, it's also known as wool oil, wool wax, wool fat, or wool grease. It's a natural water repellant — the function of which, as it's not too hard to guess, is to waterproof the sheep. Lanolin also has anti-fungal and antibacterial properties that protect the sheep's skin from infection. Derived from the animal's oil glands, lanolin is a mixture of wool fat and 25-30% water. Wool fat is a mixture of many different chemical compounds, including cholesterol and the esters derived from 'fatty' acids containing 18 to 26 carbon atoms.
Lanolin is the oily secretion found in sheep wool...Those sheep are also very likely to have been dipped in insecticides on the farm. These pesticides can accumulate in fat tissue, which researchers worry could affect the breast milk of new mothers.
So between the carcinogen in the fats and the pesticides in the wool, research your lanolin-based nipple creams before you buy!  Or just go with something else, like the Motherlove cream that Talisha has on her Top 5 list.
More posts about Breastfeeding:
We have lots of new mommies in the queue, so I thought I would share some of the great products available for milkin' mammas.  I picked four categories, and with the help of Talisha Heiden, I have product descriptions and some informational videos for you.
Galactagogues
As I mentioned in my
newbie's post
, it is important that mom's get help within the first three weeks of their current breastfeeding relationship if they have any doubts or are concerned about their milk supply.
In this video, Talisha shares her knowledge of the products she carries to help new mother's increase their milk supply.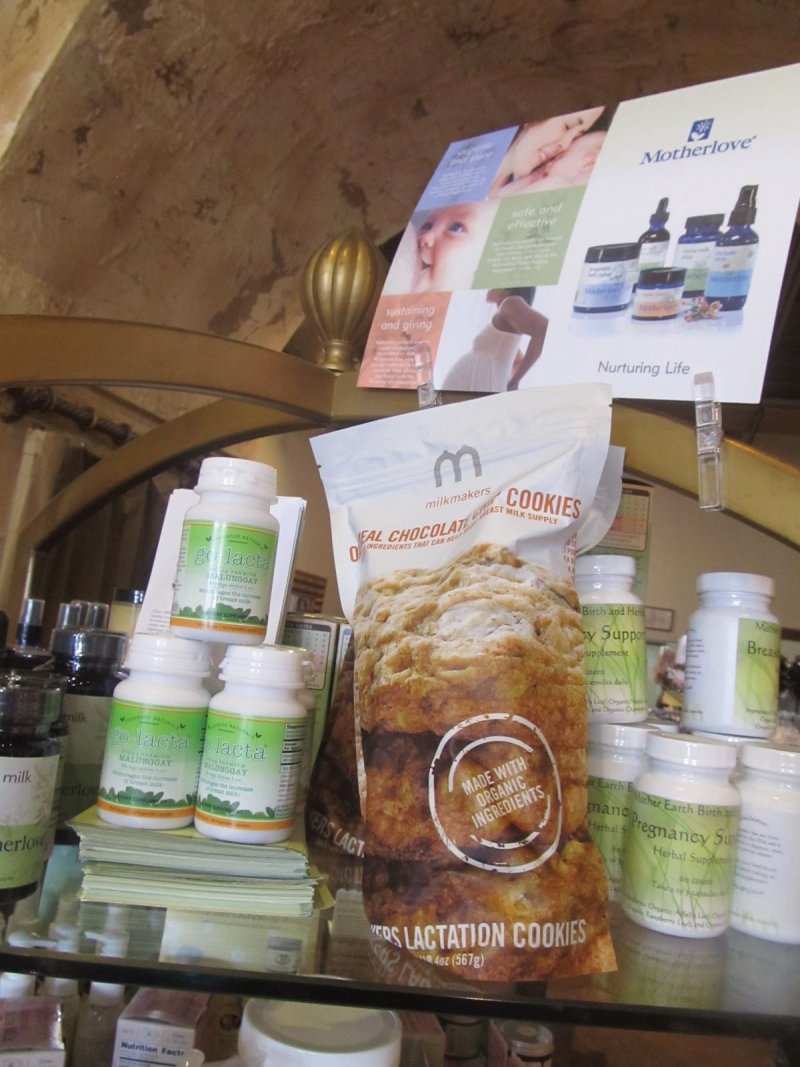 She also carries a breastfeeding cookie.  As she told me today, at 230 calories a pop, it's not the most calorie-conscious way to increase your milk supply, nor would she suggest it instead of a supplement.  It is however, an option for a snack if you are a nursing mom.  We do tell Coaches in our classes to get mom a tall glass of water and a snack whenever Mom sits down to nurse.  This product has several ingredients that support milk production, making it a good snack choice.
Therapy Pillows
One of the most common words people associate or know in regards to breastfeeding is "engorgement".  When milk comes in after 2-7 days of making colostrum, a mother's breasts will swell as they fill with milk.  If you are producing a regular amount of milk or an oversupply, you are likely to experience some level of engorgement.  This can be uncomfortable and painful.
Both brands of therapy pillows are filled with flax seeds and can provide warming or cooling relief with an all natural, gel-free product. The pillows can be heated in the microwave or cooled in the freezer to provide warming or cooling relief from the common discomforts of breastfeeding.
A warm pillow opens clogged ducts and increases milk production.  The warm, moist heat encourages milk flow, maintains open milk ducts to prevent clogged ducts, promotes let-down and it could comfort the symptoms of infection or mastitis.  
Therapeutic cooling soothes sore new mama nipples and breasts.  You can store them in the freezer and wear them inside your bra between feedings to help reduce the swelling and tenderness of engorgement.  Since they are made to last, you can use them as you complete your breastfeeding relationship to comfort breasts during weaning.
As you can see, the bamboobies product covers the nipple, whereas the Earth Mama Angel Baby product fits around the areola.  The right product for you will depend on which of your nursing parts are sore and need relief.

Reusable Nursing Pads
We suggest that our Bradley Method® students do their research if they decide to use a nursing pad.  If they think they want to use nursing pads, we suggest they take care to choose a product that prevents leaks from showing through their clothing while keeping the nipple area dry.  Moisture in the area can keep a sore nipple from healing and it can also grow bacteria - yuck.
Talisha offers her description of her favorite nursing pads - both of which she sells in her store.  In the product gallery below, you can also see two more offerings.  She does offer a variety because each mom is unique - what feels good to mom is an individual choice.
All of the products shown here are washable and reusable - modern mommies take care to use earth-friendly products :)

Nipple Cream
This falls under the "must-haves" on Talisha's breastfeeding survival list.  She is especially fond of the Motherlove product since it made a big difference in the nursing relationship with her firstborn.  A good nipple cream will quickly relieve the discomfort of sore, cracked nursing nipples. Look for a product made from ingredients that are safe for ingestion, so it does not need to be washed off prior to breastfeeding baby.  The Motherlove product she carries fits this description.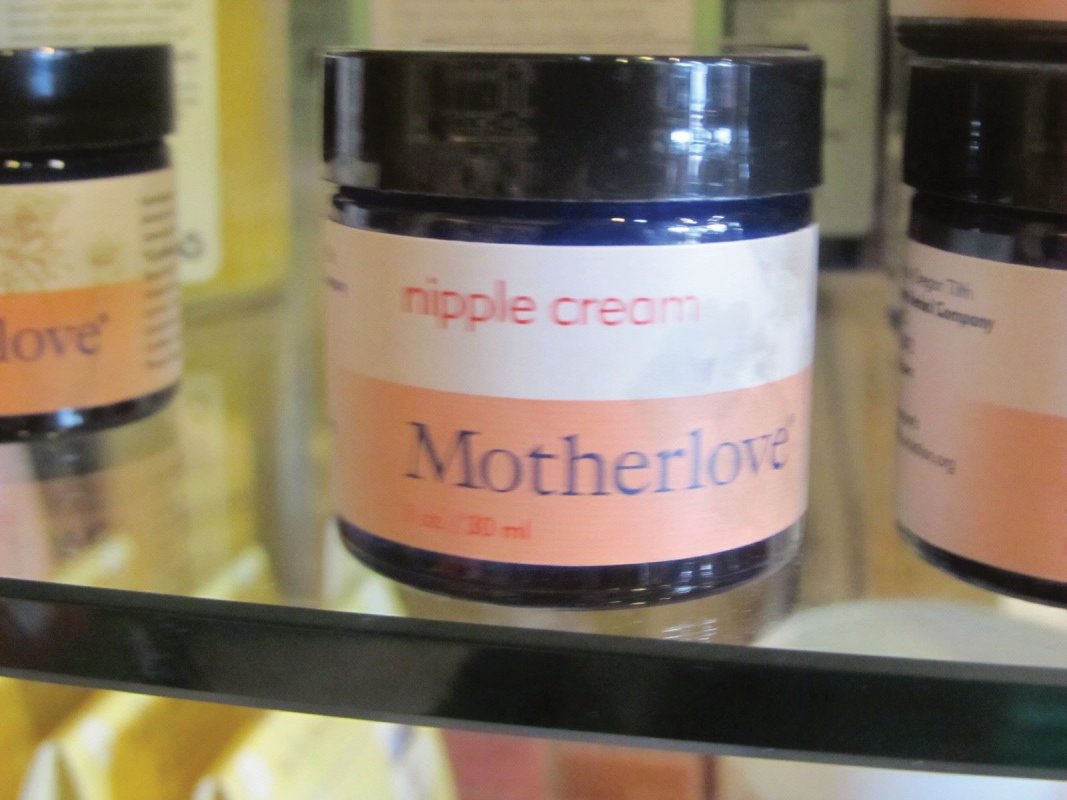 As you can see, Talisha is a wealth of information when it comes to establishing and maintaining a mutually enjoyable and beneficial nursing relationship.  The products shown today are just the tip of the iceberg.  She is a working mama who made the breastfeeding relationship work.  Her experience drives her product line.  She carries a full compliment of breastfeeding supplies and accessories in her store: nursing teas, nursing cookies, nursing covers, breast pumps, milk storage supplies, bottle-feeding equipment and more. 
In addition to speaking with Talisha, you can attend the free Breastfeeding Support group on Monday mornings that is facilitated by Debbie Gillespie, IBCLC, RLC, or attend Debbie's class that is offered the first Saturday of every month.  Talisha and Debbie make a great team for nursing moms that are looking for answers!  If you can't stop in to the store and see one or both of them, you can always call and reach them on the phone (480-857-7187). 
This season, give yourself the gift of knowledge...there is no such thing as a dumb question when it comes to learning how to feed your child the way you want to feed them.  There is no shame in needing or wanting to take advantage of this tremendous resource.  You will be glad you did, and baby will thank you later when they are fed, happy and sleeping peacefully.
Happy Hanukkah and Merry Christmas to all!
Modern Mommy Boutique
3355 W. Chandler Blvd, #3
Chandler, AZ  85226
480.857.7187
Disclaimer: 
The material included on this site is for informational purposes only.
It is not intended nor implied to be a substitute for professional medical advice. The reader should always consult her or his healthcare provider to determine the appropriateness of the information for their own situation. This blog contains information about our classes available in Chandler, AZ and Payson, AZ and is not the official website of The Bradley Method®. The views contained on this blog do not necessarily reflect those of The Bradley Method® or the American Academy of Husband-Coached Childbirth®.  
Now enrolling for our

Spring Series

March 5, 2012 to

May 21, 2012  

For more information

or to register,

please call us at

602-684-6567

or email us at
MapQuest Terms and Conditions
Maps/Directions are informational only. User assumes all risk of use. MapQuest, Vistaprint, and their suppliers make no representations or warranties about content, road conditions, route usability, or speed.
/