...celebrating every swee​t pea their birth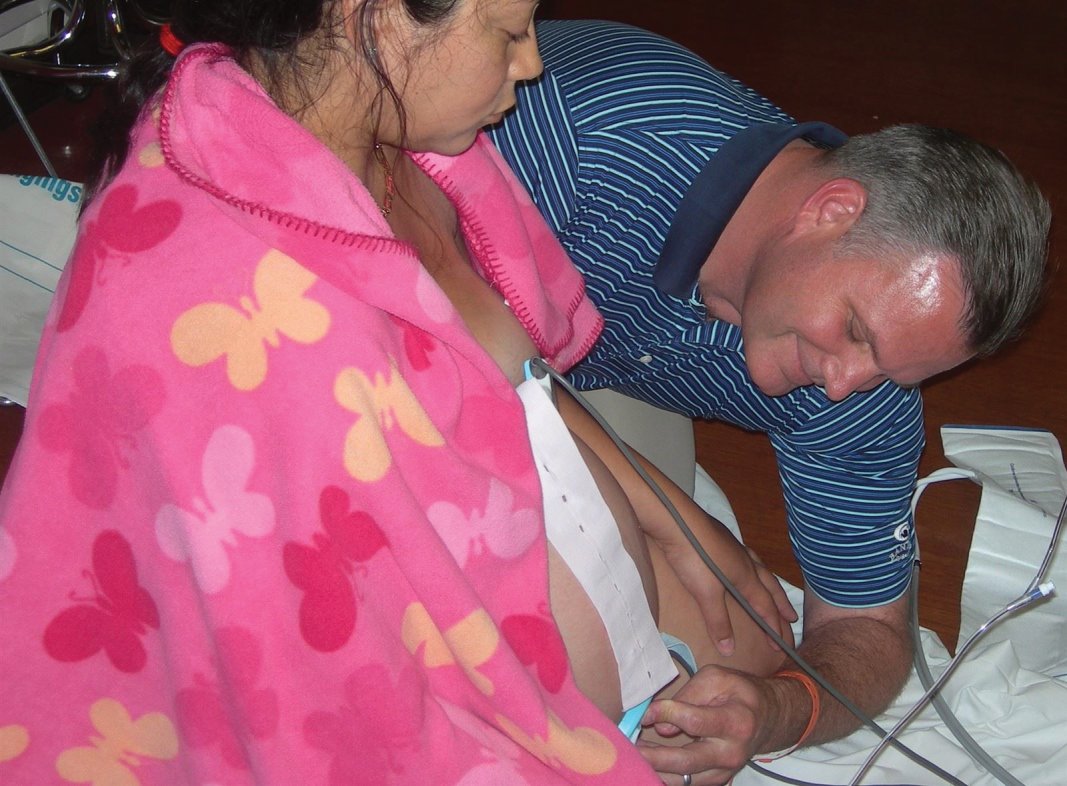 We have had a couple of students have had textbook "NAPS" in the last two classes…and since we still have several couples waiting for their babies, I thought this might be a reminder and an inspiration to them for their labors.  NAP – no, they didn't take epic naps in labor (although I am a big advocate for sleeping in labor)…what it means is that they were very patient in their labors.   
One of the cornerstones of The Bradley Method® is a Healthy Mom, Healthy Baby outcome.  All of the discussion below only applies if Mom and Baby are not showing any signs of distress through labor.  Mom is maintaining a healthy temperature, heart rate and blood pressure, and Baby is also showing that it is doing well as per the monitoring that is being done.  If Mom or Baby are starting to demonstrate that their health is compromised, then parents are encouraged to make the best choices for their particular situation.   
The words "Failure To Progress" are the sound of doom to some of us (I say "us" because I heard this three times!).  They very often mean that interventions are going to start being suggested.  How a couple acts upon those suggestions is very individual.  Marjie Hathaway coined the phrase "Natural Alignment Plateau", or "NAP" as an answer to the dreaded "diagnosis": "FTP", or "Failure To Progress".    
Failure To Progress is based on the Friedman's Curve*.  It looks like this: 
 As human beings, it is in our nature to see this neat, explainable graph and say, "It's a rule!" This can have dire implications whilst in labor if you really want a natural birth.  There are no averages in the midst of a labor – each labor on is unique and individual.  
Mathematically, it's unfair for all labors to be expected to fit the average.  That brings in another concept we teach in The Bradley Method® classes: consumerism and informed consent.  If there is time: ask questions, ask for time, and then communicate and evaluate what you have heard with your partner before you decide on a course of action.   
It is important to remember that the graph is AN AVERAGE representation of labor.  It indicates that a mom should dilate 1 cm per hour, and push an average of 3 hours – for an average length of labor that is between 12-14 hours long.    
Math class reminder:  The average number is the number you get when you add all of the data in a set of information, and then divide that total number by the number of units that provided the data.  Applied to laboring mothers: That means that there will be some people that have labors much shorter than 14 hours, and other people that have labors much longer than 14 hours, more will be around that number…and then a few will be right on with the average.  
When a mom does not progress in dilation from one vaginal exam to the next, or between several vaginal exams, she may be diagnosed with "Failure To Progress", and along come the string of possible interventions.  They can include any or all of the following, along with other interventions: an Amniotomy (intentional rupture of the bag of waters), augmentation of labor with Pitocin, an Epidural to take of the edge of Pitocin-induced contractions, a Cesarean.  
A cesarean may also be suggested if the care team suspects that the baby may not fit through mom's pelvis.  Diagnosed as "CPD", this is the subject for another post altogether.  For now, check the link I listed below* for more information.
Instead of accepting the words, "Failure To Progress", Marjie decided to suggest a new phrase to her students: "Natural Alignment Plateau".  NAP instead of FTP.  Natural Alignment Plateau is a different way of approaching that point in labor when dilation does not change.  What we teach in class and hope that our students will remember when they face this crossroads is, "Labor is much more than dilation."   
Labor can be slow to start, dilation can stop and/or contractions can slow down for many reasons.  Here are some to consider: 
 Did you change locations where Mom is laboring? 
 Is Baby posterior? (Click here for ideas to move baby)
 Is Baby trying to figure out how to line up in the birth canal? 
 Is there an emotional component that hasn't been dealt with? 
 Is Mom tired and does she need a nap? 
 Is Mom making more hormones for labor? 
 Is Mom's pelvis still stretching (and using the extra hormones) for baby to fit?
 Is the Baby's head still molding for the passage through the birth canal?
 Is Mom making more colostrum for baby? 
 Has Mom surrendered to the birth? 
 Has Baby accepted the birth process?  
If your labor has been slow to start after a spontaneous rupture of membranes, or if you are seemingly "stuck" at a measurement of dilation, it might be time to evaluate what could be going on and change tactics: 
 Try a new labor position. 
 Go for a walk to clear your heads. 
 Take a nap to conserve your energy (It's hard for a care provider to argue with a dad or doula who is protective of a sleeping mom.)  
 "Talk" to your baby and encourage them that you are ready to meet him/her. 

If Mom and Baby are doing well, you can ask for time.  There is not a medical reason for an intervention if Mom and Baby are doing well in labor and your care team confirms that Mom and Baby are okay.  Here are two examples for you to consider and think about if you face a point in labor when there is no measurable progress.   
We had a mom from our Winter class go from 6 cm dilated (usually considered Active First Stage – not yet in Late First Stage) to holding her baby in 21 minutes.  Yes – you read that correctly.  She went from what most care professionals would consider mid-range in labor to holding her baby in 21 minutes…that meant she pushed within that time, too, folks.  Hers was an emotional component.  She was waiting for her mom to arrive.  Once her mom arrived at the hospital and stepped into the room where she and her husband were laboring, her baby and her body got busy.  They dilated a total of 4 cm from 6 cm to "complete" at 10 cm, then pushed, and they were holding their baby in 21 minutes.   
Our other story is from our Spring Class.  Mom had a slow start to labor.  She had started seeing some clear fluid on Sunday, noticed some more on Monday, and went to the hospital on Tuesday.  They tested her fluid and it was amniotic fluid.  Although they were in triage and barely 1 cm dilated, the couple was strongly encouraged to be admitted.  Now they are into the hospital and the expectations of "Friedman's Curve."  
This couple did a great job of asking, "Is Mom okay? Is Baby Okay?" After getting their "Yes" answers, then they followed up with, "That's great!  Then let's wait a couple more hours and see where we are."  And sure enough, the next time the staff and their care provider checked in, they were a little further along in labor.  Once things got going, this mom went from being 4 cm dilated to 8 cm dilated in one hour!  Within two hours of that point, they were holding their baby.   
The great news about hitting the NAP is that once the Mom's body and Baby "get organized", labor seems to progress very quickly.  Again, remember what I said at the beginning – things go well when a Healthy Mom and a Healthy Baby are given the time they need.  If Mom or Baby start to indicate that "healthy" is losing out, then a family needs to make the best choice for their situation.   
What has been your experience – have you had a NAP in your labor?  What choices did you make?   
For a full explanation of Friedman's Curve click
here
 or enter this URL into your browser: http://allaboutbirth.net/pdfs/Failure-to-progress.pdf    
Disclaimer:  
 The material included on this site is for informational purposes only.
It is not intended nor implied to be a substitute for professional medical advice. The reader should always consult her or his healthcare provider to determine the appropriateness of the information for their own situation.  Krystyna and Bruss Bowman and Bowman House, LLC accept no liability for the content of this site, or for the consequences of any actions taken on the basis of the information provided.  This blog contains information about our classes available in Chandler, AZ and Payson, AZ and is not the official website of The Bradley Method®. The views contained on this blog do not necessarily reflect those of The Bradley Method® or the American Academy of Husband-Coached Childbirth®. 
Here is a brief introduction:
The World Health Organization recommends that the cesarean rate should be around 15% (See Reference 1 below).  This is what it estimates to be the more accurate percentage of instances when performing an operation instead of allowing for a vaginal birth saves a mother and/or child's life.
So are all the cesareans performed in the United States life saving?  Here is a look at how we rank internationally: the "World Health Statistics 2010 identified 33 countries with lower maternity mortality ratios than the United States, while 37 countries had lower neonatal mortality rates, 40 had lower infant mortality rates..." (2)
So working strictly off the numbers, our predominantly medically managed and intervention based hospital model (which includes a high incidence of cesareans) does not equate to a better outcome for mothers and babies.  It is quite shocking to realize that some third-world countries have much better outcomes with their approach to labor and birth in comparison to ours.
Dr. Berman, who sits on the board of the American Academy of Husband-Coached Childbirth®, taught me a healthy respect for what a cesarean really is as opposed to how it is perceived in today's society.  We had the privilege of hearing him speak at our Bradley Method® training in Anaheim.  According to him, if you were to sustain the injuries and the trauma associated with a cesarean surgery outside of the operating room, you would have a fatal injury that very few people could survive.  Cesareans are a surgical procedure and carry all the risks associated with surgery (see link list below).
Here are six leading causes of cesareans identified by The Academy of Husband-Coached Childbirth®,
Inability to relax
CPD: Cephalo-Pelvic-Disproportion ~ the baby's head is too big to fit through the mother's pelvis
FTP: Failure To Progress ~ the mother's dilation doesn't match the care provider and/or hospitals expectations, protocol or practice
Fetal distress
Prolonged labor
Pain
How do you prepare yourself and avoid facing these in your labor?
In addition, we need to remember and trust that our pelvis is a comprised of moving parts, and that there are hormones made by our bodies that relax the tendons so that those parts can stretch and mold with our babies, and then return back to the proper alignment and shape after we give birth.  We also need to remember that labor works best with gravity.  If a mother has been lying on her back and fighting gravity, she will be more tired and her body will be less likely to function as it was designed to do.
If you hear this term in relation to your labor, ask for the time (as long as mom and baby are not at risk) to try different positions and see what your body is capable of.   Chances are good of a vaginal birth if you get a mother off of her back and into positions that open the pelvis and work with gravity, i.e. walking, upright and squatting positions.  With these, her pelvis will be more likely to open and expand to welcome her child vaginally.
The word "labor" applies to both the mother and the baby – and as we all know, hard work causes stress.  Most babies will handle the stress of labor beautifully when the mom has stayed low-risk and eaten a well-balanced diet throughout her pregnancy. It is important to read and educate yourself on what true fetal distress is and what the causes are so you can make an informed decision if you start to hear that term during your labor.
If fetal distress is indicated solely due to the tape the machine is spitting out, the first thing to do is ask if you have time.  If the clear and urgent answer is no, then you decide what you want to do for a Healthy Mom, Healthy Baby outcome.  If there is time, then you can ask for a second opinion, and/or ask for them to listen to the baby by other means, such as a fetoscope or a Doppler.  The monitors can give false readings by the simple fact that they are just a machine interpreting the signs from the baby instead of a trained set of hands and a human ear that feels and listens to the baby.
Every couple will make their own choice under these circumstances.  Their list of things to do or try before they accept a cesarean will depend on their training and the experience of coach or any assistant coaches the couple has with them.  If the mom and baby are not in distress after a prolonged labor, there is no right or wrong answer in this case – it is entirely up to the parents to decide which path they want to choose.  If either the mom or baby is showing signs of distress, the path forward is clearer when you are central goals are a Healthy Mom, Healthy Baby outcome.
If the pain increases in intensity, but it continues to ebb and flow with the strength of the contractions, then the team needs to evaluate if maybe the baby is malpositioned and needs to be encouraged to move again.  The other cause of intense yet manageable pain could indicate an emotional component of labor that the mom needs to address before labor can resume its normal course.
The bottom line is that you, as a consumer of medical services, need to educate yourself, ask questions of your care provider, and advocate for the choices you want.  If your requests are reasonable, chances are high that you will be able to find a care provider who supports your choices and only uses cesarean surgery in the emergency situations for which it was intended.
Things you can do to avoid an unnecessary cesarean:
Risks associated with cesarean:
More information on cesareans and related topics:
ICAN Facebook page:
ICAN Phoenix Facebook page
(1)  World Health Organization. Appropriate technology for birth. Lancet 1985; 2: 436-7.
I used the provisional 2010 number and multiplied it by 0.01%
4,130,665 – 32.9% = 1,358,989 cesareans
Comparing 2010 to 2009 
2010 Birth rate: 2% lower
2010 Cesarean rate: 0.1% lower
Bradley Method® natural childbirth classes offered in Arizona: Chandler, Tempe, Ahwatukee, Gilbert, Mesa, Scottsdale
/