...celebrating every swee​t pea their birth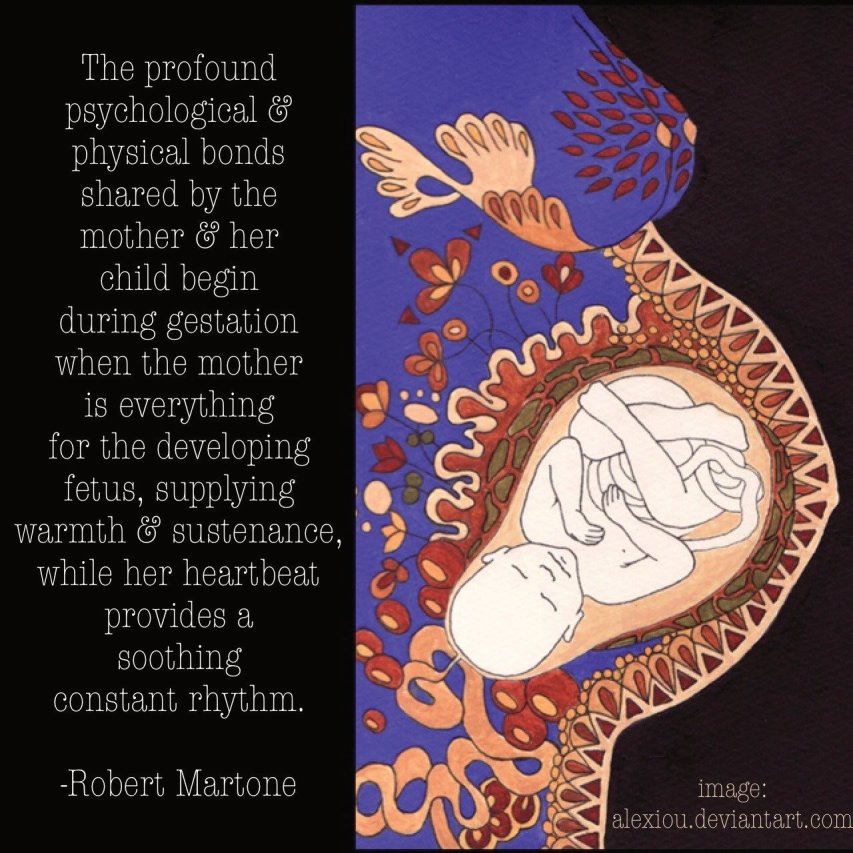 I never cease to be amazed at the way science catches up to what we know intuitively about mothers and children.
We have a "mother's intuition". Mothers dream their children's dreams. They can feel emotions or sense danger across miles of separation.
Why? Because their fetal cells literally reside in our bodies.
THIS
  blog post outlines many of the different ways our children's cells remain in us after we give birth, and how our bodies benefit from being pregnant. 
I believe it is never too early to start connecting with our babes.  One of our favorite things to share with our students on the first night of class is the reminder to connect with their children now, in-utero.  We know that a baby's sense of hearing develops at 24 weeks.  It is such a neat phenomenon of pregnancy to know that your child(ren) can hear your voice and they will recognize it once they are born.
An anecdote we share in class demonstrates how you can connect with your child before their due date.  Puma was having a hard time accepting that Charger was going to be a boy, because she was really counting on having a baby sister.  Knowing that he could hear her voice, and concerned that he would hear that she did not want a brother, every time she voiced that opinion I would reminder her that he was a gift to our family from God, and that I loved him already and she would learn to love him, too.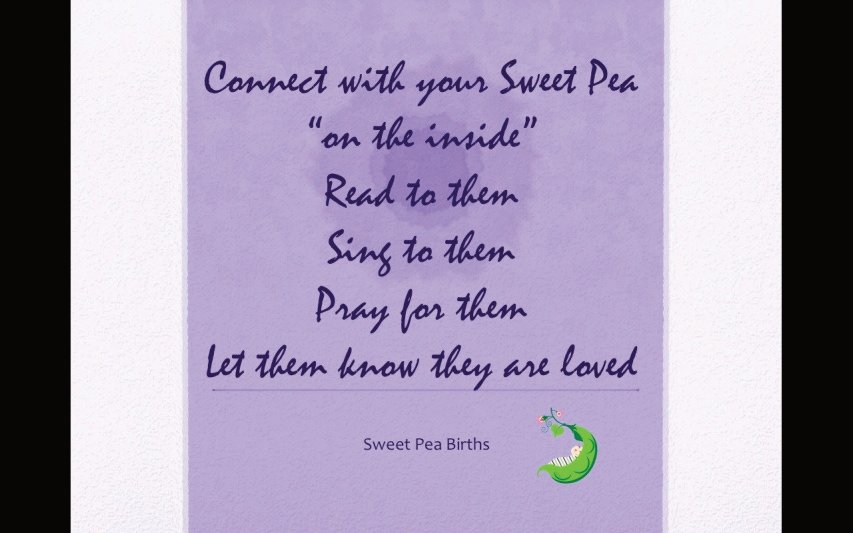 I also encouraged her to sing to him as often as she wanted to.  The song she chose to sing to him was her version of, "Twinkle, Twinkle Little Star."  Although the words came out in all manner of variations, her tone and melody were consistent.  Wouldn't you know…she sang to him when we came home from the hospital and as a two-day old baby, he turned to the sound of her voice!
We found out that he really liked her song.  There would be times when we were driving and he was crying, or maybe I was busy trying to prepare food (I do not feel comfortable babywearing in the kitchen), and Charger would be upset.  The minute Puma started singing to him, he would settle down.  Coincidence?  No! He knew his sister's voice and it soothed him.
If a sister can have this effect on a child, imagine how much more a mother or father could connect.  There are so many ways to connect if just talking to your child in-utero feels weird to you.  (Did anyone else watch Modern Family on Wednesday night?)  You can do any of things with intention and show your child now that they are loved.  Here are some things you can do out loud with intention to connect with your child before they are born:
**Read your favorite book
**Read your favorite children's book(s)
**Sing your favorite song(s)
**Pray
**Chant
In these ways, a child can make a connection not just with the voice of the mother who it hears all the time; (s)he can also connect with other family members.  Puma sang about once a day for three minutes…imagine the connection with more time and intention put towards the effort. 
I also believe that there is an emotional connection that mother's can make with their children.  When I was pregnant with Puma, I spent time doing yoga practice.  I had already been doing yoga for a few years before we conceived, so I used that knowledge to create different practices with help from "The Prenatal Yoga Deck".  
Within the cards, there were several meditation cards with which to close the practice, or to do individually for that matter when I did not have time or energy for a full practice.  I had not really made the conscious thought to connect with the baby until I read these cards.  Each meditation card had a different affirmation to read mindfully connect with the baby.  What a gift that was!  In meditation, I would intentionally "speak" with the life growing inside me.  It made me realize that every action, every emotion, every thought was being felt be the living being, the soul, that I was carrying. 
My time was never the same with subsequent pregnancies, so I did less and less yoga as we added children.  What I did remember and apply from the first pregnancy was the connection with the life inside me.  I paid attention to what we said and did when I was pregnant.  I tried to fill myself with as much positive and light energy as I could. 
Bruss enjoys telling people about prenatal connection.  He feels like we got to know our babies in-utero by paying attention to their actions before they were born.  We actually changed our name list for Puma if she was going to be a girl (we didn't find out gender until her Birth-Day) based on the personality we perceived from her.  We suspected our second child was going to be a Night Owl based on his activity pattern (he is). With our third and fourth children, we had Puma singing songs to the babies and Night Owl liked to "listen" to their heartbeats with a stethoscope.  
The kiddos also helped with relaxation practice and we involved them in making their own birth plan for their care while Bruss and I were in labor. The younger children have also been true to their inutero personalities.  I got a laid-back vibe from Charger, and he is pretty laid back and happy (unless you get his ire up).  I wonder about his temper. While I was ecstatic to be welcoming another child to the family, my "A" personality that did not plan for the timing of his pregnancy may have given him an unintended negative vibe. 
As far as Otter goes, her pregnancy was intentional and we were overjoyed to learn that Puma's prayer for a little sister had been answered.  We all participated in her prenatal care once we switched to midwifery care, Puma sang again; she got the benefit of hearing all the read-aloud books we read to the older children.  She seems to be very connected to Night Owl, who was the first person to see her in our family when she was being born.  He talked to her while I was pushing and he was the first sibling voice she heard.  I have a hard time believing their connection is a coincidence.
We also used
flower essences
in her last tri-mester.  She, more than any of our other children, seems very charismatic.  Family and strangers alike seemed to connect with her in her infancy in a way that I had not seen before.  After hearing Katie Hess speak on the characteristics and benefits of the essences, I wonder if that is the difference.
To read more about the In The Womb Project, click

HERE

Link List
Cards
http://www.barnesandnoble.com/listing/2687175690106?cm_mmc=GooglePLA-_-Book-_-Q000000633-_-2687175690106&cm_mmca2=pla&r=1
EBook
http://www.kobobooks.com/ebook/Title/book-BlR7EOpVik6ImYtZSRahlA/page1.html?utm_source=productlistings&utm_medium=cpc&utm_campaign=title-The+Prenatal+Yoga+Deck&gclid=CIbzkraYmrQCFSWoPAodgn0AyA
http://www.scientificamerican.com/article.cfm?id=scientists-discover-childrens-cells-living-in-mothers-brain
http://blogs.discovermagazine.com/80beats/2012/09/27/how-does-male-dna-get-into-a-womans-brain/#.UMs9pnPjkso
http://www.ncbi.nlm.nih.gov/pmc/articles/PMC2633676/
http://www.wendymccord.com/womb.html
http://lauragraceweldon.com/2012/06/12/mother-child-are-linked-at-the-cellular-level/
http://www.theatlantic.com/health/archive/2014/10/your-babys-leftover-dna-is-making-you-stronger/381140/#disqus_thread
http://ije.oxfordjournals.org/content/43/1/168.short
http://www.sciencedaily.com/releases/2007/10/071001081654.htm
http://jcs.biologists.org/content/118/8/1559.full
http://www.pnas.org/content/93/2/705.full.pdf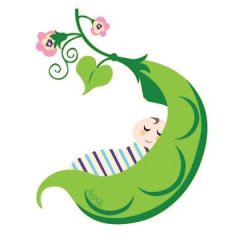 Disclaimer: 
The material included on this site is for informational purposes only.  It is not intended nor implied to be a substitute for professional medical advice. The reader should always consult her or his healthcare provider to determine the appropriateness of the information for their own situation.  Krystyna and Bruss Bowman and Bowman House, LLC accept no liability for the content of this site, or for the consequences of any actions taken on the basis of the information provided.  This blog contains information about our classes available in Chandler, AZ and Payson, AZ and is not the official website of The Bradley Method®. The views contained on this blog do not necessarily reflect those of The Bradley Method® or the American Academy of Husband-Coached Childbirth®.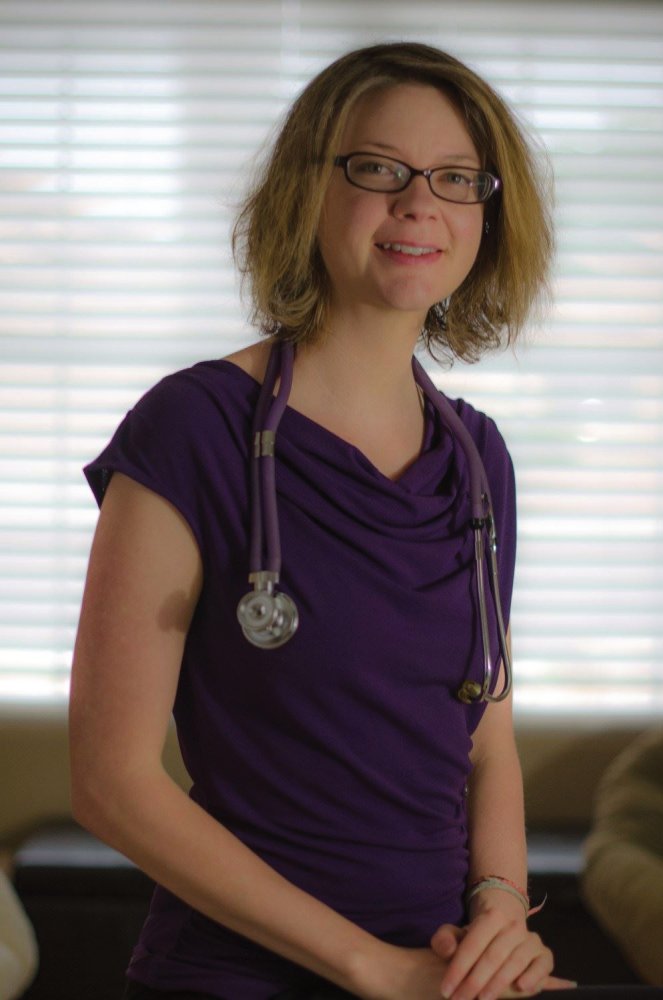 I am so excited to announce a monitrice service for couples that want to have a natural birth outcome in a hospital setting.  Jennifer Hoeprich, LM, is now extending her skill set to families who want to stay home as long as possible before heading to a hospital for their birth.
What is a monitrice?
A monitrice is a professional, medically trained, labor support person, who provides clinical monitoring within the home environment, including cervical dilation exams, auscultation of fetal heart tones, and monitoring of general well-being of mother and baby, during labor. The monitrice helps couples to assess their progress in labor, to determine the best time to leave for the hospital, where the birth is to take place.
How does a monitrice differ from a doula?
The focus of a monitrice is to provide clinical and educational support, while the focus of a doula is to provide emotional, mental, and physical support. Our monitrice service only provides services within the home environment. She only accompanies the couple to the hospital if complications arise, whereas a doula remains with the client during their transition from home to hospital.
How is a monitrice different than a midwife?
In the role of monitrice, the practitioner does not provide services at the actual birth. She does not "catch" the baby, or provide immediate postpartum services. A midwife provides all prenatal care, all labor and birth care, and all postpartum care.
Who would find monitrice services beneficial?
Couples who have chosen to birth in a hospital with an obstetrician, but who wish to labor at home for an extended period of time would benefit greatly from monitrice services.  They might want to stay at home in order to avoid unnecessary hospital interventions (such as movement restrictions, food restrictions, Pitocin augmentation, breaking the water prematurely, epidural, etc.).  Although they are choosing to wait longer before "going in", they can have that feeling of "safety" with consistent, professional monitoring, 
How do you envision a couple utilizing monitrice care?
A couple would interview the monitrice at her office and determine that the services are in line with their birth plan. They would then have two prenatal visits to get to know each other, and for the monitrice to assess baseline vitals and good health in the pregnancy.
The monitrice would be on call for the couple, starting at 36 weeks. When the couple believes labor has begun, they would contact the monitrice to give her a head's up. They may request her services at that point, to help determine if this is the "real thing" or may wait to call her over, once a labor pattern is clearly established.
Once the monitrice has arrived at the couple's home, she will assess maternal blood pressure, pulse, signs of infection, and hydration level. She will also asses fetal heart tones, and upon request from the couple, the mother's cervical dilation. The monitrice may make recommendations as to positions that would be helpful, encourage eating and drinking, and may provide herbal, homeopathic, or flower essence remedies, as appropriate, and as desired.
She will perform clinical monitoring every 30 minutes or every hour, depending on the stage of labor and the client's wishes. She performs monitoring respectfully, and can monitor the woman in any position the woman's choosing, including in the shower, or in the labor tub. Once the couple determines that they are ready to leave for the hospital, the monitrice wishes them well and departs.
The couple will have a follow-up visit, including assessment of mother's vital signs, stitches (if applicable), a check for any signs of infection, breastfeeding support, and baby weight.  These visits occur at 1 week postpartum and 3 weeks postpartum, as most obstetricians only provide one postpartum visit at 6 weeks.
In the rare event that a complication should arise during labor, the monitrice will accompany the couple to the hospital.  Once they arrive at the hospital, the monitrice will provide a report and labor records to the staff. 

What kind of care is included in your fee?
The fee is $625. This includes two prenatal visits in the office, four hours of labor monitoring, and two postpartum visits in the office. Labor monitoring above four hours falls to an hourly rate of $50.  I am happy to offer a discount of $200 to any students of The Bradley Method®; their fee for service is $425.
As an added service to our clients, our monitrice service also rents, which includes set up and take down, the
Birth Pool in a Box
  labor tub, for $200. 
For more information about Moxie Monitrice Services, please visit 
www.moxiemidwifery.com
or call to set up a free consultation.  You can also search for "Moxie Midwifery" on Facebook and @moxiemidwifery on Twitter. 
More about Jennifer:
Jennifer Hoeprich is a licensed midwife and monitrice, who provides services in Phoenix, Chandler, Mesa, Gilbert, Queen Creek, Maricopa, and Casa Grande.  She attended her first birth at age six, when her dog Cinnamon had puppies. She was the only attendant and knew then that she had found her calling. In 2001, Jennifer obtained her Bachelor's Degree, Minoring in Women's Studies. She experienced a natural birth with her son, in 2004 and began her journey into midwifery, shortly after. In 2005, she became a certified doula, and in 2008, a certified childbirth educator. She then obtained her midwifery license in 2011, and began the practice, "Moxie Midwifery." In her spare time, Jennifer enjoys being with her family, playing guitar, crocheting, and doing yoga. 
What do you think?  Would you use a monitrice service?  Why or why not?
Please leave us a comment - it will be moderated and posted. 
*I think* that the amount of traffic you so generously generate has led to a lot of spam posting.  In an effort to keep the spam to a minimum, I am taking the time to moderate comments now.
Disclaimer: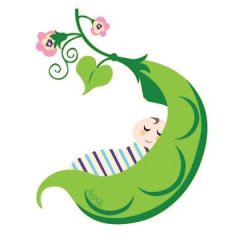 The material included on this site is for informational purposes only.
It is not intended nor implied to be a substitute for professional medical advice. The reader should always consult her or his healthcare provider to determine the appropriateness of the information for their own situation.
Krystyna and Bruss Bowman and Bowman House, LLC accept no liability for the content of this site, or for the consequences of any actions taken on the basis of the information provided.  This blog contains information about our classes available in Chandler, AZ and Payson, AZ and is not the official website of The Bradley Method®. The views contained on this blog do not necessarily reflect those of The Bradley Method® or the American Academy of Husband-Coached Childbirth®.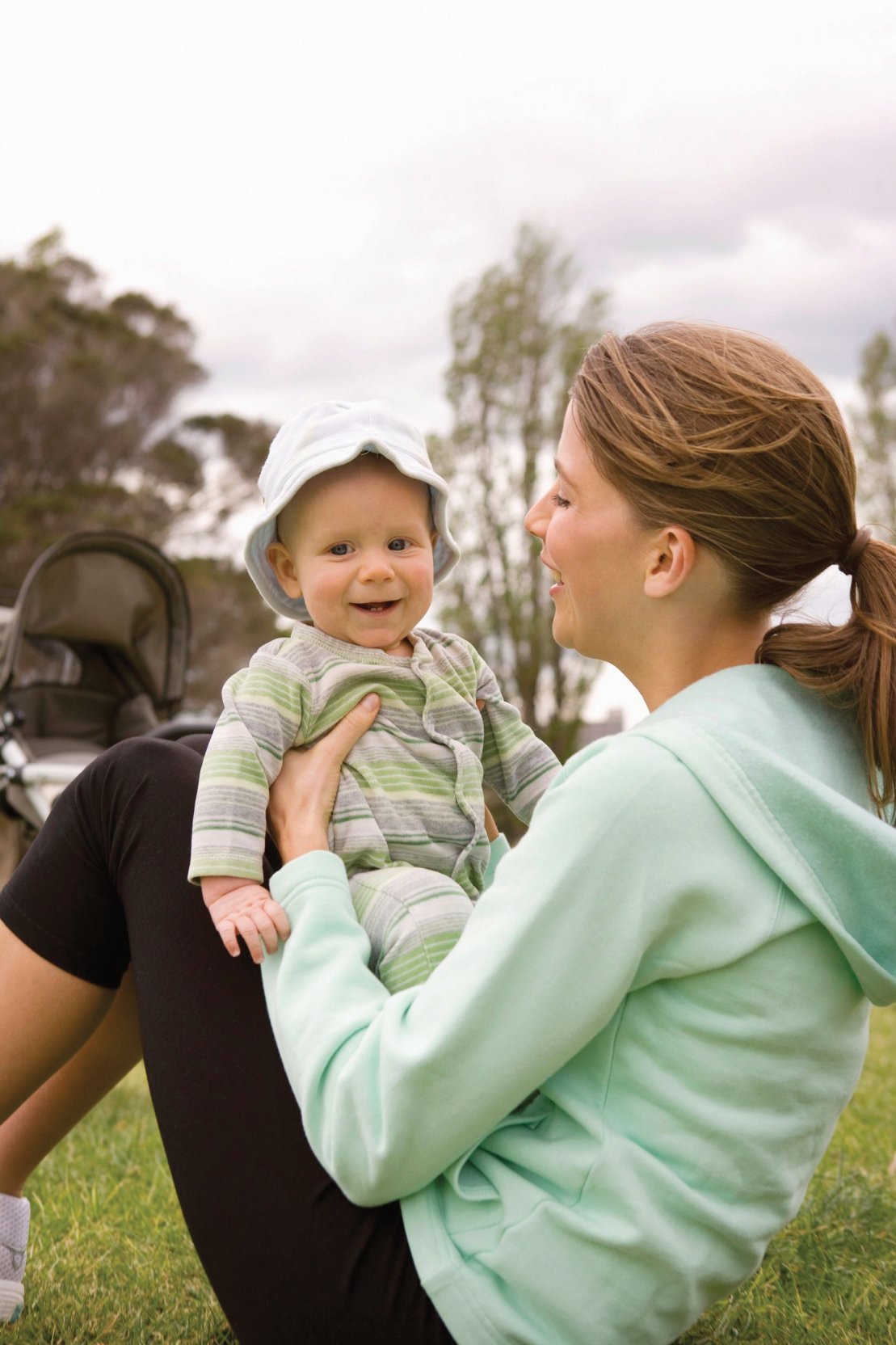 The baby you have always dreamed of is here!  They are precious, tiny, and completely dependent on you!  You cherish the opportunity to nourish them, teach them, and wait for the day when they begin to interact with you by smiling at you, making and keeping eye contact, your first shared laugh together…all of these moments are priceless.
     Then something occurs to us - "when" is a matter of time.  They are here with you forever.  You will never go back to your life before baby.  Your time is not going to be "yours" again for a pretty long time.
     How we come to terms with this reality is completely up to us.  Whether we stay home with them or work outside of the home, we will find a strange dichotomy of wanting to be with our children and sometimes wanting to be away from them, too.  Add to that a partner who also needs time and attention to keep your relationship as healthy as possible.  What to do?
     Having worked both in and out of the home, I found that I was at my best as a wife and mother when I took care of myself.  Here are some questions that I asked myself to make sure I was on track so that I could take care of others (and it's about time for another self-assesment!).  Along with checking in with myself every so often, I use
Lotus Wei Flower Essences
and indulge in Wei of Chocolate flower-essence infused chocolates to tide me over until my next opportunity to re-charge my own battery.
What makes me feel happy? 
     The world of advertising and mainstream media wants us to believe we need things to make us happy.  You may have discovered that happiness brought by "things" is fleeting.  I believe that lasting happiness is self-driven: it is internal and it can be persistent if we can convince ourselves to find joy and gratitude on a regular basis.  In my experience, joy and gratitude are easier to bask in when we are feeding our souls – think back to the things that brought us joy as children before "reality" set in – can you do those things and involve your child?  Is it a good book? A conversation with a friend? Deep breathes of fresh air?  A form of exercise you enjoy?  A hobby we enjoyed before we had children?  What do we do that brings a smile to our face?
     When you can identify those things and then work them into your days often enough to make a difference, then we can start to make joy internal.  If you are counting on things or people to make you happy, it is going to be a pretty bumpy ride.  When you make your own happiness, it is more likely to be smooth sailing.
What do we do to "plug-in" and get more "juice" for the rest of the day-week-month-year?   
     The easiest way to gather energy as a new mama is to heed the advice to "sleep when the baby is sleeping".  For some of us, that is harder than others.  I found that by putting a timeline (I will do this for this week) or area (keep this one room tidy), it was easier for me to let go and get the rest I needed in the postpartum period.  As the kiddos get older, I am claiming some time outside of my busy-ness attending meetings.  It can be as simple as making sure they are cared for so that I can take an uninterrupted shower complete with a full skin-care routine.  On the days when it can be arranged,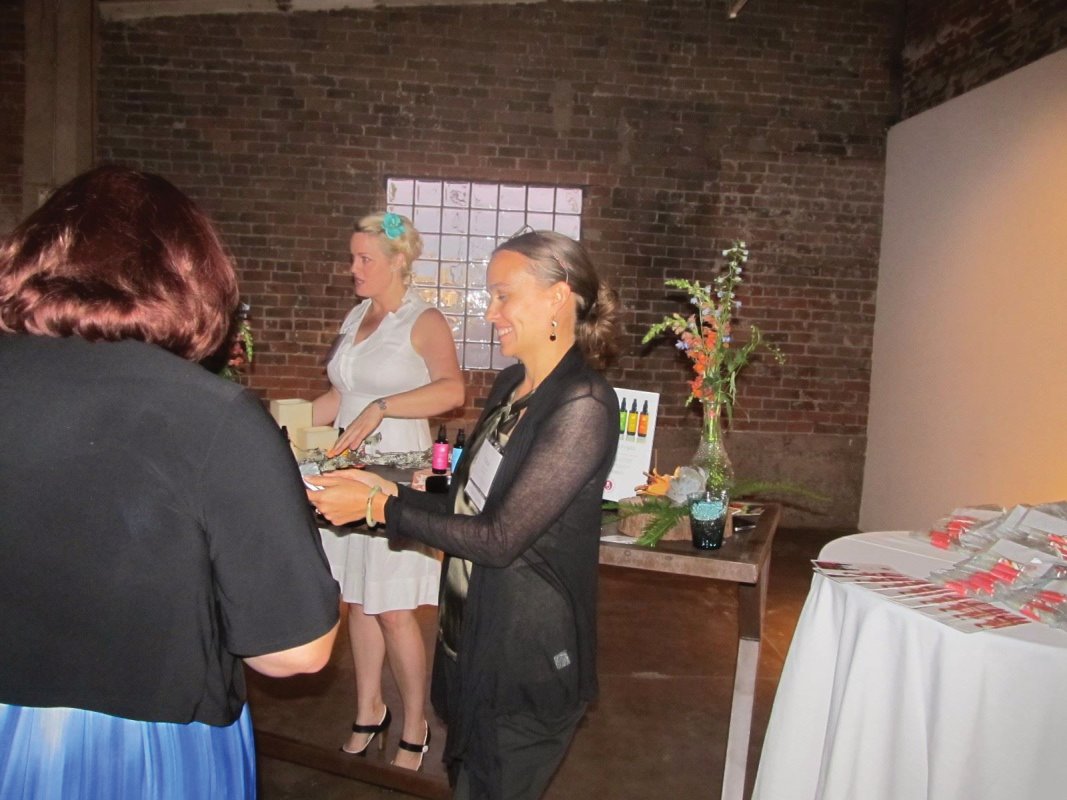 I had the pleasure of meeting Katie Hess at a
networking event
last year.  Thanks to that meeting, I used her flower essences to release some fears and to find calm as we approached our birth.  We also used them at the blessingway and each guest got to enter our "sacred space" by getting a mist of the flower essence of their choice. 
I also feel like Angelika "resonates" with the benefits of the flower essences.  I used them every day for the last two weeks of pregnancy, and then in the time afterwards I have used them pretty consistently.  More than any of our other children, who were all cute and got comments about their cuteness – this baby seems to be charmed, and charming.  I have to wonder if the flowers have anything to do with that.  
So far, we have used the mists and the serums.  I also bought one of her
perfumes
- her latest offering that debuted in March.  It is the first perfume I have used in four years – it smells lovely and it doesn't irritate Brussito's asthma AND I get the benefit of the flower essence.  LOVE!!  Our next order will definitely include some of the elixirs – summertime is a perfect time to add a little treat to all the water we are drinking. 
Here is a picture of one of her gals at the networking event with the flower essences.  Katie was kind enough to agree to a "virtual interview" so that I could offer the information about her amazing products as accurately as possible to our students and our readers (and it has inspired a new page on her site!).  The great news is that you do not need to live in AZ to order her products – you can place an order on-line at her website,
www.lotuswei.com
How did you find your way to making flower essences? 
 I was living and traveling outside of the country, searching for a way to help people reach their full potential. I discovered flower essences and was really impressed by their efficacy and transformative effects. I studied flower essence therapy with a European expert, and when I came back to the United States I met several meditation masters from Asia, who taught me the importance of awareness and mind training. Regular meditation over many years accelerated my understanding of the flower essences. I provided one-on-one flower essence consultations for 13 years; these experiences helped me develop formulas that are based on the flower essences people most need today. During the last 8 years I have collected over 120 flower and gem essences.

How do the flower essences work? 
 Flower essences work through the body's acupuncture meridians. They are very subtle, dilute infusions of flowers that affect state of mind. During the first month, they dissolve tension, irritation, sadness, anxiety, and stress. When flower essences are taken for several months, they illuminate patterns and accelerate personal growth.

Can you tell me a little about each of the products (elixir, mist,serum) and how they are used? 
Elixirs
are taken internally–they have no scent and consist of five flower essences suspended in water, organic grape alcohol and wildflower honey. You can take them under the tongue (5 drops, 5 times each day), in your beverages, or in your water bottle (1-2 dropperfuls in each water bottle) throughout the day.
 The 
Mist
is a water-based spritzer that you can use to mist yourself, your loved ones, your space, your car, and your pillows and sheets. It combines flower essences with organic essential oils to enhance the experience with aromatherapy. 
 A 
Serum
 consists of flower essences and essential oils in an organic safflower and calendula flower oil base that can be applied to the face and hands like a moisturizer, used on pulse points, or for massage.
They're all equally as effective if you use them 4-5 times each day. You can use one of them or several of them at a time.
What kind of application do the essences have in pregnancy and childbirth
? 
 I see pregnancy as the ultimate time in a woman's life to be taking flower essences. Not only are you creating and holding in your body another precious being, you are surrendering to the whole process of the birthing experience. For first time mothers, or mothers who have previously had uncomfortable birth experiences, flower essences can be a huge support.

  Throughout the entire pregnancy, flower essences for enhancing love are vastly beneficial for the baby (and mama too). We have a combination of five flower essences called Infinite Love. Mama will notice that she's not as hard on herself as usual, that she feels softer and gentler, and that love is all around. We say it's like a love potion, and that goes for any and all types of love.

  During labor, there are flower essences for peacefulness, confidence, and fearlessness, important for both mom, who is doing this huge great miraculous thing called birth, as well as for the baby who is coming into this big new world. We have a formula called Inner Peace with flower essences that help you feel like you can take on any challenge calmly.

When in the pregnancy would a mama want to start using the essences? 
 I would suggest using flower essences when you decide that you want to have a baby, or as soon as you find our you're pregnant. Numerous studies have demonstrated that babies feel everything the mother feels in the womb. Some experts also say that how a baby experiences the womb affects their development later in life. During pregnancy, the more happiness and love and peace that mama experiences, that much better for the baby.

How will a mom know which essences to use? 
 It's very simple. You can either follow our
recommendations for pregnancy
, or you can visit our
website
and choose the flowers you're most attracted to. Of those flowers you can choose the Elixir that resonates most with you.   
Are there any risks to using the essences, or could a mom overdose?
 Flower essences are totally different from essential oils--they do not have a scent and are extremely dilute infusions of flowers, so dilute that there are no plant parts left in the water. So even though you may be cautious during pregnancy about using certain herbal extracts, flower essences do not have the same concerns. They are extremely gentle. Flower essences contain a small amount of organic grape alcohol to preserve them, about the same about of alcohol your body would create after eating a quarter of a banana is in each quantity of five drops. Flower essences are generally taken a minimum of fives times each day, and can be taken more often than that. They are the most gentle form of natural remedy that exists and there is no possible overdose.

What benefits can a mom expect from using the flower essences?
 In general each person experiences flower essences differently, but these are the type of benefits that we hear about all the time: feeling more peaceful, loving, gentle, kinder toward oneself, quiet mind, happier, more clarity, feeling more fulfilled in life, more connected to nature, better relationships, deeper sleep, more energy, enhanced awareness and synchronicity ... the list goes on and on.

Would you recommend any of the products (elixir, mist, serum) over another? 
 During pregnancy, all six of the elixirs are safe and easy to incorporate into daily life, either taking them sublingually or adding them to beverages. Our mists and serums contain flower essences and organic essential oils. We believe that in such dilute amounts, aromatherapy is safe for pregnancy; however, we recommend asking your doctor or midwife if you have concerns about the safety of essential oils during pregnancy. We believe that aromatherapy is certainly better for use during pregnancy than the use of artificial fragrances, which have been known to increase risk of birth defects--and we do not use any artificial fragrances. Also, we understand that during some pregnancies, a mother's sense of smell becomes very heightened and in those cases, the elixirs would be the most appropriate way to get the benefits of flower essences.

Are there any other thoughts you want to share with our readers?   
 Here are some quick ideas about how to use our flower essence blends during pregnancy, birth, and beyond:
Infinite Love
flower essences - enhance love, intimacy, and bonding in your belly and in the family.
Inner Peace
flower essences - feel calm and confident, helpful for birth and motherhood in general.
Pure Energy
Serum - for back pain during labor: apply or massage into the lower back to stimulate circulation.
Quiet Mind
flower essences - during labor if you have to get some sleep even though you're having contractions; also helpful for getting deep sleep anytime.
Joy Juice
flower essences - dissolve postpartum blues and laugh more
Inspired Action
flower essences - when you have to go back to work but don't feel like it
For more information about how to incorporate flower essences into your life,
find more info here
.  
Thank you, Katie for embracing the entrepreneur inside of you.  We are grateful to benefit from the sharing your knowledge and your gifts with us.  We are big fans of your company and your products and it is our hope that you will be successful for many years to come.

Just in case...Links to copy and paste into your browser:
Main site~ https://www.lotuswei.com
Shop for Elixirs~ https://www.lotuswei.com/shop/flower-elixirs/
Shop for Energy Mists~ https://www.lotuswei.com/shop/energy-mists/
Shop for Serums~ https://www.lotuswei.com/shop/balancing-serums/
Pregnancy Info~ https://www.lotuswei.com/evolve/mamas-and-babies/#

Disclaimer:  
The material included on this site is for informational purposes only.
It is not intended nor implied to be a substitute for professional medical advice. The reader should always consult her or his healthcare provider to determine the appropriateness of the information for their own situation.  Krystyna and Bruss Bowman and Bowman House, LLC accept no liability for the content of this site, or for the consequences of any actions taken on the basis of the information provided.  This blog contains information about our classes available in Chandler, AZ and Payson, AZ and is not the official website of The Bradley Method®. The views contained on this blog do not necessarily reflect those of The Bradley Method® or the American Academy of Husband-Coached Childbirth®. 
/