...celebrating every swee​t pea their birth
It's amazing how the "can't live without" products end up being the little ones.  I recently had a friend call me, looking for the "wow" gift she could purchase as a baby shower gift.  I laughed out loud because my favorite, go-to gift is a "wow" gift – just not the way she was thinking of.
She asked me which one baby product I could not live without, and it's
THIS ONE
.  As a matter of fact, I had just pulled it to the front of our bathroom closet the day she called in preparation for the cold and flu season.
We just found another "mama must-have" in our book.  Nursing "Otter", who is an active one-year old is a challenge.  So is wearing said teething one-year old in a baby carrier.  Either her hands, or her gums and hands, want to stay busy.  Before we started using a silicone necklace, my breasts and my face were bearing the brunt of her busy-ness.
Here is a picture of the adorable owl pendant I bought recently: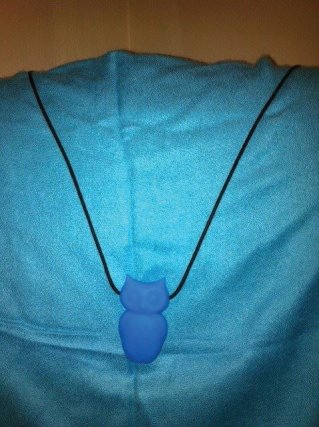 I opted for the less-expensive silicone pendant to "try out" the product.  As most of us are doing our best to be pennywise these days, it did not make sense to purchase a full-circle beaded necklace just in case Otter was not going to be entertained by my new purchase. I have had it for over a week now and it is still a winner!!
The soft pendant keeps Otter's hands busy when she is nursing.
When I am babywearing her, her gums are satisfied when she wants to chew on something.  She also finds it engaging in her own hands.  She can spend ten minutes (IMO, a long attention span in the realm of one-year olds) putting it on over her head and then taking it off again.  It was just enough time for me to take in a presentation at an event we attended.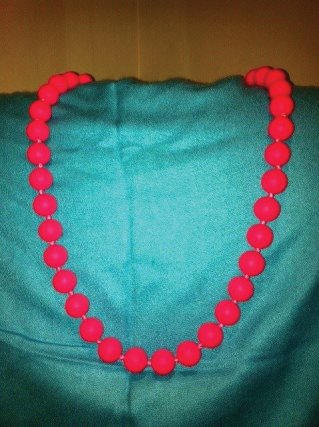 The storeowner's concern about the full-circle beaded necklaces was in regards to her customers with long hair.  She herself sports long locks, so before she placed an order, she purchased one necklace from the vendor and wore it on the plane when she was on the way home from the trade show.  She was traveling home with her children, one of whom is still a nursling.  Add the potential aggravation of a hair-pinching necklace to that trip…and she was pleasantly surprised to discover that the individually tied beads DID NOT pinch her long hair.  The texture and novelty of the necklace kept her nursling entertained when he was not breastfeeding.  She placed a full order for the store when she got home!
The last question I had before I bought wholeheartedly into the silicone jewelry was, "Is it safe?"  If you have read our recent posts, you know I have had a
Toxin Epiphany Moment
.
As both of these products are "Made in China", I was relieved to read this on the product sites:
"Jellystone Designs has regular independent toxicity testing."




"Chewbeads are sent to an independent US material testing lab to ensure that they meet or exceed all current and upcoming standards of the U.S. Consumer Product Safety Commission (www.cpsc.gov). The tests prove that both the materials and the design of the product are completely safe for your baby while under adult supervision."
Given the shaky history of Chinese manufacturing (read
THIS
NYT article), I am feeling hopeful about companies that claim to have their products tested on a regular basis.  I have sent emails asking the companies to define what "regular" means to them, and once I get that, I will update this post.
As to be expected, there is conflicting information out on the Internet.  You might want to read
THIS
*pro* article and
THIS
*con* article, for starters.  I must put on my Bradley Method® teacher's hat and remind our students and readers that
it is up to you to decide
what is safe for your family and
make the choice that you feel comfortable with
.
The final deciding factor for me?  Thank goodness my favorite research site is back up and running!  Silicone oil rates a "0" on the EWG toxicity scale.  YEAH!!
Keep in mind that the primary purpose of this jewelry is to comfort a teething baby by giving them something to chew on.  After reading that silicone has the potential to break down over time, and that perhaps the chemicals that are used to make the silicone leach out, I think that we will be replacing them as recommended as per the Jellystone designs recommendation
HERE
:
"For continuous use as a chewing/sucking substitute, we recommend to discard after 6 months, or if any irregularities occur."
If I had to come up with a marketing campaign, I would call these products wearable baubles that are the perfect mix of fashion and function.  I have posted a picture gallery so you can see some of the options that are available.  These are from the inventory at the store where we teach our lessons, Modern Mommy Boutique.
Puma wants me to buy the silicone bracelet three-pack, and I am going to think about which color I want for a full necklace.  We are planning to make our purchases on Black Friday and Small Business Saturday.  If you are local and want to take advantage of the great deals, see the bottom of this post.
I hope you enjoy looking at the options from the product gallery, and here is the lowdown on the products as per their websites:
Jellystone Designs jewellery is free from BPA, Phthalates and PVC with a fabulous soft-feel and texture. Our practical jewellery products are suitable for modern women with (or without) children.
The necklace range includes BPA-free large, chunky pendants and necklaces secured with practical break-away clasps. Our custom-designed clasps separate easily when tugged or snagged.
These silicone jewellery pieces not only look great, but also are a non-toxic alternative to regular costume jewellery.


Beads are made with 100% silicone (similar to pacifiers & nipples)
Soft on babies gums and emerging teeth
Easily cleaned with dish soap & water, also dishwasher safe!
No BPA, PVC, Phthalates, Cadmium, or Lead
Necklaces have a breakaway clasp for added safety
Necklaces are a great sensory tool to help your baby focus while nursing
Bracelets are a colorful reminder of which side you've just nursed
Are you ready to try out one of these necklaces?  And, do you live in the Phoenix, Arizona area?
If so, you can come pick one out at Modern Mommy Boutique and take advantage of these shopping specials at the end of November, 2012:
Black Friday, November 23, 2012
From 8 am to 12 pm 25% off entire store
Small Business Saturday, November 24, 2012
From 8 am to 12 pm: Buy 1 get 1 half off ANY Kicky Pants, 25% off any diaper bag, 25% off all bras, 15% off all other items in store
From 12 pm to 6 pm: 15% off entire store
Modern Mommy Boutique
3355 W. Chandler Blvd, Suite 3
Chandler, AZ 85526
480-857-7187
LINK LIST
Jellystone designs
Site http://www.jellystonedesigns.com/index.php
FAQ http://www.jellystonedesigns.com/index.php/faq
Chewbeads
Site http://www.chewbeads.com/index2.php
FAQ http://www.chewbeads.com/faq.php
NYTimes Article on Chinese manufacturing and recalls
http://www.nytimes.com/2007/08/02/business/02toy.html
Article for silicone's safety
http://guide.thesoftlanding.com/faq-what-is-silicone/
Article arguing against safety
http://www.safbaby.com/is-silicone-in-baby-products-and-bakeware-really-safe
EWG Skin Deep Database
http://www.ewg.org/skindeep/ingredient/705931/SILICONE_OIL/
Disclaimer: 

The material included on this site is for informational purposes only.
It is not intended nor implied to be a substitute for professional medical advice. The reader should always consult her or his healthcare provider to determine the appropriateness of the information for their own situation.  Krystyna and Bruss Bowman and Bowman House, LLC accept no liability for the content of this site, or for the consequences of any actions taken on the basis of the information provided.  This blog contains information about our classes available in Chandler, AZ and Payson, AZ and is not the official website of The Bradley Method®. The views contained on this blog do not necessarily reflect those of The Bradley Method® or the American Academy of Husband-Coached Childbirth®.
Bradley Method® natural childbirth classes offered in Arizona: Chandler, Tempe, Ahwatukee, Gilbert, Mesa, Scottsdale, Payson
/