...celebrating every swee​t pea their birth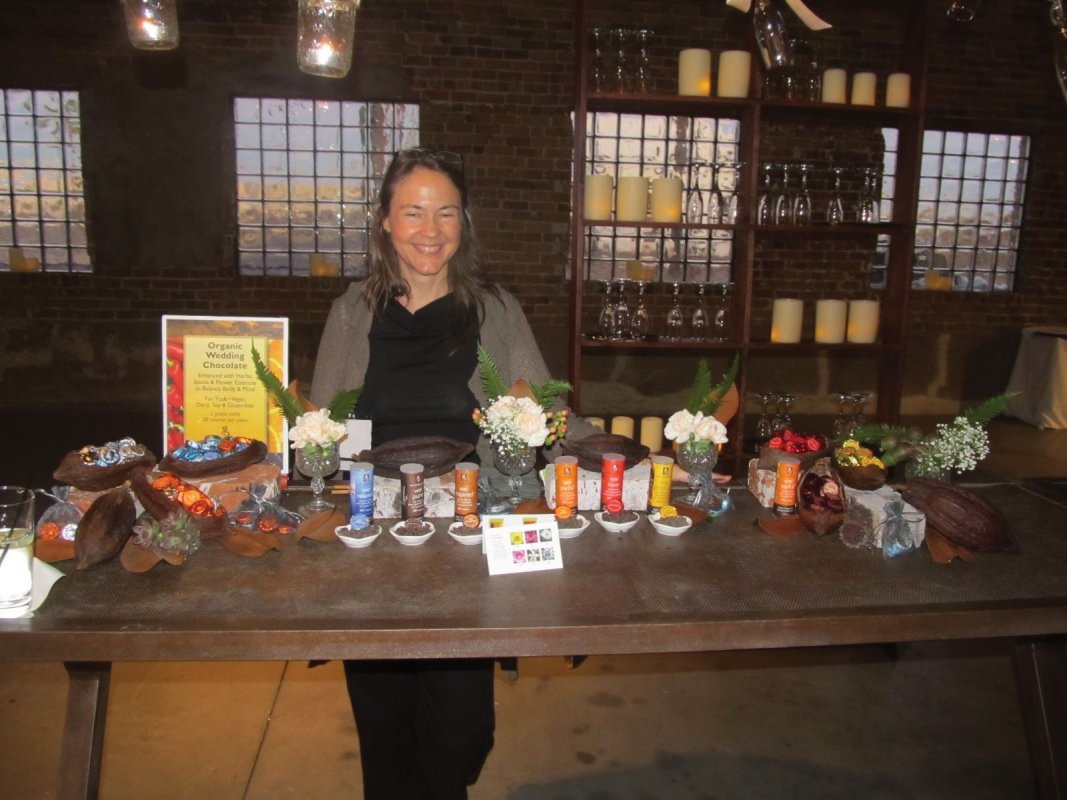 What - chocolate doesn't have to be a guilty secret during your pregnancy!
Probably not
IF
you find a high quality,additive free dark chocolate!  (P.S. I have a source for you to try...pictured to the left is Lisa Reinhardt from Wei of Chocolate - heaven in your mouth)
The "traditional" concerns with chocolate during pregnancy:
They can be empty calories - lots of empty calories not good long term for a healthy weight gain.
Chocolate is a hidden source of caffeine - not good in high quantity during pregnancy (more than 200 mg/day*).
Conventional chocolate processing takes out the good cacao butter (candymakers can sell it for profit) and replaces it with soy lecithin (concerns about GMO, estrogen content).
Well, here is the scoop!  I am on my way out the door - here are some links for you to peruse and to ponder.

The biggest deal for me from this reading list?  Chocolate intake seems to be tied to a decrease in a pregnant mother's risk for pre-eclampsia.  WOW!!!
Chocolate has been shown to be a positive factor in pregnancy
http://www.ncbi.nlm.nih.gov/pubmed/20609337
Chocolate has health benefits during pregnancy
http://suite101.com/article/chocolate-in-pregnancy-a105931
Here is our source for fair-trade, vegan chocolate that keeps all the good stuff in, plus the added benefits of
flower essences
:
http://www.weiofchocolate.com/
As per the caffeine info below, one piece of dark chocolate per day is well below the 200/mg per day max!!
What do you think about adding chocolate to your pregnancy diet?
*Caffeine During Pregnancy
More about caffeine levels during pregnancy from
http://www.healthlibrary.com/healthwise.php
(You can find this info if you search for "Caffeine During Pregnancy" in their database.)

"Caffeine is the most frequently used drug during pregnancy. In small amounts, caffeine is considered safe for the fetus. It's a good idea to keep your caffeine intake below 200 mg a day because:
More caffeine may be connected to a higher rate of miscarriage. There is not enough evidence to know for sure.
Caffeine is a diuretic, meaning it makes you urinate more often. This can cause you to lose important minerals, including calcium.
Caffeine can interfere with sleep for both you and your fetus.
Avoid caffeine, or limit your intake to about 1 cup of coffee or tea each day.
Caffeine can be found in many types of drinks and in chocolate. The amount of caffeine in your coffee or tea can depend on the serving size, the brand, or how it was brewed.
Coffee drinks such as a 16-oz mocha can have 175 mg of caffeine, and a 12-oz regular coffee can have as much as 260 mg of caffeine. Tea can have 30 mg to 130 mg of caffeine in a 12-oz cup. An ounce of milk chocolate can have 1 mg to 15 mg of caffeine, and dark chocolate can have 5 mg to 35 mg of caffeine. Many soft drinks and energy drinks also have caffeine.
It is important to keep track of your caffeine intake throughout the day. Check the label if you do not know how much caffeine is in your drink or chocolate bar. Talk to your doctor about caffeine and nutrition during pregnancy."
Disclaimer:  
The material included on this site is for informational purposes only.
It is not intended nor implied to be a substitute for professional medical advice. The reader should always consult her or his healthcare provider to determine the appropriateness of the information for their own situation.  Krystyna and Bruss Bowman and Bowman House, LLC accept no liability for the content of this site, or for the consequences of any actions taken on the basis of the information provided.  This blog contains information about our classes available in Chandler, AZ and Payson, AZ and is not the official website of The Bradley Method®. The views contained on this blog do not necessarily reflect those of The Bradley Method® or the American Academy of Husband-Coached Childbirth®.
/