Shopping Cart
Your Cart is Empty
There was an error with PayPal
Click here to try again
Thank you for your business!
You should be receiving an order confirmation from Paypal shortly.
Exit Shopping Cart
...celebrating every swee​t pea their birth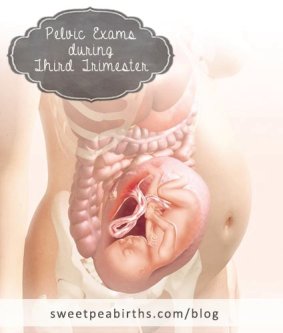 Pelvic or Vaginal Exam during Pregnancy (3rd Trimester)
According to Mayo Clinic, "as your due date approaches, your prenatal visits might  include pelvic exams. These exams help your health care provider check the baby's position and detect cervical changes."
*History
Pelvic examination during pregnancy is used to detect a number of clinical conditions such as anatomical abnormalities and sexually transmitted infections, to evaluate the size of a woman's pelvis (pelvimetry) and to assess the uterine cervix so as to be able to detect signs of cervical incompetence (associated with recurrent mid-trimester miscarriages) or to predict preterm labour (see Section 11.3).
In an RCT that assessed the relationship between antenatal pelvic examinations and preterm rupture of the membranes (PROM), 175 women were assigned to no examinations and 174 women were assigned to routine digital pelvic examinations commencing at 37 weeks and continuing until delivery.233 In the group of women who had no pelvic examination, ten women developed PROM (6%) compared with 32 women (18%) from the group of women who were examined weekly. This three-fold increase in the occurrence of PROM among women who had pelvic examinations was significant. 
Based on the above study the NCBI concluded, "Routine antenatal pelvic examination does not accurately assess gestational age, nor does it accurately predict preterm birth or cephalopelvic disproportion. It is not recommended." 
Another study completed by the NCBI concluded, "In patients with a US-documented viable pregnancy, the pelvic examination did not contribute to the patient's immediate obstetric treatment. Occult cervical pathogens may be present in these patients." 
Sources:
*PROS
Vaginal Exams can possibly measure:
Cervical Dilation
 Cervical Ripeness
Cervical Effacement
 Station of baby (position in relation to pelvis -5 to +5)
Position of the baby (anterior vs. posterior)
Position of the cervix
May find cervical anomalies, like early dilation and effacement, so that appropriate changes can be made to the woman's care, including bedrest, hospitalization, tocolytics, etc.
May stimulate the cervix so that a medical induction does not become "necessary"
*CONS
Increased risks of infection, even when done carefully and with sterile gloves
Increased risk of rupturing the membranes
May stimulate the cervix prematurely
Information collected does not accurately predict when labor will begin and may excite or disappoint women unnecessarily 
Sources:
*Links to explore
Pelvic Exams Near Term: Benefit or Risk? Talking to Mothers About Informed Consent and Refusal




Premature rupture of membranes at term. Retrospective study of 88 cases




Chorioamnionitis in the delivery room




Bacterial vaginosis and intraamniotic infection




Premature rupture of the membranes and ascending infection
Did you have vaginal exams in your third trimester before your labor started? Thoughts?
Please leave us a comment - it will be moderated and posted. 
Disclaimer: 
The material included on this site is for informational purposes only.
It is not intended nor implied to be a substitute for professional medical advice. The reader should always consult her or his healthcare provider to determine the appropriateness of the information for their own situation.  Krystyna and Bruss Bowman and Bowman House, LLC accept no liability for the content of this site, or for the consequences of any actions taken on the basis of the information provided.  This blog contains information about our classes available in Chandler, AZ and Payson, AZ and is not the official website of The Bradley Method®. The views contained on this blog do not necessarily reflect those of The Bradley Method® or the American Academy of Husband-Coached Childbirth®.


Please note that today's info sheet is about the 1-hour screening procedure, not the 3-hour test used to determine whether or not a patient has gestational diabetes.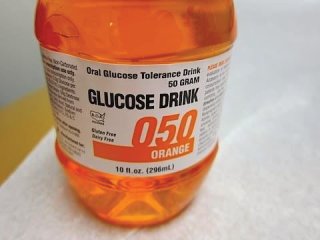 Image Source: http://babybearbulletin.com/2013/01/28/one-hour-glucose-test/
*Definition
"The oral glucose challenge test is performed to screen for gestational diabetes. This test involves quickly (within five minutes) drinking a sweetened liquid (called Glucola), which contains 50 grams of glucose. A blood sample is taken from a vein in your arm about 60 minutes after drinking the solution. The blood test measures how the glucose solution was processed by the body."
Find a list of alternatives to Glucola at the end of today's post
*History
From Diapedia:
"The first documented evidence of the effects of hyperglycaemia in pregnancy in the modern era was in 1824, when Bennewitz recorded a case of severe fetal macrosomia [large baby] and stillbirth in a 22 year old multigravida woman in Berlin. She had symptoms of severe hyperglycaemia, but he was only able to estimate this by boiling the urine to dryness[1]. The symptoms disappeared after the delivery. Until the discovery of insulin in 1923 there was no effective treatment for this condition, and the outcome of pregnancy for both mother and fetus was usually disastrous. These adverse effects have been gradually but not completely alleviated by intensive multidisciplinary care from both diabetologist and obstetrician, but complete normalisation of maternal glucose metabolism has not yet been achieved. By the 1940's it was becoming recognised that lesser degrees of maternal hyperglycaemia were also a risk to pregnancy outcomes, with retrospective studies showing increases perinatal mortality some years before the diagnosis of overt diabetes mellitus. This led to the term 'prediabetes in pregnancy', and to poorly defined concepts of 'temporary' or 'latent' diabetes."
From Evidence-Based Birth:
"In 1964, O'Sullivan and Mahan proposed that pregnancy changes the metabolism of carbohydrate, and that these changes are different than what happens outside of pregnancy. They published a study with 752 women who took a 100-gram 3-hour glucose test in the 2nd or 3rd trimester. In this study, the researchers tried out different cut-offs for GDM." [1]
"Now the most common method of screening for gestational diabetes in the United States is the 50-gram, 1-hour glucola test, also called the glucose challenge test. This test was first introduced in 1973. To take glucola test, you eat a normal diet beforehand. Then you drink 50 grams of a glucose polymer solution. One hour later, your blood is drawn to measure the glucose level (O'Sullivan, Mahan et al. 1973). If your blood glucose is 130-140 mg/dL or higher, then you have screened positive for gestational diabetes, and you qualify for a follow-up 3-hour oral glucose tolerance test (OGTT) to officially diagnose the condition. The 75-gram and 100-gram OGTTs are the gold-standard for diagnosis of gestational diabetes." [2]
Quote from American Family Physician:
"Gestational diabetes (GDM) occurs in 5 to 9 percent of pregnancies in the United States and is growing in prevalence. It is a controversial entity, with conflicting guidelines and treatment protocols. Recent studies show that diagnosis and management of this disorder have beneficial effects on maternal and neonatal outcomes, including reduced rates of shoulder dystocia, fractures, nerve palsies, and neonatal hypoglycemia. Diagnosis is made using a sequential model of universal screening with a 50-g one-hour glucose challenge test, followed by a diagnostic 100-g three-hour oral glucose tolerance test for women with a positive screening test."
Sources:

Evidence Based Birth:
*PROS
Since [2005], 2 large randomized, controlled trials have found that screening and treatment of GDM have decreased the risk of large babies and shoulder dystocia. [1]
Treatment for GDM decreases the risk for gestational hypertension and preeclampsia. [2]
There are many non pharmaceutical options for treatment including: limited carbohydrate diets, regular exercise, blood sugar level monitoring, fetal growth monitoring, and more in depth check ups with your care provider. [1]
Sources: 
*CONS
Potential adverse effects are nausea (30%), vomiting, bloating, diarrhea, dizziness (11%), headache (9%), and fatigue (Lamar, Kuehl et al. 1999). [2]
Un-pleasant nature of the exam and the cost. [2]
Based on the findings of a meta-analysis conducted in 2012, we can conclude that the 50-g glucola test by itself can be used as a screening test, but not as a diagnostic test.  A positive result needs to be followed up with the 3-hour diagnostic test. It's important for you to understand that if your doctor diagnoses you with gestational diabetes based on the 1-hour glucose test, then you should request the 3-hour test to confirm the diagnosis. [2]
In the 2001 gestational diabetes guidelines, ACOG says that if you are low-risk and meet all of these following criteria you may not need to be screened: Age less than 25, not a member of an ethnic group with an increased risk, BMI <= 25, no history of abnormal glucose tolerance or macrosomia, and no known diabetes in a first-degree relative. 
However, if you use these criteria, then only 10% of pregnant women would be exempted from screening. ACOG says that because only 10% would be exempt, "many physicians elect to screen all patients as a practical matter."
Therefore, you are being screened by your physician as a practical matter. It may also be that your physician wants you to have the test just for legal liability reasons. [2]
In the universal 1 hour 50 g oral glucose test a value above 130-140 mg/dL is considered positive, but in a study of 2,226 cases from universal screening of 11,084 pregnant women using a cut off value of 145 mg/dl the False Positive Rate (FPR) is 80.4%. [1]
In the above mentioned study when Glucose Challenge Test (GCT) result was above 200 mg/dL, the probability of women having Gestational Diabetes (GDM) was still only 64.5%. [1]
The frequency of GDM really depends on how it's diagnosed. If you have different cut-points, you will have different numbers of diagnoses. In looking at population data, we rarely know what test or what cut-off people used to diagnose GDM. In some studies, where we know what test people used to diganose GDM, the rates of GDM have remained stable. [3]
Based on test results there could be increased intervention (more prenatal visits, more inductions of labor)
Increased tendency to perform a C-section (Donovan et al. 2012) [3]
Sources: 
*Links for more reading
From Cochrane Review
: Screening for gestational diabetes and subsequent management for improving maternal and infant health
From PubMed: Glucose challenge test for detecting gestational diabetes mellitus: a systematic review.
From the American Diabetes Association: Gestational Diabetes Mellitus
From Aviva Romm: Glucose Tolerance Testing in Pregnancy: What you should know
From Birth Without Fear: Gestational Diabetes - To Test or Not To Test
From Birth Without Fear: The Truth About Gestational Diabetes and Why It's Not Your Fault
From Modern Alternative Mama: Healthy Pregnancy Series: Gestational Diabetes Test

*Alternatives to Glucola, aka The Orange Drink
Women who are striving to avoid harmful substances are starting to seek alternatives to the ingredients in Glucola: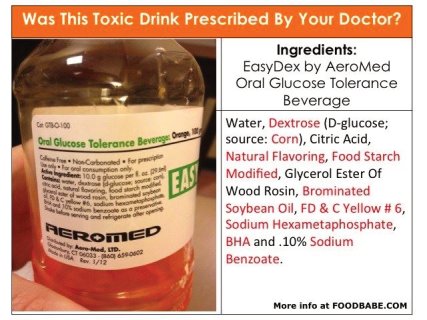 Image Source: www.foodbabe.com
From Pub Med: 
Jelly Beans offered as an alternative to a fifty-gram glucose beverage for gestational diabetes screening.
Note: a mama seeking to avoid harmful substances could opt for jelly beans with natural ingredients and food-based coloring

From Today's Mama ~ Boston
Combine the following foods to make 50 g of glucose:
30g - 6 oz Grape juice
15g - Slice of bread
30g - cup of cereal
20g - banana
12g - cup of milk
30g - two slices of bread
40g - 16 oz orange juice
40g - 8 oz apple juice
From My Green and Natural Pregnancy: 
Alternative beverages
20 oz. of a natural ginger ale
14 oz. of orange juice not from concentrate
10 oz. of cranberry juice
10 oz. of grape juice
Krystyna's Note: 
Maple Syrup
This is one that I have heard talked about in the green living community.  Below is the nutrition information for 1 Tablespoon of maple syrup from
nutritiondata.com
so you can get a general idea.  You would have to talk to your care provider about figuring out how "sugars" translate into "glucose" to determine how much you would need to consume in order to substitute maple syrup for the orange drink.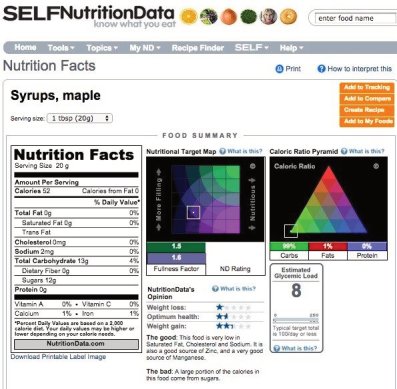 Disclaimer:
The material included in this blog is for informational purposes only. It is not intended nor implied to be a substitute for professional medical advice. The viewer should always consult her or his healthcare provider to determine the appropriateness of the information for their own situation.  Krystyna and Bruss Bowman and Bowman House, LLC accept no liability for the content of this site, or for the consequences of any actions taken on the basis of the information provided.  This blog contains information about our classes available in Chandler, AZ and Payson, AZ and is not the official website of The Bradley Method®. The views contained in this video and on our blog do not necessarily reflect those of The Bradley Method® or the American Academy of Husband-Coached Childbirth®.
We are thrilled and honored to share a very special birth story today.  Our guest blogger, Cassandra is a newly minted mother of two - congratulations!!  Today she shares the story of Baby P's arrival. It is the complete opposite of last week's marathon labor birth story. She and Baby P definitely had a different path!
Baby P is baby #2 for our family; you can read my son's home birth story from 2012
here on the blog
.
I have been 
blogging about certain aspects of my second pregnancy
on
Sweet Pea Families
over the course of the last few months; fears, affirmations, newborn essentials, and most recently
musings over my labor
, what it would be like and who would be there. I had grand visions of a coming together of many women in the late afternoon or evening, laboring peacefully in the birth tub with plenty of laughter and wearing the cute new bra and panty set I purchased to look nice for the photographer that would be there. My daughter would definitely be born in the water since coincidentally her brother, even though we were in the tub, was born over the water. But, as it turns out (again!) babies decide things for themselves and we, as mothers are simply a vessel for whatever their life holds for them.
My son was born at 43 weeks 3 days from my LMP. Dates were ambiguous due to irregular cycles and lack of ultrasounds, but with no vernix, long fingernails and an aging placenta at birth he was definitely a longer cooked baby. Going that far past my "due" date was definitely an emotional time: not knowing what to expect as a first time mom, worrying, comments from family/friends/strangers, etc. etc.
Baby #2 was surprisingly conceived after my first cycle at 25 months postpartum. I got a positive pregnancy test on cycle day 30 and a twelve week and then twenty week ultrasound both matched up with my LMP due date. So, this time was different, we knew! It was always in my mind that maybe I just cooked babies a little slower than most but as the pregnancy progressed I didn't really think there was any way I was going to go past my due date. I was so cramp-y this time, so much more pressure down low, so much more active, I had a completely different lifestyle chasing an almost 3 year old every day than during my first pregnancy.  But alas, my due date came and went and then a whole other week passed. At 41 weeks I was having doubts about the baby coming out any time soon and really just couldn't believe I had gone so far again. 
At 41 weeks 1 day, a Monday, I was feeling good and talked with my midwife about just waiting it out another week and seeing what the weekend held. At 41 weeks 2 days, Tuesday, I was totally done being pregnant. My son and I had a great, exhausting day that day. We played at home, went grocery shopping, had a coffee and muffin date and met with a friend at the park to play in the sunshine for 3 whole hours. We came home and made dinner and he stayed up past his bedtime while my midwife came over for our weekly appointment. We chatted about the risks of the pregnancy progressing past 42 weeks, how we (my husband and I) each felt, what natural induction methods she likes to use and ultimately I decided I really just wanted a membrane sweep right then.
I had one with my son that resulted in losing my mucus plug and then starting labor two days later and I was ready. It was the night of a super new moon and I finally felt at ease to try and do something (at this point we weren't employing any kind of help labor start tactics). If my baby and body weren't ready I trusted that nothing would happen anyways and we would continue waiting.
We were done with the sweep around 7PM with caution from my midwife that there could be spotting and cramps during the night, all totally normal and to try some nipple stimulation if I wanted. My son went to bed and my husband and I settled in on the couch for some Netflix while I hooked up to my breast pump for exactly ten minutes. We went to bed shortly after as we were both really tired from a long day and I fell asleep pretty quickly. I felt cramps on and off through the night in a very sleepy haze, my son slept horribly and was crying most of the night but thankfully my husband was comforting him and I spent most of the night able to drift in and out.
I woke up at 6:40AM and had what felt like bad period cramps, sharp, painful cramps super low in my pelvis that went away very quickly. I wondered if I should still be having cramps 12 hours after the sweep (?) and hoped they would go away soon. I got up to go to the bathroom and brush my teeth and had lots of bowel movements. This used to happen to me every time I had period cramps so I wasn't surprised; and afterwards laid back down to try and sleep some more until my son woke up. 
He was up a little bit after 7AM and I was still having the cramps so I text my husband around 7:15 and asked if he could come home for a little bit to be with our son until these cramps went away. I was fine in bed but T was asking for breakfast, etc. and I just felt icky and wanted to stay resting. He didn't respond so T and I read books in bed and then looked at photos on my phone. Around 7:45 I was still having them so I called my husband (he hadn't seen the texts) and asked him if he would just come home from work for a little bit. T and I stayed in bed cuddling, goofing off, laughing and watching videos of him on my phone. 
Around 8:30AM my husband finally walks in just as I was about to call him again, he had brought breakfast and I was so happy because I was starving! I used the opportunity to finally get up and go to the bathroom again and the cramps were still coming, fairly frequently and kind of radiating down and out into my pelvis. Definitely still cramps though, did not feel anything like a "contraction". We decided to call the midwife as she emphasized calling her as soon as I suspected anything since my son was born fairly quickly after active labor began. 
I dialed her at 8:37AM and left a message. She instructed on her voicemail that if she didn't call back in 15 minutes to call our other midwife. Right afterwards I text our photographer, she has a son that she needed to make arrangements for so I wanted to give her as big of a heads up as possible if there was any chance I was going to be in labor today. "Hi it's Cassandra, I might be in labor today!" I told her about the sweep the night before and that I was just having cramps so I wasn't sure and I had called my midwife but was just waiting to hear back and that I would keep her updated. After that I came out of the bathroom and tried to lean into our hallway wall during one of the cramps to see if that alleviated the pressure, it didn't so I headed back to the bathroom. I was starting to think this was a membrane sweep gone horribly wrong and I had brought these insane cramps on myself and now who knew what was going to happen!  
I felt much better on the toilet. I would push down into the sides of the toilet seat during the cramps and kept having to pee or poo so it was better anyways. 15 minutes passed so I called our second midwife at 8:51AM. We talked for 8 minutes about what was happening (cramps, mucus tinged with blood, bowel movements) and I had two of the cramps while I was on the phone with her. She said she couldn't tell I was having them and it sounded like early labor stuff and to try and lie down and rest between them, eat something and to let her know when they seemed to undergo a change. So I got off the toilet and lay down in bed and asked my husband to bring me some pancakes. I was still so hungry and so happy to be eating, I had two bites and then another cramp came and I immediately needed him to take the food away from me. I also did not want to be lying down. There was NO way I could rest; so back to the toilet I went.
I listened to my husband and son playing a Frozen matching card game in the other room and was still trying to understand what might be happening to me. The cramps got stronger and I asked for a chair from the kitchen to put backwards in front of the toilet so I could drape my arms over the back and press into it during the cramps. At 9:17AM I had a cramp that left me shaking and immediately breaking out into sweat all over. This was intense! I text my midwife "Ok getting hot and sweaty and shaky. Can't rest" and she responded she was on her way. There was also a lot of blood after that and I finally knew this was definitely labor. 
Midwife called at 9:21 while she was driving and I couldn't even really talk to her. I text my photographer at 9:24 and said "Ok def in labor. Midwife coming over now, 15 mins away." She wrote back that she would be over in about 15 or 20 minutes too! This was when I told my husband to start filling up our tub – it had been inflated and ready to go for weeks and he just needed to fit the cover on it and then add water.
I had wanted to alert my friends from
my blessingway
when I was in labor and now that midwives and photographer were out of the way I could finally let them know. I sent out a text to everyone in the group at 9:27AM that said "Baby's coming, send love – need it already <3" I remember trying to make sure that I included everyone and that I was trying to count the names and count the girls in attendance and it was hard for me to concentrate, but I did get everyone! The responses were just starting to come in when my midwife walked in about 9:30AM. 
Just before then I was starting to get worried about continuing to do this on my own as my husband was tending to the tub and playing with our son so I was really happy to see her. She asked if I was pushing and I was kind of caught off guard, pushing!? No way, what? I was definitely not pushing! Then another wave came and AH! There was a head! I was pushing!? I half yelled out that I was pushing and she asked if I could feel the baby's head. I said no but then I barely reached up and the head was right there. She told me I needed to get off the toilet, which was seriously the last thing I wanted to do. She helped me down onto the birth stool where I tried to sit and then hold myself up against her but it was really unstable and I needed to get down. This entire time I could feel baby's head right there. When I got off the stool I felt her head kind of suck back up a little and wasn't sure where I was going or what I was doing but I heard hands and knees and I just kind of fell onto the floor in that position, head facing the corner, butt facing the doorway. This all happened in a couple of minutes and soon our photographer,
Kirsten,
walked in. She was greeted in the bathroom doorway to my bum and then a little bit of baby's head starting to come out.
On the next push I moaned out so loud and low, it didn't even really sound like me, I think this was the first noise I made the entire time. I was proud of myself that it was loud and low and not high pitched screaming (like I was with T). I knew I had to keep it that way and gosh the burning, ah! I literally just gave way to the burning, told myself it was happening and just feel it, don't fight it and then her head was out! I said I wanted the rest of her out, just get her out! but I knew that wasn't what I really wanted. Tearing so badly again was one of my biggest fears around labor and I knew this was the moment. My midwife told me to pant and I tried but couldn't really so I started just breathing shortly and blowing raspberries, I could do that and it calmed me down and gave me something to focus on while I just stayed in hands and knees with her head out. I heard my husband say something like oh my gosh eyes! A little nose and mouth, awww! I kept up my breathing/blowing and then all of a sudden her body was out!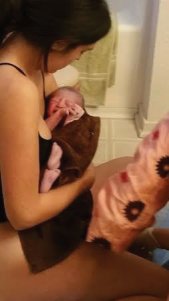 She handed her to me and I sat back on the bathroom floor and held her, it was 9:51AM. Not even an hour and a half from when my husband walked in the door with breakfast and our baby was here, so mind blowing.
I felt fantastic. I had so many emotions rush me all at once and I felt energized and ecstatic and it will definitely be engrained in my mind as one of the best moments of my life. I got up and walked to the other room to lie down in bed and seriously just could not believe how great I felt. T was right there in the doorway watching the entire time and once I got settled in bed  he climbed right up to touch and kiss his new baby sister.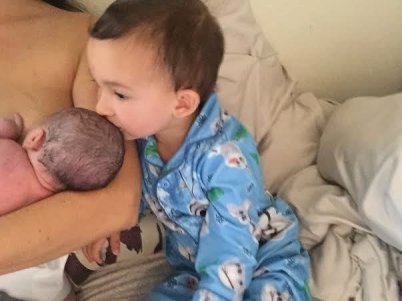 Needless to say the tub was not filled up enough for me to get in it once I had to get off the toilet and the pictures are not going to be anything like I had imagined. I did not get to diffuse my Serenity blend or light my beeswax candles or stare at the affirmation wall I had created in the bedroom, but I wouldn't change anything about it. So intense, but so quick and so perfect. It was a beautiful sunny day and after everything was cleaned up we all hung out in bed as a family of four watching movies, reading books and playing games and I couldn't have even imagined the amount of bliss I felt.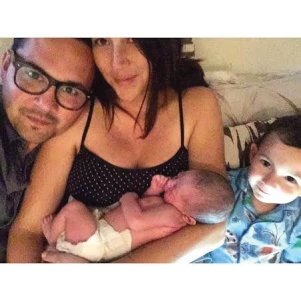 I needed no stitches, which literally made me want to jump up and down and cry out with joy and I have felt pretty great every single day since.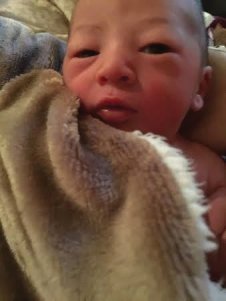 I learned so much from baby P's birth, there was not a single sensation that felt the same as my last labor and birth. Again, mind blowing. It was a great reminder to throw out any and all expectations I may have surrounding this little girl and being her mama, as we truly are never in control.
Congratulations, Cassandra, Eric, and new big brother T !!
Please leave us a comment - it will be moderated and posted. 
Disclaimer: 
The material included on this site is for informational purposes only.
It is not intended nor implied to be a substitute for professional medical advice. The reader should always consult her or his healthcare provider to determine the appropriateness of the information for their own situation.  Krystyna and Bruss Bowman and Bowman House, LLC accept no liability for the content of this site, or for the consequences of any actions taken on the basis of the information provided.  This blog contains information about our classes available in Chandler, AZ and Payson, AZ and is not the official website of The Bradley Method®. The views contained on this blog do not necessarily reflect those of The Bradley Method® or the American Academy of Husband-Coached Childbirth®.
CORD CLAMPINGcan be immediate or delayed.  Today we look at the common practice of immediate cord clamping, and the alternative, delayed cord clamping.
Immediate Cord Clamping:
 (ICC) clamping the umbilical cord immediately following the birth of baby, generally carried out in the first 60 seconds after birth. 
World Health Organization (WHO)
According to 
ACOG
 "In most deliveries today, the cord is clamped within 15–20 seconds after birth."
Why was it developed? 
Early cord clamping originally came into practice in the 1950s as an attempt to reduce the instance of neonatal jaundice and as a method to protect newborns from drugs that were given to their mothers. In the 1990s, the American College of Obstetrics and Gynecology (ACOG) called for early clamping for legal purposes. Today the procedure is routinely performed by most obstetricians, while most midwives prefer delayed clamping.
Has it been effective?
We spent some time searching for historical trends in jaundice.  We found none.  It seems that neither hyperbilirubinemia (too much bilirubin that causes the visual effects we call jaundice) nor kernicterus (permanent brain damage caused by hyperbilirubinemia) are reportable diseases.  Since they are not reportable, there are no charts that show whether or not jaundice rates have fluctuated one way or another since the advent of ICC. 

The optimal time to clamp and cut the umbilical cord after birth has been an ongoing controversy in obstetrics for many years. Web MD released earlier this year that, "There's growing evidence the current practice of cutting the cord straight after the baby is born may mean the baby doesn't get enough iron. This could lead to anaemia in some cases."
According to the World Heath Organization, "Delaying cord clamping allows blood flow between the placenta and neonate to continue, which may improve iron status in the infant for up to six months after birth. This may be particularly relevant for infants living in low-resource settings with less access to iron-rich foods."
Last year ACOG released a statement that preterm infants benefit most from delayed cord clamping and that delaying until at least 30-60 seconds after delivery benefits all babies. They concluded their committee opinion by stating that "More research is needed to help evaluate the optimal timing of cord clamping" and have not released any official guideline changes as of today.
Finally, just released on July 11, 2013, The Cochrane Library review concluded that, "Although early cord clamping has been thought to reduce the risk of bleeding after birth (postpartum haemorrhage), this review of 15 randomised trials involving a total of 3911 women and infant pairs showed no significant difference in postpartum haemorrhage rates when early and late cord clamping (generally between one and three minutes) were compared. There were, however, some potentially important advantages of delayed cord clamping in healthy term infants, such as higher birthweight, early haemoglobin concentration, and increased iron reserves up to six months after birth. These need to be balanced against a small additional risk of jaundice in newborns that requires phototherapy."
Pros
o   If infant is asphyxiated and needs to be moved immediately for resuscitation

 


o   Could possibly reduce risk of jaundice, bilirubin concentration has been found to be higher in infants in which cord clamping was delayed
 

Cons
o   Trials have shown infants are deprived of 2.17 g/dl of hemoglobin on average, this puts them at risk for low iron levels during the first 6 months of life
When cord clamping is delayed infants have shown:
o   Less need for transfusion

o   Better circulatory stability

o   Less intraventricular haemorrhage (all grades)

o   Lower risk for necrotising enterocolitis
Links to continue your research and draw your own conclusion about what is best for your family:
Science & Sensibility: Common Objectives to Delayed Cord Clamping – What's the Evidence Say?
BBC News Health: Cutting cord early 'risk to babies'
BMJ Group: Effect of delayed versus early umbilical cord clamping on neonatal outcomes and iron status at 4 months: a randomised controlled trial
Penny Simkin: Delayed Cord Clamping
Academic OB/GYN: Delayed Cord Clamping Grand Rounds
Note:  Each of these Information Sheets represents hours of work on out part.  Do you like the info?  Want to share with your readers?  Please DO NOT plagiarize.  Honor us and our time, and the time we spend away from our kiddos, by linking to this information instead of copying it.  Thank you!
Disclaimer:  
The material included on this site is for informational purposes only.
It is not intended nor implied to be a substitute for professional medical advice. The reader should always consult her or his healthcare provider to determine the appropriateness of the information for their own situation.  Krystyna and Bruss Bowman and Bowman House, LLC accept no liability for the content of this site, or for the consequences of any actions taken on the basis of the information provided.  This blog contains information about our classes available in Chandler, AZ and Payson, AZ and is not the official website of The Bradley Method®. The views contained on this blog do not necessarily reflect those of The Bradley Method® or the American Academy of Husband-Coached Childbirth®.
Today is a continuation of my birth story from earlier this week. You can read Part 1
here
.
It was the greatest thing I had set out to accomplish in life, and I did it! Every day since I have been amazed at the strength, determination, and physical abilities I am now capable of since becoming a mother.
The most over powering emotion of the night was that of shock. I really could not believe everything that was going on. I had a baby outside of my body; all of the physical sensations were entirely overwhelming in themselves and our lives would be forever changed. Amidst the shock though, were huge feelings of gratitude and comfort.
It was dark and peaceful all around me, with only the light of the huge full moon through the window and my lightly burning beeswax candles. I had an essential oil blend diffusing throughout the room and I was in my bed with my familiar sheets and blankets wrapped around us. There was so much love, from my midwives, doula, and husband, for me and for my baby. I was so happy to be surrounded by people with such love for us, and between the shock of what had just happened and the apprehension of what was to come, I felt safe and comfortable.
Although my birth story technically ends around 3 or 4 AM on March 8 when everyone was cleaned up, packed up, and ready to leave our home, that level of love and comfort continued on for the entire week.
I could not imagine giving birth any other way. I trusted my body, my self, and the process and truly experiencing all that it was changed who I am forever. When my thoughts wander back to that night I can feel the support and warmth of my bed, the hot water on my belly, how slippery my baby was (who wouldn't stop trying to poke his eyeballs out with those tiny, tiny fingers), how delicious the food brought to me was, and the trust I had for everyone and everything around me. 
A year has passed and I still feel empowered when I think about it! But also extremely thankful for the resources, child birth educators, herbalists, chiropractors, yoga instructors, doulas, midwives, lactation consultants and other mamas that played a huge role in me achieving my goal of natural child birth.
So there you have it, the how, when, where and personal reflections of my first time giving birth. The story of my 8 pound, 20 inch, Pisces water dragon who reminds me every day that birth is the easiest part of becoming a mother ;)
What were your first thoughts after giving birth? How do you feel when you think about your birth experience today? Tell us in the comments!
Please leave us a comment - it will be moderated and posted. 
*I think* that the amount of traffic you so generously generate has led to a lot of spam posting.  In an effort to keep the spam to a minimum, I am taking the time to moderate comments now. ~Krystyna

Disclaimer: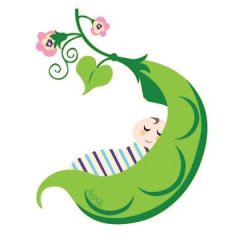 The material included on this site is for informational purposes only.
It is not intended nor implied to be a substitute for professional medical advice. The reader should always consult her or his healthcare provider to determine the appropriateness of the information for their own situation.
Krystyna and Bruss Bowman and Bowman House, LLC accept no liability for the content of this site, or for the consequences of any actions taken on the basis of the information provided.  This blog contains information about our classes available in Chandler, AZ and Payson, AZ and is not the official website of The Bradley Method®. The views contained on this blog do not necessarily reflect those of The Bradley Method® or the American Academy of Husband-Coached Childbirth®.
Bruss and I would like to welcome Cassandra to the Sweet Pea Births Family.  She will be a regular contributor to the blog and you will start seeing her around the internet on our other social media platforms.  I am looking forward to sharing her areas of expertise with our students and readers.  Bienvenidos, Cassandra! ~KRB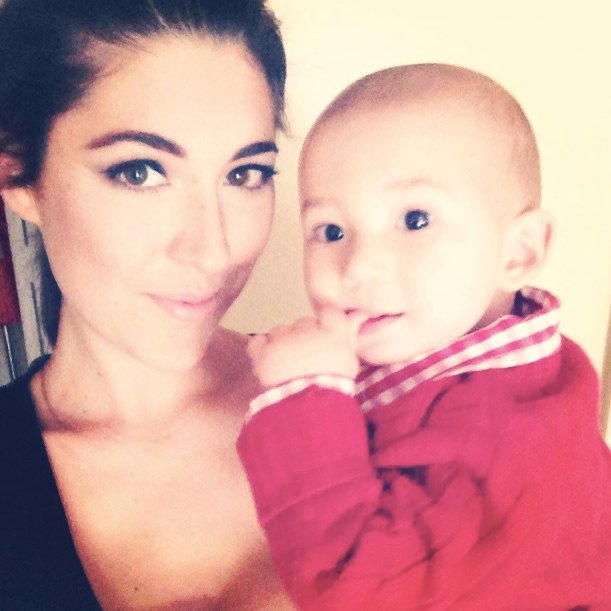 Hi, I am Cassandra Okamoto and I am a new contributing writer here at Sweet Pea Births! I thought I would tell you all a little bit about myself & then share my birth story, which just happened to take place almost exactly one year ago.   
I am wife to my wonderful husband, Eric, of four years, and mother to our one-year-old son. I quit my career in telecommunications finance at 34 weeks pregnant and have stayed home ever since. SAHM, wife, mother, all roles I am still struggling to understand, identify, navigate, and balance a year later.   
In 2009 I began a whirlwind adventure into all things nutrition, holistic healing, natural living, conscious consumerism, and sustainability, not only for our earth but also for us! This led me to obtaining a certificate in Holistic Nutrition from the Southwest Institute of Healing Arts in 2010 and exploring the world of healthy pregnancy and natural home birth before becoming pregnant in 2011. Now my days are filled with post partum/nursing nutrition, toddler nutrition, gentle parenting, and being the best facilitator to my son as he explores the world.   
My pregnancy was filled with tons of herbs/herbal tea, chiropractic care, yoga, massages, nutritious food, walking, weight training (until my due date!).  Everything progressed very normally.
At 43 weeks 4 days (according to the date *I* believed my baby was conceived), I woke up around 9:00 am and while laying in bed felt some slight cramps that were coming and going about every 5/6 minutes. I had no signs of labor up until this point and I knew this could last for days or even weeks so I just relaxed, read, and then got ready for the day. My husband was taking me on an afternoon date to see The Lorax!    
While I was getting ready they were coming a little stronger and by the time I met my husband at 1:00 pm, I was stopping for a breath at each one. I LOVED the movie but about an hour into it I just couldn't get comfortable during the contractions and I asked if we could leave so I could lie down (I still haven't seen the end of that movie!).   
We got home about 4:00 pm and I tried laying on the couch while my husband changed our bed sheets and made me something to eat.  That wasn't very comfortable and I settled in on the floor.
Around 5:45 pm I called our doula. I knew it could still be a very long time and didn't want her to come prematurely but wanted to give her a heads up so she could plan her night. She was on her way to teach a birth class which was from 6:30-8:30 pm and I told her to just come after! She had to run home and get her things and said it would probably take about an hour and I figured I could definitely go on like this for three more hours and 9:30 pm would be perfect. 
The bed was now ready so I got in, surrounded myself with pillows and tried to rest, but they were really coming now. I also had to get up and pee a lot, which was no fun. I felt the best lying down, I needed to be supported and just try and sink into the bed when a contraction would come. I tried the birth ball for one and I just felt so unstable without the support of the bed and pillows all around me. I would have some on the toilet though and would brace myself against the door; the support of the door and the toilet beneath was good too.
Around 6:45 pm they were more intense and hard for me so I started moaning through them, it actually really helped. I decided I needed to call our doula back and have her come now. I also called our midwife then to give her the heads up as I was definitely feeling this was the real thing and hoping to have my baby with us sometime the next morning.    
Our doula arrived around 8:00 pm, and I was so happy to see her. I was still in bed, surrounded by pillows and not opening my eyes – just moaning through each contraction. She set up the birth tub and it was super noisy but I didn't mind at all, during my contractions I was in my own world and although I would still have my eyes closed between contractions I could still hear and understand everything going on around me.
I am not sure what time it was when the first batch of hot water was in the tub but that is when I got in, it wasn't very deep but it was actually perfect. The water felt good. I got on my knees and laid over the side with my arms outside, I began to lose it a little in the pool. The contractions were so strong and honestly I wish I could describe how they felt but I can't, I couldn't really explain to my husband right after and by now I can't remember as vividly. They were HARD though, I got really scared that this was going to go on for hours and hours and hours and I knew I wouldn't be able to last that long. 
I kept asking my doula if she thought I had a lot longer left and she just kept telling me to focus on each contraction and not think about anything except that one. She held my hands and repeated "think about being soft and open in front of your baby" during the contractions and I did. I spread my legs out wide during each and thought about my cervix as butter melting away. Between contractions all I wanted to do was rest, I just wanted to lie down. I started sitting back in the tub during the breaks just to try and find some relief, even though it was more work to get back up as soon as I felt another contraction coming.
During this time I had a non-stop feeling that I had to pee. I would get out of the tub and go to the toilet but during contractions it started feeling so much better if I pushed like I was peeing. Our doula put a chux pad outside of the pool and I spent a couple contractions coming back from the bathroom leaning on the outside of the pool and pee would dribble out each time. She said a little bit of pee in the pool was fine and I was SO happy because it seriously felt so much better when I could do that during the contractions.
Somewhere in here I was asked if I wanted the student midwives to come hang out in the other room but I said no, surprisingly (for my worrisome nature) I didn't feel like anything was wrong and the only thing I was worried about was that labor was going to go on forever and I wouldn't be able to make it through.
I started feeling some spasms on the right side of my belly during three contractions and then at 9:55 pm my water broke! It was the wildest feeling ever, I really had NO idea what it was – it felt like a big gush and then bubbles coming out. I don't know if I made a weird face or something but my doula immediately asked if my water broke and then I knew what it was!
The very next contraction was a pushing contraction – it was the craziest thing I have ever felt. It was like my stomach was literally ejecting my baby out. It would happen about three times each contraction. It wasn't as "painful" as the other contractions but VERY overwhelming and honestly scary to me because it was SO strong and so involuntary – my body was doing it all without me and it was nuts! I don't think I actually pushed with the contractions for awhile, I didn't feel like I was doing anything – it felt like my body all on it's own. My doula told me to reach down and see if I could feel my baby and I could! His head was about half a finger inside.
After a few contractions his head was closer, and then I would feel it come down and go back up. It then started coming down and staying down, but during the break between contractions would go back up.   
My husband replaced my doula in front of me holding my hands during these contractions while she went behind me and put counter pressure on my back. It felt amazing, I didn't really feel that much pressure in my back/bum and I think it was because she was doing that. The beginning of a couple came without her ready and they were SO MUCH WORSE.
Our midwives arrived around 10:40 pm. They checked my baby's heart rate and it sounded good and I was relieved. I hadn't felt any movement from him and a couple of times it crossed my mind that maybe he wasn't ok or alive (I know that is awful but it was in my thoughts). Pretty soon I started feeling burning on the inside, then a couple more contractions later and I was feeling a terrible burning on the outside – I could reach down and feel my son's head RIGHT there.
I had felt something slimy sticking out of me earlier and my doula had checked me with a flashlight and mirror and saw that it was just part of my bag of waters. Our midwife noticed the same thing at this point and wanted to make sure she knew what it was, she couldn't get a good look with the flashlight so she told me I needed to stand up. I thought there was no possible way in the world that I could stand up even if I tried but somehow everyone helped me up, a contraction hit and my baby just shot/tumbled/fell right out, it was 11:20pm on March 7th, 2012.   
Later this week I will be sharing Part 2 so watch for it on Friday! In the mean time I would love to hear from you in the comments: where did you birth your baby(ies)? Was it what you expected or planned, why or why not?    
Please leave us a comment - it will be moderated and posted.  *I think* that the amount of traffic you so generously generate has led to a lot of spam posting.  In an effort to keep the spam to a minimum, I am taking the time to moderate comments now. ~KRB    
Disclaimer: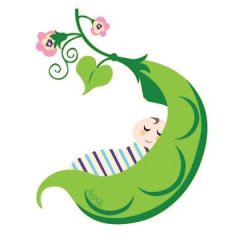 The material included on this site is for informational purposes only.

It is not intended nor implied to be a substitute for professional medical advice. The reader should always consult her or his healthcare provider to determine the appropriateness of the information for their own situation.  Krystyna and Bruss Bowman and Bowman House, LLC accept no liability for the content of this site, or for the consequences of any actions taken on the basis of the information provided.  This blog contains information about our classes available in Chandler, AZ and Payson, AZ and is not the official website of The Bradley Method®. The views contained on this blog do not necessarily reflect those of The Bradley Method® or the American Academy of Husband-Coached Childbirth®.    

0

/