...celebrating every swee​t pea their birth

Carnival of Natural MotheringApril 2014: What You Wish You Knew
Remember when you got your first positive pregnancy test? What do you wish that woman knew? Write a letter of love and encouragement to that awesome mama just starting her journey.
Dear New Mama:
Yes, you.  I skipped over the "mother-to-be".  You are already growing life, and you are already aware of that life and protective of that life…as I see it, there is no "to-be" in mothering.  It is a state of being since you got your BFP.  Your mother's instinct is no joke: trust it always, even in the face of a "lack of evidence" or just "having a feeling".  No mother has ever regretted doing the best for her child from a place of love and concern…the only regret is not listening to that voice.  Your mothering instinct will not fail you in pregnancy or parenting.
At times, pregnancy may feel equally miraculous and uncomfortable.  First trimester: the unquenchable excitement of being pregnant (it happened!!)…and nausea.  Second trimester: interesting sounds and smells, and maternity clothing as your waistline grows.  Third trimester: the disappearance of your feet beneath your belly, maybe nausea (again!), and the OMGosh moment: this baby has to come out of me – through *there*! 
Through it all, the miracle and awe of growing another human being is constant.  There are two hearts beating, two minds working, two souls living in one body.  The first time you feel your Sweet Pea stir inside of you…their hiccups, the reaction to voices and touch…and those sensations continue.  I believe they exist as a reminder that the
sacred and divine
is happening right now.
You want to do the best for your baby.  You want to have a perfect pregnancy that leads into your perfect birth story.  While those are worthy ideals, you can only control finite amounts of conception through the Birth-Day, and at some point you must surrender the rest of it to the universe.
I encourage you to learn as much as you can about birth, breastfeeding and parenting!  



Breastfeeding and Parenting:

Find a group of women and/or families to build your village.  The best lesson I ever got was to ask questions and take advice from the parents that are already doing/have done what you want to do.  If you want to breastfeed, don't get advice from someone who made a different choice.  Connect with breastfeeding mothers at

La Leche League

or a breastfeeding support group.  If you want to babywear, don't seek out a person who is always pushing a stroller.  Connect with a

babywearing group

in your area, or find a group online.  If you want to practice gentle parenting, read up on attachment parenting, and in this day and age, you can connect with the experts online.  Two of my favorites are

Dr. Laura Markham

and

L.R. Knost

. 
 


Maternity Leave: Are you going to work outside the home after a maternity leave?  Connect with the women who have made that choice and have the breastfeeding/parenting relationship you want with your child.  As far as I know, there are no support groups for that.  I have a cadre of students who have breastfed/are breastfeeding and practice attachment parenting while working out of the home full-time.  Please feel free to contact me to connect with them – several are willing to share their stories and mentor new mothers.
You are never alone on this journey.  Birth and parenting have happened for eons.  There is so much wisdom available to you, and so many people to walk and learn with as a new parent.  Read, connect, be willing to say hello to the person sitting next to you in your childbirth or breastfeeding group.  Once your Sweet Pea is earthside, get out and about.  Say hello at the breastfeeding or postpartum support group, story time or playgroup.  A simple hello can lead to a beautiful friendship for you and your Sweet Pea.
Since this is a birth blog, here are some more details about preparing for the Birth-Day…
The decisions you can make and be in control of:
Eating a whole food, balanced diet:

as much as possible, skip the processed foods.  Here's an illustration: if your great-grandmother wouldn't recognize it as food, do not eat it. Or, try this one: if it has more than ten ingredients, or more than one you cannot pronounce without concentrated effort, then put it back on the shelf. Check out our posts on nutrition

HERE

.




Exercise every day:

even 10-20 minutes of cardio is better than none.  You are going to be part of an athletic event...train for it intentionally. Engage in both

stamina-building

and

pregnancy-specific

exercises to equip you for a stronger pregnancy and birth.




Avoid harmful substances:

back to all those things you cannot pronounce.  Pregnancy is a great time to

go green

…one change at a time.  Start by looking at your personal care products…then your kitchen…then your cleaners (both at home and in your school and/or workplace).  Commit to yourself and to your baby that once a month, you will make a change that will make just one more thing in your life non-toxic.  By the time you are holding your Sweet Pea, there are at least 7-8 changes that are now healthy habits.




Choose the right care provider and birth space:

if you know you want a natural birth, do your homework now. Find a

care provider

that supports your choice. The other thing to evaluate is whether your

birth space

and your birth vision are aligned.  If either of these is a NO, you can change providers and/or birth spaces – no permission slip necessary.




Pain is not normal:

your body can do pregnancy pain-free. Are you uncomfortable? Look into

chiropractic care

,

acupuncture

, pregnancy massage,

aromatherapy

...decide what you will do to eliminate any physical pain or anxiety so you can prepare for a positive birth experience.




Pamper yourself: Say YES when it comes to being kind to yourself.  Get the pedicure, go out to dinner, eat your favorite foods that are safe in pregnancy.  You won't know when you are ready, willing or able to afford those things after your Sweet Pea arrives.  Do it now while you still only have your schedule to manage.
About the things you cannot possibly know or control...
How long you will be pregnant:

you were given an

estimated due date

…it's a guess at best.  It is definitely NOT an expiration date.  Each day inside you is a day your Sweet Pea is growing and preparing to live earthside.  As long as you are okay, and they are okay,

inside is a great place to be

.  Find ways to enjoy being pregnant, even if your due date comes and goes.




How long your labor will be: if only there was a magic wand for this!  I love Dr. Bradley's "formula" for labor…whether you have a "sprint", a "marathon" or something in between, your energy and your rest determine how you manage the duration of your labor.  It is intense work, it is athletic work…so eat if you are hungry and definitely sleep, even in the excitement of "I think I'm in labor!" Eat something, drink something, go for a walk, take a bath or shower to relax you…and then go to bed!  I promise you that you cannot sleep through an unmedicated labor.  Your body will wake you up when it's time to start that cycle again…until you can't sleep anymore because you are working.  If you slept as suggested, you will have all the energy you need to have the birth you prepared for.  If you do not sleep, then you will have to dig down even deeper to see your birth through the way you want to – totally possible as well.  If you can, just trust me and sleep – it makes for a better birth!




When you surrender control: let go, give in, and let your baby come out.  At some point, we must let go of the present and give into the primal timelessness of birth.  I know! It sounds completely hippie-hoodoo right now.  Take it from me – I am Miss Priss and Miss Always-in-control…it makes for a LONG birth.  Your body can only get down to the real work of birth when we are willing to be vulnerable, to feel, to surrender all of the control to the bigness that is birth.  Let go – even though you are not in the driver's seat, it does happen…without you.  It is the one time in your life when you can connect to all the birthers that have gone before you.  When I would finally surrender, I would feel all the energy in the Universe around me.  That energy sustained me, it pushed through the fear of no control, to the absolute bliss of working with our baby and my body to just Be.  A little secret: you can control your breath.  Focus on making it as deep as possible…then just feel.
Thank you for taking the time to read this letter.  You are already an amazing parent – you have chosen to carry this life, and by doing that, you have undertaken the essence of mothering: living outside of yourself and considering the needs of another.  Best wishes to you as you continue to grow in love.
Blessings,
Krystyna
Disclaimer: 
The material included on this site is for informational purposes only.
It is not intended nor implied to be a substitute for professional medical advice. The reader should always consult her or his healthcare provider to determine the appropriateness of the information for their own situation.  Krystyna and Bruss Bowman and Bowman House, LLC accept no liability for the content of this site, or for the consequences of any actions taken on the basis of the information provided.  This blog contains information about our classes available in Chandler, AZ and Payson, AZ and is not the official website of The Bradley Method®. The views contained on this blog do not necessarily reflect those of The Bradley Method® or the American Academy of Husband-Coached Childbirth®.
Welcome to the World Breastfeeding 2013 Blog Carnival cohosted by NursingFreedom.org and The San Diego Breastfeeding Center!
This post was written for inclusion in the WBW 2013 Blog Carnival. Our participants will be writing and sharing their stories about community support and normalizing breastfeeding all week long. Find more participating sites in the list at the bottom of this post or at the main carnival page.
***
Celebrating Each Mother's Journey: Not every breastfeeding relationship looks the same. There are mothers who exclusively breastfed, exclusively pumped, breastfed with supplementation, breastfed for three hours or three years, never breastfed but wanted to, or did some combination of these. The important thing is that each mother is supported and given accurate information. Today let's discuss how we can celebrate every breastfeeding relationship. 
We can celebrate every breastfeeding relationship by acknowledging the variety of ways that women can feed their babies.  As described in today's topic prompt, there are more ways to feed an infant than breast to baby.   Besides breastfeeding, there are relationships where the MotherBaby, "exclusively pumped, breastfed with supplementation, breastfed for three hours or three years, never breastfed but wanted to, or did some combination of these." 

In addition to those scenarios, there are also women who educated themselves and participated in human milk sharing, or maybe allowed a friend or relative to wet nurse.  These are all available options besides the two most commonly acknowledged and debated food delivery systems: exclusive breastfeeding and formula feeding.

As a childbirth educator, it is my honor and privilege to offer information about breastfeeding in our classes and to introduce our students to the wide world of breastfeeding support for their journey.  Although I am not a certified lactation consultant, I have been the ear for mamas on their path to feed their children with their own milk.  The mothers in our student base have run the gamut all of those options.  Due to the amount of support our mamas have, so far all the families have found a path to breastfeed for at least the first six months of infancy as recommended by the American Academy of Pediatrics.  I have heard their tears of disappointment, and wept with joy when they share the news that their baby finally latched.  We celebrate when they are no longer pumping and cleaning pump parts and bottle-feeding systems.

These MotherBabys succeed in their pursuit of a breastfeeding relationship because they do not feel judgment for their inability to exclusively breastfeed.  Instead, they are provided with a plethora of options to support them in their journey to feed their human babies human milk.  They are provided with lists of breastfeeding support groups in our area that offer information and camaraderie.  They are offered names of lactation consultants when they need one-on-one support.  Even if a MotherBaby does not live in a metropolitan area with face-to-face support options, the age of the internet has given rise to video resources and websites available 24/7 via the world wide web (see some of our student's favorite resources at the end of today's post). 

In order to celebrate the variety of ways that families feed their babies, I propose that we find some new ways to communicate about breastfeeding that are not so divisive.  In our eagerness to share the joy of breastfeeding, it is easy to forget that the questions we ask may unintentionally put people on the defensive. 

Instead of asking, "Are you breastfeeding," with the implication that they should be, we can ask, "How are you feeding your baby?"  If the answer is not breastfeeding, then we can ask, "Did you want to breastfeed?"  If the answer is another "no," we can share the benefits of skin-to-skin and eye contact when a baby is being bottle-fed, maybe let them know about babywearing, and then move on, making our best effort not to pass judgment.  We can also share information about milk sharing to open the door to the possibility, and offer to share more information in the future: "I don't know if you knew that some families are choosing to supplement with human milk instead of formula.  If you ever want to know more about that, I would be happy to send you some resources so you can look into it."

If the answer is something akin to "I tried and it hasn't been working out for us", we can follow up with "Would you let me help you find the resources to help you breastfeed?  Although it is natural, it is not always easy and there are many women who have needed help getting off to a good start."  By asking gently, the door is open for us to share any and all information to help the MotherBaby develop the breastfeeding relationship that works for them.

We must also focus our ire on the lack of information about all the different ways to feed infants human milk where it originates.  Instead of pitting the breastfeeding camp against the formula feeding camp, we need to go back to the source of the challenge: the formula manufacturers.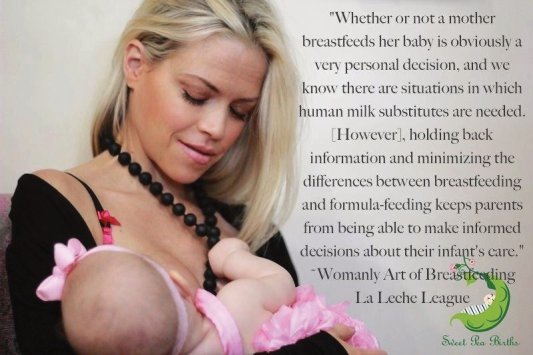 It is not in the formula companies best interest to have the majority of the population exclusively breastfeed, so the lie that formula is "as good as" breastmilk has persisted.  I am not anti-formula.  I know that formula is a great option to provide the necessary nutrients when there is no other option available.  However, the wholesale equality that has been attributed to formula has kept women and children from taking advantage of nature's best nutrition simply because we are trusting.  We trust that our doctors would not withhold information, we trust the advertising campaigns, and we do not question the status quo.
So do celebrate breastfeeding in all its forms.  Commend the mother who is exclusively breastfeeding.  Praise the woman who exclusively pumped, because that is the mother of all commitments.  Support them women who breastfed with supplementation, and ask them what you can do to help them if they want to exclusively breastfeed.  Congratulate the woman who breastfed for three hours and educate her on how she can still achieve a breastfeeding-type bond with her child.  Cheer the woman who breastfed for three years, and encourage her to tell her story so that other families know it has been done and they are not alone.  Mourn with the woman never breastfed but wanted to, inform her that her past relationship does not dictate her future breastfeeding stories, and help her find the support groups to try breastfeeding again with her future children.  Applaud the human milk donors and the wet nurses.  Theirs is an ancient tradition that is coming out of the shadows of time and back into awareness. 
Last of all, we can celebrate by sharing a smile.  No matter how you see a woman feeding her child, smile at her because we are all sisters on the journey of motherhood.  Accept her, because in spite of different choices, we are all mothers doing the best we know how to do today.  At the end of the day, our children may be playmates, classmates, friends and lovers. 
Let's set the tone for celebration and acceptance by living love, starting with the mothers who know of our sleep deprivation in the newborn phase, the tickle in our bellies when we get to share a smile with our baby, and the pure joy that we feel every time we look at the miracle that we loved so tenderly from their first moments on earth.  That really is something to celebrate.
Breastfeeding Support Groups:
Hospital Support Groups – call your local hospital to see if they offer classes or support groups
How to find a Lactation Consultant:
Read
THIS
post that explains the different designations in lactation consultants.  Training can vary from a 16-40 hour course, with and without clinical hours, to IBCLC's who have the equivalent of a college degree in human lactation.
IBCLC
:The gold standard in lactation care, these support people have the equivalent of a college degree in human lactation.  You can find an International Board Certified Lactation Consultant
HERE
.
Human Milk Sharing:
BreastFeeding, Inc.: "aim is to empower parents by ensuring they receive the most up-to-date information to assist them with their breastfeeding baby. We strive to provide them this information through breastfeeding resources which include, but are not limited to, free information sheets, video clips, and articles."
Please leave us a comment - it will be moderated and posted. 
*I think* that the amount of traffic you so generously generate has led to a lot of spam posting.  In an effort to keep the spam to a minimum, I am taking the time to moderate comments now.
Disclaimer: 
The material included on this site is for informational purposes only.
It is not intended nor implied to be a substitute for professional medical advice. The reader should always consult her or his healthcare provider to determine the appropriateness of the information for their own situation.  Krystyna and Bruss Bowman and Bowman House, LLC accept no liability for the content of this site, or for the consequences of any actions taken on the basis of the information provided.  This blog contains information about our classes available in Chandler, AZ and Payson, AZ and is not the official website of The Bradley Method®. The views contained on this blog do not necessarily reflect those of The Bradley Method® or the American Academy of Husband-Coached Childbirth®.
More Posts From Nursing Freedom and San Diego Breastfeeding Coalition World Breastfeeding Week Blog Carnival:
August 5: Each Mother's Journey and Milk Sharing
An Unexpected Formula-Fed Attachment — Kyle (of JEDI Momster and) writing at Natural Parents Network, exclusively breastfed three healthy babies. So when she was pregnant with her fourth, she assumed she would have no breastfeeding troubles she could not overcome. Turns out, her fourth baby had his own ideas. Kyle shares her heartfelt thoughts on how she came to terms with the conclusion of her breastfeeding journey.
It Take a Village: Cross Nursing — Shannah at Breastfeeding Utahshares how cross-nursing helped her baby in their time of need, and how that experience inspired her to create a community of cross-nursing and milk-sharing women.
Random little influences and Large scale support communities lead to knowing better and doing better — amy at random mom shares how her ideas and successes involved with breastfeeding evolved with each of her children, how her first milk sharing experience completely floored her, and how small personal experiences combined with huge communities of online support were responsible for leading and educating her from point A to point D, and hopefully beyond.
Mikko's weaning story — After five years of breastfeeding, Lauren atHobo Mama shares how the nursing relationship with her firstborn came to a gentle end.
My Milk is Your Milk — Lola at What the Beep am I Doing? discusses her use of donor milk and hhow she paid the gift back to other families.
World Breastfeeding Week 2013 Blog Carnival - Celebrating Each Mother's Journey — Jenny at I'm a full-time mummy lists her experiences and journey as a breastfeeding mother.
Working Mom Nursing Twins — Sadia at How Do You Do It? breastfed her twin daughters breastfed for 7 months. They made it through premature birth and NICU stays, her return to full-time work, her husband's deployment to Iraq, and Baby J's nursing strike.
So, You Wanna Milkshare? — Milk banks, informed community sharing and friends, oh my! So many ways to share the milky love; That Mama Gretchen is sharing her experience with each.
Milk Siblings: One Mama's Milk Sharing Story (and Resources)Amber, guest posting at Code Name: Mama, shares how her views on milk sharing were influenced by her daughter receiving donor milk from a bank during a NICU stay, and how that inspired her to give her stash to a friend.
Humans Feeding Humans — Krystyna at Sweet Pea Births shares ideas on how we can celebrate all the different ways modern mommies feed their babies. While we are comfortable with the breastmilk-formula paradigm, she proposes that we expand our horizons and embrace all the different ways mamas feed their infants.
When Breastfeeding Doesn't Go As Planned — MandyE of Twin Trials and Triumphs shares the challenges she faced in feeding her premature twins. She's still learning to cope with things not having gone exactly as she'd always hoped.
Taking Back My Life By Giving Away My Milk — When Amanda Rose Adams's first child was born, he was tube fed, airlifted, ventilated, and nearly died twice. In the chaos of her son's survival, pumping breast milk was physically and mentally soothing for Amanda. Before long her freezer was literally overflowing with milk - then she started giving it away.
The Tortoise and the Hare — Nona's Nipples at The Touch of Lifediscusses why we care about breast milk and formula with everything inbetween.
Finding My Tribe of Women Through Milk Sharing — Mj, guest posting at San Diego Breastfeeding Center shares her journey breastfeeding with low milk supply and supplementing with donor milk using an at the breast supplemental nursing system. She shares the impact milk sharing has had on her life, her family, and how it saved her breastfeeding relationship.
Human Milk for Human Babies — Sam at Nelson's Nest shares her perspective on milk-sharing after an unexpected premature delivery left her pumping in the hopes of breastfeeding her son one day. Sam's milk was an amazing gift to the other preemie who received it, but the connection was a blessing in the donor mom's life too!
Sister, I Honor You — A mother feeding her baby is a triumph and should be honored, not criticized. Before you judge or propagate your own cause, go find your sister. A post by Racher: Mama, CSW, at The Touch of Life.
Every Breastfeeding Journey Is Different, Every One Is Special — No two stories are alike, evidenced by That Mama Gretchen's collaboration of a few dear mama's reflections on their breastfeeding highs, lows and in betweens.
A Pumping Mom's Journey — Shannah at Breastfeeding Utah shares about her journey pumping for her son, who was born at 29 weeks.
/