...celebrating every swee​t pea their birth
| | |
| --- | --- |
| Posted on July 25, 2014 at 11:45 AM | |
Originally published February 2011 ~ Updated July 25, 2014
The class topic last night was first stage labor.  This stage is characterized by a progressive intensification of the sensations in labor.  A mom will experience her contractions, or her "surges", getting increasingly stronger and longer with less time between them, as she gets closer to the pushing phase of her labor.
Why do a "labor rehearsal" when labor is so unpredictable?? Mostly to train you and your partner into some "muscle memory".  By practicing different positions and reminding yourself when/why they are effective, that body of knowledge is more readily accessed when you are in labor.  Even if you forget your "playbook", you have some tools that you can use without referring back to a print-out of labor positions. (Although, 
HERE
is one that I share with students.  I used it to prepare for our births and often use it as a reference in our classes.)
We had our couples do an active labor rehearsal.  As a reminder to them, and as a practice tool for anyone reading this who is striving for a natural labor, here are our tips on having a good labor rehearsal.
1. Have a good guide at your fingertips.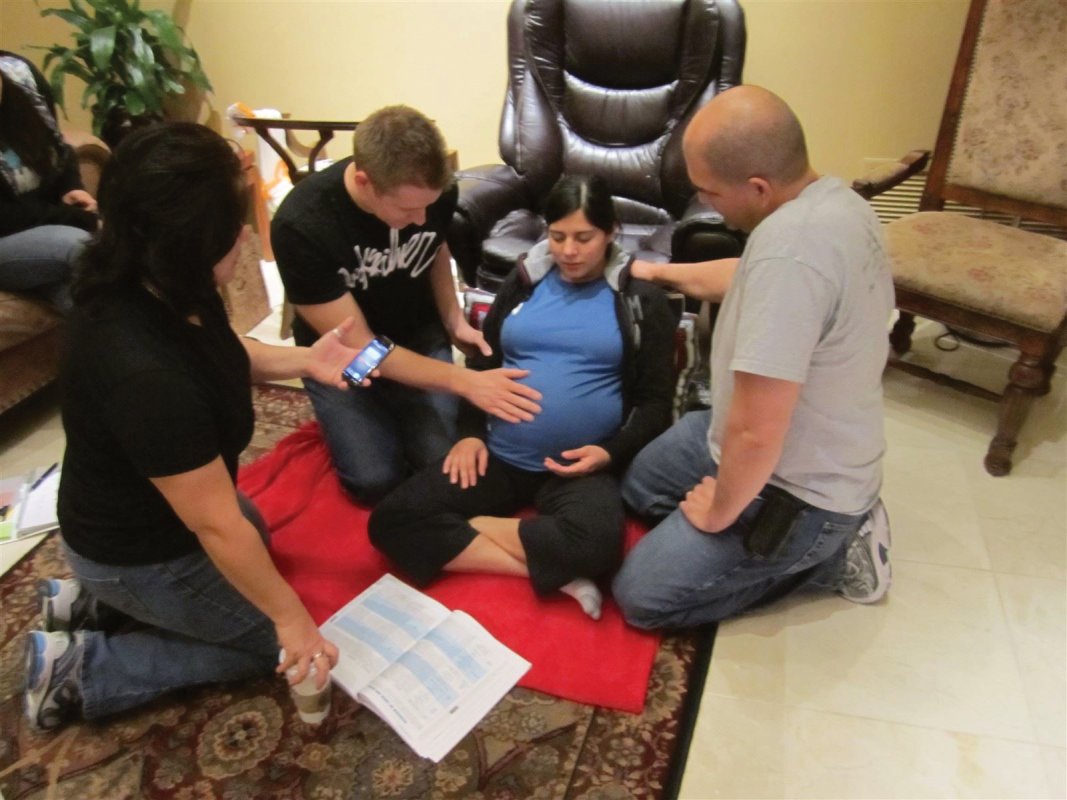 We have the advantage of a student workbook with illustrations to follow.  There are also resources out on the Internet with ideas for different positions to open the inlet of the pelvis to make room for baby.  The key is to try all the different positions.  Try to practice at least two simulated contractions every day, and you will find that you will have put your body in the different positions before you start labor. 
This is important for the following reasons: You will know if you can do them – if it hurts, maybe it's time to do more stretching, or find other positions that have similar benefits without being uncomfortable.  You can also start making a list of the ones that feel really good, keeping in mind that this list may change as you are progressing through labor.
2.  Once you are in a position, don't change it or move around during a contraction.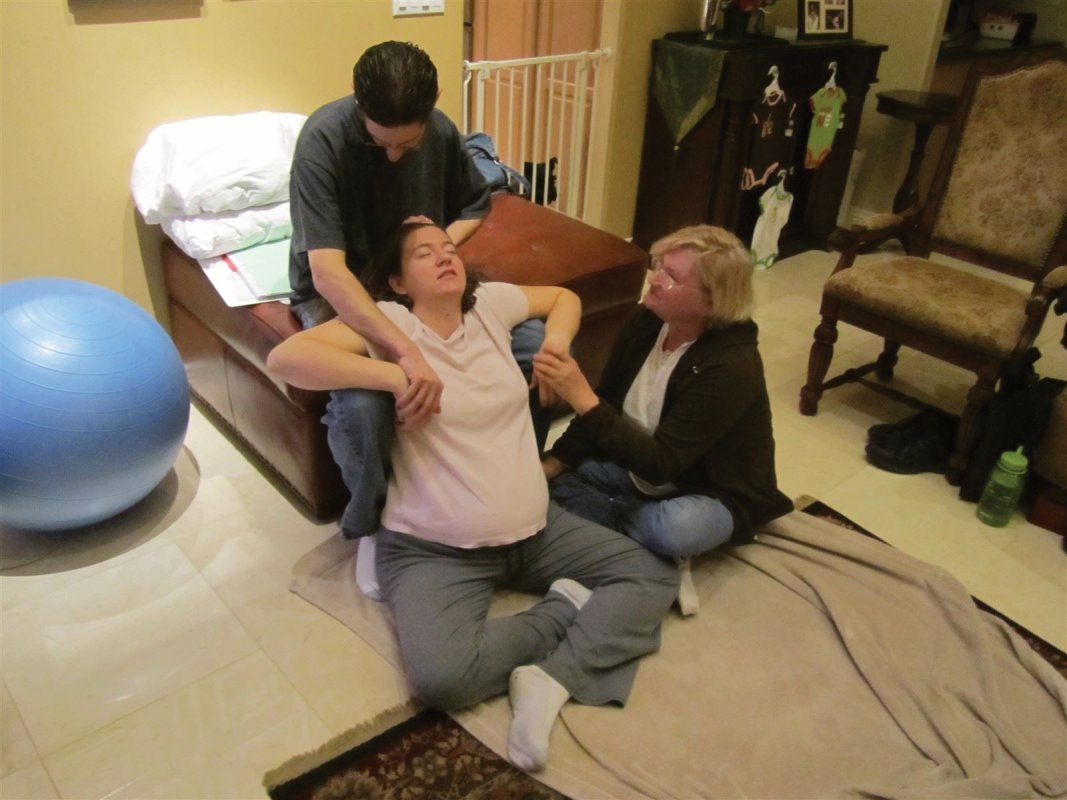 Again, the key is to simulate labor.  Once mom starts having stronger surges, she will be physically unwilling or unable to move while she is having a contraction.  So train your muscle memory the right way from the beginning. 
That's not to say that you will stick to one position during the course of your labor.  It's likely that there are several positions that you will try, and you may eventually gravitate to a few that seem to be the most effective.
3.  If mom has to go to the bathroom, someone needs to go with her.
In actual labor, a coach or one of the assistant coaches must always stay with mom.  She is in a vulnerable time, PLEASE stay by her side.  If mom is not comfortable having you in the bathroom, getting over the emotional hurdle will be better dealt with outside of labor.  It sounds weird, maybe?  It is possible that emotional barriers can keep labor from progressing.  Who would want bathroom issues to extend the amount of time you are having contractions?  Another thought: why delay meeting your baby?
This is what we personally experienced: if you leave mom alone, she may fall – this could drastically alter the course of your labor.  Additionally, there is no guaranteed labor pattern – just because you have been having surges 5 minutes apart and you think she has five minutes before her next contraction doesn't mean she should "go" alone.  If she starts having contractions on the commode, she isn't going to be able to move.  It is possible, since the bladder is emptied, that the contractions will feel stronger after she has voided since it has made room for baby to descend, and she will want your help handling the stronger sensations.  From our own personal experience, I know we hit "transition" in the bathroom in 2 of our 3 labors.  It was a good thing to have someone with me to help me manage the mental gearshift and the sensations.
4.  Coaches need to practice multi-tasking with every simulated contraction.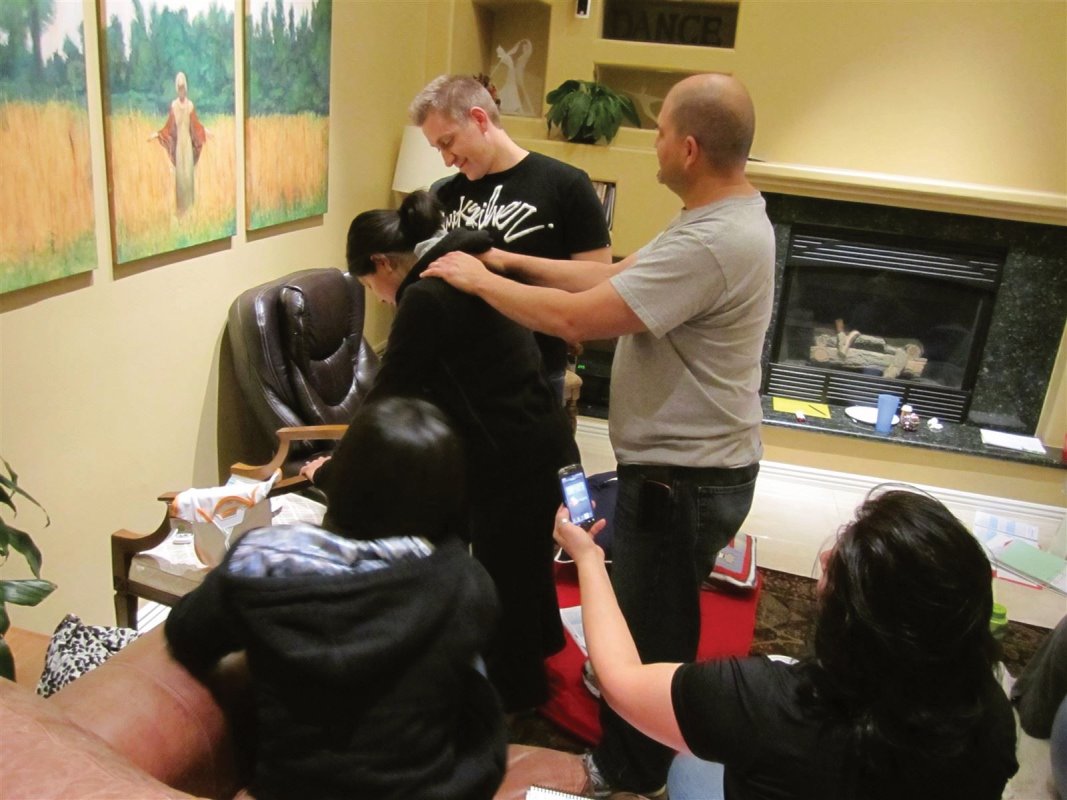 Coaches, you have a good job during labor.  You are the person that can make all the difference in mom's confidence in herself and her ability to birth.  Prepare by working out your "athlete" at home and learning how to be the best coach for your team well before labor starts. 
Regarding such things as touch, music and environment: do you know her likes? Dislikes?  Do you know which relaxation techniques work for her?  Can you massage, talk, and time her contractions simultaneously? 
If you answered no to any of these questions, then we encourage you to start finding the answers!  And practice until you are doing several things at once without having to think too much about what you need to be doing to keep your partner completely relaxed through her labor.
5.  Watch mom's key tension indicators.
The three main areas where mom will hold tension are her face (especially the jaw and brow areas), her hands and her feet.  Can you do the checkpoints in #4 and observe her for relaxation, too?  Most coaches need lots of help learning to do all these things at the same time.  You can find an assistant coach who is there to help support coach as he strives to do all these things.  Or, the assistant can help the coach to get mom as relaxed as possible so her body can get down to the business of having the baby.  The more efficient her labor, the sooner you will all be holding your baby in your arms.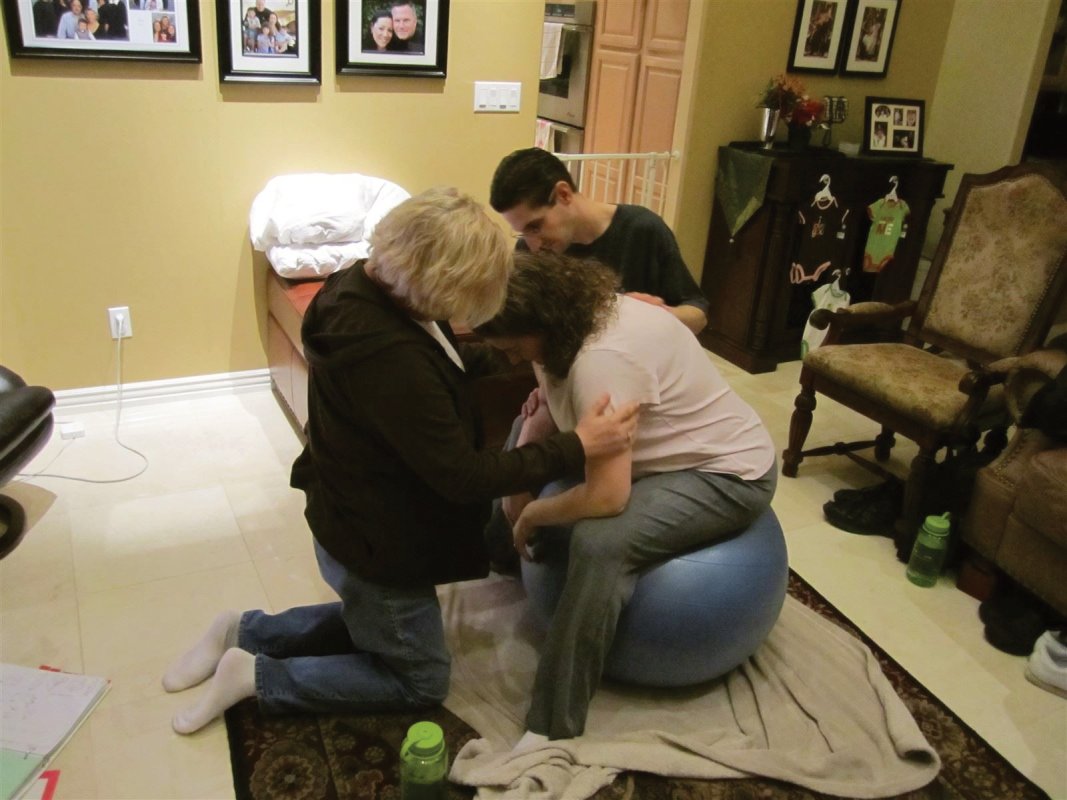 A key thought is PRACTICE MAKES PREPARED.  As in all things where we seek to succeed, good practice leads to better results versus going in without any prior mental or physical preparation.  As labor has mental, physical and emotional aspects, we really encourage our students to allocate time every day to train their muscles and minds for the challenge of labor.
Some other tidbits from class:
TRANSITION
No first stage labor rehearsal in class is complete without a discussion about "transition", the time between the active stage and the pushing stage of labor.  Although it might be an emotional time, transition is a good thing – it means your labor is almost over. 
Question directed at Bruss: Which one of your labors had the worst transition?
Answer:  There was not really a worst. You need to look for signs and prepare yourself ahead of time, prepare yourself now. Since transition occurs at the end of labor and you are caught up with the whole process of labor, know what to look for.  There will be distinct signs and they are different for everybody.  In our case, Krystyna got really abrupt.  Up to that point, she would communicate with "this feels"…or, "please try"… transition was marked with, "I told you not to do that!"
I also reminded our class of a birth story they had heard where the couple's only sign was a physical sign: mom started burping out of the blue, and it lasted a little while.  When she calmly announced, "I think I have to push", it turns out she really and truly was ready without having the self-doubt or the pendulum swing of emotions.  (For the whole story, go to http://www.youtube.com/watch?v=fDI61YWV5G0 )
HOSPITAL CARE
We were lucky enough to have two nurses join our class last night.  They were attending as assistant coaches-in-training for one of our moms.  I took advantage of the situation to ask the nurses who makes the best patient.  My goal was to illustrate the point that you are the labor you bring with you, especially in a hospital situation.  We encourage our students to write a birth plan to use as a communication tool, and to use positive communication (important at all birth venues).  The idea is that you are all on the same team and you wouldn't be there if you didn't feel some element of safety in the hospital.  As long as labor is progressing without complications, a couple is reasonable in their requests, and the care provider has signed off on the birth plan, it should not be difficult to have the hospital staff support your choice to have a natural labor.
Question:  Who makes the best patients, or who are the patients that are the easiest to work with?
Answer:  They are willing to work with patients who want to work with them.  They also appreciate patients who respect their medical training.  When it comes to requests, i.e. birth plans; patients who are nice get their way!
PRACTICE MAKES PREPARED
I want to encourage you to make the effort to practice what you want to happen on your baby's birth-day.  We encourage our couples to do ten minutes in the morning before they get started on their day, and right before bed at night.  What better way to help mom feel safe, secure and stress-free?  She can go about her day knowing that she and baby are important enough to merit the time.  At night, she will sleep better after a good relaxation session.
We can attest to the fact that yes, it is hard to find the time.  In reality, you don't find time – you have to make the time available.  It is worth it – even if you end up with interventions, the fact that you gave it your best effort makes for a labor that you can look back on with an element of pride.  The natural labor and birth you want is a reality – and the more you practice, the more likely you are to achieve the birth story you want for your family. 
There is another element to a successful labor beside preparation – and that is a well-rested team – and that is a post for another day.  Happy Practicing!!
Disclaimer:
The material included on this site is for informational purposes only.
It is not intended nor implied to be a substitute for professional medical advice. The reader should always consult her or his healthcare provider to determine the appropriateness of the information for their own situation. This blog contains information about our classes available in Chandler, AZ and Payson, AZ and is not the official website of The Bradley Method®. The views contained on this blog do not necessarily reflect those of The Bradley Method® or the American Academy of Husband-Coached Childbirth®.
Categories: Birth center, Birth plans, Bradley Method® outcome, First stage labor, Managing or coping with natural labor, natural labor coping mechanisms, Pain management, The Bradley Method®, The Bradley Method® pain management
/