...celebrating every swee​t pea their birth
| | |
| --- | --- |
| Posted on March 18, 2011 at 6:52 AM | |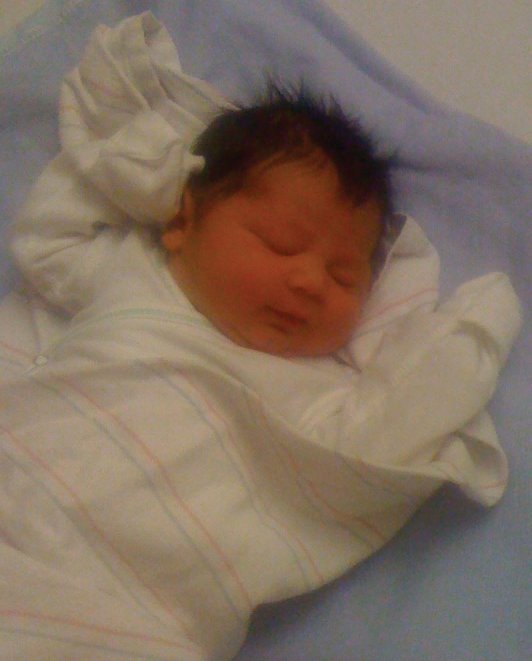 I am sharing this because I am hoping this will allow other mommies-to-be with breech babies avoid a cesarean section in the hospital.  One of our students is working at turning their baby right now, so I thought it apropos to share this online today.
Journal: July 19, 2009
Bryan's Estimated Due Date (EDD): August 14, 2009
     As advocates of natural childbirth, and after two amazing birth experiences, I wanted the same for our third child. We found out in early June that he was breech, but didn't give it much thought at the time since we figured we still had time left for him to turn head-down.
      When our ultrasound at the beginning of July showed he was still breech and we already had a guess-timated seven pound baby, red-flags started going up. I was willing to try anything and everything that would safely encourage him to turn to a head down position.
      My thinking was very clear as we started these alternative therapies to an external cephalic version in the hospital: I would do everything in my power to help the natural process along, and knowing that we had done everything we could, accept a cesarean section if that meant we had a healthy son in our arms at the end of the pregnancy.
      Here is what we did to turn him - YEAH! And we are now praying he will stay that way until delivery day.
1. Talked to the baby: Every quiet moment, I would take the opportunity to send my thoughts to him, sometimes speaking out loud. I would tell him to move towards the exit, that I was taking long, deep breaths that were making room for him to turn, to tuck his chin and move towards the exit that was his safe entry into the world, that we, his family were eager to meet him and wanted him to be born naturally.
2. Visual imagery: I visualized him turning down and tucking into the right position. Now that he is turned, I am visualizing him staying there!!
3. Inversion: Method 1 - Prop an ironing board or similar object against a couch or ledge 12-18 inches above the ground. MAKE SURE IT IS SECURE!!! Lay back on it with your hips higher than your shoulders. Do this twice a day for 10-15 minutes.
     Inversion: Method 2 - Knee-Chest position - You begin by getting into a hands and knees position. Slowly lower your shoulders to the floor or bed, resting your head in a comfortable position.  You can try to move your knees further apart, causing your bottom to lower slightly while widening your pelvis.  You should look like you are in a frog position. Keeping your bottom higher than the shoulders while widening the pelvis may give the baby more room to turn.
     While I was in either of these positions, I also did some deep breathing, talked to him and visualized him turning.
4. Play music near the "exit": it is believed that babies will move towards music and light. I put my phone between my legs when I am in the car and play music that he responds to. I also read that light would work, but didn't try that one. The idea there was to shine a light at the top of the abdomen and then move it down, or just shine it at the exit point.  Since then I have read that some babies move away from light - so glad I did not try it.
5. Acupuncture: There is a specific therapy for turning a breech baby. In the doctor's office, they placed five needles in my head and one at a point in each inner ankle. Then they would apply heat (moxibustion) at the outer edge of my pinkie toes. This created a "turning" energy - more than any other therapy, I felt baby responding to this. He was active every time heat was applied to the toes!! We would do the moxi at home before going to bed on the days we didn't have acupuncture. Now that the baby is turned, we are not doing this anymore.  (We did have a couple more sessions with acupuncture only to help ease the labor.)
6. Webster protocol: Done by a chiropractor who is knowledgeable in this protocol. It is about aligning the pelvis, making sure it is open and "sublaxation-free" to receive the baby. This felt the best - after my first adjustment, the excruciating back pain I had felt on my right side was gone. We will keep checking the "Webster protocol" three times a week until delivery to make sure the pelvis is a safe place for baby to hang out.
7. Since he is a summer baby, we are lucky enough to use the pool.  Swimming is thought to help because it relaxes the abdominal muscles and the horizontal position in the water removes the gravitational pressure.  If nothing else, it felt great to have the pressure off my pelvis for a while.
     There are many more ideas on-line if you google "turn breech baby". The respected website is: www.spinningbabies.com.  No matter where you get your information, make sure you review any turning techniques with your care provider before trying them.
     Add again - lots of prayer.  We asked grandparents to put us on their prayer lists at church that Bryan would turn if that was God's will, and we also asked our friends to be in prayer for us. 
Journal:  August 15, 2009
     How the story ended and Bryan's life "outside" began:  After 46 hours of labor, Bryan Victor Bowman was born on July 30, 2009 – 11 days after he turned. We had a vaginal birth and he was 9 pounds and 3 ounces. His cord was wrapped around his neck – maybe from turning?  I do not begrudge him the time he took since we are so grateful he is alive and well.
If you are in the Phoenix area, here are the doctors we used:
Dr. Deng – Accupuncture/Moxibustion
480-970-0000
164 East Broadway Road
Tempe, AZ 85282
You can save money by having him do the consultation and then having his students execute the treatment plan.
Dr. Kevin Ross – Webster Protocol
480-730-7950
2405 E Southern Ave, Ste.4
Tempe, AZ
     Looking back, Bruss and I agreed that if the natural techniques did not work, we would not do an external cephalic version (ECV) because we were not comfortable with the risks, which include
Premature labor
Premature rupture of the membranes
A small blood loss for either the baby or the mother
Fetal distress leading to an emergency cesarean delivery
The possibility the baby might turn back to the breech position after the external cephalic version is done
Placental abruption - the placenta separating from the implantation site before delivery

     The more I learn about birth through reading, observation and listening to our students birth stories, the more I find myself agreeing with Jay Hathaway, one of the founders of the American Academy of Husband-Coached Childbirth®.  He did a presentation during our teacher training about breech presentation.  His philosophy is that babies are not merely "passengers" in the labor process, instead they are "pilots".  He believes that a baby knows how they need to get out, and they have an ability to control their position in the uterus.  If they choose a breech presentation, then it is for a reason that they know about, and it sometimes becomes apparent after they are born why they were in the breech position.
     I am so glad we were not faced with saying no to an ECV and waiting for labor to begin naturally so we could be wheeled into an operating room.  However, in a conversation with a doctor today as I researched doctors in the Phoenix area who do vaginal breech deliveries, she had an interesting analogy.  If you consider turning techniques on a ladder, the natural techniques are ranked at the lower rungs - and you work your way up the ladder to techniques like ECV.  If you want to avoid a cesarean, her advice was to work on the natural techniques and try an ECV at 38 weeks.
    I will close with my Bradley teacher mantra:  it is up to the parents to take responsibilty, do your research, and arrive at a decision that you agree is best for mom and baby.
Disclaimer:
The material included on this site is for informational purposes only.
It is not intended nor implied to be a substitute for professional medical advice. The reader should always consult her or his healthcare provider to determine the appropriateness of the information for their own situation. This blog contains information about our classes available in Chandler, AZ and Payson, AZ and is not the official website of The Bradley Method®. The views contained on this blog do not necessarily reflect those of The Bradley Method® or the American Academy of Husband-Coached Childbirth®.
Categories: Acupuncture, Breech presentation, Breech turning techniques, ECV, External Cephalic Version, Webster Protocol
/