...celebrating every swee​t pea their birth
| | |
| --- | --- |
| Posted on April 15, 2011 at 10:49 AM | |
Although each one of our births was amazing in a different way, our second birth was the closest to a textbook "Bradley" birth.  I refer to our child as "Baby" because we didn't find out the sex during our pregnancy. 
For our current students, you will read that we weren't the best students at doing our practice together - thank goodness we had hired a doula!  She made the difference again, although looking back, she did it in such a way that Bruss was the hero of the birth.  Here it is for you to read: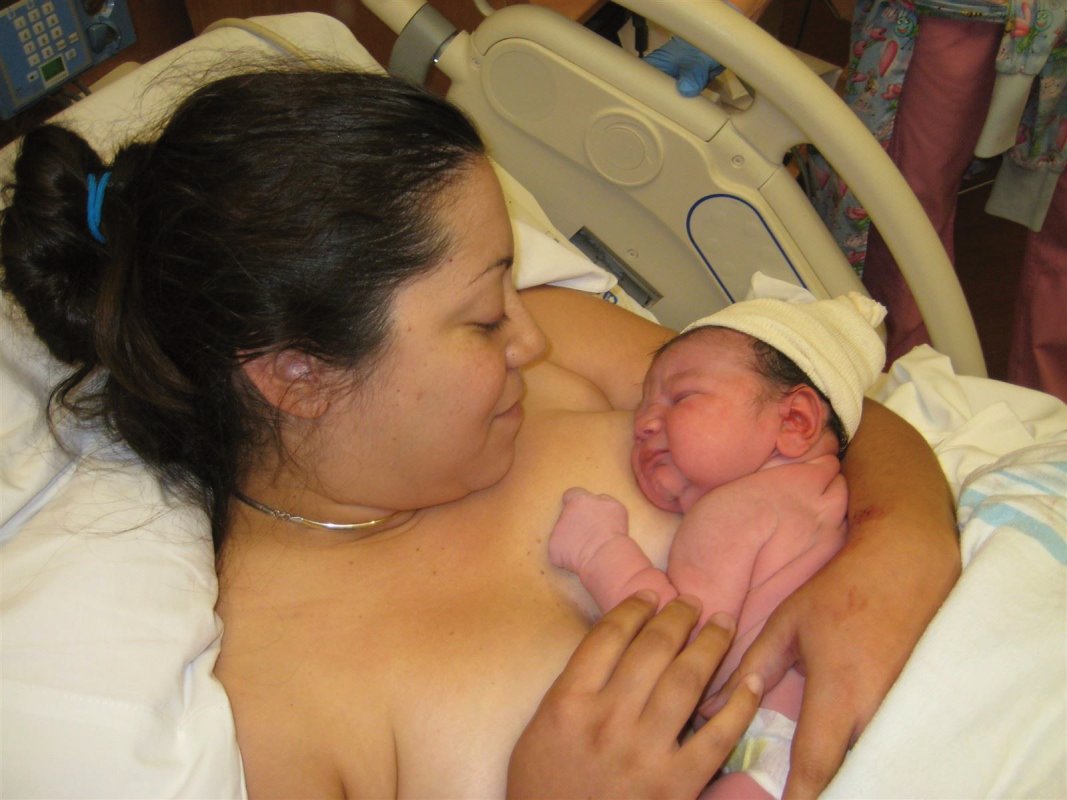 Since almost three years had elapsed since our last birth, Daddy Bruss and I decided it would be a good idea to re-take the Bradley Method® Class, and hopefully, finish the 12-week series.  We had to take the classes with a new teacher since our first teacher didn't have a class schedule that fit our due date.  It was a great opportunity to get a different spin on the same material.  
I also think we paid more attention the second time around since we knew the information was critical if we wanted to have a completely unmedicated and intervention-free birth this time.  Although our practice as a team didn't improve a great deal, I did my solo homework much more diligently.  Based on our last birth, I did more walking, more squats, more Kegels and perineal massage in hopes of having a better labor this time.  
You would think that as second time parents, we would know what labor was and when it started.  So, this baby decided to play games and test us out.  We went to the hospital two times in the week before our due date, and both times they sent us home because we were only in pre-labor.  
The third time we went, my water had really broken.  This was on September 28, 2007, around 3:00 in the afternoon.  We said good-bye to Ysabella and Grandma and left for the hospital around 4:00 p.m. My labor didn't stop once we got to the hospital - yeah!  I attribute this to being calmer the second time around and thus, the"fight or flight" instinct that stopped us the first time around didn't have a chance to throw a monkey wrench in the process this time.  
Our first triage nurse was convinced that she had to give me pitocin even though it wasn't on our birth plan.  We just smiled at her and said, "Order what you need to," knowing it was shift change and I would just take it up with the next nurse if I had to.  
The next triage nurse was cool with our natural labor birth plan, got us checked into our labor and delivery room and sent Doc to deal with us.  We were fortunate to have the same doc from our OB group that had delivered Ysabella, and he and I had a little discussion.  We talked to him around 7:00 PM, and he was willing to give me the same 14 hours that he had given me with Ysabella.  He also gave me fair warning that I was going to work hard, "as if you were going to run a marathon".  
Ironic - that is exactly what the Bradley Method® uses as an analogy in preparing for labor and delivery.  Birth is an athletic event, and if you are going to perform as a top athlete, you condition your body with proper exercise, nutrition and mental attitude to win the event.  I assured Doc that I was ready to "run the marathon" and would appreciate the opportunity to do so.  Away he went and labor kept progressing.  
Labor progressed according to the chart we studied in Bradley class.  (If you have a Student Workbook, it's the chart on pages 38-39 that Bruss likes to refer to in class.)  First stage, late first stage, transition, and second stage.  We walked, we used several squatting positions successfully, and I slept between contractions this time.  As a side note, this is only possible with great coaching - mom has to trust that the Coach is watching the clock and that she will be woken up before the contraction starts.  Good job, Daddy Bruss!   Our doula Madelon was with us again, and she helped us through the tough spots with her low,  gentle voice and her steady, loving hands.  
Before we knew it, I was at the, "Oh my gosh, you people better figure it out because I AM GOING TO PUSH THIS BABY OUT WITH OR WITHOUT YOUR COOPERATION, THANK YOU VERY MUCH!!!"  
They called our new doctor (the OB practice call schedule had a shift change in the morning), who was cool with my birth plan.  Although she had not seen a successful Bradley Method® birth yet, she was willing to assist us and give us the support we needed.  She got in there with the olive oil and did a perineal massage to gently open and soften the vaginal tissues so that they would stretch around the baby without tearing.  
Baby came out after a few pushes - I think it was four good ones and the head came out, then another push and the shoulders, and then one more good push and the rest of baby came out.  Bruss Reynaldo was born at 8:49 am on September 29, 2007 - his due date.  It was such a thrill - we had done it by letting my body follow nature's course, and guess what??  Baby Bruss was 11 pounds, 1 ounce - and I barely tore at all!!!  Doc gave me a couple of "cosmetic" stitches (seriously, who's looking??).  
The mood in the room was giddy, excited, awesome.  No one could believe how big Baby Bruss was, or that he had come out naturally.  He was not the biggest baby that day, but he was the biggest natural delivery.  And just like they testify in the book, Husband-Coached Childbirth: The Bradley Method® of Natural Childbirth, by Dr. Robert Bradley:  an hour later I was walking around the labor and delivery wing, stretching my legs and chasing down the Bruss' in the nursery.  
It was the most amazing event - 18 hours of letting nature take it's course with an unbelievable reward at the end of our "marathon".  After experiencing this, I fully understand why people choose to push their body to the limit in endurance contests - finishing the "run" is one of the most satisfying and fulfilling affirmations of the human experience.  
Disclaimer: 
The material included on this site is for informational purposes only.  It is not intended nor implied to be a substitute for professional medical advice. The reader should always consult her or his healthcare provider to determine the appropriateness of the information for their own situation. This blog contains information relevant to our classes available in Chandler, AZ and Payson, AZ and is not the official website of The Bradley Method®. The views contained in this blog do not necessarily reflect those of The Bradley Method® or the American Academy of Husband-Coached Childbirth®.

Categories: Birth Story, Bradley Method® birth story, Bradley Method® outcome, Doulas, Exercise, Managing or coping with natural labor, natural labor coping mechanisms, Natural labor coping techniques, Pain management, Pain management natural labor, The Bradley Method®, The Bradley Method® classes, The Bradley Method® pain management
/