...celebrating every swee​t pea their birth
| | |
| --- | --- |
| Posted on May 11, 2011 at 12:05 AM | |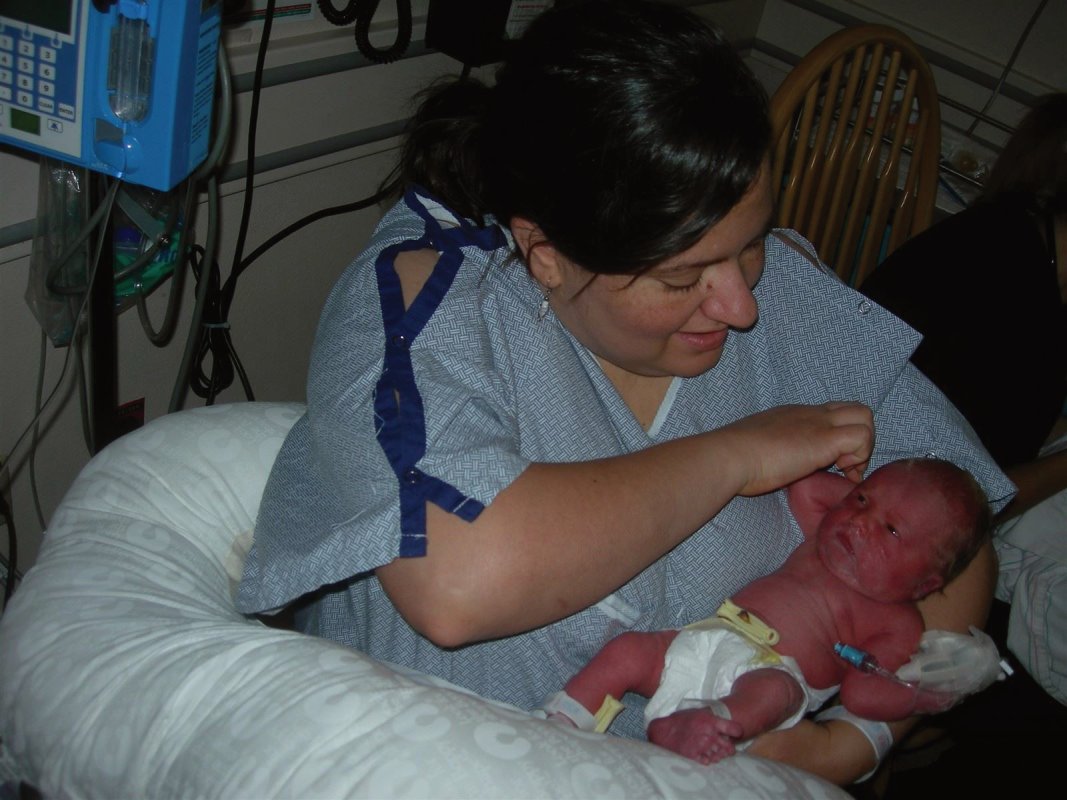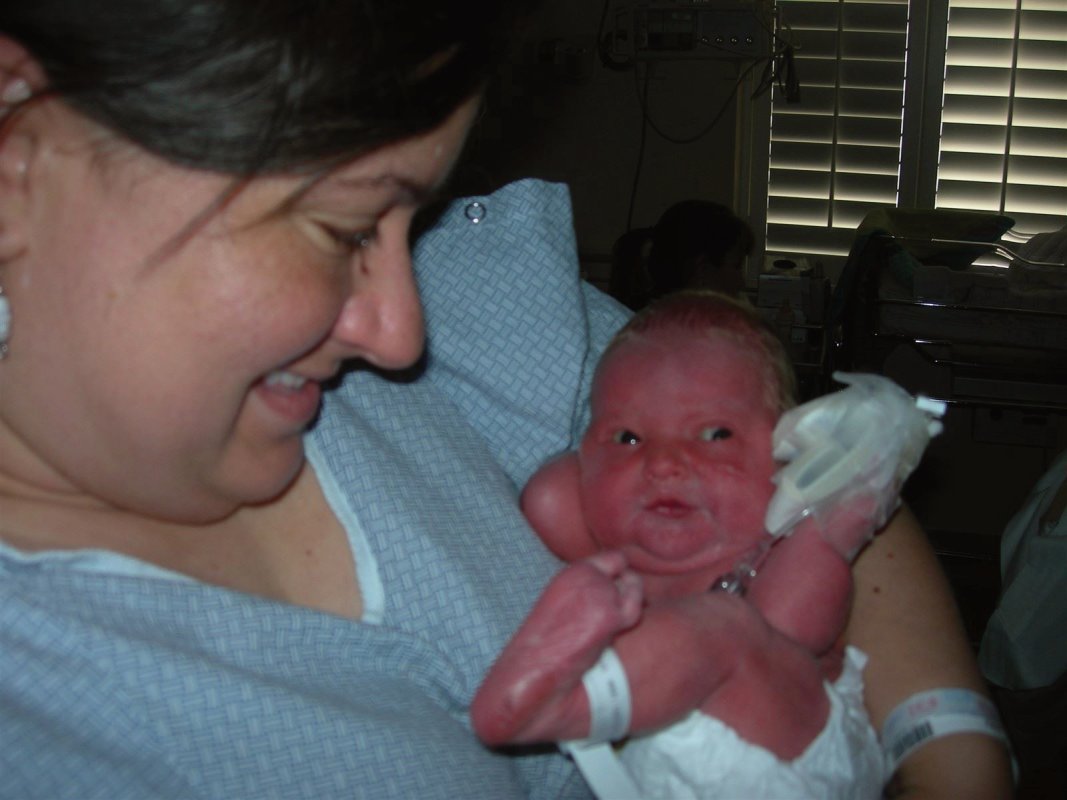 Today is Mother's Day in Mexico.  Since our roles as a mother can stand another day of recognition, I figure why not – let's have another day of good wishes.  I will start off by wishing all the moms a Feliz Día de las Madres! 
We had an incredible birth story over the weekend, and probably one of the most intriguing ones we will have as instructors of The Bradley Method®.  With the mom's permission, I am going to share their birth story today.  Their baby was born at 35 weeks and both mom and baby are doing well.  The dad "caught" their daughter as mom was getting out of the hotel bathtub!
One of the topics we cover over the course of the series is Emergency Childbirth.  We do this for the "just in case" instance when a couple has an unintentional unassisted birth.  Let me be clear that The Bradley Method® does not endorse unassisted deliveries, meaning that a conscious decision is made to not have a trained professional present at the birth of a child.  However, the American Academy of Husband-Coached Childbirth® acknowledges that sometimes parents don't recognize the signs of labor (especially first-time parents) and babies will come when they are ready.  Our curriculum addresses this circumstance in recognition that it is better to give some basic information about how to handle this situation rather than leaving a mom and her coach unprepared for the outside chance that they find themselves having to deliver their child outside of their planned birth setting.
In one of life's little twists, I had just been loaned the text "Emergency Childbirth: A Manual" by Gregory J. White, M.D. on Friday.  It is recommended reading for all Bradley instructors and I started reading it over the weekend.  The Bradley Method® designed their Emergency Childbirth class section from Emergency Childbirth, a joint publication of the U.S. Department of Defense, Office of Civil Defense, the U.S. Department of Health, Education and Welfare and the American Medical Association.  Little did I expect to hear yesterday morning that the class information was put to good use by one of our students!
When I first shared the story with mom's classmates, the other moms were incredulous.  How could she not know she was in labor?  Was her labor short?  Was labor going to be so easy that their babies are just going to appear without a big fanfare?
Well, this is the story as best as I can put it together for now.  I still haven't gotten to hear the story from Mom and Dad together – when we do, I will film it and add it to our Birth Story video archive.  Here is Baby Caroline's Mother's Day birth story:
Mom and Dad had been planning and practicing for a homebirth with a midwife.  They decided to take Bradley Method® classes so that Dad would know how to coach mom through labor while the midwife attended to mom's and baby's needs as the labor progressed.  Their hope was that the Mom's mother would also be in town as an assistant coach.  Either way, Dad was ready to be Mom's go-to guy.
Mom was woken up on Friday morning by a strong sensation in her abdomen.  In Arizona, per statute R9-16-108 (see Reference 1), a midwife cannot attend a birth unless mom is between 36 and 42 weeks of gestation.  Since Mom was only at 35 weeks gestation and their midwife was heading to Florida to see her grandchildren, she decided not to pay attention to the tightening.  She also had a conversation with her sister who is studying to be a midwife and failed to mention the tightening to her.  Looking back, Mom reflected that she didn't want to be told to go to the emergency room, so she decided to move on with her day.
Saturday found the couple down in Tucson spending time with Dad's family and enjoying the Mother's Day holiday weekend.  Mom was baking bread with her sister-in-law and SIL noticed that Mom was pausing every once in a while.  Mom told her SIL she was having some contractions but she was only 35 weeks, so it couldn't possibly be labor, right?  SIL concurred that it was probably just her uterus getting ready for labor. 
After celebrating Mother's Day with Dad's family on Sunday, Mom and Dad were getting ready to head up to Phoenix for Dad to attend a conference.  Mom finally had a contraction that took her breath away, and she told Dad, "Let's use this one to practice our relaxation."  Dad agreed and started with a back rub, moved to the front where mom curtly told him "Don't touch my uterus!"  He continued with a back rub and then worked his way forward again and Mom had to tell him not to touch again because it was too uncomfortable.  (Students:  what phase of labor is she in?)
Mom admits upon looking back now that she was just in denial.  They made the drive from Tucson to Phoenix and got to the hotel.  Mom felt a gush of water and thought that she had wet her pants.  She was hot and sweaty and she threw up once they were in their hotel room.  (Students:  what phase of labor is she in now?)  She was very uncomfortable and decided to lie down.  She told Dad that she must have a really bad case of food poisoning and that the best thing to do was lie on her side and be still and relax through the terrible discomfort she was experiencing.  Dad did his best to comfort mom at this time and stayed by her as she was in bed.
All of a sudden, Mom declares that she has to have a bowel movement.  She sat on the toilet and was pushing, but nothing was coming out of her anus.  She checked and couldn't believe that she couldn't pass this painful stool.  Mom and Dad agreed that a bath would help Mom relax her muscles and then maybe she could relieve herself.  So Dad drew the bathwater and Mom got in.  Dad reported that Mom felt instantly relief in the water, so that made them feel better.
Well, the next thing they know, the bath water turns red.  Now the couple is truly concerned and they call 911.  Dad reports that the 911 dispatcher "didn't buy" the constipation story and told Dad to have Mom get out of the water and see if he could see the baby's head. 
Mom lifted herself out of the water, and Dad reports that in the very next instant, Baby Caroline made her appearance.  Dad caught their daughter and it was official – not only was he a Bradley Dad, he became a Bradley Dad who caught the baby!
Mom relayed that the next few minutes were very peaceful.  Baby Caroline did not cry, yet she was breathing on her own and very alert.  She says that they admired their daughter and held her and enjoyed their incredible accomplishment – their new baby and her incredible birth story.  When they got to the hospital, Baby Caroline was declared to be a 10 on the Apgar scale and she weighed in at 5 pounds, 5 ounces. 
What did Mom and Dad do well as per the instructions we cover in class? 
- They stayed calm, and Dad reassured Mom that everything was okay (although Dad says if we hear the 911 tape it will sound like he "lost his mind"). 
- They kept their hands away from the birth canal. 
- They verified that their daughter was breathing well after she was born and put her face down on Mom's abdomen to stay warm. 
- When the baby was crowning, they did not pull on her, they just let her be born naturally. 
- They did not pull on the cord and let the placenta (afterbirth) come naturally. 
They ended up going to the hospital in an ambulance and have had many unwanted interventions due to their "unsterile" birth.  I am happy to say that after two very trying days at the hospital, the family finally seems to be getting the support they need and hope to be released with their very healthy baby girl tomorrow. 
I want to thank the family for allowing me to share their incredible birth story with you.  I hope that you can read this and recognize that childbirth without drugs is possible, and that if you don't pay attention too soon, you can manage most of your labor without too much trouble.  Mom slept both Friday and Saturday nights because she ignored her labor!  She looks great, has good energy and her body is busy making food for their baby thanks to the rest she got during their labor.
As I mentioned earlier, The Bradley Method® does not endorse unassisted deliveries.  An experienced childbirth couple probably would have recognized the signs of late first stage and/or transition and gotten to their chosen birthplace with ample time to deliver with a trained assistant.  In this couple's case, they were too far from home to make it there and their midwife was not available, so their birth plan would have changed to a hospital birth at the last minute.  I am so happy that "all's well that ends well" and that Baby Caroline will have a very unique birth story to share for the rest of her life!
References:
 (1) http://www.azsos.gov/public_services/title_09/9-16.htm#Article_1
Disclaimer:
The material included on this site is for informational purposes only.
It is not intended nor implied to be a substitute for professional medical advice. The reader should always consult her or his healthcare provider to determine the appropriateness of the information for their own situation. This blog contains information about our classes available in Chandler, AZ and Payson, AZ and is not the official website of The Bradley Method®. The views contained on this blog do not necessarily reflect those of The Bradley Method® or the American Academy of Husband-Coached Childbirth®.
Categories: Birth place options, Birth plans, Birth Story, Bradley Method® birth story, Bradley Method® outcome, Bradley® Coaches, Coaches, Coaching, First stage labor, Second Stage Labor, The Bradley Method®, The Bradley Method® classes, Transition, Variations and Complications
/