...celebrating every swee​t pea their birth
| | |
| --- | --- |
| Posted on August 9, 2011 at 2:56 AM | |
Dr. Jack Newman
in Mesa last Wednesday.  It is an understatement to say it was informative.  His presentations left my head spinning; and in awe of good lactation consultants who help mothers feed their children and teach families how to have the best breastfeeding relationship possible. 
There is no way I could write a summary on everything we heard that day.  What I do want to touch on today are three of the "Important Truths" he outlined about breastfeeding.
His first premise is that
almost all women could breastfeed successfully if they had a good birth, good help and good support
.  He should know – he has been a pediatrician for over 30 years and has seen many thousands of breastfeeding pairs through his clinic.  The challenge to this statement enters in the fact that so very few of us have what could be considered a "good birth" in biological terms.  He offered this information from
Diane Wiessinger, MS, IBCLC
, who has a private practice in Ithaca, NY, to demonstrate his point:
- We have ample literature on birth in both domestic animals and zoo animals
- The resounding message for helpers in all the literature is: If possible, stay out of the way
- Mammalian mothers choose their own birthplace, usually somewhere secluded and quiet
- They experience all the sensations of labor
- They feel the delivery
- They smell the birth
- They smell themselves on their baby
- They clean up from the birth themselves and never lose track of where their babies are
- The babies follow a pre-programmed behavior that leads them from the vaginal opening to the nipple
- When any of these links is disrupted, there is a high likelihood that the mother will reject the baby or that the baby will be too confused to complete his role
- The lesson that shouted out to me from all the literature I read – a lesson that took me 30 years to figure out – is that there's very little information on mammalian infant feeding
- It's all about the birth
- Following a normal birth, infant feeding just…happens
- Following an interventionist birth, the mother rejects the baby and there is no nursing at all
 - Our hospital births break every rule in the mammalian list of mother-baby necessities
Students of The Bradley Method® attend class in order to prepare to have the most natural experience possible.  Given the fact that most births today have varying degrees of intervention from how they start to how they progress to separating moms and babies after they are born, getting good help and good support become an important part of the equation.  Many hospitals are employing lactation consultants, so you can ask for help from them if you have a hospital birth. 

If you have a birth center or home birth, at least you are in a setting with minimal if any interventions, and your care provider is usually the one to assist with any questions or concerns.  After the initial experience, La Leche League is a great resource for peer-to-peer counseling, or you can find an internationally certified lactation consultant by visiting the
IBCLE website
. 
His second premise is that the notion that formula is almost the same as breastmilk is patently untrue.  He states that formulas aren't even close if you look at the biochemistry.  Among the things he said that got a roomful of laughs was that breastmilk and formula are the same only in that they both look white!! 
One of his presentations went through several of the different ways that breastmilk is a unique food, from the way its formulation changes with each feeding, and how it changes over the term of the breastfeeding relationship to meet the child's developmental needs.  A point of interest that I had never heard before was that the amount of immunities in milk actually increases as the child gets older!  It is amazing that our bodies know that a child who is out and about and more independent at 18 months needs more protection than a newborn baby who is always close to momma!
A formula-fed baby will only receive what science has been able to extrapolate from human milk to date, and the feeding is monotonous and unchanging, never meeting all of a baby's needs.  Dr. Newman made an observation that as formula is "new and improved", what does that say about the countless children who received formula before the improvements?  What were they getting in their bottles?
The statement that he made several times that stood out the most, and a phrase that I am definitely going to incorporate into our future Bradley Method® classes is that breastfeeding is much more than breastmilk.  We teach this implicitly when we talk about the benefits of breastfeeding, however I have never made the connection until last Wednesday that this simple phrase encapsulates all the reasons why it's important to strive to nurture this relationship and feed our young children the way nature intended.
They are largely successful at the International Breastfeeding Center (Toronto, Canada) in getting a breastfeeding relationship established.  However, he was quite frank that there were cases where the baby never took to the breast.  He didn't offer any statistics; my impression is that these cases were few and far between.  I hope that moms going to his clinic would know that if the staff at the Center couldn't help, then maybe they could find peace in the knowledge that they made their best effort.  These families would be the instance where formula was used appropriately: as an alternative for mother's milk when the mother's milk was truly not available.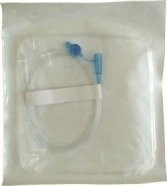 I also want to make readers aware of an incredible tool: the lactation aid that they use at his clinic.  It is a feeding tube that is used to supplement the baby at the breast instead of using a bottle to supplement.  Going back to his statement that, "breastfeeding is more than breastmilk", this aid allows mothers to feed their baby at the breast: it helps prevent nipple confusion; and when a mom has low milk supply, it affirms to the baby that their mother's breast is the source of food as well as comfort.  Here are the links for more information on how to use this aid and for ordering information.
Lactation Aid Info
Lactation Aid Video
Ordering info
Our classes on breastfeeding will be forever changed and much improved thanks to Dr. Newman's seminar.  I am so grateful that I attended early in our work as Bradley Method® instructors.  I look at it in the same vein as the babies who got formula before it was "new & improved" – I am glad that most of our moms have been able to establish good breastfeeding relationships with their babies based on our personal knowledge, Bradley® training, La Leche League and referrals to lactation consultants.  I trust that future classes will benefit from a very informational day!
Disclaimer: 

The material included on this site is for informational purposes only.
It is not intended nor implied to be a substitute for professional medical advice. The reader should always consult her or his healthcare provider to determine the appropriateness of the information for their own situation. This blog contains information about our classes available in Chandler, AZ and Payson, AZ and is not the official website of The Bradley Method®. The views contained on this blog do not necessarily reflect those of The Bradley Method® or the American Academy of Husband-Coached Childbirth®.
Categories: Breastfeeding, Breastfeeding 101, Breastfeeding support, Homebirth, Hospital Birth, Information Center, The Bradley Method® classes, Why we chose the Bradley Method® childbirth classes
/