...celebrating every swee​t pea their birth
| | |
| --- | --- |
| Posted on August 12, 2011 at 2:21 AM | |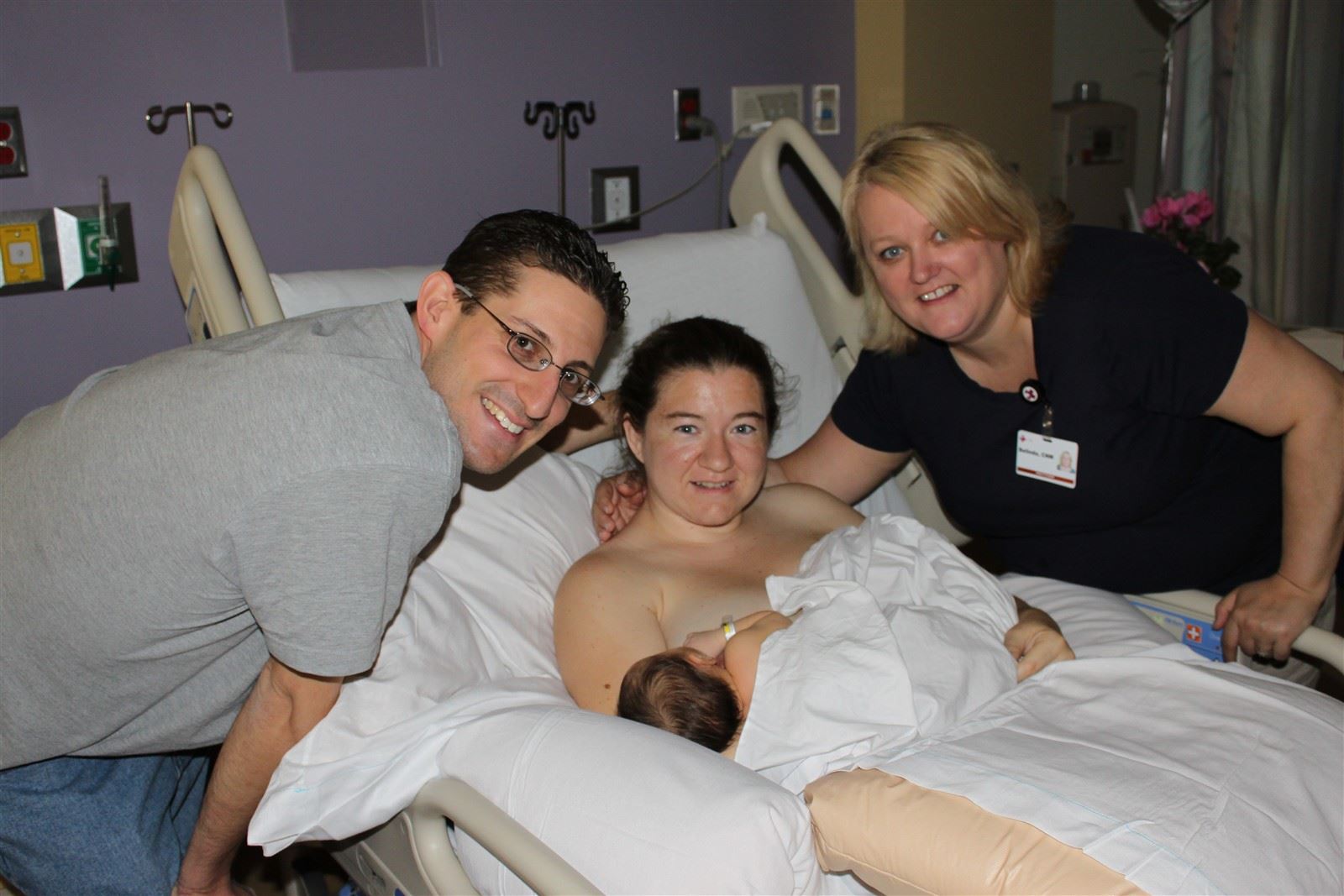 30 hours old
Baby Madeline is nursing contentedly at the breast after her labor and delivery - Erica showing how skin-to-skin is best for establishing the nursing relationship. Pictured here with Coach Mike and the amazing Belinda Hodder, CNM from Valley Women for Women. We love her!!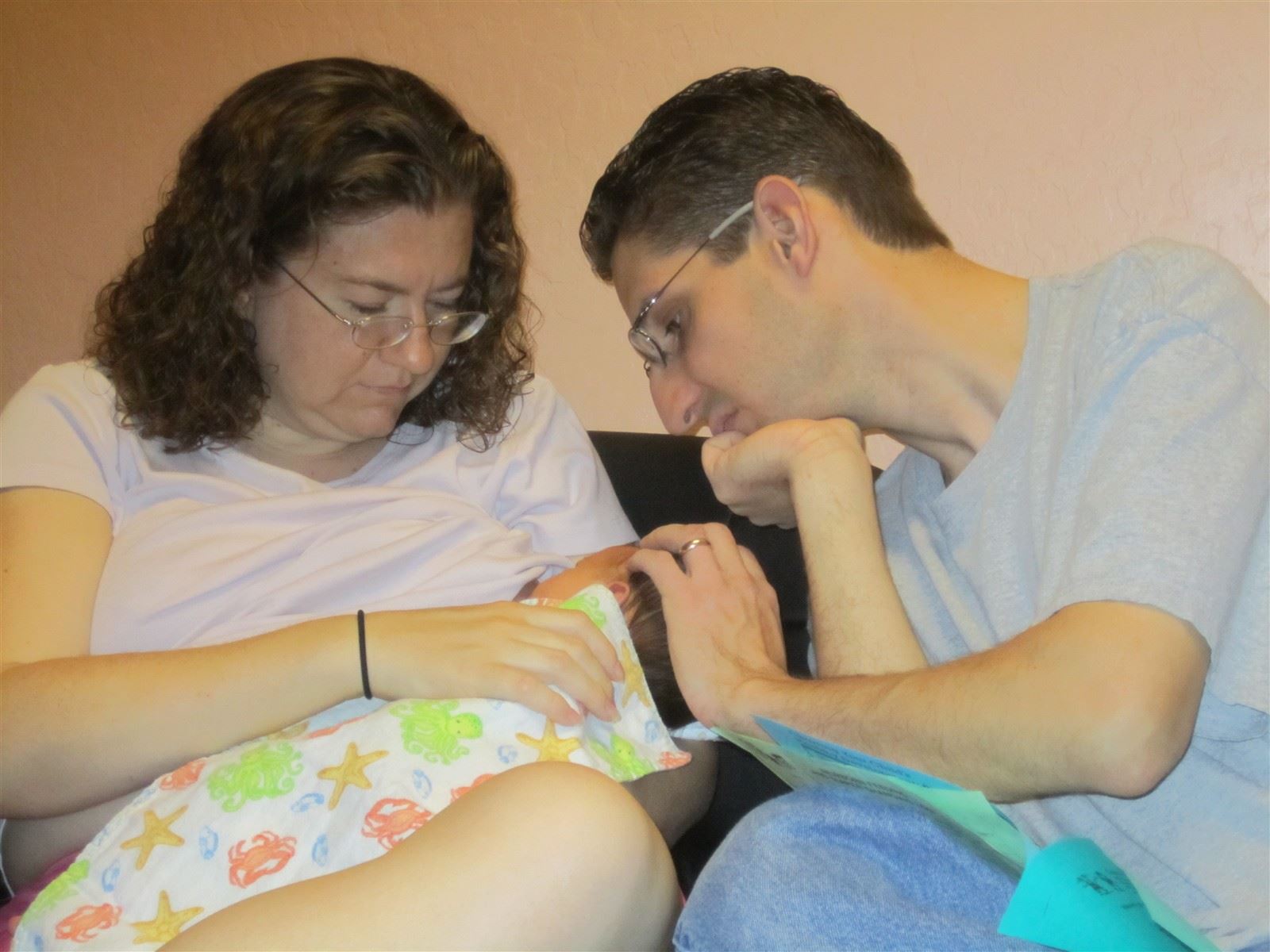 2 days old
And breastfeeding continues at the pediatrician's office.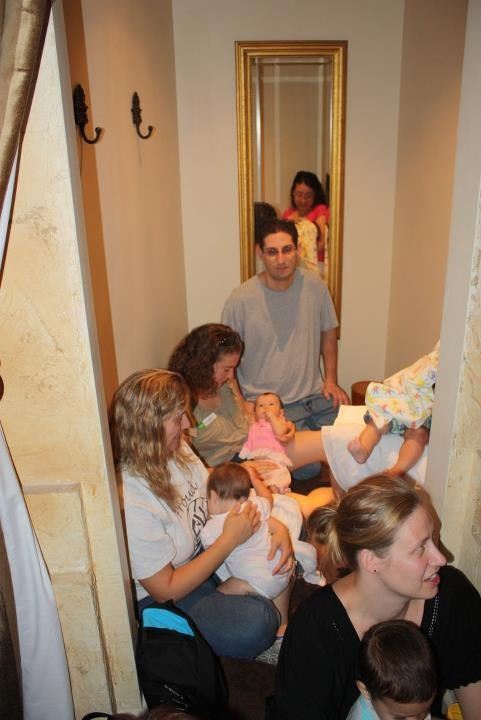 Almost 4 months
At the Big Latch On at Modern Mommy Boutique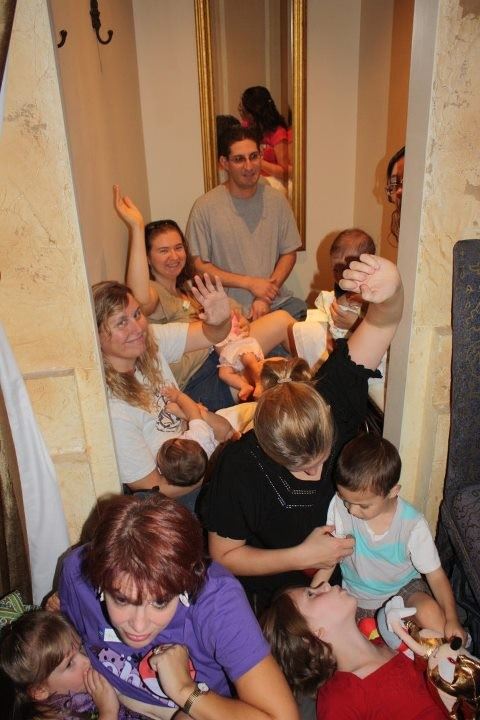 Almost 4 months
Nursing with confidence - one-handed with a wave and a smile!
Here is another post written by one of our students.  Her daughter Madeline is now almost four months old.
As I look at the pictures, something else is striking.  This nursing couplet is always accompanied by Dad, Coach Mike.  This family is a beautiful example of breastfeeding success: a committed mom, a willing child, and a loving, supportive husband.
Here is Erica's Story:
There were so many factors in my choice to breastfeed.
By far, the number one reason was for the baby's immune health.
Learning the benefits of colostrum (first milk) from our Bradley® class with Krystyna and Bruss Bowman, AAHCC was very motivating.
How cool that this milk is packed full of immunoglobulins from the mom to protect the baby against disease, helps to develop the gut, is high in protein, and has a laxative effect on the baby to encourage passing meconium - in turn helping to clear bilirubin (minimizing the risk, or at a minimum the severity, of jaundice).
I went back to work after 12 weeks of maternity leave.  Around week four I started pumping milk and introducing breast milk in a bottle.  My husband and I sought the support of an IBCLC to learn how to best teach the baby to not have nipple confusion.  If anyone has questions, I would direct them to Kathy Shay-Shapiro, RN, IBCLC at Chandler Regional Medical Center to get help (at no cost).  She taught us the techniques to store milk, feed baby from a bottle, etc.  It takes a little extra effort, but it works! 
I was at the zoo during my third trimester of pregnancy and observed a woman nursing her child without a cover.  I was stunned that was even an option! 
Then I had the baby and I was so scared to nurse in public.  We stopped at the drugstore and were waiting for a prescription when our 5-day-old baby became hungry, but I didn't have a cover…not even a blanket.  My husband did a great job blocking the view of people passing by.  I've read that public breastfeeding helps to teach the next generation; I have no problem nursing discreetly in public now.
Great resources I used to support my choice to breastfeed were:
1. Paulie Gatchell R.N., IBCLC at our pediatrician's office (I truly would have given up without her),
2. The book "The Womanly Art of Breastfeeding",
3. Our Bradley® class,
4. My Mom (she breastfed my two sisters and I),
5. My supportive Husband,
7. Breastfeeding support groups led by Tracey Grady, RN, IBCLC at Mercy Gilbert Medical Center and Kathy Shay-Shapiro, RN, IBCLC at Chandler Regional Medical Center (yes I went to both!). 

These certainly are not in any order of importance; I was so determined to succeed!
My advice to families starting to breastfeed:
It hurt a lot for me until the baby's latch was corrected – don't give up if this happens, seek help ASAP. 

- IBCLC's (highly-trained and very experienced lactation consultants) are very creative. 

- La Leche League of Arizona meetings - you can attend these while pregnant as well as after baby arrives (
www.lllofaz.org).
- Breastfeeding support groups were wonderful places to meet other women to learn from, and now share with. 

Breastfeeding for me had a high learning curve, but once you get through those first few weeks everything gets so much better!
Disclaimer: 
The material included on this site is for informational purposes only.  It is not intended nor implied to be a substitute for professional medical advice. The reader should always consult her or his healthcare provider to determine the appropriateness of the information for their own situation. This blog contains information about our classes available in Chandler, AZ and Payson, AZ and is not the official website of The Bradley Method®. The views contained on this blog do not necessarily reflect those of The Bradley Method® or the American Academy of Husband-Coached Childbirth®.
Categories: Breastfeeding, Breastfeeding 101, Breastfeeding support, In Their Own Words, Information Center, The Bradley Method® classes
/