...celebrating every swee​t pea their birth
| | |
| --- | --- |
| Posted on August 16, 2011 at 6:37 AM | |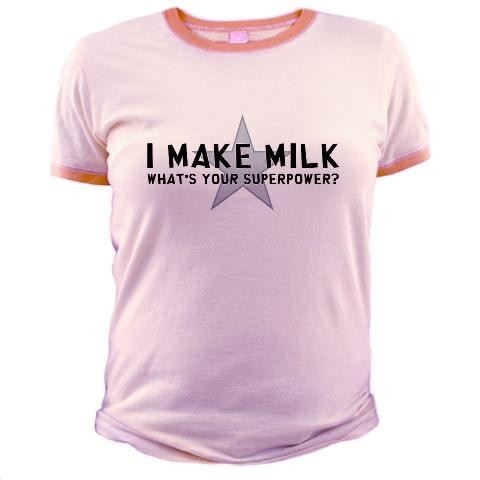 What do you think - are you a lactivist?
Fromthe Wikipedia topic, "Lactivism"
"Lactivism (portmanteau of "lactation" and "activism") is a term used to describe the advocacy of breastfeeding. Supporters, referred to as "lactivists", seek to promote the health benefits of breastfeeding over formula-feeding and to ensure that nursing mothers are not discriminated against.
Another form of lactivism is simply acting as support for mothers that wish to breastfeed. Some mothers may not have the information necessary to succeed, and some have been provided incomplete or misleading information by healthcare professionals, friends, family members, and others that have no experience with breastfeeding. This support often also includes help for mothers who initially had a hospital lactation consultant that opted for formula at the first sign of difficulties with feeding."
From the Urban Dictionary On-line
1. A lactivist is a lactation activist: someone who considers him/herself an advocate for breastfeeding, whether or not s/he's nursed. Lactivism comes in many forms: choosing to breastfeed, choosing to breastfeed for an extended period of time, choosing to breastfeed in public, choosing to smile at a breastfeeding woman, encouraging other women to breastfeed, educating the public on the benefits of breastfeeding, lobbying for pro-breastfeeding legislation, etc.
2. a woman who nurses her child in public as a protest against people uncomfortable with seeing breastfeeding.
How is this for an interesting point: as I was looking up the definition of "lactivist" on the Internet to see how my personal beliefs fit into the definition, I did not see Merriam-Webster pop up as a link.  I deliberately went to their site to look up the word, and got the message, "The word you've entered isn't in the dictionary."  As the next step in raising awareness, our goal as breastfeeding families may be to see this word entered into an "official" dictionary.
Anyway – back to the topic at hand…do you think you are a lactivist?  The more we teach the Bradley Method® and see how these babies thrive on breastmilk, the more convinced I am that I am going to have to start wearing breastfeeding tee-shirts to raise public awareness on the overwhelming benefits of breastfeeding.
I have evolved from a nervous mom who, as
Debbie Gillespie
likes to say, covered up from the neck to the ankles in order not to offend anyone.  I would pump like crazy before a plane trip so that I could bottle-feed Ysabella in case breastfeeding was "inconvenient" during our ride.  I would politely agree with people that chose not to breastfeed (non-medical reasons) that their babies would be fine on formula in the long run.  I would even wear a nursing cover in our own home when people were visiting!
In looking at my transformation from an apologist to a lactivist, the setting that motivated me to take a stand for breastfeeding was our children's swim school.  Before Bryan was old enough to swim, we would take the two older kiddos to their classes and I would sit with Bryan in the observation area.  There was another mom with an infant who always bottlefed her baby.  I know enough to recognize the thick white color of formula – not that the powder in the bottle wasn't a giveaway.  On top of that, she didn't always hold her baby when she gave him the bottle. 
It's one thing to stop nursing for medical reasons, which as I learned from
Dr. Newman
, are few and far between when a mom has had a good birth, good help and good support.  Not knowing this mom's story, I was appalled that maybe even with a good reason, this mom was not only compromising her baby's gut, immune system, and intelligence, but that she did it so carelessly!!  If you are going to supplement or replace your milk, I feel that you could at least look your baby in the eye and give them your love if you are not able or willing to nurse them.
The way I approach it, being a lactivist is not about baring skin or daring people to challenge me.  It's about the fact that our breasts are physiologically designed to feed our children.  We have allowed prudishness on one end of the spectrum, and sexualization on the other end, to dictate how and when we use our breasts to feed our children.
I, for one, am finished with nursing covers.  I want to reiterate that I can nurse in public and show less skin than a lingerie model, or most models for that matter, who bare their skin in advertisements and storefront displays.  I love my nursing tops with built in flaps that I use as I lose my pregnancy weight, and my Modest Middles nursing tanks that let me nurse wearing any stretchy or front opening blouse in my wardrobe to nurse.  I am comfortable in my own skin if I accidentally flash a nipple or flesh in public while my baby latches.  I am joining my fellow lactivists in making "breasts = feeding" the norm in our society.
Over the year of teaching Bradley Method® classes and sharing the benefits of nursing with other families, and expanding on my own knowledge of breastfeeding with La Lache League Meetings, additional reading and training, I also feel motivated to inform people that formula is not, and never will be an adequate substitute for breastmilk.  In my book, the formula companies are criminally responsible for compromising the health of generations of children by promulgating the notion that their science is equal to our incredible design.  Equally complicit in this great lie are the hospitals that do not support the choice to breastfeed, or that do not teach new mothers how to keep their milk supply up when their babies are born prematurely or they have had traumatic birth experiences.
In answer to my own question: Yes, I am a lactivist, and proud of it.
Related Links:
How Your Breasts Make and Deliver Milk from Dr. Sears.com
In case you are interested, here is the ordering info for the tee-shirt pictured above:
Disclaimer: 
The material included on this site is for informational purposes only.  It is not intended nor implied to be a substitute for professional medical advice. The reader should always consult her or his healthcare provider to determine the appropriateness of the information for their own situation. This blog contains information about our classes available in Chandler, AZ and Payson, AZ and is not the official website of The Bradley Method®. The views contained on this blog do not necessarily reflect those of The Bradley Method® or the American Academy of Husband-Coached Childbirth®.
Categories: Breastfeeding, Lactivist, NIP, Nursing In Public, Parenting
/