...celebrating every swee​t pea their birth
| | |
| --- | --- |
| Posted on September 6, 2011 at 11:49 PM | |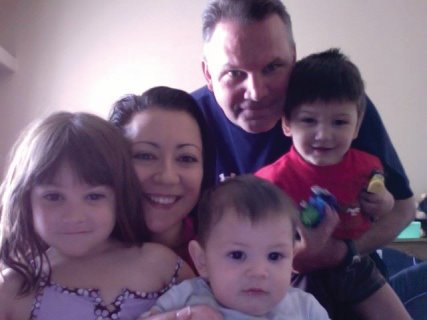 Argh!  I feel like a working-out-of the home person again!!  Since yesterday was a holiday and we didn't do schoolwork, I am working like today is Monday and I have one more day to write…the joke is on me!
We are actively working on preparing our kiddos (ages 6, 4 and 2) for our homebirth since we are at 35 weeks now.  Here are some of the things we are doing:
1.  We are watching birth videos with them at night so that they have an idea what it might look like, sound like and how we are going to work together to have the baby.  One of my favorites is "Children At Birth" by Hathaway Productions and distributed by the American Academy of Husband-Coached Childbirth®.  This shows five different births attended by siblings, all with different levels of involvement by the siblings.
2.  We are talking about what "working" looks like. We ask them to show us what they look like when they work hard.  We ask them questions like, "What kind of faces do think Mommy might make if she is working hard?"   As it turns out, our social studies and Bible study lessons the last week have been focusing on how the Holy Trinity works together, and it's making a great tie-in to how our family is going to get to work together to welcome our baby.
3.  We are talking about how the birth will progress from start to finish.  We have shared with them the different stages of labor and what we may or may not be doing, and if they feel like they want to help, how they can help us. 
4.  We talk about how there is probably going to be some fluid and maybe some blood that comes along with the baby, and they have gotten to see that on the videos.  One of the very important things for me to emphasize with them is that if at any point they don't like what they are seeing or if it's not something they want to see in person, that they can come and go as they want.  We tell them they are welcome anytime and they can leave anytime.
5.  We are doing relaxation practice so they can see how Bruss talks to me and touches me.  We allow them the opportunity to be involved or not.  Pretty soon we will need to step it up to a labor rehearsal so that they can understand how long a minute is when Mommy is having a contraction.  I think it will seem longer to them than it will to me!
6.  We are going to make a list of things that will be likely to happen when we go into labor on butcher paper and hanging it in our schoolroom for us to review and revise as we have different thoughts.  On the list are things like: who is going to come over to watch them, what they can do while Mommy and Daddy are in labor, that the midwife will come as labor progresses, etc.  We made one of these lists when we were expecting our second child, and looking back NOTHING happened as per the list except that we left without a baby and came back with a little brother from the hospital.  I don't know what will happen according to our new list.  I think the point is to give the kiddos some sense of what to expect to ease anxiety and the unknown, and to that end, it is worth the exercise.
7.  We have told them how we labored in the past and how I might get to a point when I don't want to talk and I don't want to be touched as we get to what is called "transition".  We follow with the statement that this will probably mean that the pushing work is near and that we will want to get to this point so we can meet our baby very soon!
What I have found fascinating about this process is that the kids want to know if the births they are seeing is their birth, which then leads to us showing them their birth story pictures.  I am learning that our children are very interested in how what they are hearing applies to them, which is important to remember as I teach them not just about childbirth, but life itself. 
In the last two days we have seen an interesting behavior shift in our home.  I wonder if they will feel reassured that their place in our family is secure if we make an effort to consistently tell them how they fit into the picture stories we are telling them.  It would be a relief to see our generally sweet children show up again.  
We have our home visit with the midwives tomorrow.  This is our first time ever doing this.  I will write about that on Friday since I know we are among the growing number of people choosing homebirth.  This is all new to us and we are excited to be able to experience this and share it with you.
As a reminder, our fellow teacher, Rachel Davis, AAHCC is going to write an in-depth look at sibling preparation while I am on "maternity leave".  I am looking forward to having her share her great information with you! 
What do you think – how did you prepare your children for the arrival of their next sibling?  For those of you that had a homebirth, did you have any pleasant surprises in your children's involvement or reactions? 
Disclaimer:
The material included on this site is for informational purposes only.  It is not intended nor implied to be a substitute for professional medical advice. The reader should always consult her or his healthcare provider to determine the appropriateness of the information for their own situation. This blog contains information about our classes available in Chandler, AZ and Payson, AZ and is not the official website of The Bradley Method®. The views contained on this blog do not necessarily reflect those of The Bradley Method® or the American Academy of Husband-Coached Childbirth®.
Categories: Homebirth, Information Center, Midwife, Planning for Baby, Sibling Preparation for Newborn Arrival, Transition
/