Shopping Cart
Your Cart is Empty
There was an error with PayPal
Click here to try again
Thank you for your business!
You should be receiving an order confirmation from Paypal shortly.
Exit Shopping Cart
...celebrating every swee​t pea their birth
| | |
| --- | --- |
| Posted on September 20, 2011 at 11:07 AM | |
As part of our Bradley Method® class, we encourage all of our students to take a tour of their birthplace.  In the event that a couple is planning a birth center or home birth, we encourage them to tour the hospital that their care provider would transport to "just-in-case". 
There are many reasons why taking a hospital tour are important: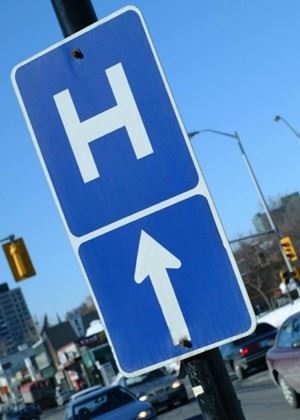 1.  You know how to get there and can plan alternate routes in the event of traffic.

If your care provider offers you a choice of hospitals, then this could be a deciding factor in which facility you choose.  It is also important to plan a couple of alternate routes to your birthplace in the event of road closures or traffic jams.

 


2.  You get to a chance to familiarize yourself with your birth setting.

It is good to know information such as: where you can drop off mom, where you can park, where registration is, where triage and the labor & delivery rooms are, where can you receive visitors, where can you find food and beverages, what happens if you arrive "after hours" and you need to use a different entrance.

 


3.  You can prepare for the hospital or birth center experience.

Once you have answers to the items in #2, you can better plan for your trip.  If you hare having a planned hospital or birth center experience, once you know what's available, you can write a better packing list.  If you are planning a home birth, you can have an idea of what to expect in the event of a transport.

 


4.  You can fill out pre-registration forms and save time on baby's "birth-day".

Anything you can do to save time and have Coach stay with Mom is a benefit to your birth experience.

 


5.  You get to hear "the rules" from one of the staff members.

This is your opportunity to ask all the questions you have about your birth setting.  The more medical the setting, the more "rules" you can expect them to have in place.  If there is anything that causes you concern, be sure and discuss it with your care provider.

 


6.  Knowing "the rules" can help you write a better birth plan.

If you and your care provider have agreed on one thing, and your birthplace is telling you something different, you will probably want reconcile the difference(s) before you go into labor.  We have found that having our care provider sign off on our

birth plan 

increased the likelihood that the things we wanted were respected during our labor.

 


I want to share two of our student's insights as this topic came up throughout the class.  One of our first time moms's shared an "a-ha" moment they had on their hospital tour.  Their impression of their chosen hospital is that it is very natural-birth friendly.  Their tour guide told them the hospital welcomes doulas, that laboring moms are free to move about, enjoy the labor garden, try different positions…their first impression was that they can do whatever they need to have a positive birth experience. 

 


This mom was stunned to hear that if a couple decides to have an epidural, all those options are thrown out.  As someone who has been around natural birth for a while and since I have seen moms on epidurals, I forget that this is a news flash to most first-time moms.  Once a woman decides to have an epidural, she is now officially on the "medical track" and the bed in her room is the only option she has.  Why?? You cannot target a medicine to only one part of the body.  Because you are being administered an analgesic, it doesn't just suppress pain.  It also has the potential to affect your and/or your baby's heart rate, blood pressure and your breathing among other things – it all depends on the reaction(s) to the "cocktail" you are administered. 

 


Given the fact that the drugs can have an adverse effect on the mother and/or the baby, once you have been administered the epidural you and baby must be continuously monitored so you will have two monitors (one for mom, one for baby) strapped to your abdomen and connected to the machine.  The tube delivering the medication is inserted in your back, and it's taped all the way up to your shoulder.  You will have a continuous IV drip, so there is a needle and a tube to the IV.  You will have a blood pressure cuff.  They put a pulse oximeter on one of your fingers.  As you can imagine, you are not allowed to get off the bed – there is no way to maneuver or try different standing or moving positions with so many tubes and wires.  Since you can't get to the bathroom, you are catheterized.  In the event that you had been eating and drinking freely before the epidural, you will probably be restricted to ice chips for the duration of your labor.  Hence, all the "butterflies and flowers" you have written down on your birth wish list are exchanged for the hard and fast rules that accompany the medical delivery of your baby.

 


The second insight that was shared came from one of our moms that has already had two hospital births.  She suggested that taking the hospital tour is a good way to gauge how comfortable you really are in a hospital setting.  I think her point was that if you have any issues with being in the hospital, they have the potential to be amplified when you are dealing with the "what ifs" or the unknowns of your birth experience.

 


Take the time to evaluate: Do you have any triggers that might send you into a negative spiral when you get to the hospital?  Negative past experiences, bad memories, maybe the smell.  Does anything send you over the edge when you go to a hospital?

 


If you discover that the idea of being in a hospital is challenging, then you need to think about your options.  Can you do some mental preparation; maybe write some affirmations that will help you better manage your hospital experience?  Are you practicing your relaxation diligently so that you will be able to relax in spite of your setting?  Are you and your Coach willing to look at other alternatives, maybe consider a birth center or a home birth?  If you choose an alternate birthplace, how will you cope in the event of a transport?


 


Bruss has a saying, "You will be the birth experience you bring with you" to your birthplace.  So far, we have had three positive hospital experiences because we prepared our birth plan with our care provider, we were comfortable with the hospitals we went to, and we communicated our desires well as a team to the staff during our labor and delivery.

 


Which questions did you ask and find helpful when you toured your birthplace?

 


 


 


 


Disclaimer: 

The material included on this site is for informational purposes only.  It is not intended nor implied to be a substitute for professional medical advice. The reader should always consult her or his healthcare provider to determine the appropriateness of the information for their own situation. This blog contains information about our classes available in Chandler, AZ and Payson, AZ and is not the official website of The Bradley Method®. The views contained on this blog do not necessarily reflect those of The Bradley Method® or the American Academy of Husband-Coached Childbirth®.

 


Categories: Birth center, Birth place options, Birth plans, Epidural, Homebirth, Hospital Birth, Midwife, Midwifery Care, The Bradley Method®, The Bradley Method® classes

0

/