...celebrating every swee​t pea their birth
| | |
| --- | --- |
| Posted on October 14, 2011 at 8:19 AM | |
My mom arrived from Chicago to relieve my aunt at around 4:00 pm on Friday afternoon.  She came in to see how I was doing.  She asked, "How are things going?" which of course started the tears again.  Being a woman of great faith, she said a beautiful prayer over us, then gave me a kiss and left the room to go take care of the kiddos.  I pulled myself together and decided I wanted to go see our children.  I missed them and one of the benefits of a homebirth is having those you love near to you.  We took a quick cruise around the house and saw the kiddos, and we decided it was cool enough to try walking outside again – maybe just one more time – to see what would happen.  
This walk confirmed our suspicions.  This baby wanted me on my side.  Nothing upright was working to progress the labor.  I lost it again – why was this happening to us?  Why couldn't just once, my body work like a "normal" woman in labor??  
Up to this point, we had had student midwives checking vital signs on mom and baby.  I asked if we could have Wendi check me the next time just to be sure that we were both doing as well as they thought we were doing.  I wasn't concerned about infection despite the fact that the membranes had ruptured going on 18 hours.  I had been good about taking Vitamin C every couple of hours, we hadn't had one vaginal exam or external vaginal probing that was introducing germs "upstream" as we say in class.  My concern was simply that although I felt strong and the baby sounded good, we had been going at this since 5:00 am on Thursday morning and I wanted peace of mind that we could continue at whatever pace the baby needed.  
Bruss and I also talked about having the midwives go or stay, and we were not sure what to ask of them.  We conveyed this to Wendi when we talked to her.  I felt so bad having them stick around for "nothing".  At the same time, I was wondering when we would call them back when our labor finally picked up.  Having spent so much time with us at our prenatal visits, they knew our birth history and knew that this had been our labor pattern in our previous births.  They assured us that they were comfortable, and happy to continue waiting patiently for baby to make her appearance.  
In the meantime, this birth also confirmed our choice to have a homebirth.  We had been in labor for 36+ hours now.  If we had been in the hospital, we would have been subjected to multiple vaginal exams by now.  If we had gone home and then returned after our water broke, we would have had a very hard time leaving again without signing a multitude of forms when it was clear that labor was not progressing.  I had declined the GBS test since we made an educated decision to take supplements that supported a healthy vaginal track, and I was confident that Dr. Ross' KST check confirming that I was GBS negative was accurate.  Under medical care from an OB, I would have had to have the GBS test and had I tested positive, I would have been pumped with penicillin and IV fluids every four hours.  By now my hand would be swollen at the hep lock site, and my feet and face would be puffy and uncomfortable.  
At home, we were allowed to have the gentle birth we wanted for our child.  We listened to my body and followed the cues, however unbelieving that "this" was our labor.  We were able to sleep and eat to keep our energy up.  Our baby was monitored with a Doptone monitor every hour for a few seconds, which let us go back to the position we needed to be in for her more quickly.  Our midwives were supportive and encouraging that we were doing well and to keep going like we were going.  
Bruss kept in touch with Andrea and Dr. Ross via text throughout the day and night – they were our doulas by text!!  As they made suggestions he would try them if we hadn't tried them already, as they gave us words of encouragement he would convey them.  
I would say I finally "accepted" the birth around 8:00 pm.  Bruss had given me wonderful assurances that this was the labor our baby and I needed every time I had started to cry.  He assured me that he was ready to labor just he and I – it had also become clear that having all the people around was starting to stress me out.   Despite the fact that a doula would be there to support us, he wasn't willing to call in another person to add to the group of people in the house already.  
We decided to watch a movie and both proceeded to fall asleep.  The midwives continued to come in and monitor us through our sleep.  I was still getting up every 45 minutes to use the restroom.  One thing we did REALLY well is stay hydrated.  We found that we still had the contractions when we stood up and moved from the bed to the toilet.  As I accepted that this was our labor, I remember reading birth stories about women who slept through labor until they woke up in time to push.  I figured that we might as well give it a try – who knew – maybe this could be our birth story since short and sweet was definitely out!!  
It was my perception that the contractions were every half hour.  I could sense that I was moaning in my sleep, yet they didn't feel so strong that they woke me up until it was time to use the restroom.  The midwives told me later that they had watched and felt my belly when I was sleeping, and I was having contractions about five minutes apart in my sleep.  
Somewhere between 10 and 11 pm, I could no longer sleep through contractions.  We decided to use the shower again.  We put a birth ball in there and let the water wash over me.  You know what happened – the contractions spread out again.  Since our baby was CLEARLY happier with labor when I was lying on my side, we set up a layer of towels in the shower and made a towel pillow.  I lay on my side, and sure enough, they contractions started getting hard again.  Although they were uncomfortable, I was happy to bear with them since I knew these were the type of contractions that were going to get us to the point of meeting our baby.  
Before we knew it, the shower stopped working as a relaxation tool, too.  I had a strong need to void, but I couldn't do it anymore.  We decided to move back to the toilet to see if I could void in the toilet.  It didn't take me two seconds before I declared that this baby was coming out *now*.  The birth stool that had been taunting me for 24 hours was finally going to be put into use!  
We got on the birth stool. I asked our midwife Wendi if this was really it.  She asked me to try pushing and if I didn't feel any pinching, to go for it and work with my body.  The next contraction came and I could push without pinching – so we did.  This is the one time when we could have used an extra pair of hands.  Since we didn't have them, Bruss got behind me and supported me in a dangle position off of the stool so I could bear down and also use more gravity behind the push.  Trying to be mindful that we were capturing this on video for possible use with future students and for our children to see, I made every effort not to yell out too strongly.  
We asked one of the student midwives to go wake up our children and my mom since it was clearly time to push.  Squatting didn't feel as good as it had with our other children.  After a few pushes in the squatting position, I felt like it would be best to move to my hands and knees, so there we went.  Bruss ended up on the floor with me, and as a contraction came, I would lean all my weight on him and bear down.  This is the first time I have been clearly conscious of the baby moving through my vaginal canal – it was amazing.  I could feel her crowning, and I remember that Night Owl looked at my bottom and said, "I see the baby!"  I told him to talk to her and tell her to come out, which he did!  A couple more pushes and I could feel that we had delivered her head.  Before I knew it, I was holding our lovely little Angélica in our arms and overjoyed with the wonder of the work we had done together.  
We pushed a total of 20 minutes – the most amazing 20 minutes of our birth.  My mom and Night Owl got to watch the majority of the pushing phase.  Puma came in just as Wendi was passing Angélika ("Otter") up to my arms.  Our photographer who we have known for six years got to capture the birth of our new family.  Our midwives were there supporting and loving on the whole process, one of whom was able to capture the birth on film.  It was a room full of love and joy.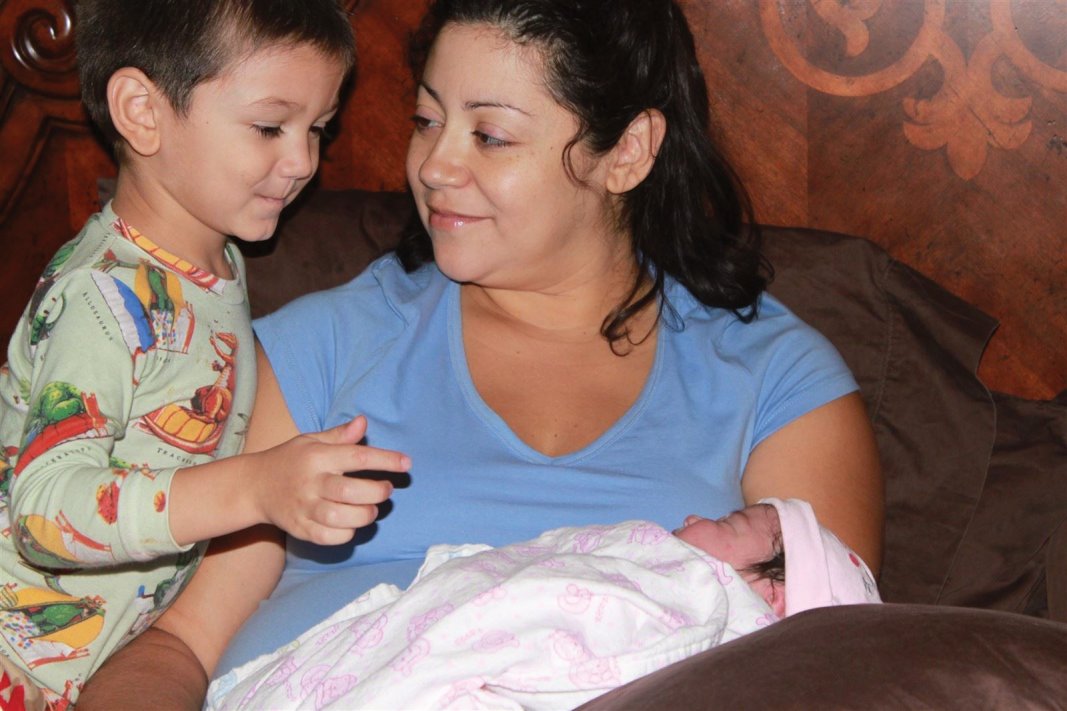 We marveled at this new creation that was now part of the Bowman family.  We looked at her face, her belly, her fingers and toes.  We checked to make sure that we were indeed holding the newest little sister…and we were!  The senior student cleared out Otter's stomach and nose with a little tube syringe.  She had taken in some fluid and was having a hard time getting her breathing started.  Within a few minutes of skin-to-skin contact with mom and some massage stimulation, her breathing assumed a normal pattern.  She got her full measure of blood – her cord stopped pulsing, we delivered the placenta, and then we cut the cord and got in bed.  It was probably an hour from the time we delivered to the time we all got settled in bed for the first time.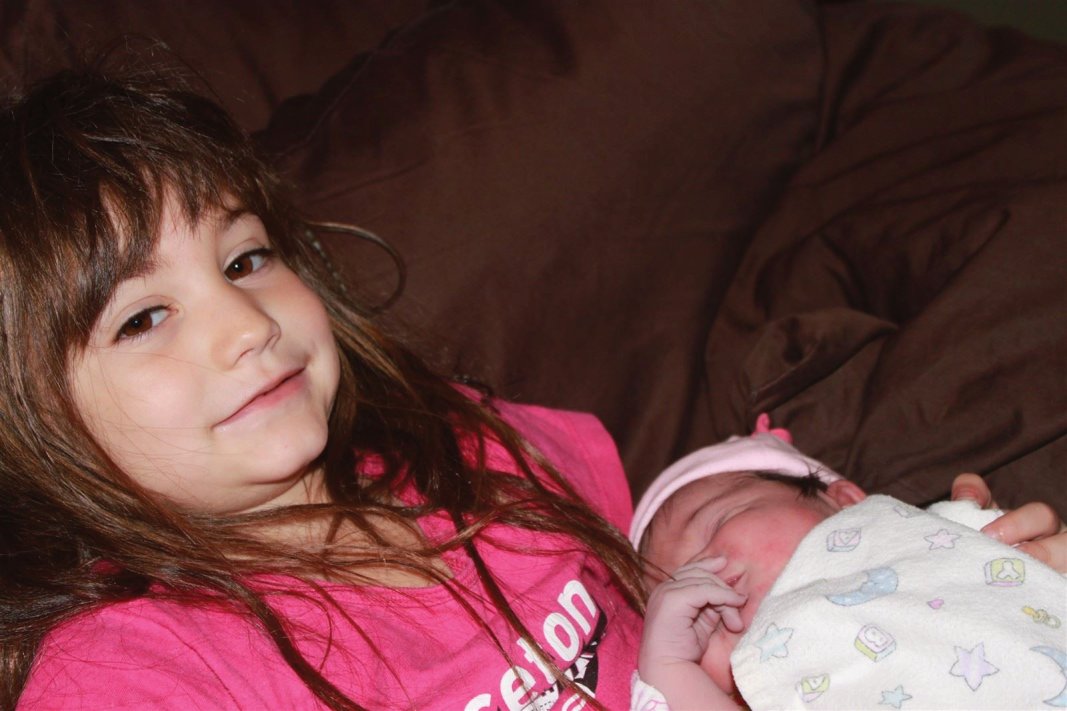 The whole process was amazing.  It was beautiful to allow Otter the birth she needed.  The old mantra of "Trust Birth" was proven true once again.  Why had our labor started and stalled for two days?  Our little miss had the cord wrapped around her belly twice.  Although Wendi assured us it was not constricting anything vital, it is not something she has seen very often in her 11 years as a licensed midwife.  Our baby and my body knew that Otter needed to ease her way out so that her wrapped cord stretched as needed and supported her through the passage from her safe home inside my womb to her new home outside with us.  As a good friend said to me the day after, hindsight is always 20/20!!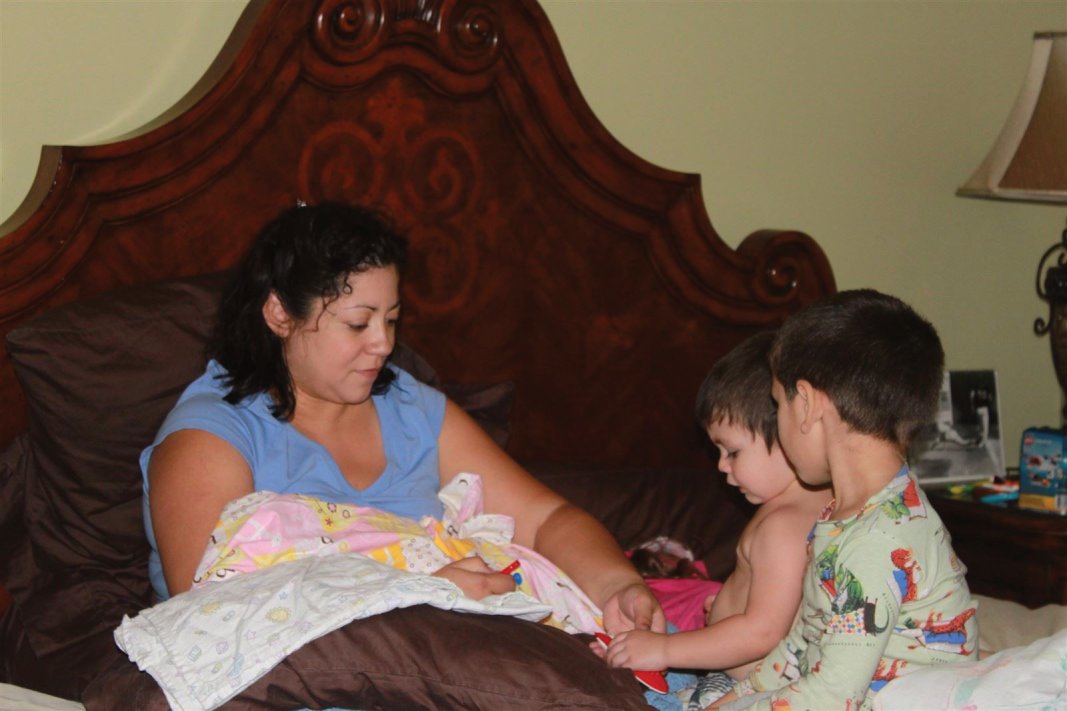 At our first postpartum visit Saturday afternoon, Wendi asked us if we had any favorite parts in our birth.  My first answer was holding the baby!!  We also liked the lack of time-driven pressure – we got what we wanted: the birth our baby needed.  It was amazing to have our children be part of the birth process.  They had gotten to come in and check on me, encourage me with kisses, and I hadn't had to leave them to go to the hospital for three days.  Night Owl got to watch his sister's birth – and now we get to hear his version of events.  His godfather came to visit this weekend.  He asked NIght Owl to tell him about the birth, and this was his answer, "My mommy screamed and the baby popped out!"  Clearly, I wasn't as low-key as I had hoped, yet it hadn't scared him and he is delighted to tell people about his experience.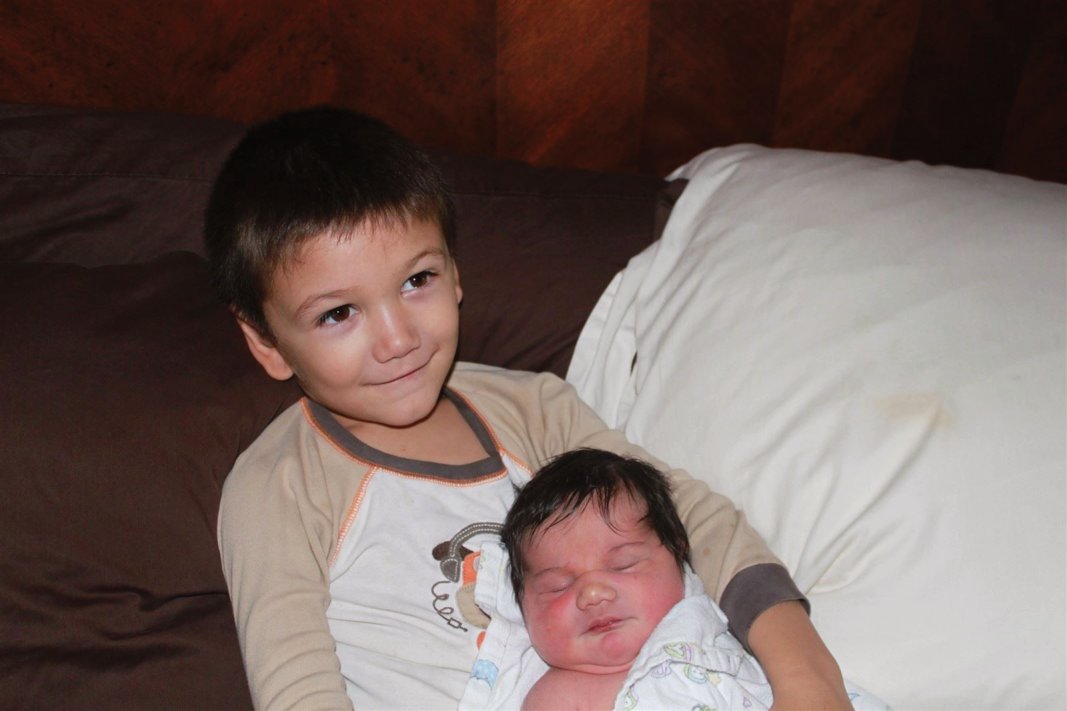 So we are now *officially* home birth advocates.  We are incredulous that it took us four births to get here.  It has been a great way to close the chapter on our childbearing years.  We are forever grateful to the women at Freedom and the Seed who so lovingly tend to the families in their care.
Disclaimer:
The material included on this site is for informational purposes only.
It is not intended nor implied to be a substitute for professional medical advice. The reader should always consult her or his healthcare provider to determine the appropriateness of the information for their own situation. This blog contains information about our classes available in Chandler, AZ and Payson, AZ and is not the official website of The Bradley Method®. The views contained on this blog do not necessarily reflect those of The Bradley Method® or the American Academy of Husband-Coached Childbirth®.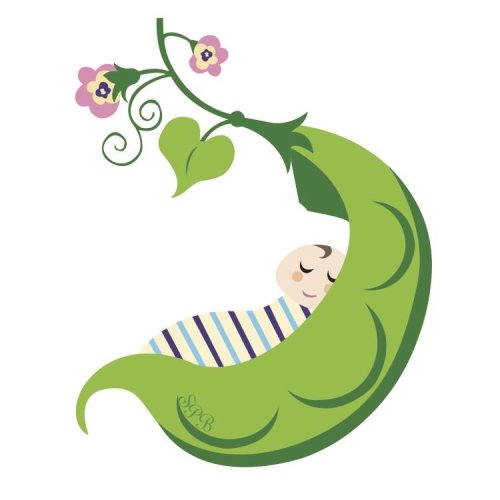 Categories: Birth place options, Birth Story, Bradley Method® birth story, Bradley Method® outcome, Bradley® Coaches, Coaching, Eating during labor, Homebirth, Managing or coping with natural labor, Midwife, Midwifery Care, natural labor coping mechanisms, Natural labor coping techniques, Pain management, Pain management natural labor, Second Stage Labor, The Bradley Method®, The Bradley Method® pain management
/