...celebrating every swee​t pea their birth
| | |
| --- | --- |
| Posted on November 4, 2011 at 2:06 PM | |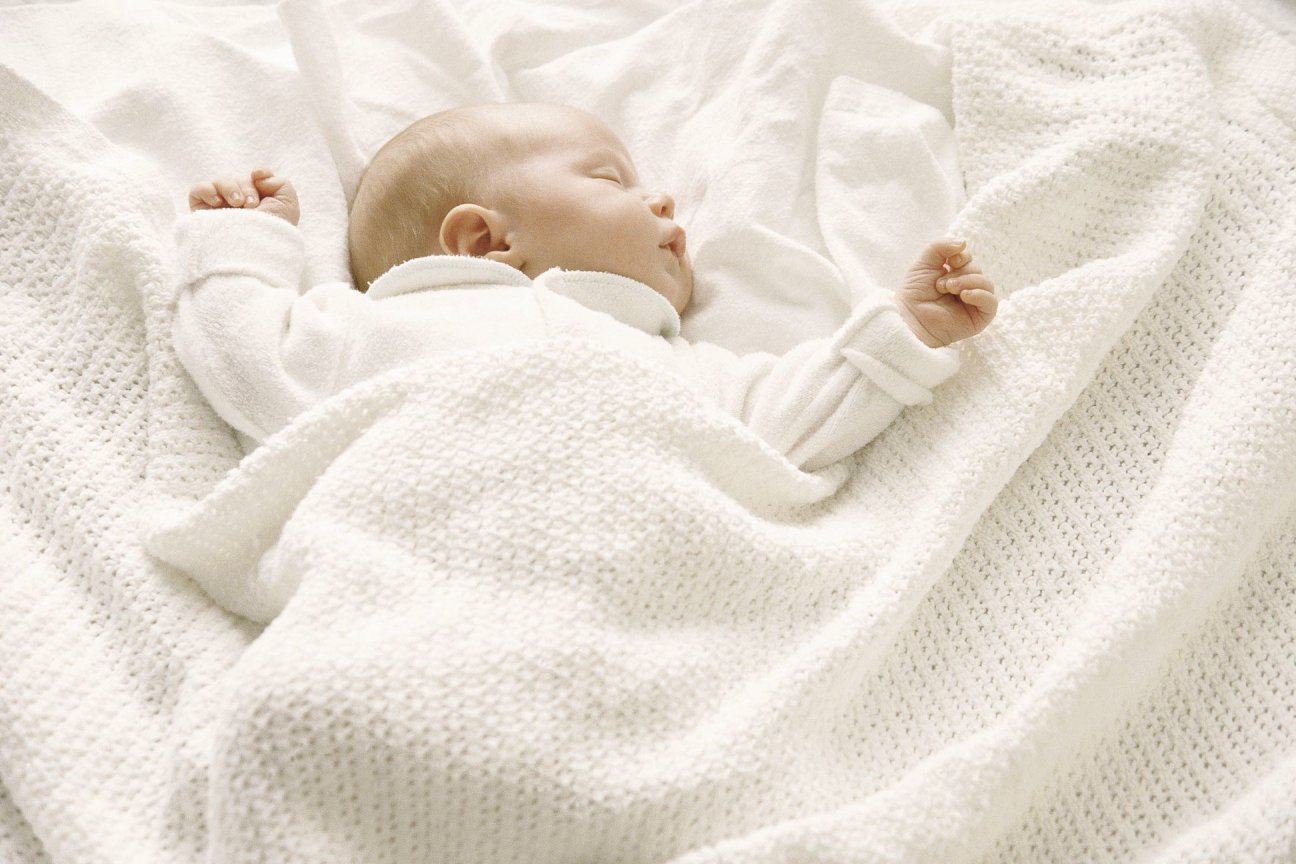 We are still on our babymoon - thank you to Jacqueline Norris, CD, PCD for writing today's post about postpartum care and the work of a postpartum doula.  To learn more about Jacqueline, please see the end of today's post.
A baby is born -  helpless, frail, precious, captivating, demanding, amazing.  Even if not initially, soon enough most parents find themselves awed at this tiny little miracle. They want to do the best they can to care for this needy little person who demands so much of their attention and care.
For many parents, this is an intimidating and overwhelming time.  When they leave the hospital or the midwife goes home from the birth, they find themselves facing an overwhelming challenge.  How do you care for a newborn?
When my first baby was born, I was living overseas in an apartment building in Istanbul.  As my belly grew I was often asked, "Who will come help you when your baby is born?" "No one, I will take care of him," I said.  "Your mother won't come? Your mother-in-law won't come?," they would ask me in disbelief.  "Then who will take care of your baby?"  "I will," I'd insist. "You can't," neighbors would tell me.  "Of course I can," I'd say.  At the time I was annoyed and hurt by their judgment and lack of confidence in me.  I've since come to appreciate that they were not judging me but simply concerned for me: these women understood that a woman needs to be cared for and nurtured so she can nurture her baby.
In Turkey, as in many cultures, a woman is cared for by her family for the first six weeks after her baby is born.  Special foods and drinks are prepared to help her recover from childbirth and develop a good milk supply.
While I didn't have family to care for me in this way, a Turkish friend of mine insisted on doing all my grocery shopping for the first 6 weeks.  We received meals from Turkish and non-Turkish friends alike. Determined to be culturally sensitive, I tried to follow the Turkish custom of staying home for the first 40 days, but being cooped up indoors for so long felt claustrophobic to me! So, with my baby in a sling, we'd venture out together on a daily walk for fresh air, exercise and a change of surroundings.
I was also fortunate that growing up I had lots of experience caring for babies.  I started babysitting at age 12 and by the time my husband and I started our family in our mid 20's, I had cared for numerous babies and children, including a 3-week-old baby and her 2-year-old brother when I was 13 years old.
In Istanbul I lived in a community where I had many opportunities to observe women interacting with their babies, often singing to them or telling them rhymes and stories.  Babies and children were welcome everywhere.  Weddings and celebrations were noisy gatherings where whole families attended including the youngest members. If parents were having difficulty calming a fussy baby, there always seemed to be another set of arms eager to comfort the little one.
Unsolicited advice also abounded.  And while there were those who I learned from by their positive examples, there were also those who were concerned I'd "spoil" my newborn: "Don't hold him so much.  Don't rock him, he'll get used to it."  I'd laugh and tell them, "He already is used to it. He was rocked and held constantly for 9 months while he was inside of me."
Books were an invaluable source of wisdom and help to me. I read every book I could get me hands on about pregnancy, birth and child rearing.  Dr. Bradley's book helped me with childbirth.  La Leche was invaluable concerning breastfeeding and Dr. Sears spoke to my heart concerning child rearing.  Yet, even with so much to help me in my parenting, I often wished someone would come off of those pages and enter my world so I would not feel alone in many of my parenting choices.
Postpartum "Good Start" Tips
In the United States, couples face these same challenges as they care for their newborn. Some women are fortunate to have a family member who is able to come help out. But for many couples, family members live too far away or they work and are not available to help.
Being part of a support network can be a great blessing to a new mom.  Often church groups or mom's clubs provide meals for the family as well as a place for moms to connect with other moms.  La Leche League groups can be a great source of up-to-date information on breastfeeding.  Many hospitals also offer breastfeeding support groups where moms can learn and network with other breastfeeding moms.
A daily walk can be a wonderful thing for moms and babies alike, as well as for other family members. It's always a wonder to me how simply stepping outdoors can often calm a fussy baby. They seem to love the fresh air and change of environment.  With baby in a carrier, mother and baby can interact with each other.  The baby can see his mom's face, be comforted by her nearness and enjoy seeing surroundings together with her. He loves the sound of his mom's voice, the same voice he's been listening to while in the womb.
There are a wealth of excellent books and websites to learn from.
  However, be careful – some people who call themselves experts in the field are unqualified for such a title. Be sure that the information you receive is appropriate for your baby's developmental stage. Beware of programs that encourage a rigid schedule or letting a baby "cry it out." Crying is your baby's way of communicating a need he has.  (Click
here
for my list of book recommendations.)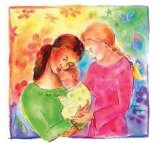 A postpartum doula can also be a tremendous help
at this time.  She works in the home and offers nurturing support to the mother and family, helping family members to know how to support her at this crucial time and encouraging tired dads as well.  She can educate the family on local resources, care of a newborn, as well as help in practical ways so parents can get much needed rest and bond with their newborn.
Parents do need to be supported in the postpartum period.  By taking advantage of available resources to meet your family's needs, the postpartum period can be an enjoyable time of getting to know your new family member rather than merely struggling through a haze of sleeplessness and uncertainty in caring for your precious newborn.
Krystyna's Note:
The work that a postpartum doula does for a family will vary, as each family's needs are individual to their situation.  Spending the money to have someone help with laundry, meal preparation and other light housework is well worth it when you consider how short the snuggly newborn period really is. 
If you have never cared for a newborn and/or if you are nervous about any aspect of newborn care, a postpartum doula can teach you the ins and outs of caring for your new family member.  When they are Certified Breastfeeding Counselors, such as Jacqueline, they can offer support to get breastfeeding off to a great start.  Some postpartum doulas are even available to work overnight.
The precious first days are much more enjoyable when you feel nurtured and supported – do what you need to do to set yourself up for success!  Communicate your needs when you interview and hire a postpartum doula.  An ideal care plan allows you to rest and recover so you can be at your best for your new baby. 
About the author: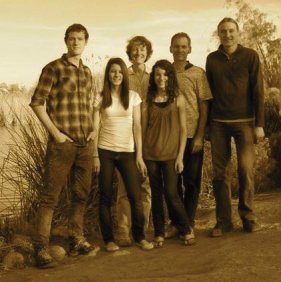 Jacqueline Norris, CD(DONA), PCD(DONA), Certified Birth & Postpartum Doula, Certified Breastfeeding Counselor
Currently living in Mesa Arizona with my husband and 4 children, I am happy to support families throughout the east valley. All of my children were born while living overseas, two in the hospital, two at home. Like all women, I will always carry the memory of my birth experience with each of them. I want women to be supported in this important time they will always remember, wherever and however they choose to give birth. I am awed at the design of the human body to give birth naturally. When properly supported birth can be both a joyful and empowering experience. I believe this is significant for the joys and challenges that lay ahead in parenting.
Disclaimer: 
The material included on this site is for informational purposes only.
It is not intended nor implied to be a substitute for professional medical advice. The reader should always consult her or his healthcare provider to determine the appropriateness of the information for their own situation. This blog contains information about our classes available in Chandler, AZ and Payson, AZ and is not the official website of The Bradley Method®. The views contained on this blog do not necessarily reflect those of The Bradley Method® or the American Academy of Husband-Coached Childbirth®.
Winter Series
December 5, 2011 through February 21, 2012
Monday evenings @ 6:30 pm
Call us at

602-684-6567
or email us at
for more information

Categories: Breastfeeding support, Doulas, Fussy baby, Information Center, Parenting, Postpartum Doula, Postpartum Plan, Support Groups
/