...celebrating every swee​t pea their birth
| | |
| --- | --- |
| Posted on September 4, 2015 at 9:37 AM | |
The night we started our seventh Bradley Method® class series in December 2011 played out like all other "first nights" of class. I am on edge all day long.  I get nervous before our students arrive: What if I forget anything?  Will they like our class?  Will our class run smoothly?  What if I leave something I need for class at home?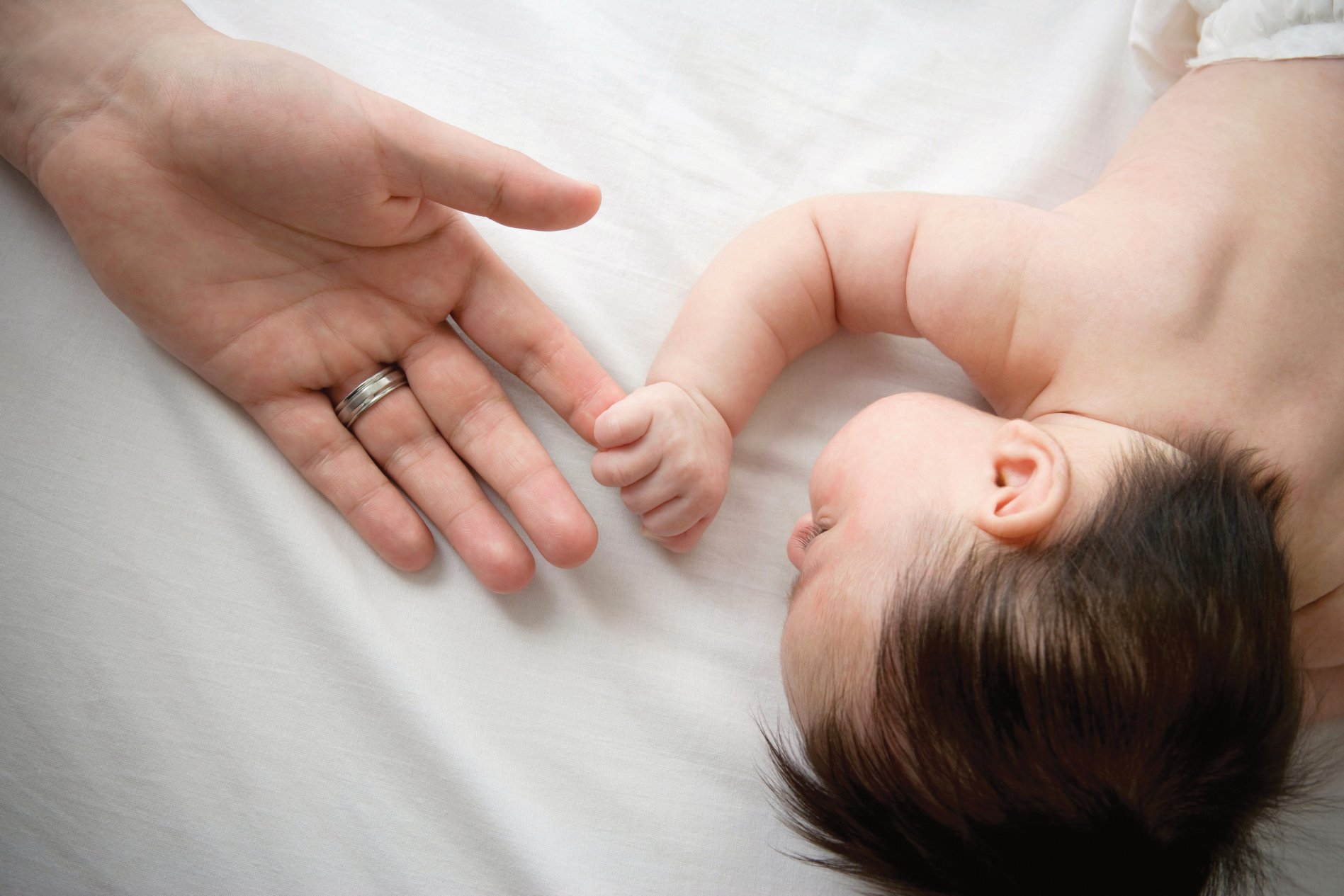 The class went well, and we got a question that we have never gotten before: "What is natural birth – is it anything that doesn't end in a C-section?"  
It made me pause and think for a moment.  My short answer in class was, "Well, I guess that depends on the person and their definition of natural birth."  
I pondered that question all night.  Up until three months before that class, I would have said that we had three natural births and were preparing for our fourth.  And then we had our home birth experience, which re-defined "natural birth" for me.  It turned out to be the most natural birth experience we had.  
I can't say our hospital births were completely intervention free since we were always poked and prodded by something or someone.  Heck, they weren't even "un-medicated" – I was administered some kind of medication with each one.  With Puma, I had penicillin, Pitocin and an episiotomy; I had penicillin with Night Owl; and penicillin and Pitocin with Charger.  We did achieve three epidural-free vaginal births with a very supportive OB, though, and for that I am grateful.  
Otter's birth gave us a new definition of "natural".  Here are all the things we DID NOT experience during our low-risk home birth:
- A transfer from our home to another location during active labor
- Forms to fill out
- A wait in the triage area with other families in varying states of apprehension
- Vaginal exams to check the progress of labor
- Heparin lock for access to veins "just in case"
- Electronic fetal monitoring
- Mommy-monitoring Nurse coming in to check vitals
- Calls to the doctor to report on my "progress"
- Restriction of food or drink
- Beeping sounds and hospital smells that inhibit rest or sleep
- Time on back for the convenience of the hospital staff
- Episiotomy  
Our midwives were called when my water broke and they came to see how we were doing.  The baby was low and things seemed to be progressing, so they stayed.  To this day I do not know what the deciding factor in their staying was when our labor hit the start-stop mode…I do know I am grateful that they didn't leave us.  I would have felt like another "failure to progress" and who knows what that would have done to my emotional state and our labor.  (Click
here
for our homebirth story.)  
At first, they checked on us every thirty minutes.  They would monitor the baby with a Doptone to assess her heart rate, and they would check my blood pressure to see how I was doing.  When it was clear that we were both handling the labor well, they checked on us with less frequency while still maintaining a trained eye on us to judge our fitness and make sure we were still low-risk and doing well.  
They asked questions.  They let me eat.  They made sure I was drinking.  They checked in with Bruss to see how he was doing and how he thought I was doing.  They offered moral support and encouragement that everything was fine although we were clearly not going to be one of those families who can say their homebirth was their shortest labor.  In an ironic twist of fate – this happened to be our longest labor, and we were so grateful to be at home with trained care providers who allowed my body and our baby the time they needed to figure out the process and have a healthy mom, healthy baby outcome.  
So now we know what all the possibilities are when a person imagines "natural birth".  A woman and her partner work together to welcome their child, free of interference or invasive probing, supported by a team that completely believes in your abilities and will help you welcome your baby gently and lovingly into the world.  It makes me wish that there were no pregnancy complications so that every woman could have a gentle birth.  
The reality is that the majority of our students coming through class are just like we were with our first baby.  They believe that a hospital is the safest place to give birth and that an OB is the only person qualified to safely deliver your baby.  It would be irresponsible to have a baby at home, outside of the "safety net" if something were to go wrong.  
I am so grateful that now there are many more Certified Nurse Midwives ("CNM") working in hospitals.  They provide the level of belief in the natural process that we found at our home birth, while still working at the hospital setting in which most people feel comfortable.  
If a student's care practice does not offer midwifery care, I hope that like us, they will find a supportive OB who respects their proactive approach to achieving a natural birth and helps them find a way to have the birth experience they want in the hospital.  We have a very tender spot in our hearts for our OB.  Not only did she deliver our biggest baby without an episiotomy, she also helped us have our most natural hospital birth because she believed in our ability to birth.  
There is also another option available to families in the Phoenix area.  We now have several birth centers.  Birth centers strive to be the happy medium between home and hospital for families that want to have the "compromise option".  They can offer a more relaxed atmosphere similar to the home environment, and some provide medical options at the center that would not be present in a home birth. 
I feel it is our role as Bradley Method® instructors to help every couple achieve the best birth possible for their children with a healthy mom, healthy baby outcome.  "Natural birth" will be different for each of them based on their pregnancy and their choices.  
What can you "control" in the childbearing year?
A couple will probably have more options availabel to them in labor if the mother has good nutrition, maintains a daily exercise regimen to tone their back, belly and bottom, and does some form of exercise for stamina.  By attending classes every week they learn a new relaxation technique that they can put in their labor toolbox.  We explore many, many options available to birthing couples today.  
What can you influence during the childbearing year?
We work on communication every class so that the couple is prepared to respectfully ask questions of their care provider if they feel something they recommend goes against their dream of a natural birth, or to better understand their recommendations so that they can make an informed decision.   The choice of care provider will also play a role in the way to birth plays out - are you getting red flags during your prenatal visits? Do not ignore them - ask around and find the provider that respects your rights and your knowledge as a birthing parent of *your* child.  They may be the expert in birth; you are the only one that knows your baby.
Beyond that, the rest is up to what we would call God, or a Higher Power; some people call it Fate...whatever the belief system, we encourage our students to focus beyond the "how" of their birth story:
- What will you learn from this birth journey?
- Where will the transformation from Maiden to Mother happen for the woman?  Where will the transformation from Stag to Father happen for the partner?
- How will your partner disappoing you? How will they rise to the occassion, and maybe even surprise you?
- What was your most brilliant moment?
We look forward to sharing the information taught in Bradley Method® classes with our students.  We strive to equip them with the tools they need to assess situations that present themselves in pregnancy and labor.  When we hear that a baby is born and nurses readily at the breast, we know those parents worked together to achieve the ultimate Bradley Method® outcome: Healthy Mom, Healthy Baby.   
What does "natural birth" mean to you?
Disclaimer: 
The material included on this site is for informational purposes only.
It is not intended nor implied to be a substitute for professional medical advice. The reader should always consult her or his healthcare provider to determine the appropriateness of the information for their own situation. This blog contains information about our classes available in Chandler, AZ and Payson, AZ and is not the official website of The Bradley Method®. The views contained on this blog do not necessarily reflect those of The Bradley Method® or the American Academy of Husband-Coached Childbirth®.  
We are now enrolling for our
Spring 2016 Series 
For more information or to register,
please call us at
602-684-6567
or email us at
Categories: Birth center, Birth place options, Bradley Method® outcome, Homebirth, Hospital Birth, Natural birth, The Bradley Method®, The Bradley Method® classes
/