...celebrating every swee​t pea their birth
| | |
| --- | --- |
| Posted on December 13, 2011 at 8:30 PM | |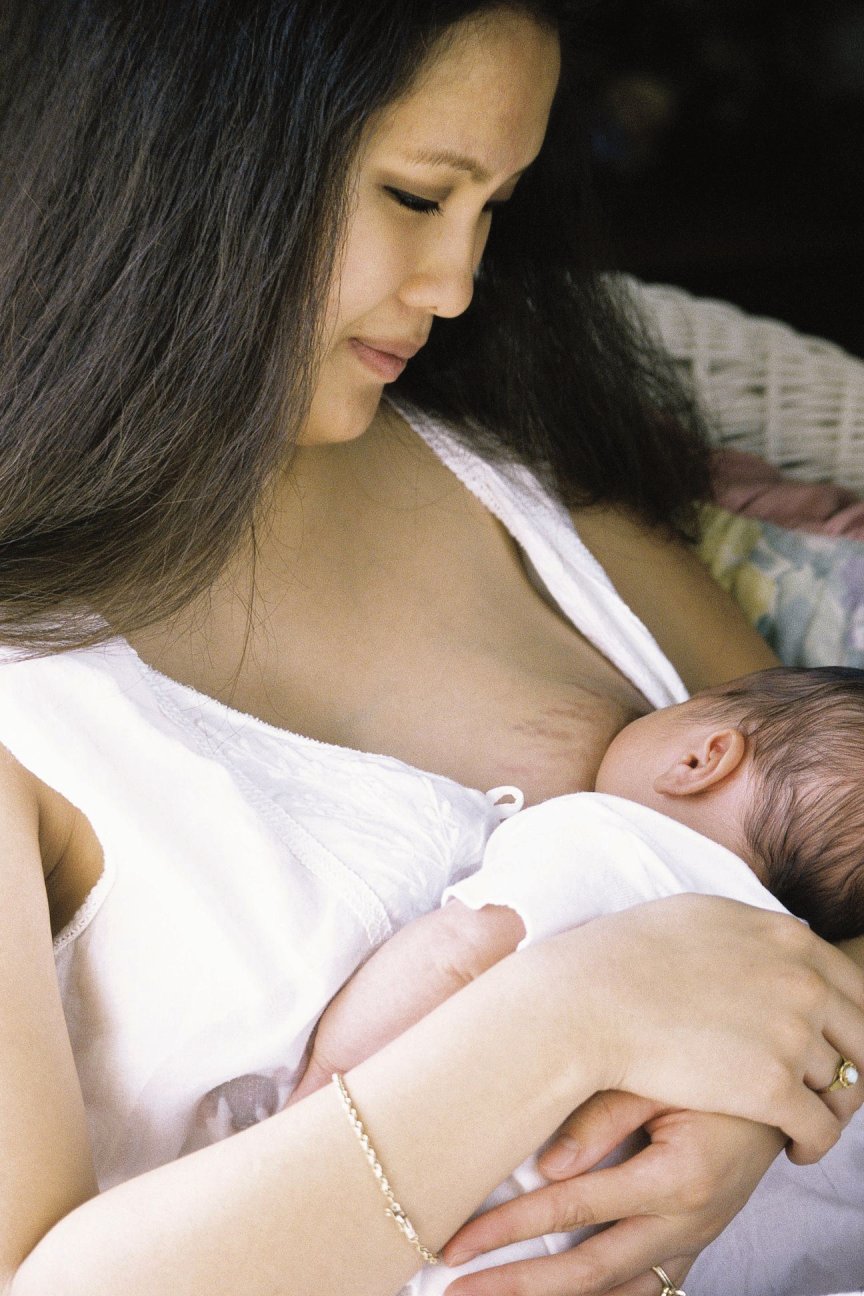 "What You Need to Know About Breastfeeding That No One Tells You
"
We had our first introduction to the benefits of breastfeeding in last night's class.  We have the benefit of having two moms who have already breastfed in our class and it was great to have their input as we introduced the new parents to the concept of breastfeeding.
Most people know about engorgement or nipple soreness, or that it can take a few days for your milk to come in.  There were comments about the new things our students heard about breastfeeding when we closed class, so I thought I would share the insights people learned in class.  Although it seems that the general awareness about breastfeeding has increased, there are still a lot of ideas that haven't hit the mainstream that are important to share – hence the subtitle in today's post.
Breastfeeding is not supposed to hurt.  One of the common reasons mothers give for giving up is that it was literally too painful to nurse.  To quote our chiropractor, "It may be common, but it's not normal."  He shows our classes the way the head and neck are compressed in the birth canal.  That alone is a tight squeeze that might cause a misalignment.  Add in the "help" from a well-meaning care provider when they tug on the head during delivery and you have a baby that is misaligned to the point that they cannot latch on properly.
Baby's that are misaligned might also appear to prefer to breastfeed on only one side.  Guess what?  Mom's breasts are a matched set!  The feel of the breast is the same, the texture of the nipple is the same, and the liquid coming out is made the same – there isn't vanilla on one side and chocolate on the other.
If you are having one or both of these issues, you have a couple of options.  You can look into taking your infant to a chiropractor that does pediatric work.  With a simple adjustment, he or she can make a huge difference in your breastfeeding relationship. You can also consult with a breastfeeding specialist, ranging in expertise from a peer counselor to an IBCLC certified lactation consultant.  These ladies can also take a look at the way you are breastfeeding and make suggestions to improve your latch.
Whether you go to a chiropractor or a breastfeeding specialist, the goal is to make breastfeeding enjoyable for everyone.  We always encourage our students to do their research and whatever they decide to do, take the time to find a chiropractor or breastfeeding specialist that is certified in their field and comes highly recommended. 
Get help within the first three weeks to establish your milk supply.  If you feel like you are not making enough milk, or your baby is acting like (s)he is always hungry, ask for help.  It is critical to establish your supply in the early days.  Your baby and your body working together will work to establish what baby needs, creating a "ceiling" of production.  Your production can ebb and flow from there, however you will always be able to go back and meet your peak.
You also make new milk glands for each baby.  If you had a hard time feeding one baby that does not necessarily mean you can't feed the next baby.  The best description I have heard of these glands is to imagine a cluster of grapes.  You make new clusters with each pregnancy, and once you stop using them, they wither up and the body absorbs them.  If it was hard the last time, get help now to identify which factors contributed to low production, and find out how you can increase your supply with the next baby.
You can search for lactation consultants on the web, or click
here 
to find an IBCLC, considered the gold standard in lactation services.  However, if along with low production you are experiencing a fever or anything else that indicates you need to see a doctor, see your care provider as soon as possible.  Only a lactation professional that is an M.D. will be able to correctly diagnose a medical problem and prescribe you the needed medication.  If they don't fit this description, see your M.D. as soon as possible so that you don't go down the route to an infection that leads to hospitalization.  A hospital stay will surely interfere with the breastfeeding relationship you are trying to establish.
There are lots of options in support groups.  A support group is a place to get answers to your breastfeeding questions.  You can also take heart that you are not the only one struggling, and find encouragement in the stories of women who have gone through what you are going through and come out on the other side as happy breastfeeding moms.  You can also gain confidence to nurse in public by being in a safe and accepting place when you start nursing away from home.  Support groups are a great way to meet other new moms and make friends for you and baby.  We have a couple of students who have made lasting friendships through the groups they attended.
There are a variety of places to get breastfeeding support.  La Leche League is the most recognized name in breastfeeding support.  I know…it also has a few negative stereotypes associated with it.  To quote someone I know, "Birkenstock wearing, tree hugging, breastfeeding zealots.  Nice, right?  Well, guess what – it is a Stereotype.  Will you meet some moms on the fringe there?  Maybe – then again, you can meet someone on one extreme or the other wherever you go.  You will definitely meet regular, everyday moms who are looking to learn more about breastfeeding and moms who are there to share their knowledge of breastfeeding.  The best thing you can do is to try a couple of different groups and see if you find a leader that fits with your personality.
If La Leche League is not for you, there are other free-of-charge options in the Chandler, AZ area.  Monday mornings you can go to a breastfeeding support group run by Debbie Gillespie, IBCLC, that meets at 10:00 am at Modern Mommy Boutique.  Wednesday mornings you can head to Chandler Regional Hospital for an IBCLC-led group that meets from 11:00 am to 12:30 pm.  On Fridays, you can head to Mercy Gilbert Medical Center for their IBCLC-led support group that meets from 10:00 am to 11:30 am.  All groups meet weekly with the exception of major holidays.  (See below for phone numbers.)
If you are not in the Chandler area, call your local hospital to see if they have any classes or groups to attend.  You can also check and see if there are any Meet-up groups or do a search for breastfeeding support in your area.
Your baby's poop color can change according to your diet.  Most of us have heard or learned that breastfed babies make a mustard-yellow poop.  Guess what?  That's not always the case!  Just because what goes in is whitish, doesn't mean that what comes out is going to be mustard all the time.  Bruss is always tripped out when he sees green poop, or purple poop…he can usually tell when I have eaten spinach or beets.
A word of caution: if anything in the poop
raises a red flag
do not ignore it.  One of the reasons you hired your naturopath or pediatrician is so you could ask a child health expert questions about your child.  (Another reason to hire someone you absolutely trust!)  If you feel something is wrong, call them.  They can reassure you that it's normal, or help you find answers if it's not normal and you need to follow up with an office visit plus.
Your baby's palate will reflect your diet.  There are many reasons why breastfed babies tend to be healthier adults.  One of them is that they are more likely to eat a variety of foods to meet their nutritional needs.  The milk you make is imbued with the tastes from your previous meal.  When you introduce solids, they are more likely to accept a variety of foods and become less picky eaters.
The main ingredients in formula are whey, casein, vegetable oils and lactose.  In other words – a common allergen, a manufactured fat and a sugar…read: the ingredients in processed food.  On top of that, the baby is receiving the same flavor every single time they eat…every feeding for as long as they take formula.  They are less likely to eat a variety and may tend to gravitate towards the processed foods that taste like the food to which they have become accustomed.
You can supplement with your own milk.  When a pediatrician says that you need to supplement your feedings for any number of reasons, most of us make the leap to assume that you use formula.  Not necessarily…if you pump during or after a feeding, you will have your own milk to supplement with, instead of substituting your unique food with chemically manufactured formula.  If you are having a supply problem and pumping is not a choice for you, there are several organizations that are gaining popularity that connect moms needing breast milk with moms that have breast milk to donate. 
You can do an internet search for "milk sharing".  Do your due diligence and ask lots of questions before you make a decision to ask for milk donations.  Each family needs to make that call based on their particular situation.
You can still breastfeed if you have a low supply.
  Dr. Jack Newman drove home a very important point at his
lecture this summer
: breastfeeding is much more than breast milk. You probably did not expect that you would only be able to nurse your child one or two times a day.  From another perspective,
you
cannurse
your baby once or twice a day.  No matter how many times you are able to nurse, the laxative qualities in your breast milk will help your baby process the formula in their system.  You will help them be less constipated.  Those one or two feedings will still provide your baby with immunities and antibodies.  And most importantly, the you and baby will get to bond the way nature intended – skin-to-skin.
There is a growth chart designed specifically for breastfed babies.
  Did you know that the growth chart in most physicians' offices was designed in the 1950's?  Not only have our standards for what "healthy" is changed since then, those charts were designed based on the growth patterns of formula-fed babies (remember..fat and sugar babies?).  We make big babies and I have nuclear milk, so our children have never had a problem being measured against those charts.  However, that is not the case for every family.  If your baby is measuring small against the traditional chart and your pediatrician is concerned, then
click here
and print out the chart that pertains to your baby (boy or girl specific) and measure your baby.  These were designed by the World Health Organization specifically to address the different rates of growth for breastfed babies.  The WHO standards establish growth of the breastfed infant as the norm for growth – yeah! 
I hope this will help you have the confidence in your body, your baby and your milk.  Just as you were designed to birth your baby, you were also designed to feed him or her.
There are lots of options and many avenues to get the help you need.  You can breastfeed the best way you are able to and reap the benefits for you and baby.
Did you discover anything about breastfeeding that nobody told you about?
Note:  For some great "how-to" breastfeeding posts, you can check under the Breastfeeding 101 blog topic and access information written by Debbie Gillespie, IBCLC, RLC.
To read some of our student's experiences with breastfeeding, look under the "In Their Own Words" topic link. 
Breastfeeding support groups:
Mommy Help Center
Inside Modern Mommy Boutique
3355 West Chandler Boulevard
Chandler, AZ 85226
phone: 480.786.0431
Chandler Regional (Frye Rd & Dobson)
Mercy Gilbert (202 Frwy & Val Vista)
~ For more information, please call the ResourceLink toll-free 1.877.728.5414, Monday through Friday from 7:30 a.m. to 5:30 p.m. You may also leave a message during after hours and someone will return your call during the next business day.
Disclaimer: 
The material included on this site is for informational purposes only.  It is not intended nor implied to be a substitute for professional medical advice. The reader should always consult her or his healthcare provider to determine the appropriateness of the information for their own situation. This blog contains information about our classes available in Chandler, AZ and Payson, AZ and is not the official website of The Bradley Method®. The views contained on this blog do not necessarily reflect those of The Bradley Method® or the American Academy of Husband-Coached Childbirth®.
for our Spring Series
March 5, 2012 to

May 21, 2012
For more information

or to register,

please call us at

602-684-6567

Categories: Breastfeeding, Breastfeeding support, Chiropractic Care, Debbie Gillespie, IBCLC, RLC, Information Center, Modern Mommy Boutique, NIP, Nursing In Public, Starting Solids, Support Groups, The Bradley Method® classes
/