...celebrating every swee​t pea their birth
| | |
| --- | --- |
| Posted on January 7, 2012 at 9:40 PM | |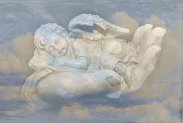 I want to share a topic that is rarely  discussed.  No one announces their miscarriages when they happen – it is a personal, private event that few people ever know about outside of the couple that lost their pregnancy.   
 We had a miscarriage between our first and second child.  Our story starts with our first pregnancy.  I had been so uptight and concerned when I was pregnant with Ysabella.  With her pregnancy we had spotting right from the beginning, and it lasted the whole pregnancy.  Very few people knew we were pregnant the first time until we were in our second trimester.  We did not buy any clothing for the baby until after she was born.  We were so grateful to hold her in our arms on her birthday – it was a joy and a relief.   
 We started trying for another baby after she turned a year old.  I suspected I was pregnant because I gained five pounds overnight with no obvious reason – this had happened when I was pregnant with Ysabella, and with each subsequent pregnancy, by the way.  Another sign was that Ysabella started refusing the breast.  She would nurse and pull away making a funny face – I have read that the "flavor" of the milk changes in response to the hormonal changes of pregnancy.  On top of those signs, I took two pregnancy tests that confirmed I was pregnant.   
 So now that we had positive pregnancy tests, we were ready to tell the world. Our reason prevailed though, and we only told my immediate family we were expecting again.   
 We were so excited, and I was determined to relax and enjoy this pregnancy since our first one had turned out well.  We went on a family trip to Hawaii.  We enjoyed the sights and sounds on our vacation instead of worrying about every little thing.  I told the waiters I was pregnant so to please be sure to cook my food well.  I bought a matching outfit for Ysabella and her expected sibling.  I sent postcards to my family and signed all of our names, including "Baby Bowman".  We were on top of the world!   
 It was early in the pregnancy – I was probably 7-8 weeks along when it happened.   Since we were still on vacation, I called my doctor's office to see if there was anything I could do to stop the bleeding, to which they said no.  We tried to take comfort in the fact that Mother Nature's wisdom prevailed – miscarriages are a natural way of terminating pregnancies when there are gestational abnormalities.  We were heartbroken, nonetheless.   
 We called my mom and sister to tell them the news.  After I miscarried, we were back to our regular nursing schedule.  Ysabella no longer cringed at the taste of my milk.  Going back to nursing Ysabella helped me heal from the loss and sorrow. Focusing on what I had versus what I had just lost helped to comfort me. 
 I prayed like crazy the next time we got pregnant for God to take away my fear so that the new life inside me would feel our love and not my worry.  We have carried every pregnancy since then to term.  However, in that time I have talked to many other mothers who had miscarriages between live births one and two.  
 For some of us a miscarraige gets to be a private grieving, for others, it's much more public.  In hindsight, I am grateful we miscarried early before we got to feel our baby move, and there are other stories like mine.  Other families we know of lost their babies in their second trimester when mom was already showing and they had felt their children's movements inside of them.  
 Are we ever totally over it? I don't think so; I don't know how we can be since the difference between carrying to term and the loss of a life is so personal and intimate for us. 

 So, if by some turn of events you suffer a miscarriage, please know you are not alone.  It may help to talk to someone about it, or maybe find comfort and solace in a support group, a faith community or an on-line community.  You do not have to grieve alone.   
 Also know that it is possible to carry to term with subsequent pregnancies.  Talk to your care provider, they may have specific recommendations for your situation.
 These posts have some resources listed in them if you would like to reach out for support:
Do you know anyone who had a miscarriage?  How did they cope?
Disclaimer:  
The material included on this site is for informational purposes only.
It is not intended nor implied to be a substitute for professional medical advice. The reader should always consult her or his healthcare provider to determine the appropriateness of the information for their own situation. This blog contains information about our classes available in Chandler, AZ and Payson, AZ and is not the official website of The Bradley Method®. The views contained on this blog do not necessarily reflect those of The Bradley Method® or the American Academy of Husband-Coached Childbirth®.   
We are now enrolling for our 
Spring Series 
March 5, 2012 to 
May 21, 2012   
For more information or to register, 
please call us at 
602-684-6567 
or email us at 
Categories: Child Spacing, Grief Counseling and Support Services, Miscarriage or Stillbirth, Pregnancy Loss, Support Groups, Variations and Complications
/