...celebrating every swee​t pea their birth
| | |
| --- | --- |
| Posted on February 13, 2012 at 11:21 PM | |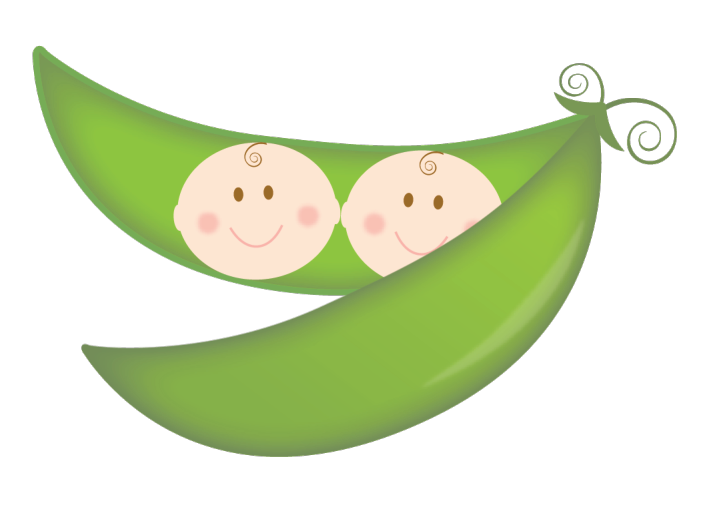 I am grateful to Jennifer and Devin Hanson for giving me permission to add their birth story to our Birth Story Archive.  Their generosity is premiering our first twin story.  They have an inspiring story that is a testament to faith and belief in your body, your coach and your birth team.
Jennifer was also kind enough to share some thoughts about Bradley Method® classes, care providers and life as a momma of twins.  Read our "virtual interview" below the links to her birth story.
The story of the Hanson twins begins with a momma of twins who wanted a natural birth and was ready to do whatever it took to avoid an induction.  Although their due date was October 10, 2011, since she was carrying twins, she was told they would be considered term on September 20, 2011.  I have great respect for her midwives at Valley Women for Women who allowed her to go "past due"...twice.
What would you do if you were 40 weeks plus four days pregnant?  You may have seen this already…if not, try this if you can…I know I would have a hard time accomplishing this not pregnant!
Momma went into labor naturally two days after their labor dance, and here are links to her birth story. 
Link to Part 1 The story of their twin sons' birth starts with the account of her labor at home and then at the hospital…
"After many months of preparing and learning (using mainly the Bradley Method®), we were able to achieve the natural, unmediated childbirth that we had hoped for. We had a beautiful, peaceful labor and a delivery that can only be described as "dramatic" but one which God's hand of protection was completely involved in every step of the way. We also have to thank our incredible team of nurse-midwifes who took such wonderful care of us during the pregnancy and allowed us to let the twins come when they were ready (which happened to be 6 days past their estimated due date) and encouraged us to still go for a natural birth, even though Isaac was breech until around 38 weeks (when he turned on his own). Truly, I can not say enough positive things about midwife care - personal, encouraging, sensitive, relaxed and fun. I've honestly missed those ladies since we've had the twins - something I would never say about any other health care provider I've ever had. "
Link to Part 2 Their birth story continues with the account of her natural delivery despite a trying second stage:
"While my labor was calm and peaceful, with me being completely in-tune with my body and in-control of what was happening to me, the delivery was chaotic and stressful, with me being so distracted that I couldn't even tell when contractions were happening. I felt out-of-control to the point of panic at times. It was not at all what I had envisioned when I pictured the delivery of my sons, however I believe it would have been far worse had our midwife Belinda not stepped in to fight for us amidst the chaos of doctors and hospital politics. (I should mention here that the OB practice we went with offered something called "collaborative care" with twins. We were to be cared for and delivered by midwives, but a doctor would be available should an emergency arise.)"
SPB: What did you take away from The Bradley Method® classes that helped you in your birth?
JH: I think what I took away from the Bradley® classes was confidence that what I believed (that my body was designed to birth children) could line up with reality, even in a hospital birth. And that I had the right to advocate for the kind of birth I felt was best for me, my husband and our twins.
SPB: What did your husband-coach feel was the most important lesson he learned?
JH: Devin read a number of chapters in Ina May's Guide to Childbirth, which he felt was very helpful. The Bradley® classes reiterated what he had learned from the book. However, I felt going to the classes together helped me feel more confident in him as a coach and helped bring up some good conversations about "How will we handle ______ during the labor/birth/recovery."
SPB: Based on your experience, what advice would you give to pregnant women who are looking for a care provider?
JH: I would encourage women to find a midwife or a care provider that has CNMs working for them. We were so encouraged and supported by our midwives. They helped to build our confidence and helped us navigate the "politics" we dealt with because we were expecting twins and wanted a 100% natural birth. Now that the medical bills are rolling in from the hospital, I would also recommend hiring a midwife out-of-pocket and birthing at home or at a birthing center, it is very likely to be cheaper (and less stressful than the hospital!!) This is what we plan to do next time around.
SPB: How is life with the twins?
JH: Life with twins is... a lot of work, but also a lot of fun. Weston and Isaac are adorable and I love being their mom. We get lots of attention when we go out, which took some getting used to. But now I've learned to be gracious, patient and polite to all their admirers and can enjoy it when people stop us. What's funny is that when I'm out with just one of the twins I get zero attention and now that feels weird. They are such sweet babies. In fact, as I'm typing this I can hear Weston waking up and laughing/cooing to himself - he is a big time morning person and it brightens my day so much to start the morning with his cooing and smiling. Isaac kinda hates waking up, but once he's awake he showers me with morning smiles too.
Many thanks to the Hanson family for making their inspiring story available to breech mommas, twin mommas and natural birth mommas across the world wide web and for allowing is to link to it.  We wish the Hansons all the best as they continue their journey together as a family.  Weston and Isaac, you are very blessed young men.
To read more of Jennifer's writing, you can visit her blog:
Do you have a birth story you would like to share? 
Please contact me at
[email protected]
if you would like to share your recollections for our Birth Story Archive.
Disclaimer: 

The material included on this site is for informational purposes only.
It is not intended nor implied to be a substitute for professional medical advice. The reader should always consult her or his healthcare provider to determine the appropriateness of the information for their own situation. This blog contains information about our classes available in Chandler, AZ and Payson, AZ and is not the official website of The Bradley Method®. The views contained on this blog do not necessarily reflect those of The Bradley Method® or the American Academy of Husband-Coached Childbirth®.
We are now enrolling for our Spring Series
March 5, 2012 to May 21, 2012
For more information or to register, please call us at 602-684-6567 or email us at
[email protected]
Categories: Birth center, Birth Story, Bradley Method® birth story, Bradley Method® outcome, Bradley® Coaches, Breech presentation, Coaches, Coaching, Doulas, Due Date, First stage labor, Full term, Homebirth, Hospital Birth, In Their Own Words, Managing or coping with natural labor, Midwife, Midwifery Care, Natural birth, natural labor coping mechanisms, Natural labor coping techniques, Pain management natural labor, Past due date, Postdate, Second Stage Labor, The Bradley Method® classes, Transition
/