...celebrating every swee​t pea their birth
| | |
| --- | --- |
| Posted on March 9, 2012 at 11:05 AM | |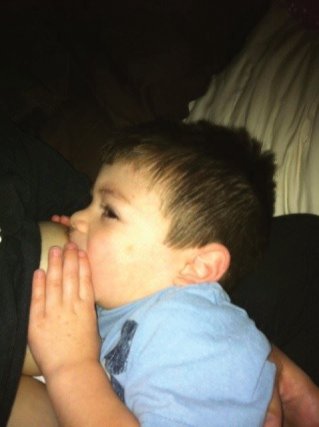 The idea of tandem nursing has appealed to me since I had to do an emergency weaning with our second child (Brussito).  When I was pregnant, I had this image of fulfilling my role of Mother by continuing one nursing relationship while establishing another.  I was going to be Earth Mama feeding her children.
Our story starts with our third pregnancy:
  We had gotten pregnant sooner than we expected to, and after the first trimester I started having contractions every time I nursed Brussito.  Since we had already
experienced a miscarriage
and I did not want to risk another one, I weaned him in a matter of about a week.  It was so sad for me, especially since I know breast milk contributed to his speedy recovery from
illness when he was an infant
.  Luckily, he was at the right developmental age to wean easily and life went on.
Child number three (Bryan) was born, and we got off to a great start to our breastfeeding thanks to an early visit to see our chiropractor.  He did a
little adjustment
to correct the misalignment that happened during his passage into the world.  It was a huge improvement over the 30-60 day acclimation period with our first two children.  They had nursed better on one side over the other, and the pain was so intense that it made me cry every time I nursed on "that side".  By the time Bryan was ten days old, nursing was pain-free and I had never felt better as a nursing mom.
Bryan and I treasured our one-on-one time together.  I craved it because most of my day was spent homeschooling our older children. He loved snuggling up into my lap throughout the day.  We co-slept at night.  It was all "hearts and flowers". 
After Bryan was born, I met a couple of moms through La Leche League meetings who breastfed their toddlers through their subsequent pregnancies.  I was heartbroken.  I wondered how come their bodies worked and mine did not.  I wondered if I was "broken" in another aspect of pregnancy and labor (I had had two debilitating pregnancies and my labors take a long time to swing into high gear).
Fast forward to early 2011: When I got pregnant with our fourth child, Bryan was eighteen months old.  At this point, he was older than Brussito when I weaned him, so I figured if I had to do an emergency weaning, I could make peace with it since I had already nursed him longer than his brother.  At eighteen months, he was only nursing three to four times a day: when he woke up, sometimes a "snack", at naptime, and at bedtime.
I was determined to ask more of my body this time around.  Knowing that it could be done, I set my mind to keep our nursing relationship going because I really wanted to allow Bryan a child-led weaning like I had with our first-born (she weaned at twenty-two months).  We made it through the first trimester with no complications.  Hello, second trimester…and the crampy contractions when I nursed!
How was I going to make this work?  I decided to "talk" to the baby.  By that I mean that I communicated thoughts and images to my baby in-utero.  I told the baby that the oxytocin she felt was for nursing her brother, not for starting labor.  I told the baby that she was safe, and that my body was working for a few minutes to feed her brother.  Once nursing was over, I thanked my body for not creating contractions.  This mind over matter worked!  The contractions stopped happening when I nursed, and the pregnancy continued to a healthy conclusion.
I know that by the third trimester, Bryan was only getting colostrum.  One time I did a little hand-expression when I didn't feel the let-down reflex, and this liquid was not white – it was the golden liquid so precious after birth.  I asked Bryan if he was okay with that, he nodded yes, and kept right on nursing.
We read our sibling preparation books over the summer to get Bryan ready for the idea of becoming a big brother.  One of the books we read shows a mother nursing the new baby.  I would point out that the baby drank milk from their mama just like he did.
About 36 weeks into the pregnancy, I realized what we had done – I had almost nursed through a pregnancy!  Then it sank in – Bryan had not self-weaned in that time, and if he were still nursing, that would mean that I would be nursing two kiddos concurrently.  Now what?
So I went to my reliable La Leche League leaders and asked them what to expect and what I could do about tandem nursing.  They confirmed the information that a couple of Internet searches had yielded: feed the baby first; and it's okay for him to get the "baby's colostrum".  They assured me that the baby would get all the colostrum she needed even if Bryan was having colostrum, too.  They also warned me that he might want to nurse all the time again.  The new milk that came in was going to be sweeter and more flavorful than the colostrum he had been having at the end of the pregnancy.
Equipped with that information, I started preparing Bryan for sharing milk with his sister.  I told him that when his sister was born, she would need milk, too.  I told him, "Poor baby – so sad for her.  She can only have mama's milk.  She isn't lucky like you – you get to eat pizza, blueberries, ice cream (and so on with other favorite foods).  Not the baby.  She can only have milk."  From there, I told him, "Since baby can only have milk, she will have to eat first.  You can eat (favorite food) while you wait your turn." 
He also learned this scenario:
Q: "Bryan, how will the baby tell us she needs milk?"
A: "She will start crying."
Now you and I know that we can head off the crying by responding to early cues, such as looking for the breast, gnawing on fingers/knuckles, suckling in the general direction of the breasts if they are in arms.  I wanted to teach Bryan that when we heard her escalated pleas for milk, she was going to get priority and that he would learn to be okay with that.
Well, I did not have much to worry about the first couple of days after Angélika was born.  Bryan was so stunned by the sights and sounds of the new baby that he ignored both of us for a couple of days.  By day three, he started coming into our room voluntarily to see us.  By day five, he was signing for milk again.  And so we started establishing the new hierarchy that we had talked about. 
The first few times we told him he had to wait for the baby to nurse first did not go well.  He threw a temper tantrum and even hit me a few times.  Daddy Bruss talked to him and reminded him what we had talked about – that baby could only have milk.  Then he would take him to the kitchen to find something to eat while he waited his turn.
Five months later, we have settled into a nice routine.  He still enjoys nursing and asks for his "cheche" throughout the day; it's his version of "leche", the Spanish word for milk.  Most heartwarming of all – when he hears the baby crying, he comes running.  He tells me, "Angélika's crying, Mommy.  She wants cheche."
To keep my sanity and some modicum of independence, I set limits for Bryan and I.  Otherwise I would probably be nursing, or eating to keep up with all the nursing; nothing else would get done!
The first stipulation is that he can only nurse at home.  Although I am happy that we are tandem nursing, I am not completely comfortable with nursing a two-and-a-half year old in public.  My natural living circle of friends would have no problem with it.  The challenge is that I wouldn't do it if I were not around them – and that would be confusing and problematic for Bryan.  Maybe I will grow a little braver with time. 
The second stipulation is that I will only nurse one child at a time.  I have seen it done, and heard of other mamas who nurse non-twin siblings at the same time.  With four kiddos, I would rather keep the nursing one-on-one so that our special time remains "our" special time.
So now I am tandem nursing.  I had pictured this butterflies and rainbows under sunny skies, earth mama nourishing her children…it has never been that for me.  For me it is juggling time, it is negotiating, it is being still when I have other things to do.  And yet, it is completely and utterly fulfilling.  My babies are thriving, thanks in part to the milk my body makes for them.  It was not what I expected; yet I am grateful for the experience.
Disclaimer: 

The material included on this site is for informational purposes only.
It is not intended nor implied to be a substitute for professional medical advice. The reader should always consult her or his healthcare provider to determine the appropriateness of the information for their own situation.  Krystyna and Bruss Bowman and Bowman House, LLC accept no liability for the content of this site, or for the consequences of any actions taken on the basis of the information provided.  This blog contains information about our classes available in Chandler, AZ and Payson, AZ and is not the official website of The Bradley Method®. The views contained on this blog do not necessarily reflect those of The Bradley Method® or the American Academy of Husband-Coached Childbirth®.
Categories: Breastfeeding, Child Spacing, Tandem Nursing
/