...celebrating every swee​t pea their birth
| | |
| --- | --- |
| Posted on March 17, 2012 at 11:22 AM | |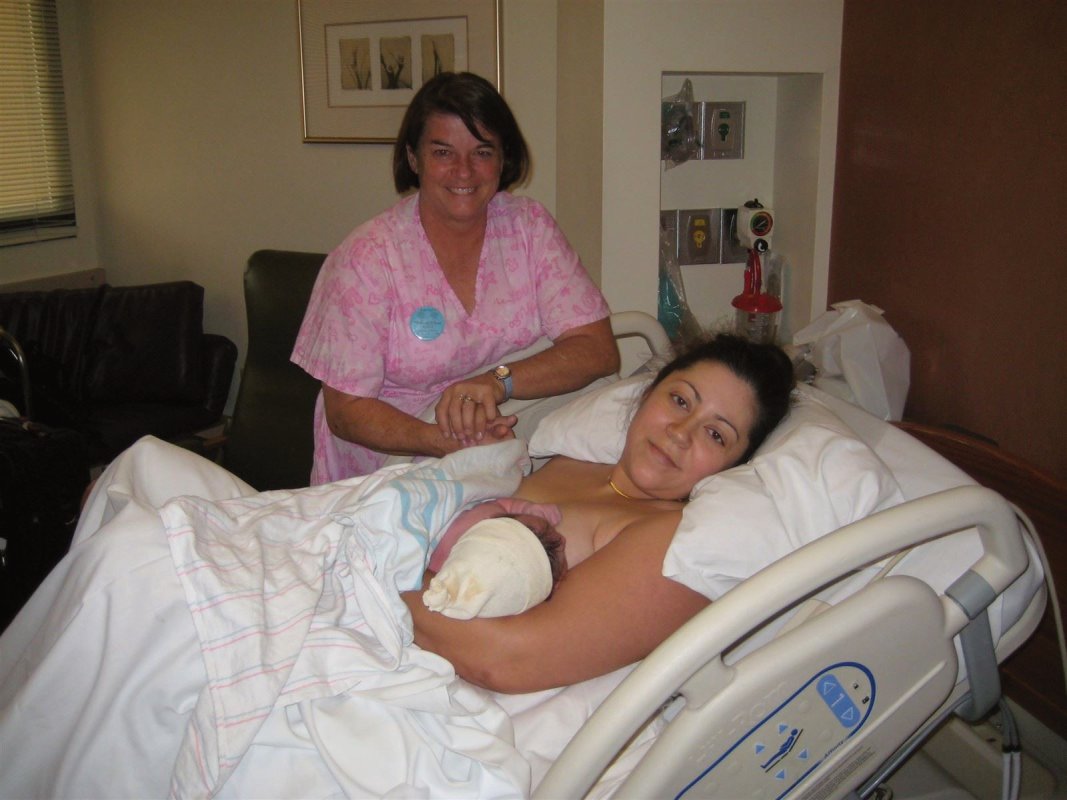 It breaks my heart to hear desperation in a new mama's voice, or to read that they are struggling with breastfeeding, or to know that they are not getting enough sleep.  It's a harsh reality check after the first few hours of euphoria after the baby is born.
After a baby is born and the female body is flooded with endorphins, a mama who has had minimal interference with the natural process will be completely alert, awake and responsive to the needs of her newborn child.  Hopefully she gets some sleep after the endorphins wear off.  Next starts the babymoon and the parade of people – family and friends coming by to help the new family, well-wishers bringing gifts of food.  Mama is supported and loved and maybe she gets some sleep as others ease her burden.  Then life happens…and mama and baby are left to fend for themselves while everyone who was supporting the motherbaby gets on with their life:  Coach goes back to work, friends stop bringing food, or maybe after a visit the clean-up duties are left to the mama. 
The stress in this situation can be compounded by other dynamics.  When a mama has not had a natural-ish birth she wanted, or maybe she is healing from the physical and/or emotional experience of a cesarean birth, she might be stressed.  Maybe there are feeding issues due to the learning curve or a physical limitation to the nursing relationship.  Maybe there are siblings in the family who are also adjusting to the new family member.  Maybe there are pets acting out as they try to figure out the new family dynamic.  All these stressors start to affect a mama's well-being.
As a mama starts to lose sleep and add stress, the concern I have is two-fold:  First of all, she may affect her milk supply.  The second concern is that she will experience more than just the baby blues as her body re-adjusts hormone levels after pregnancy.  Without adequate sleep, she could easily escalate to post-partum depression.  The condition has many
symptoms
; the one that concerns me the most is when women think about or actually do bodily harm to themselves and/or their children.
Sleep:  Find help after the babymoon is over.   Will your life-house-sibling parenting be perfect right after baby arrives?  No way, no how.  The important thing is to be aware that the situation is temporary.  If you allow yourself some breathing room, you can recover from birth and get back into your "normal" sooner than later.
Coach has to go back to work?  Beg, borrow or steal time when you can.  Be okay with letting things go around the house.  Pick one room to keep clean if that is important to you, maybe the one where you spend the most time.  The rest can wait until you have recovered from your birth.  Coach gets home from work – pass him the baby and go take a nap. 
Have other kiddos?  Set up a "meal train" and let other people help with feeding your family.  Let them know about your food restrictions.  Our friends introduced us to some new gluten-free foods after Angelika was born – it was awesome.
No support from family or friends?  Hire a postpartum doula to help care for baby or your housework so you can sleep.  Many of these women are willing to barter if needed – most of us in the birth business are more concerned about the mother/baby than we are about getting paid in money. 
Another obvious yet harder-to-do as we are more technology dependent, is to turn off the gadgets.  Put away your phone; turn off your computer.  The world revolved long before there was app for it.  If you are tired, don't allow yourself the distraction.  It's amazingly freeing to go a few "wireless" days.  Trust me when I tell you that you can always catch up later.  There is no one more important than you and baby in the first days of recovery, or if your baby blues are getting worse instead of better.
Birth experience:
  There are many support groups to help a mama process her birth, as will as books and classes.  In the Phoenix area, birth mentor
Alejandrina Vostreja
has a class for moms/coaches who want to process their birth experience. You can talk to your doula or assistant coaches to put together any missing pieces you and your coach don't remember or didn't notice due to being in the moment.  You can attend a birth circle (
click here
and scroll down for AZ groups) to share your story in a non-judgmental and supportive setting.  If you had a cesarean, you can attend an
ICAN meeting
, another non-judgmental and supportive setting.
Feeding Issues:  After being around the birth world for a few years, I would definitely recommend finding the help that is appropriate for the situation.  Peer-to-peer help, i.e., La Leche League, is good for a painful latch or general adjusting to motherhood.  A certified breastfeeding counselor (they have completed a course to help mothers) is the next step if peer counseling doesn't answer your concerns.  If you have issues such as a baby who is losing weight or continued fussiness at the breast, then go straight to finding and making arrangements to meet with an IBCLC.  They have completed a rigorous training program and they are internationally certified to be the gold-standard – they are the real deal when it comes to calling themselves a Lactation Consultant.
Feeding issues can be heart-breaking if you are committed to breastfeeding.  It helps to keep the big picture in mind…this is a bump in the road.  Learning to breastfeed takes at least four to six weeks, especially if this is your first time breastfeeding, if your baby is  a preemie, or if your baby has "technical" issues like a
tongue-tie
  that need to be addressed, and baby essentially has to gain strength or re-learn how to suckle at the breast.
My friend Debbie Gillespie, IBCLC, RLC, taught me that the most important to-do is to
feed the baby
.  Pick the one thing that you are willing to do this time – and just deal with one feeding at a time.  As in labor, it's hard to deal with the emotions and discomfort if you think about how long it's going to go on… by addressing the feeding right now, and only the one right now, you can ease the stress that will affect your milk supply if it rises unchecked.
It is also important to remember that breastfeeding is much more than breastmilk.  By putting your baby to the breast, even if it's just suckling, that's a start.  You are bonding skin-to-skin, you are letting your baby "talk" to your body, it is giving your body the message to keep making milk because there is a human baby to feed.  It is your baby transferring it's needs to your body so your body can make the quality of milk your baby needs for that time window (antibodies, vitamins, minerals, lactose*, protein, fat).   Hopefully your unique "formula" is already made and transferred into the storage containers you are using.
Siblings: Ask a babysitter to come play with the older children while you and baby nap.  Plan unique activities for them to do with the kiddos.  Another option is to bring out special toys that only come out when a new baby is born so that they look forward to the arrival of the new sibling.
You can also make a twist in the "family bed" concept. Have your child(ren) bring you books or toy sets to play with on the bed so that you can be comfortable, be skin-to-skin with baby and still pay attention to older siblings.  It's great for baby to hear language, whether it's reading aloud or playing with the other children.  It's great for the other children to share time with baby and still get your attention.
If family is in town after baby arrives to help, be clear about who needs help and what you want done.  As much as they may want to hold the new baby, the baby is your responsibility.  Utilize their time to do special activities with the older siblings – they can hold the baby when you siblings are napping or in school.  It's nice for the kiddos to have someone they feel is dedicated to them while mom takes care of baby.
Pets:  The best first job we ever provided a neighbor was after we had Ysabella.  Our dogs had been used to walking twice a day – and that just wasn't possible as I was healing from my episiotomy.  We hired a neighborhood kiddo to come by after school to walk our dogs – they were happy and I healed.  After everything was better, I started walking them in the mornings again, and our neighbor kept up the afternoon walks.  I had time with baby, the dogs got their walks – life was good!  I can't speak for cats – maybe someone else can do that in the comments.
We have also had students give away pets to a loving home before baby arrives.  Recently, some students found a home for their pets in their neighborhood.  They will still get to see their pets on occasion.  They also offered to pet-sit when their new owners go out of town.  It is one of the best solutions we have heard of through our time teaching Bradley Method® classes.
If you are going to change any rules, it's a good idea to do that before baby comes, so that pets don't necessarily associate a change they don't like with the new family member.  Another great tool we used to acclimate our pets was the
Preparing Fido
CD.  I imagine it could work to acclimate a variety of animals to baby sounds – again, trying to ease the transition before baby arrives.
This is just a short list of possible fixes to help alleviate postpartum stress.  The most important thing to remember as you make and execute your postpartum plan is to take care of mom and baby first.  Everything else is secondary.
I will close by saying that encapsulating our placenta made the biggest difference in our postpartum experience for our last baby.  I did not experience postpartum depression this time; my milk supply was and remains awesome; it was our best postpartum ever.  Here is some
basic information
on it – I will be writing up more detail about our experience in a future post.  I encourage you to look into it and ask more questions to see if it might be right for you.
*A lactose-intolerant baby is not allergic to your milk.  The intolerance is for the dairy products made by a cow for their baby. 
Click here
to read more about one mom's journey through lactose-intolerance.
Disclaimer: 

The material included on this site is for informational purposes only.
It is not intended nor implied to be a substitute for professional medical advice. The reader should always consult her or his healthcare provider to determine the appropriateness of the information for their own situation.  Krystyna and Bruss Bowman and Bowman House, LLC accept no liability for the content of this site, or for the consequences of any actions taken on the basis of the information provided.  This blog contains information about our classes available in Chandler, AZ and Payson, AZ and is not the official website of The Bradley Method®. The views contained on this blog do not necessarily reflect those of The Bradley Method® or the American Academy of Husband-Coached Childbirth®.
More on Postpartum Plans:
Links list:
Post partum depression
Birthin' Again Mentor
International Cesarean Awareness Network
Tongue Tie
Preparing Fido
Categories: Breastfeeding, Breastfeeding support, Cesarean Birth, Cesarean Surgery, Depression, Healing, Homebirth, Hospital Birth, Information Center, Natural birth, Postpartum, Postpartum Depression, Postpartum Doula, Postpartum Plan
/