...celebrating every swee​t pea their birth
| | |
| --- | --- |
| Posted on March 31, 2012 at 4:55 PM | |
Today's post is from Bruss' perspective.  He led class on Monday and told a story he had never shared in a class setting before...here it is along with an introduction that shares the line of thinking that went along with the story...
An important part of The Bradley Method® (some say the most important) is relaxation.

The superficial view I had of relaxation going into our first Bradley class and subsequent birth was that of *physical* relaxation. Krystyna and I were/are regular Yoga practitioners and my mental picture of relaxation was the final Yoga posture where one lays prone on the floor after a hard workout where the only option is total physical relaxation. In my own mind I thought that getting Krystyna to the physical state of relaxation was the goal/benefit to her in pregnancy and labor.

The Bradley Method® instructs various methods of physical relaxation to the couples and encourages them to explore others that are meaningful to them. Among the methods are message, stroking, hot showers etc.

Combined with physical relaxation, The Bradley Method® teaches the importance of emotional and mental relaxation. Initially I considered these relaxation themes of less importance than physical relaxation. My thought process was if I can help get Krystyna to relax *physically* than the other relaxation components would take care of themselves. 

I have come to find out through our Birth experiences as well as the dozens of students that we have help teach/mentor that my initial approach to relaxation in pregnancy and birth was exactly backwards.

Physical relaxation is the *end* result and dependent on emotional and mental relaxation, Mom needs to be in a good emotional state, accepting of the baby and ready (as possible) to take on her labor, ready to be a Mother, has effectively dealt with any family dynamic issues *prior* to going into labor or any other *emotional* issues that may impact Mom's readiness for labor and beyond. 

As a strong compliment to emotional relaxation, Mom's ability to focus her mental energies effectively in pregnancy and labor can dramatically effect the outcomes for better or worse. I think of mental relaxation is the ability of Mom to affect her state of mind positively to overcome any externalities such as physical discomfort, emotional and environmental challenges.

What I have found through experience is that if Mom is not relaxed emotionally and is not able to focus her mental energies positively then *physical* relaxation is all but impossible. Conversely, by concentrating on emotional relaxation and positive mental focus then physical relaxation seemingly just happened and labor was able to progress more effectively.

.....

So what does all that mean?

For me as a husband and labor coach, what this means is that I have to (1) understand the importance/impact of emotional and mental relaxation to pregnancy and labor and (2) be ready, willing and able to effectively work/communicate with Krystyna on these components of relaxation during pregnancy, labor and beyond.

......

I'll end the post with a story from our first labor.

In our first labor Krystyna's water broke and labor contractions started soon thereafter. We went to the hospital after 6-8 hours and labored there for another dozen plus hours. While we were out walking the halls attempting to get labor to progress, Krystyna visibly became chilled and shaky. I reached up to her forehead and, sure enough, she was warm and very likely running a low grade fever. Krystyna told me, adamantly, 'do not tell the nurses/doctor that I have a fever or they're going to give us a C-section'.

OK, here I am as first time father, birth coach, with little or no experience, what to do?

Here's what went through my mind at the time.

1. Fever is sign of infection and potentially very dangerous to Krystyna and baby (we didn't know boy or girl yet)

2. Krystyna is *very* mentally strong and her mind is completely set on an intervention *free* labor and delivery.

3. Krystyna is *very* emotionally invested in this labor being natural and intervention free.

4. My last thought before coming up with a plan was I need to be careful how I handle this. Krystyna is very tired after 20+ hours of labor and on edge. If I don't handle this correctly there's a chance that she will just give up and then we're highly likely to be getting a C-section.

So here's what I did.

I told her that she was doing such a great job and was laboring really, really well. I also reminded her that she worked so hard in preparing for the birth with nutrition and education and I was *proud* of everything that she had done for our child. She was/is the absolutely the best and that I love her.

Next I looked at her and told her that she/we had done all these things to have the best outcome possible and the end goal of all this work was ultimately for her and the baby to be healthy and happy.

Then and only then did I tell her that the fever was dangerous. It was dangerous to her and the baby. And that we were not going to *hide* the fever from the birth team because that would go against our primary goal of having her and the baby be healthy.

Then I said that I was there for her and that we were going to do this *together* regardless of what labor interventions we might be faced with even if that meant we were looking at a C-section.

After that conversation we walked back to the room and told the nurse that we likely had a fever and started to discuss the options. The option we chose was to start a penicillin drip to take care of any infection. Several hours later (and 2 more interventions) Krystyna delivered Ysabella vaginally. Mom and Ysabella were healthy and Krystyna and I were *very* happy.

So my role as a coach in this birth was to help Krystyna deal with the emotional and mental challenges in being faced with medical interventions in labor despite her *very* strong emotional and mental investment in a natural, *intervention* free birth. In my opinion the emotional and mental aspects of this birth were the primary challenges that we had to get past *together* so that Krystyna could relax physically, let go and deliver Ysabella into this world. 

In the moment and in retrospect it was one of our very best days as husband/wife and new *parents*.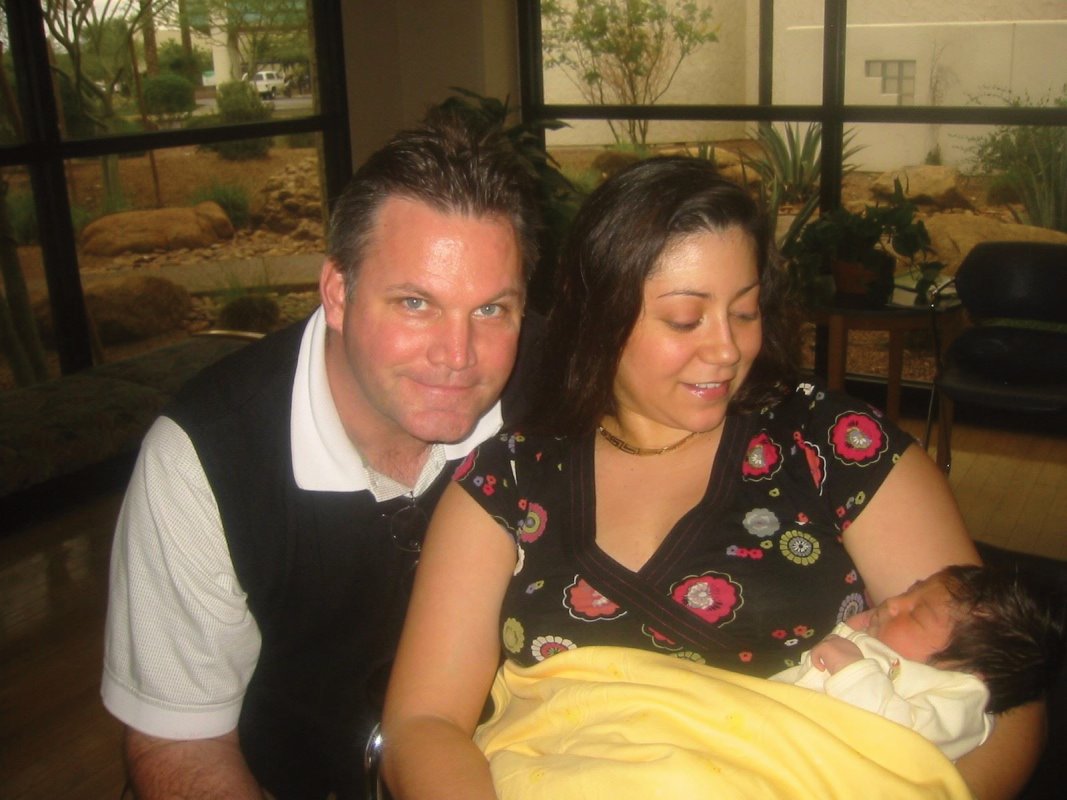 Disclaimer:  
The material included on this site is for informational purposes only.
It is not intended nor implied to be a substitute for professional medical advice. The reader should always consult her or his healthcare provider to determine the appropriateness of the information for their own situation.  Krystyna and Bruss Bowman and Bowman House, LLC accept no liability for the content of this site, or for the consequences of any actions taken on the basis of the information provided.  This blog contains information about our classes available in Chandler, AZ and Payson, AZ and is not the official website of The Bradley Method®. The views contained on this blog do not necessarily reflect those of The Bradley Method® or the American Academy of Husband-Coached Childbirth®.
Categories: Birth Story, Bradley Method® outcome, Bradley® Coaches, Coach's Corner, Coaching, First stage labor, Hospital Birth, Infections and Pregnancy, Natural birth, natural labor coping mechanisms, Natural labor coping techniques, Obstetrical Care, The Bradley Method®, The Bradley Method® classes, The Bradley Method® pain management, Variations and Complications, Why we chose the Bradley Method® childbirth classes
/