...celebrating every swee​t pea their birth
| | |
| --- | --- |
| Posted on June 17, 2016 at 8:46 AM | |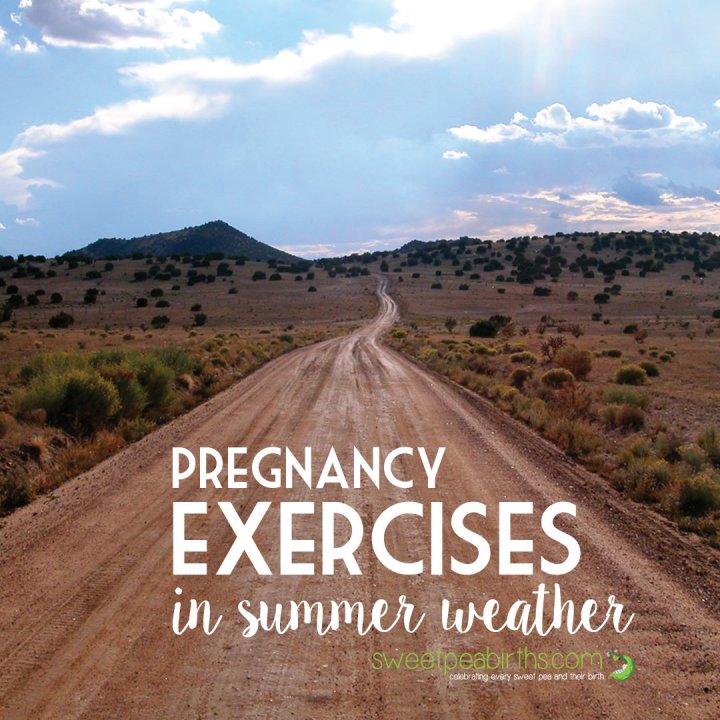 It feels like the Arizona Summer Oven just turned on last week...after a beautiful May, we are now at the mercy of triple-digit temperatures.   
A big concern for me as the heat continues to ratchet up in Arizona is that mamas stay hydrated, especially those that are still pregnant.  It is super important for their health, as well as their baby's health.  Having gone through three summer pregnancies, I remember very well the discomfort; and the need to stay hydrated in spite of multiple trips to the bathroom throughout the day.  As you drink, sweat and eliminate, remember that you also have to replace your trace minerals.  
HERE
is a post written by a colleague about your water needs through pregnancy.
Which leads me to another concern I have with our students and readers that will be pregnant through the summer months…exercising safely and wisely.  One of the components of The Bradley Method® classes is exercise.  Dr. Bradley called his pregnant patients "obstetrical athletes" and his nurse,
Rhondda Hartman, RN
, designed a whole pregnancy exercise program that was taught to his patients.  Now we share that program with all our students.  We find that the students who exercise faithfully for the duration of the 12-week series, are well-trained for their athletic event: birth.   
So how do you balance exercise, heat and advanced pregnancy?  Even in early pregnancy these thoughts will apply.  The developing fetus is especially susceptible to temperature changes in the mother's body (Ref 1), so this information is good all around.   


The Bradley Method® exercise program encourages all of our healthy moms to get at least forty minutes of stamina building cardiovascular exercise every day.  The suggested regimen is two sessions of 20-25 minutes each.  Many of our students get this in by walking their dogs (I was one of those mamas, too!) or walking on a treadmill.    
As the heat builds up here in Arizona, we start to caution our students against doing too much during the hottest times of the day, and to start drinking more water than they think they need.  Thirst is a sign of dehydration, which means that you needed more water a while ago.  When it's summer in your part of the world, drink plenty of water and consider some of the following options for cardiovascular activity.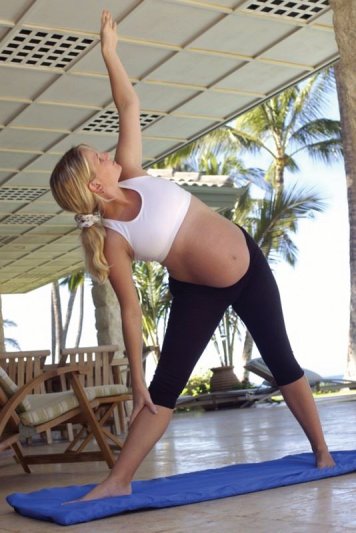 Here are some ideas to keep up the stamina exercises as it heats up that are gentler on the pregnant body.  A mama can swim, participate in water aerobics or maybe find a pre-natal yoga (Ref 2).  You can even keep jogging (3) and cycling (4) – in the water!  The weightlessness feels awesome and you get to stay cooler while you exercise.  These are my preferred methods of keeping up my exercise regimen when I am pregnant.  I was never much for sweating!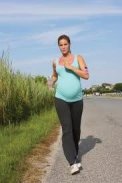 If you are a mama that wants to keep up with more intense cardio, consider taking it indoors to use a stationary bike while you still have good balance, and then move to a recumbent bicycle or pool (3) as your belly grows, or you can keep up a good pace on a treadmill.  We have had mamas jog into their seventh month of pregnancy; and our latest version of "extreme pregnancy" exercise has been a mama who ran stairs into her seventh month.  Both of these mamas were under the watchful eye of their care providers, of course!   
There was a great question that came up in one of our Spring 2012 classes as it relates to exercise and not knowing when labor is going to start.  One of our mamas asked, "What if I had a really intense cardio workout in the morning, and I am tired, and I go into labor that night?"   
My answer: Once you are in weeks 36+ of pregnancy, you are no longer exercising to build stamina.  You are on more of a maintenance program.  Turn the settings down on the treadmill, take a slower pace if you are out on the street, keep up the same amount of laps in the pool, maybe a slower pace, or switch to a completely different type of exercise.  I especially love pre-natal yoga and water aerobics in the last weeks of pregnancy because they are gentle on the body and encourage relaxation for the mind.   
A critique of The Bradley Method® that I have heard more than once is that there is too much emphasis on walking during labor and mamas wear themselves out. As it relates to labor, we teach that walking is a tool that needs to be used judiciously.  If your contractions are 8 – 10 minutes apart in frequency, our experience has been that walking is not going to speed it up significantly at this point.  This is the time to eat if you are hungry, sleep if you are sleepy – stop timing your contractions and conserve your energy for the hard work.  Once you have a pattern of contractions that is well-established, then walking might be a very effective way to ease discomfort and possibly speed labor as baby is encouraged into an optimal position by opening the inlet of the pelvis.   
Since we are headed into triple digits this weekend, I will close with this thought:  There are two very important people in the pregnancy:  Mom and Baby.  Make good choices that preserve Mom's health and Baby's well being above everything else.  That extra workout to keep off the pregnancy weight won't be worth it if overdoing it and suffering from heat and/or exhaustion compromise either Mom or Baby.  
What is/was your favorite form of cardio-aerobic exercise during pregnancy?   
 References 
 (4) This is an exercise I learned in my water aerobics class:  Find a pool noodle that you can float on.  Bend it into a U-shape and straddle the bottom of the U.  You exercise in water where your feet do not touch the bottom and you can bicycle in a circular pattern around the pool, or back and forth along the pool.  If you want an extra workout, you can curl water weights while you are at it.   
 Disclaimer:  
The material included on this site is for informational purposes only.  It is not intended nor implied to be a substitute for professional medical advice. The reader should always consult her or his healthcare provider to determine the appropriateness of the information for their own situation.  Krystyna and Bruss Bowman and Bowman House, LLC accept no liability for the content of this site, or for the consequences of any actions taken on the basis of the information provided.  This blog contains information about our classes available in Chandler, AZ and Payson, AZ and is not the official website of The Bradley Method®. The views contained on this blog do not necessarily reflect those of The Bradley Method® or the American Academy of Husband-Coached Childbirth®. 
Categories: Exercise
/