...celebrating every swee​t pea their birth
| | |
| --- | --- |
| Posted on May 19, 2012 at 6:43 AM | |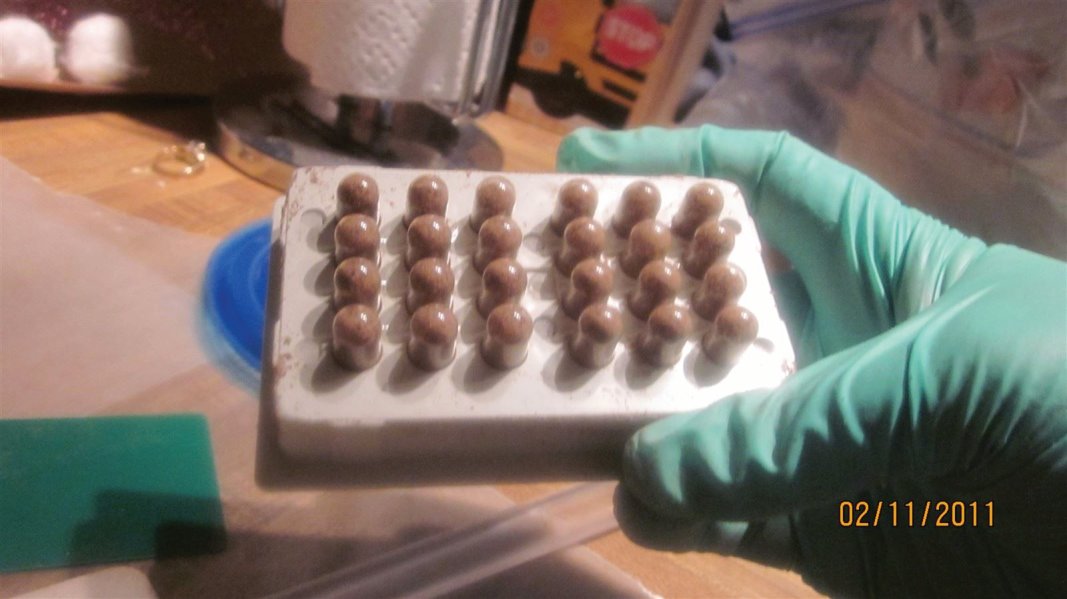 In the grand scheme of planning our homebirth, there was one thing that Bruss was unsure about: placenta encapsulation.  The idea of consuming a placenta after childbirth was absolutely an eyebrow raiser for me, too, the first time I heard about it. 
After going to birth circle and researching some more, I came around to the idea.  Lots of moms testified that there was a positive effect on their postpartum period, going so far as to call them their "happy pills".  I had postpartum blues with both Ysabella and Bryan (incidentally, both of their labors were augmented with Pitocin) and if there was a way to avoid that emotional roller coaster, I was willing to try it.  Wendy Diaz, Pbi certified placenta encapsulationist, also carries a food handlers card for Maricopa County, so I felt assured that the pills she would be preparing for me were safe for consumption, even if the contents were going to be outside of my "norm".
It was my best postpartum EVER.  Bruss now confidently tells our students that it wasn't so bad after all.  He says, "That was the weirdest thing in our birth plan.  It was worth it – the difference in the postpartum period was night and day." 
I also want to mention that placenta encapsulation is not exclusive to home birth.  You can request and take your placenta home after you birth in a hospital or birth center.  You want to take care to refrigerate it within four hours after the birth (bring a take-home container to the hospital).  If it will be several days until someone will be preparing your placenta, you can freeze it to preserve the integrity and safety for consumption.

So, how do those little capsules do their job?  Wendy shares her knowledge for today's blog post:

SPB:  What are the benefits of placenta capsules?
Wendy:  There are many ways to prepare your placenta for ingestion.  Some women feel comfortable putting their placenta in a smoothie, or creating a special recipe for it.  Some women even consume it raw.  Those methods will work, however, they limit the length of time you are able to utilize the benefits of the placenta to matter of days.

When I process a placenta, it is dried, ground and encapsulated.  By encapsulating the placenta, you can take them daily for a number of weeks.  You can reap all the healthful benefits of your placenta quickly, easily and discreetly, and when stored properly, they can last for years.  When you have recovered from childbirth, you can freeze the capsules and save them for menopause.

SPB:  You mentioned that there are benefits of the placenta: why would someone want to consider ingesting their placenta? 
Wendy:  Placenta capsules are beneficial in the postpartum period, and at other times in a woman's life: 
Balance your hormones 
Increase milk supply 
Recover more quickly from childbirth 
Replenish what was lost during childbirth (restores what the Chinese call "Qi") 
Brings the body back into balance 
Prevent and treat the "baby blues" 
Shorten postnatal bleeding time (lochia) 
Increase postnatal iron level 
Combat fatigue Increase your energy

SPB: How do the placenta capsules help with those things?
Wendy:  There are several scientifically known hormones produced by the placenta.
Progesterone: Serves to suppress ovulation, however, do not count on it as a method of birth control! 
Estrogen: Stimulates mammary gland development.* 
Prolactin: Promotes lactation
Oxytocin: Inhibits pain and promotes bonding.  It is also known as the "love" hormone. 
Interferon: Stimulates the immune system to protect against infection
Thyroid Stimulating Hormone: Boosts energy and helps the body to recover from stressful events. 
Cortisone:  Combats stress and unlocks energy stores
Hemoglobin:  Replenishes iron deficiency, thereby curbing anemia. 
Gammaglobulin: Immune booster that helps to protect against postpartum infections. 
Urokinase Inhibiting Factor & Factor XIII: Stops bleeding and enhances wound healing. 



SPB:  How would someone know if the placenta capsules are working for them? 

Wendy:  If the placenta capsules are working as expected, Mom should be experiencing at least some, it not all, of the expected benefits.  It is best to stop taking them if you should develop a cold; for some reason, taking your placenta capsules when you are sick seems to drive the cold in deeper.  In addition, if you experience headaches, there is probably too high a concentration of hormones in your capsules.  You can cut your dose in half; and I have also been known to re-make the capsules to include a "filler" and thereby reduce the concentration in the capsules. 


As Wendy says, "Placentas are rare and powerful – make the best of the ONE available to you after childbirth."  If the thought of preparing and encapsulating your own placenta is a bit overwhelming, you can contact Wendy about her Placenta Encapsulation Services.  




For more information, visit

www.NoBabyBlues.com

, or you call her at 480-228-3716. 

* Krystyna's side note:  Estrogens are one in an array of hormones necessary for both ductal and alveolar growth in the mammary gland.  See

this post

for more information about galactagogues.

Disclaimer:  

The material included on this site is for informational purposes only.
It is not intended nor implied to be a substitute for professional medical advice. The reader should always consult her or his healthcare provider to determine the appropriateness of the information for their own situation.  Krystyna and Bruss Bowman and Bowman House, LLC accept no liability for the content of this site, or for the consequences of any actions taken on the basis of the information provided.  This blog contains information about our classes available in Chandler, AZ and Payson, AZ and is not the official website of The Bradley Method®. The views contained on this blog do not necessarily reflect those of The Bradley Method® or the American Academy of Husband-Coached Childbirth®. 
Categories: Baby blues, Placenta Encapsulation, Postpartum, Postpartum Depression
/