...celebrating every swee​t pea their birth
| | |
| --- | --- |
| Posted on June 12, 2012 at 10:22 AM | |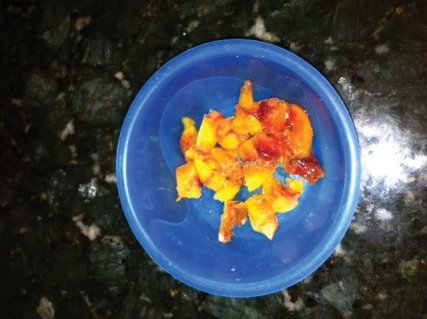 Photo: The last of our peaches...so happy our baby got our home-grown produce!
This is the third installment in my Introduction to Solids series.  I am journaling about our experience with baby feeding since we have the unique opportunity to share this with our students and readers as we start the process of weaning our youngest child. 
This is not medical advice, nor is it a schedule to be followed.  It is simply our choice for our baby and the first time we have done what is gaining popularity as "baby-led weaning".
There are two benefits I have already noticed from our choice to feed Angelika whole food pieces instead of starting her with cereals and purees.
No choking yet:  Babies that learn to eat whole food pieces learn to chew, as opposed to children who start with soft, mushy foods that learn to swallow.  I cannot find the source where I originally read this – it makes so much sense! (When I find it, I will post the link.) 
Knowing that I wanted to start her with "true" solids, I waited for some developmental markers to start feeding.  She did not start getting table food until she could get into and stay in a seated position on her own, and I watched for the pincer grip.  As it turns out, she practiced that on me – my bruised breasts and my arms were proof that our baby could probably pinch to grasp food, among other things.
We had scary choking experiences with our other three children – mostly involving things like tortilla chips, which we have a lot of in the southwest!  She grabbed a tortilla chip out of my hand last Wednesday, and managed to eat it without choking.
If your child does choke – click
here
for some visuals with instructions.
Less time in the kitchen:  I would spend two days per month preparing vegetable purees when we started feeding our boys.  Baking, steaming, pureeing, freezing, storing…it was time consuming!  As a mother to four kiddos, that is just not a reality right now.  Now I can bake or steam a few things as we make our own food and use it as we need it and have a couple of days of food that can be reheated.
I may revisit pureeing as our lifestyle allows for more kitchen time again.  It was well worth it to know that the food for them was whole and preservative free, and there was the side benefit of having purees to use in other foods.  The rest of us benefited from vegetables in baked goods and sauces; I even mixed them into the cheese and "melted" veggies into quesadillas.
Weekly update:
This week we introduced two new vegetables – carrots and peas.  Although Angelika has been handling a whole, peeled carrot as a teether, she had not eaten carrot before.  She loved them – pretty much attacked the food as it was making its way to her plate!  She also ate the peas with enthusiasm.
Angelika is doing much better getting the food into her mouth, instead of wearing it or tossing it.  Her diapers are showing us how much she is able to digest – there are still some pieces coming out whole, so to me it looks like her body is still learning to process the food.
Her bowel movements have been on and off again – some days they come in the morning as expected, other days none at all.  I am still backing off on solids until I see confirmation that her body is processing; then I go back to offering food at least twice a day.
She also had a diaper rash last week that made me nervous (she rarely gets rashes).  After a
KST check
by our
chiropractor
, he shared that it doesn't seem to be food related.  Since she is still teething, he said that the increase in fluid production has changed the ph in her body.  I am going to follow his recommendation to add a dash of baking soda to her drink cup and see if that will clear up the rash.
That is it for our update this week.  I plan on introducing bananas and continuing with peas and carrots this week.  We will also revisit avocados.  If all goes well, we may try some baked apple.  I'll wait and see how hot it gets in Arizona this week and decide if it's worth it to turn on the oven.
I would love to hear from you – what is your experience with baby-led weaning?  How does it compare with feeding choices you have made for other children?
Food+ Diary
Monday, June 4
Little solid poop – about the size of a U.S. half-dollar
Veggie straws
Sweet potatoes and yams for lunch
Tuesday, June 5
U.S. nickel-sized poop at wake up
Lunch – some sweet potato and yam pieces – played more than ate
Epic diaper after lunch
Dinner – Avocado
Wednesday, June 6
BM in the am
Breakfast: peaches
Lunch:  yam/sweet potato
Dinner: - 1 tortilla chip
Thursday, June 7
No BM yet
Breakfast: Apple (teether), peaches
Lunch: Carrot teether
Dinner: 15 pieces of yams/sweet potatoes
Friday, June 8
No BM today!
Breakfast – peaches
Lunch – 4 veggie straws
Saturday, June 9
AM – 4 veggie straws
Lunch – GF graham cracker pieces
Dinner – steamed peas and carrots
BM – big one at night
Sunday, June 10
BM in the morning and early afternoon
Lunch – peas and carrots
Dinner – veggie straws
Monday, June 11
No BM
Breakfast – Apple teether
Lunch – 0
Dinner – veggie straws
Choking Link:
http://www.babyledweaning.com/2012/baby-led-weaning-diary-and-its-goodbye-from-siobhan-and-some-stuff-about-choking/
Disclaimer: 
The material included on this site is for informational purposes only.
It is not intended nor implied to be a substitute for professional medical advice. The reader should always consult her or his healthcare provider to determine the appropriateness of the information for their own situation.  Krystyna and Bruss Bowman and Bowman House, LLC accept no liability for the content of this site, or for the consequences of any actions taken on the basis of the information provided.  This blog contains information about our classes available in Chandler, AZ and Payson, AZ and is not the official website of The Bradley Method®. The views contained on this blog do not necessarily reflect those of The Bradley Method® or the American Academy of Husband-Coached Childbirth®.
Categories: Baby-led weaning, BLW, Starting Solids
/