...celebrating every swee​t pea their birth
| | |
| --- | --- |
| Posted on June 22, 2012 at 11:52 AM | |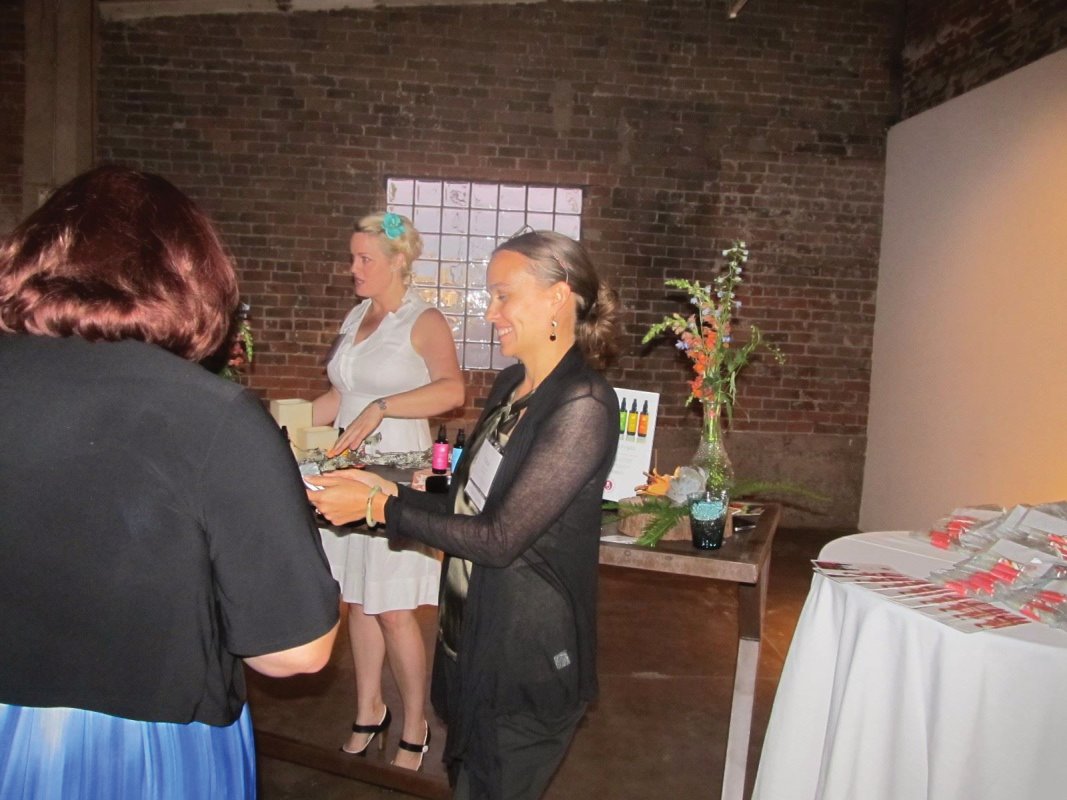 I had the pleasure of meeting Katie Hess at a
networking event
last year.  Thanks to that meeting, I used her flower essences to release some fears and to find calm as we approached our birth.  We also used them at the blessingway and each guest got to enter our "sacred space" by getting a mist of the flower essence of their choice. 
I also feel like Angelika "resonates" with the benefits of the flower essences.  I used them every day for the last two weeks of pregnancy, and then in the time afterwards I have used them pretty consistently.  More than any of our other children, who were all cute and got comments about their cuteness – this baby seems to be charmed, and charming.  I have to wonder if the flowers have anything to do with that.  
So far, we have used the mists and the serums.  I also bought one of her
perfumes
- her latest offering that debuted in March.  It is the first perfume I have used in four years – it smells lovely and it doesn't irritate Brussito's asthma AND I get the benefit of the flower essence.  LOVE!!  Our next order will definitely include some of the elixirs – summertime is a perfect time to add a little treat to all the water we are drinking. 
Here is a picture of one of her gals at the networking event with the flower essences.  Katie was kind enough to agree to a "virtual interview" so that I could offer the information about her amazing products as accurately as possible to our students and our readers (and it has inspired a new page on her site!).  The great news is that you do not need to live in AZ to order her products – you can place an order on-line at her website,
www.lotuswei.com
How did you find your way to making flower essences? 
 I was living and traveling outside of the country, searching for a way to help people reach their full potential. I discovered flower essences and was really impressed by their efficacy and transformative effects. I studied flower essence therapy with a European expert, and when I came back to the United States I met several meditation masters from Asia, who taught me the importance of awareness and mind training. Regular meditation over many years accelerated my understanding of the flower essences. I provided one-on-one flower essence consultations for 13 years; these experiences helped me develop formulas that are based on the flower essences people most need today. During the last 8 years I have collected over 120 flower and gem essences.

How do the flower essences work? 
 Flower essences work through the body's acupuncture meridians. They are very subtle, dilute infusions of flowers that affect state of mind. During the first month, they dissolve tension, irritation, sadness, anxiety, and stress. When flower essences are taken for several months, they illuminate patterns and accelerate personal growth.

Can you tell me a little about each of the products (elixir, mist,serum) and how they are used? 
Elixirs
are taken internally–they have no scent and consist of five flower essences suspended in water, organic grape alcohol and wildflower honey. You can take them under the tongue (5 drops, 5 times each day), in your beverages, or in your water bottle (1-2 dropperfuls in each water bottle) throughout the day.
 The 
Mist
is a water-based spritzer that you can use to mist yourself, your loved ones, your space, your car, and your pillows and sheets. It combines flower essences with organic essential oils to enhance the experience with aromatherapy. 
 A 
Serum
 consists of flower essences and essential oils in an organic safflower and calendula flower oil base that can be applied to the face and hands like a moisturizer, used on pulse points, or for massage.
They're all equally as effective if you use them 4-5 times each day. You can use one of them or several of them at a time.
What kind of application do the essences have in pregnancy and childbirth
? 
 I see pregnancy as the ultimate time in a woman's life to be taking flower essences. Not only are you creating and holding in your body another precious being, you are surrendering to the whole process of the birthing experience. For first time mothers, or mothers who have previously had uncomfortable birth experiences, flower essences can be a huge support.

  Throughout the entire pregnancy, flower essences for enhancing love are vastly beneficial for the baby (and mama too). We have a combination of five flower essences called Infinite Love. Mama will notice that she's not as hard on herself as usual, that she feels softer and gentler, and that love is all around. We say it's like a love potion, and that goes for any and all types of love.

  During labor, there are flower essences for peacefulness, confidence, and fearlessness, important for both mom, who is doing this huge great miraculous thing called birth, as well as for the baby who is coming into this big new world. We have a formula called Inner Peace with flower essences that help you feel like you can take on any challenge calmly.

When in the pregnancy would a mama want to start using the essences? 
 I would suggest using flower essences when you decide that you want to have a baby, or as soon as you find our you're pregnant. Numerous studies have demonstrated that babies feel everything the mother feels in the womb. Some experts also say that how a baby experiences the womb affects their development later in life. During pregnancy, the more happiness and love and peace that mama experiences, that much better for the baby.

How will a mom know which essences to use? 
 It's very simple. You can either follow our
recommendations for pregnancy
, or you can visit our
website
and choose the flowers you're most attracted to. Of those flowers you can choose the Elixir that resonates most with you.   
Are there any risks to using the essences, or could a mom overdose?
 Flower essences are totally different from essential oils--they do not have a scent and are extremely dilute infusions of flowers, so dilute that there are no plant parts left in the water. So even though you may be cautious during pregnancy about using certain herbal extracts, flower essences do not have the same concerns. They are extremely gentle. Flower essences contain a small amount of organic grape alcohol to preserve them, about the same about of alcohol your body would create after eating a quarter of a banana is in each quantity of five drops. Flower essences are generally taken a minimum of fives times each day, and can be taken more often than that. They are the most gentle form of natural remedy that exists and there is no possible overdose.

What benefits can a mom expect from using the flower essences?
 In general each person experiences flower essences differently, but these are the type of benefits that we hear about all the time: feeling more peaceful, loving, gentle, kinder toward oneself, quiet mind, happier, more clarity, feeling more fulfilled in life, more connected to nature, better relationships, deeper sleep, more energy, enhanced awareness and synchronicity ... the list goes on and on.

Would you recommend any of the products (elixir, mist, serum) over another? 
 During pregnancy, all six of the elixirs are safe and easy to incorporate into daily life, either taking them sublingually or adding them to beverages. Our mists and serums contain flower essences and organic essential oils. We believe that in such dilute amounts, aromatherapy is safe for pregnancy; however, we recommend asking your doctor or midwife if you have concerns about the safety of essential oils during pregnancy. We believe that aromatherapy is certainly better for use during pregnancy than the use of artificial fragrances, which have been known to increase risk of birth defects--and we do not use any artificial fragrances. Also, we understand that during some pregnancies, a mother's sense of smell becomes very heightened and in those cases, the elixirs would be the most appropriate way to get the benefits of flower essences.

Are there any other thoughts you want to share with our readers?   
 Here are some quick ideas about how to use our flower essence blends during pregnancy, birth, and beyond:
Infinite Love
flower essences - enhance love, intimacy, and bonding in your belly and in the family.
Inner Peace
flower essences - feel calm and confident, helpful for birth and motherhood in general.
Pure Energy
Serum - for back pain during labor: apply or massage into the lower back to stimulate circulation.
Quiet Mind
flower essences - during labor if you have to get some sleep even though you're having contractions; also helpful for getting deep sleep anytime.
Joy Juice
flower essences - dissolve postpartum blues and laugh more
Inspired Action
flower essences - when you have to go back to work but don't feel like it
For more information about how to incorporate flower essences into your life,
find more info here
.  
Thank you, Katie for embracing the entrepreneur inside of you.  We are grateful to benefit from the sharing your knowledge and your gifts with us.  We are big fans of your company and your products and it is our hope that you will be successful for many years to come.

Just in case...Links to copy and paste into your browser:
Main site~ https://www.lotuswei.com
Shop for Elixirs~ https://www.lotuswei.com/shop/flower-elixirs/
Shop for Energy Mists~ https://www.lotuswei.com/shop/energy-mists/
Shop for Serums~ https://www.lotuswei.com/shop/balancing-serums/
Pregnancy Info~ https://www.lotuswei.com/evolve/mamas-and-babies/#

Disclaimer:  
The material included on this site is for informational purposes only.
It is not intended nor implied to be a substitute for professional medical advice. The reader should always consult her or his healthcare provider to determine the appropriateness of the information for their own situation.  Krystyna and Bruss Bowman and Bowman House, LLC accept no liability for the content of this site, or for the consequences of any actions taken on the basis of the information provided.  This blog contains information about our classes available in Chandler, AZ and Payson, AZ and is not the official website of The Bradley Method®. The views contained on this blog do not necessarily reflect those of The Bradley Method® or the American Academy of Husband-Coached Childbirth®. 
Categories: Acupuncture, Comfort Measures, Flower Essences, natural labor coping mechanisms, Natural labor coping techniques
/