...celebrating every swee​t pea their birth
| | |
| --- | --- |
| Posted on July 10, 2012 at 5:00 PM | |
This is the seventh and penultimate installment in my Introduction to Solids series.  I am not sure how many more "aha" moments I am going to have going forward, so I think that I will keep one more week of notes to post and then move onto something else.  I am open to ideas, so let me know!  I will also count on our students to keep my ideas fresh :)
I am journaling about our experience with baby feeding since we have the unique opportunity to share this with our students and readers as we start the process of weaning our youngest child.  This is not medical advice, nor is it a schedule to be followed.  It is simply our choice for our baby and the first time we have done what is gaining popularity as "baby-led weaning". 
Click on these links for
Week 1
,
Week 2
,
Week 3
,
Week 4
,
Week 5
and
Week 6
. 
Thank you to everyone who sent me your stain fighting ideas.  I will take some time later this week to compile all the info and include it in next week's post.  I felt kind of dumb – I use one of the most obvious ones (sun drying) for our light colored clothing…I had never thought to apply it to our other clothes! 
This week I had a little light bulb go off.  Angelika really likes plums…so much so that she reaches for them when I am putting them in the grocery cart.  I remembered that one of our students had been told to give their baby prune juice for constipation.  I made the jump from prune juice being good for the digestive functions…to prunes to plums…and since that little "light bulb moment" we have been giving Angelika a plum to eat on a daily basis.  No more days without a bowel movement since that happy "discovery".  I am so happy her body has responded well to this food choice. 

I am still enjoying how easy it is to feed Baby when you are making whole food choices instead of taking the time to make purees and then mix them with baby cereals.  This week we were baking cookies, so I threw the sweet potato and the yam in the oven and used the same heat to cook the tubers.  Peas and carrots are easily steamed – it only takes a few minutes to boil water (even faster at altitude – yeah!). 
Side notes:  Now that Angelika is used to steamed carrots, she no longer likes to chew on them as teethers.  We think that her favorite vegetable is peas – those always disappear the fastest and she has yet to turn them down. 
This week, the new foods were strawberries and a squash variety we picked up at the Payson Farmer's Market.  They are called a "Patty Pan", also known as "Scallop" squash. 
I was nervous to try the strawberries because although they are not technically a citrus fruit, some children have reactions to them and La Leche League recommends waiting until babies are 12 months to introduce them (see 
this page
).  I am not sure what it is about them that causes the reaction – here is the 
allergy information
 I found poking around the internet.  
Ysabella gave her a strawberry the other day when I wasn't looking and then she told me about it.  Thankfully, there was no allergic reaction! I decided to "officially" introduce them since baby is reaching for them when I serve them to our older kiddos.   We tried a few more pieces the next day and so far, so good. My plan is to give them at 2-3 day intervals to allow Angelika's body the time to process all the seeds that are on the outside of the fruit.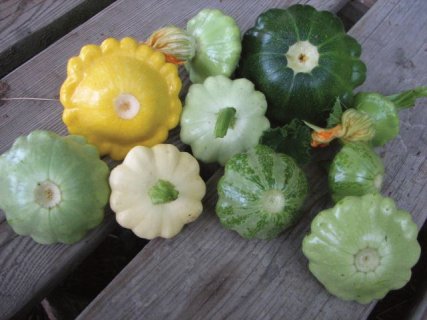 The other new food was new for all of us.  The farmer we bought them from called them Patty Pans.  Brussito was very interested in trying them, so we bought some.  (As you can see from the picture, another name for them, "Flying Saucers", is appropriate, too!  Might be a fun way to get the boys to keep eating them.)
The farmer told us they are extremely versatile: they can be baked, sautéed, fried or grilled.  You can slice them or stuff them.  We opted for a thin slice, a little olive oil, a touch of salt and then we put them out on the barbeque grill with the meat we made for the family.  The Patty Pans were delicious!  Angelika enjoyed them, as did the rest of the family. 
I love introducing foods to Angelika in the summer.  There are so many fruits to serve without having to prepare them, other than to peel them.  We are feeding her apples, bananas, peaches and plums on a regular basis.  Now we have strawberries to work into the mix.  I am thinking that we are good for the upcoming week and that we are not going to try anything new. 
This week will continue serving Angelika the Patty Pans that were left over (we cooked three different varieties: yellow, green and white – they all tasted the same to me!), and we have more sweet potatoes, yams, peas and carrots to prepare.  With the variety of foods that she is eating, I find that baking one large yam and one large sweet potato pretty much lasts the week. 
Next on our fruit list are grapes and cherries, but since those take a little more preparation, we may try another veggie next…maybe eggplant or green beans.
What has been your experience with introducing solids?  Did you discover any food allergies in the process?
Interested in reading more about our introduction to solids?  Click on these links for
Week 1
,
Week 2
,
Week 3
,
Week 4
,
Week 5
and
Week 6
.
FOOD JOURNAL
Tuesday, July 3rd
Breakfast:
Snack:
Lunch: Peas, Potatoes
Snack:
Dinner:
 (No computer day – journaling fail!)
Wednesday, July 4th
Breakfast: Pancake: Bob's Red Mill GF Mix, rice milk, flax seed, banana
Snack: Peach
Lunch: slept through it
Snack: Veggie straws
Dinner: Sweet Potato, Yam
BM – Yes
Thursday, July 5th
Breakfast: pancake, apple
Lunch: Peas, carrots, potatoes
Snack: Veggie straws
Dinner: Peas, carrots, potatoes, ice cream
BM – Yes
Friday, July 6
Breakfast: strawberry (½ berry), ½ banana, apple, pancakes
Lunch: plum, sweet potato, yam
Dinner: Sweet potato, yam, veggie straws, tortilla chips
BM – No
Saturday, July 7
Breakfast: Banana, pancakes
Lunch: Plum
Dinner: Sweet potato, Yam, banana
BM – 2
Sunday, July 8  
Breakfast: Banana, pancakes
Lunch: Peas, Veggie straws
Dinner: Peas, sweet potato, yams
BM – 2   Monday, July 9
Breakfast: Banana, graham crackers
Lunch: Strawberries, plum, graham crackers
Snack: Veggie straws
Dinner: Zucchini, avocado, tortilla chips
BM – 2   
WEB LINKS 
The material included on this site is for informational purposes only.
It is not intended nor implied to be a substitute for professional medical advice. The reader should always consult her or his healthcare provider to determine the appropriateness of the information for their own situation.  Krystyna and Bruss Bowman and Bowman House, LLC accept no liability for the content of this site, or for the consequences of any actions taken on the basis of the information provided.  This blog contains information about our classes available in Chandler, AZ and Payson, AZ and is not the official website of The Bradley Method®. The views contained on this blog do not necessarily reflect those of The Bradley Method® or the American Academy of Husband-Coached Childbirth®.
Categories: First Foods for baby, Starting Solids
/