...celebrating every swee​t pea their birth
| | |
| --- | --- |
| Posted on July 27, 2012 at 5:39 PM | |
The key to The Bradley Method® is relaxation.  As such the coursework teaches about three types of relaxation.  I summarize them this way:
Physical - release of muscular tension
Mental - going to your "happy place"
Emotional - safety, acceptance, surrender
Our third child taught us what emotional relaxation was.  We had planned to conceive our first two children.  Although having a third child was on the horizon, we had not "started trying"...here is Bryan's birth story: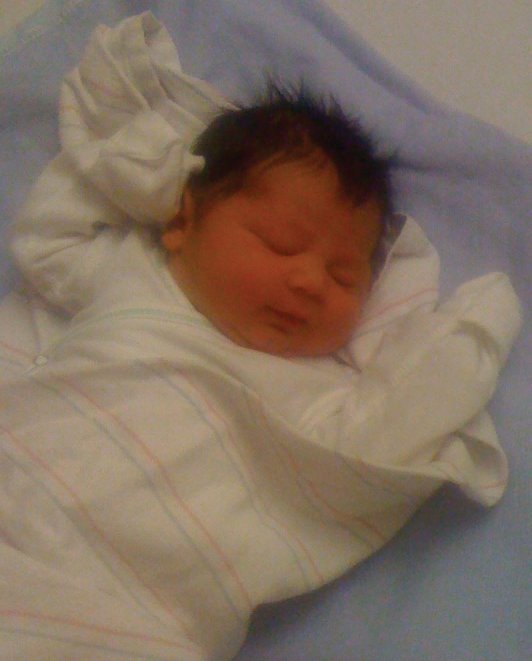 Bryan's story begins back in November of 2008.  I had just hired a personal trainer so I could get a kick in the rear and lose the baby weight.  Things are going well, I am losing weight...and then, I start having morning sickness.  I can't stand to look at food - and I am gaining weight...you, guessed it, blessed with Baby No. 3!!! 
This time we did find out what we were having.  Ysabella was so excited for her baby sister - she was thinking about names, making plans for their play time, praying for her little sister...I could not imagine the disappointment if it was a girl.  I also did not want her to be angry with God, so when the magic day came, we said, tell us...and it the answer was BOY! After a little time, Ysabella got used to the idea and we started thinking about boy names.  Ysabella wanted Ryan after one of her favorite movie characters.  Bruss wanted William after one of his favorite uncles.  Neither was budging and it was getting contentious at the dinner table.  Mommy saved the day by suggesting a compromise "B" from Bill and all of "Ryan" and we came up with Bryan. So, Bryan had his first name.  
Once we settled on the name, we started using it when we were talking about "the baby".  He is the first pregnancy we had that we got to go to the hospital calling the baby by name...or so I thought. We found out he was breech in early July, you can see our post on
How we turned our breech baby
for that side-story.  
I started having mucous-y secretions the week before he was born, so our summer plans in Payson changed.  We came home early because I was thinking 26 hours (1st) - 14 hours (2nd) - this was bound to be a 5-8 hour birth, right?  And I didn't want one of those hours to be Bruss and I driving down the hill with two kids and two dogs in tow. 
Well, my water broke at 9:30 pm on Tuesday, July 28th.  My brother Eduardo who was staying with us to help with the kiddos.  He had been here since early July to help, and it was the one night he went out with his friends.  We had kicked him out since he had been so attentive to us he wasn't going out with his friends.  Figures, right?  So we called Tia Gloria to come over and spend the night in case things progressed as I was hoping they would.   
An hour goes by - leaking and no contractions.  We had learned enough from our first two labors to know that my body likes to shift gears slowly, so our best bet was to go to bed.  I called our doula - a new one to us called Jenny - to let her know my water broke, we were going to bed, and we would call her in the morning, or sooner if things progressed faster than we thought. 
Off to bed - Eduardo gets home - excited to see that we are in labor!  He and Tia Gloria go to bed, too - ready to tell the kids that we are gone in the morning.  My contractions don't get any stronger because I am able to sleep through the night.  
I remember waking up in the morning and realizing that I was probably not going to have an eight hour labor since there were no strong contractions yet.  No wake up in the middle of the night - which means contractions are easy.  I am beginning to realize I am not going to have a five hour labor when I wake up to use the bathroom at two am - and I go back to bed to continue reserving energy. 
At 6:30 am, we called Jenny.  The plan was to start walking and see if we could get a regular pattern established.  It worked!!  We were five-six minutes apart, lasting about 45 seconds... So, I decide to take a shower before we go to the hospital - because my legs needed shaving - dumb, Dumb, DUMB!  dumb - really?  Dumb - I was by myself.  DUMB - sitting on a rickety stool? Bruss left me alone - he will feel bad about that for a long time, and he is good about telling our students never to leave their partners alone once they start labor.  
Well, that stool broke in the shower and I fell to the floor.  Ysabella must have heard something, because she comes running in to see if I am ok, and then runs to the kitchen and announces, "Mom just broke the stool into a ba-zillion pieces!) 
So, Bruss comes running - our plans to labor at home until our contractions were four minutes apart are gone.  We call Jenny to tell her the change and off we rush to the hospital.  I think my legs were almost done being shaved at this point, so I am sure I finished the last two strokes and got out of the shower to towel off, dress and drive. 
By the time we finally get there and are in triage, it is around 9:00 am on Wednesday morning.  I am calmer - Bryan was okay when we got there - his heart tones sounded good.  In triage, they read our birth plan,  they confirmed that my water was broken and tried to start pitocin.  We denied the pitocin but made the nurse feel better by telling her I was Strep B positive and she could stick me with other stuff. 
So the day continues.  We are happy to see our OB from our first two children is on call Wednesday.  We had never drawn her when she was our primary in the practice (and we lived in Ahwatukee), so it was a treat.  We made some comments on how she would finally get to catch one of our babies.  She hadn't heard we were pregnant (we had moved to Chandler and switched to the local office), so she was happy to catch one of our babies, too. 
It becomes apparent that labor is going to be slow in starting up again.  We had made some progress in the afternoon, only to have it taper off by dinnertime.  I start to get discouraged.  We hear that my mom has landed in Phoenix from Chicago, so she is going to relieve my aunt and go help Eduardo with the kiddos.  We talk to the kiddos.  Ysabella, ever sweet, says, "I guess God didn't want me to meet Bryan today - that's okay.  I can keep waiting."  Sweet, sweet, sweet! We decide to ask for a breast pump.  
Nipple stimulation had helped get Brussito's birth going - maybe it would help again - walking around the hospital all day hadn't done the trick.  The nurse says that we can't have it since there is no hospital protocol for it.  At 5:00 am, Dr. Ragaini comes in and asks, how did the breast pump work?  I have never had anyone try that before and I am curious to know how it works - I was hoping you would be our guinea pigs.  *GASP*  I try not to lose it in front of her.  
Once she leaves, I lose it.  I am angry that a nurse decided to give us some BS line because she didn't want to get in trouble.  Bruss and I think about Pitocin because I want to meet our baby today.  I figure between our breast pump and a little Pitocin, we are going to meet our baby. Bruss dutifully goes home and gets our breast pump and "falls into the shower" - I was so upset since I felt stinky after being in the hospital for 24+ hours.  He gets to visit with the kiddos who are very happy to see him.  
He comes back and agree that it's time for Jenny to go home and shower and see her daughter off to school.  SO the breast pump has little effect, and they start the Pitocin. We also make a call to our friend Andrea, our Bradley teacher for Bruss' birth.  Andrea wants to come - we say yes!!  She was the "Hail Mary pass" we needed - fresh energy, a good person for Jenny to work with - they were my red-headed power pack! 
We now see our second doctor - Dr. Ragaini's shift was over and Dr. Villa was on call.  He checks - mom and baby are doing okay - he is fine with letting us labor some more because this is our third baby and by the grace of God, he is not concerned that our water has been broken for 24+ hours.  I mention this because some caregivers-hospitals consider this a medical liability and insist that people with a broken bag of waters for 24 hours must have a c-section. 
We have a new nurse at 7:00 am, too.  She keeps coming to check on our progress - and can't believe that I can still handle the Pitocin without an epidural.  Next hour - she ups the dosage of "Pit" again.  And so on and so forth every hour with no effect.  Now she is wondering if I am human.  "This much Pitocin usually works on mother's - they would have been asking for the epidural a long time ago" she says.  Now, it had worked to a degree, the contractions were getting closer and stronger, just not at the pace the nurse expected for the dose of Pitocin I am receiving. 
Jenny and Andrea go get lunch.  At around noon, Dr. Villa comes in and sees me playing with my phone, trying to find tango music to play for Bryan to see if we can get him motivated.  He takes one look at me and says in his nice/sarcastic way," You better get serious if you are going to have that baby today - you aren't even close yet " 
The doulas come back with some suggestions - castor oil, walk some more, go home.  I just want to be alone with Bruss, so they excuse themselves.  Bruss gives me the pep talk of my life.  We cry, we pray.  We decide to follow the course we are on - active labor with Pitocin and a new confidence that God's will be done and that we are all in His divine protection. 
At around 2:00 pm, I get a whisper in my ear.  Literally.  Chills up my spine and everything.  The voice says, "Victor" in Spanish.  I am amazed when I realize that this is supposed to be Bryan's middle name.  I ask Bruss," What do you think of Bryan Victor?  He will be victorious over this birth when he comes out - I think it works!"  Bruss agrees with me, says that's okay if that's what I want.  
BAM!  I have the first real, take your breath away contraction. I use several four letter words, tell Bryan that he could have indicated that he wanted his full name several hours ago and then get ready to get down to the business of laboring.  I ask the nurse if she will take the Pitocin off now since I know I am not going to need it anymore.  She refuses because she doesn't want us to back track...little did she know. 
I can look now and see that naming him, giving him a full name, was the point that I accepted him.  I accepted that the pregnancy was not an accident.  I accepted our baby and surrendered to his birth.  The emotional block I had set up that was literally slowing my labor was gone.
Labor starts in earnest. Sometime in the afternoon, my mom stops by to pray with us.  I chant through contractions, squat between them to encourage baby to move down.  Jenny leaves to see her daughter again after school and to have dinner with her family.  Bruss and Andrea are a great team.  Brett, Andrea's husband brings them dinner.  I don't want to eat, just work at meeting our baby. 
Thank goodness I had kept working out with the trainer throughout the pregnancy and slept during labor.  I am feeling strong.  I am in tune with my body.  When dinner break is over, I direct Bruss, Andrea and Jenny with ways they can help me.  
Then I stop wanting to talk - and Bruss takes over. All I want to do is squat on the floor.  The nurse takes a good look at me and realizes that she better get the doctor.  Somehow they get me on the hospital bed and Bryan is already crowning - he was delivered in what I remember to be about three pushes.  
We find out when his head emerges that his cord is wrapped around his neck - another blessing that he had a slow and steady descent. Bryan was born at 6:57 pm on Thursday, July 30th.  Thank goodness he was two weeks "early" - he was already 9 pounds, 3 ounces and 21 inches long. In the end, it was five hours from the time I got "the whisper" to the time Bryan was born.  God proves once again that he has a sense of humor.
Disclaimer:  
The material included on this site is for informational purposes only.
It is not intended nor implied to be a substitute for professional medical advice. The reader should always consult her or his healthcare provider to determine the appropriateness of the information for their own situation.  Krystyna and Bruss Bowman and Bowman House, LLC accept no liability for the content of this site, or for the consequences of any actions taken on the basis of the information provided.  
This blog contains information about our classes available in Chandler, AZ and Payson, AZ and is not the official website of The Bradley Method®. The views contained on this blog do not necessarily reflect those of The Bradley Method® or the American Academy of Husband-Coached Childbirth®. 
Categories: Birth Story, Breech presentation, Doulas, Relaxation
/