...celebrating every swee​t pea their birth
| | |
| --- | --- |
| Posted on September 1, 2012 at 1:52 PM | |
This monthly series is an introduction to doulas that serve the Phoenix area.  Read more about the benefits of doula care 
HERE
.  Read more about how to choose a doula 
HERE
.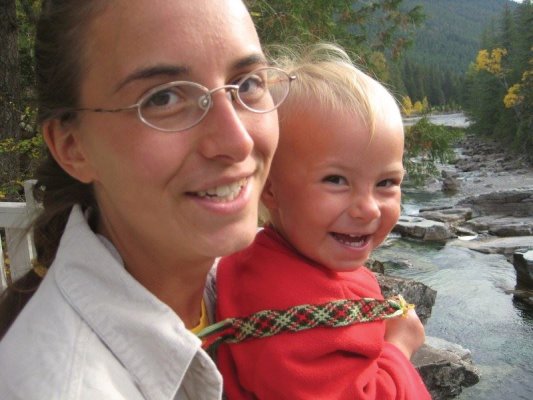 Today's featured doula is Laura Nyman, DONA certified doula.  Laura is a wife, mother and a former  Bradley™ instructor.  She "retired" as an instructor and is now pursuing her goal to become a certified nurse midwife. Laura is in the Prescott area in Arizona.  Her doula services are available in the Prescott, Cottonwood, and Flagstaff, as well as in the Phoenix Valley and in Kingman.
When was the first time you heard the word, "doula"?
Probably the first time I heard of a doula was in my first pregnancy. My Bradley™ childbirth teacher was also a doula.
How did you decide that becoming a doula was part of your journey?
I became a Bradley™ childbirth teacher after my first birth. A year later, I was considering how Bradley™ classes are great for pregnant couples, but it is only a certain type of couple who takes classes - those who are already definitely decided on having a natural birth. I wanted to be a doula to be able to help a greater variety of couples.
Are you a birth and/or a postpartum doula?
I am a birth doula.
How long have you been a doula?
I took my DONA doula training in April of 2009 and attended my first births the next month, so it's been three years. I've been to 11 births as a doula, and am now DONA certified. 
What do you enjoy the most about being a doula?
My favorite thing about a doula is being present at births - labor and birth is such an amazing thing to be present for! 
What is your philosophy when you go to a birth space?
My philosophy is to support the laboring mom and the Coach in working towards their own needs and wants. Even if I may not have done the same thing they decided to do, I will go along with what they want and try to make the experience as positive as possible for them.
How do you work with and involve the Coach?
In prenatal visits, I do ask the Coach how involved he/she wants to be and what is expected of me. During the actual labor, I try to be sensitive to who the mom wants around her - I am totally willing to step back and let her and the Coach have privacy, or to step in as the main support if needed. Usually what happens, though, is that both of us are providing support - a common situation is that the Coach is holding her hand and I am providing counter pressure on the back.
What is the toughest situation you have ever dealt with?  How did you handle it?
A few labors come to mind where the labor was difficult for the mother. I just kept up my support and was positive and encouraging. 
What keeps you working as a doula?
I keep going as a doula because I love doing it!
What does your fee cover – how many visits or hours?  Is there a different charge for a shorter labor or longer labor?
My fee covers at least two prenatal visits, being present at the labor/birth, and a postpartum visit. The charge is the same for any length of labor.
Do you offer any other services to your clients?
I offer a lending library of lots of books to my clients, as well as handouts/articles.
Just for fun, what do you do when you are not doula-ing?
When I'm not doula-ing, I am usually taking care of my two little girls.
Here is an excerpt from Laura's website that struck a chord with me:

Birth - the initiation ritual of motherhood - is a life-changing experience. A mother's satisfaction does matter; it's more than just having a healthy baby and mother. Being prepared and supported is key in a satisfactory birth.
Laura's contact info:
Phone: 801-528-1295
To "meet" other doulas in the area, click the "Meet The Doula" tag on the left side of this page.
Disclaimer:  
The material included on this site is for informational purposes only.
It is not intended nor implied to be a substitute for professional medical advice. The reader should always consult her or his healthcare provider to determine the appropriateness of the information for their own situation.  Krystyna and Bruss Bowman and Bowman House, LLC accept no liability for the content of this site, or for the consequences of any actions taken on the basis of the information provided.  This blog contains information about our classes available in Chandler, AZ and Payson, AZ and is not the official website of The Bradley Method®. The views contained on this blog do not necessarily reflect those of The Bradley Method® or the American Academy of Husband-Coached Childbirth®.
Categories: Doulas, Homebirth, Hospital Birth, Meet the Doula
/