...celebrating every swee​t pea their birth
| | |
| --- | --- |
| Posted on January 5, 2013 at 10:25 PM | |
We have had an interesting phenomenon in our Fall Bradley Method® class.  Three of our couples had/have breech babies – 30% of the class!  Interesting since the overall statistic ranges between 1-4% babies being breech at term – it depends which information you are reading.
In this post I will describe steps to take if you find out you have a breech baby at any point in your third trimester.  These are all ideas that do not involve the physical manipulation of the baby.  To read more about that option, click
HERE
.
1.)  Set your whole intention on turning your baby.
Focus your thoughts and your energy in every moment that you can to  turning your baby.  Envision that a non-breech baby is going to be your reality.  Devote time every day, whether it be 5 minutes, 15 minutes, 50 minutes, or more, to positive visualization.  We are also spiritual people, so we asked our family to pray for us.  I know that both of our parents put us on their church prayer lists and prayed for us to have the best birth possible for Charger.
2.) Webster Protocol.
The first thing we recommend to our mamas is to find a chiropractor who knows how to do the Webster Protocol.  To be clear, it is not a turning technique.  It is a series of checks that is done to make sure that the pelvis is stable to allow for the baby to feel safe in a head-down (vertex) presentation.  Babies that are going to turn will do so when the torsion is taken out and they can safely place their heads in the pelvis.
3.)  Take action and make a plan with your care provider.
There are two files that I am sharing as part of this post.  The first one is a compilation of ideas that I gathered and took to our care provider.  We went through the list together and she checked off all the things that she felt were safe to try.  This list is now three and a half years old – I encourage you to do your own research and come up with your own list to take to your care provider.  
The second is a script I wrote to play and meditate on every day.  I read it out loud so I could tape it and play it back.  This allowed me to focus on deep breathing and the intention of the words as I visualized our baby turning.  I listened to it when I was doing an inversion.
4.)  Do inversions.
When we found out Charger was breech, we were told by our nurse practitioner at our obstetrician's office and a midwife who did a phone consult that inversions were the "old fashioned" way to turn breech babies.  The two most common inversions are the chest-knee position and the "ironing board" inversion (also known as the "breech tilt").  The goal of these is to use gravity to prevent the baby from engaging into the pelvis in a breech position, and to encourage the baby to tuck their chin and encourage them to turn.  There are a lot of other techniques, and "everyone" has opinions about what is effective, so choose the positions that make sense to you.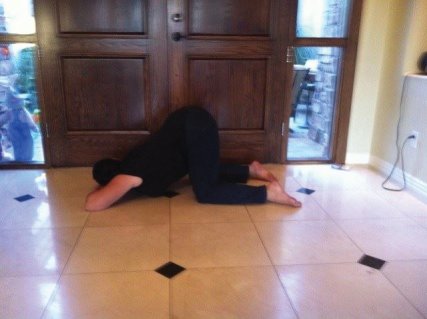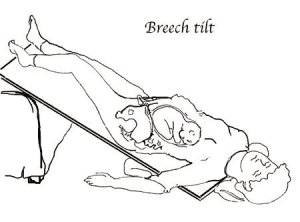 Knee-Chest position
Breech Tilt Picture From
5.  Make Peace.
  If you do all of these things (or more) and your baby stays breech, know that you have done everything possible and allow yourself to open up to other options.  Do you want to try an external manipulation of the baby?  Do you want to find a care provider who knows how to manage a breech delivery?  Do you feel that you want to be allowed a trial of labor so that at least your baby chooses their birth-day before you agree to a cesarean birth? 
Believe that you and your baby will have the birth you are meant to have.  Your baby is not just a passenger in this process – they are a pilot – they know how they are meant to be born.  It is our responsibility to find the care provider who will inform us objectively and support us as we make the decisions that need to be made.
As parents, we are the only ones who can be the voice for our child(ren) before they are born.  Read, read, read.  Ask questions.  Make the decision that works the best for you and your family.
Want to know how the story ended for us? 
HERE
is our breech baby story.
Do you know anyone with a breech baby story?  How did it go?
Link List:
External Cephalic Version
http://www.webmd.com/baby/external-cephalic-version-version-for-breech-position
Dr. Ross on Webster Protocol
http://www.youtube.com/watch?v=A3762xOCMcs


Breech Tilt
http://www.spinningbabies.com/techniques/242-breech-tilt
Studies about Breech Babies
Acupuncture and Moxibustion
http://www.ncbi.nlm.nih.gov/pubmed/15280133
Long term outcomes the same for vaginal and cesarean deliveries of breech babies
http://www.ncbi.nlm.nih.gov/pubmed/23197237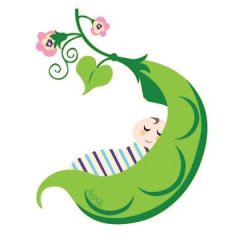 Disclaimer: 
The material included on this site is for informational purposes only.  It is not intended nor implied to be a substitute for professional medical advice. The reader should always consult her or his healthcare provider to determine the appropriateness of the information for their own situation.  Krystyna and Bruss Bowman and Bowman House, LLC accept no liability for the content of this site, or for the consequences of any actions taken on the basis of the information provided.  This blog contains information about our classes available in Chandler, AZ and Payson, AZ and is not the official website of The Bradley Method®. The views contained on this blog do not necessarily reflect those of The Bradley Method® or the American Academy of Husband-Coached Childbirth®.
Categories: Breech presentation, Breech turning techniques, ECV, External Cephalic Version
/