...celebrating every swee​t pea their birth
| | |
| --- | --- |
| Posted on February 19, 2013 at 4:55 PM | |
We welcomed "our" first baby from our Winter Series – it is always a thrill to hear a Healthy Mom, Healthy Baby birth story.  It is even more exciting to see the joy radiated in the face of the transformed new mother, the proud new father, and then see the fruits of their labor snuggled up in mama's or papa's arms.

There is one important thing we want to convey to families.  The day of your baby's birth is the birth of your family.  With subsequent babies, it is still the birth of your next family, as a family of __, whichever number that happens to be.  It is a day we hope you will treasure and celebrate, because it the day your child was welcomed into your loving arms.

While all of our students sit through twelve weeks of class in preparation for a vaginal, anesthesia-free birth (weeks that FLY BY faster and faster every time), the reality is that every family is going to have their unique birth story.  Some students are going to have a fast labor.  Some students are going to have a slow labor.  Some students will choose to use some kind of pain relief system other than abdominal breathing and relaxation techniques.  Some students will deliver vaginally, and some students will welcome their babies via a cesarean birth.

The message we hope to convey to our students is that information and knowledge increases their opportunity for a Healthy Mom, Healthy Baby outcome regardless of the method of delivery.  We educate them on the importance of staying healthy and low-risk by being mindful of all the things they can control.
1) Diet.  They can be diligent about following the pregnancy-eating plan laid out by Dr. Tom Brewer.  It sets them up to build a strong baby and a strong, healthy pregnant body that will excel during the rigors of labor.



2) Exercise.  They can follow Dr. Bradley's exercise plan that builds stamina and strengthens the muscle groups that a mama will need in labor: her back, her belly and her bottom.  It is most effective when a mama does all the exercises as suggested in the student workbook – a weekly progression that eases any mama into a healthy routine, even a mama who did not have a regular exercise plan before she was pregnant.




3) Education.  Do you know the physiological process of labor?  Do you know what to expect as you progress through labor?  Do you have strategies to cope with the sensations of labor and have you practiced them more than once?  Have you learned about the different variations and complications of labor, and have you and your birth partner talked about strategies and choices you would make if you face them in your labor?  (P.S. You will learn all this and more in a Bradley Method® class.)




4) Care Provider Choice.

  Are you with a

care provider

who supports your birth choices?  Do they believe in the natural process?  Do you know their cesarean rate?  Is it reflective of the beliefs about birth that they claim to have?  Are you confident that you haven't ignored any "red flags" that may have come up in the course of your pre-natal care?  And if any of these are a, "No" answer, what are you doing about it?  Have you asked your friends or a birth worker in your area to help you find a care provider you will be at ease with?




5) Rest.  This seems to be a common denominator between the low-risk families who have births that are close to their wish list, and families that make different choices.  As long as the mother and coach rest at some point in their labor, then they can usually make it through to holding their baby on the outside with fewer intrusions and interventions.  We found this out the hard way – when you do not rest, you have to make different choices because there is a limit to the human body.  Labor is some of the most rewarding and some of the hardest work a woman will do in her life – and the body does much better when it can performing at it's peak.  Rest, or lack thereof, can definitely influence a family's birth experience.
We want all our students to know that they have set themselves up for success – they have done a lot of things right to maximize the opportunity for their wish list to come true.  As long as all things stay healthy and low-risk, then they have a really good opportunity for an anesthesia-free vaginal birth.
We also hope we have shared the correct information for them to make informed consent decisions.  There are times when there are choices to be made in spite of doing lots of things right.  Communication skills and key
informed consent questions
are a part of our coursework as well.  At the very least we hope that they will remember these questions:
Is mom okay?
Is baby okay?
If you get a "no" to either of those questions that is when you rely on the trust relationship you have built with your care provider.  You trust that the team you chose will get you to the Healthy Mom, Healthy Baby outcome however they need to get you there and that you will look back with no regrets.  Again, if you don't have this level of trust, have you thought about finding a care provider that you do trust implicitly?
As long as both of those are "yes" answers, then you can go on to the next series of questions:
Tell me more about what you are recommending.
What are the risks?
What are the expected benefits?
If we say yes to this, what else are we saying yes to – what other interventions are likely to happen?
Are there any alternatives?
What happens if we just wait and see?
Can we have a minute to talk about it?
There will be times when a couple has to deviate from their wish list because the birth moves on from healthy and low-risk to one with true complications of pregnancy.  These are situations that fill the room with people and actions need to be taken.  There are also times when you are still having a calm conversation, and the choices a couple make together and in conversation with their care provider prevent the room from filling with people so that some variation of a gentle birth is possible.  Sometimes that means a transfer to a hospital setting for closer monitoring from a birth center or a home, and sometimes it can even mean a different birth than you planned for no matter the setting (one such example is a natural cesarean – read more
HERE
).
Even when families do not end up with the birth that they prepared for, many of them come back and tell us that they still had a positive birth experience.  They report feeling empowered by their communication and the decisions they made together, they make a good recovery from interventions or cesareans thanks to the diet and exercise plan they followed throughout the course of class, or that there were no regrets about their choice to change care providers.  
The biggest boon , very much "in my opinion", is that  Bradley™     babies that thrive because they were built to be strong, healthy babies, building block by building block with a good diet during pregnancy.  In addition, many Bradley™ mamas commit to breastfeeding, some despite tremendous obstacles because they want "something" to work out, especially if their Birth Wish List had a lot of deviations.  While it is hard for some and not the choice for everyone, these moms do not regret the extra time and effort to develop the breastfeeding relationship they have with their babies.

Our parting wish and prayer for all of our students is that they have a Healthy Mom, Healthy Baby outcome that brings a couple closer together as they build the foundation for their family.  We hope that couples use the skills they learned in class to communicate and to work together, that they trust the mother's instincts about what kind of birth their baby needs, care providers that support their choices, and when needed, have the skills to safely bring the family to a Healthy Mom, Healthy Baby outcome. 

We wish them a birth experience with no regrets and a foundation that is built with the knowledge that their child was, "brought into this world [intentionally,] knowingly, and with great joy" as they start the next step on the journey with their new family.  
 (Quote is from the completion certificate found at the back of The Bradley Method® Student Workbook – revised with our own wishes for our students.)

What do you think leads to a Healthy Mom, Healthy Baby outcome?
Please leave us a comment - it will be moderated and posted.  
*I think* that the amount of traffic you so generously generate has led to a lot of spam posting.  In an effort to keep the spam to a minimum, I am taking the time to moderate comments now.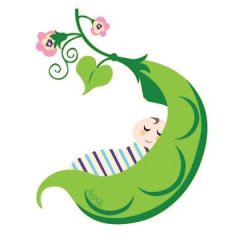 Disclaimer: 
The material included on this site is for informational purposes only.
It is not intended nor implied to be a substitute for professional medical advice. The reader should always consult her or his healthcare provider to determine the appropriateness of the information for their own situation.  Krystyna and Bruss Bowman and Bowman House, LLC accept no liability for the content of this site, or for the consequences of any actions taken on the basis of the information provided.  This blog contains information about our classes available in Chandler, AZ and Payson, AZ and is not the official website of The Bradley Method®. The views contained on this blog do not necessarily reflect those of The Bradley Method® or the American Academy of Husband-Coached Childbirth®.    
Categories: Birth plans, Birth Story, Bradley Method® birth story, Bradley Method® outcome, Breastfeeding
/