...celebrating every swee​t pea their birth
| | |
| --- | --- |
| Posted on May 23, 2014 at 3:22 PM | |
In light of a research study published this week, we are highlighting this blog post today, originally written on May 28, 2013.
"Mainly, in all of the groups of labor pain medications and delivery method, we found that mothers who received labor pain medications were 2-3 times more likely to report [delay in the onset of lactation] DOL compared to mothers who did not use labor pain medications and delivered vaginally."
As stated below, this information is shared in the interest of true informed consent.  If a mother adds another piece to the puzzle, she may decide to choose other pain relief tools aside from pain medication, or do everything to delay pain medication as long as possible in order to give her and her baby their best opportunity to get breastfeeding off to a good start.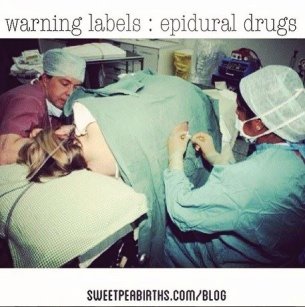 May 28, 2013:
I am sharing the information below in the interest of furthering our goal that all our students have true informed consent: knowing all the benefits and risks of a drug or procedure.  It is very rare for anyone to read the drug information insert that comes in all drug packages.  To save you time and squinting, we are doing a "drug warning labels" series for the most commonly used drugs during labor and birth.  There will be two more installments in this series.  Next week we will look at the drugs used for induction, and we will conclude with drugs used for augmentation of labor.
We are passionate about helping families have their Best Possible Birth.  By that we mean the path that leads that individual family to a Healthy Mom, Healthy Baby outcome.  We want families to have a toolbox full of tips and techniques that help them manage the ebb and flow of labor.  We want them to be comfortable with the path of a normal, low-risk labor.  We want them to have true informed consent by having an open line of communication with their care providers.
Why do we spend time and energy preparing couples for natural birth, even when some of them will end up choosing an epidural, or maybe needing a cesarean for their Healthy Mom, Healthy Baby outcome?  We know that the longer drugs can be delayed or avoided completely, the less likely it is that mother and baby will be exposed to drugs that have never been proven safe for mother and baby.  As one of my favorite class handouts says, "When used wisely and at an optimal time, an epidural can give a laboring woman much needed relief and sleep.  But if you are not prepared for some of the risks, you may end up wishing you had known a little more."  (read in more detail about epidurals 
HERE
 and 
HERE
)
Unfortunately, some families don't know the side effects or possible complications of the drugs that are used in childbirth today.  We assume that since they are offered, they must be safe.  After all, our care provider would not purposely put us in harm's way, right?
Did you know that most drugs used in childbirth is used "off-label"?  There is no drug that has been proven safe for childbirth – you can't run a control study on pregnant women by allowing some to be drug-free and then having others use the drug.  It would be highly unethical as the difference in outcomes might be devastating to the women and children involved.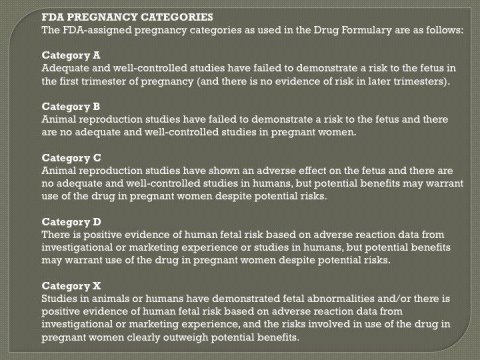 In today's post, I have pulled out five of the most common drugs used for epidural anesthesia.  I am not passing judgment on families that choose an epidural.  There are definitely times when the benefits outweigh the risks.  Each family has to make the choice that is right for them.
To be clear – we are not anti-care provider or anti-drug.  We are grateful for modern medicine that saves lives in circumstances when Mother Nature needs help.  It exists for a reason, and we are thankful for the opportunity to meet all the Healthy Moms and Healthy Babies when we hold a class reunion.
Please read and consider this information as you prepare for the birth of your baby.  I included the link to find the complete drug label on-line.  Everything underneath the drug name is in quotations because I *literally* pulled it off the label available online and onto this entry.
"Lidocaine readily crosses the placental barrier."




"Systemic toxicity may result in manifestations of central nervous system depression (sedation) or irritability (twitching), which may progress to frank convulsions accompanied by respiratory depression and/or arrest." 




"The adverse experiences under Central Nervous System and Cardiovascular System are listed, in general, in a progression from mild to severe."




"Central Nervous System: CNS reactions are excitatory and/or depressant and may be characterized by light-headedness, nervousness, apprehension, euphoria, confusion, dizziness, drowsiness, tinnitus, blurred or double vision, vomiting, sensations of heat, cold or numbness, twitching, tremors, convulsions, unconsciousness, respiratory depression and arrest. The excitatory reactions may be very brief or may not occur at all, in which case, the first manifestation of toxicity may be drowsiness, merging into unconsciousness and respiratory arrest."




"Cardiovascular System: Cardiovascular reactions are usually depressant in nature and are characterized by bradycardia, hypotension and cardiovascular collapse, which may lead to cardiac arrest."
"Local anesthetics rapidly cross the placenta, and when used for epidural, caudal, or pudendal block anesthesia, can cause varying degrees of maternal, fetal, and neonatal toxicity."




"Maternal hypotension has resulted from regional anesthesia. Local anesthetics produce vasodilation by blocking sympathetic nerves. Elevating the patient's legs and positioning her on her left side will help prevent decreases in blood pressure. The fetal heart rate also should be monitored continuously and electronic fetal monitoring is highly advisable."




"Epidural, caudal, or pudendal anesthesia may alter the forces of parturition through changes in uterine contractility or maternal expulsive efforts. Epidural anesthesia has been reported to prolong the second stage of labor by removing the parturient's reflex urge to bear down or by interfering with motor function.   The use of obstetrical anesthesia may increase the need for forceps assistance."




"The use of some local anesthetic drug products during labor and delivery may be followed by diminished muscle strength and tone for the first day or two of life. This has not been reported with bupivacaine."
"Clonidine Hydrochloride Injection (epidural clonidine) is not recommended for obstetrical, postpartum, or peri-operative pain management.  The risk of hemodynamic instability, especially hypotension and bradycardia, from epidural clonidine may be unacceptable in these patients.  However, in a rare obstetrical, post-partum or peri-operative patient, potential benefits may outweigh the possible risks."




"Clonidine readily crosses the placenta and its concentrations are equal in maternal and umbilical cord plasma; amniotic fluid concentrations can be 4-times those found in serum.  There are no adequate and well-controlled studies in 

pregnant women

 during early gestation when organ formation takes place.  Studies using epidural clonidine during labor have demonstrated no apparent adverse effects on the infant at the time of delivery.  However, these studies did not monitor the infants for hemodynamic effects in the days following delivery.  Clonidine should be used during pregnancy only if the potential benefits justify the potential risk to the fetus.




"Labor and Delivery:  There are no adequate controlled clinical trials evaluating the safety, efficacy, and dosing of clonidine in obstetrical settings. Because maternal perfusion of the placenta is critically dependent on blood pressure, use of clonidine as an analgesic during labor and delivery is not indicated (see 

WARNINGS

)."




"Nursing Mothers:  Concentrations of clonidine in human breast milk are approximately twice those found in maternal plasma.  Caution should be exercised when clonidine is administered to a nursing woman.  Because of the potential for severe adverse reactions in nursing infants, a decision should be made to either discontinue nursing or to discontinue clonidine."
Labor and Delivery

"Fentanyl readily passes across the placenta to the fetus; therefore, DURAGESIC® is not recommended for analgesia during labor and delivery." 




"Serious or life-threatening hypoventilation may occur at any time during the use of DURAGESIC® especially during the initial 24-72 hours following initiation of therapy and following increases in dose."




"Respiratory depression from opioids is manifested by a reduced urge to breathe and a decreased rate of respiration, often associated with the "sighing" pattern of breathing (deep breaths separated by abnormally long pauses). Carbon dioxide retention from opioid-induced respiratory depression can exacerbate the sedating effects of opioids. This makes overdoses involving drugs with sedative properties and opioids especially dangerous."
"Skeletal muscle rigidity is related to the dose and speed of administration of sufentanil. This muscular rigidity may occur unless preventative measures are taken (see

WARNINGS

)."




"Decreased respiratory drive and increased airway resistance occur with sufentanil. The duration and degree of respiratory depression are dose related when sufentanil is used at sub-anesthetic dosages. At high doses, a pronounced decrease in pulmonary exchange and apnea may be produced."

"There are insufficient data to critically evaluate neonatal neuromuscular and adaptive capacity following recommended doses of maternally administered epidural sufentanil with bupivacaine. However, if larger than recommended doses are used for combined local and systemic analgesia, e.g., after administration of a single dose of 50 mcg epidural sufentanil during delivery, then impaired neonatal adaption to sound and light can be detected for 1 to 4 hours and if a dose of 80 mcg is used, impaired neuromuscular coordination can be detected for more than 4 hours."

"The use of epidurally administered sufentanil in combination with bupivacaine 0.125% with or without epinephrine is indicated for labor and delivery. (See 

INDICATIONS AND USAGE 

and 

DOSAGE AND ADMINISTRATION

.) Sufentanil is not recommended for intravenous use or for use of larger epidural doses during labor and delivery because of potential risks to the newborn infant after delivery. In clinical trials, one case of severe fetal bradycardia associated with maternal hypotension was reported within 8 minutes of maternal administration of sufentanil 15 mcg plus bupivacaine 0.125% (10 mL total volume)."
DEMEROL: Pregnancy Category: B; D if used for prolonged periods or near term
"Lactation: excreted in breast milk"



Side effects: "Nausea, vomiting, constipation, dry mouth, flushing, sweating, lightheadedness, dizziness, drowsiness, and pain/redness at the injection site may occur. If any of these effects persist or worsen, notify your doctor or pharmacist promptly… Tell your doctor right away if you have any serious side effects, including: slow/irregular/fast heartbeat, mental/mood changes (e.g., confusion, hallucinations, nervousness), numbness, shakiness (tremors), trouble urinating, severe stomach/abdominal pain, change in the amount of urine.  Get medical help right away if you have any very serious side effects, including: slow/shallow breathing, fainting, seizures."




"Before using this medication, women of childbearing age should talk with their doctor(s) about the risks and benefits. Tell your doctor if you are pregnant or if you plan to become pregnant. During pregnancy, this medication should be used only when clearly needed. It may slightly increase the risk of birth defects if used during the first two months of pregnancy. Also, using it for a long time or in high doses near the expected delivery date may harm the unborn baby. To lessen the risk, use the smallest effective dose for the shortest possible time. Tell the doctor right away if you notice any symptoms in your newborn baby such as slow/shallow breathing, irritability, abnormal/persistent crying, vomiting, or diarrhea."




"This drug passes into breast milk and is unlikely to harm a nursing infant. Consult your doctor before breast-feeding."

This concludes the highlights I pulled out from the drug inserts.  I encourage you to click on the links and read the whole insert for yourself.  Going in with all the information may help you make the right decision for your family.  

I want to re-iterate that our perspective (Krystyna & Bruss) is that drugs are a tool, to be used wisely and at the optimal time, i.e., when the benefits outweigh the risks.  If you are going to use any of these as a tool, then educate yourselves on dosage.  You can ask questions like, "Is mom going to get the suggested dose all at once or over a time period?"  "What can we do if she needs more than the suggested dose?"  "Are there any other options?"

We have had students use an epidural as a tool after a prolonged and/or especially painful labor.  The epidural provided the rest and/or relief they needed, and some of them went on to have a quick progression to second stage and a vaginal birth.  Their births are no less "Bradley" than our mothers who had epidural-free births.  All the couples used their communication skills to make the Healthy Mom, Healthy Baby choice for their family.  

It all boils down to the same question, "Which choice is right for our family in the unique instance of our birth?"  When you choose with a Healthy Mom, Healthy Baby filter, you can help clarify which choice works for you.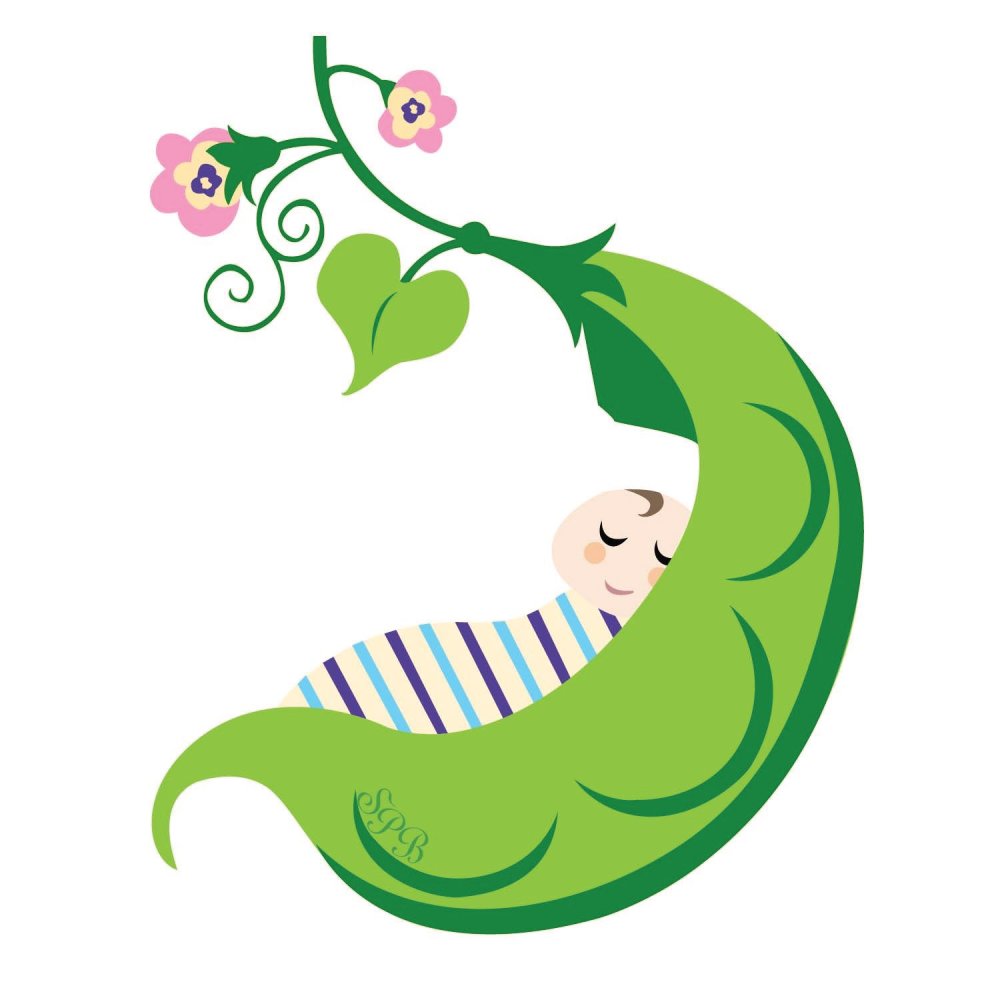 Disclaimer: 
The material included on this site is for informational purposes only.
It is not intended nor implied to be a substitute for professional medical advice. The reader should always consult her or his healthcare provider to determine the appropriateness of the information for their own situation.  Krystyna and Bruss Bowman and Bowman House, LLC accept no liability for the content of this site, or for the consequences of any actions taken on the basis of the information provided.  This blog contains information about our classes available in Chandler, AZ and Payson, AZ and is not the official website of The Bradley Method®. The views contained on this blog do not necessarily reflect those of The Bradley Method® or the American Academy of Husband-Coached Childbirth®.
Categories: Avoiding harmful substances, Epidural, Information Center, Informed Consent, Toxins, pesticides, chemicals and pregnancy, Warning Labels
/