...celebrating every swee​t pea their birth
| | |
| --- | --- |
| Posted on July 9, 2013 at 9:56 AM | |
We have been teaching Bradley Method® classes long enough to have the privilege of having alumni students come back and take another series as they are expecting their next child.  We have one of those couples in our current class, and something came up in class that made me reflect on our births.
The class topic last week was stages of labor.  We talked about the markers of the different
stages of labor
, how to identify "
transition
" that typically happens between
first stage
(cervical dilation and positioning baby) and
second stage
(pushing to birth), and how to manage the different stages of labor.
Our alumni mom mentioned that she was never able to let go of the discomfort of feeling like she had to have a bowel movement.  She wasn't able to dilate any further until they got to the hospital and she got an epidural.  The epidural relieved that feeling for her, and she dilated from 5cm to 10cm in one hour.  When she was able to let go of that sensation and the fear of losing control, her body got busy.  She is retaking our class because although she liked her epidural, she knows that the less drug exposure to baby, the better.
It made me reflect back on our birth experiences.  Although I never asked for drugs, I look back and wonder what would have happened if I had given up control of our births a lot sooner.  I imagine they would have been more in line with our 18-hour birth of our biggest baby.  All 11 pounds and 1 ounce of Night Owl, arrived in the early morning after being left alone to labor with the support of Coach Bruss and our doula.  We had eaten, slept, stayed hydrated, and his was our easiest birth.
After that, we had our two longest births, ironically, at the time when we were training to become a Bradley™ instructors, and after we were certified as instructors.  
It seems that the more I "knew", the less able I was to let go.  I was so busy analyzing, worrying about taking pictures that we could use in class, wondering how I would be perceived by my peers and our students, that I added untold layers of emotional baggage that Bruss would have to work me through.  I had to surrender to the fact that natural birth is all about relinquishing judgment and control, and accepting that we were going to allow my body and our baby the birth that they needed.  Once I hit that point of complete release, both of those children were born within about 5 hours of that turning point.

I want to share what I now know to be my birth mantra, just in case it can help another mama have an easier birth.  As much as I would love another go at putting this into practice (and have a labor sprint instead of marathons!), it feels like our family is complete, so I hope you will benefit from it for a better birth for you and your baby. 
Side note.1:  If you have any past birth or sexual trauma, it is so important to work through those feelings during pregnancy. Come to your current birth experience with a clean of a slate as possible.  The path to surrender is more easily paved if you aren't trying to do it all in your present labor.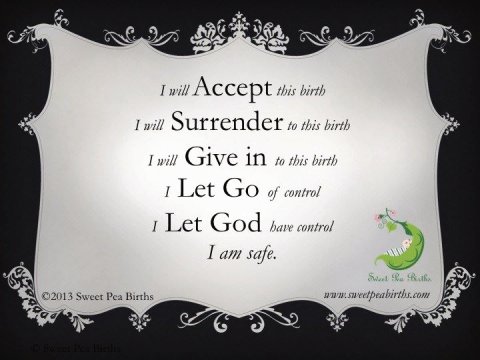 Accept
:  There is no one right way to birth.  There is no one right way to feel.  The most important thing to evaluate is am I (Mom) okay?  Is our Baby okay?  If so, then accept that this is your birth and carry on.
Surrender
:  Surrender to your thoughts.  Surrender to the sensations.  Surrender to the feelings.  Birth is much bigger than we are.  It is timeless.  It is the way our bodies were designed to work for childbirth.  Be okay with losing control over the process.
Give In
:  Give into your thoughts.  Give into your sensations.  Give into your feelings.  Do you want to cry?  Cry.  Does moaning feel good?  Moan!  Do you want to rock, roll, walk, move, gyrate, sway, just lay still?  What are your body and your baby telling you to do?  Release all worry about judgment from outsiders, release yourself from your own judgment of what you can and can't do.  Allow yourself to give into your birth and see where it takes you.
Let Go
:  Let it all go.  Any preconceived notions of your birth.  Your timeline.  The clock.  Your plan A, plan B, and the other plans you had – let them go.  Focus on being in the moment with your partner.  Focus on being in the moment with your baby – you cannot relive or redo these sensations later.  Let everything go, and *go* for the ride. 
Let God
:  Being a spiritual person, there was always an emotional component for me that involved prayer, and appealing to a higher power.  Once I gave up my control and turned it over to God, labor seemed to flow smoothly and resolutely to a birth.  The birth of another of His miracles, of which Bruss and I got to play a small part.  It is so humbling to realize that I am not in control, and I don't have to be, in order for birth to happen.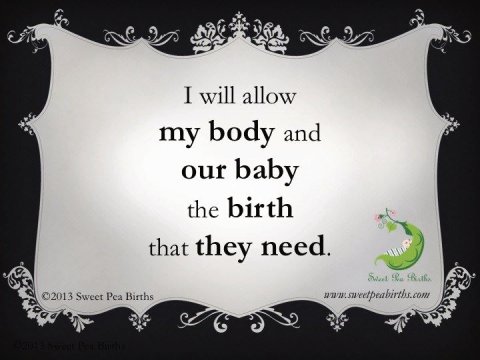 When I gave into my body, our baby and our God, all things fell into place and we ended up having beautiful birth experiences, albeit long ones.  In the midst of those long labors, the idea that got me through the time with patience and without resorting to drugs to ease the sensations of labor was "We are allowing my body and our baby the birth that they need." 
Side note.2:  Knowing what I know now about Pitocin, I wish we hadn't asked for it with Charger's birth.  I know the point when I didn't need it anymore, and I wish I had insisted as the consumer that they take the line out.  I know where that emotional release happened and there was no turning back labor with or without "the Pit".

While there in nothing wrong with having a long labor, and we usually "win" the long labor comparison conversations (there is that judgment again!), I really do not wish long waiting times to meet your baby on anyone.  Think about these mantras if you need them, and I wish you all the best for a beautiful birth experience!!

Did you have any mantras when you were in labor?  What were they?

Please leave us a comment - it will be moderated and posted. 
*I think* that the amount of traffic you so generously generate has led to a lot of spam posting.  In an effort to keep the spam to a minimum, I am taking the time to moderate comments now.
Disclaimer:  
The material included on this site is for informational purposes only.  It is not intended nor implied to be a substitute for professional medical advice. The reader should always consult her or his healthcare provider to determine the appropriateness of the information for their own situation.  Krystyna and Bruss Bowman and Bowman House, LLC accept no liability for the content of this site, or for the consequences of any actions taken on the basis of the information provided.  This blog contains information about our classes available in Chandler, AZ and Payson, AZ and is not the official website of The Bradley Method®. The views contained on this blog do not necessarily reflect those of The Bradley Method® or the American Academy of Husband-Coached Childbirth®.
Categories: Birth Mantra, Birth plans, Coaching, Failure to Progress, First stage labor, Natural Alignment Plateau, natural labor coping mechanisms, Natural labor coping techniques, Second Stage Labor, Transition
/