Shopping Cart
Your Cart is Empty
There was an error with PayPal
Click here to try again
Thank you for your business!
You should be receiving an order confirmation from Paypal shortly.
Exit Shopping Cart
...celebrating every swee​t pea their birth
| | |
| --- | --- |
| Posted on July 26, 2013 at 12:26 AM | |
*Definition
"Group B streptococcus (GBS) is a type of bacterial infection that can be found in a pregnant woman's vagina or rectum. This bacteria is normally found in the vagina and/or rectum of about 25 % of all healthy, adult women.
Those women who test positive for GBS are said to be colonized. A mother can pass GBS to her baby during delivery. GBS is responsible for affecting about 1 in every 2,000 babies in the United States. Not every baby who is born to a mother who tests positive for GBS will become ill.
Although GBS is rare in pregnant women, the outcome can be severe, and therefore physicians include testing as a routine part of prenatal care."
Testing involves a swab culture from the vaginal and the rectal areas.  The sample is sent to a lab for analysis.  Your care provider will probably get the results within 24-48 hours.  It may be a good idea to clarify how you will be notified of your test results so that you know how to proceed with your birth plan.
Since the effects of GBS can be so devastating to newborns, The Centers for Disease Control and Prevention (CDC) recommends that all women be routinely screened for vaginal group B strep.  The test is usually done between 35 and 37 weeks gestation, as per studies that have shown that testing within 5 weeks of delivery date is the most accurate at predicting the state of GBS colonization on the estimated due date.
*History: why was it developed?  
The goal of testing was to decrease the infant mortality rate due to a Group B Strep infection.  The practice of routine testing stems from the idea that if colonized and/or high risk women were identified in pregnancy, potentially life-saving antibiotics could be administered to the mother during labor and delivery to lower the probability that the newborn would become infected and potentially develop life-threatening complications.
What was it supposed to treat?  
"Among babies, there are 2 main types of group B strep disease:
Early-onset disease (EOD) — occurs during the first week of life.

Late-onset disease (LOD) — occurs from the first week through three months of life.
Early-onset disease used to be the most common type of disease in babies. Today, because of effective early-onset disease prevention, early and late-onset disease occur at similar low rates.
For early-onset disease, group B strep most commonly causes sepsis (infection of the blood),pneumonia (infection in the lungs), and sometimes meningitis (infection of the fluid and lining around the brain). Similar illnesses are associated with late-onset group B strep disease. Meningitis is more common with late-onset group B strep disease than with early-onset group B strep disease.
For both early and late-onset group B strep disease, and particularly for babies who had meningitis, there may be long-term consequences of the group B strep infection such as deafness and developmental disabilities. Care for sick babies has improved a lot and in the U.S., only 4-6% of babies with group B strep infections die.
On average, about 1,200 babies in the U.S. less than one week old get early-onset group B strep disease each year (see 
ABCs website 
for more surveillance information), with rates of group B strep disease higher among blacks. Group B strep can also cause some miscarriages, stillbirths and preterm deliveries. There are many different factors that lead to stillbirth, pre-term delivery, or miscarriage. Most of the time, the cause is not known."
Has it been effective:
have infant outcomes improved because of the test and/or antibiotic use?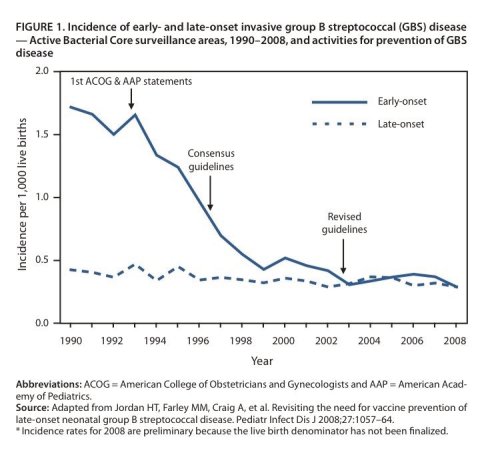 http://www.cdc.gov/groupbstrep/guidelines/downloads/Figure_1_GBS_Decline.pdf
Abstract of study done by Boyer KM, Gotoff SP. Prevention of early-onset neonatal group B streptococcal disease with selective intrapartum chemoprophylaxis.  N Engl J Med. 1986 Jun 26;314(26):1665-9.



Most cases of neonatal group B streptococcal disease with early onset have an intrapartum pathogenesis. Attack rates are increased substantially in infants born to mothers with prenatal group B streptococcal colonization and various perinatal risk factors (premature labor, prolonged membrane rupture, or intrapartum fever). In a randomized controlled trial, we studied the effect of selective intrapartum prophylaxis with ampicillin in 160 such high-risk women.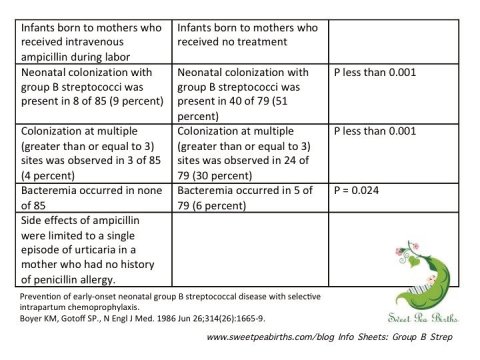 We conclude that intrapartum ampicillin prophylaxis in women with positive prenatal cultures for group B streptococci who have certain perinatal risk factors can prevent early-onset neonatal group B streptococcal disease.
And this information as it relates to premature births from Medscape.com:
In a recent study, Berardi et al found that preterm neonates have higher rates of group B Streptococcus (GBS) late-onset disease (LOD):

Moreover, the authors found that the earlier the presentation of LOD, the higher the risk for neonatal brain lesions and death. Approximately 64% of mothers carried GBS at the rectovaginal site at the time of LOD diagnosis, suggesting peripartum delivery at this site as the major route of maternal-fetal transmission of GBS-LOD, and 6% of mothers had GBS mastitis. Administration of intrapartum antibiotics was associated with delayed presentation of symptoms and milder LOD.
*Pros of GBS Testing
You will know whether or not it is recommended that you receive at least one round of antibiotics during labor.  This is generally recommended at a minimum of four hours before you deliver.
Here is a look at the probabilities of your newborn being infected by GBS if you are "colonized" near the time of birth from the CDC website:
"A pregnant woman who tests positive for group B strep and gets antibiotics during labor can feel confident knowing that she has only a 1 in 4,000 chance of delivering a baby with group B strep disease. If a pregnant woman who tests positive for group B strep does not get antibiotics at the time of labor, her baby has a 1 in 200 chance of developing group B strep disease. This means that those infants whose mothers are group B strep positive and do not get antibiotics have over 20 times the risk of developing disease than those who do receive preventive antibiotics."
Cons of GBS Testing
If you are positive, it will be strongly suggested that you receive IV antibiotics during labor.  Receiving IV drugs inhibits your movement while it is administered, it probably means you will have at the very least a heparin lock for the duration of your labor and into the postpartum period, and you need to consider how you feel about your baby being exposed to antibiotics inutero.  Penicillin is a Category B drug.
Not really a con, more FYI: If you are negative, you can continue on with your birth plan, whatever your feelings about receiving drugs and/or interventions in labor.
Alternative Strategies – Two sides of the proverbial coin!
From CDC: Alternative Prevention Strategies
"There is no group B strep vaccine currently available to help mothers protect their newborns from group B strep disease. Researchers are working on developing a vaccine, which may become available one day in the future. Antibiotics taken by mouth instead of through the vein, and antibiotics taken before labor and delivery are not effective at preventing newborn group B strep disease. Birth canal washes with the disinfectant chlorhexidine do not reduce mother to baby transmission of group B strep bacteria or the risk of having a baby with early-onset disease. To date, receiving antibiotics through the vein during labor is the only proven strategy to protect a baby from early-onset group B strep disease."
From MedScape (2006 study):
"Vaginal cleansing with chlorhexidine before or during delivery prevents vertical transfer of GBS to the neonate. The Swedish Chlorhexidine Study Group explored the minimum inhibitory and bactericidal concentrations of chlorhexidine,[39] described postcleansing vaginal concentrations of chlorhexidine and its residual effect on GBS carriage,[40,41] and demonstrated that trace levels of chlorhexidine could be absorbed through the vaginal mucosa.[42] Pilot studies showed that vaginal washing with chlorhexidine reduced newborn colonization with GBS compared with those born to nonwashed controls."
From PubMed (2009 study):
FINDINGS:


Rates of neonatal sepsis did not differ between the groups (chlorhexidine 141 [3%] of 4072 vs control 148 [4%] of 4057; p=0.6518). Rates of colonisation with group B streptococcus in newborn babies born to mothers in the chlorhexidine (217 [54%] of 401) and control groups (234 [55%] of 429] did not differ (efficacy -0.05%, 95% CI -9.5 to 7.9).

INTERPRETATION:

Because chlorhexidine intravaginal and neonatal wipes did not prevent neonatal sepsis or the vertical acquisition of potentially pathogenic bacteria among neonates, we need other interventions to reduce childhood mortality.
*Links to explore
Evidence-based Birth: Group B Strep




Prevention of Group B Streptococcal Disease in the Newborn




American Pregnancy Association: Group B Strep Infection




Group B Strep Support




Treating Group B Strep: Are Antibiotics Necessary?
Disclaimer:
The material included on this site is for informational purposes only.

It is not intended nor implied to be a substitute for professional medical advice. The reader should always consult her or his healthcare provider to determine the appropriateness of the information for their own situation.

Krystyna and Bruss Bowman and Bowman House, LLC accept no liability for the content of this site, or for the consequences of any actions taken on the basis of the information provided. This blog contains information about our classes available in Chandler, AZ and Payson, AZ and is not the official website of The Bradley Method®. The views contained on this

blog do not necessarily reflect those of The Bradley Method® or the American Academy of Husband-Coached Childbirth®.










Categories: Info Sheet, Information Center, Information Sheet, Informed Consent

0

/