...celebrating every swee​t pea their birth
| | |
| --- | --- |
| Posted on August 6, 2013 at 8:23 AM | |
I am happy to share information about lactation care as it relates to the Affordable Care Act with you today.  Desiree, a friend of mine from Phoenix, has been kind enough to share her vast knowledge on the topic.  She has spent countless hours on the phone with the insurance companies learning how to best use the law in favor of nursing mothers.  This is the first in a three-part series on how you, as a lactating mama, can use the Affordable Care Act to your advantage.
What a relief, to know that you might be able to use insurance to cover Lactation Consults in the early days after you deliver your baby.  This is the first in a series of articles on the Affordable Healthcare Act as it relates to breastfeeding: 
What is the benefit provided by the ACA?
How can I request coverage for a Lactation Consult with an IBCLC
What do I do if my insurance company does not contract with an IBCLC?
I am an International Board Certified Lactation Consultant in private practice and I share this material for informational purposes only.  Each insurance plan is a little different and it is best to call and request the specifics from your individual plans. 
Copied from the Health Services Administration website: 
"Non-grandfathered plans and issuers are required to provide coverage without cost sharing consistent with these guidelines in the first plan year (in the individual market, policy year) that begins on or after August 1, 2012" 
http://www.hrsa.gov/womensguidelines/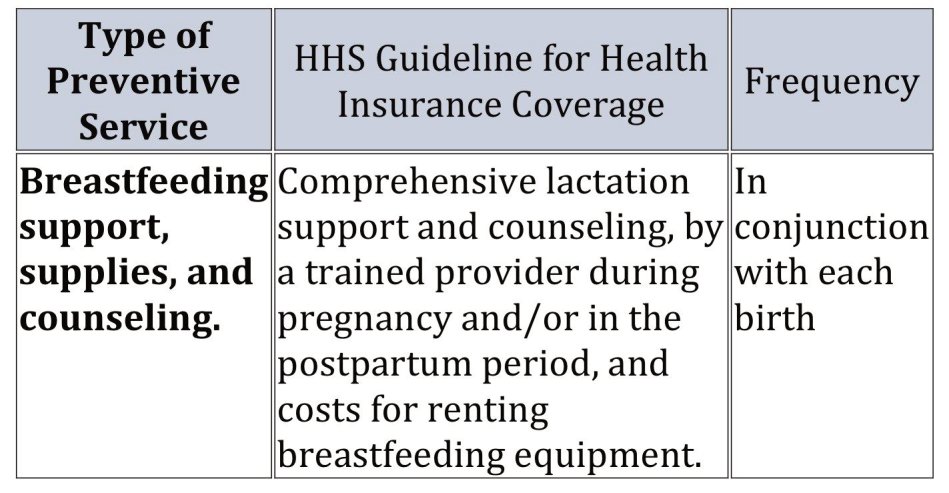 At first glance the law seems pretty straightforward.  Breastfeeding support, supplies and counseling by a trained provider is covered for non-grandfathered plans renewing 08/01/2012.    It is included in Women's Expanded Preventive  Services Benefits.  If you qualify for the breast pump or free contraception, you likely have the coverage, but call first.  It is supposed to cover services without applying to your copay or your deductible. 
Here is where it becomes less straightforward: the law does not define who exactly is the trained provider, how long the services must be rendered, and that it apply to both in-network and out-of-network benefits.  The US Surgeon General, in her
Breastfeeding Call to Action
in 2011, explained the provider of choice for the services is an IBCLC.  IBCLC credentialing is essential for Lactation Consultants providing Lactation Services to breastfeeding mothers.  The credentialing process entails coursework, 2000+ counseling hours with mothers, following a code of ethics, and an international board exam.  We recertify every 5 years with 75 hours of CERPS and take the board exam every 10 years.  It is considered the gold standard of Lactation Care and is equivalent to a Physical Therapist, Speech & Language Pathologist, or Occupational Therapist in years of study, counseling, assessment, and intervention skills. 
Insurance companies often assume it is the OBGYN, Pediatrician, or hospital IBCLCs who provide the service.  What they don't realize is OBGYNs and Pediatricians often refer to IBCLCs and that most women need additional help after leaving the hospital when her milk comes in.  Insurance companies may confirm you have the benefits, but neglect to inform you that it is only available with an in-network provider.  Confirm whether you company contracts with an IBCLC and if not clarify whom it feels is a trained provider.  If, you are given a pump rental company, and they are not a trained provider, then push for an IBCLC.  Currently there are two insurance companies in AZ contracting with IBCLCs- Aetna and BCBSAZ.  United Health Care is exploring the possibility, but no contracts yet and CIGNA will not contract with IBCLCs. 
I imagine this is all clear as mud to you right now.  What I often recommend to my clients is that you call your insurance company to clarify benefits and policies while you are pregnant, between 28 weeks-36 weeks of pregnancy, that way if you need the services once your baby is born, you can have peace of mind preparing for birth and breastfeeding.  If you can, get their responses in writing.  My next article will cover how to request coverage from your insurance company.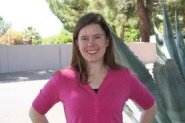 Desiree Allison, IBCLC
602.903.0002
I am an Aetna contracted provider and am negotiating with several other insurance companies for contracts.  I have a passion to help mothers and babies thrive.  I have been an IBCLC for 3 years and have over 8years experience as a breastfeeding volunteer with an international organization.  Most importantly, I am a mother of three incredibly inquisitive and independent children.
Please leave us a comment - it will be moderated and posted. 
In an effort to keep the spam to a minimum, I am taking the time to moderate comments now.
Disclaimer: 
The material included on this site is for informational purposes only.
It is not intended nor implied to be a substitute for professional medical advice. The reader should always consult her or his healthcare provider to determine the appropriateness of the information for their own situation.  Krystyna and Bruss Bowman and Bowman House, LLC accept no liability for the content of this site, or for the consequences of any actions taken on the basis of the information provided.  This blog contains information about our classes available in Chandler, AZ and Payson, AZ and is not the official website of The Bradley Method®. The views contained on this blog do not necessarily reflect those of The Bradley Method® or the American Academy of Husband-Coached Childbirth®.
Categories: Breast Pumps, Breastfeeding, Breastfeeding support, IBCLC, Lactation Consult, Lactation Consultation
/