...celebrating every swee​t pea their birth
| | |
| --- | --- |
| Posted on August 8, 2013 at 9:05 AM | |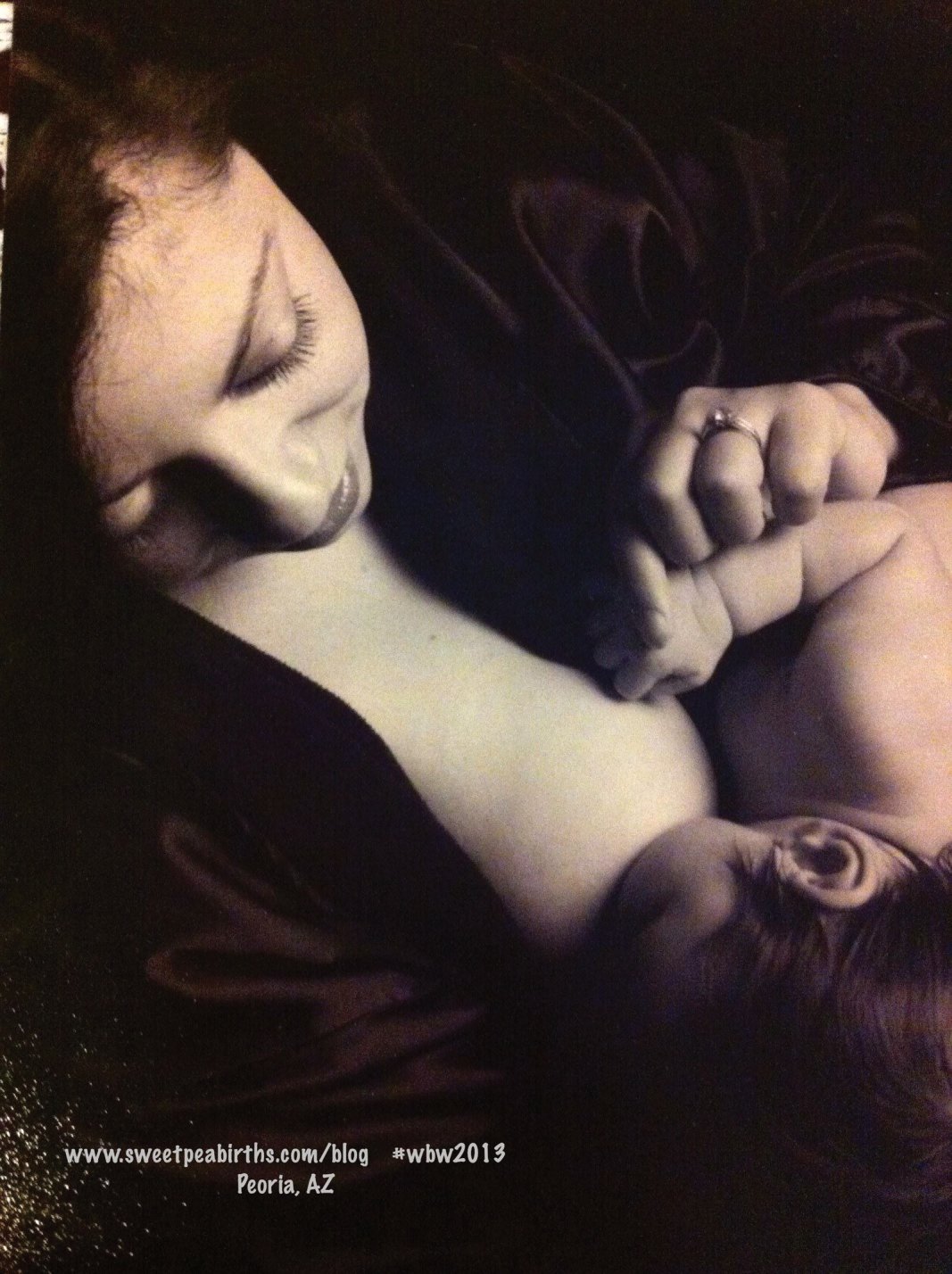 Although World Breastfeeding Week: Close to Mothers has come to a conclusion, we continue with Breastfeeding Awareness Month in the USA.  We will be bringing back our "In Their Own Words" for the rest of the month.
This series shares chronicles from students and readers about their own breastfeeding journeys.  Each mother has a unique story, one that I trust will empower you if you are learning about breastfeeding, and inspire you if you are in the trenches, struggling as you learn to breastfeed with your Sweet Pea.
Today's "Thoughtful Thursday" is not about breastfeeding specifically.  However, since a family's birth experience precedes the breastfeeding relationship, birth outcomes tend to directly influence the choice a mother makes about breastfeeding.  My thought relates to having a dialogue with your care provider about your birth:
"My obstetrician is trained medical professional.  He has years of schooling and experience about birth.  Who am I to question them?  Is it okay to question how they do what they do?"
I recently watched the documentary, "Business of Being Born" from start to finish.  The quote that stands out in my memory, the one that will forever resonate as we continue to teach childbirth preparation courses, is this one:

"The point here is there's not a good history in obstetric practice of careful study of the long term effects of all these interventions."
Dr. Marsden Wagner, former director of Women"s and Children"s Health, World Health Organization 
This excerpt from a press release summarizes the doctor's statement:
"THE BUSINESS OF BEING BORN touches on a number of past medical interventions that have gone terribly wrong. The film explores the use of the drug scopolamine in the 40s, 50s and 60s that put mothers into a kind of "twilight sleep" that didn"t stop pain, but merely eliminated the memory of pain by attacking the brain functions responsible for self-awareness and self-control, resulting in a kind of psychosis, followed by post-traumatic stress-like memories in thousands of new mothers. In the 30s doctors routinely took x-rays of the pelvis, resulting in babies with cancer. In the 70s, use of the drug thalidomide, used for morning sickness, caused birth defects, while in the 90s, the drug Cytotec was used to stimulate contractions in mothers who had undergone previous Cesarean section. This was later found to cause ruptured uteruses and high infant mortality."  
Read more about the movie here:

http://www.thebusinessofbeingborn.com/press/BusinessofBeingBorn.pdf
We need to remember that obstetricians are trained surgeons, working in a field that has no long-term studies on any of the interventions they are offering.  They are comfortable in their intervention paradigm.  If you are planning to go the "natural" route, it is worth your time to engage them in a conversation about care they are going to provide that is outside of their status quo. 
That's why, "Yes," it is okay to engage your care provider in a respectful dialogue about your birth choices that will in turn influence your ability to form the breastfeeding relationship you want with your child.  I would add the caveat *especially* if you are choosing to birth within the traditional doctor-hospital-patient paradigm.  Plug into the groups that advocate evidence-based birth.  Know what is normal and what the variations of normal are.  
As part of today's Thoughtful Thursday, I want to take a moment to remind you of a very important event being planned for Labor Day 2013.  The advocacy organization,
Improving Birth
, is holding their second annual
RALLY
to bring attention to the state of maternity care in the United States.

Ask questions, be informed, and if you are in an area where there is a Rally for Change going on, please get your family there and show up for evidence-based birth. 
Categories: Communication, Rally to Improve Birth, Thoughtful Thursday
/