...celebrating every swee​t pea their birth
| | |
| --- | --- |
| Posted on October 9, 2013 at 5:22 PM | |
Have I told you how amazing MommyConLA was?  I know I did:)
Second on the stage on Sunday, October 6 for MommyCon and Babywearing World Record was Jessica Martin-Weber of
The Leaky

[email protected]

@b
.  Her 1:00 pm appearance was sponsored by Moby®.  Since she saw so many mamas breastfeeding, and doing so confidently in public, she decided to give us a speech about parenting.  
Here are my notes from her talk: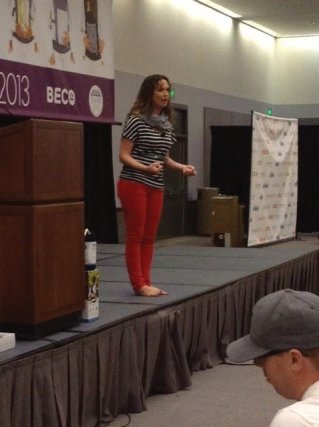 She is the proud mama of six daughters.  While she is their mother, they do not define her.  She is inspired by them, however, however her motivation is to be herself and make the world a better place for her daughters as they grow.  
Re: Parenting 
Fake it until you make it
Your baby is your best teacher
I believe in you
You are the right mom for this baby 
She talks about babies, boobs, bellies and bottles on her blog because they are important for the relationship a mama has with herself and with the lessons children are going to learn about those things.
You don't have to be perfect 
Be you 
You are the right parent for your child 
Example: first time wearing the Moby® wrap – first time it was too tight, then it was too loose.  She had to learn the right fit and she didn't give up. 
The first time she decided to breastfeed for longer than 18 months – she freaked out a little.  It caused her to question herself – her child – society. 
When she decided to babywear "halfway into this" (talking about the parenting journey - I think she was talking about changes she wanted to make between baby3 and baby4) – she was afraid to drop the baby – afraid to screw up – what if she made the wrong choice in this "new" style of parenting? 
She had a Skype session with a friend/coach/mentor and as they talked, it surfaced that ultimately, she was afraid to screw up.  Her friend said (loose paraphrasing here because I am going off shorthand notes), "You are!"  Not at all what she anticipated when she was expecting him to reassure her that she was doing fine.  He continued with,  "That's okay – we all screw up.  What is important is that you are giving yourself and giving them enough space.  You are creating enough space and love to work through it and be okay." 
She felt like all 6 daughters and their hopes – future – possibility rested on her. In the Leaky
[email protected]
@b community, she knows she is not alone.  She realized that we are all in a state of imperfection, still learning, changing, growing, and the best thing about the community is the opportunity to learn, adjust, reconsider and reevaluate our choices. 
Jessica shared an anecdote about raising strong and confident children: She was having a disagreement with Daughter2 and they were working it out using respectful language.  In the background, she can see/hear/feel Daughter1 sighing.  
After she and Daughter2 come to a resolution and move on, Daughter1 is still "in" the space.  She asks her what is going on and gets, "Nothing".  A few more interchanges and Daughter1 says, "You really want to know?!".  Mom says, "Yes!"  Daughter1 answers, "I would be a better mother than you!"

This took her by surprise and sent her mentally in many different directions.  As she processed and found an answer, she simply said, "I bet you will."

So while her first reaction was to be hurt, it was also a sign that she had made the right choices as a parent – here she had an empowered, strong, confident daughter, who is very likely going to be a better mother than the one who raised her.

Back to boobs – bellies – babies – bottles

We wrestle with body image – we can't tell our children how to draw conclusions about their body image.  You have to have the confidence that you are doing the right thing for them and they will draw healthy conclusions.

My body
Designed to feed a baby
That's what mammals do

You are right
You deserve to have confidence in your style of parenting, even if you decide to change styles half-way through like she did.  You can be sure that you are changing together with your child – one big cycle of changing – learning – growing together.

Jessica Martin-Weber was as amazing in person as she is on her blog.  Puma asked me, "Did you get to meet her?", to which I happily said , "Yes!" And then she says, "Did you freak out and ask her for her autograph?!" and I was glad to be able to tell her, "No, I just said hi and we talked a little bit about dance."  

We are definitely going to keep being "Leaky" fans around here - can't wait for an opportunity to see her here with some of you in Phoenix if Mommy Con comes back next year!!
Want to read my notes from the other speakers??
HERE
are my notes from Dr. Robert Sears - He talked about vaccinations during pregnancy, postpartum, and for infants.
HERE
are the notes from January Harshe of Birth Without Fear - Her talk was about the choices we make around birth.
HERE
are the notes from Abby Theuring of The Badass Breastfeeder - Her talk was about empowering breastfeeding as a society.
Can't get enough Mommy Con LA?
HERE
 is a link to our tour of the convention floor.
HERE
 is a link to the Babywearing Fashion Show.
HERE
 is a link to pictures from the Babywearing World Record.
Please leave us a comment - it will be moderated and posted. 
Disclaimer: 
The material included on this site is for informational purposes only.
It is not intended nor implied to be a substitute for professional medical advice. The reader should always consult her or his healthcare provider to determine the appropriateness of the information for their own situation.  Krystyna and Bruss Bowman and Bowman House, LLC accept no liability for the content of this site, or for the consequences of any actions taken on the basis of the information provided.  This blog contains information about our classes available in Chandler, AZ and Payson, AZ and is not the official website of The Bradley Method®. The views contained on this blog do not necessarily reflect those of The Bradley Method® or the American Academy of Husband-Coached Childbirth®.
Categories: Breastfeeding, Mommy-Con, Parenting
/