...celebrating every swee​t pea their birth
| | |
| --- | --- |
| Posted on October 28, 2013 at 12:06 PM | |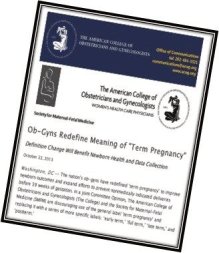 Maybe you heard the news last week that ACOG, "redefined 'term pregnancy' to improve newborn outcomes and expand efforts to prevent nonmedically indicated deliveries before 39 weeks of gestation."  
Read the News Release
HERE
While many people around me whooped for joy, I am reserving judgment.  I do think it is a move in the right direction to define full term as 39 weeks to prevent an elective cesarean mother from scheduling a cesarean two weeks sooner than the baby is estimated to be ready to live outside the uterus. 
However, I see a lot of challenges.  I suspect that we are going to find that term limits are better saved for politicians, and not healthy mothers and healthy babies.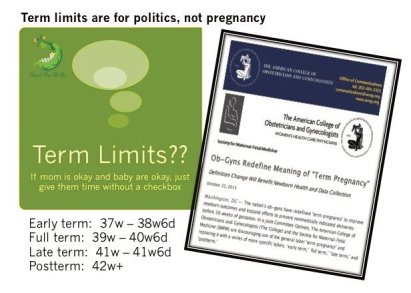 While it doesn't define 'early term' as premature, I am going to wonder if, in our liability-driven society; if this won't mean that any infants born between 37 weeks and 38 weeks, 6 days are going to be under more scrutiny.  I wonder if those parents are going to be pressured to "do" things like we have seen preemie parents of otherwise healthy babies pressured to "do" things that were against their better judgment.

I also wonder if simply renaming the time period between 41 weeks and 41 weeks, 6 days as 'late term' is going to be enough.  Will a name change suffice to calm down the fears of malpractice, and allow mamas and babies the time they need to get labor started on their own?

I would like to think that mothers and babies with healthy, low-risk pregnancies will be allowed to be pregnant as long as the Mother is okay and the Baby is okay.  If a family has healthy and low-risk delivery, and a Healthy Mom, Healthy Baby outcome, I can hope that no matter when that baby is born in relation to their estimated due date, that the MotherBaby pair will be left alone to meet, greet and bond without the baby being poked, jabbed, weighed, measured and otherwise.

Here's to hope – I hope that this will mean better outcomes, evidence-based care and an increase in the number of Healthy Mom, Healthy Baby birth stories.
Disclaimer: 
The material included on this site is for informational purposes only.
It is not intended nor implied to be a substitute for professional medical advice. The reader should always consult her or his healthcare provider to determine the appropriateness of the information for their own situation.  Krystyna and Bruss Bowman and Bowman House, LLC accept no liability for the content of this site, or for the consequences of any actions taken on the basis of the information provided.  This blog contains information about our classes available in Chandler, AZ and Payson, AZ and is not the official website of The Bradley Method®. The views contained on this blog do not necessarily reflect those of The Bradley Method® or the American Academy of Husband-Coached Childbirth®.
Categories: Due Date, Postmature baby, Preemies, Premature Baby
/