...celebrating every swee​t pea their birth
| | |
| --- | --- |
| Posted on November 18, 2013 at 5:10 PM | |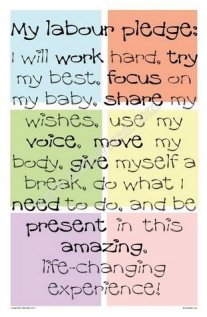 I have this poster pinned to my Pinterest
Natural Pregnancy/Birth Board
.  As we draw to the close of another Bradley Method® class series, I thought today was a great day to share this "pledge".  Do you love the way it takes the pressure off of the outcome, and focuses more on the journey??  That's what makes it a great mantra for me.
It is so important to remember that your birth is Your Birth.  The decisions you make are yours to live with.  Are you at a decision point?  Then make the choices that serve you, and don't pre-judge your choices with the filter of, "what will people say", or, "this means I am a failure".  Your care provider, your nurse, your "others I want to impress", they are not going to live with your choices.
You and your partner will live with this experience for the rest of your life.  Even if you don't get everything on your
Wish List
, you can approach your birth as a team.  You can decide to give your baby the birth that they need, whatever that means for your family.  Some families will have a textbook Bradley™  birth, some couples may choose to use an epidural appropriately and at the right time, others may welcome their baby via a cesarean birth.  In the end, how they arrive is just part of the story.
How you feel about that birth journey is going to depend on you.  Did you feel like you were listened to?  Did you feel like your dignity as a human being was honored?  Do you look back and see how you and your partner used your education about birth to ask the right questions, evaluate your options, and make the choices that were right for your family *in that moment*?  Is their someone on your birth team that will be your voice when you can't talk anymore...and do they know that is their role?
No matter how your baby arrives, YES answers to those questions can make many different birth scenarios empowering and fulfilling.  Knowing that you trusted your instincts and made the best possible choices for your birth, allowing yourself to adjust your expectations, be present, and let your labor be a labor filled with love...at the end of the day, those are the things that will matter as you look back at your experience.
Wishing you a Happy Birth-Day, Fall Class of 2013!!  (And to anyone else who finds this message encouraging and timely!)
What was important to you during your labor?
Was there anything that made you feel honored as a birthing mother?
Please leave a comment - it will be moderated and posted - thank you!
Note on the image: I tried finding the source listed on the image.  www.birthwares.com looks like it is no longer up - you can visit the wordpress site http://birthwares.wordpress.com/ to read more about the creators of this image.
Disclaimer: 
The material included on this site is for informational purposes only.
It is not intended nor implied to be a substitute for professional medical advice. The reader should always consult her or his healthcare provider to determine the appropriateness of the information for their own situation.  Krystyna and Bruss Bowman and Bowman House, LLC accept no liability for the content of this site, or for the consequences of any actions taken on the basis of the information provided.  This blog contains information about our classes available in Chandler, AZ and Payson, AZ and is not the official website of The Bradley Method®. The views contained on this blog do not necessarily reflect those of The Bradley Method® or the American Academy of Husband-Coached Childbirth®.
Categories: Birth Mantra, Birth plans, Birth Story
/